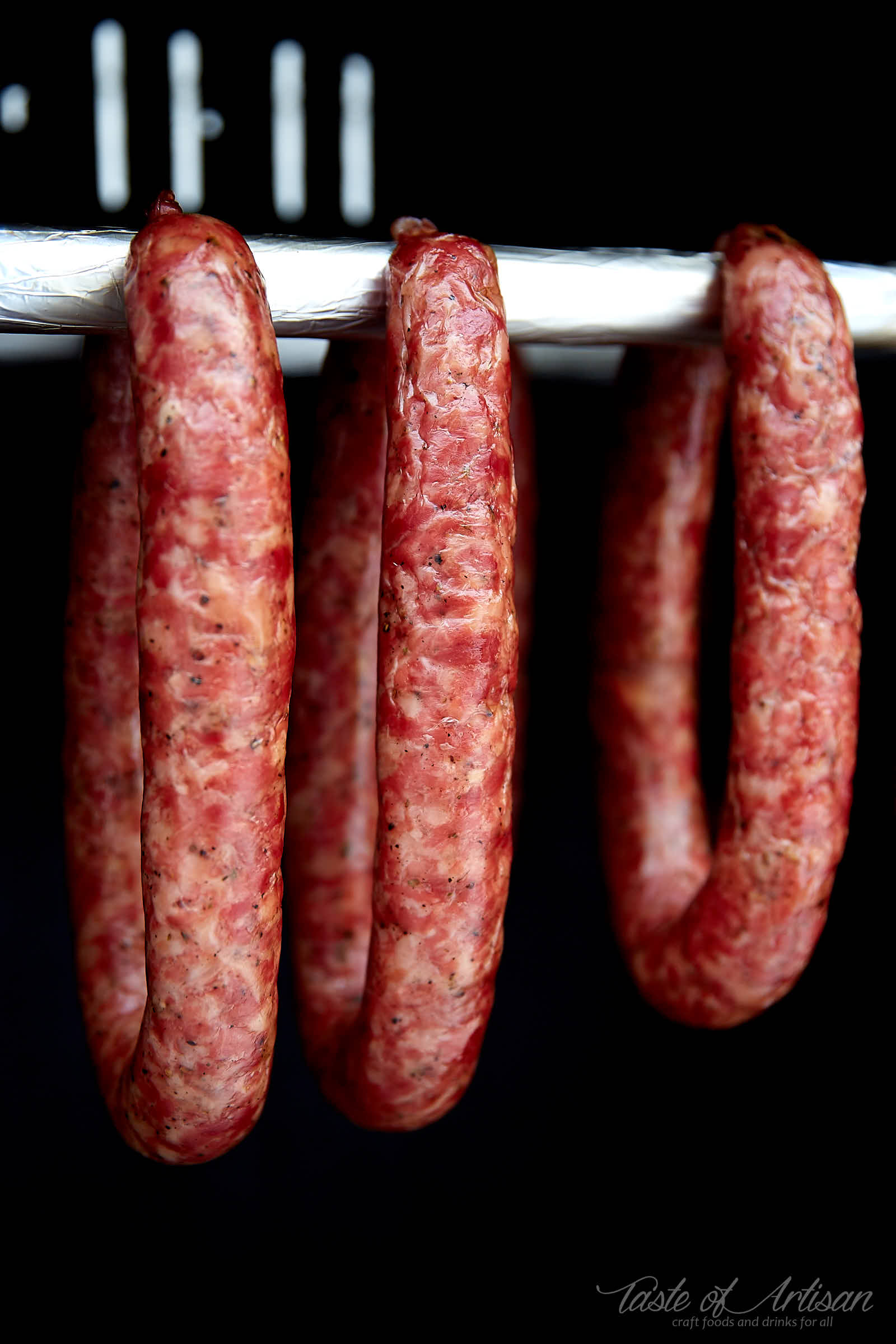 Ever wondered how to make kielbasa at home? It's actually not that difficult, and really worth it, so there is no excuse not to make your own kielbasa. Homemade smoked Polish and Ukrainian sausages are in the league of their own.
When I was growing up my grandpa would make these sausages once or twice a year - the event that everyone was looking forward to. His sausages were so flavorful, so well-textured that you could just eat them on their own, without bread or any side dishes.
Here is my attempt to recreate his Polish Swojska kielbasa, which translates to Polish homemade (or self-made) sausage. Actually, this is my 20th or 30th attempt. I think it's pretty close now. This sausage is probably my favorite smoked sausage by far.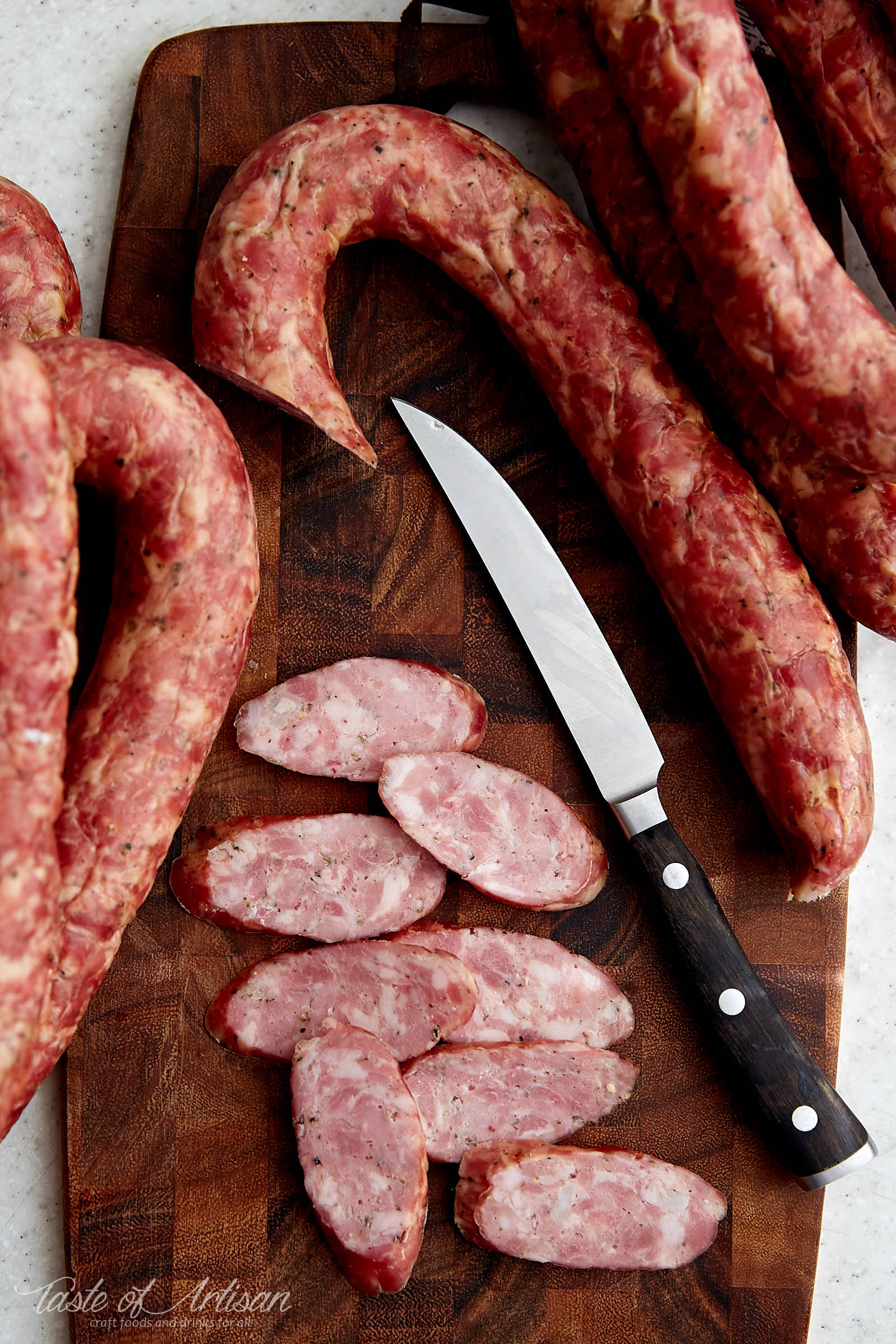 Grinding the meat
Preparation is very easy. Grind meat and fat. Add spices and mix. Staff into hog casings and smoke. That's it. Though, there are a few things to keep in mind, and I will talk about them below.
The choice of meat is important. Pick the best and the freshest meat you can. The better and the fresher the meat, the better your sausage will taste. Grind the meat and the fat on a medium grinder plate: 4.5mm (3/16") to 6mm (1/4"). Grind it too fine and you will lose the texture.
If you plan on making sausages at home for years to come, which is an excellent idea from where I stand, get yourself a good meat grinder. If you get a cheapo consumer grade grinder, it will be a waste of money and you will be cursing it every time you use it. I know, I've been there. A good commercial quality meat grinder makes a huge difference - it grinds much faster, it accepts a wider range of grinder plates, it's more powerful and grinds clean and with definition instead of squishing the meat and smearing the fat. It's also easier to clean and it lasts longer.
When the time came to replace my consumer grade meat grinder I settled on a LEM Products Stainless Steel #8 Meat Grinder and could not be happier with it. At 36 lbs, it's a bit heavy but quite manageable even for my wife to handle when she needs to use it and I am not around. But, boy, can it grind! It grinds just about anything with ease and speed. For example, it can grind 10-15 lbs of meat in a matter of 2 minutes. It puts a smile on my face every time I use it. It's built like a tank and I have a feeling I will never have to buy another grinder.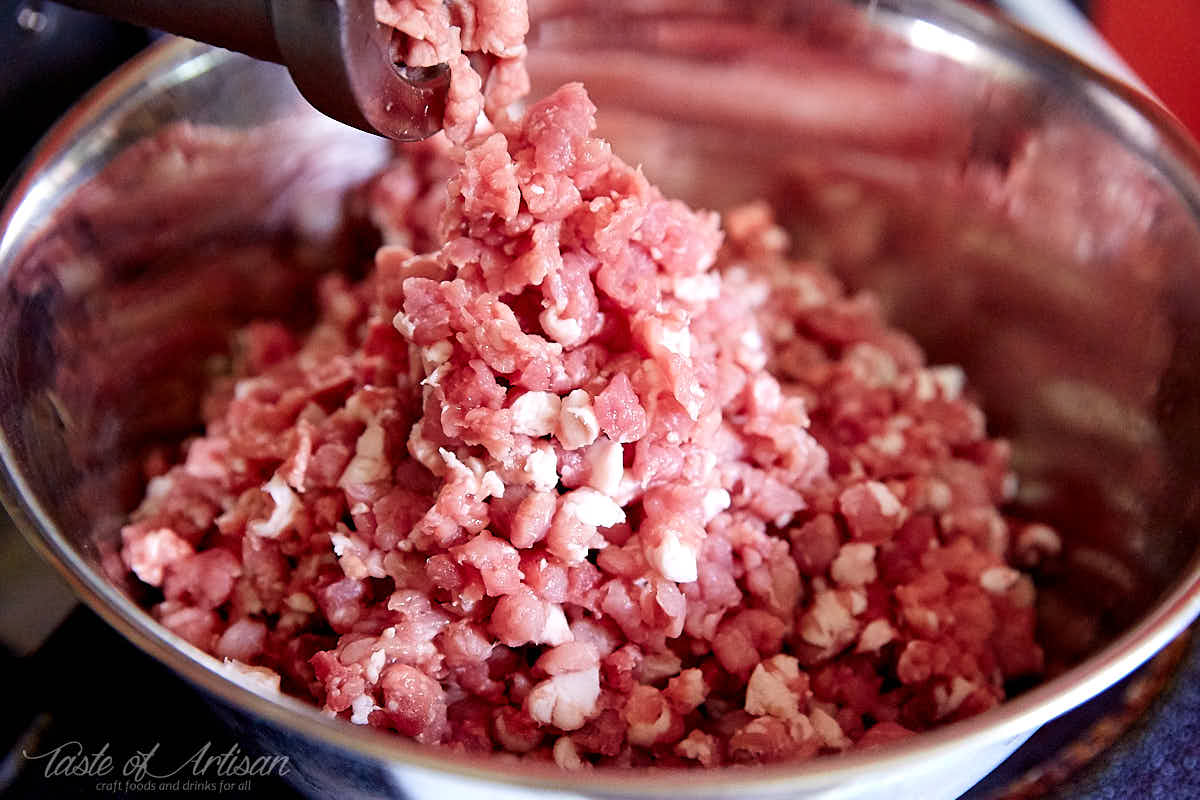 Stuffing
When stuffing your sausages try not to stuff too tight as that may result in burst casings. You want the sausages to feel slightly firm, but not too tight.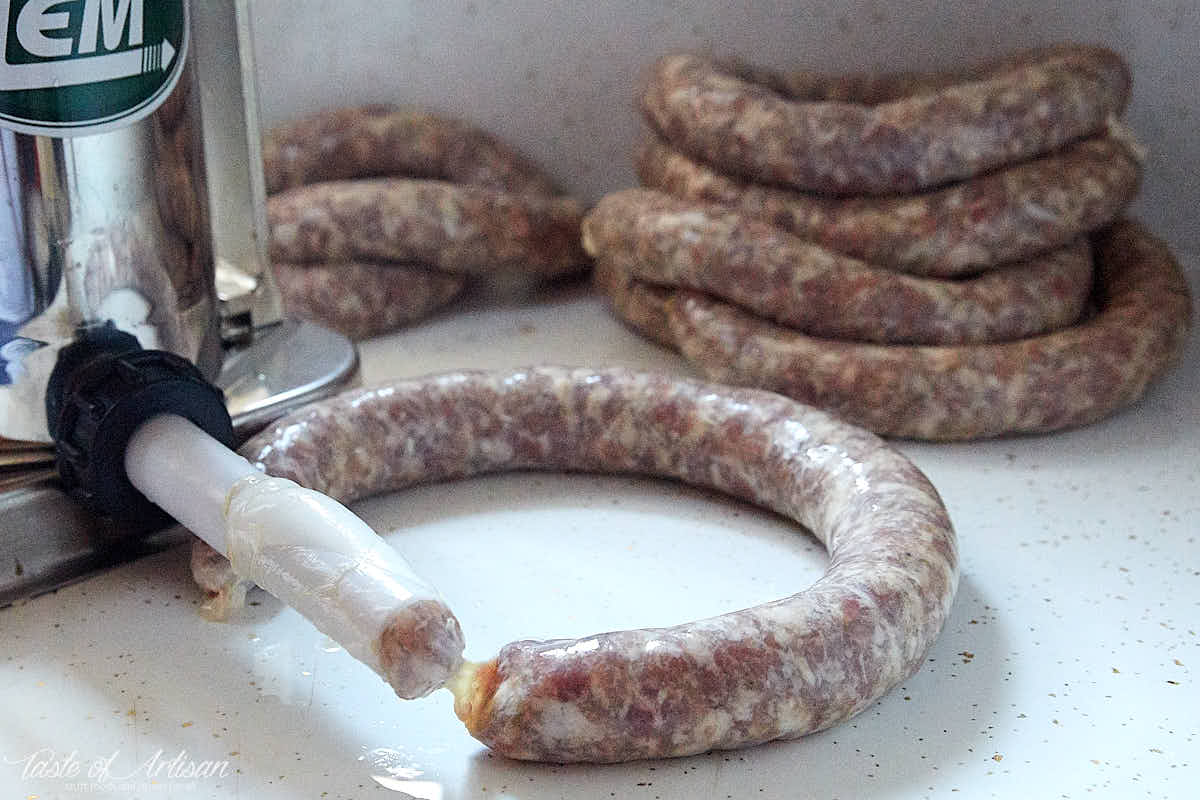 I find that manual sausage stuffers are the best, like the LEM Products 5 Pound Stainless Steel Vertical Sausage Stuffer

 that I use. It's perfect in every respect. Well, almost. If had to do it over again and had a bigger wallet I would go with a 15 pound stuffer just so I don't have to reload the meat once or twice when stuffing. It's not a big deal though, It's one of those things that are only nice to have.
I like to use natural hog casings, which are available at pretty much any grocery store's meat counter. They don't usually have them on display, but ask and they will be happy to sell them to you. If that fails, they are available for purchasing online too: Hog Home Pack Sausage Casings 32mm.
Update on June 30, 2016
Amazon now sells relatively inexpensive sausage stuffers like the ARKSEN 8 Pound Vertical Sausage Stuffer and the ARKSEN 15 Pound Vertical Sausage Stuffer. I don't know how they compare to LEM stuffers quality-wise, but the reviews seem to be very good. Price-wise, a 15 pound ARKSEN stuffer sells for about as much as the 5 pound LEM stuffer does. I think these are definitely worth looking at if you are on the market for a new sausage stuffer.
If you own a KitchenAid stand mixer you may be tempted to try the KitchenAid Sausage Stuffer Kit Attachment

. I know, it's cheap, and it's easy to use. I couldn't resist and ordered one. What a waste of money! I was sorely disappointed by the results. The meat would get squished around, creating a mess and causing fat smearing all over meat pieces. Meat grinders/stand mixers are just not designed for stuffing sausages.
Smoking your kielbasa
I suppose you could cook this kielbasa in the oven, without smoke and get a tasty sausage, but it won't be even close to Swojska kielbasa. For that you need a smoker. Smoke flavor is a seasoning by itself, and there is no substitution for it. No, liquid smoke is not a substitute for real smoke!
If you use a charcoal or a wood smoker, smoke generation is simple: throw a few wood chunks in the pit and off you go. Gas and electric smokers require some sort of a smoke generator.
There are many ways to go about smoke generation, from DIY solutions (a tin can with a handful of wood chips) to inexpensive pre-made devices like A-MAZE-N Pellet Smoker or it's sibling A-MAZE-N Pellet Tube Smoker, to fairly expensive ones like Smoke Daddy Smoke Generator.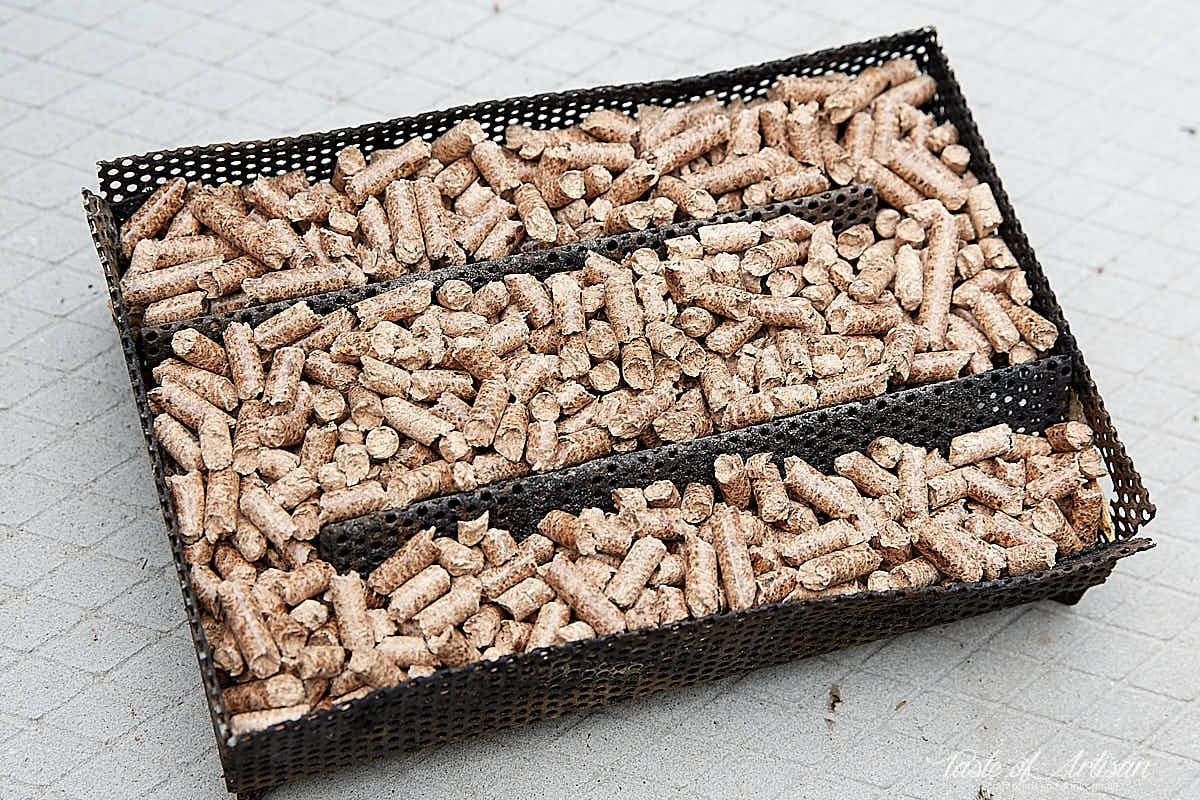 I've been using the A-MAZE-N Pellet Smoker in my vertical Masterbuilt XL gas smoker for many years and it does the trick really well. Here are a few tips on using these smoke generators based on my experience:
Tip #1
Start the smoke with a propane torch with a Pencil Flame Propane Torch Head. This makes things very easy. You can pick it up on Amazon or at most local hardware stores.
Tip #2
Use very good quality pellets.  Read carefully what's included and make sure you are buying pellets made from 100% the wood you want, and that there are no binders or fillers are added. My wood of choice is cherry wood. I once bought cherry wood pellets only to realize that they were made mostly of oak and maple with only 30% cherry wood. Needless to say, I was not happy with the flavor of the smoke. BBQrs Delight Wood Pellets are one example of very good quality wood pellets.
Smoker temperature
The key to smoking Swojska kielbasa sausage is low temperature. If you raise the temperature too high, the fat will start melting and you will end up with holes in the sausage. It's best to smoke this sausage at around 140F. If you can't go that low, try 150F or 160F max. You may raise the temperature slightly to 170-175F at the end of the cooking process for a brief period of time if internal temperature is not rising to target internal temperature of 154F.
Sometimes the internal temperature just won't rise and you may have to go as high as 195F, and that's fine. It does happen every now and again. Better yet, try the poaching method I will talk about below.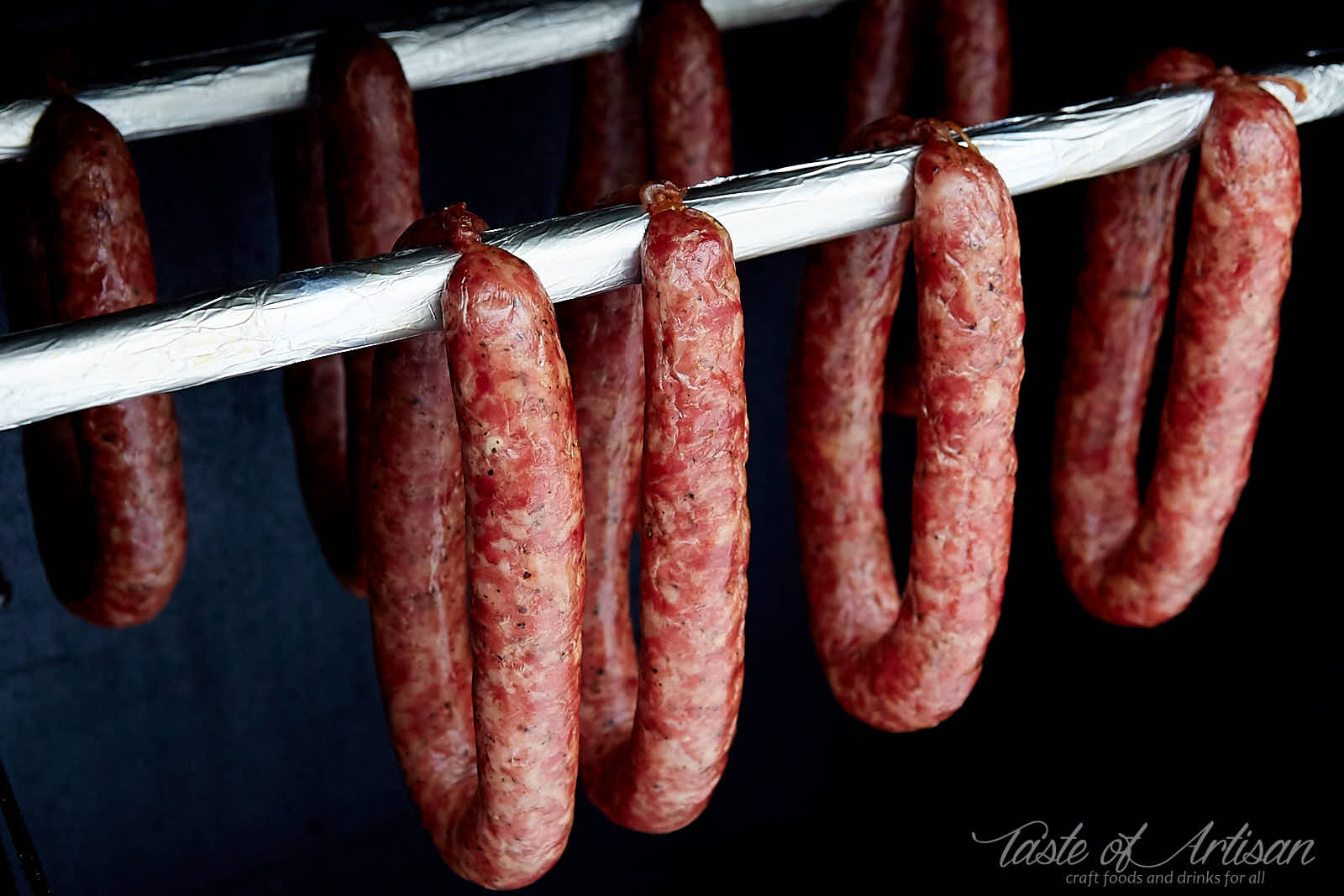 The best smoker for smoking sausages is the one that can maintain low enough temperature. A lot of people successfully use electric smokers, like the very popular Masterbuilt Electric Digital Smoker

 which some consider to be the best value for home sausage making. I do a lot of low heat and high heat smoking, so I try to compromise and use a propane smoker, also made by Masterbuilt. It's not that easy to maintain low temperatures with, but if I time my sausage smoking properly and do it on days with lower ambient temperatures it works just fine.
Update on June 30, 2016
If you have a propane smoker and have trouble maintaining low enough temperature for smoking sausages, you will need to install a needle valve. Or you can buy a pre-made assembly that comes with the needle valve already installed, like the Bayou Classic M5HPR-1 10 PSI Hose, Regulator, Valve Assembly. Before you buy, make sure the assembly is compatible with the burner in your smoker. Read more about this modification here: Needle Valve for Gassers.
When I smoke Swojska even at temperatures not exceeding 170-175F I sometimes see some fat inevitably melting. When you cut into the sausage while it's still hot, you will see some hollow areas, and juices/melted fat running off.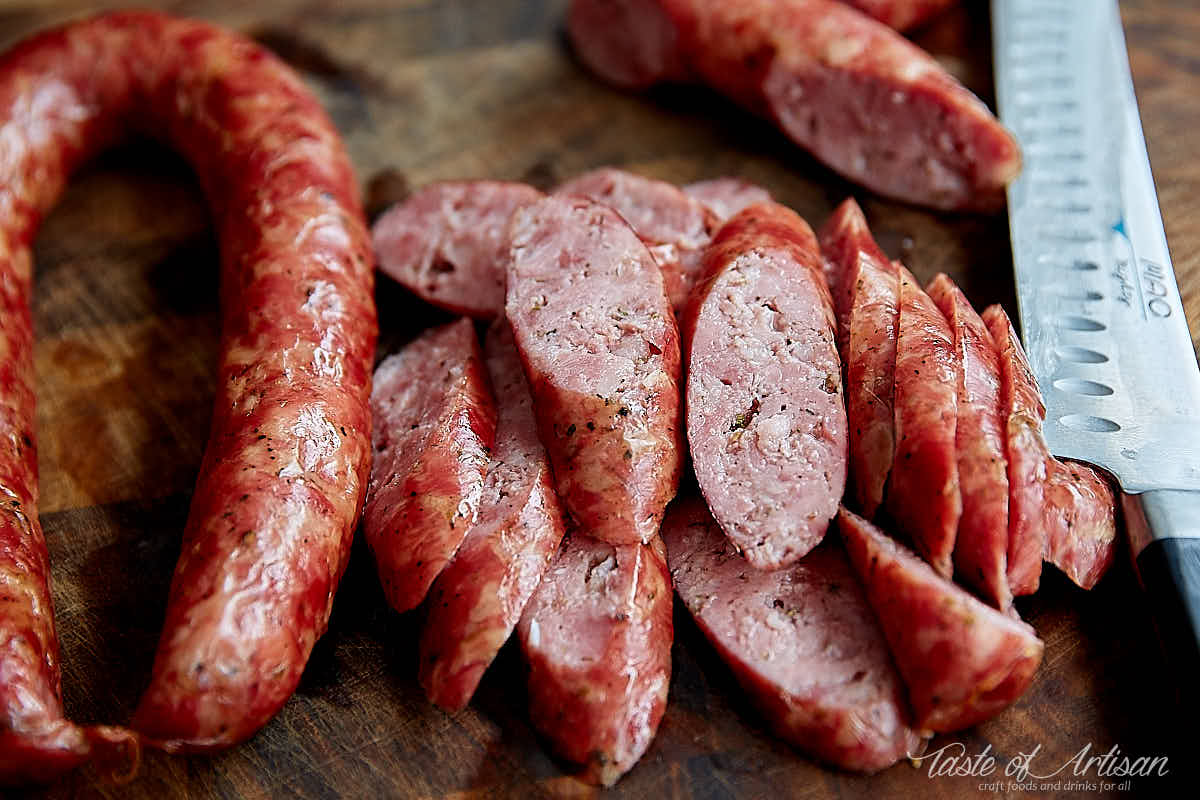 Chilling the sausage
Let the sausage cool down, then put in the fridge overnight. Once it is properly chilled, the fat will solidify again and there will be no hollow areas.
You may or may not want to chill your sausage quickly in an ice water bath. If you do that, supposedly it will prevent wrinkling and will make the sausage full and plump. This will make the sausage lose some color but it's not bad as I initially thought. I now finish cooking my kielbasa by poaching then give it a cold shower to cool off quickly.
Update on November 23, 2019
My kielbasa recipe has not changed, this is still the best tasting kielbasa for me and family, and I've tried dozens of new very good recipes. What changed is I've finally built my dream smokehouse, and I've been smoking sausages in it like there is no tomorrow. Check out the garlic sausage, beef sticks, Krakowska kielbasa, Lisiecka kielbasa, Andouille sausage and  the traditional Polish kabanos sausage that I made in it. This thing is a beast and performs just like I wanted.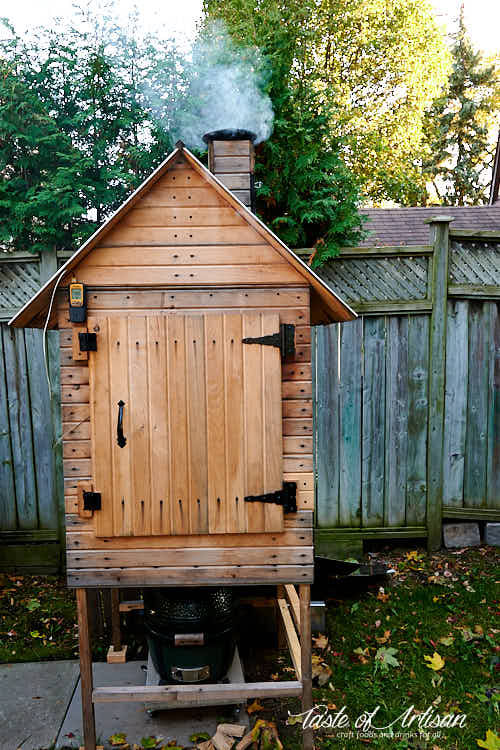 Another thing that has changed is how I now finish cooking my kielbasa. Finishing in the smoker is long and tedious. It may take hours to get kielbasa to 154F internal temperature. By the way, I changed the target internal temperature from 152F to 154F, seeing how many traditional Polish kielbasa recipes use it. I resisted the poaching method for as long as I could. Then I gave up and finally tried it. I am glad I did as I loved it. That's what I do for most of my smoked sausages now.
I use a 36-qt stainless stock pot with a basket. It's as effective and convenient for sausage making as it is for crawfish boils, which our family loves. It easily fits 10 lbs of sausage. The water is heated up to 167F. It takes about 20-30 minutes for 10 lbs of sausage to reach 154F internal temperature. I normally don't have to heat the water during poaching, the burner is off all the time.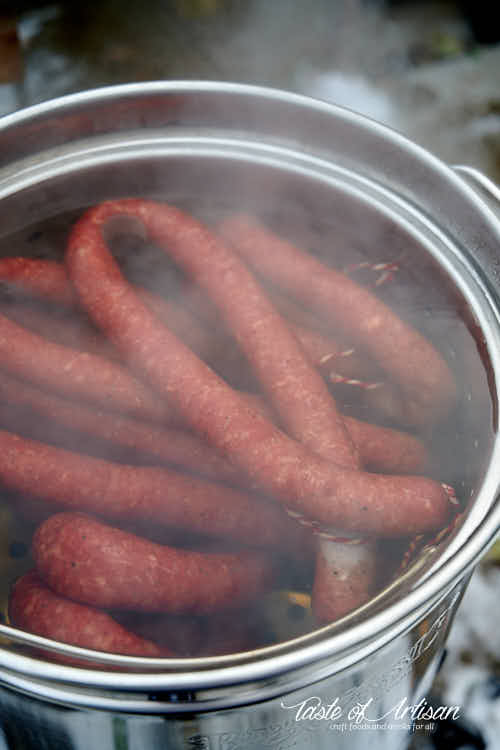 The basket makes removing kielbasa, moving it around and giving it a cold shower a breeze.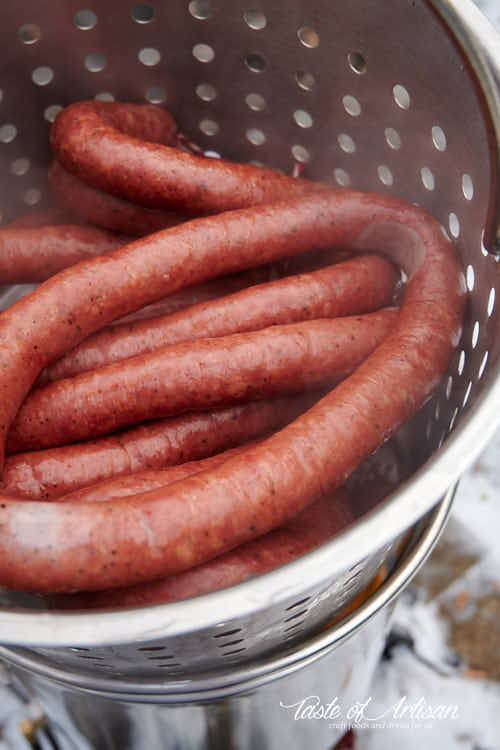 I don't feel like the sausage is not smoky enough or doesn't have sufficient color. It smells, looks and tastes just as good, but this makes my job so much easier.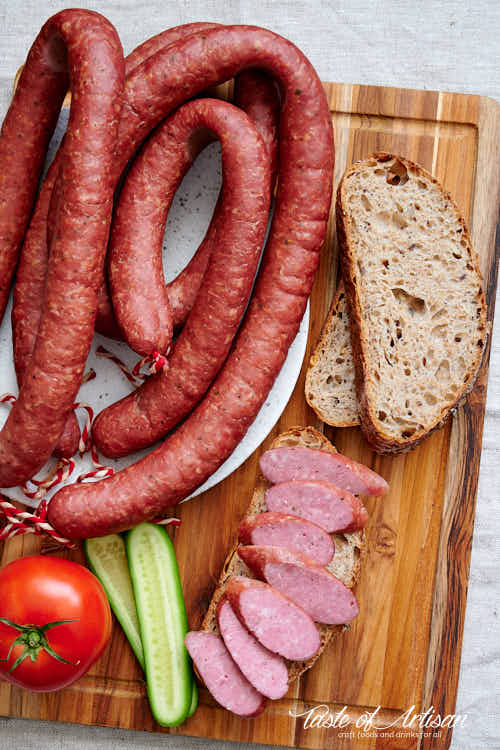 Last but not least, in colder months I dry my smoked kielbasa at around 38F-55F in my unheated veranda.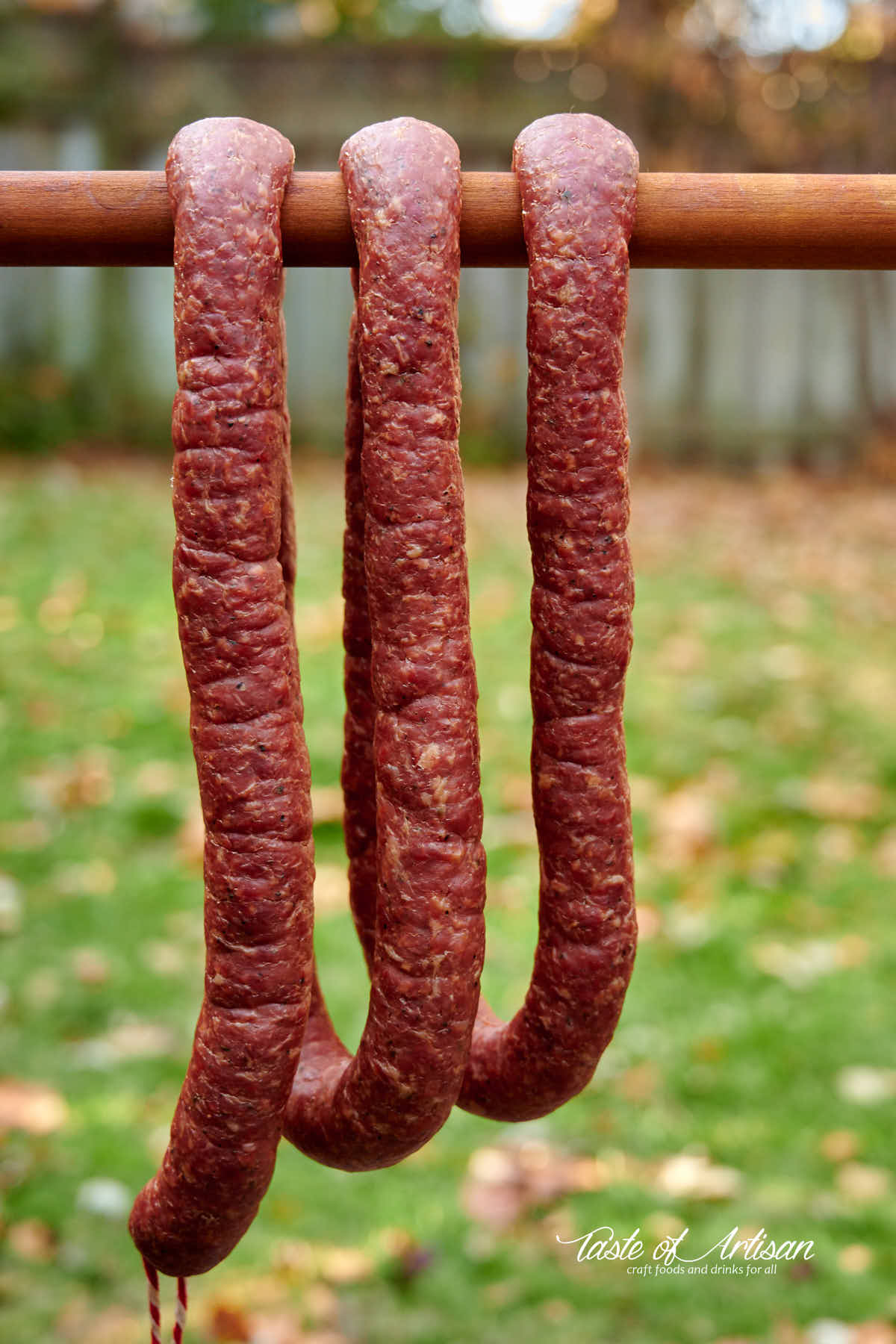 Ideal drying conditions are 52F - 58F and 75% RH. Dried kielbasa has a longer shelf life, and has a richer taste and color.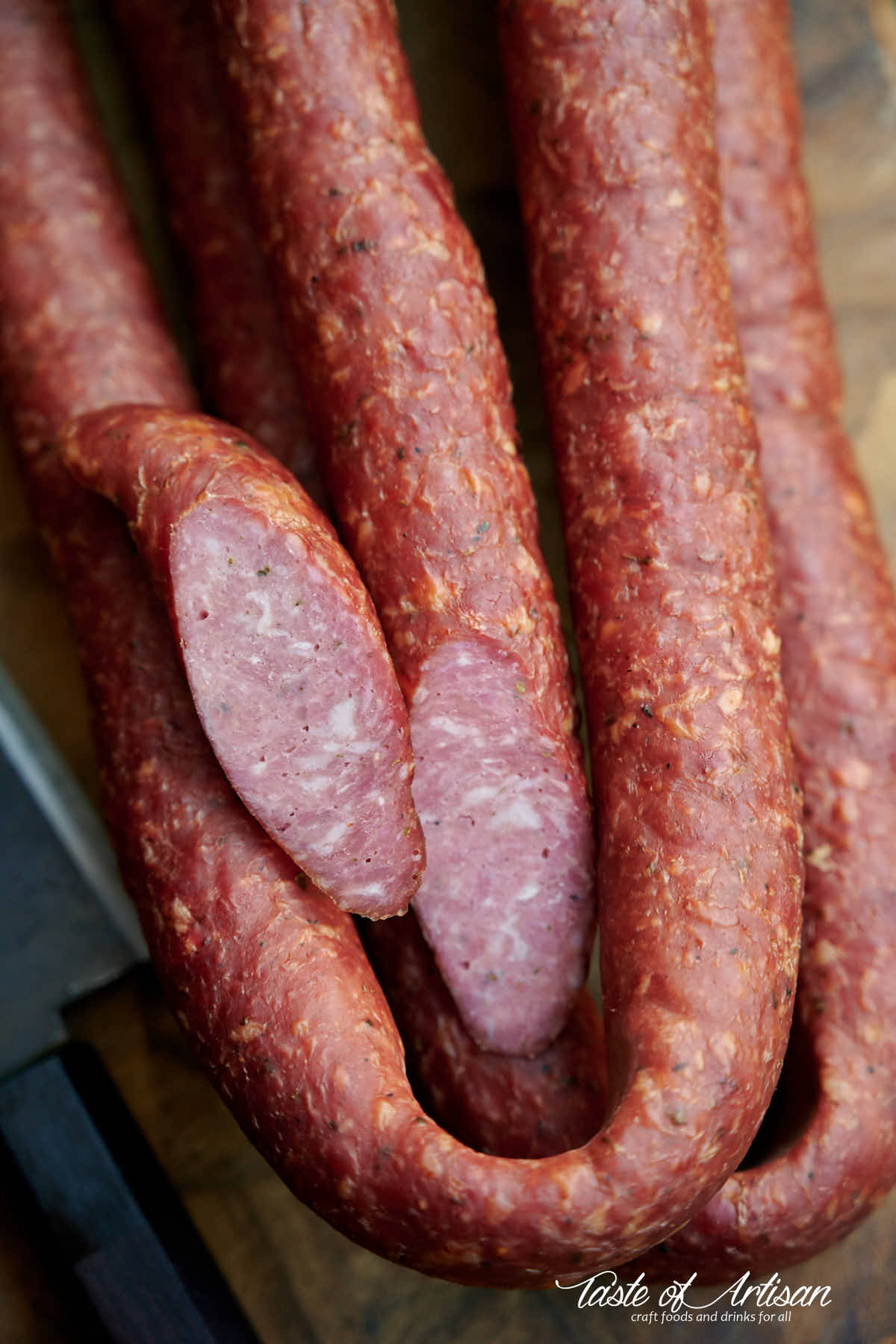 The kielbasa on the picture above has a finer grind, I used a 4.5mm plate to grind the meat.
Great recipes using kielbasa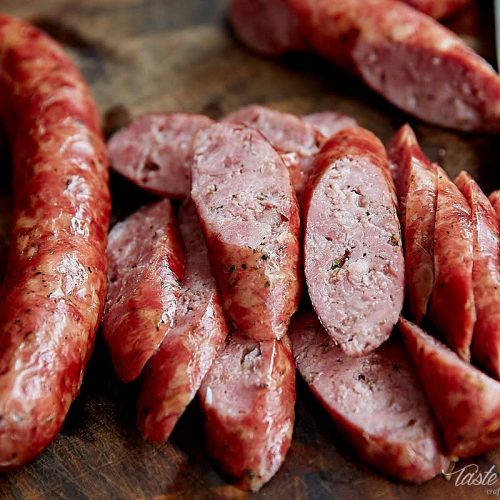 Homemade Swojska Polish Kielbasa
A recipe for one of the best homemade Polish kielbasa.
Print
Pin
Rate
Ingredients
4 1/2

lbs

pork butt

about 2,000 g

1

lb

beef chuck

about 450 g

1

lb

pork belly

about 450 g; or back fat

3

garlic cloves

about 10 g; large, pressed

2

tsp

dried marjoram

about 1.2 g

2

tsp

ground black pepper

about 4.5 g

2

Tbsp

kosher salt

about 36 g; plus more to taste, if needed

1 1/3

tsp

Cure #1

about 6.5 g; see notes

1

cup

ice water

about 240 g
Instructions
Grind pork, beef and pork belly/back fat on a medium size plate, 4.5mm (3/16") - 6mm (1/4").

Add the ice water, all of the spices and mix well.

Stuff into small size hog casings (28-32mm), tie into rings and hang to dry at room temperature for 2-3 hours.

Preheat smoker to 140F, or 150F-160F max if your smoker can't get that low.

Hang sausages in the smoker and dry for 30-60 minutes, until the skin is dry to touch. Then apply smoke for 3-4 hours.

Remove sausages once the internal temperature has reached 154F. If the internal temperature is not rising too well after 3-4 hours of smoking, raise the temperature to 170F-175F.  You may have to go to 195F if necessary.

Alternatively, poach the sausages in 167F water for 25 - 30 minutes or until the internal temperature is at least 154F. Poaching is a much quicker and more effective method.

Cool the sausage down and store in a refrigerator or a freezer.

Cooling can be achieved by placing sausage in an ice bath to cool it down quickly. It with result in a fuller, more plump product.

Alternatively, you may let the sausage cool down at room temperature and then refrigerate. This will result in the sausage less plump and slightly wrinkled, but this this is my preferred method. Ice water bath removes smoke residue from surface making the sausage less smoky in flavor and pale in color.

A reader suggested another effective cooling technique - placing the sausage flat on a cool surface, like a counter top.
Notes
Cure #1, also called pink salt #1 or Prague Powder is available from local sausage supply stores or online, for example here: Hoosier Hill Farm Prague Powder Curing Salt. Make sure it is Cure #1, not #2. Cure #2 is used for making dry cured meats and sausages, like salami, sopressata and similar.
Nutrition
Calories:
735
kcal
|
Carbohydrates:
0
g
|
Protein:
64
g
|
Fat:
51
g
|
Saturated Fat:
18
g
|
Cholesterol:
233
mg
|
Sodium:
1975
mg
|
Potassium:
1169
mg
|
Fiber:
0
g
|
Sugar:
0
g
|
Vitamin A:
20
IU
|
Vitamin C:
0.5
mg
|
Calcium:
55
mg
|
Iron:
4.7
mg