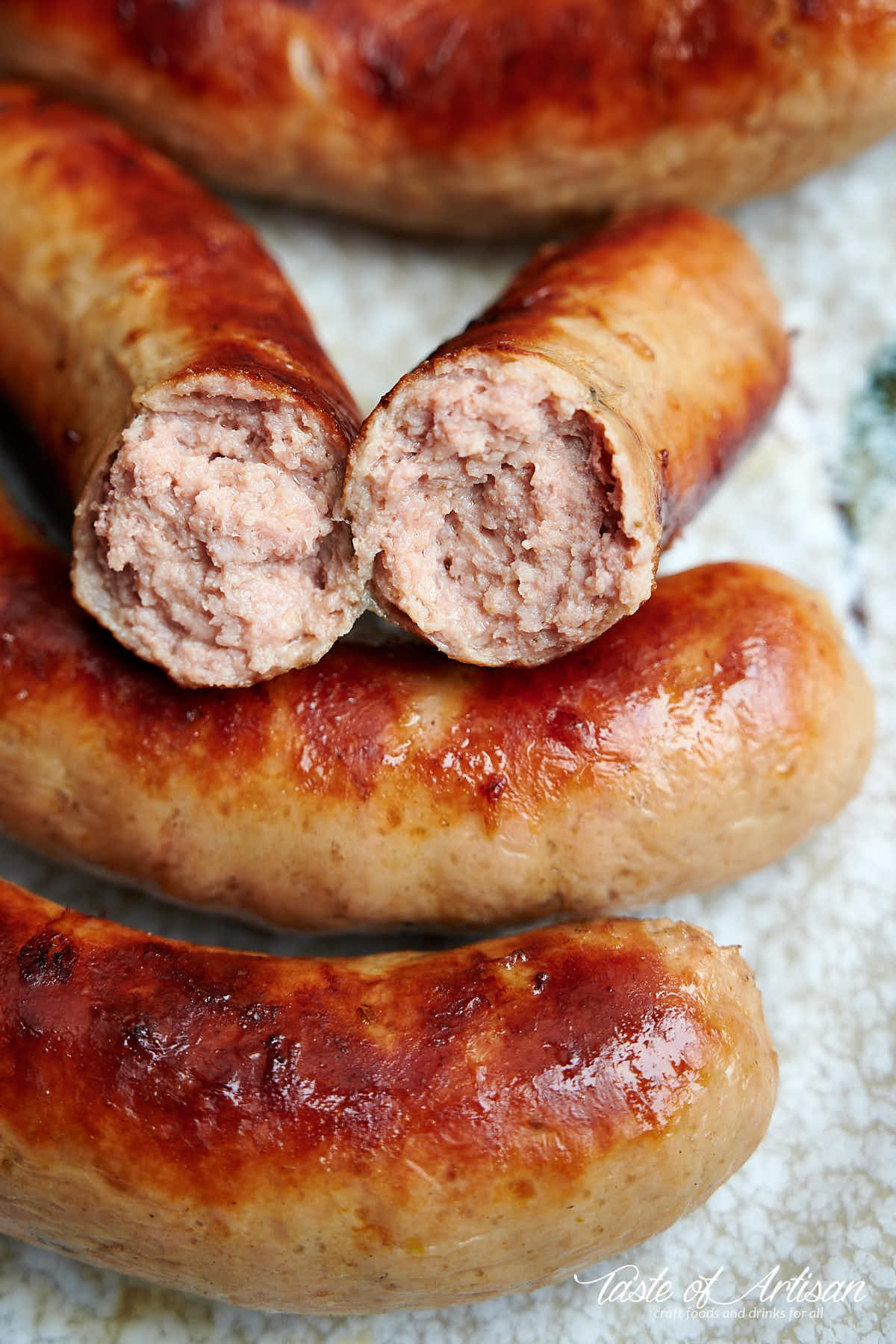 Bockwurst is a German fresh sausage traditionally made with finely ground pork and veal.  Unlike bratwurst,  bockwurst generally contains a higher ratio of veal in its recipes, and the meat is emulsified. I say generally because this type of sausage is famous both inside and outside of Germany, and there are thousands of variations of it.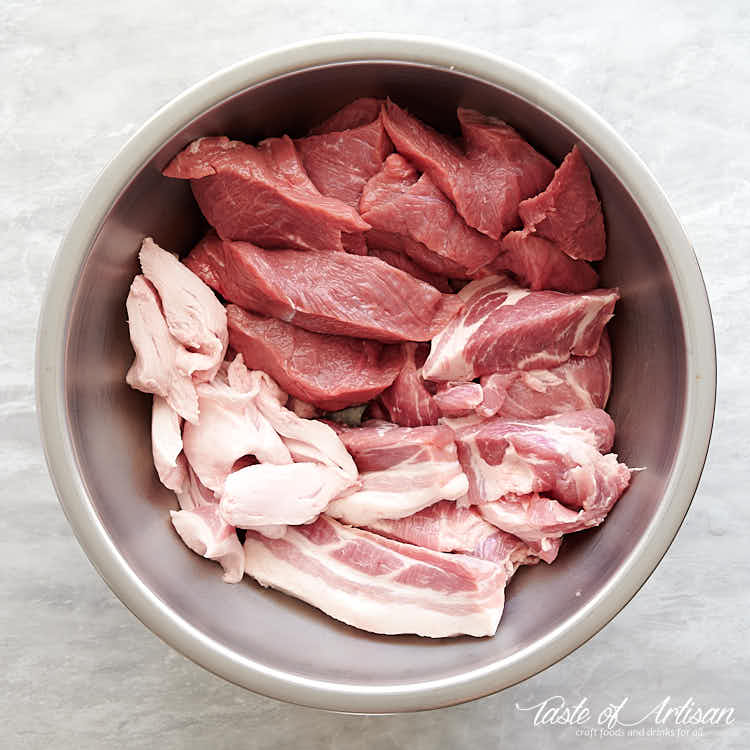 In early 2000's I spent a year in Germany where I got an opportunity to explore the local food scene. That's when I got introduced to bockwurst. While you can find this sausage at any German supermarket, the real deal always comes from small mom and pop butcher shops known as Metzgerei (butcher's shop).  The recipe here is my recreation of the taste that I became so fond of and that I perfected over years.
Seasonings
At the base level, bockwurst is typically flavored with salt, white pepper, lemon zest and paprika. Some of the other herbs and spices that you may find in bockwurst include marjoram, chives, parsley, onion powder, nutmeg, coriander, ginger, and celery powder. Some butchers also add ascorbic acid (about 1%) to give the sausage more zing.
My version of bockwurst includes nutmeg, coriander and celery seed which add great aromatics and depth to the overall flavor profile.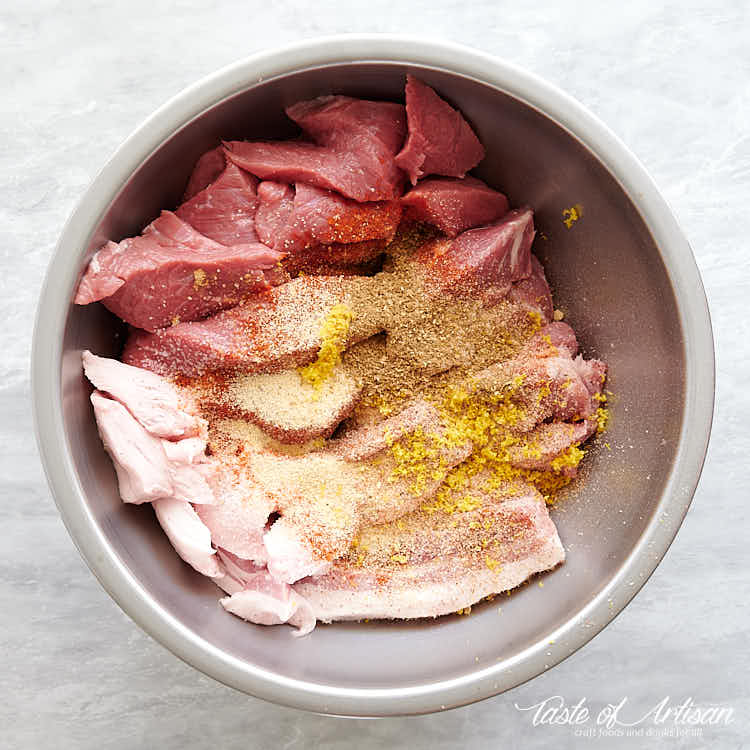 Meat processing and stuffing
It's important to grind the meat as finely as possible to get the authentic mouth feel. The most effective way to do that at home is to use a meat grinder and a food processor in combination. First, grind the meat using a 1/8" (3 mm) grinder plate, then emulsify in the food processor. In this recipe, adding ice during emulsification is not necessary as milk and eggs will make the process very easy and quick and the meat won't have enough time to heat up.
If you don't have a food processor, run the meat through a 1/8" (3 mm) grinder plate two or three times. You won't get the same texture but it will be close enough.
Once the meat is emulsified, stuff it into standard 28-32 mm hog casings using a sausage stuffer. The meat needs no additional mixing before stuffing.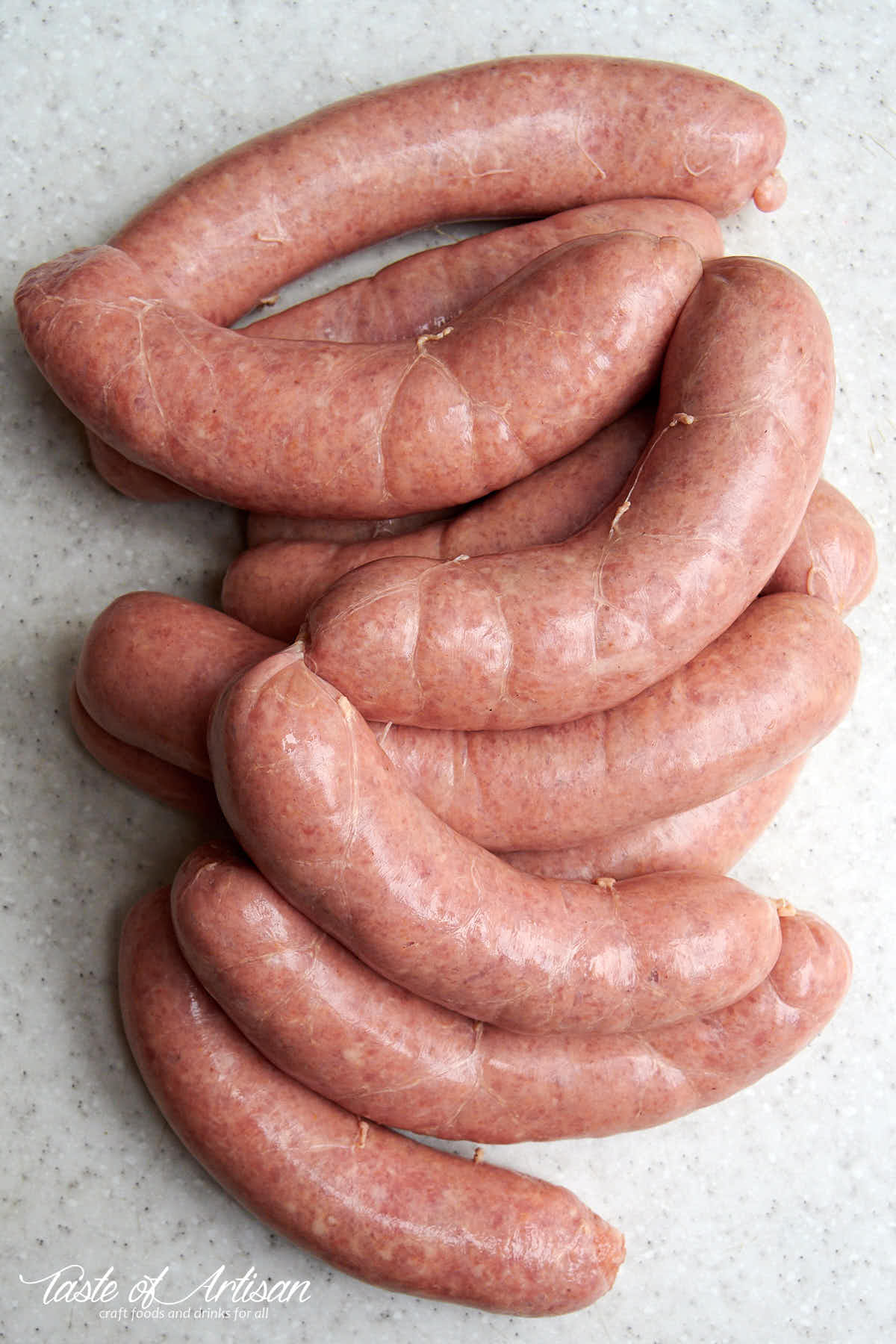 Cooking bockwurst
Traditionally, bockwurst is sold uncooked and requires cooking by poaching in water until cooked through. To prepare, heat the sausage in simmering water until it reaches 165F internal, which typically takes about 10 to 15 minutes.
Better yet, cook at 175F for for abut 20 - 25 minutes. An even better method is to cook at exactly 165F until doneness. You will get a much better texture and juiciness when poaching bockwurst at 165F. I read somewhere that at this temperature it takes about 1 minute per mm of sausage thickness to reach 165F. Say, if your sausage is 32 mm thick, it will take about 32 minutes for it to reach 165F internal temperature. Always use a thermometer to be sure though.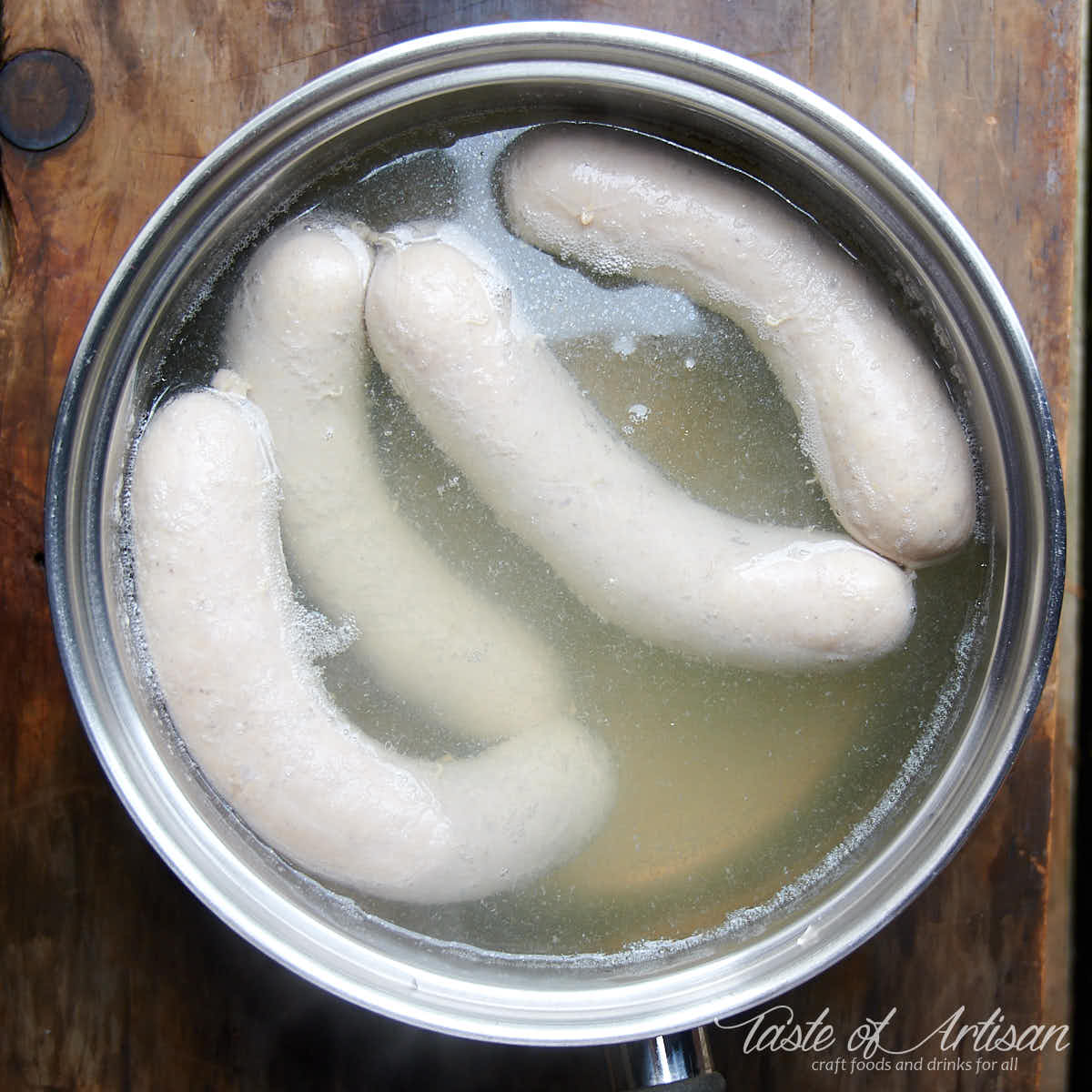 It's easy to see why bockwurst is also known as Weisswurst, or white sausage.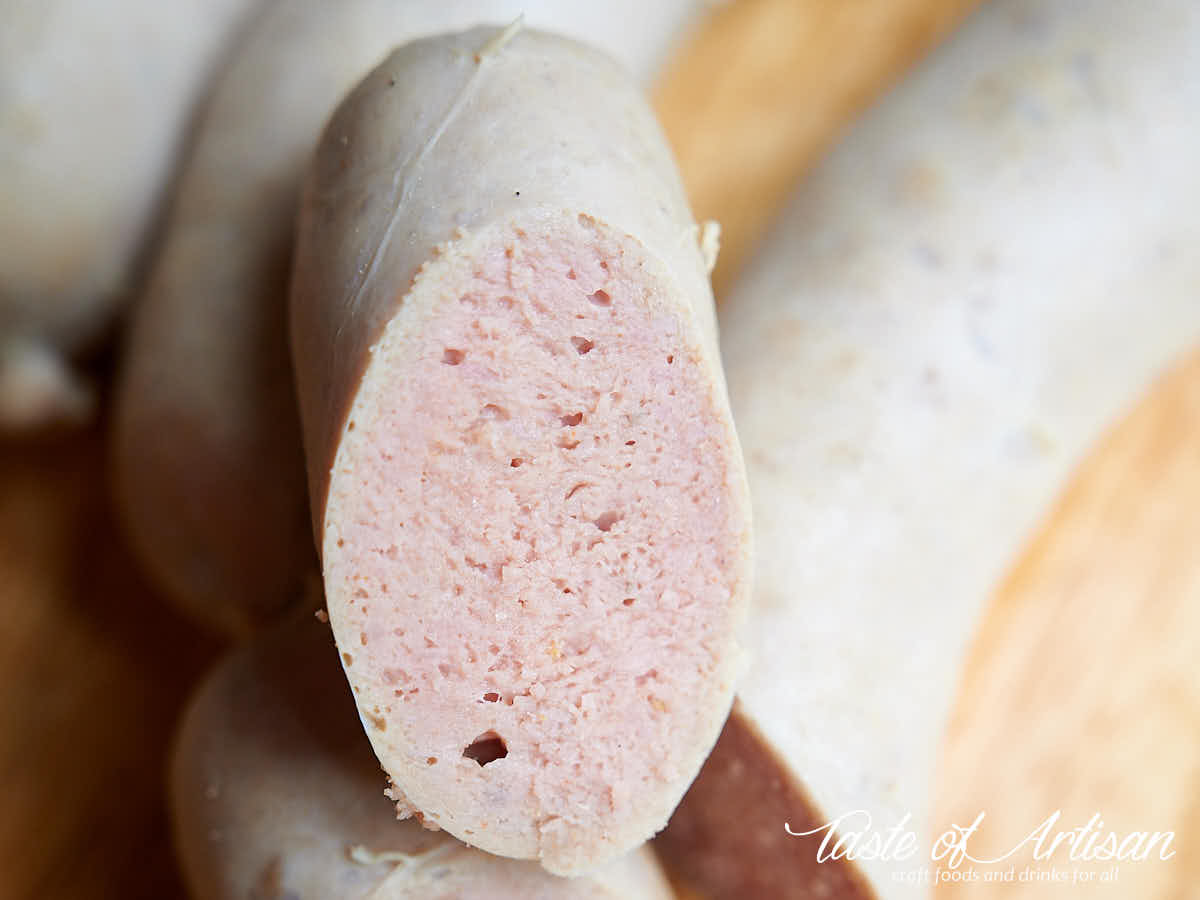 Smoking
in Germany, bockwurst is often smoked as well. Smoking is typically done at about 120F - 140F for about an hour.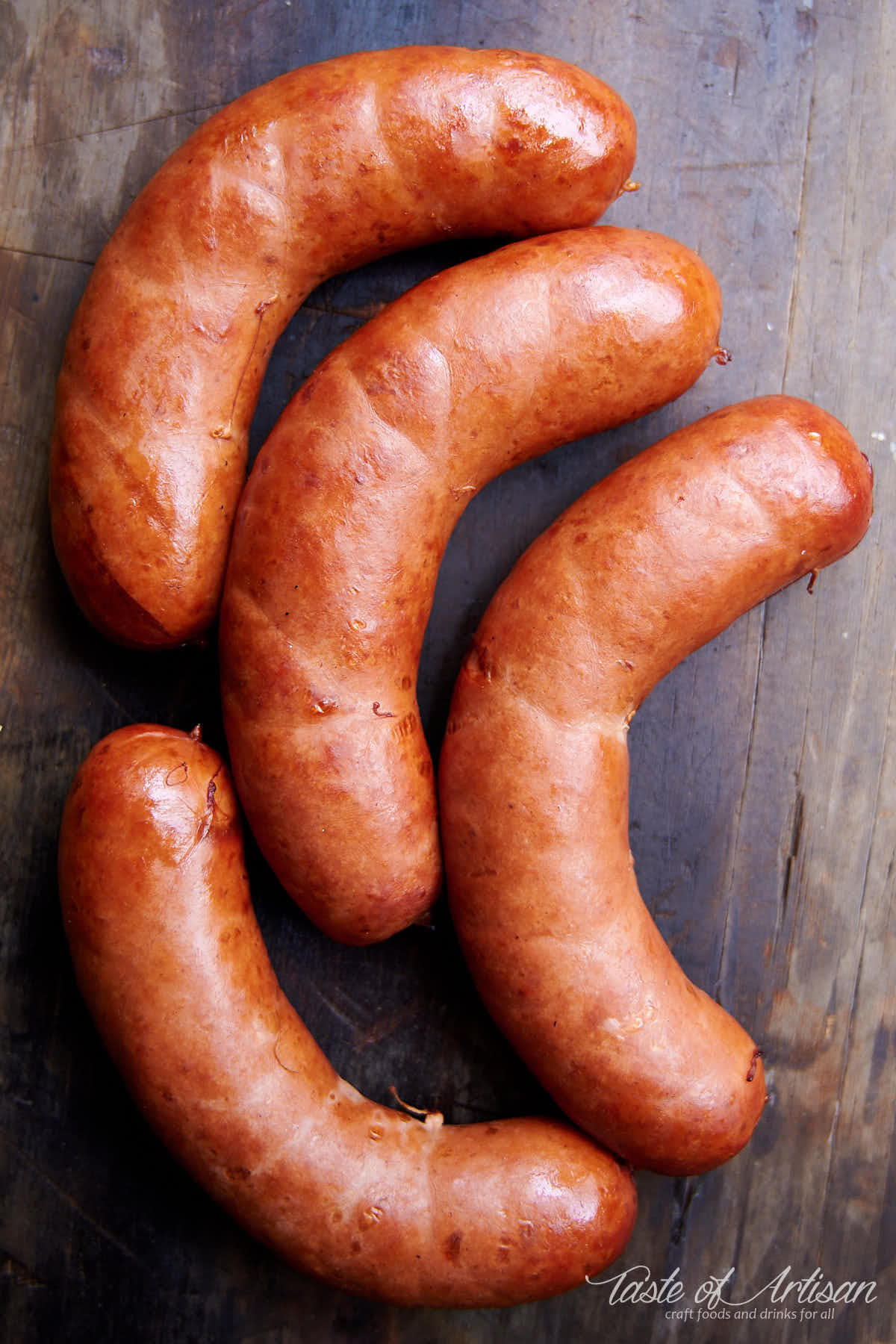 The sausage won't be fully cooked and will require additional cooking later. I like the taste of smoked bockwurst that is cooked sous vide at 165F to doneness.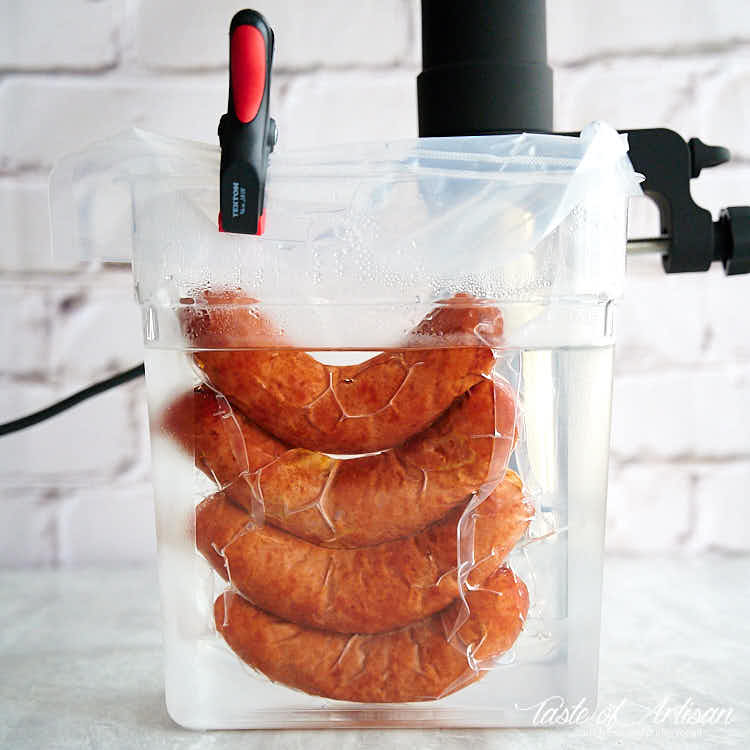 Other ways to cook bockwurst
Fresh or pre-smoked bockwurst can also be pan-fried and grilled instead of poaching. If frying or grilling, you can slit the casing in several spots to allow the casing to expand as it cooks without breaking apart. I personally don't bother.
My favorite way to cook this sausage indoors is air frying it in my 6.8 quart Chefman air fryer. You get a perfectly golden brown color, crispy skin, juicy meat and great taste with almost no effort. The sausage almost tastes like grilled.
When cooking oudoors, I grill bockwurst on my mangal (kebab grill). Nothing makes bockwurst taste better than cooking it low over red hot charcoal or wood.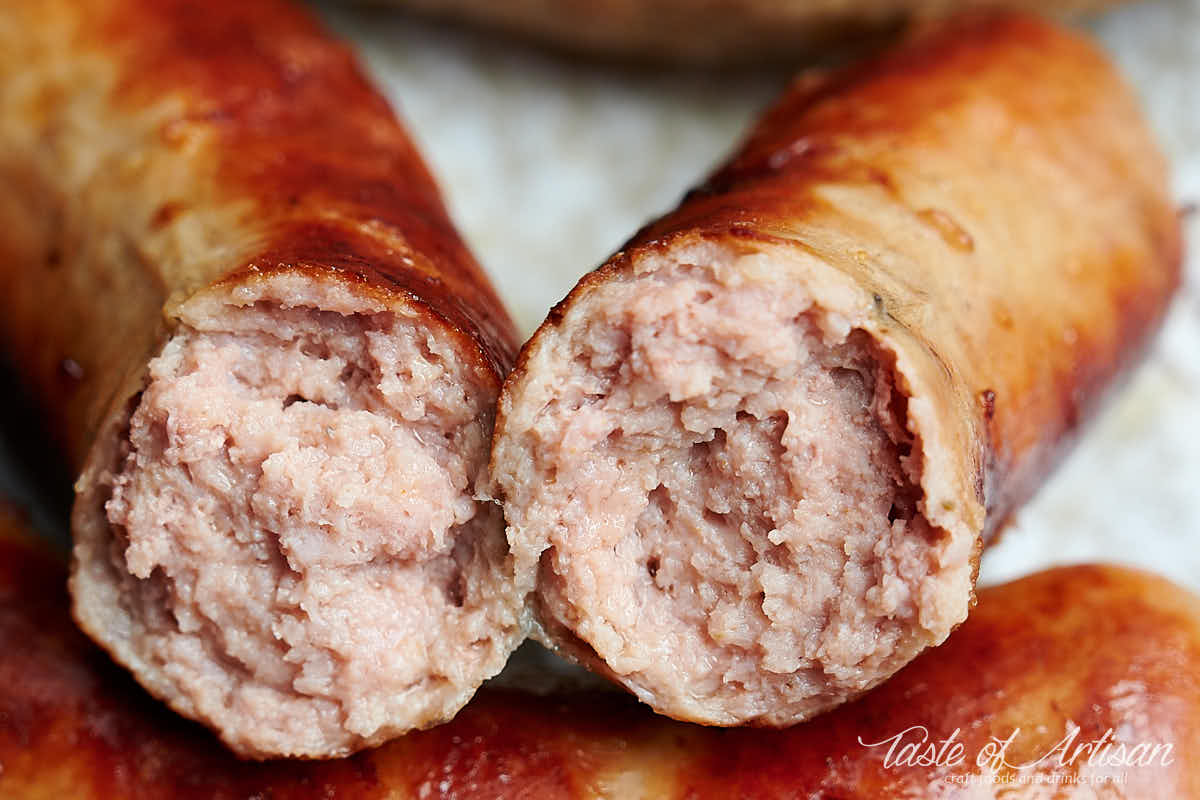 Storing bockwurst
To store, keep the fresh sausage refrigerated and use within 2-3 days as it will spoil easily. Cooked sausage can be refrigerated for up to 5 days. When reheating cooked sausage, make sure the internal temperature hits 165F.
Serving
This sausage goes well with cabbage, sauerkraut, potatoes, crusty bread, seasoned mustard, and, no surprise, good malty beer.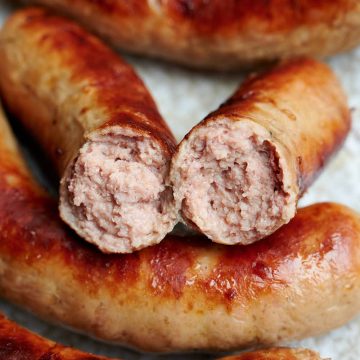 Bockwurst Recipe
One of the best bockwurst recipes that can be easily made at home.
Print
Pin
Rate
Ingredients
400

g

pork butt

(trimmed)

400

g

veal

100

g

back fat

(or fat trimmings)

100

g

pork belly

(skin removed; can be substituted for back fat)

18

g

kosher salt

6

g

onion powder

3

g

white pepper

2

g

sweet paprika

0.5

g

ginger

1

g

nutmeg

(freshly grated recommended)

1

g

coriander seeds

(ground in a mortar)

1

g

celery seed

(ground in a mortar)

lemon zest from 1/3 lemon

(just the yellow part, do not use the bitter white part)

1

egg

100

ml

whole milk
Instructions
Cut the meat and the fat into 2" pieces and place in a large bowl. Add the spices and the seasonings and mix.

Grind the seasoned meat and the fat through a 3/16" (3 mm) grinder plate.

Beat the egg in a food processor.

Add the ground meat and the milk and pulse to emulsify, about 30 seconds.

Stuff the meat into standard 28-32 mm hog casings forming 4" links.

Refrigerate for up to 3 days or freeze for up to 3 months.
Notes
This recipe is for 1000 grams or 2.2 lbs of sausage (about 7 links) but you can easily scale it to suit your needs. For example, if you want to double the amount of sausage, simply double each ingredient.
Nutrition
Calories:
372
kcal
|
Carbohydrates:
2
g
|
Protein:
24
g
|
Fat:
28
g
|
Saturated Fat:
10
g
|
Cholesterol:
124
mg
|
Sodium:
1102
mg
|
Potassium:
451
mg
|
Fiber:
0
g
|
Sugar:
0
g
|
Vitamin A:
200
IU
|
Vitamin C:
0.2
mg
|
Calcium:
42
mg
|
Iron:
1.6
mg