I have been curing meats at home for almost two ten years now. Time really flies! As many of you know, my initial results seemed encouraging, but then it all quickly went downhill. The biggest problem was the high humidity. I tried many things to fix it, but nothing worked. About a year and a half into my hobby, I  made a change to my meat curing chamber - I added a peltier dehumidifier. It helped me start getting consistent and predictable results. I was in charcuterie heaven! My curing frustrations were officially over. Since then, I have implemented a number of additional changes that have made my curing chamber even more consistent, predictable, and versatile. I hope this guide will help you build your dream meat curing chamber, too.

Building a meat curing chamber
Building a meat curing chamber at home is ridiculously simple and will not break the bank. All you need is the (now revised) list of things listed below.
A full-size frost-free fridge ($60-$120 on Craigslist)
A temperature controller ($50-$130)
A humidity controller ($50-$130)
An ultrasonic humidifier ($30-$50)
A peltier dehumidifier ($40-$80)
A heating mat ($10-$30)
Ten years ago, I started off without a dehumidifier. Such a setup works. That is, if all planets line up perfectly or you happen to live in an area that is conducive to meat curing. Otherwise, you are going to face challenges controlling high humidity.
My first meat curing chamber was about as outlined above but with a less-than-perfect controller and without a dehumidifier and a heating mat. I also added a digital Extech 445715 Hygro-Thermometer for easy monitoring of internal temperature and humidity. The controller I picked was the analog C.A.P AIR-2 temperature/humidity controller, which controlled temperature and a de-humidifier.
My first batch of meats turned out fantastic; I could not be happier. No store-bought salami would come even close. Michael Ruhlman's sopressata was the star.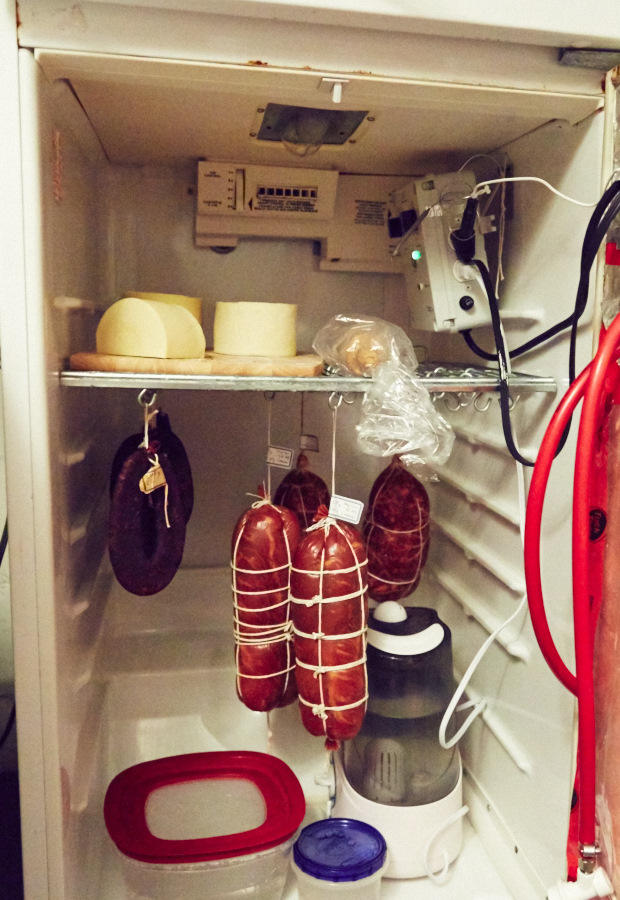 My meat curing chamber challenges
The next batch I made a few months later didn't fare so well. My salamis would keep developing some sticky grey coating on them, which impacted drying and resulted in spoilage. Wiping off that sticky mess with water and vinegar solution would only work for a couple of days. Then it was back again. I figured I must have done something wrong and made another batch. It turned out not too bad, but not nearly as good as the first one.
Then I realized what the problem was. It was the changes in the ambient humidity that affected the humidity inside the meat curing chamber. When the ambient humidity was suitable, the internal humidity in the fridge stayed in the desired range, and I would get perfect results. If not, I would get junk.
Around that time, my very old fridge died, and I was able to replace it with a practically new one that I picked up for $110 on Craigslist. Below is a picture of my second curing chamber.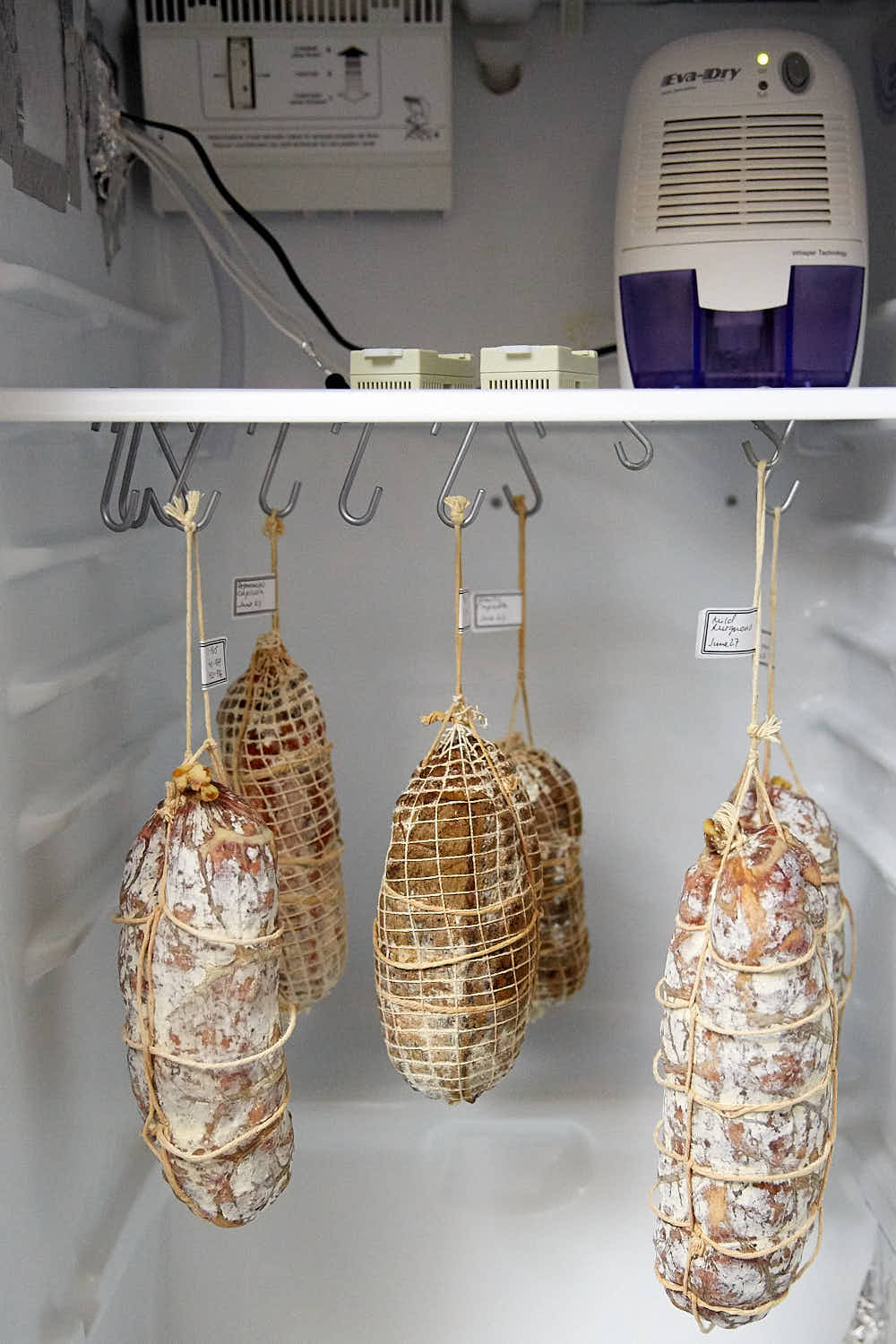 The same problems continued, and I was pulling my hair out, figuring out how to bring humidity under control. Specifically, I needed to be able to bring the humidity down. Low humidity was not a problem, as I could use a humidifier to take care of that.
Solutions that did not work
The Internet is full of information and misinformation. Sometimes, the information is correct but does not necessarily apply to your conditions. As a result, you take someone's advice, but it does not work for you. You probably have been through that many times.
One recommendation was to control the humidity in the meat curing chamber with a tray of wet salt. It should provide a perfect 75% RH. That did not work for me at all.
Then, I made a big tray of sodium acetate, which I read about in one of Stanley Marianski's books. This method worked fine, but only for a few days. The acetate would quickly get moist, and I would need to dehydrate it in the oven. It proved to be too much hassle.
I now understand that these methods work well when you have relatively low humidity. When the humidity is high, these methods are ineffective. You'll never know for sure unless you try yourself.
Later, I stumbled upon Marianski's recommendation to use an exhaust fan to get humidity out of the fridge. There are two ways to implement this solution.
Set up the humidity controller to run the fan when humidity rises above a certain threshold.
Add a timer to activate the fan at a predetermined time.
I cut two 4" holes in my new fridge, one at the bottom to take air in and one at the top to get the humid air out.

This worked for a short period of time. The humidity would still be fairly high when I would add new sausages but would come down a few days later. Unfortunately, two months later, this system started to struggle. Humidity would not get below 85%, and the fan would be running almost all of the time. A couple of weeks later, I noticed that when the fan would start running, the humidity in the meat curing chamber would increase. What the heck?
During that time, the ambient temperature got noticeably higher. When warmer air with the same or higher relative humidity is introduced into the cooler fridge, it causes internal RH to increase. That's precisely what happened to me. So, this solution works when the ambient temperature is low, or the ambient RH is much lower than the one in the fridge. Otherwise, you will be getting the exact opposite effect.
Now, some have been saying that 85% RH is perfectly fine for curing meats. I can tell you that it's not what my experience has been. Sticky goo and nasty molds would attack my meats at high RH. I also noticed quite a bit of case hardening. That was surprising as you are more likely to get case hardening at low RH.
I kept looking for other methods. Some are using ceramic heater lamps, which are discussed here. This method can be dangerous and, frankly, does not make much sense to me. Why would you want to heat the fridge to make it circulate more often? I also noticed that as soon as the fridge stopped running, the RH would shoot back up within 20 seconds. Somehow, the moisture needs to be removed. That seemed like a more practical solution for lowering RH inside the curing chamber.
The solution that worked
This all led me to look into installing a dehumidifier in the meat curing chamber. I thought that maybe that would be the solution. Any small-size dehumidifiers I was able to find were using Peltier technology. I've seen numerous posts on various forums stating that these types of dehumidifiers don't work at curing chamber temperatures. Darn!
Luckily, one person on Reddit forums reported using one of these dehumidifiers with great results. I took the plunge and bought the Eva-dry Edv-1100 Dehumidifier

, and I am glad I did. It worked, and it worked exceptionally well. It's still going strong after ten years of use, by the way.
This is a smaller version of the one that the poster from Reddit had, but it worked just as well, from my experience. Another benefit of the dehumidifier was that it provided some air movement when it was on.
I replaced my less-than-stellar analog controller with the Auber TH210 Temperature and Humidity Controller

 for more precise temperature control.
This controller also controlled the Optimus Cool Mist Ultrasonic Humidifier in my setup. Later, I added another one to control the Eva-dry Edv-1100 Dehumidifier

. I also had an exhaust fan plugged in, but I quickly stopped using it as I realized I didn't need it. I took two pictures as the numbers on the controller flickered when I took the shot.

There were slight differences in the temperatures and RH reported between the two. I think it was the result of sensor placement and air movement. I could especially notice the difference when the fridge was circulating and cold air was blowing inside the fridge. When there was no air movement inside the fridge, they had almost identical readings.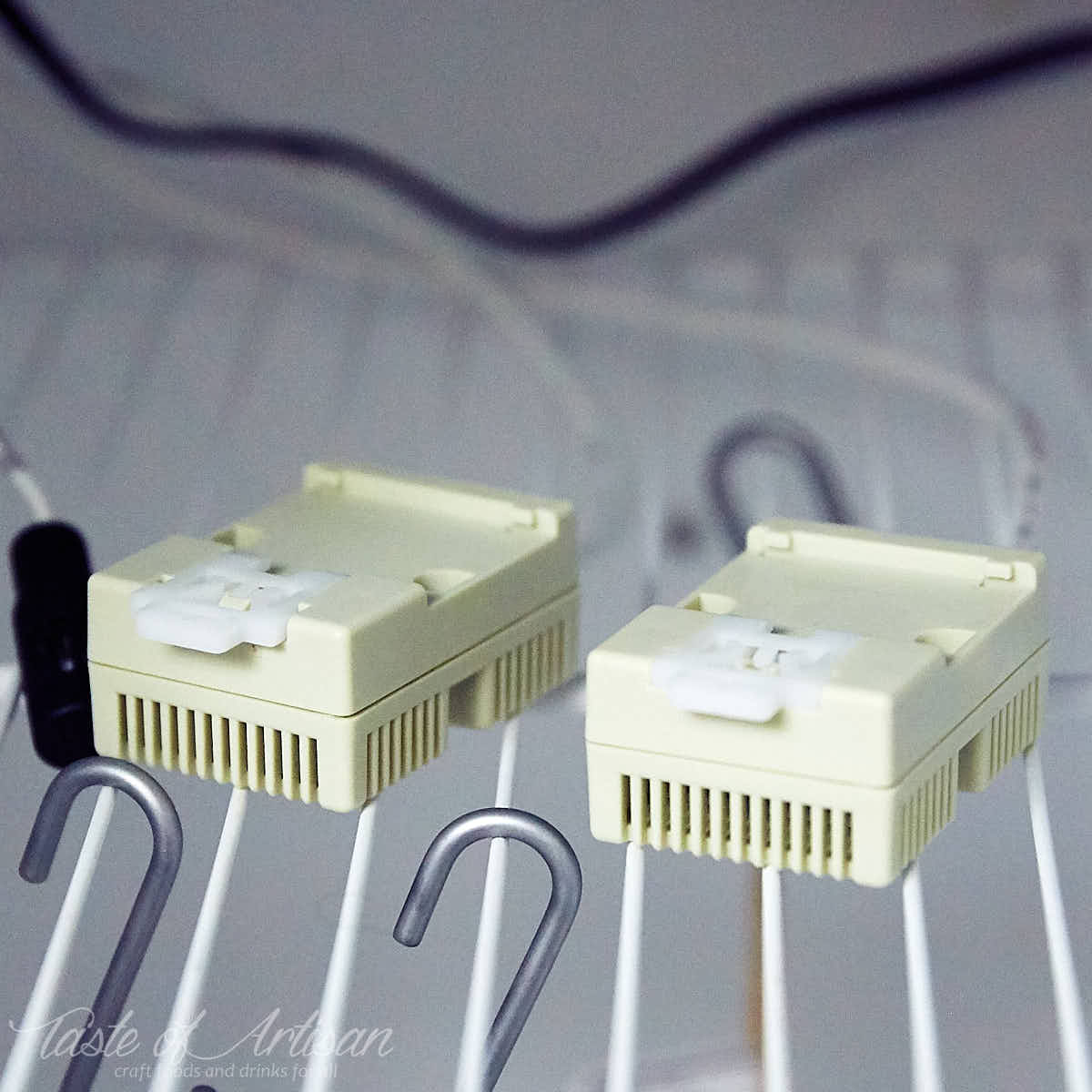 The way this setup worked was one controller was set up to start the humidifier when RH dropped below 72%. Because of a slight lag, the RH drops to about 70% before the humidifier is able to start bringing it back up. Still, this was sufficiently fast.

You may have noticed that I moved the humidifier outside the fridge in the new setup. The reason behind this was that it was easier to control humidity in larger spaces. The humidifier was pretty bulky and took up a lot of space, so it made sense to move it out.
The other controller controlled the dehumidifier and kicked in when the humidity went above 78%. Again, due to a lag, the RH briefly would go up to about 80-81% before it was brought back down below 78%. The average was about 75% RH, which is precisely where I want it to be. I could tighten the range down to a 1/10th of a degree, but that was not necessary. I didn't want the humidifier and dehumidifier to start competing with each other in a vicious cycle.
Like I said, I felt like I was in charcuterie heaven.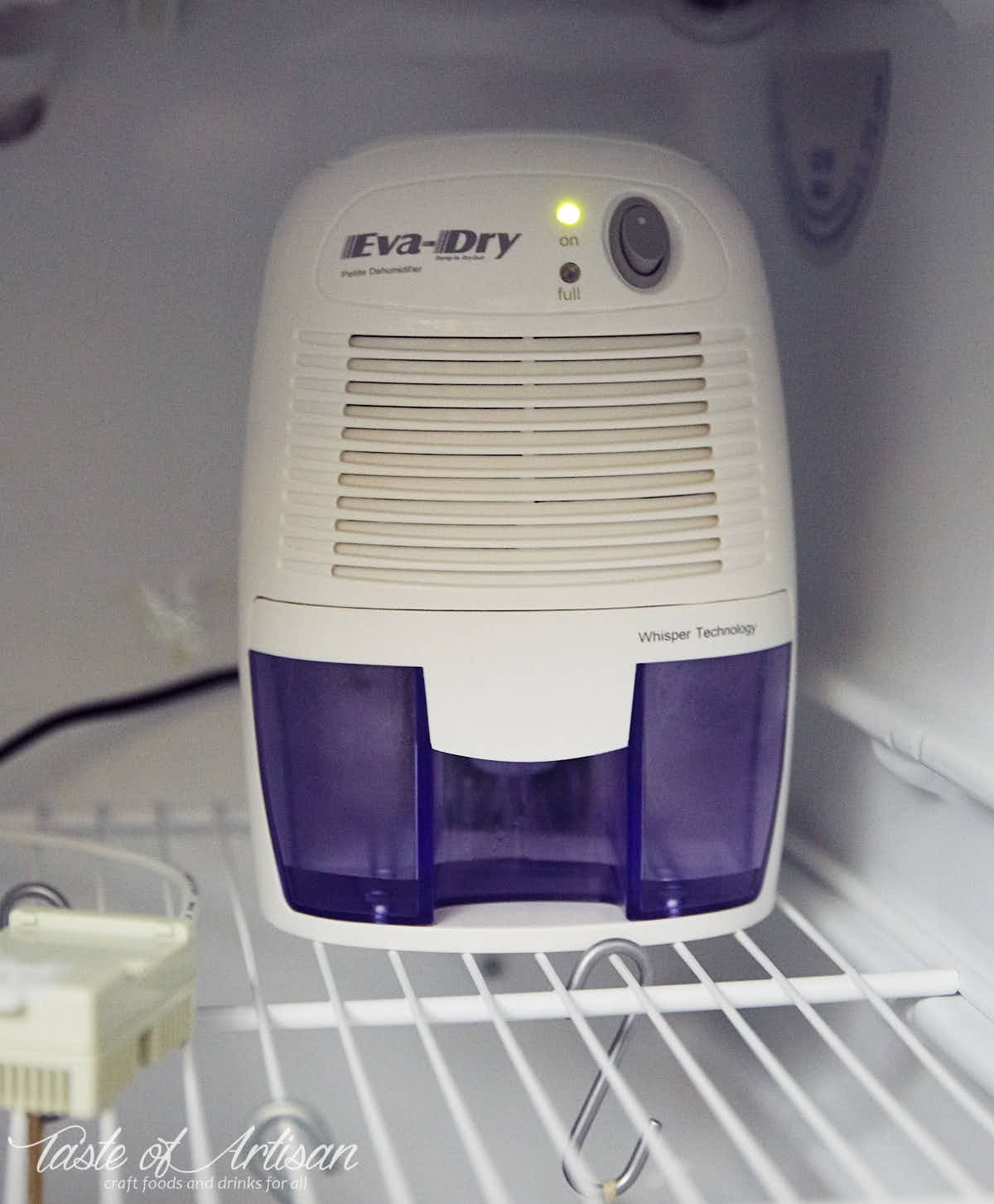 Fast forward to today. I've learned a lot over the years. Charcuterie is my passion, and I still make cured meats on a very regular basis. My curing chamber looks quite different from what it looked ten years ago, but the idea is pretty much the same.  Even the dehumidifier is still the same.
My updated curing chamber setup (as of 2023)
One of the most asked questions I've been getting over the past couple of years is what my current curing chamber looks like. I apologize for the delay; I should have done this well over a year ago. You know how it is; things constantly get in the way. I also had some challenges running electrical wiring to where I needed it. My setup is still evolving, but I've come to realize that it is a part of this hobby. I will constantly be modifying and improving it. For now, here it is, with all the details that will help you build your own fantastic curing chamber. I think I am 97% there.
The architecture of my new meat curing chamber setup
If you do a good amount of meat curing at home, you've no doubt run into a problem where you need to do fermentation/drying for a new batch while your curing chamber is occupied. I've had this happen to me so many times that I got really tired of it. And I got tired of fermenting my meats in make-shift fermentation 'chambers,' such as coolers, bathrooms, in front of a fireplace, etc. They kind of work but not very reliably and have limitations. Besides, seeing sausage hanging in your bathroom is odd, to say the least.
So, I decided that a dual-chamber setup was what I needed. I was not wrong. I am truly in heaven now. With this setup, I can ferment new batches at their own pace, temperature, and humidity in one chamber while older batches are maturing in the other chamber, undisturbed.
Another thing that is cool about the new architecture is that it's multipurpose. I can use one of both fridges as a curing chamber, fermentation chamber, or plain fridge. My wife is particularly happy about that.  There are no holes in the walls of the fridges, and the switch-over literally takes less than half an hour.

Below is the diagram of how all the curing chamber components interconnect with each other, something some of you have asked me to do.

The fridges
I had a hard requirement to make the new meat curing setup look nice. That meant that I needed identical fridges. My other hard requirement was to use only freezer-less fridges. Over the many years of curing meats, I've learned that more space inside a curing chamber means better and easier humidity control and more space for meat. I settled on LG LRONC1404V fridges, which are freezer-less, spacious, and have been doing a great job as curing chambers.
Humidity & temperature controllers
I am still using Auber Instruments temperature and humidity controllers. The fridge on the right in the picture above uses the newer AW-HD330 (humidity) and AW-TD130 (temperature) wireless controllers, while the fridge on the left uses the older model HD220-W (humidity) and TD120-W (temperature) wireless controllers.

The controllers are attached to the sides of the fridges using 3M VHB Tape 4910 1" double-sided tape, which holds them very securely. Also, these Auber controllers have very short power cords, so I had to add 6' heavy-duty 15-amp extension cords.

Additional thoughts on controllers
I thought I'd elaborate a little on controllers. The most obvious and popular choices are Auber Instruments and InkBird (Humidity Controller IHC-200-WIFI and Temperature Controller ITC-308-WIFI). Both are popular, WiFi-enabled, feature-rich, and both do the job.
Back in 2020, I tested both brands, see my Best Controllers for a Meat Curing Chamber post, and found that, at that time, Auber controllers seemed to be optimized for the curing temperatures of around 55F, while Inkbird seemed to be more accurate at higher temps and vice versa. Both Auber and Inkbird humidity controllers were not perfect and need to be calibrated. The deviations that they showed were significant enough to have a noticeable impact on curing results.
If you calibrate them at 55F, will they still be accurate at 70F-80F during fermentation? This is where a reference hygrometer like Hanna HI9565, discussed below, becomes useful.
Dehumidifiers
I've been using Eva-Dry peltier dehumidifiers for the past eight years or so, and they proved to be working well, without breaking, and doing exactly what they are supposed to. I started with one and added another dehumidifier later as I needed it for my make-shift fermentation chambers. Now, it sits in the new curing/fermentation fridge when needed. These dehumidifiers, the specific model and look, haven't been sold under the Eva-Dry brand for many years, but you can buy them under different names/brands. It's the same dehumidifier. Eva-Dry now has new restyled models, EDV-1200 (similar size to mine) and a twice as large EDV 2500, but I have not tested them yet.

Humidifiers
Of all the parts in my meat curing chamber setup, a humidifier has been the least important one. I can cure anything without a humidifier. In fact, I've been doing exactly that for the past two years or so. Meat constantly releases water during the fermentation, drying, and maturing phases. There is plenty of humidity in the curing chamber at any given time except for a brief time when the fridge cycles, after which it quickly recovers.
In my setup, the only time I want to add humidity is when the meat is quite dry and doesn't release water. That's when I turn on the humidifier. The humidifier that I bought in 2013, 10 years ago, and am still using, is the Optimus U-31001 1.5-Gallon Cool Mist Ultrasonic Humidifier.

Alternatively, I simply place a tray of water to provide a little bit of humidity, and it works reasonably well for me.

Heater
Since I use my new curing fridge(s) for fermentation, I need a reliable but safe source of heat. After testing a number of heat sources over the years, I've come to really like 10"x 20.75" seedling heat mats. These work exceptionally well in my fridges, and I feel safe using them as they don't get hot and are reasonably waterproof. I have several of them. Every time I buy them, they seem to be sold under a different brand name, but they are exactly the same.

Reference Hygrometer
This piece of equipment is optional but very useful if you want to keep your temperature and humidity controllers perfectly calibrated and accurate. It's Hanna Instruments reference Thermohygrometer HI9565, shown on the right in the picture below, next to my old Auber controllers. I've been using it for many years, and I find it quite useful as I like precision.

Airflow and ventilation
Since I am not making any holes in my fridge, the question is, what about airflow, letting fresh air in, etc.? Airflow is important. In my old curing fridges, I had exhaust fans and an internal fan to blow the air around. Quickly, I realized that it caused more harm than good. My results have been much better without them. The dehumidifier turns on frequently, especially during the initial stages, and provides enough air circulation from its built-in fan. Additionally, when a fridge circulates, it brings in ambient air (which is cooled down first) and pushes out some of the stale air from the fridge. I find that this is sufficient to make excellent cured meat.
Helpful Relevant Resources
Green Mold on Salami - Good or Bad?
Various Salumi Weight Loss Targets