This is by far the best Andouille sausage that I've ever tasted. My goal was to imitate the quite tasty Jacob's Andouille sausage which I happened to try some time ago. But mine came out even better if I may say so. It's smoky, has a gorgeous mahogany color and is seasoned just right. At least for my taste. It's not overly spicy. The heat is fairly mild and pleasantly lingers in the back of your mouth. I wouldn't change a thing in this recipe.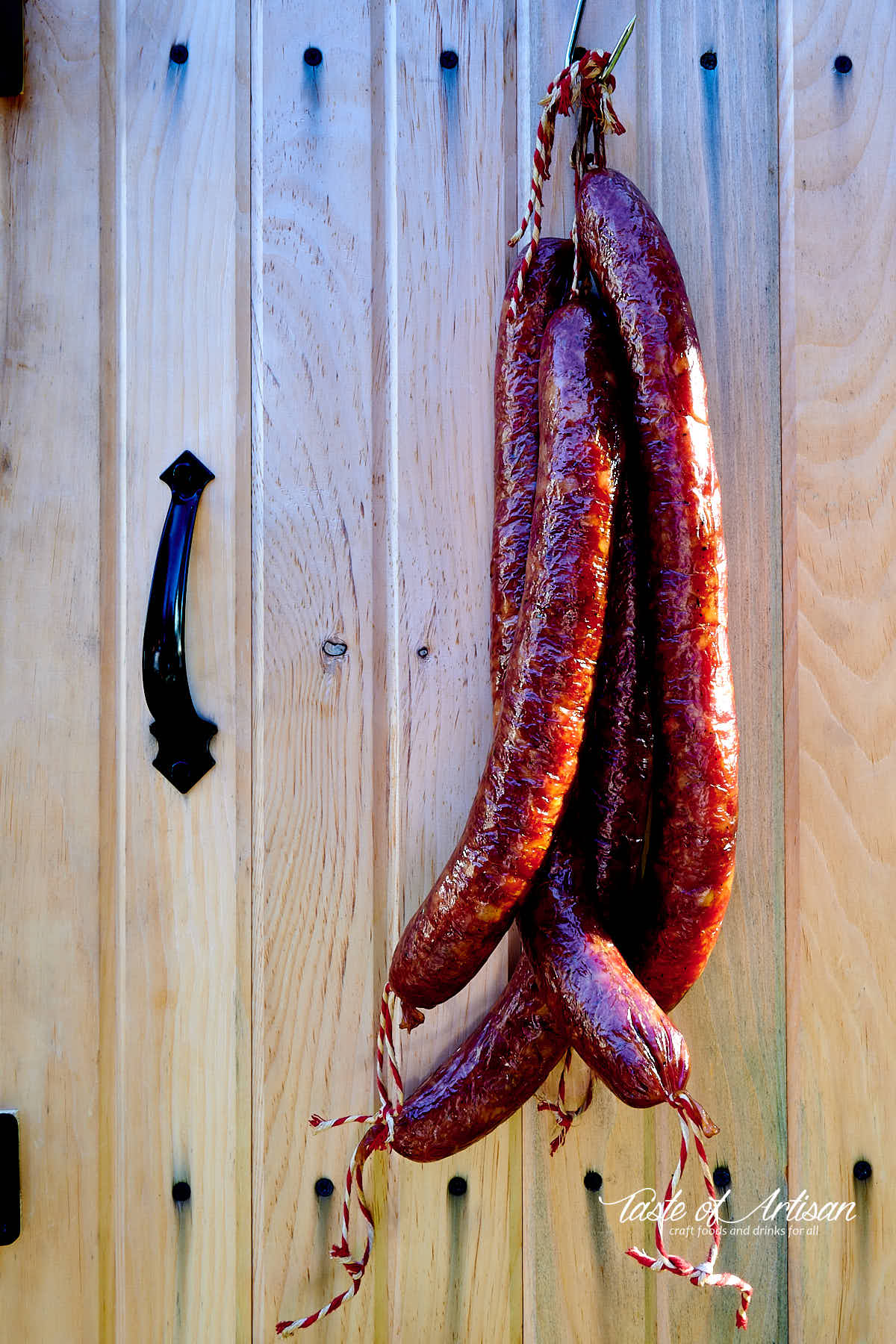 Andouille sausage is a classical Louisiana smoked sausage which is commonly used for seasoning gumbos, jambalayas, beans, and many other dishes. This sausage is a part of a family of original Cajun style meats and sausages: Andouille, Boudain, Chaurice (local version of Spanish chorizo) or Tasso (smoked pork butt).
Getting quality Andouille sausage outside of Louisiana has always been a challenge for me. After trying authentic Andouille you suddenly realize that none of the commercial mass-produced sausages come even close to the real deal. Mass-produced sausages are made quick and cheap, with flavor enhancers and preservatives, which negatively impact the taste. Some are spicy to the point of being barely edible.  Some are just bland and tasteless.
The good news is that this sausage is quite easy to make at home. Just like good homemade kielbasa, all that homemade Andouille requires is fresh meat, basic seasonings and some patience as it needs many hours of smoking. It's the long smoke over pecan wood that defines Andouille flavor profile.
Andouille recipe
Sausage making guru Stanley Marianski in his Home Production of Quality Meats and Sausages book admits that it's not easy to come up with a universal Andouille sausage recipe. He points out that some recipes include dry red wine, while others introduce bay leaves, allspice, sage, paprika, crushed red peppers, sugar, onion powder, pequin pepper, mace, nutmeg, sage, ancho chili, filé powder, etc.  The variations are endless, which makes it impossible to specify the 'real Andouille sausage'.
That said, according to Marianski, nearly all Andouille recipes he had examined agree on the following ingredients: pork butt, salt, cracked pepper, garlic, thyme, and cayenne pepper.
My favorite Andouille sausage that I had a chance to taste some time ago, Jacob's Andouille sausage, only includes salt, red pepper, black pepper and garlic, according to their website. These are the seasonings that I use in my recipe. My version is very close to their and sports chunky meat too.

Making Andouille sausage
Preparing the meat
Traditionally, Andouille sausage is made of pork butt. The meat is trimmed of fat and then cubed or very coarsely ground. Jacob's makes Andouille from cubed, lean pork shoulder. Needless to say, this is a labor-intensive task. Stuffing cubed meat in smaller casings is also a challenge. The good news is that I found a great solution. I tenderize 1-2" pork cubes in a stand mixer fitted with a paddle attachment. This makes them easily go through the 3/4" and 1" stuffing tubes. I've tested that many times already.
If you don't have a stand mixer, use a meat grinder and a grinder stuffing plate. This will give pretty big chunks. If you have a 3/4" grinder plate, it's a good option too. At a minimum, use a 1/2" grinder plate. I grind fattier pieces through a 1/4" (4.5 mm-6 mm) plate.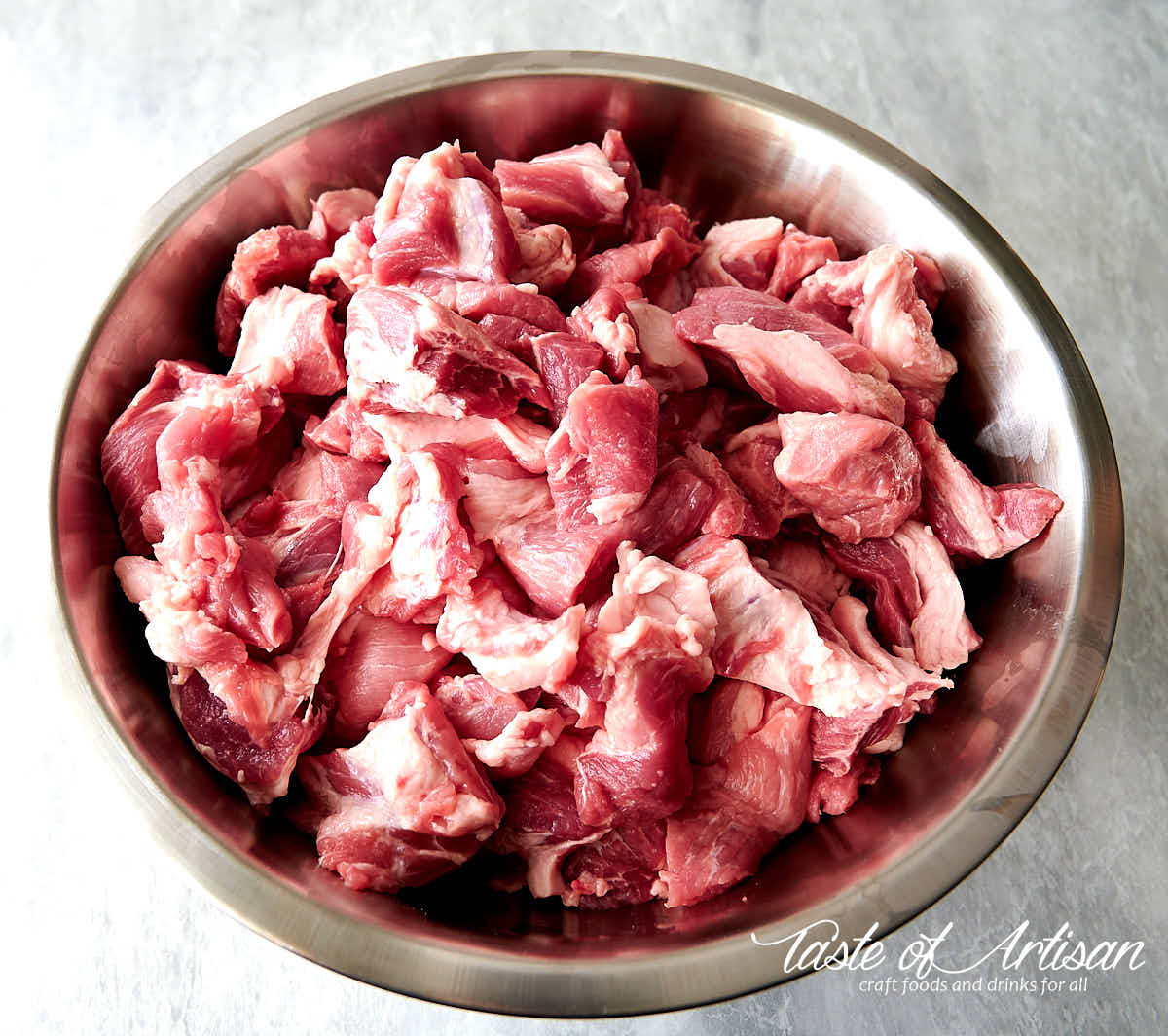 Stuffing and drying
Once the lean meat is cut into pieces and tenderized and the fattier meat is ground, I mix it with the rest of the ingredients, and stuff into beef rounds. Beef or hog casings of 38-40 mm are typically used.
I recently made an upgrade from my manual 5lb LEM sausage stuffer to their 20 lb motorized stuffer. What a difference! Loving the capacity increase and the ability to stuff even thin sausages quickly and without much effort. I used to always have my wife help me with stuffing sausages, now I can easily do it on my own. She appreciates it.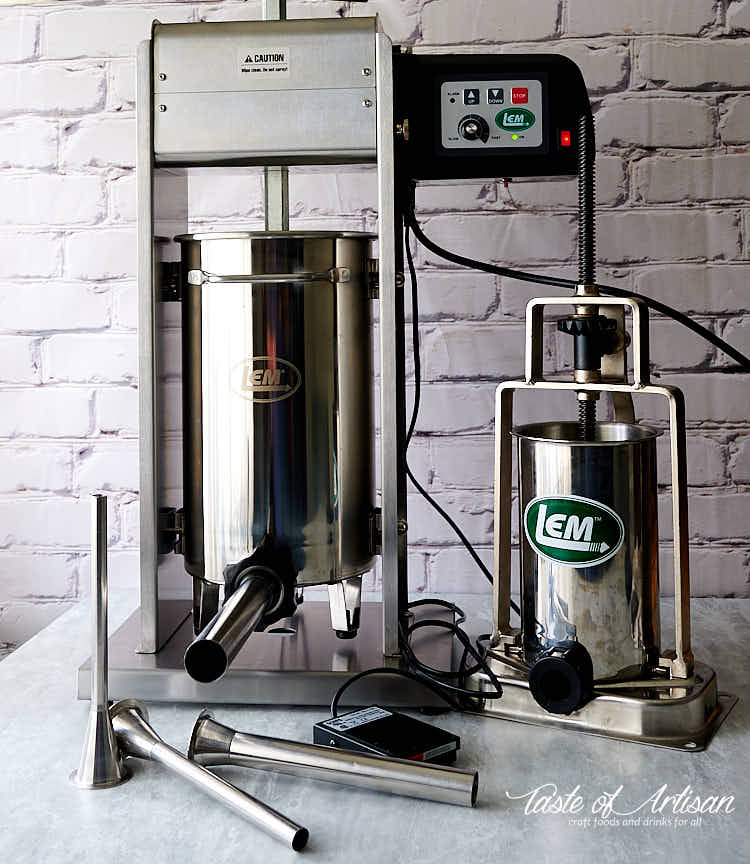 After stuffing, the sausages are cured for 12-24 hours in the fridge.
The next step is to dry the stuffed sausages. This can be accomplished by hanging them at room temperature for 2-4 hours, followed by drying them in a smoker for 30-60 minutes at 130F without smoke.
Smoking
Once the sausage casings are dry, raise the temperature to 140F and apply smoke. Andouille sausage is traditionally heavily smoked over pecan wood for a unique taste. Smoking takes anywhere from several hours to 10-12 hours, depending on the color and smokiness you want to achieve. The smokier it is, the better it will flavor the dishes to which it will be added. I smoked my Andouille for about 7 1/2 hours.
This is how my Andouille looked after about 2 hours of smoking in my new smokehouse. At this point, it definitely lacks color and robust smoky flavor.
This is after 7 1/2 hours of smoking.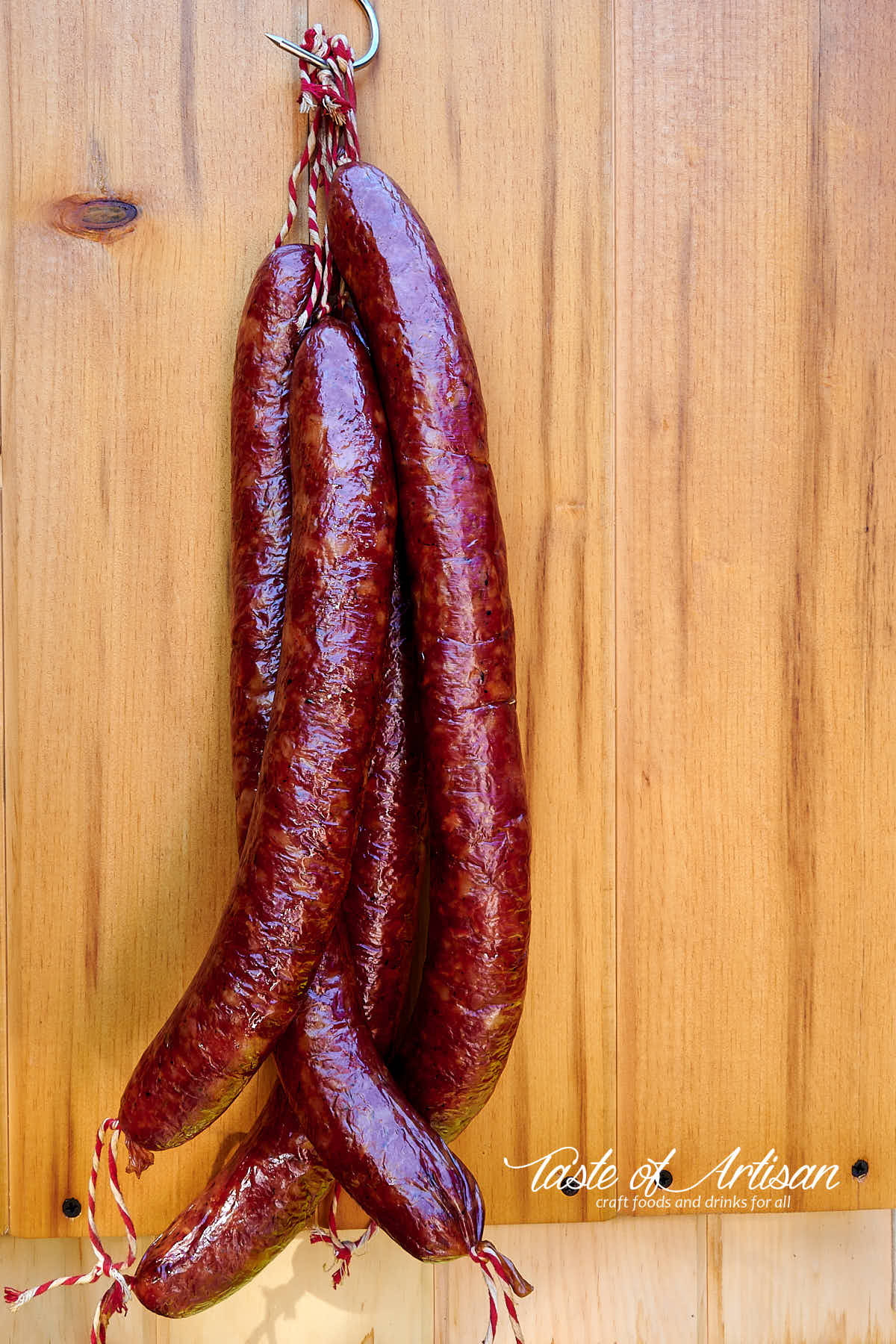 Finishing
Finally, once the desired rich color is achieved, Andouille is cooked at 170F - 195F until the internal temperature of 154F-158F is obtained. After smoking at around 140F- 142F for 7 1/2 hours, the internal temperature of the sausage reached 123F. I slowly ramped up the temperature in the smokehouse to around 185F before the internal temp reached 154F. This took about 40 minutes. Keep a bowl of hot water in the smoker. The more humidity you have in the smoker the faster this process will go.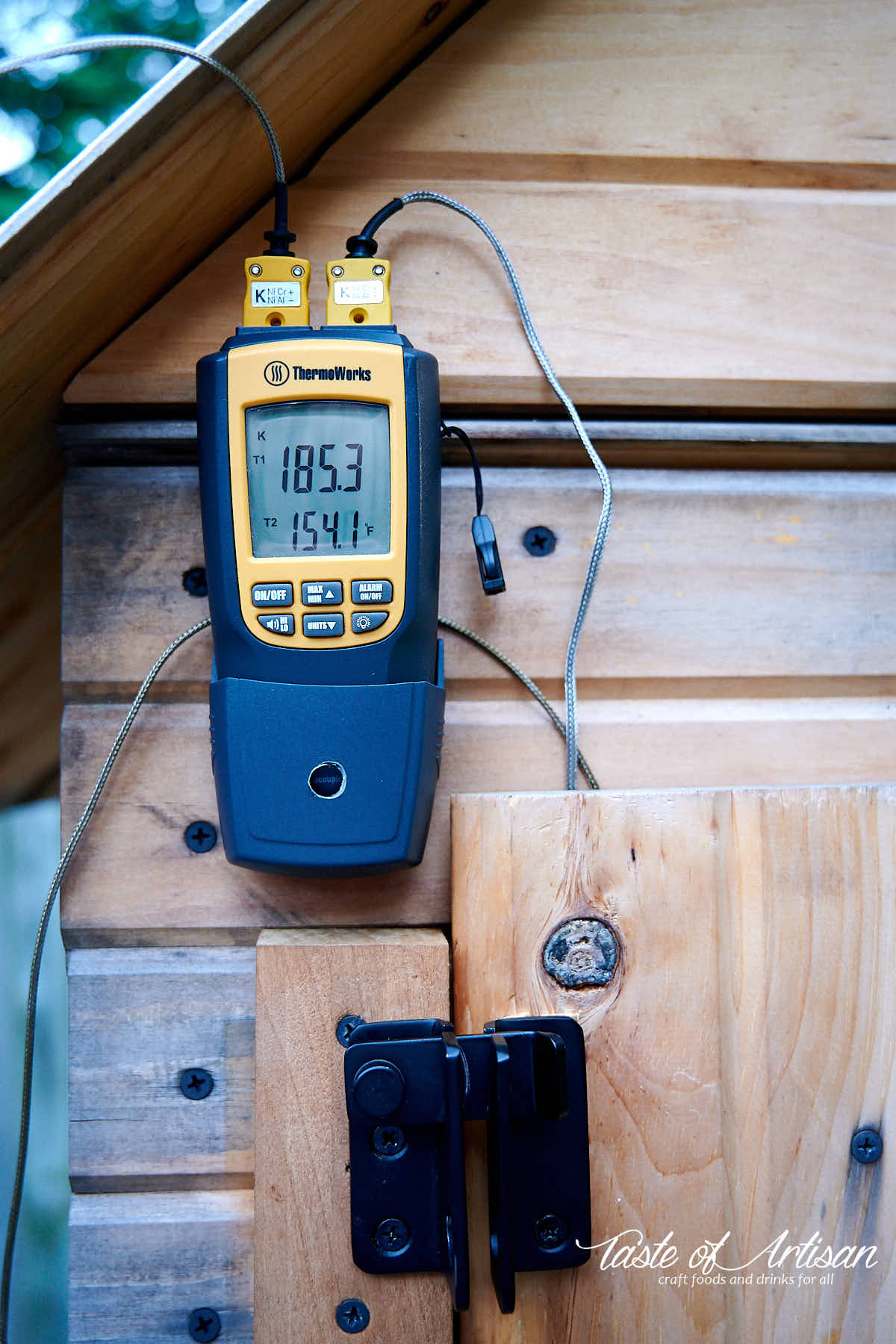 You can also finish cooking the sausages in the oven, but there is a chance of drying the sausage out. If you do, keep a pan with hot water in the oven to increase humidity. This will expedited the cooking process and prevent the skin from drying out.
Poaching the sausage in water at 170F - 175F for about 20 minutes or so is another good alternative, as well as steaming.
Alternatively, you may refrigerate the sausage right after smoking and cook later, for example, as part of your gumbo or jambalaya.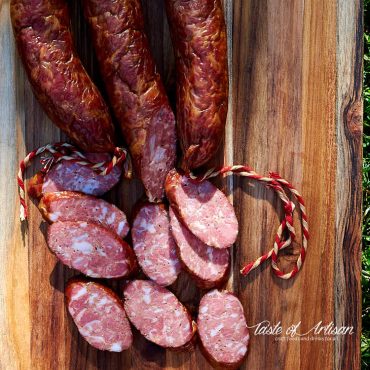 Andouille Sausage Recipe
Andouille sausage, a classical Louisiana smoked sausage made with coarsely ground or chopped pork, simple spices and smoked heavily over pecan wood.
Print
Pin
Rate
Ingredients
1000

g

pork butt

(2.2 lbs)

13

g

kosher salt

(2 heaping tsp)

2 1/2

g

Cure #1

(1/2 tsp, level)

10

g

garlic

(3 cloves, pressed)

5

g

black pepper

(2 1/2 tsp, cracked)

4

g

cayenne pepper

(2 tsp)

100

g

cold water

(1/4 cup)
Instructions
Cut lean pieces of meat into 1" to 2" pieces and tenderize them in a stand mixer fitted with a paddle attachment for 3-4 minutes. If you don't have a stand mixer, grind them through a stuffing plate or 1/2" (12 mm) - 3/4" (18 mm) plate.

Grind the fattier pieces through a 1/4″ (6 mm) plate.

In a large bowl, mix the meat with the rest of the ingredients, including the water.

Stuff into 38 - 40 mm beef or hog casings. Tie to make 12" links.

Cure in the fridge for 12 - 24 hours.

Dry for 2-4 hours at room temperature then hold for 30-60 minutes in a pre-heated smoker at 130F without smoke.

Smoke over pecan wood at around 140F for about 8 hours until you obtain a nice rich mahogany color.

Cook Andouille in the smoker at 170F - 195F until the internal temperature reaches 154F-158F. This should take about 30-40 minutes. Add a pan with boiling hot water to expedite the process.

Chill quickly by placing on a cold marble slab or a similar cold surface.

Refrigerate after cooling down. Keep wrapped in butcher's paper for best results.
Notes
You may also poach Andouille after smoking in water at 170F-175F until the internal temperature reaches 154F  - 158F, about 20 minutes. Alternatively, you can steam or bake in the oven. Another option is to refrigerate it as is and cook as part of a dish, like gumbo.
Nutrition
Calories:
340
kcal
|
Carbohydrates:
2
g
|
Protein:
47
g
|
Fat:
14
g
|
Saturated Fat:
5
g
|
Cholesterol:
150
mg
|
Sodium:
1423
mg
|
Potassium:
894
mg
|
Fiber:
1
g
|
Sugar:
1
g
|
Vitamin A:
416
IU
|
Vitamin C:
2
mg
|
Calcium:
45
mg
|
Iron:
3
mg