Smoked meatloaf served with garlic mashed potatoes, this is the quintessential soul food for me. I like my meatloaf extra moist, chunky,  and not dense.  You take one bite of it and you are in a food paradise. If you like meatloaf, you've got to try this recipe.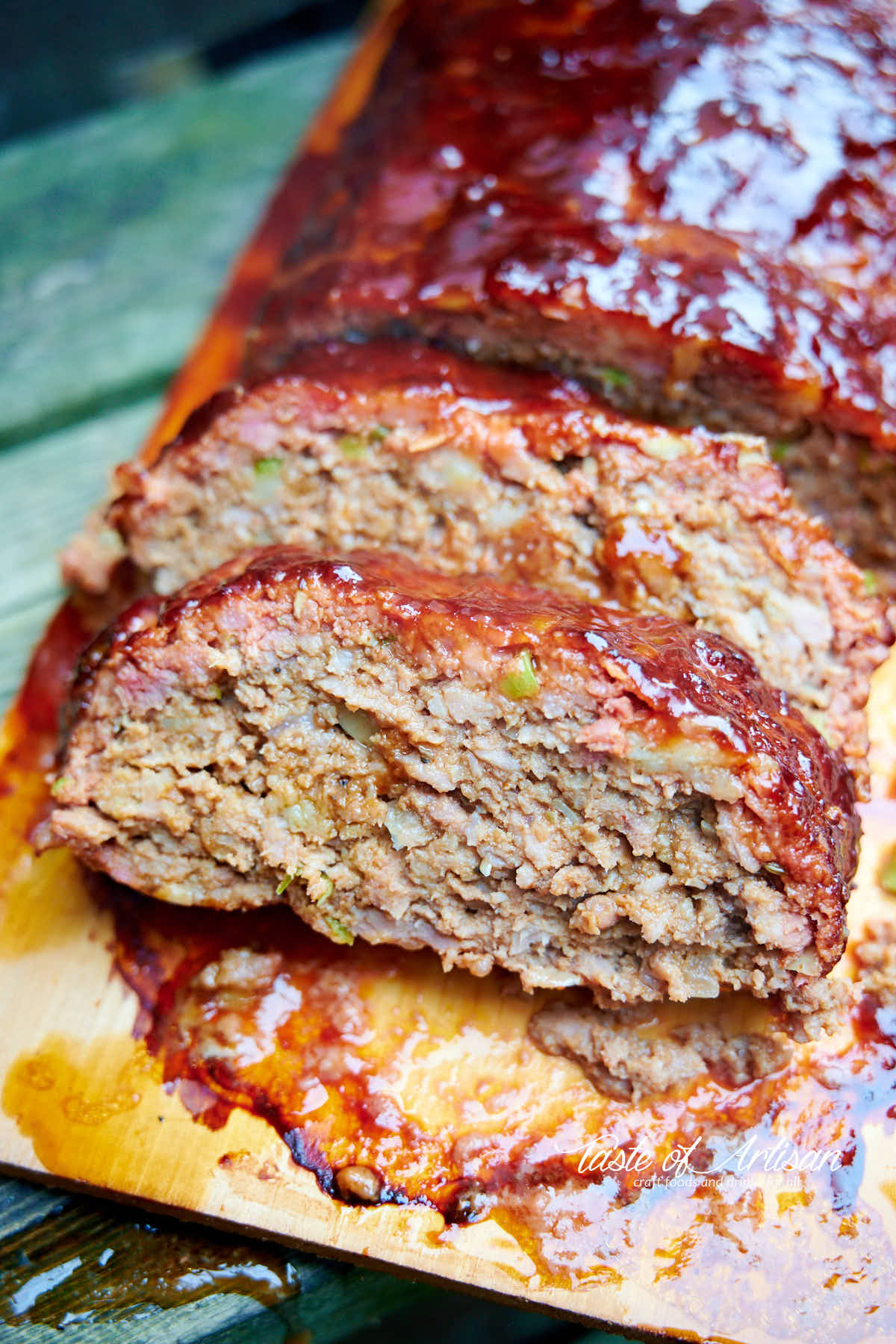 This meatloaf is made with a combination of ground beef and homemade Italian sausage, sauteed vegetables, BBQ sauce, and a simple spice mix. It's smoky, very flavorful, and succulent. It's exceptionally moist and has an almost sausage-like texture. Well, it's 50% Italian sausage, 50% beef, so no wonder.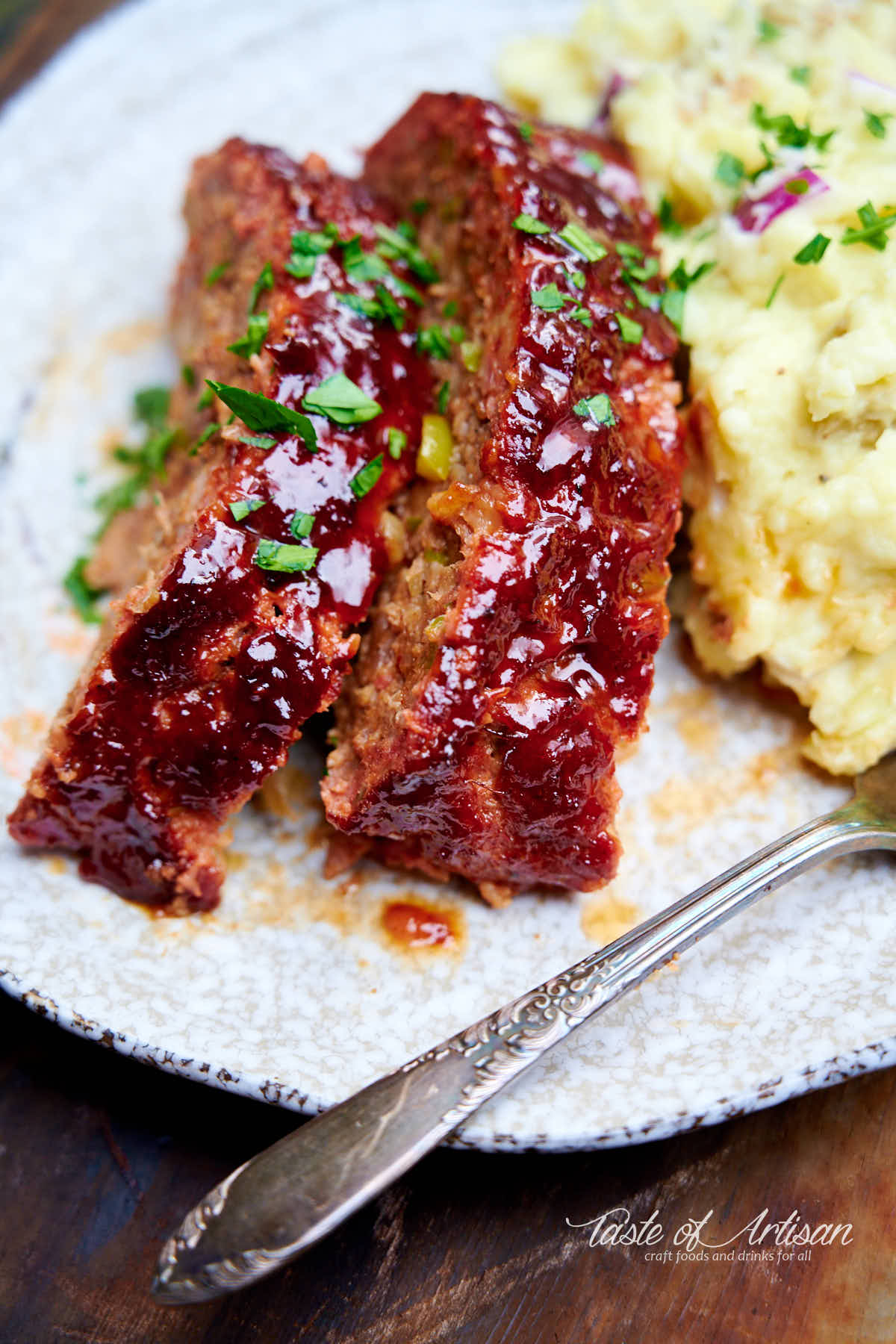 To get that exceptional moistness the meatloaf mixture needs to be quite moist. This makes it hard to place it on the smoker, and remove once done. There is a simple solution though. You can use a cedar plank to shape the meatloaf on, smoke and move around.
You can also serve it on the plank, it makes a great looking, rustic serving board.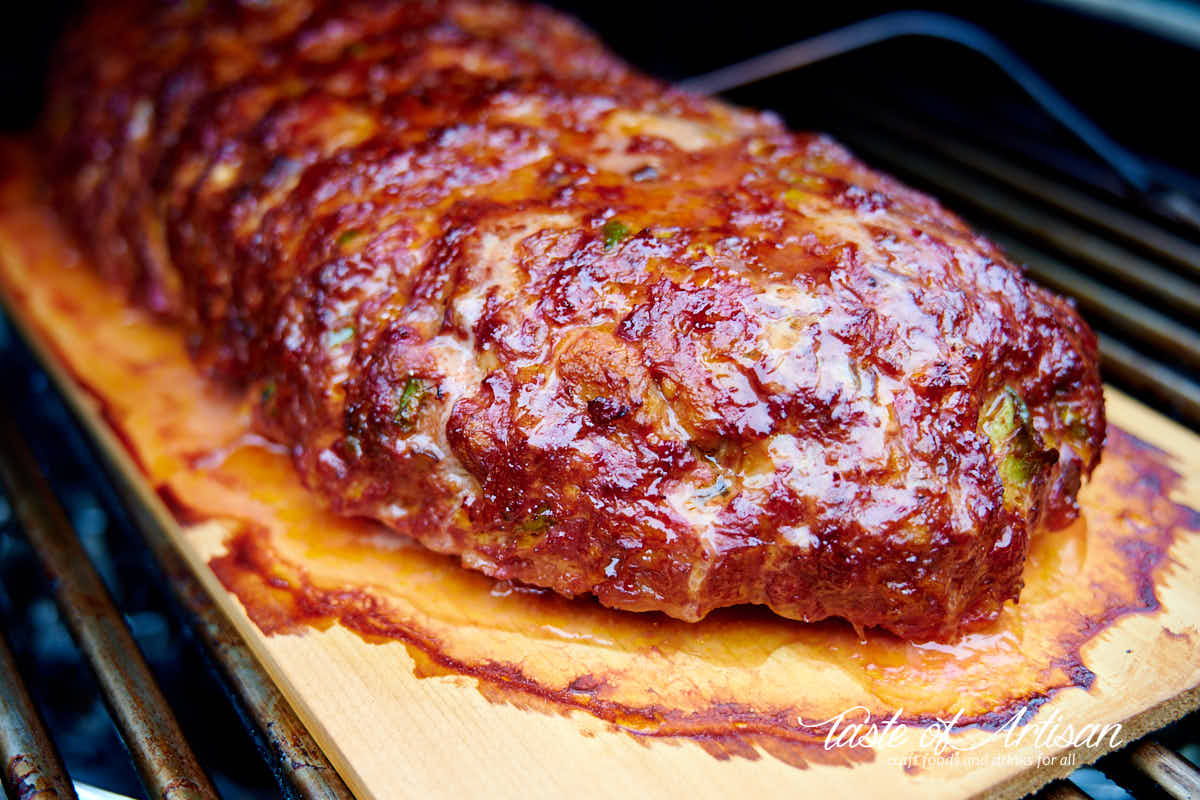 In a pinch, just use a small baking sheet or a foil pan.
Another tip is to use enough vegetables like onions, bell peppers, celery, and mushrooms. For more flavor and perfect tenderness, I saute the veggies. All of them have a lot of moisture that will make your meatloaf moist and fluffy.
An all-meat meatloaf is dense. Adding plenty of vegetables and some milk-soaked bread will also prevent meat protein from forming a tough, dense texture. Overmixing will also lead to a denser, tougher texture, so it helps to avoid doing that.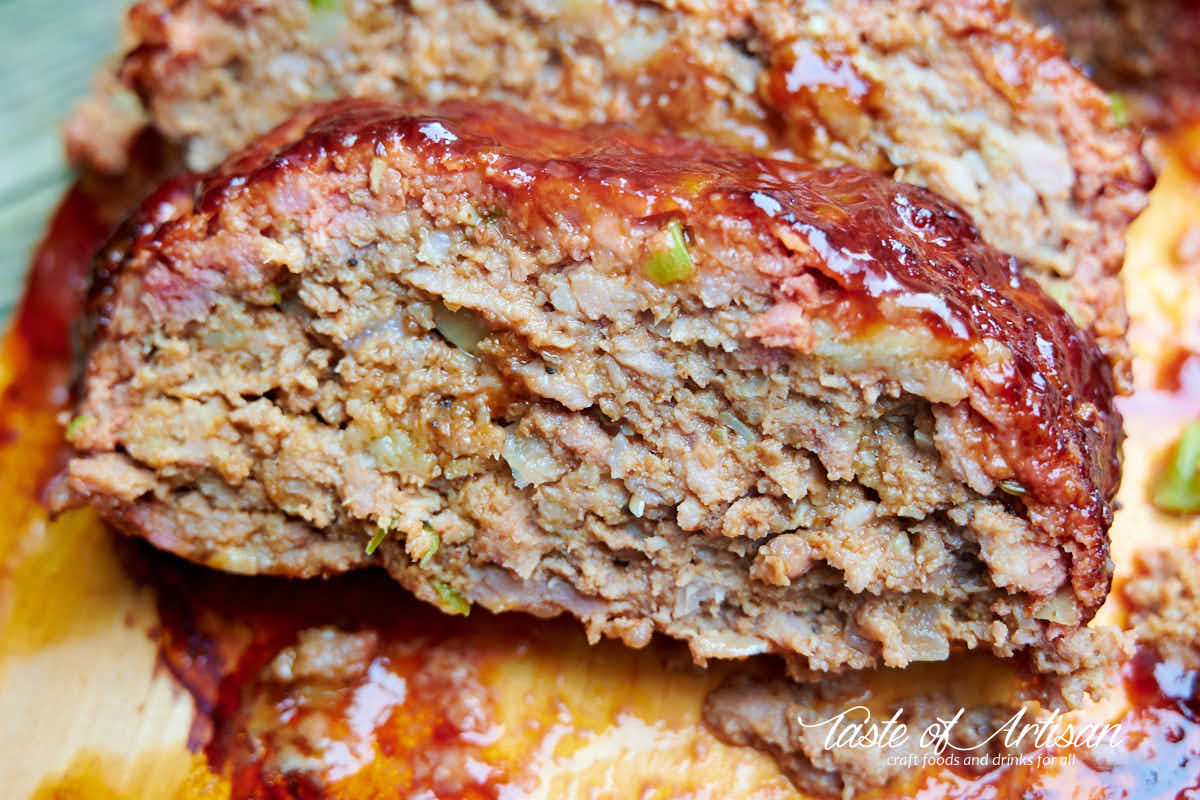 In this recipe, I also mix in some BBQ sauce right into the meatloaf mixture. Not only does it add more moisture, but it also adds even more flavor. This meatloaf is heavenly. A must-try!
Tips
The meatloaf mixture will be fairly wet, and that's perfectly fine. It should be. If it's too wet to keep its shape, add some bread crumbs, about half a cup, or more if needed, mix and shape again.
After smoking, let the meatloaf rest for 5 minutes to allow the meat reabsorb some of the lost moisture. This way when you slice it, less liquid will run off.
Try substituting some of the vegetables with other veggies that you happen to like, like leeks or carrots, but don't reduce their total amount.
You can easily make sweet Italian sausage at home. Simply grind some pork shoulder, add spices and mix. Here is my Italian sausage recipe. The homemade sausage tastes way better than the store-bought and is more economical.
Serve this smoked meatloaf with garlic mashed potatoes. I think the two make a perfect match.  Or make meatloaf burgers or sliders. Those are hard to stop eating. I love mine made with crusty white bread or sourdough bread.
This meatloaf freezes really well. Simply pre-freeze meatloaf slices on a baking sheet, then vacuum seal. They will keep in a freezer for up to 3 months. To reheat, defrost then bake in the oven at 325F until the internal temperature reaches 160F.
I recommend using hickory and/or cherry wood in this recipe, both give the meatloaf a rich color and a sweet smoky flavor.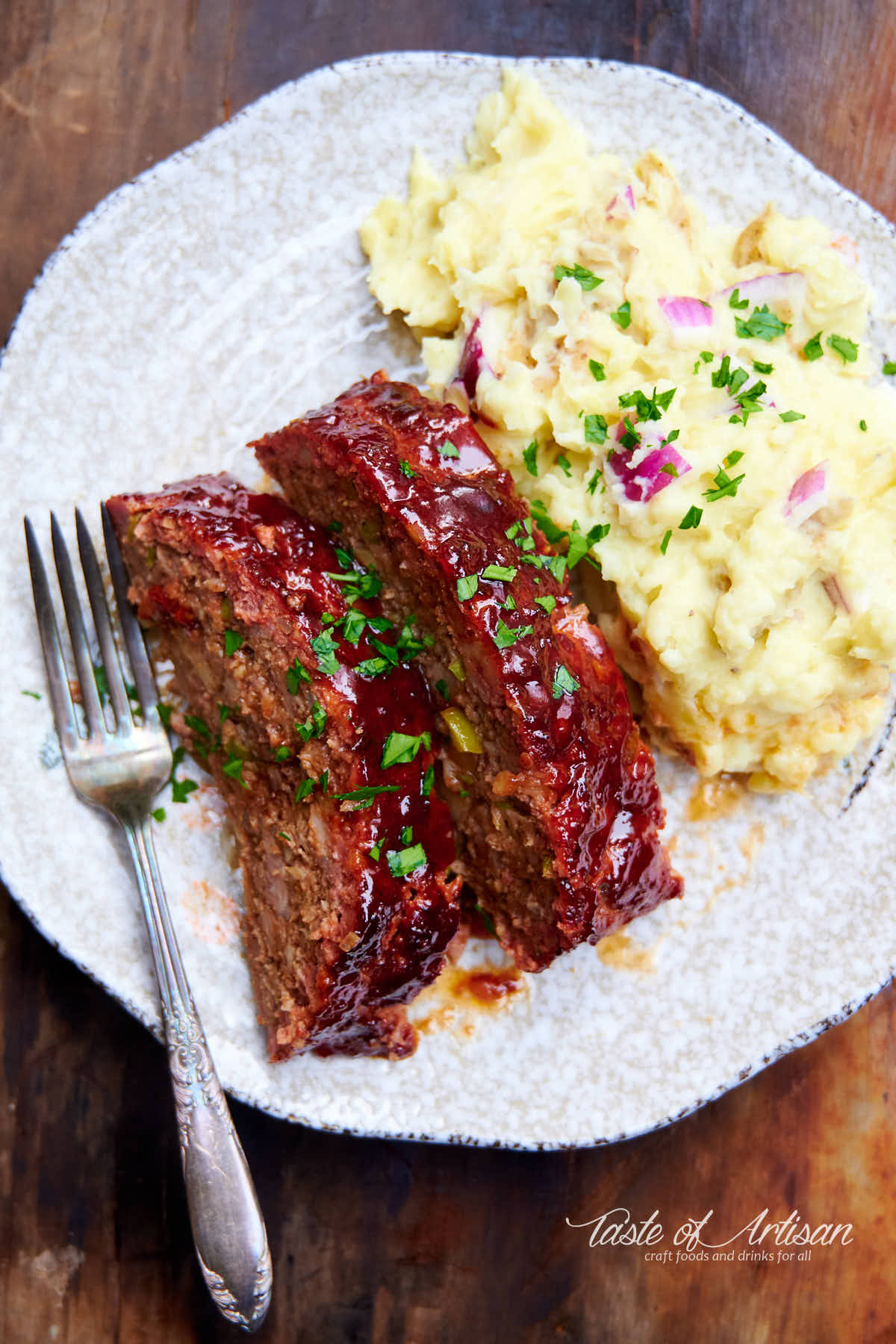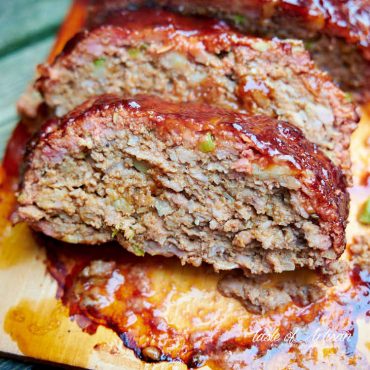 Smoked Meatloaf
Juicy, succulent meatloaf smoked to perfection and glazed with BBQ sauce.
Print
Pin
Rate
Ingredients
1 1/2

lbs

ground beef

lean

1 1/2

lbs

sweet Italian sausage

removed from casings

2

Tbsp

olive oil

1 1/2

cups

onion

minced

1/2

green bell pepper

finely diced

2

cups

cremini mushrooms

finely diced

2

stalks

celery

finely diced

2

cloves

garlic

minced

5

slices

white bread

crust removed

1/3

cup

milk

whole milk recommended

2

eggs

beaten

1

tsp

kosher salt

1

tsp

black pepper

1

Tbsp

ancho chile powder

or regular chili powder

1/4

tsp

cayenne pepper

3/4

cup

BBQ sauce

I use Duff's BBQ sauce
Instructions
Heat the oil in a large pan over medium-high heat. Add the onion, mushrooms, celery and bell pepper. Cook, frequently stirring, until soft, about 4-5 minutes. Add the garlic and continue cooking for 1 more minute. Transfer to a large bowl.

Break the bread into small pieces, sprinkle milk over the bread and add to the vegetables. Add the beef, Italian sausage, eggs, salt, peppers, ancho chile, and 1/2 cup BBQ sauce. Mix well.

Transfer the mixture onto a 7" x 15" cedar plank and shape into a rounded log about 2" thick.

Smoke over indirect heat at 250F - 275F for about 1.5 - 2 hours, or until the internal temperature registers 160F. Glaze with the remaining BBQ sauce and smoke for additional 15 minutes.

Remove from the smoker, let rest for 5 minutes, then slice and serve.
Nutrition
Calories:
438
kcal
|
Carbohydrates:
14
g
|
Protein:
20
g
|
Fat:
33
g
|
Saturated Fat:
12
g
|
Cholesterol:
111
mg
|
Sodium:
889
mg
|
Potassium:
478
mg
|
Fiber:
1
g
|
Sugar:
8
g
|
Vitamin A:
339
IU
|
Vitamin C:
7
mg
|
Calcium:
66
mg
|
Iron:
2
mg