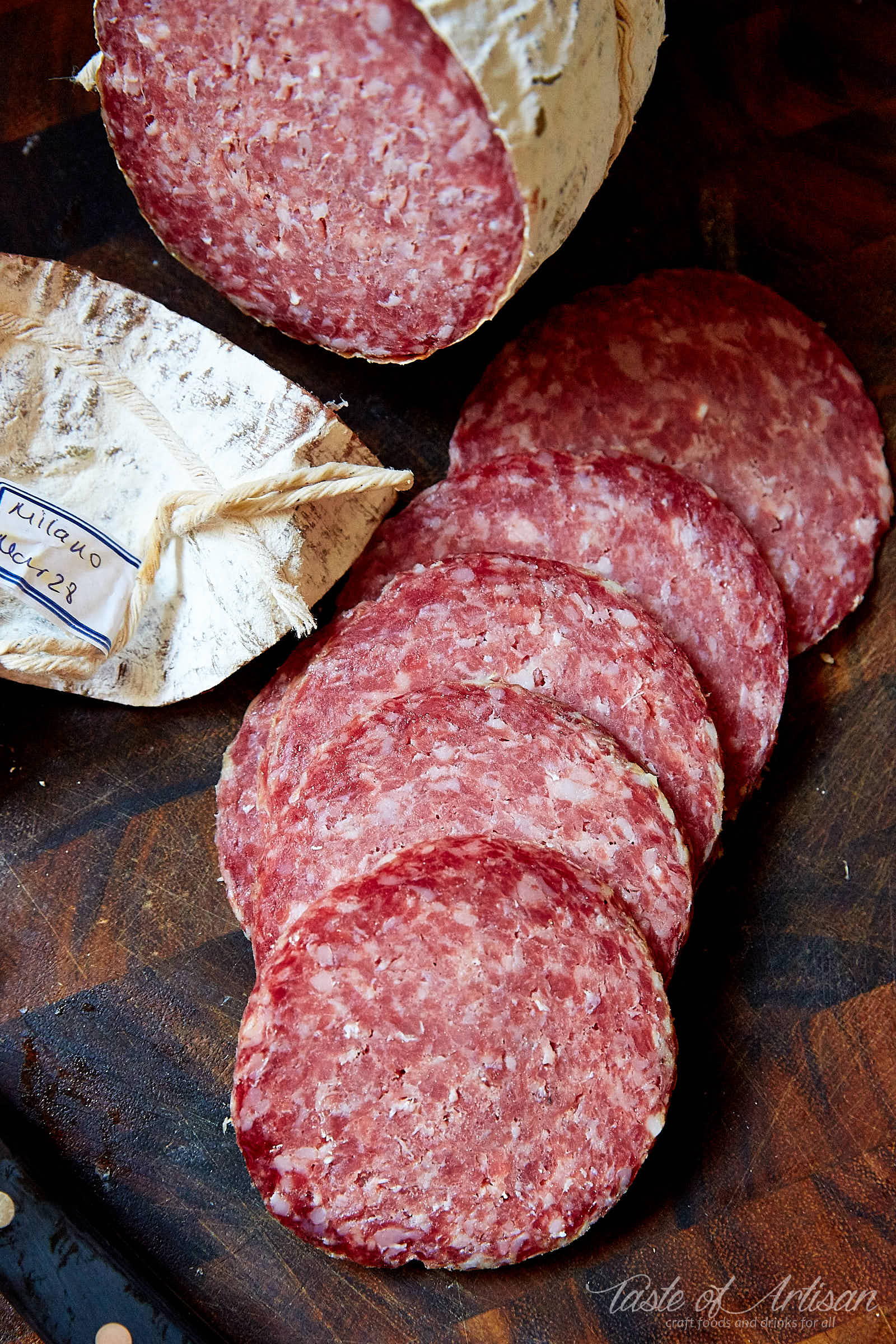 First and foremost, this Milano salami recipe is adapted from Stanley Marianski's Home Production of Quality Meats and Sausages

book. If you are just learning how to make hard salami, Genoa or Milano salami, or any type of dry cured sausage or meat and don't have all the safety and the dry curing process details down, this book is a must read.  Also, here is a very good online resource to get you started - www.meatsandsausages.com. While I am providing the original recipe below, my version has a few minor tweaks which I will talk about.
Salami Milano and Salami Genoa are basically the same sausage. They use the same raw materials and spices. Where they differ is the proportions of pork and beef: Genoa typically has equal amounts of beef and pork, while Milano tends to have slightly more pork than beef. Salami Genoa is also known as Salami di Alessandra. Additionally, salami Milano is chopped somewhat finer than salami Genoa.
This is my second attempt at Marianski's salami Milano. Both were quite successful and I am quite pleased with the results. You may have noticed, this salami uses only a small amount of garlic and pepper for spices. This really lets the beef and pork flavors shine and not be overpowered by spices. The flavor profile here is excellent and very natural. For this reason, it is especially important to use the best quality and the freshest meat for this particular type of dry cured salami. I think that eventually I'd want to try pasture raised beef and pork in this recipe. But for now, regular meat from the local butcher works very well too.
This recipe uses a traditional method of drying, which does not rely on fast pH drop during fermentation (as is the case with Ruhlman's sopressata). Instead, it targets lower aW for food safety, and attains a slow and mild acidification. The resulting sausage has noticeably less tang compared to most North American salami varieties. I personally like this low acidity in my salami and now tend to use the traditional method most of the time for sausages that need at least one month of drying in the curing chamber.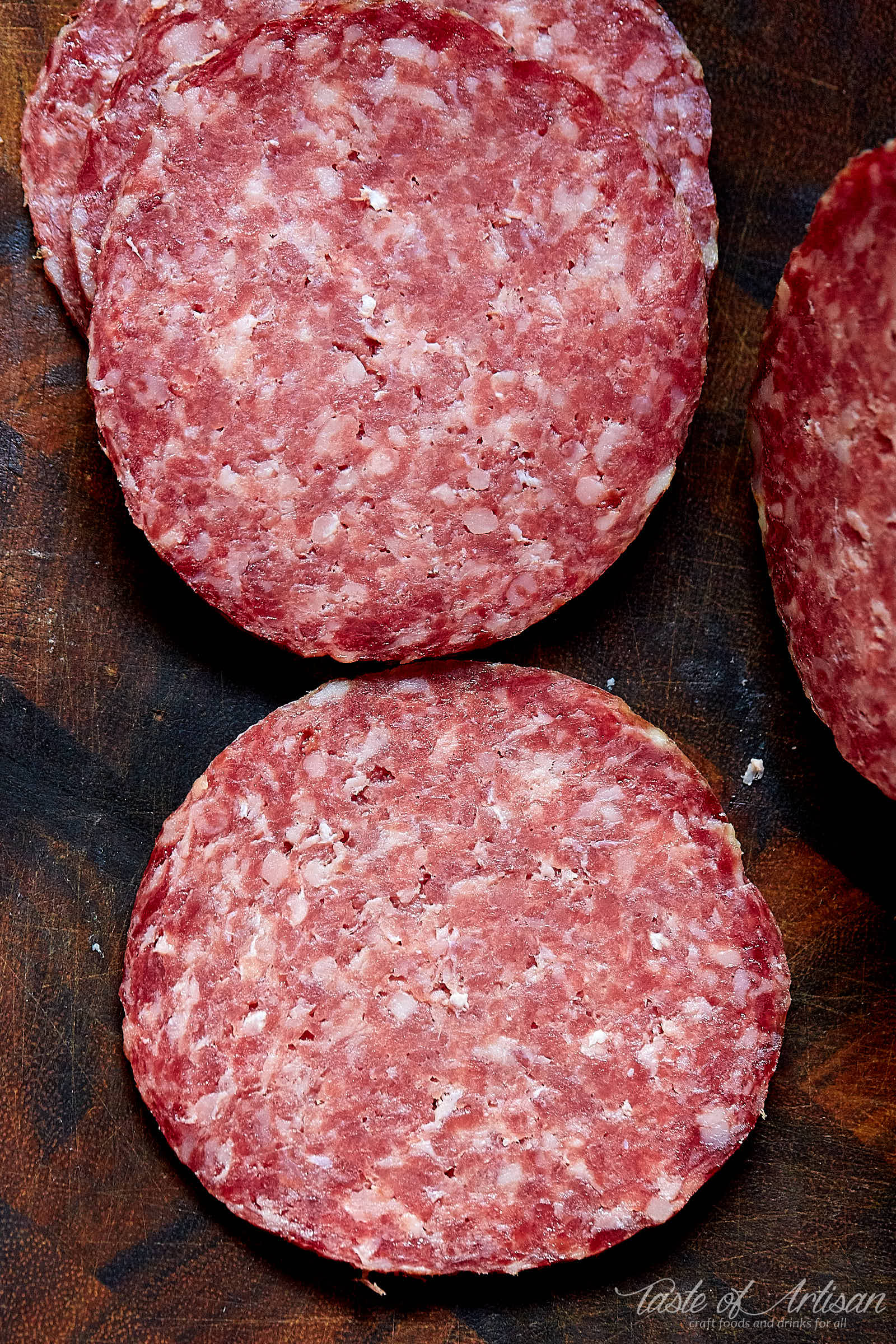 I substituted black pepper for white pepper in this version of Milano salami, it's just a personal preference. I also ground all meat, including beef, through a 3/16" plate. It's hard to say how much grinding of beef through a 1/8" plate would improve the texture, but I will try that next time.
I used fibrous casings the last time I made this salami and wasn't very pleased with the results. They did not shrink with the meat as well as I'd hoped, leaving a few air pockets here and there. Perhaps, it was due to my under-developed technique using them. There was no spoilage but it got me concerned. Besides, natural casings look natural and artisan. That matters a lot to me. I'll stick with them. I used a beef bung cap. It's also sold in some stores as a 'capicola casing'.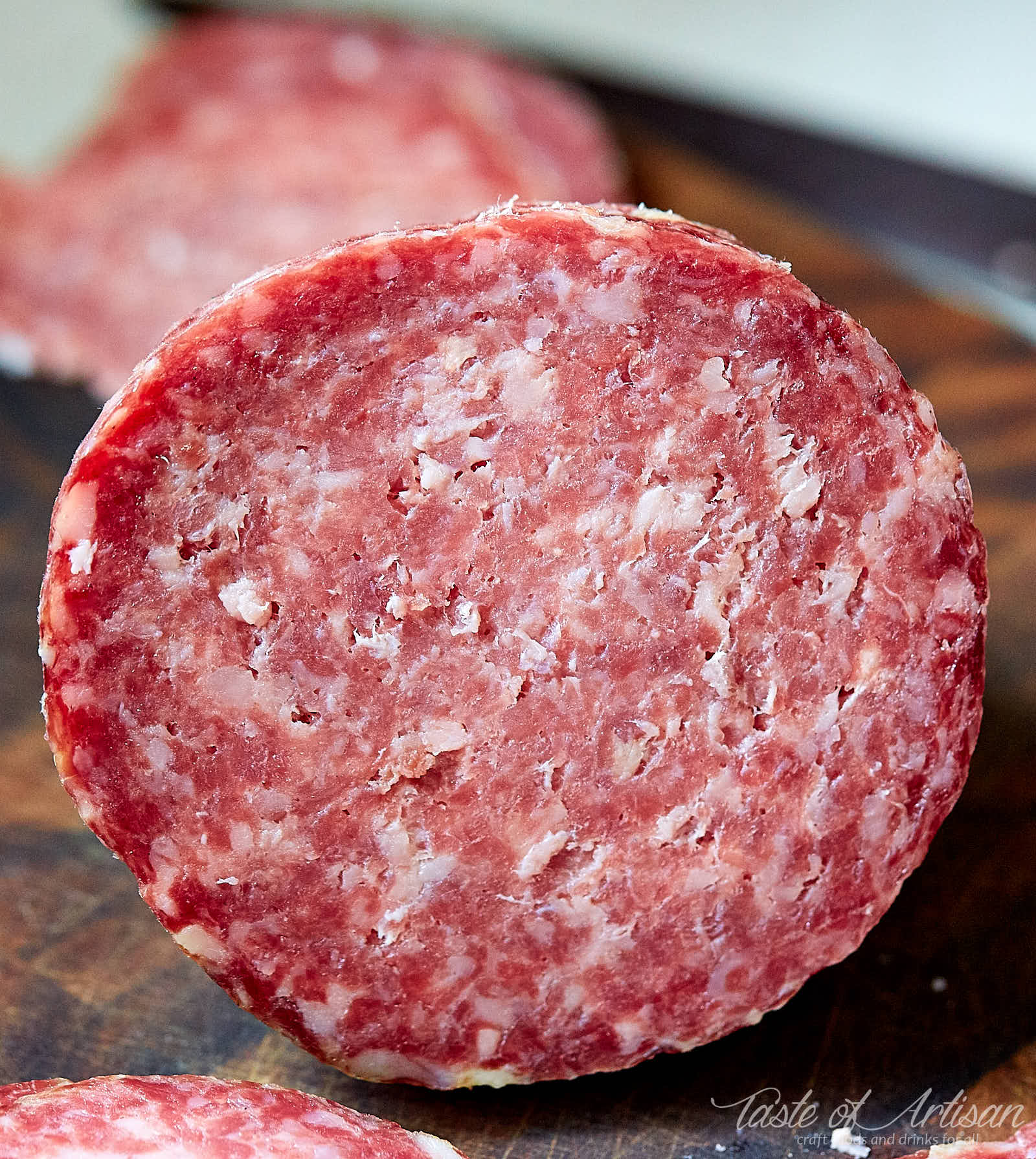 It took this salami exactly 2 months to drop 35% of its weight which is what I was targeting given it's smaller diameter. It dried very nicely and had a firm interior. Not hard, but firm. That's exactly what you should be looking for in a Genoa or Milano salami. There is a little bit of case hardening going on here as can be evidenced by the darker color on the outer sides of the salami, but nothing major. The sausage isn't perfect but dried very nicely nevertheless.
I have a very good idea about why case hardening happened. The temperature in the basement in March was below 68F so I used a blow heater to raise it. It was not a great idea in hindsight, but seemed OK at the time. At the end of fermentation I noticed the surface of my salamis was a bit dry-ish. I sprayed it with water several times and hoped for the best. It worked for the most part. I've since changed the way I do fermentation so this should not happen again.
I have recently modified my curing chamber to allow for precise humidity control. So far the results have been very satisfying and the quality of the final products improved significantly. Read more about my upgraded advanced meat curing chamber.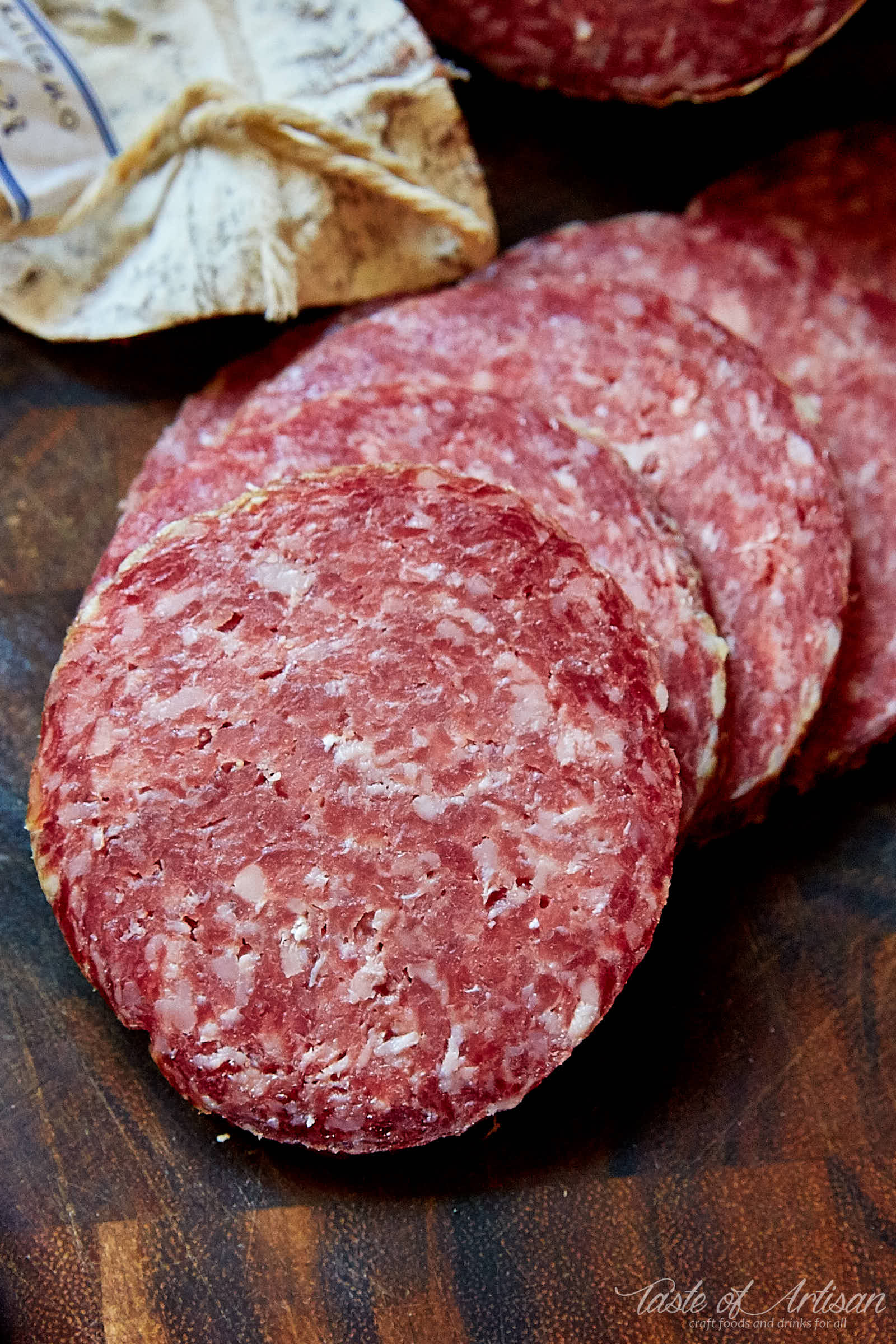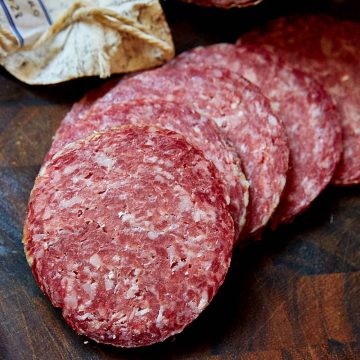 Ingredients
500

g

lean pork butt trimmings

300

g

beef chuck

200

g

pork back fat

(or fat trimmings)

28

g

kosher salt

(3% total salt content. Salt in Cure #2 accounted for)

2.5

g

Cure #2

2.0

g

dextrose

3.0

g

sugar

3.0

g

white pepper

1.0

g

garlic powder

(or 3.5 g fresh garlic)

0.12

g

T-SPX starter culture
Instructions
Grind pork and back fat through a 3/16" plate (5 mm). Grind beef through an ⅛" (3mm) plate.

Mix all ingredients with ground meat.

Stuff firmly into 80 mm protein lined fibrous casings. Make 25" long links.

Ferment at 20º C (68º F), 90-85% humidity for 72 hours.

Dry at 16-12º C (60-54º F), 85-80% humidity for 2-3 months. The sausage is dried until around 35% in weight is lost.

Store sausages at 10-15º C (50-59º F), 75% humidity.
Notes
If mold is desired, spray with M-EK-4 mold culture after stuffing.
The following spice and herb combination can be found in some recipes:
spices - 4 parts coriander, 3 parts mace, 2 parts allspice, 1 part fennel.
herbs - 3 parts marjoram, 1 part thyme, 1 part basil.
To make 1 kg of salami, about 1.5 g of spices and 1 g of herbs are needed.
Some recipes ask for the addition of red wine. You may add around 30 ml (⅛ cup).
Nutrition
Serving:
0
g
|
Carbohydrates:
0
g
|
Protein:
0
g
|
Fat:
0
g
|
Saturated Fat:
0
g
|
Polyunsaturated Fat:
0
g
|
Monounsaturated Fat:
0
g
|
Trans Fat:
0
g
|
Cholesterol:
0
mg
|
Sodium:
0
mg
|
Potassium:
0
mg
|
Fiber:
0
g
|
Sugar:
0
g
|
Vitamin A:
0
IU
|
Vitamin C:
0
mg
|
Calcium:
0
mg
|
Iron:
0
mg
This post was updated on January 25, 2019