This smoked kielbasa is legendary. Popular at many European markets, this sausage was known to be a favorite of the Duke of England, the president of Malaysia, many NATO/European dignitaries, and even Pope John Paul II.
It rivals the most popular kielbasa in Poland - Krakow kielbasa. It originated  in two villages near Kraków - Liszki and Czernichów - and is called Lisiecka kielbasa. It's made according to centuries old recipes passed down from generation to generation. It bears a protected designation of origin and can only be sold as Lisiecka kielbasa when made in that region.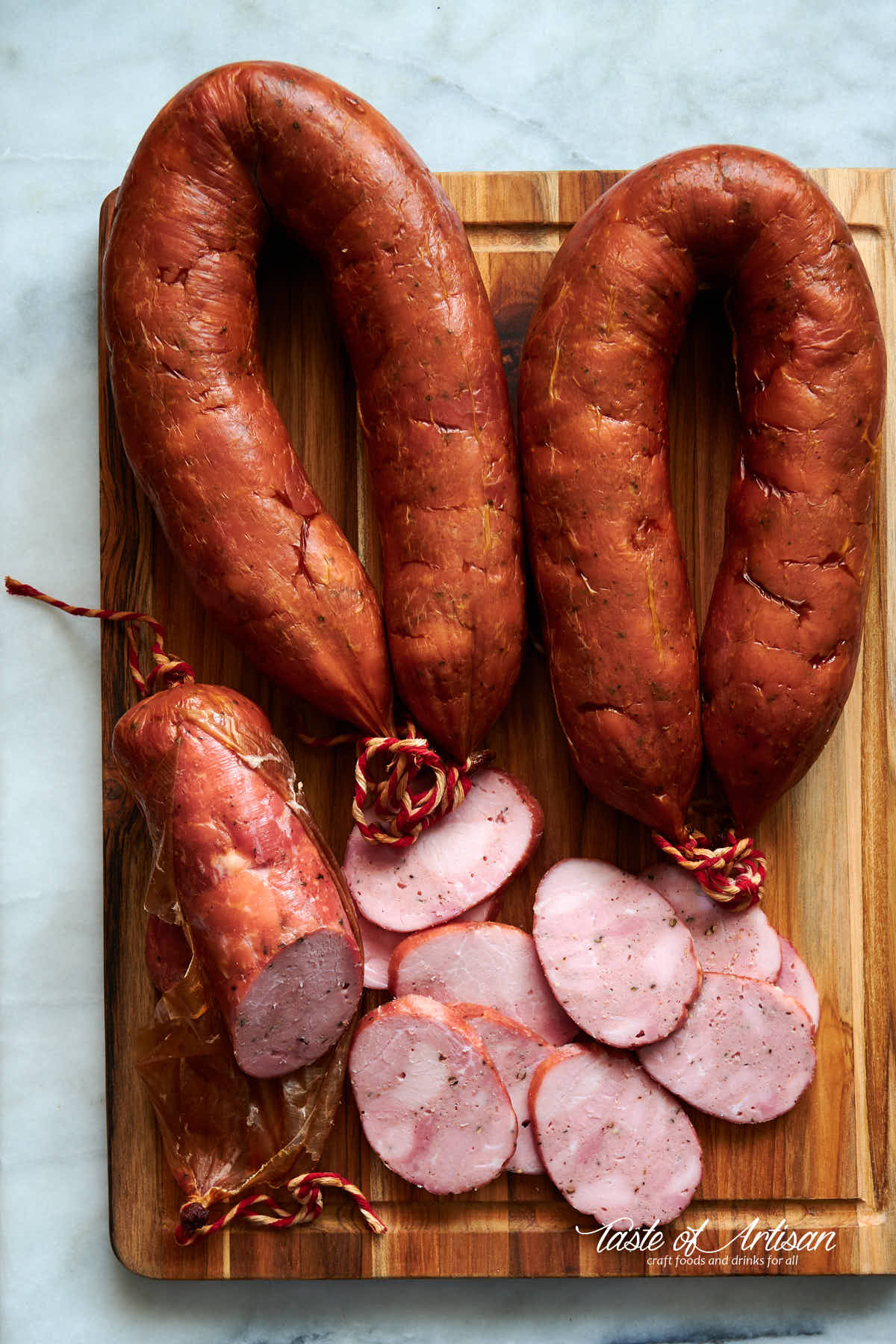 The dominating taste of this smoked kielbasa is that of seasoned pork with a hint of pepper and garlic. Similar to Krakow sausage, it reminds me of well-made smoked ham. It has a delicate texture and a very fine taste. If you want to make one of the best smoked kielbasa there is, this is the one to make. It won't disappoint.
Stanisław Mądry is one of the producers in Liszki region who generously shared some information on how his smoked kielbasa is made in a YouTube video and an interview to Krakow Gazette. This recipe and the production process are based on what I was able to gather from those two sources. I had to fill in some blanks but in general this recipe is almost identical to his original and the results are outstanding.
Preparing and curing meat for kielbasa
Lisiecka smoked kielbasa is made of pork ham. Shins and hocks are allowed as well as long as they include less than 25% connective  tissue. This kielbasa is made of at least 85% lean class I meat and 10% class II meat. No more than 5% of class III meat is permitted. This is as lean as Krakow kielbasa which consists of 90% class I and 10% class III pork.
Stanisław Mądry cuts lean meat into pieces and mixes it with ground fattier meat and spices, then stuffs it in natural casings using a sausage stuffer. I've wondered whether I could stuff chunky meat using my sausage stuffer and this confirmation was very encouraging. This is the first time I've seen anyone actually do that. Next time I make my Andouille sausage I will leave the lean meat as small chunks.
For my kielbasa I cut the lean meat into .75" - 1" pieces. The reason for that was to make sure that the pieces are at least slightly smaller than the diameter of the 1.25" stuffing tube I was going to use. Some pieces ended up slightly bigger but that was not an issue as it turned out.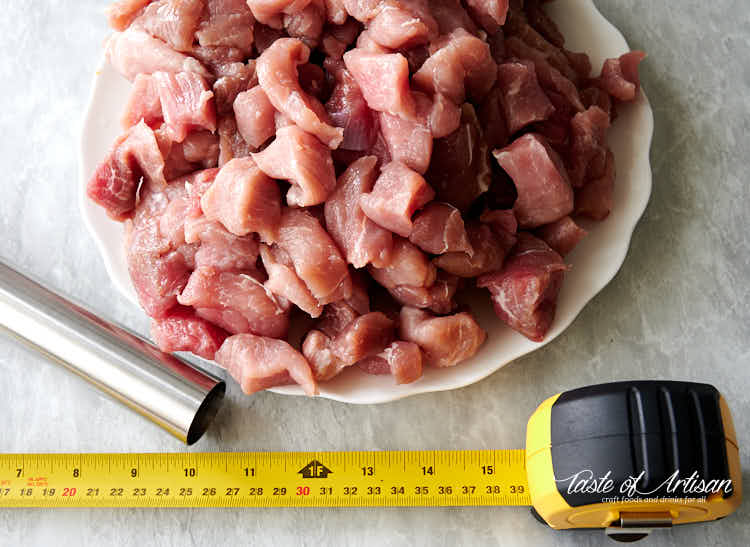 I cut the fattier pork into 2" - 3" pieces. Both types of meat were separately mixed with salt and Cure #1 and cured in the fridge for 48 hours.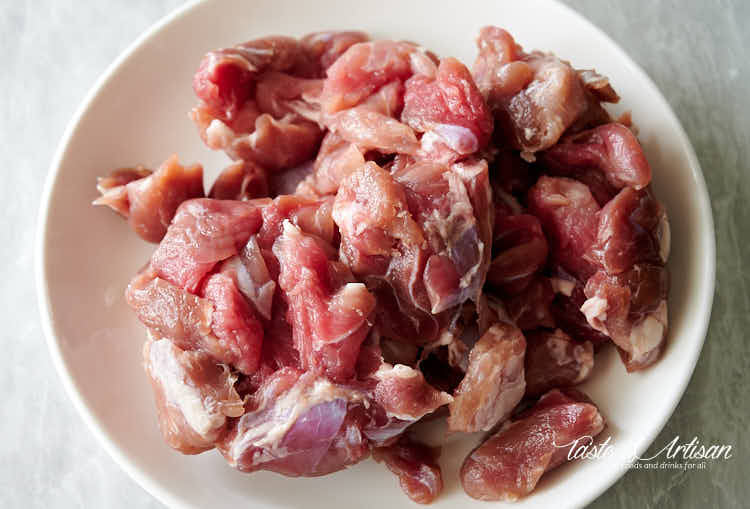 Grinding meat
After curing, I combined the fattier pork with garlic cloves.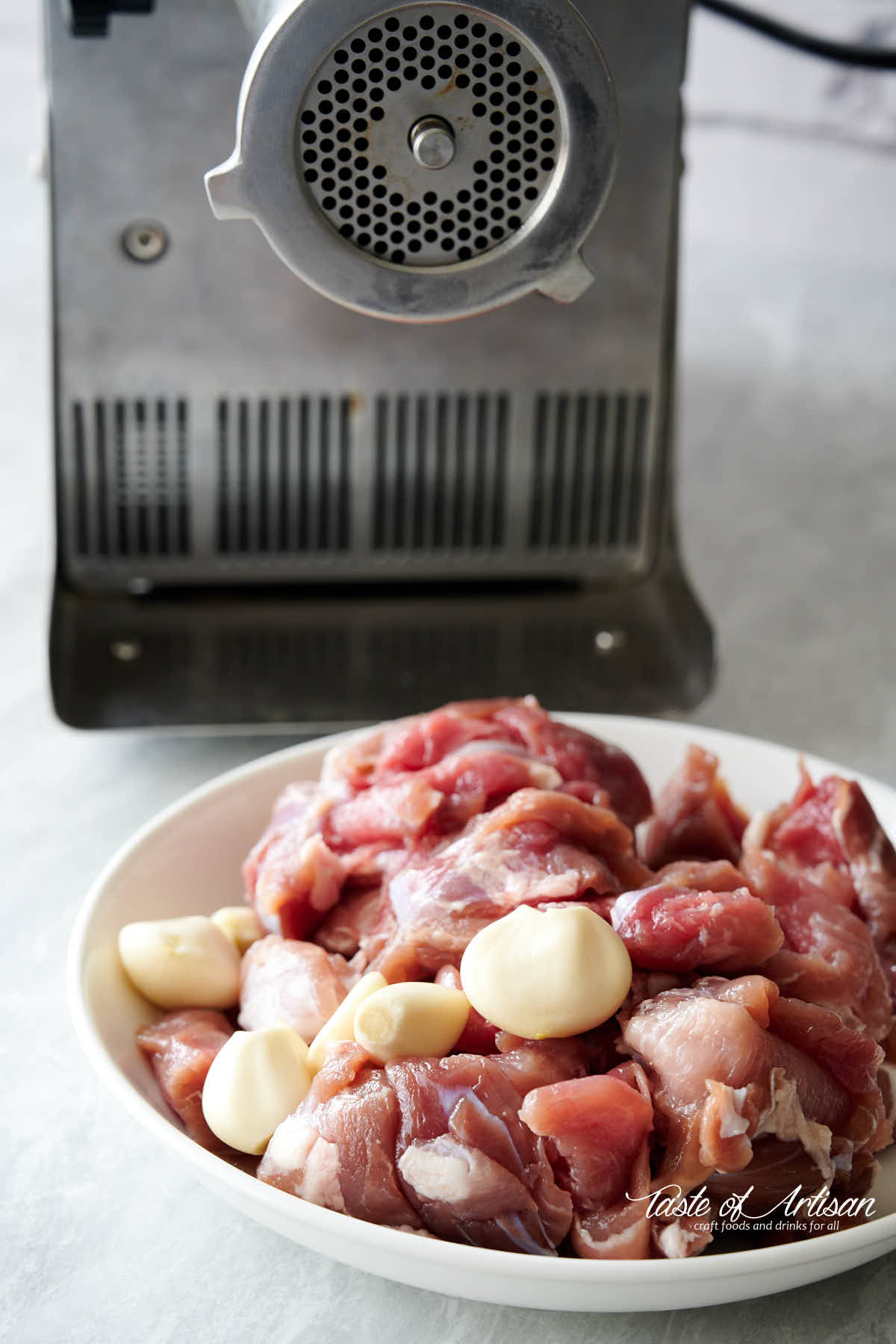 Then ground it through a 1/8" (3 mm) plate.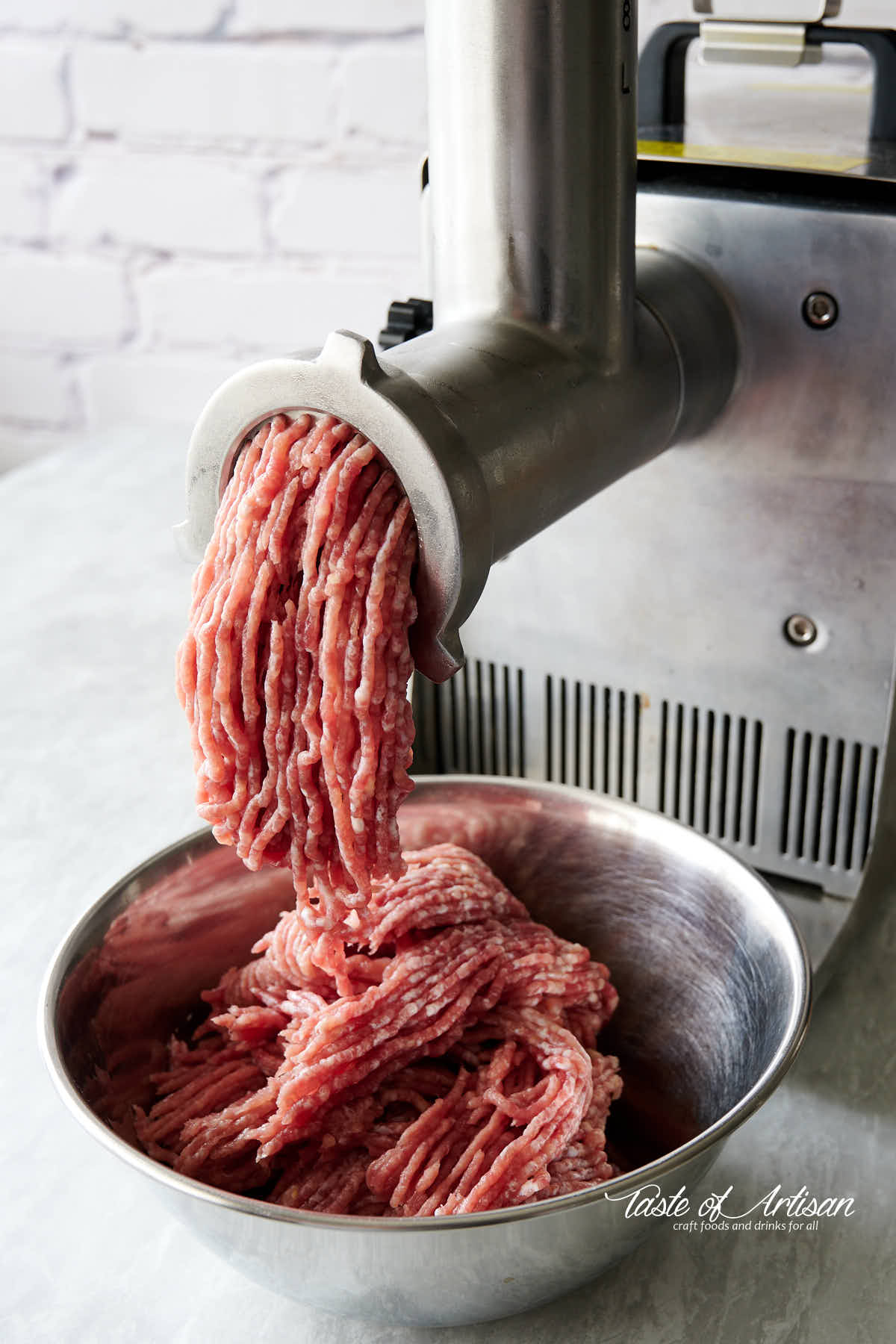 From what I could gather from the video, Lisiecka kielbasa does not contain emulsified meat. Hand-cut lean meat is mixed until gluey. Ground meat is mixed with the spices, then both meats are mixed together.
Mixing
Since my batch was much smaller (3.2 kg or 7 lbs), I combined both meats and the spices together and mixed all at the same time.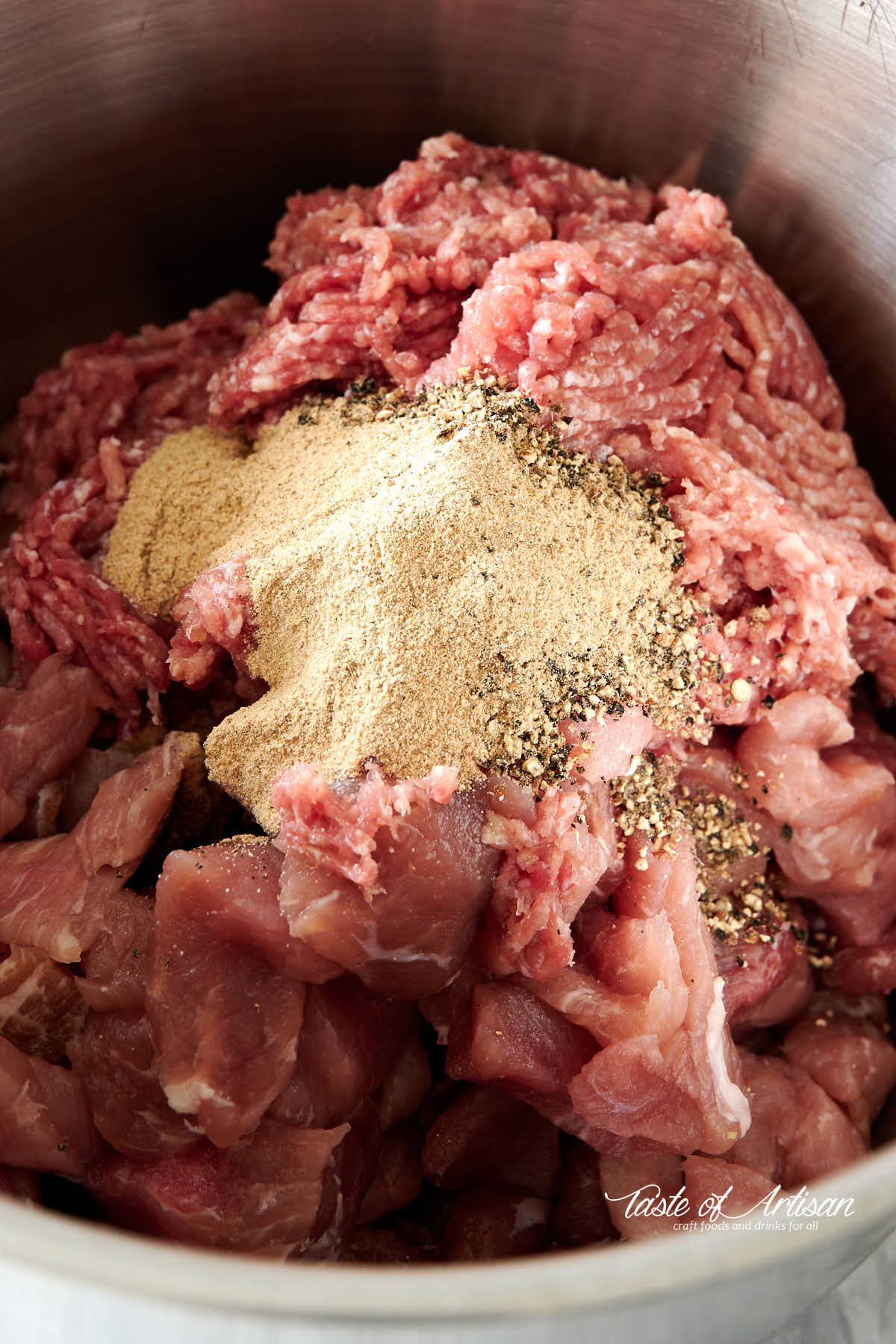 As per the  Krakow Gazette, the meat is mixed for 5-10 minutes. I used my Kitchen Aid stand mixer fitted with an 8 qt mixing bowl and a paddle attachment. Using a meat mixer is an option for larger (20 lb) batches but for smaller batches a stand mixer is the best option.
The only thing I would do differently is I would limit my batches to 5 lbs. While 7 lbs of meat got mixed quite well, the area above the mixing bowl had meat smeared all over it and required some meticulous cleaning afterwards.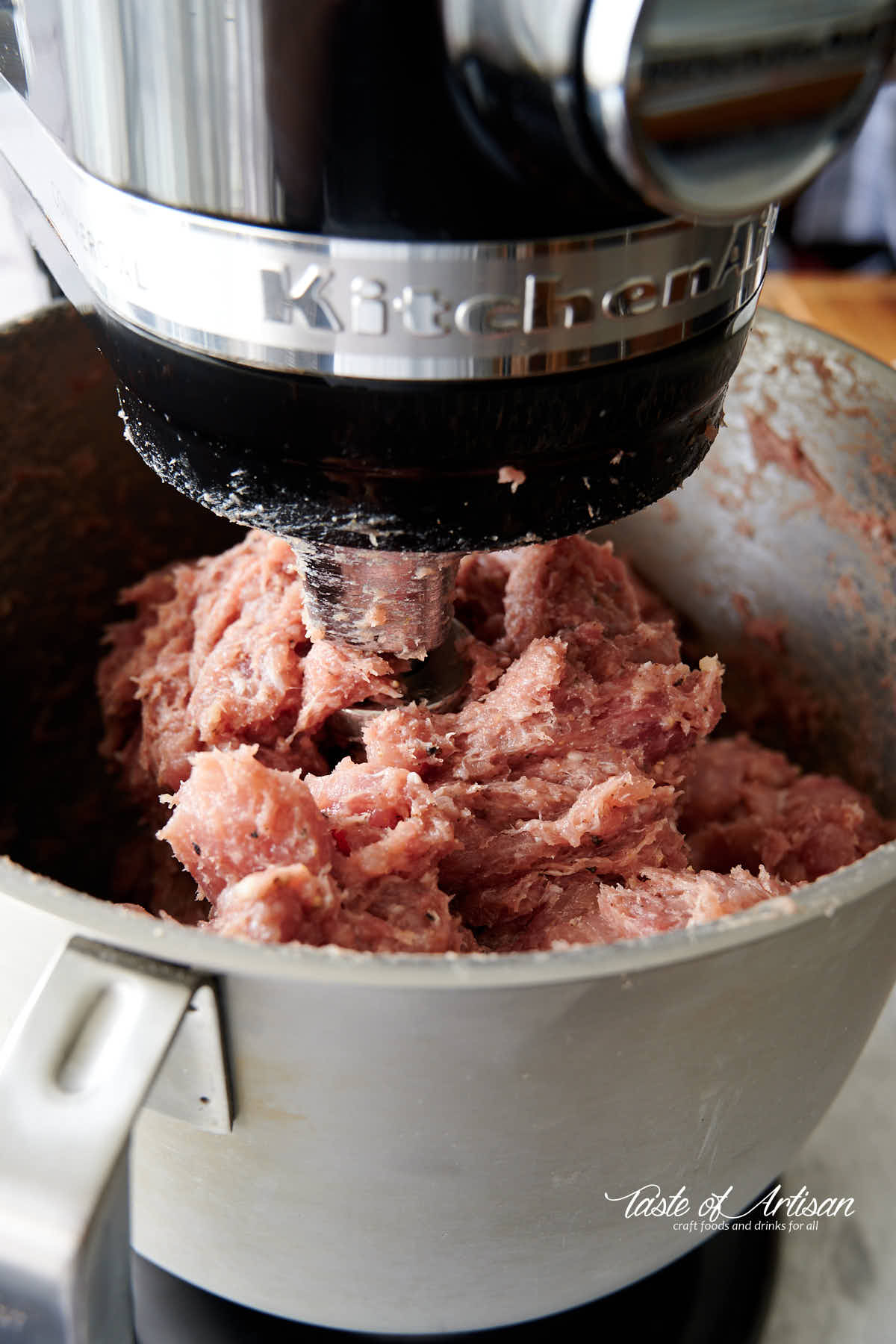 The paddle attachment did an excellent job mixing the meat. I tried using a dough hook but it wasn't nearly as effective. It mixed the meat closer to the center if the bowl but left what's closer to the walls untouched.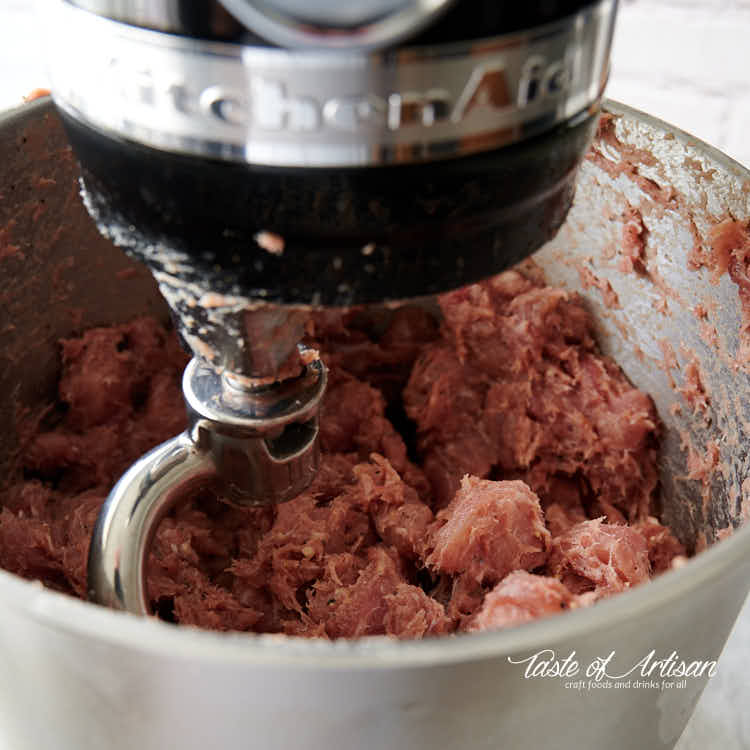 When the meat was done mixing and I took a closer look at it I realized something else. The meat chunks lost their shape and looked softer as if they were pounded out by a meat tenderizer. Can you achieve the same result by manual mixing? I don't think so.
This sure would make stuffing easier I thought.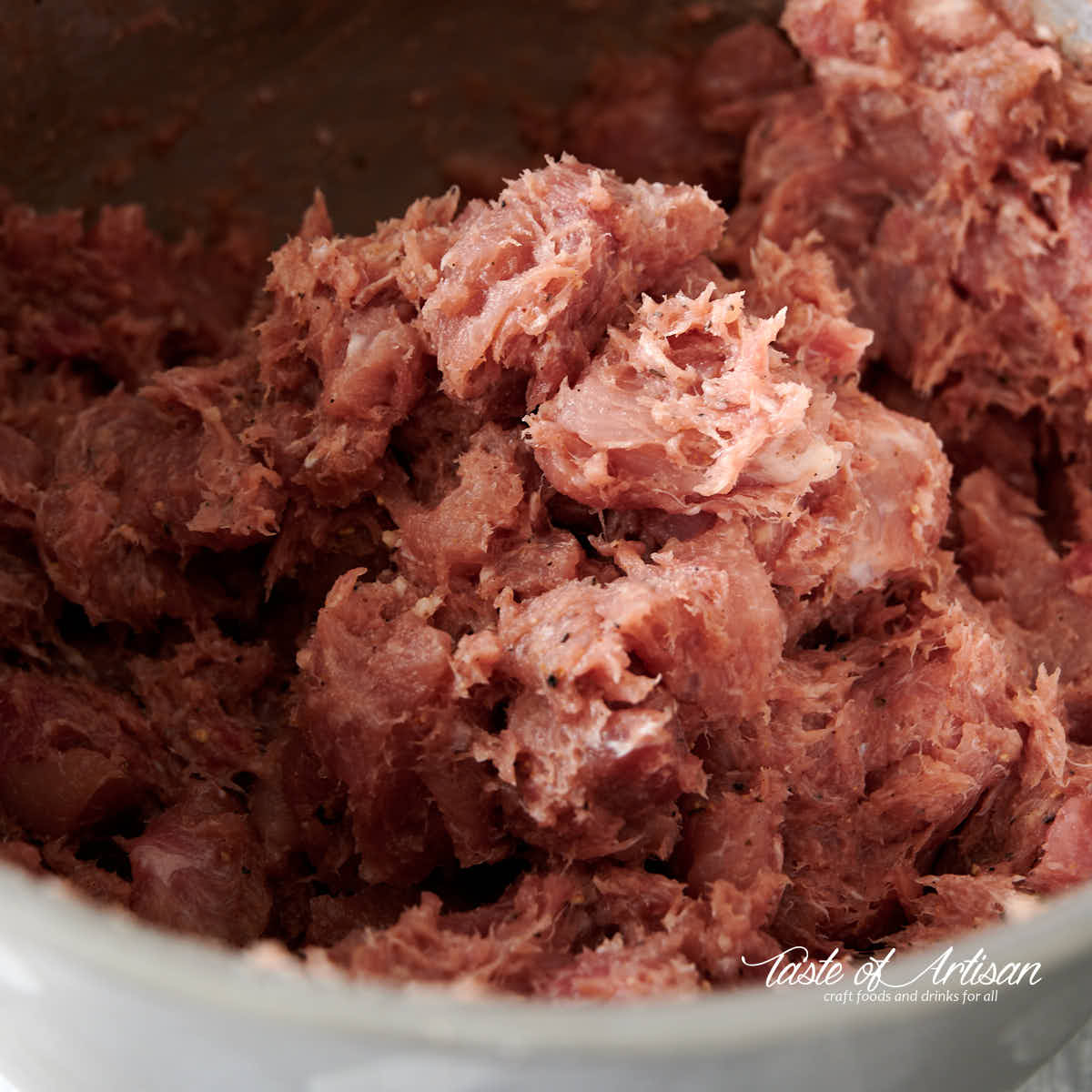 Stuffing
And it did. My 20 lb motorized sausage stuffer didn't struggle even one bit.
I am sure my manual stuffer would have handled this job as well. At least if using a similar diameter stuffing tube. Lesson learned today:
Yes, you can stuff hand-cut meat chunks using a sausage stuffer
For that, mix the meat really well for 5-10 minutes to tenderize the texture
Cut the meat slightly less than the diameter of the stuffing tube
Though, seeing how the meat chunks got so nicely tenderized, I have a feeling that even slightly larger chunks would have worked too. Next time I am making this smoked sausage, Krakow sausage or Andouille sausage, I will test this theory.
Traditionally this kielbasa uses 55 mm natural casings. That said, if you want to use fibrous casings it will be totally fine. You just won't be able to bend those into rings.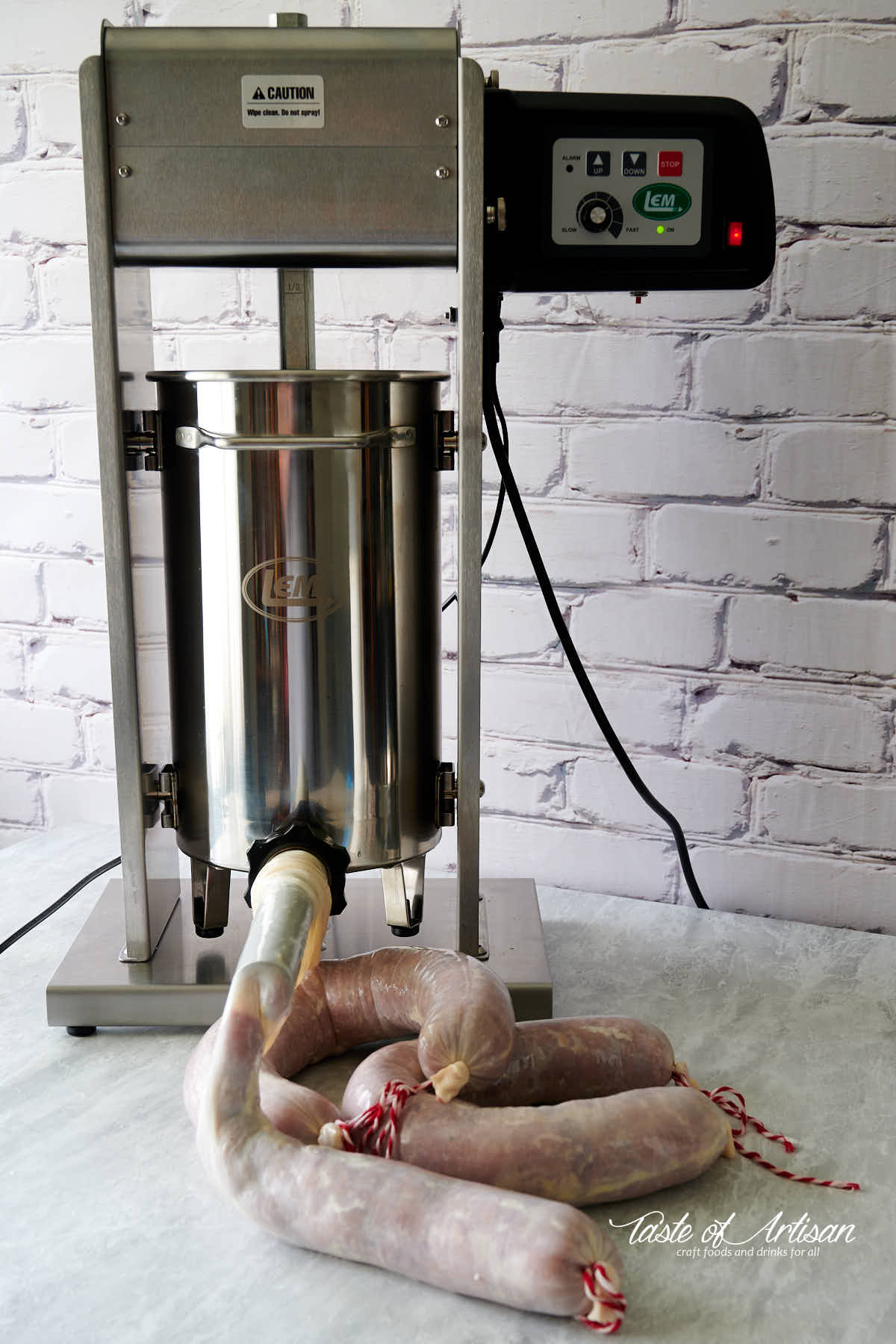 I stuffed the leftovers using a jar funnel with a narrow enough spout. Technically, you could get away with just a funnel as the casings are very large and stuffing them is fairly easy.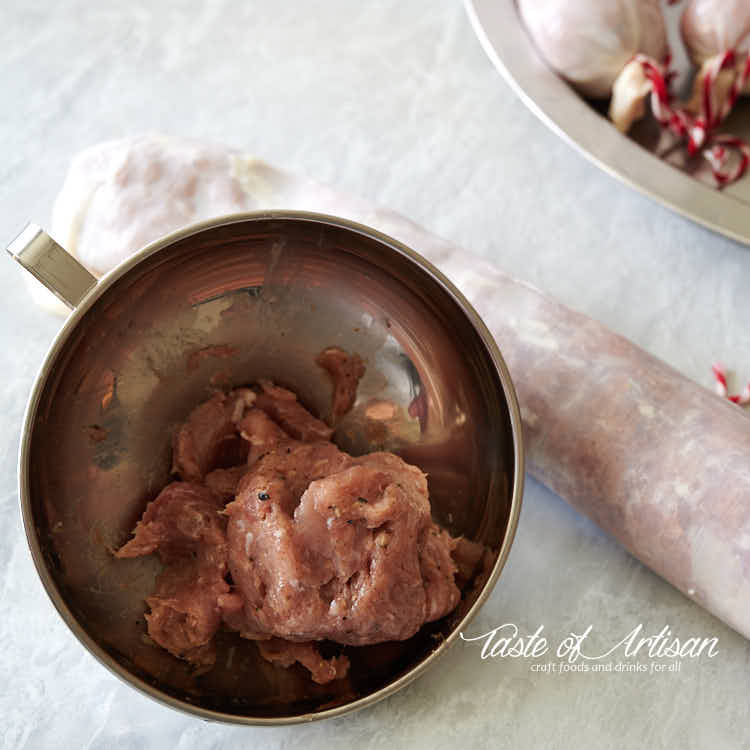 After stuffing, the kielbasa is dried at room temperature in a drafty area for 2-3 hours then in the smoker at 110F - 130F for 30-45 minutes or until dry to touch.
Smoking
Beech wood and alder wood are commonly used to smoke this kielbasa. Fruit trees are also added to introduce sweet notes.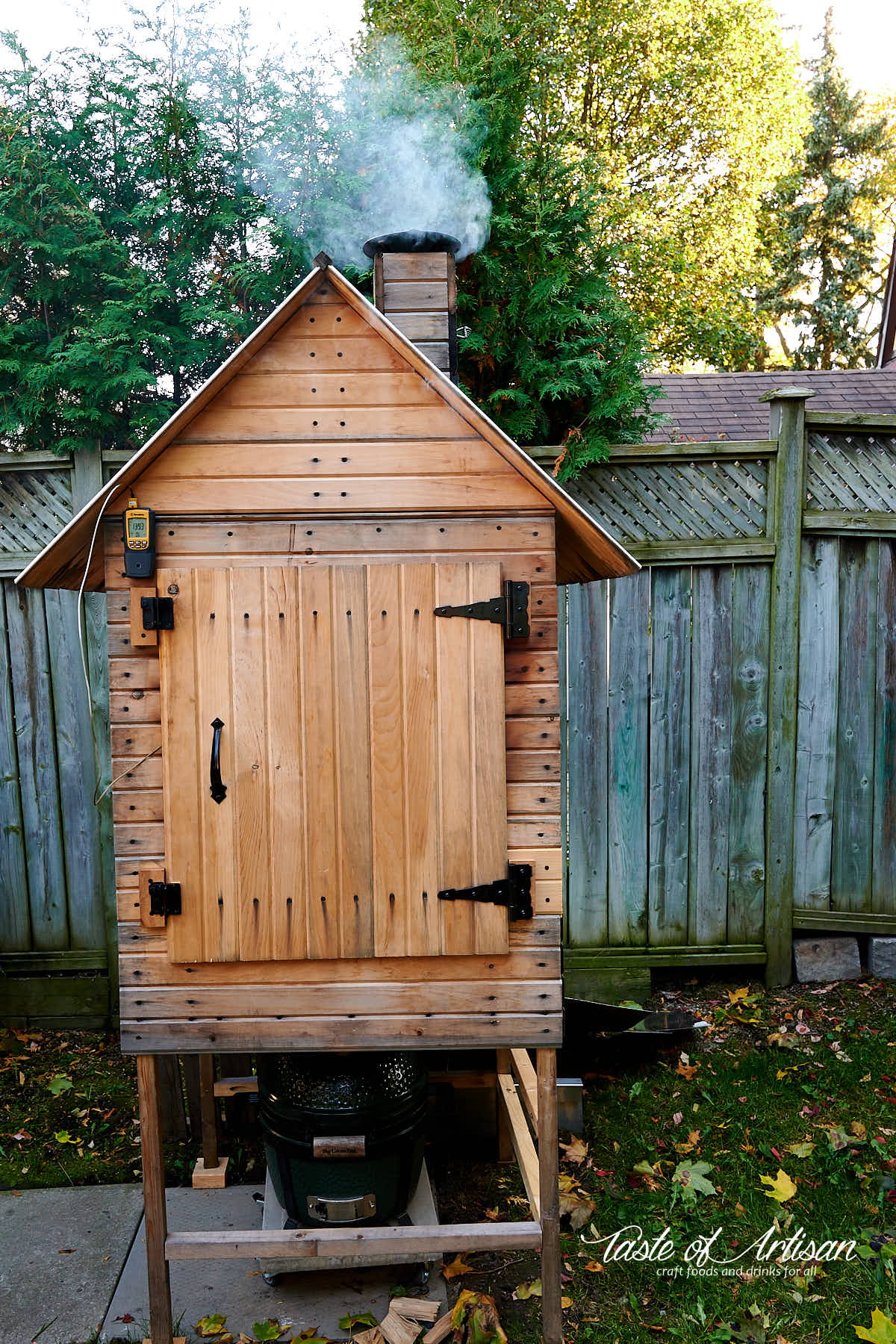 Not having those on hand, I chose to use hickory and cherry wood.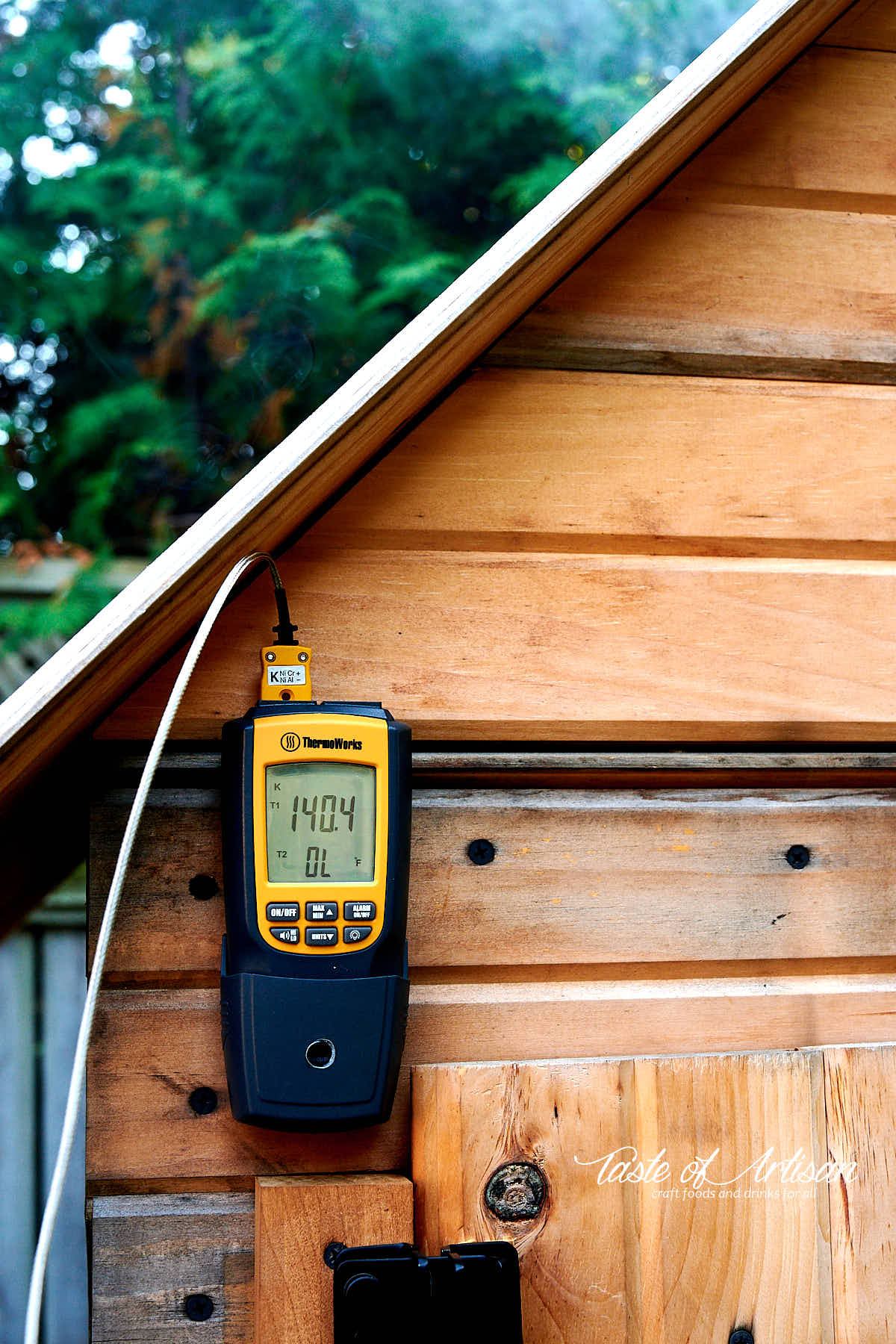 I smoked at around 130F to 140F for 3 hours, until I got a fairly dark brown color with reddish notes.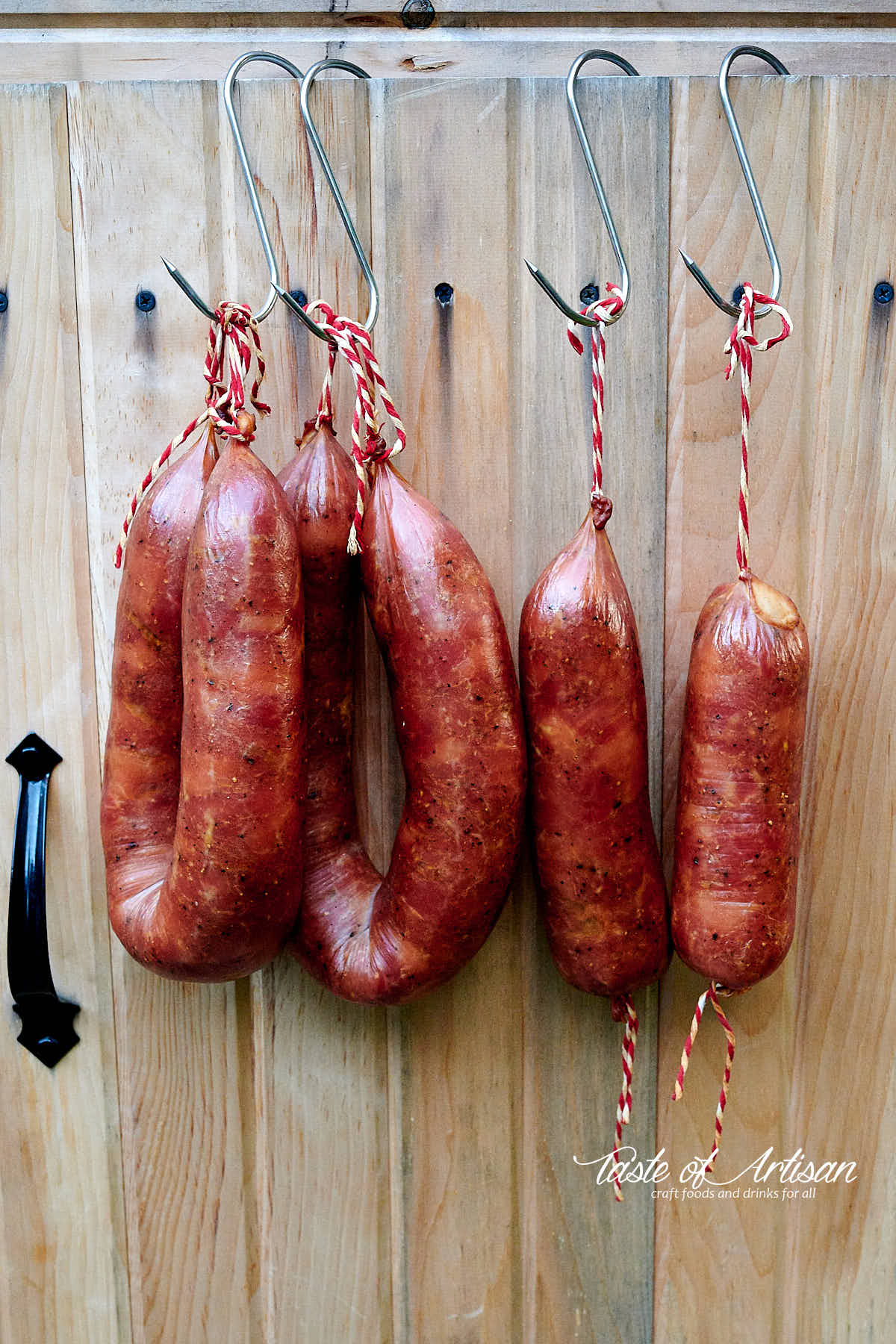 Smoking equipment
To make smoked kielbasa you don't need a smokehouse. It's a cool thing to have and it gives smoked kielbasa the most traditional taste, texture and smell but it's not mandatory.
For a number of years I used a Masterbuilt Propane Smoker with very good results. In order to maintain low enough temperature on it I installed a needle valve. You can buy a pre-made assembly that comes with the needle valve already installed, like the Bayou Classic M5HPR-1 10 PSI Hose, Regulator, Valve Assembly. Before you buy, make sure the assembly is compatible with the burner in your smoker. Read more about this modification here: Needle Valve for Gassers.
An even easier option is an electric smoker, like this Masterbuilt  electric smoker. My colleague at work has had one for a few years now and loves the simplicity of use and the ability to maintain low temperatures. I find his sausages excellent though they do seem a bit less smoky than mine.
Baking
Baking is the final stage of making smoked kielbasa. During baking the temperature is (gradually) ramped up to 175F - 195F. The goal here is increase the internal temperature of the sausage to at least 154F.
Remembering how I had challenges finishing my comparably sized Krakow sausage in the smoker, I took the sausage inside and baked it in the oven on convection at 195F.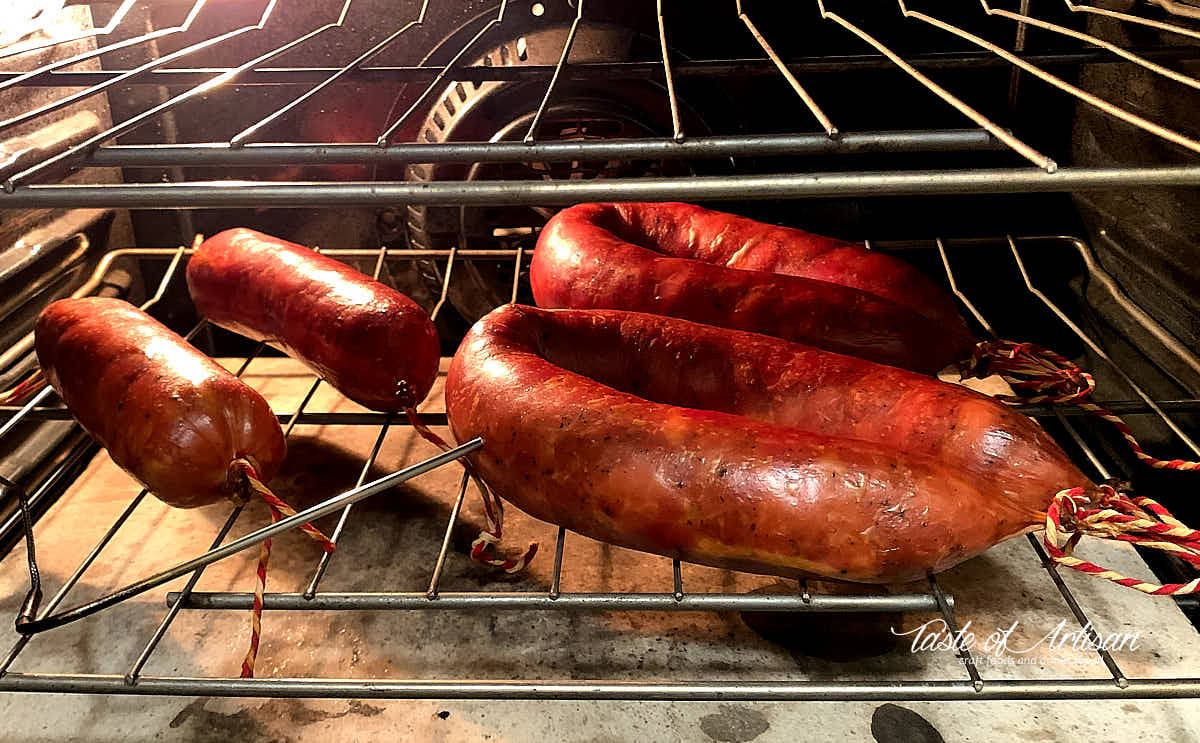 It took 42 minutes to reach 154F internal temperature.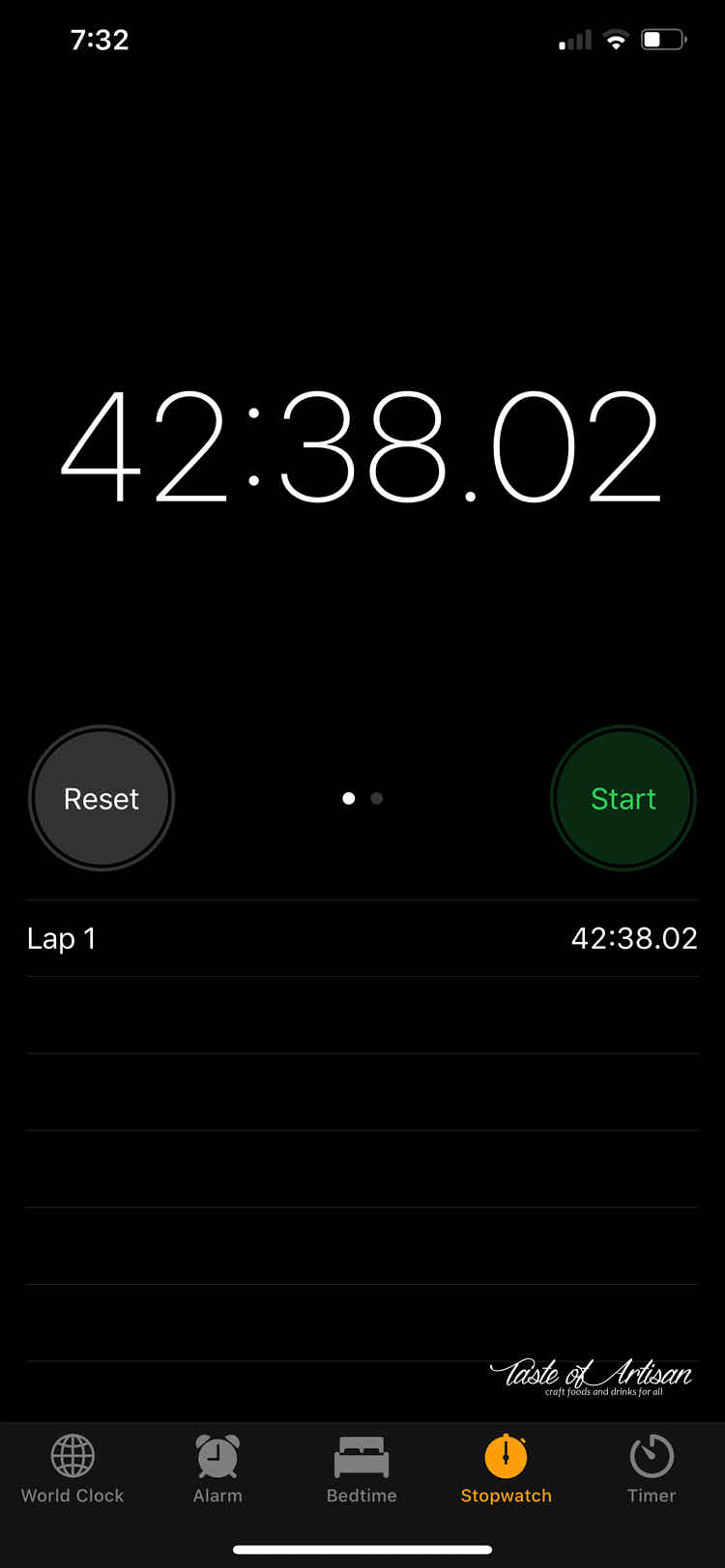 This is the first time I finished a fairly thick sausage on convection from start to finish. It worked very well. I couldn't wait and cut one sausage after a brief cool down. Convection hardened the surface area of the sausage. To my great satisfaction, the hardening went away (mostly) after a night of cooling in the fridge. The skin peels off very easily too.
One world on convection oven baked sausage vs smokehouse baked one. Convection oven baking produced a slightly drier texture compared to my Krakow sausage that was baked mostly in the smokehouse. Perhaps poaching or steaming is the best option for this sausage. I poached a batch of my favorite swojska kielbasa and it turned out outstanding, smoky and barely any color loss.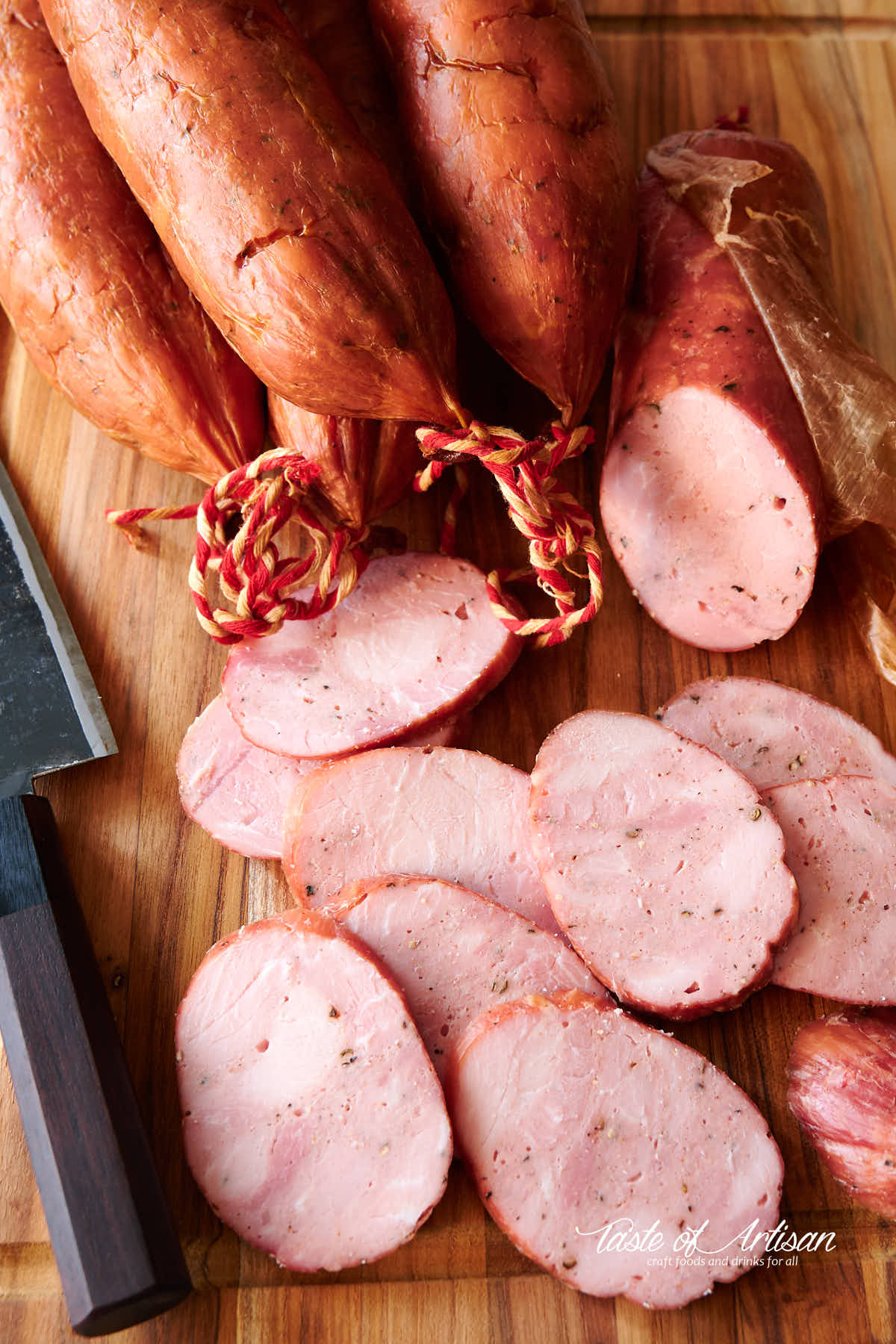 Cooling
Smoked kielbasa must be cooled quickly then refrigerated. A fairly common technique is to shower the sausage with cold water for 5 minutes. This method is often used after smoked kielbasa is poached instead of baking. You will lose some smoky aroma and color with this method. I prefer to lay the sausage on a cold marble slab to bring the temperature down.
Storing
Over years I've learned that the best way to keep smoked kielbasa dry, fresh and tasty is to refrigerate it wrapped in butcher paper. It will keep like that for many weeks. If you want to substantially increase its shelf life, dry the kielbasa at 55F - 60F and 75% Rh for about 10 days, then refrigerate. It will become drier and will keep fresh for much longer.
Variations
I doubled the amount of garlic and pepper in a small sample batch just out of curiosity.  To my surprise I liked the taste a lot. While the original taste features a hint of garlic and pepper, this one had a very distinct garlic-y taste with a noticeable peppery bite. I loved it.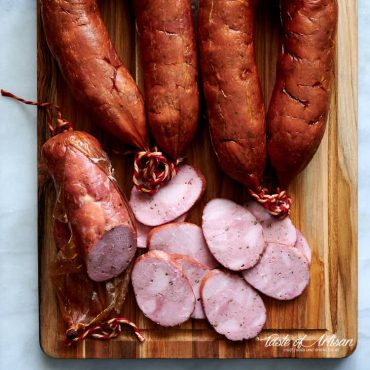 Ingredients
850

g

class I pork

(lean ham part)

100

g

class II pork

(ham, shins or ham hocks)

50

g

class III pork

(ham, shins, ham hocks)

13

g

kosher salt

(2 heaping tsp)

2.5

g

Cure #1

(1/2 tsp, level)

4

g

garlic

(1 clove)

3

g

white pepper

( 1 1/2 tsp)

2

g

black pepper

(crushed or coarsely ground, about 1 tsp)
Instructions
Cut lean pork into .75 - 1" pieces. Set aside.

Cut fattier class II and class II pork into 3" - 4" pieces. Set aside.

Mix salt with cure #1 and divide proportionally for each meat type: lean pork - 12.3 g and fattier pork - 2.2 g. Scale up if making a double, triple, etc. batch.

Mix each meat type with its allocated curing mixture in a separate bowl and refrigerate for 48 hours.

Grind the fattier pork together with the garlic through a 1/8" (3 mm) plate. Transfer to the bowl of a stand mixer fitted with a paddle attachment. Add the hand-cut lean meat and the spices. Mix on the lowest speed for 5-10 minutes. Add a few tablespoons of water if the mixture is too thick.

Stuff into 55 mm natural hog casings and form rings. Prickle air pockets with a needle.

Hang the sausages at room temperature in a drafty area until the casings feel dry or mostly dry, about 2-3 hours.

Dry in a smoker without smoke for 30-45 minutes at 110F - 130F with dampers fully open.

Smoke at around 130F to 140F for 3 hours.

Bake in the smoker at 175F - 195F until the internal temperature reaches 154F - 158F. This can be done in a oven. You can also finish by poaching or steaming.

Cool down to about 50F - 60F by placings sausages on a cold surface, e.g. a marble slab. Refrigerate thereafter.