One of the best-tasting smoked sausages I make is the quick hot-smoked sausage with honey and garlic flavor. I always get a lot of compliments for it, and it goes very fast. This sausage is a real crowd-pleaser. You would think that smoked Polish kielbasa would win by a long shot, but that's not the case. This smoked sausage, too, has an amazing texture, though slightly different, is very smoky, and tastes ridiculously good. You can serve it at parties, hot on a bun, like a hot dog, or chilled, like kielbasa, or sliced and added to other dishes, like Andouille.

The best part is that you can make it in a fraction of the time required to make traditional kielbasa. This type of smoked sausage requires no special preparation. You can have it ready in about 4 hours from start to finish. Five if you are sipping your favorite brew while you are making it.
Smoked sausage can be made two ways - cold smoked and hot smoked. This may be a little confusing as hot smoked sausage can be smoked at around 130F - 140F and over 200F. I call sausage smoked below 200F warm-smoked and 0ver 200F hot-smoked. This makes it easy to understand what we are talking about. This recipe is for hot-smoked sausage; it's smoked at 225F.
Meat preparation
This sausage is made entirely from pork butt. Pork butt has a perfect ratio of meat to fat for making sausages.
Cut up the meat into 2" pieces. Season with salt and Cure #1. You can grind the meat right away and proceed with making the sausage. Or you can refrigerate it for up to 48 hours.
Cure #1, or curing salt (salt with a small percentage of nitrites), is used to prevent botulism and harmful bacteria growth. You'd want to use it when making traditional sausage that requires hours of drying and smoking in the 'danger zone' temperatures of above 40F and below 140F. Even below 200F.
Curing salt is not needed in this recipe as the sausage is smoked quickly and at over 200F. However, Cure #1 will lend the sausage a pretty pink color and a nice flavor that we are used to tasting in smoked sausages. That's right, not everyone knows but curing salt enhances sausage flavor.
Another important reason to use curing salt when making sausage is that it significantly enhances its shelf life. Sausage made with pink salt will last in a fridge for weeks and even months if properly handled and vacuum sealed. Sausage made without one will start to deteriorate after a week or two.
Next,  grind the meat through a 1/8" (3mm) plate. I love the fine texture of this sausage. If you want an even finer grind, more like a hot dog, double or triple grind the meat through a 1/8" plate. I don't have or have seen smaller plates, so double grinding works well for me.
Seasoning
Besides the salt, I only use garlic, honey, and white pepper to season this sausage. You don't need anything else. The delicious smell of smoke is all you really need to season smoked sausage. But some garlic and honey will improve the taste and add a hint of sweetness and some savory notes. A little bit of white pepper will add a touch of spiciness. Trust me, the taste of this sausage is exceptional. I once tried fresh honey garlic sausage from a small local butcher, and its taste won me over. This sausage captures that taste quite well.
Stuffing
I make this sausage in regular 28-32mm hog casings.

Once the meat is stuffed into casings, I twist it into 6" links and cut it into individual pieces.
Smoking the sausage
I smoke this sausage over indirect heat at around 225F until it reaches around 160F internal temperature. That takes about an hour and a half.  This sausage is quite forgiving; you can get it to 175F internal temperature but try not to do it. The higher the internal temperature gets, the more juices the sausage will lose.

Try browning this sausage over direct heat if you want even more flavor and color. Let it smoke to about 150F, then move over to direct heat and brown for about 2-3 minutes per side.

You may get a few bursts here and there, but there will be more flavor. I like doing this when serving these sausages on a bun as a hot dog.
https://youtu.be/T8sCrZPU9GI
Chilling and storing
Once smoking is done, quickly chill the sausage. Either place the sausage in a Ziploc bag and put it in an ice bath or leave them outside if the ambient temperature is very low.
Once the sausage is chilled to room temperature, either wrap it into unglazed butcher's paper and refrigerate it or hang it in a cold room/curing chamber running at 55F  and 75% Rh for 3-5 days before refrigerating. This will improve the texture and intensity of flavor and increase its shelf life.
Enjoy!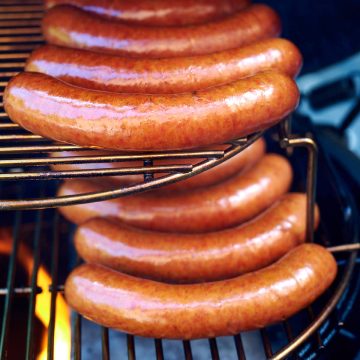 Quick Hot Smoked Sausage (Honey Garlic)
Print
Pin
Rate
Servings:
14
1 sausage per serving
Ingredients
5

lbs

pork butt

1 1/2

Tbsp

kosher salt

1

tsp

Cure #1

level

1 1/3

tsp

white pepper

heaping

3

cloves

garlic

large; pressed

2

Tbsp

honey

1

cup

ice water
Instructions
Cut the meat into 2" pieces. Mix with salt and Cure #1 (if using).

Grind pork thriugh a small size plate - 1/8" (3mm).

Add the ice water, honey, garlic and white pepper, and mix well, until the meat is sticky.

Stuff into 28-32mm hog casings, twist into 6-7" links, then cut into individual links.

Preheat smoker to 225F (indirect heat).

Place sausages in the smoker and smoke until the sausages reach 160F internal temperature, about 1.5 hours.

Cool the sausage down. Cooling can be achieved quickly by placing sausage in a Ziploc bag and into anice bath. It with result in a fuller, more plump product as opposed to slow cooling at room temperature.

Store in a refrigerator wrapped in butcher's paper. Or vacuum seal and freeze.

If desired, place the sausage in a cold room or a curing chamber to dry at 55F and 75% Rh. This will improve the texture, flavor intensity, and shelf life.
Nutrition
Calories:
224
kcal
|
Carbohydrates:
3
g
|
Protein:
30
g
|
Fat:
9
g
|
Saturated Fat:
3
g
|
Polyunsaturated Fat:
1
g
|
Monounsaturated Fat:
4
g
|
Trans Fat:
0.1
g
|
Cholesterol:
97
mg
|
Sodium:
1020
mg
|
Potassium:
554
mg
|
Fiber:
0.1
g
|
Sugar:
2
g
|
Vitamin A:
0.1
IU
|
Vitamin C:
0.3
mg
|
Calcium:
26
mg
|
Iron:
2
mg