There is something very special about thin smoked sausages and sausage sticks. Smoked beef sticks are fantastic as snacks and accompaniments to beer. Polish kabanos sausage is so good it's addictive. It goes fast no matter how much I make. Add smoked chicken sausage to this list of favorite snacks.

Our local supermarkets and specialty stores sell smoked chicken sausage but I've never been a big fan. I like chicken sausage in general but store-bought is almost always quite disappointing. Most of the time I find it either too fatty or too acidic or just lacking flavor and good texture. Oftentimes chicken sausage contains loads of pork fat, and don't get me started on all the preservatives/flavor enhancers/moisture retainers in them that ruin the taste.
To make a long story short, here is my version of smoked chicken sausage that I think is fantastic. Tastes differ, so some may not love it as much as I do, but I am sure it will not disappoint you. You can always use this recipe as a base to create something that you personally will love.

Best casings for this smoked chicken sausage
You can make this sausage with collagen casings and it will be very good but sheep casings are the best. They are more expensive and more difficult to stuff without breaking but are so worth it. Even though I have a big box of 23 mm collagen casings I seem to always reach for sheep casings. I have a big container of those in a fridge too - buying in bulk is much cheaper and they store well for a long time. If all you have is the ubiquitous hog casings, use those, the sausage will be just as good.
Smoking chicken sausage
Since thin sausage is much easier to bring to the target temperature in the smokehouse, you may want to opt for that instead of poaching. Yes, I like poaching a lot but you do lose a little bit of smokiness and it's an extra step that you can avoid. Anyway, I've made over a dozen batches of this sausage since last November when I started experimenting with it. I have to say that most of the batches were successfully and relatively quickly finished in the smokehouse. While both sausages are pretty close in smokiness and color, I do like that a little extra smokiness and a slightly darker color from finishing in the smokehouse.
If you decide to use 28 - 32 mm hog casings or larger, I highly recommend using the poaching method to finish the sausage. Finishing thicker sausage in a smoker can be very unpredictable and time-consuming while poaching is quick and predictable.
Required equipment to make this smoked chicken sausage
To make this sausage, you will need a meat grinder and a sausage stuffer. I've been using a LEM meat grinder for many years and love it. It's built like a tank. A 5lb LEM sausage stuffer which I also own and like a lot is perfect for making this sausage.  I have a motorized LEM sausage stuffer but like using a manual one for stuffing sheep casings as they tend to break less that way.
Another piece of equipment that you will need is a smoker or a smokehouse that can generate smoke while maintaining 100F to 140F temperature and go up to about 195F to finish cooking the sausage. If you don't have a smokehouse or don't have space for one, an electric smoker like this Masterbuilt electric smoker is probably your best bet. Smoking sausage at low temps in propane or charcoal smokers is a challenge.

Drying smoked chicken sausage
As with kabanos sausage,  and many other smoked sausages, you can dry this sausage for 5-7 days in a cooler (55F, 75% Rh) which will increase its shelf life. Longer shelf life is of questionable value as, to be honest, it's devoured so fast.
If you store your sausages in butchers paper in a fridge, they will dry in the fridge over time.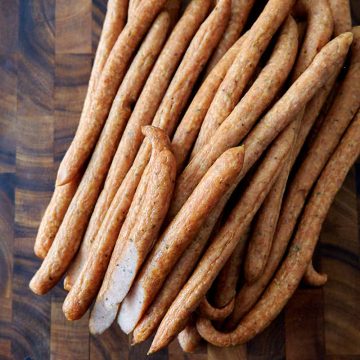 Smoked Chicken Sausage
Homemade smoked chicken sausage recipe.
Print
Pin
Rate
Ingredients
1000

g

chicken meat with skins and fat

Meat from whole chickens, deboned, with skins and fat or boneless skin-on chicken thighs/legs; about 2.2 lbs

13

g

kosher salt

about 2 tsp plus a small pinch

2.14

g

Cure #1

about a touch less than a level 1/2 tsp

12

g

Fermento

about 2 Tbsp

2.5

g

sugar

about 2/3 tsp

2

g

granulated garlic

about 2/3 tsp

1.5

g

black pepper

coarsely ground; about 3/4 tsp

1.5

g

rubbed sage

about 2 tsp

1

g

dried parsley

about 2 tsp

0.5

g

nutmeg

ground; about 1/4 tsp

0.5

g

cayenne pepper

optional; about 1/4 tsp

60

ml

chicken broth

chilled; or ice water; about 1/4 cup
Instructions
Cut the meat into 2" (5-6 cm) pieces, mix with the salt and Cure #1. Place in a container, cover and refrigerate for 24-48 hours. If you are pressed for time, feel free to skip this step, there won't be a significant impact.

Grind all the meat with skins and fat through a 1/8" (3 mm) plate.

Mix the ground meat with the Fermento and the seasonings, adding a quarter cup of cold chicken broth or ice water.

Stuff firmly into sheep casings or young hog casings not bigger than 22 mm if you have access to those. Form about 12" links and tie with a butchers' twine, or leave as a continuous coil. Prick any visible air pockets with a clean needle.

Dry in a cold room or a fridge for 12 hours at 35F - 43F (2C - 6C) or at room temperature for about 60 minutes. You can also dry in the smoker at about 110F - 130F without smoke for about 30 minutes or until the skin feels dry to touch.

Smoke at 130F - 140F for 1 hour, until the casings develop dark brown color, followed by 20-30 minutes of baking where the temperature in the smoker gradually incrases to 165F, 175F, 185F and even to 195F if necessary, util the internal temperature of the sausage reaches 160F (71C).

Instead of baking, you can poach at 167F - 172F for 15 - 20 minutes or until the internal temperature reaches 160F (71C).

If desired, dry at 53F - 64F (12C - 18C) and 75-80% RH for 5-7 days, until 45% total weight loss.

Store in a refrigerator, dried or un-dried.
Notes
As almost always with sausage-making, it's best to use an inexpensive precision scale and measure the ingredients in grams. Measuring in imperial units such as in spoons and cups can be very imprecise and may impact the final taste.
To use this recipe, weigh the meat in grams, divide by 1000, then multiply the resulting multiplier by each ingredient. For example, you have 4,650 grams of chicken meat and skins. In this case, to get the amount of salt you will multiply 13 g by 4.65 to get a total of 60 grams of salt. Repeat with the rest of the ingredients.
Nutrition
Calories:
150
kcal
|
Carbohydrates:
1
g
|
Protein:
13
g
|
Fat:
10
g
|
Saturated Fat:
3
g
|
Polyunsaturated Fat:
2
g
|
Monounsaturated Fat:
4
g
|
Trans Fat:
1
g
|
Cholesterol:
51
mg
|
Sodium:
657
mg
|
Potassium:
143
mg
|
Fiber:
1
g
|
Sugar:
1
g
|
Vitamin A:
128
IU
|
Vitamin C:
2
mg
|
Calcium:
13
mg
|
Iron:
1
mg