One of the most popular Polish sausages and likely the finest sausage stick in the world.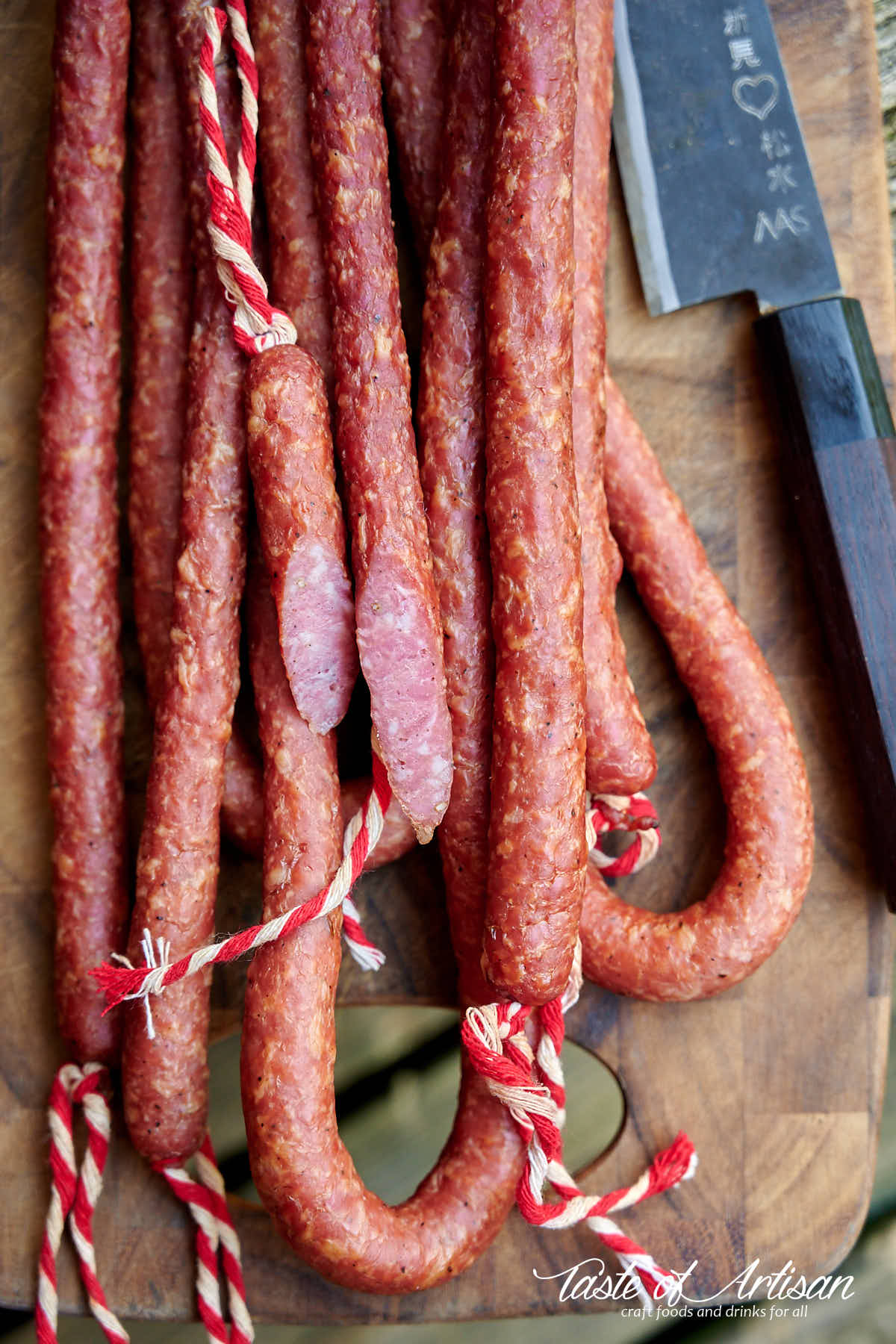 The name kabanos, or kabanosy in Polish, comes from the word 'kabanek', a nickname given to young fat hogs. This sausage is really, really good. If you ask my kids what the best sausage in the world is, they will say kabanos without hesitation. For me, it's a toss between kabanos and my absolute favorite, swojska kielbasa. That says a lot. For some reason it reminds me of dry cured sausage. Perhaps this is the result of low heat cooking followed by drying.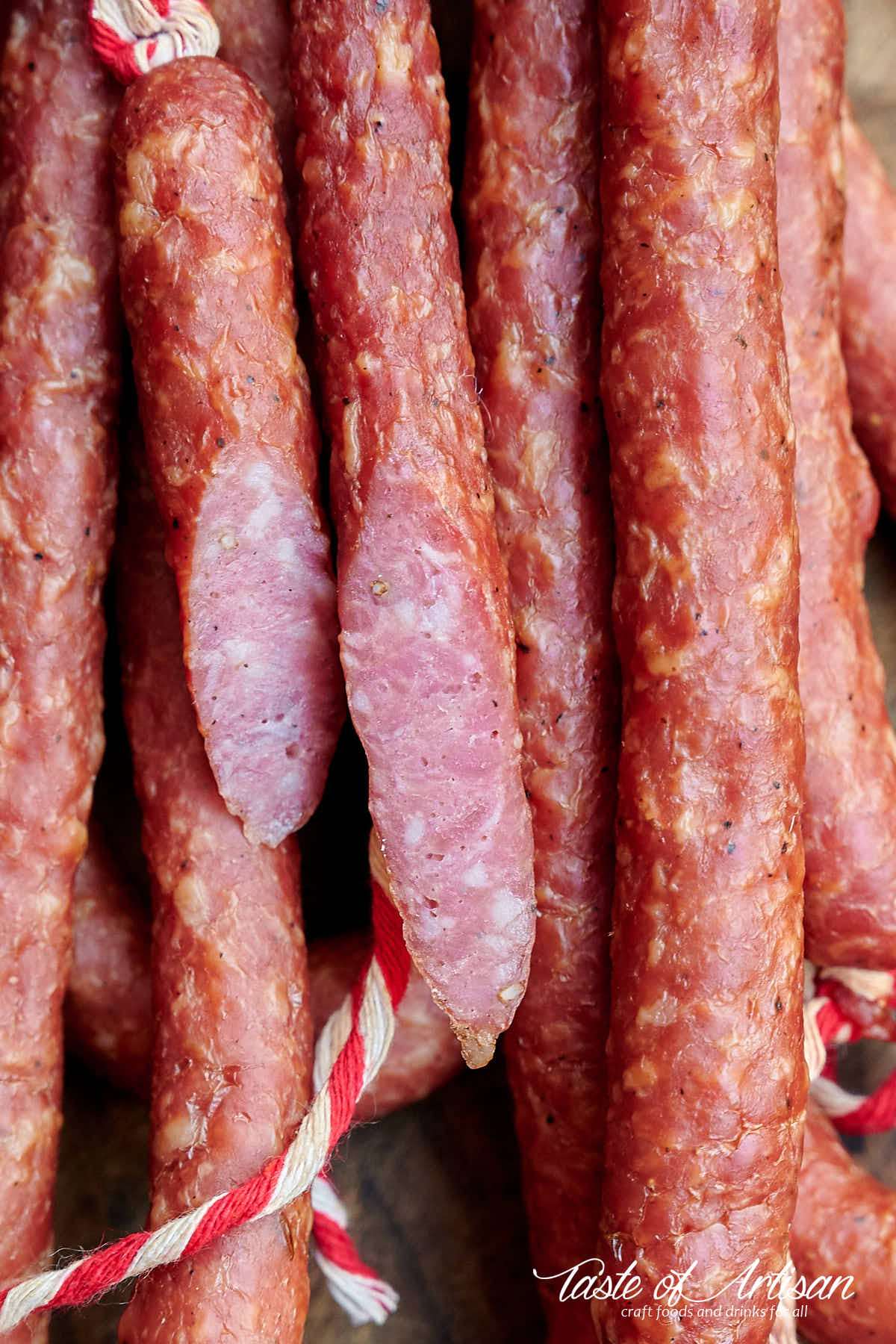 Batch size
The recipe - originally published in the Polish Government Archives between 1945 and 1989 - is for 5 kilos or 11 lbs of meat. You may think that it's a lot, but its not. By the time drying is done, the sausage will have lost almost half of its green weight. Once your family members find out how good it tastes, it will vanish in a matter of days, trust me. I've seen it happen.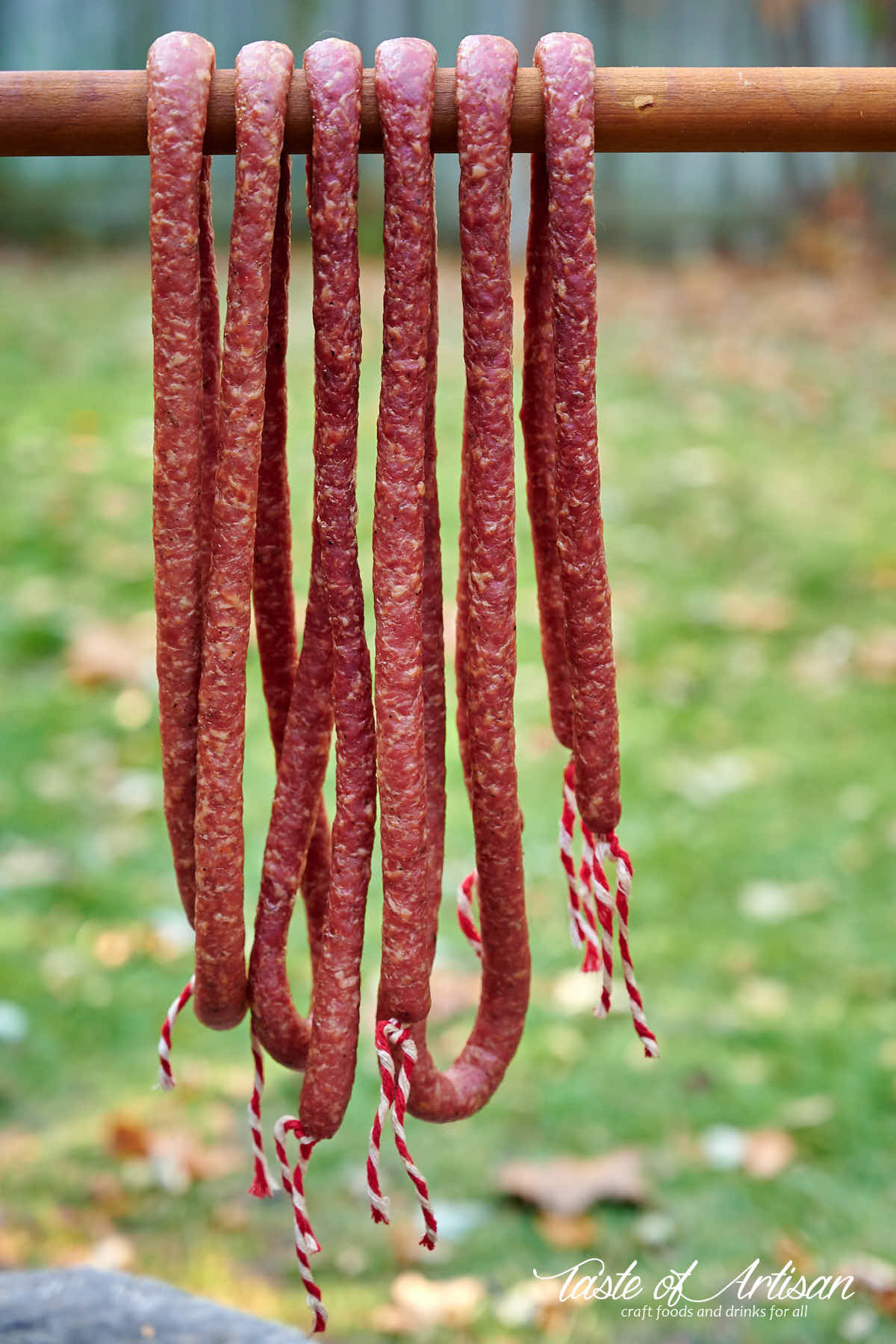 Meat and grind for kabanos
Pork shoulder is the best cut to use for this sausage. It has just about the right ratio of lean to fatty pork required for this recipe. In the original Polish government kabanos recipe lean pork is ground through 8 mm grinder plate and fattier pork through 5 mm plate. These sizes aren't readily available here so I chose to use 1/4" (6 mm) and 3/16" (4.5 mm) grinder plates. You could probably get away with 3/8" (10 mm) plate for lean pork but I think what makes this sausage taste so good to me is its finer grind.
That said, if you don't have the patience to spend time separating all the lean pork from fattier pork, and wanted to just grind it all through 3/16" (4.5 mm) plate, I'd say go for it. There isn't that much of a difference between the 4.5 mm and the 6 mm plates. Just remember to trim off all the extra fat and the sinews.
Smoking
It's easy to over-smoke this sausage due to it's size and the use of thin sheep casings. I once smoked it for 4 hours, got a beautiful color, but the sausage had an almost overwhelming smoky smell. The original recipe calls for 1 hour of smoking. I've done 1 to 2 hours of smoking and consider those acceptable. So, which is it? One hour in the smokehouse or a smoker if you smoke with heavy smoke, 2 hours if smoking with thin smoke. Use your judgement.
As far as wood goes, oak, hickory or alder wood are all fine for this sausage. My favorite for kabanos is hickory.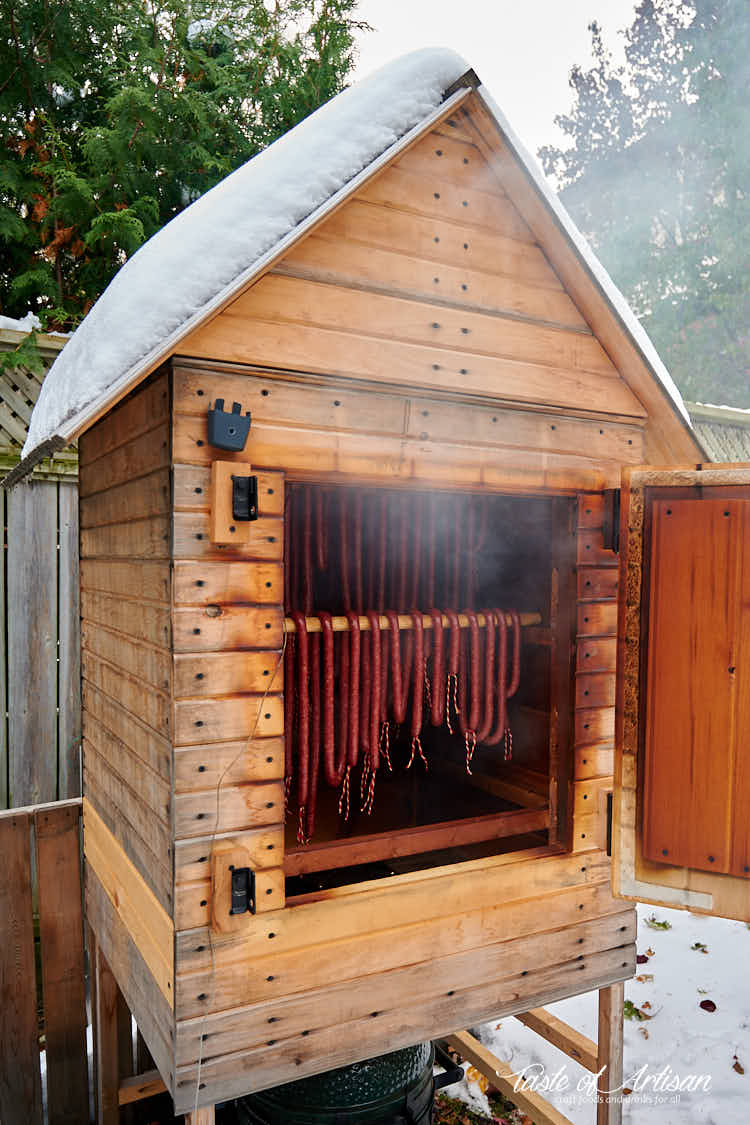 Baking
Every Polish sausage recipe ends with 'bake for 20-30 minutes at 165F - 175F' or something like that. Those timelines rarely worked for me. It usually takes hours, depending on sausage thickness. Casings will shrink and harden. I rarely do that any more. Instead, I poach. The results are perfectly acceptable and predictable. I really does take 20-30 minutes to bring internal temperature to 154F this way, stress free.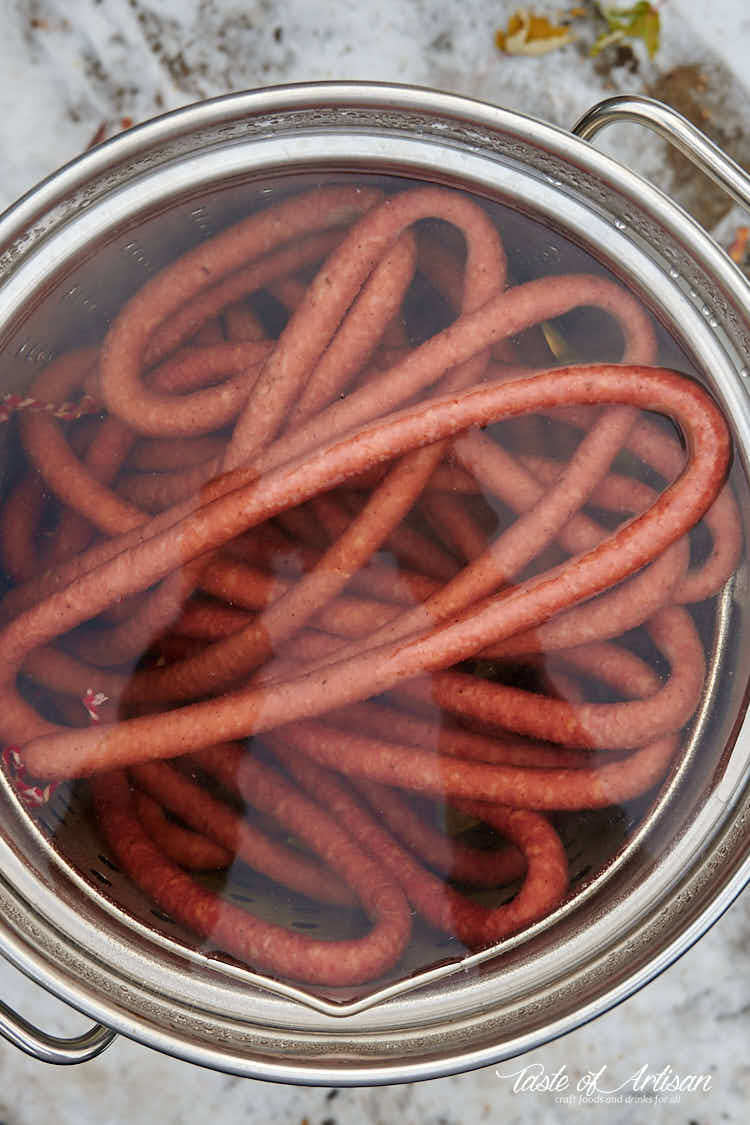 I use a 36-qt stainless stock pot with a basket. It's as effective and convenient for sausage making as it is for crawfish boils, which our family loves. It easily fits 10 lbs of sausage.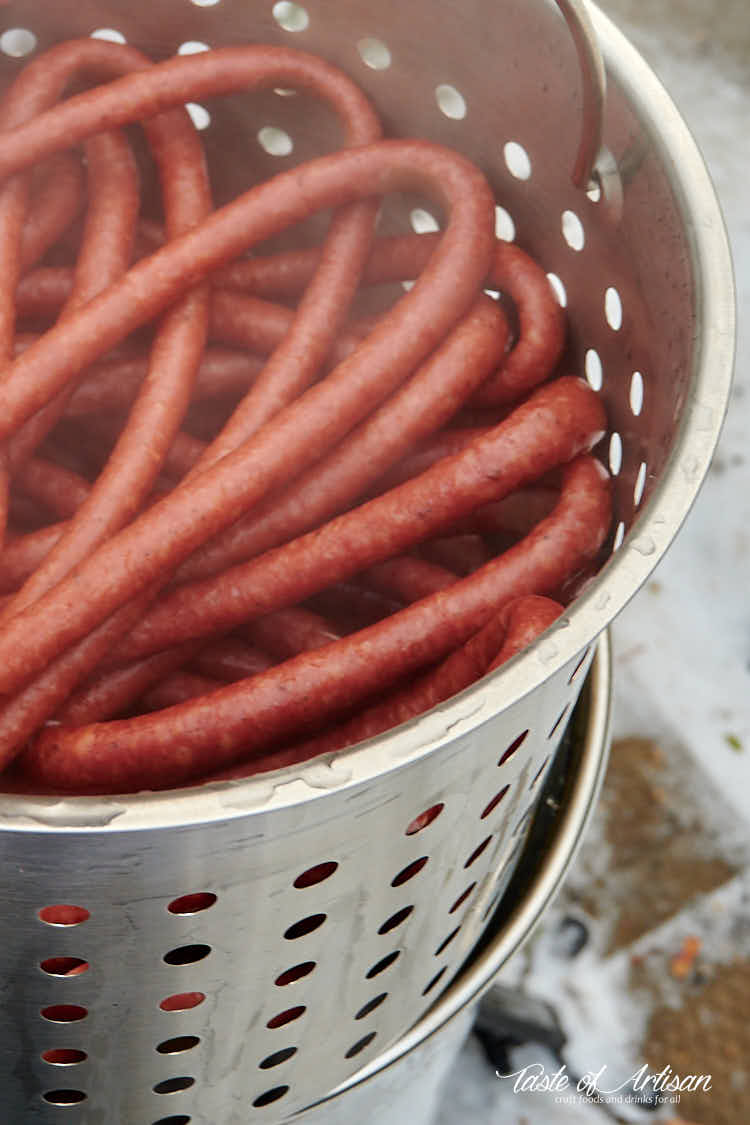 Drying
Kabanos will be perfectly safe to eat, and will taste fantastic, right after you take it out of the stock pot. Once you chill the sausage, it will taste even better. But let it hang in a cooler for a week, and it will be like an entirely different sausage. It reminds me of dry cured sausage. Fantastic!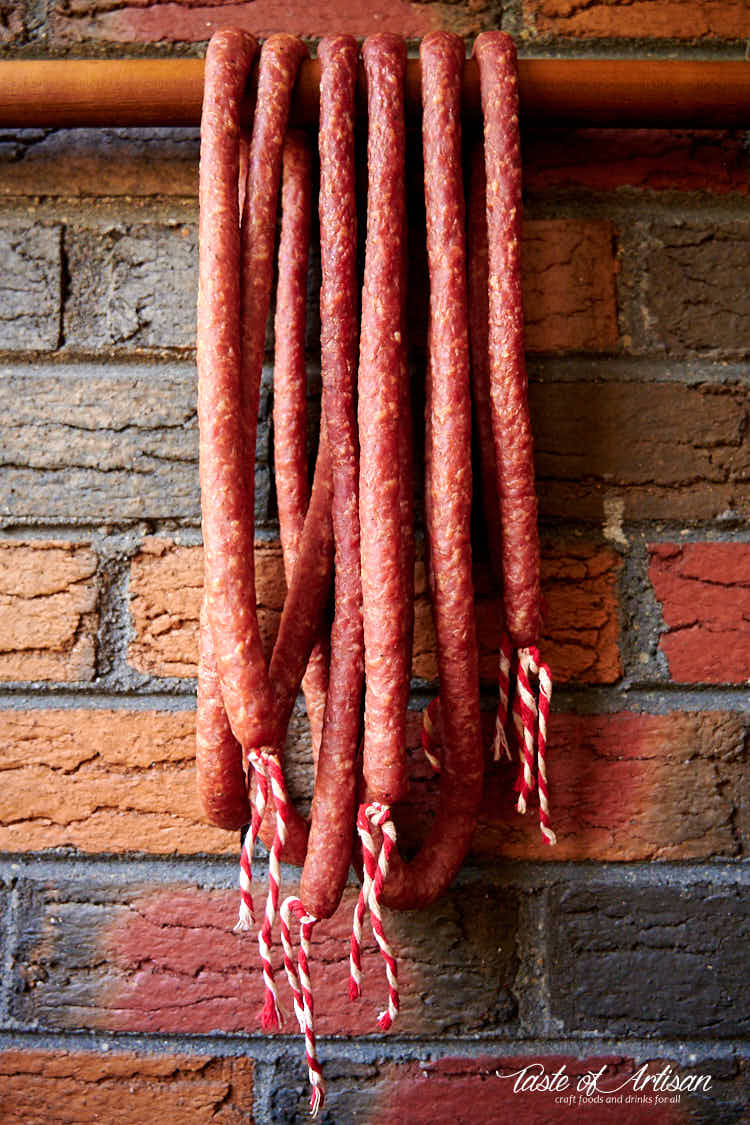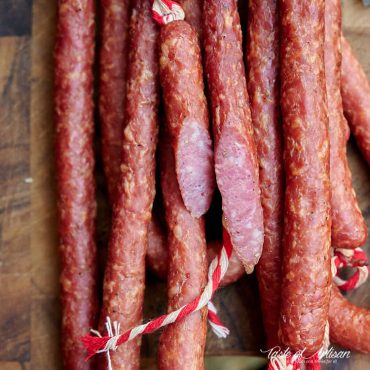 Ingredients
2000

g

lean pork

4.5 lbs (no more than 10% fat)

3000

g

pork

6.5 lbs (no more than 30% fat)

66

g

kosher salt

about 3 2/3 Tbsp

11

g

Cure #1

about 2 1/4 level teaspoons

7.5

g

black pepper

about 3 3/4 tsp, coarsely ground

2.5

g

nutmeg

about 1 tsp, ground

10

g

sugar

about 2 tsp

2.5

g

caraway

about 1 tsp

2

cups

ice water
Instructions
Cut the meat into 2" (5-6 cm) pieces, mix with the salt and Cure #1. Place in a container, cover and refrigerate for 48 hours.

Grind the lean pork through 1/4" (6 mm) plate, and the fattier pork through a 3/16" (4.5 mm) grinder plate.

Mix the ground meats, with the seasonings, adding two cups of ice water.

Stuff firmly into sheep casings or young hog casings not bigger than 22 mm. Form links and tie with a butchers' twine, or leave as a continuous coil. Prick any visible air pockets with a needle.

Dry in a cooler for 12 hours at 35F - 43F (2C - 6C), or for about 30-60 minutes at room temperature. You can also dry in the smoker at about 110F - 130F without smoke for 20-30 minutes, until the skin feels dry.

Smoke at 140F for 1 hour, until the casings develop dark brown color, followed by 20-30 minutes of baking, until the internal temperature reaches 154F (68C).

Instead of baking, you can poach at 161F - 165F for 15 - 20 minutes or until the internal temperature reaches 154F.

Dry at 53F - 64F (12C - 18C) and 75-80% RH for 5-7 days, until 45% total weight loss.

Store in a refrigerator.
Nutrition
Calories:
518
kcal
|
Carbohydrates:
1
g
|
Protein:
82
g
|
Fat:
18
g
|
Saturated Fat:
6
g
|
Cholesterol:
258
mg
|
Sodium:
2740
mg
|
Potassium:
1521
mg
|
Fiber:
1
g
|
Sugar:
1
g
|
Calcium:
50
mg
|
Iron:
5
mg