The dominant flavor in this sausage is garlic, hence the name, garlic sausage. This is another great official Polish government recipe published in 1959, similar to Krakow sausage I posted about earlier.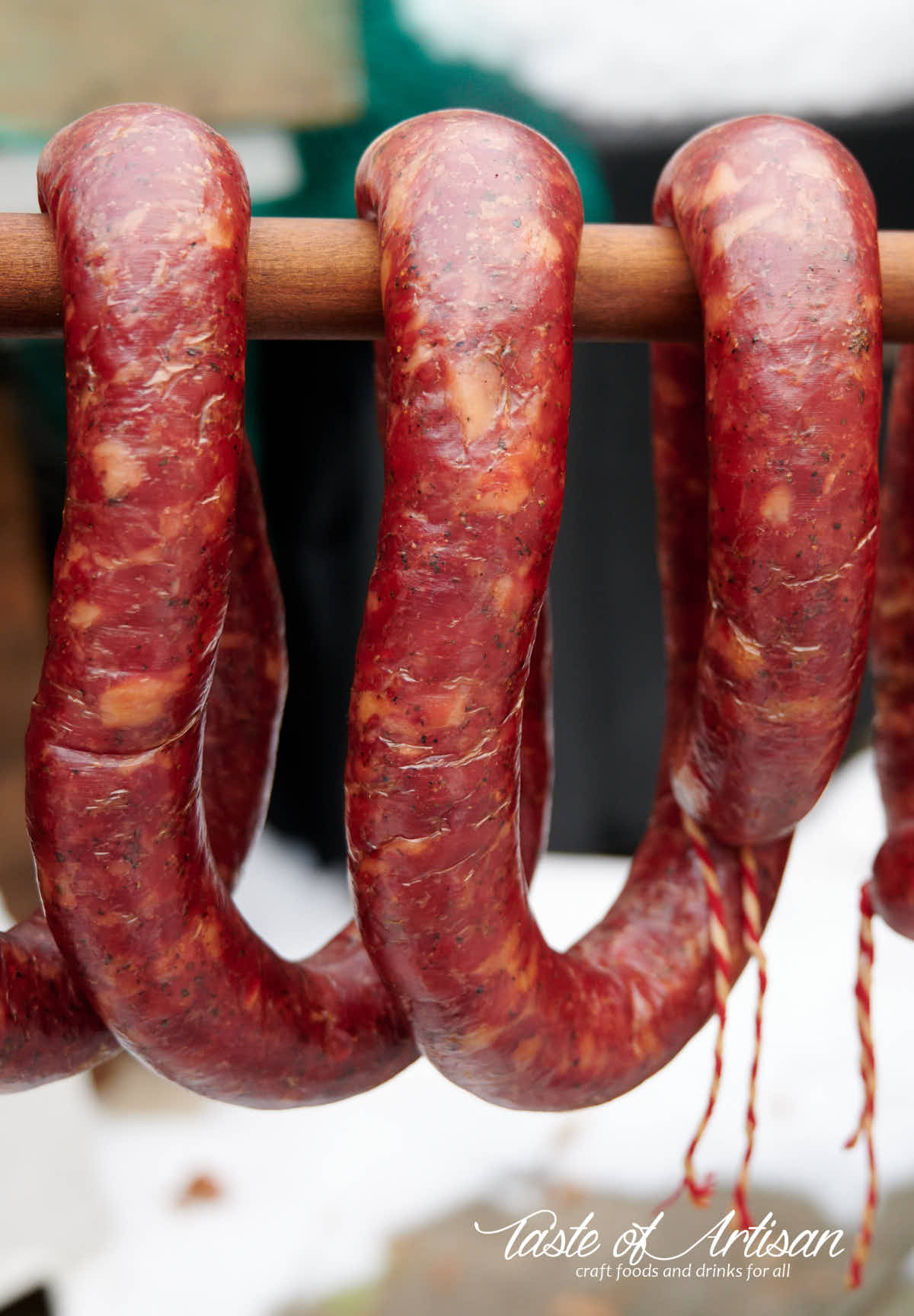 This sausage has a very good ratio of lean meat and fat, and the grind favors chunky texture, which I like a lot. The seasonings are subtle, even the garlic is not as noticeable as you would assume, given that this is garlic sausage after all.
Overall, this sausage comes very close to my all time favorite (swojska) Polish kielbasa, making it a close second.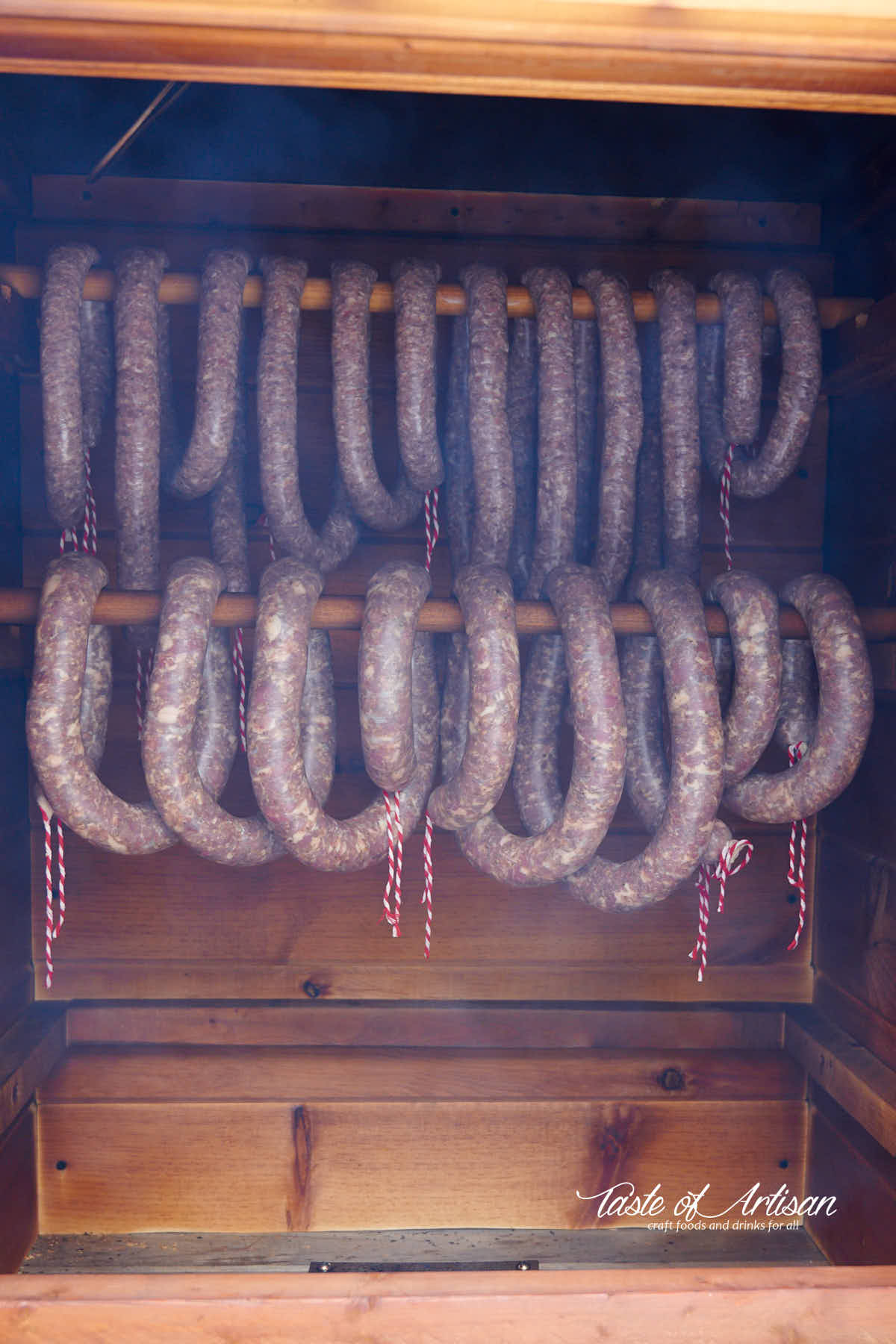 I used pork butt, beef chuck and pork back fat to make the sausage. You don't need to use these specific cuts but I find that pork shoulder works really well in this recipe. After butchering a boneless shoulder I picked up at Costco, I ended up with about 42% class II (up to 30% fat) and 58% class I (up to 10% fat) pork, about the ratios required in this recipe. The official recipe allows for some variance, so you can use a little less class I and a little more class II pork and vice versa.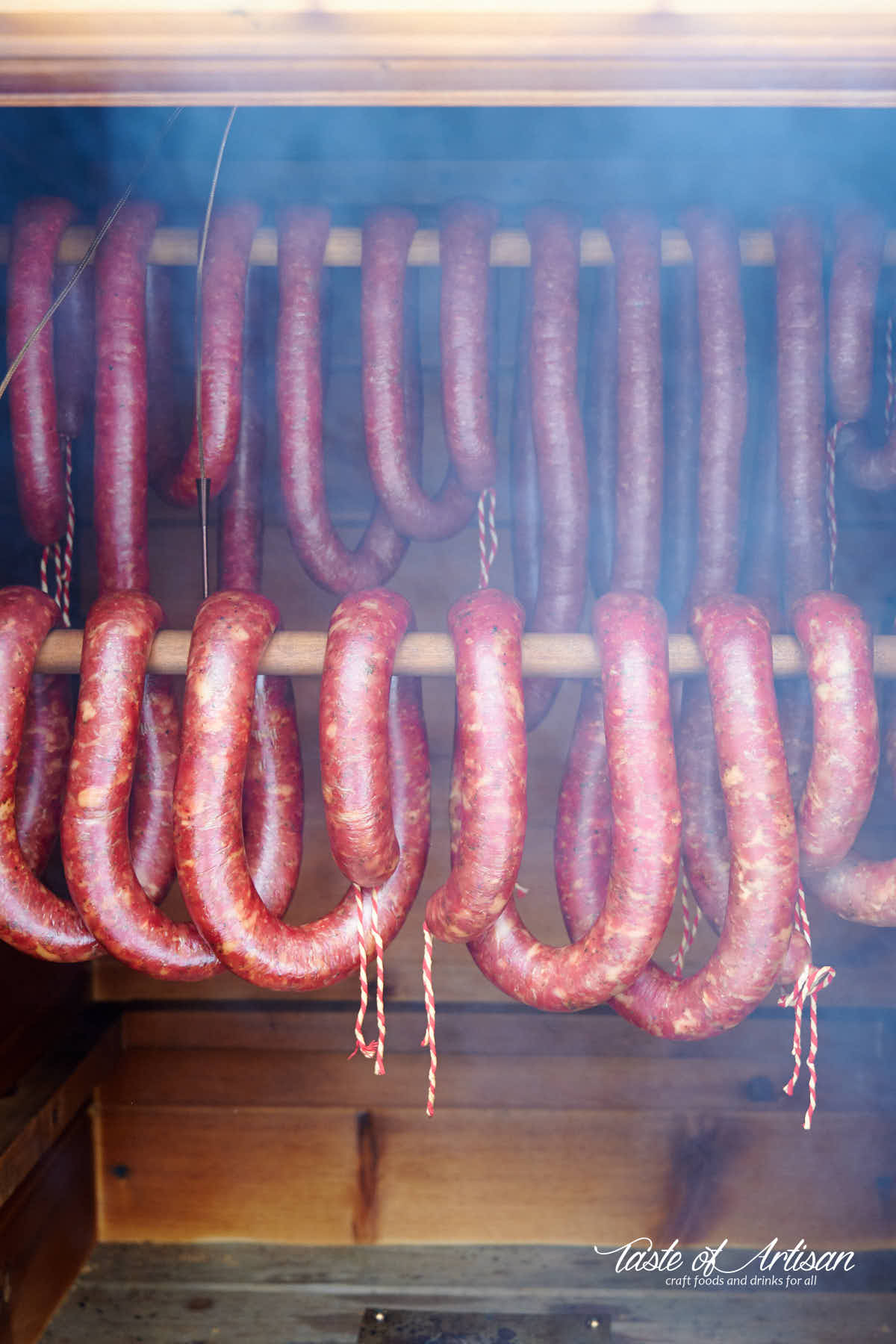 The smoking wood I used in this recipe is hickory and cherry. This combination provides a nice color, and a sweet, smoky flavor. I made a double batch, and decided to dry half of the sausage for a week in an unheated room, which is right now about 50F - 60F, 75% RH. The smell there is so good that I can hardly resist not breaking a piece of sausage off and devouring it.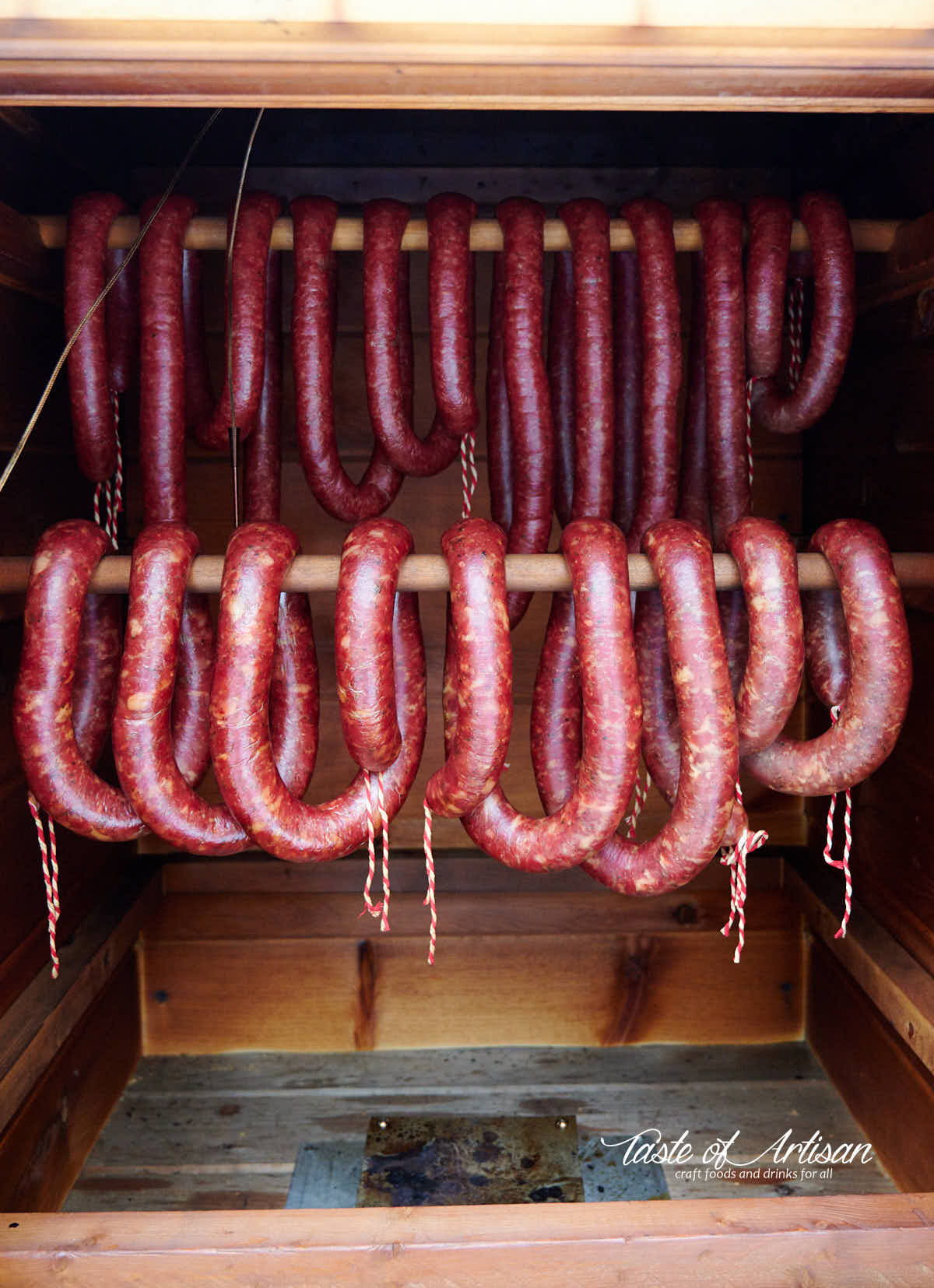 I finished cooking the sausage by poaching, as per the official recipe. Regardless, poaching is now my preferred finishing method as it's easy, predictable and quick. Sure, some color is lost but the skin doesn't harden, and that's a big plus too.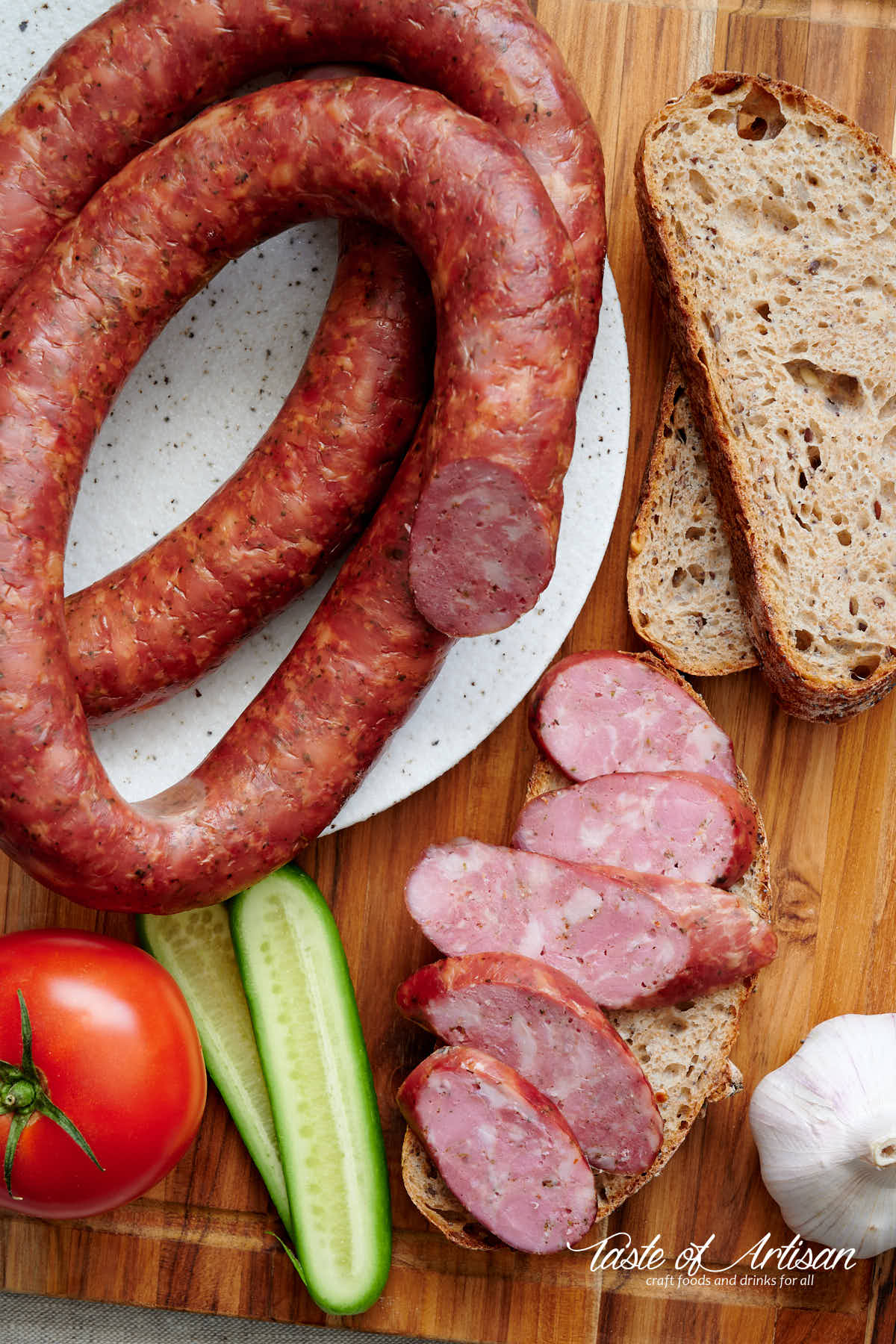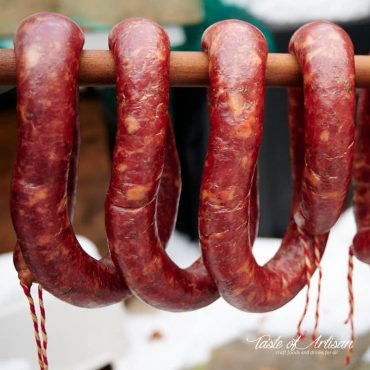 Garlic Sausage
Smoked garlic sausage made according to the original 1959 Polish government recipe.
Print
Pin
Rate
Ingredients
800

g

lean pork

1 3/4 lbs (no more than 10% fat)

500

g

pork

1 lb (no more than 30% fat)

600

g

beef

1 1/4 lbs (no more than 10%-30% fat)

500

g

back fat

1 lb (you also use pork belly)

30

g

kosher salt

about 1 2/3 Tbsp

5

g

Cure #1

one level teaspoon

5

g

black pepper

coarsely ground

5

g

garlic

2 garlic cloves, pressed

1.25

g

coriander

about 3/4 tsp

2.5

g

paprika

about 1 heaping tsp

4

g

marjoram

about 2 Tbsp
Instructions
Cut the meat, and the back fat, into 2" (5-6 cm) pieces, mix with the salt and Cure #1. Place in a container, cover and refrigerate for 48 hours.

Grind the lean pork (class I) through a stuffing plate, pork class II and back fat through a 3/8" (10 mm), and beef through a 1/8" (3 mm) grinder plate. Ground beef can be emulsified, but it's not necessary. If emulsifying, add the seasonings at this stage.

Mix the ground meats, with the seasonings, adding a cup of ice water.

Stuff into beef rounds 1 1/2" (40 mm) or more, and tie with a butcher's twine. Prick any visible air pockets with a needle.

Dry for about 60 minutes in the smoker at about 110F - 130F without smoke.

Smoke at around 130F - 140F for 2 hours, until the casings develop brown color with a red tint. You may have to re-arrange smoke sticks during smoking to achieve even color.

Poach at 161F - 165F for 25 - 35 minutes or until the internal temperature reaches 154F -158F.

Shower with cold water for about 5 min, then let cool down and dry.

Store in a refrigerator.
Nutrition
Calories:
451
kcal
|
Carbohydrates:
1
g
|
Protein:
22
g
|
Fat:
39
g
|
Saturated Fat:
14
g
|
Cholesterol:
94
mg
|
Sodium:
917
mg
|
Potassium:
408
mg
|
Fiber:
1
g
|
Sugar:
1
g
|
Vitamin A:
106
IU
|
Vitamin C:
1
mg
|
Calcium:
20
mg
|
Iron:
2
mg