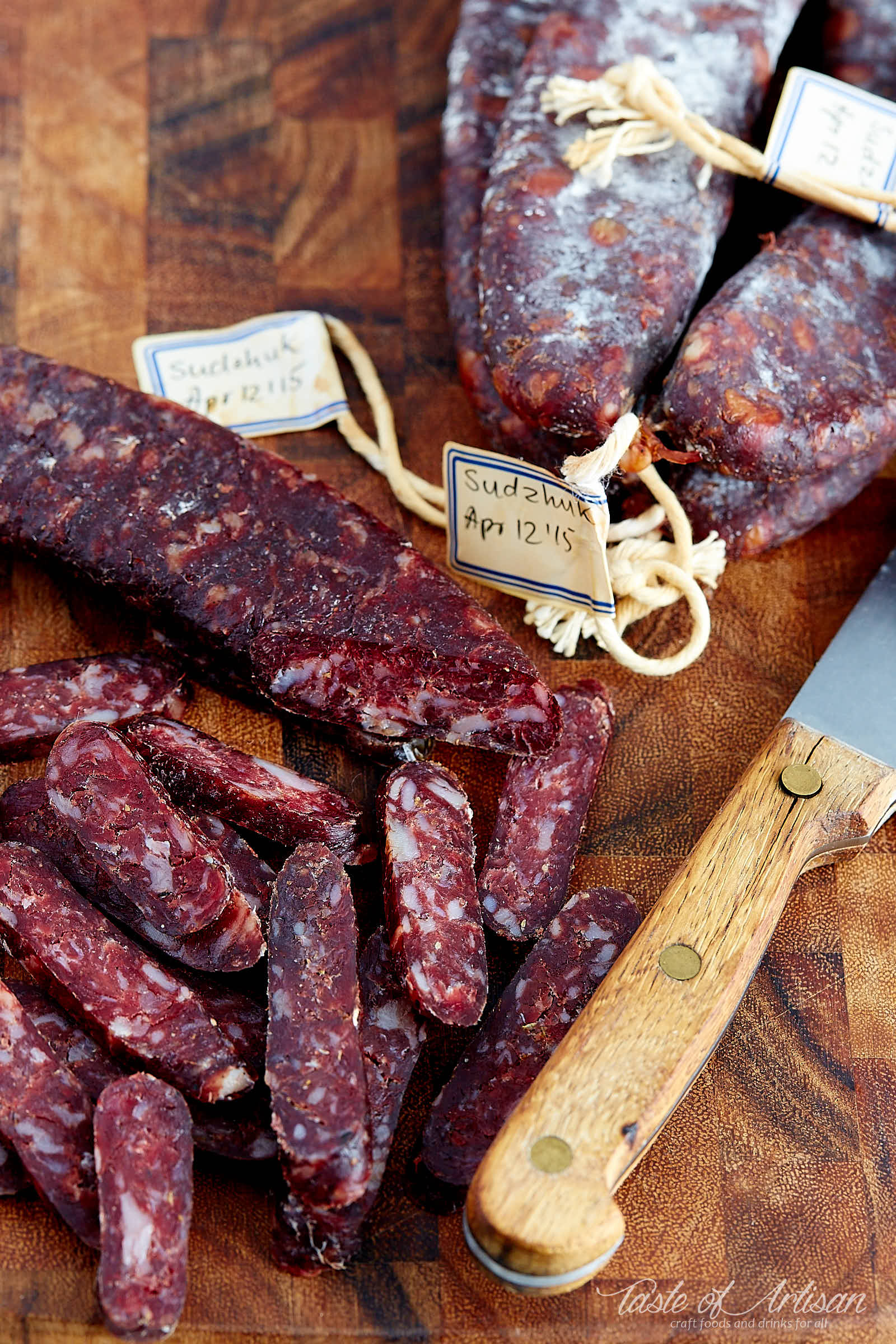 There are hundreds of various types of dry cured sausages out there but there is one kind that I am especially fond of. It's called sujuk. Some other common spelling forms of this sausage are sudzhuk, sucuk or soujouk, depending on the country it originates from.
What is sujuk?
I was fortunate to taste the authentic Gornooryahovski and many other varieties of sujuk while traveling Eastern Europe a few years ago.  Sujuk has a clean, noticeably tangy, beefy taste not overpowered by spices. Fairly hard and dry, sujuk reminded me of good beef jerky but it was less chewy and more fatty compared to jerky. Spices vary depending on the variety and location. In general, I'd say of all cured sausages it became one of my favorite.
Over here good sujuk is almost impossible to find. What I could find was a remote resemblance of the real thing that did not excite me at all. This forced me to venture into the unfamiliar territory of sujuk making. Luckily, I was able to find this official publication online that gives a very good idea about how to make dry cured sujuk. I used it as the base for making my own.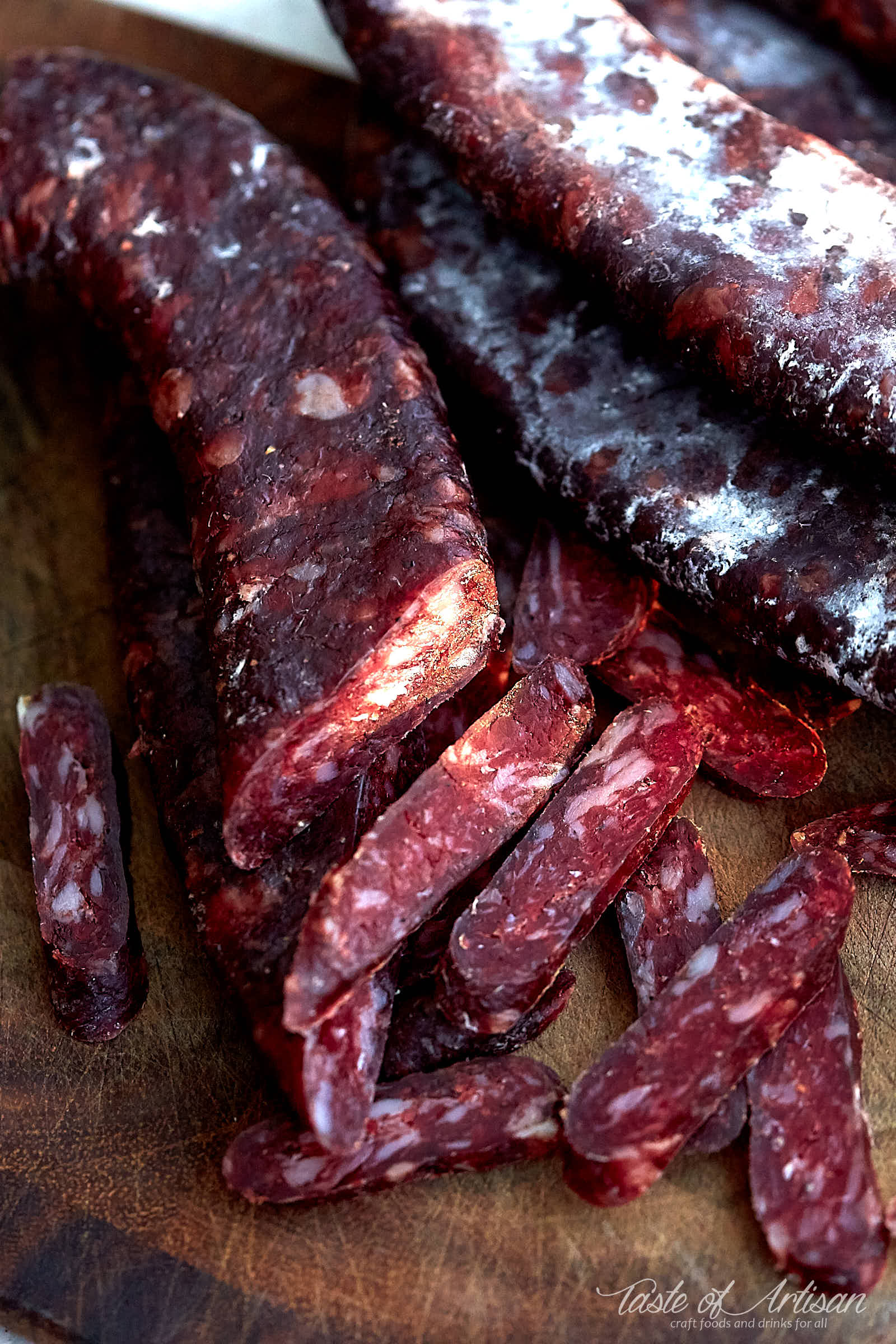 Characteristics of Sujuk
According to the publication, Gornooryahovski Sudzhuk is a compacted, non-perishable, raw, dried sausage manufactured from natural gut filled with machine-minced beef. The surface is evenly coated with a dry, white, powdery sausage mold. The sausage is cylindrical, flattened and bent into a horseshoe shape. Its ends are tied off and bound together with string. It is 35-40 cm in length and up to 40 mm in diameter. It is solid, elastic and has the same consistency at the periphery as it does at the core. The cross-section is elliptical with an even, fine-grained texture on its surface.
The meat filling is free of cavities, sinews or fasciae. The filling is marbled, its color varying from red to dark brown as is typical for beef. The fat is white in color. There is no dark-colored peripheral ring or grey discoloration in the interior of the cross-section. The flavor is distinctive, pleasant, spicy, moderately salty and free from any extraneous taste. The aroma is distinctive, with vivid tones reflecting its specific mixture of herbal seasoning (black pepper, cumin and savory).
Physical and chemical characteristics: water content does not exceed 45 % of the overall mass; fat content in dry matter does not exceed 65 %; kitchen salt does not exceed 4.5 % of the overall mass; nitrites do not exceed 50 mg per kg; pH ≤ 6 and ≥ 5.1; and aW ≤ 0.88.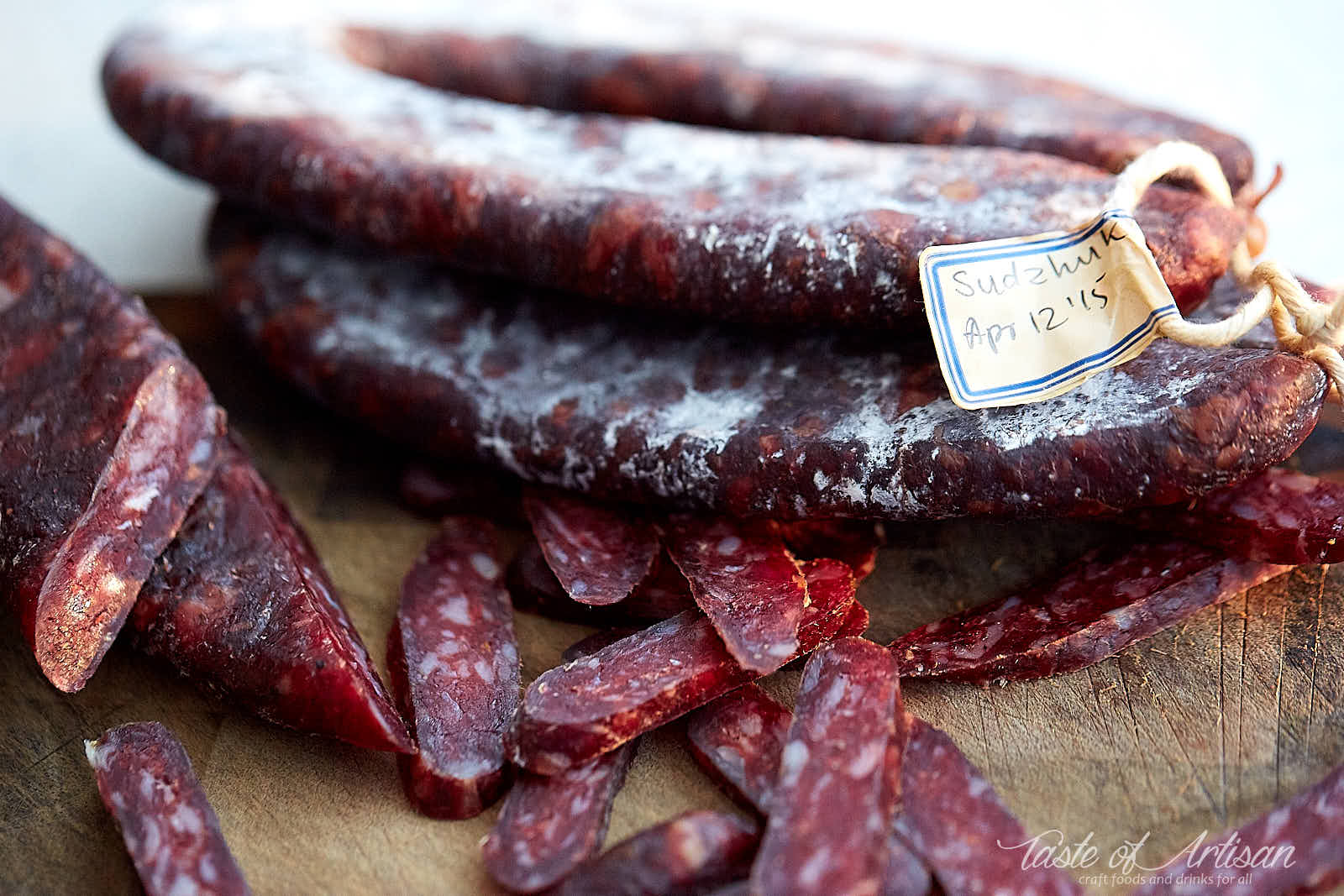 Making sujuk
I am not big on using cumin unless I am making chili or pilaf. Savory? Maybe. I do like a little bit of garlic and onion powder in my beef sausages though. I made the substitution and loved the results. Either way is great, it's just a matter of preference.
If you have the opportunity to cold smoke sujuk for about 12-24 hours, it's definitely worth it. It can be done either during fermentation or drying as long as the temperature and humidity conditions are met. While this is definitely against the official guidelines, the smoky flavor takes sujuk to the next level. Additionally, smoking provides some antimicrobial (phenols and acids) and antioxidant (phenols) properties to the product. That said, keep in mind that these must be considered as an additional safety hurdle and not the main one.
Using a starter culture
Traditionally sujuk is made without the use of starter cultures as the microbiological safety is achieved by drying and not by increasing acidity. This is fine when meat is handled properly, without the risk of cross-contamination, and the maker can ensure that the sausage has dried properly. As an enthusiast sausage maker, I feel that it's better to be safe than sorry. FLC or B-LC-007 cultures will work well for this recipe.
I add 0.3% of sugar to the mix to achieve a pH of slightly higher then 5.0. This is within the spec of Gornooryahovski Sudzhuk. You can increase the amount of sugar to 0.5% for slightly more tang.
Interestingly, here is the study that demonstrated a positive effect on color, texture and taste in the production of Turkish sucuk - all are good reasons to use a starter culture.
My curing chamber - Advanced Meat Curing Chamber.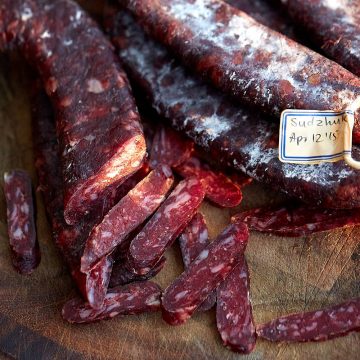 Homemade Sujuk
Recipe for homemade dry-cured sujuk.
Print
Pin
Rate
Ingredients
1000

g

beef chuck

26

g

kosher salt

2.5

g

Cure #2

2

g

freshly ground black pepper

1.5

g

freshly ground coriander

1.5

g

garlic powder

3

g

onion powder

0.2

g

T-SPX starter culture

( activated in 60 ml distilled water)

3

g

sugar

or a 50/50 combination of dextrose and sugar
Instructions
Partially freeze the beef before processing to make sure it stays cold.

Cut the meat into 100-150 g pieces, remove sinew. Grind through a medium size plate (3/16" or 4.5 mm).

Mix the ground meat, spices, sugar, and the starter culture. Stuff into 28-32mm hog casings, making 18" (45 cm) links, and tie with twine.

Ferment at 71-77F (22-25C), 85-100% RH for about 48 hours in an area with good ventilation, until the meat firms up and turns dark red.

Dry at 59-64F (15-18C), 75-85% RH for 10-20 days with good ventilation, until target weight loss of about 55% is achieved.

Starting on day two of the drying stage, flatten the sujuk by gently rolling it with a roller. Do not press too hard otherwise the casings may burst. Continue doing this once a day for about 5-6 days.

Optionally, you may smoke sujuk for 12-24 hours during fermentation or drying, ensuring temperature and humidity conditions above are met, to obtain smoky flavor.
Nutrition
Serving:
0
g
|
Calories:
822
kcal
|
Carbohydrates:
1
g
|
Protein:
87
g
|
Fat:
52
g
|
Saturated Fat:
22
g
|
Cholesterol:
313
mg
|
Sodium:
4322
mg
|
Potassium:
1524
mg
|
Fiber:
0
g
|
Sugar:
0
g
|
Vitamin A:
60
IU
|
Vitamin C:
0.2
mg
|
Calcium:
83
mg
|
Iron:
9.5
mg
This post was updated on September 5, 2023