Is there a better American snack than beef jerky or beef sticks? Hardly. It's no surprise that these two snacks are so ubiquitous and have achieved a cult status in this country. Both come with a multitude of flavors and textures to satisfy various tastes.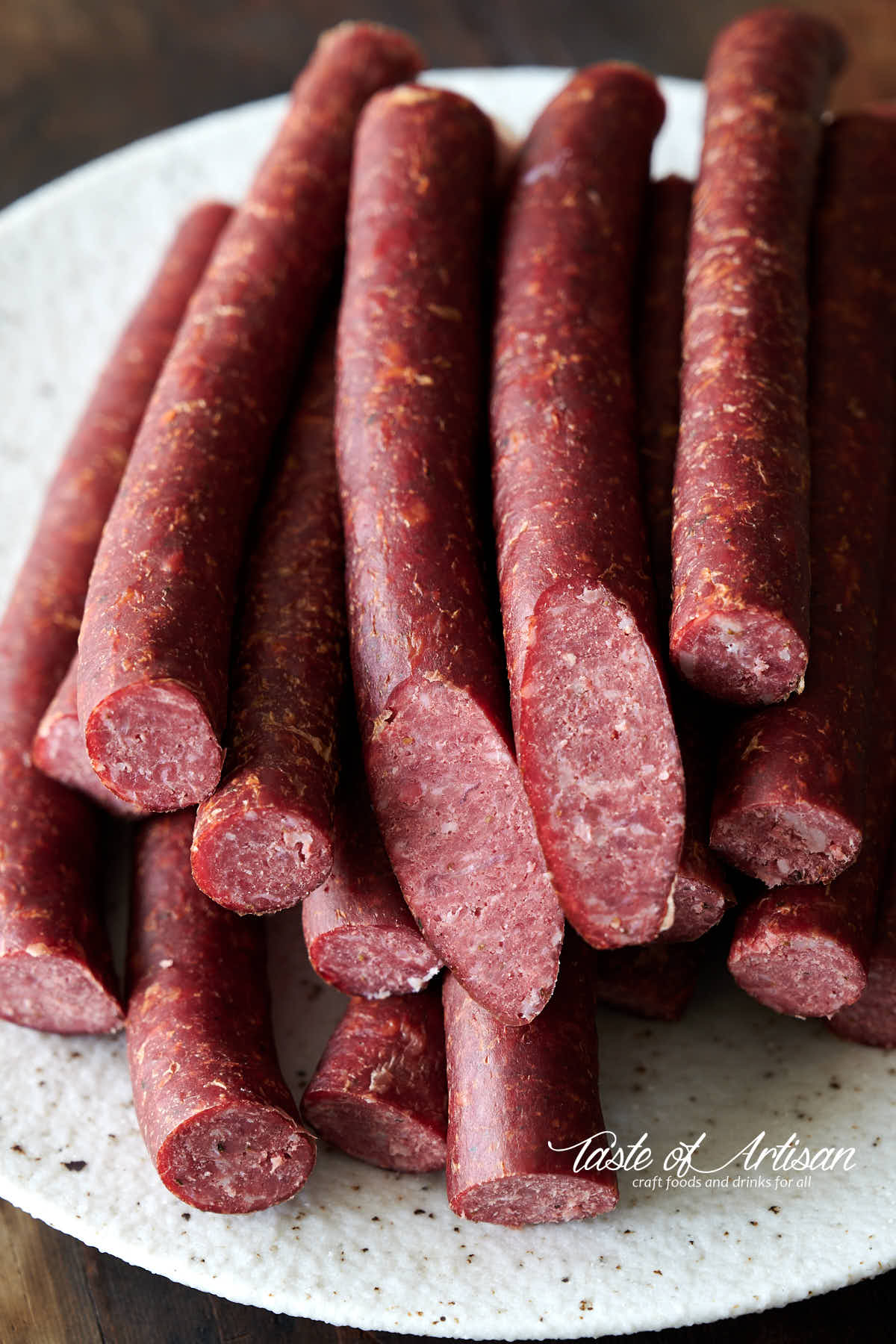 A lot of commercially prepared beef sticks have a long shelf life and require no refrigeration. This is achieved by adding salt and increasing acidity, by a lot. Most of them, I find, are overly acidic for my taste. Those that aren't, they need to be refrigerated, which is fine. Then there is the taste and the flavor. You may find a perfectly tasty beef stick but it may be too acidic, or it may be the other way around.
Making beef sticks
So, what's the solution? You guessed it right, make your own beef sticks. They are surprisingly easy to make at home. My recipe started from the sausage stick recipe published by Rytek Kutas in his Great Sausage Recipes and Meat Curing book. I tried that recipe many years ago and transformed it into what I now consider the best beef stick recipe, for my taste at least.
This recipe requires fresh beef chuck, 20/80 fat to meat ratio, though any beef cut can be used. The spices are fairly basic and not overpowering. I also use just a bit of fermento to add just a touch of a tang. Fermento can be skipped though, I sometimes omit it and the final product is just as good, with a slightly different taste profile. Rytek Kutas's recipe is quite heavy on fermento by the way, about 3 times as much as what I use in my recipe.
These beef sticks are made with either thin sheep casings (expensive), or with 18-22 mm edible collagen casings. Though I often prefer natural casings, I tend to use collagen casings to make beef sticks 90% of the time.
Upon stuffing, beef sticks are smoked for a couple of hours, until a desired color is obtained. I use hickory or pecan, those work very well.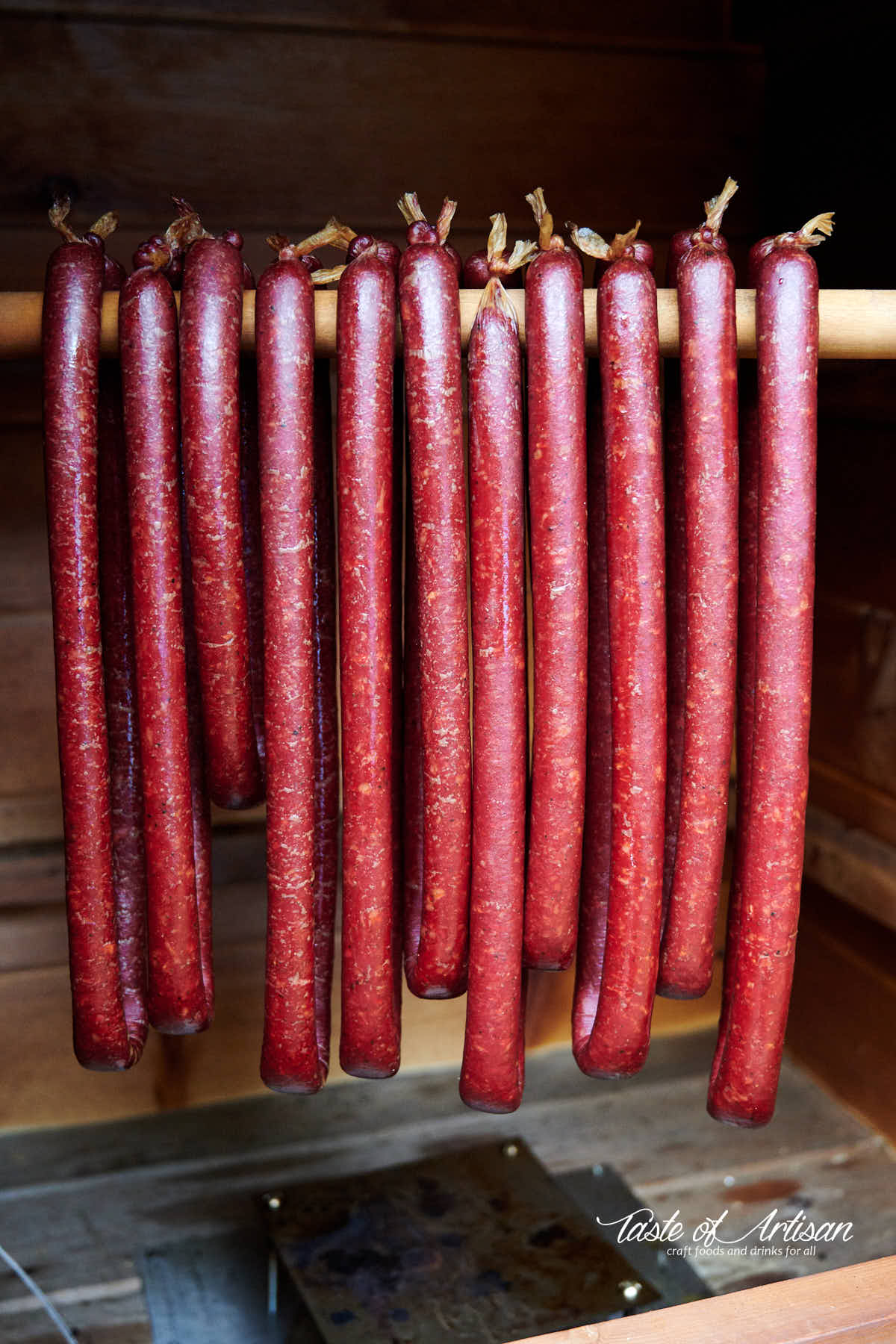 After smoking, the sausages are poached in hot water to bring the internal temperature to 152F.
I tried 'baking' them in the smokehouse first, but gave up after 40 minutes as the internal temperature was rising very slowly and the fat near surface started to melt.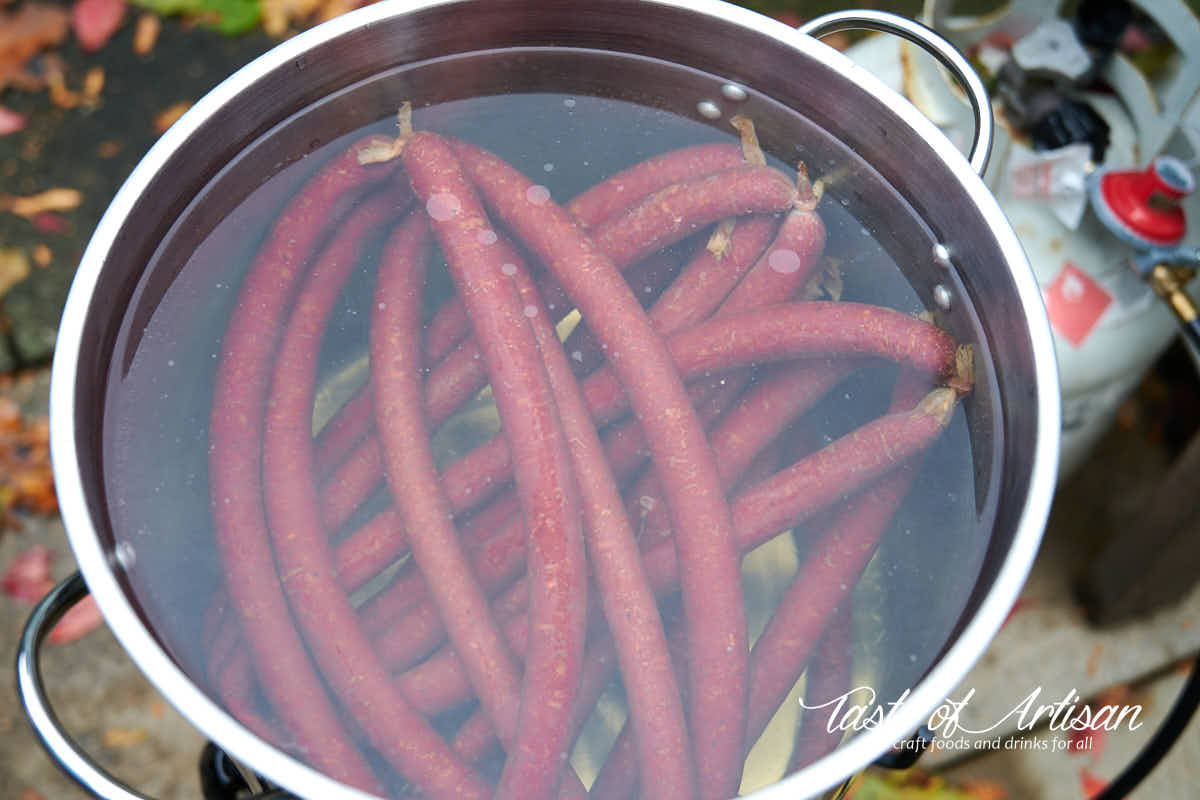 Fully cooked beef sticks are showered in cold water, dried, and refrigerated.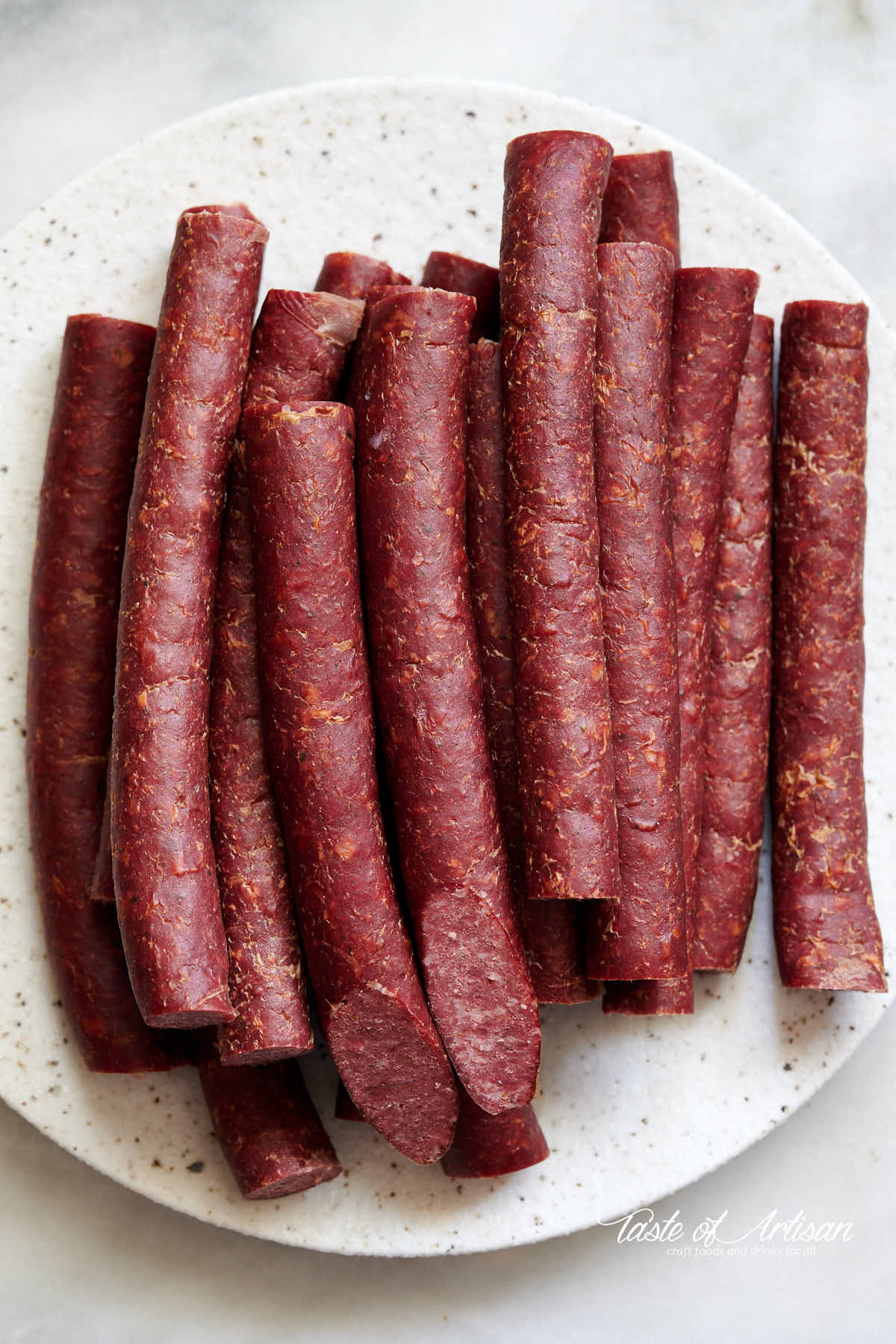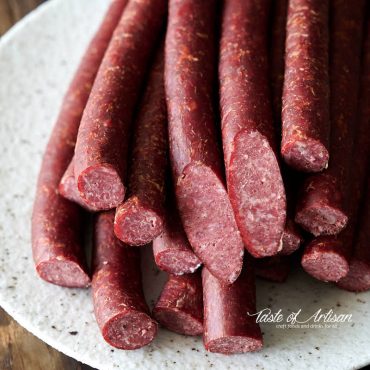 Ingredients
3500

g

beef chuck

about 7.7 lbs; 20/80 fat to lean meat

7.5

g

Cure #1

about 1.5 level tsp

45

g

kosher salt

about 2.5 Tbsp

6.5

g

ground black pepper

about 2 tsp

6

g

granulated garlic

about 2 tsp

8

g

granulated onion

about 2 1/2 tsp

42

g

Fermento

about 6 Tbsp

5

g

dextrose

about 1 tsp; can be substituted for white sugar

8

g

mustard powder

about 1 Tbsp

5

g

celery seed

about 2 tsp
Instructions
Grind the meat through a 3/16" (4.5 mm) grinder plate.

Add the rest of the ingredients and mix well. I find that a stand mixer with a paddle attachment works very well for mixing.

Stuff into 18-24 mm natural or collagen casings.

Tie into 24" rings (24" total length, 12" top to bottom when the ring is formed).

Transfer to the smoker and dry without smoke for 30-45 minutes at 110F, or until dry to touch.

Raise the temperature to 130F and smoke for 2-3 hours or until the desired color is obtained.

Transfer to a large pot with water preheated to 165F. Poach for 15 minutes or until the internal temperature reaches 154-158 F.

Shower with cold water for about 5 min, then let cool down and dry.
Nutrition
Calories:
156.66
kcal
|
Carbohydrates:
0.6
g
|
Protein:
16.45
g
|
Fat:
9.88
g
|
Saturated Fat:
4.3
g
|
Cholesterol:
58.68
mg
|
Sodium:
578.08
mg
|
Potassium:
291.51
mg
|
Fiber:
0.12
g
|
Sugar:
0.16
g
|
Vitamin A:
11.06
IU
|
Vitamin C:
0.07
mg
|
Calcium:
18.96
mg
|
Iron:
1.88
mg