There is absolutely nothing like the original Krakow sausage (kielbasa Krakowska). It comes as no surprise that this sausage has always been the top seller in Poland. It's the queen of kielbasas. It takes its name after the city in which it originated, the city of Krakow, one of the oldest cities in Europe.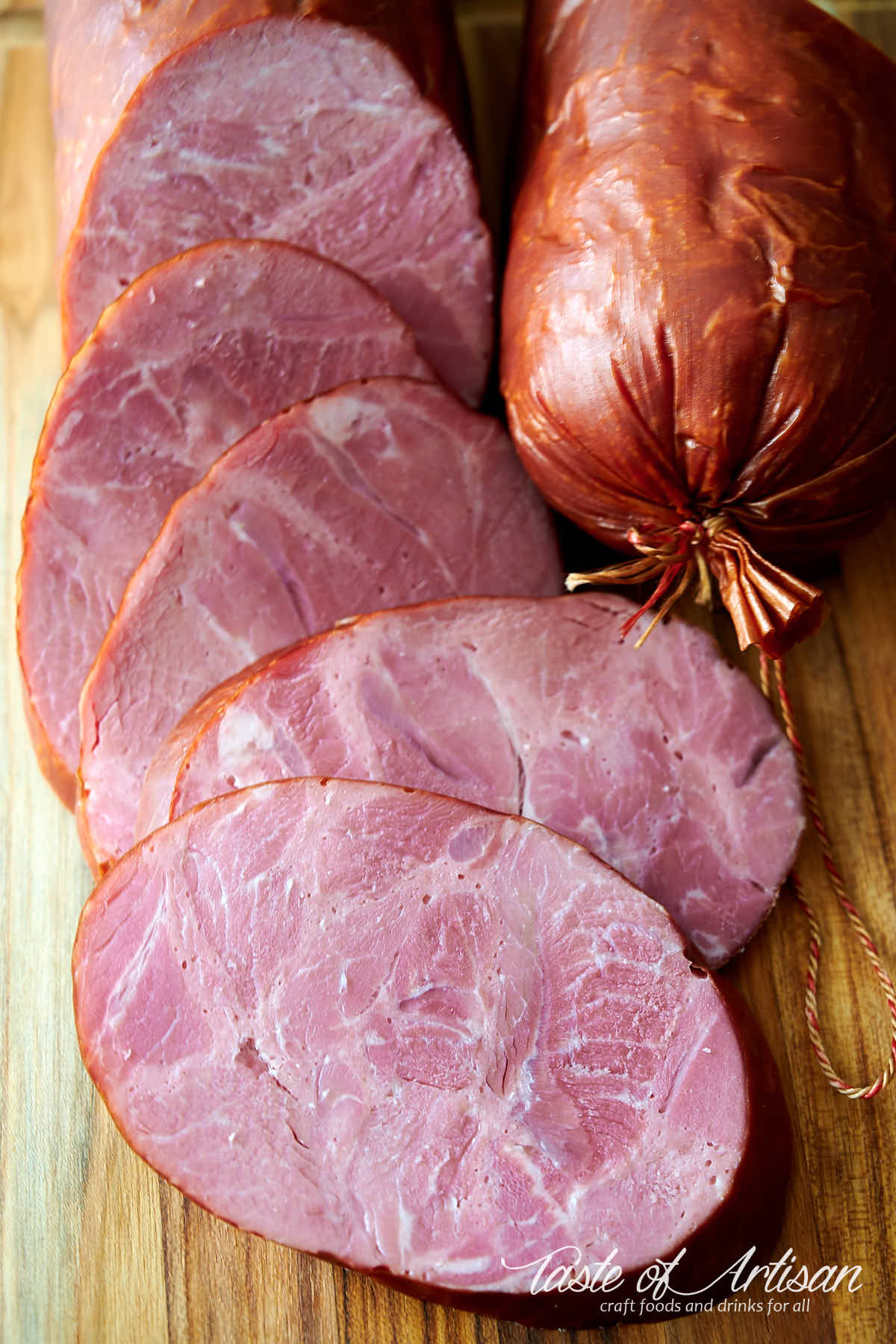 This recipe is for Kielbasa Krakowska Krajana. Krajana translates from Polish as 'cut in pieces'. In the context of Krakow sausage it means that the sausage is made of meat chunks that were never ground. Mostly. Ten percent of (slightly fattier) meat is emulsified to fill the gaps between and hold together large chunks of meat.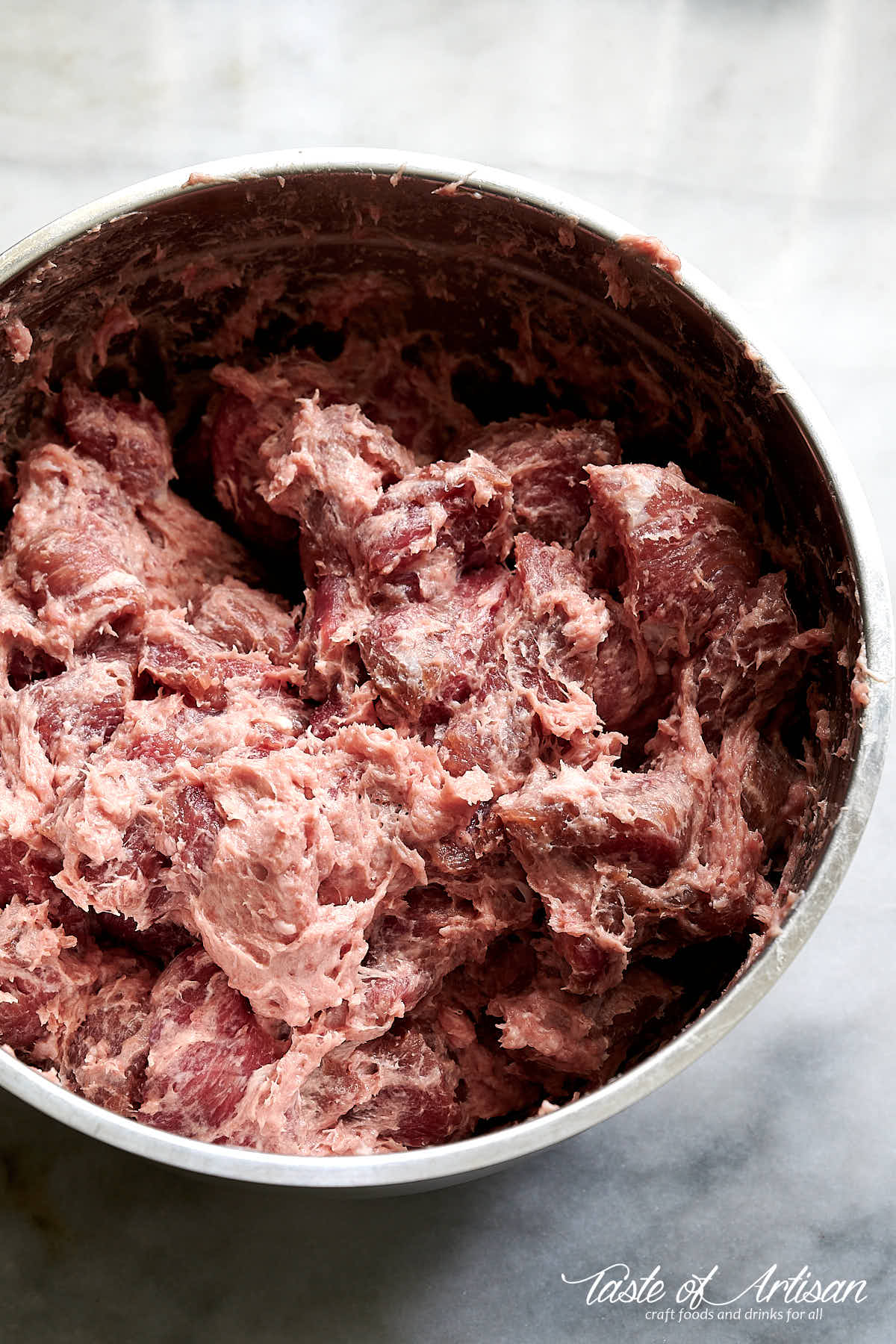 The original recipe for this sausage calls for 90% of lean class I pork and 10% of fairly lean (no more than 25% fat) class III pork. Krakowska is as lean as any sausage can get. Smoky and aromatic, this sausage reminds me of well-made old-fashioned smoked ham. Needless to say, it's one of my favorite sausages to make and eat.
About this recipe
This recipe originates from the official guide to meat products that was first published in Poland 1959, categorizing 46 sausages and 13 liver and blood sausages. In the update published in 1964 the number of sausages increased to 119. It also included 10 liver and blood sausages as well as 11 pates and meat loaves. You can find production guidelines for this sausage in official publications online and books, such as Marianski's Polish Sausages, Authentic Recipes And Instructions.
While I invite innovation and experimentation, I am fascinated by authentic and original recipes and always try to experience them first before trying modified versions. We are fortunate that these recipes were openly published for everyone to enjoy. Today's commercially produced sausages oftentimes are a far cry from what they used to taste or were intended to taste.
Making Krakow sausage
Making Krakow sausage is fairly easy with the right tools on hand. The meat is first cut in pieces and cured for 2 days. A small amount of fattier pieces is then emulsified. Both meats and the spices are combined and stuffed in large synthetic casings. The sausages are then dried, smoked and baked to get them to the specified internal temperature.
Emulsifying meat
Emulsifying class III pork can be done in a bowl cutter or a good food processor. Bowl cutters are very expensive and probably are an overkill for any home sausage maker. I find that I get a decent emulsification in my commercial grade food processor. Perhaps not quite as uniformly fine as you would get from a bowl cutter but perfectly adequate. That said, I never felt like it was an issue for the texture or taste of any of the emulsified sausages I've made (e.g. bockwurst). Only a close visual inspection will give that away.
Class III pork needs to be pre-ground before emulsifying so a meat grinder with a 1/8" (3mm) grinder plate would be of great help. That said, you can get away without one. Simply chop the meat very finely with a large chef knife or a cleaver before emulsifying.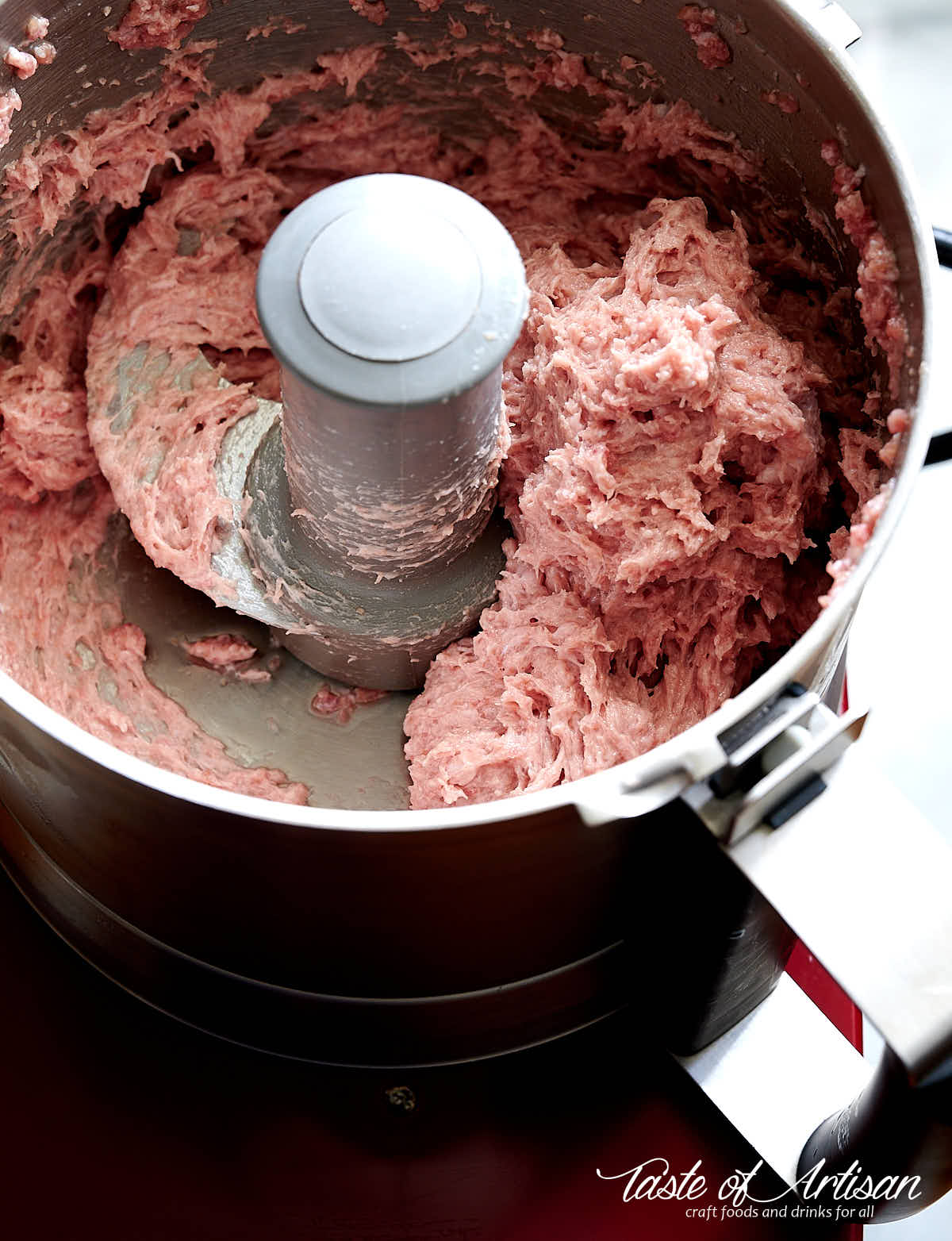 Stuffing
Stuffing 2-inch chunks of meat through a sausage stuffer won't work so you will need to do it manually. The good news is that the original Krakow sausage requires 3" (75mm) fibrous casings that you can easily stuff manually using a jar funnel.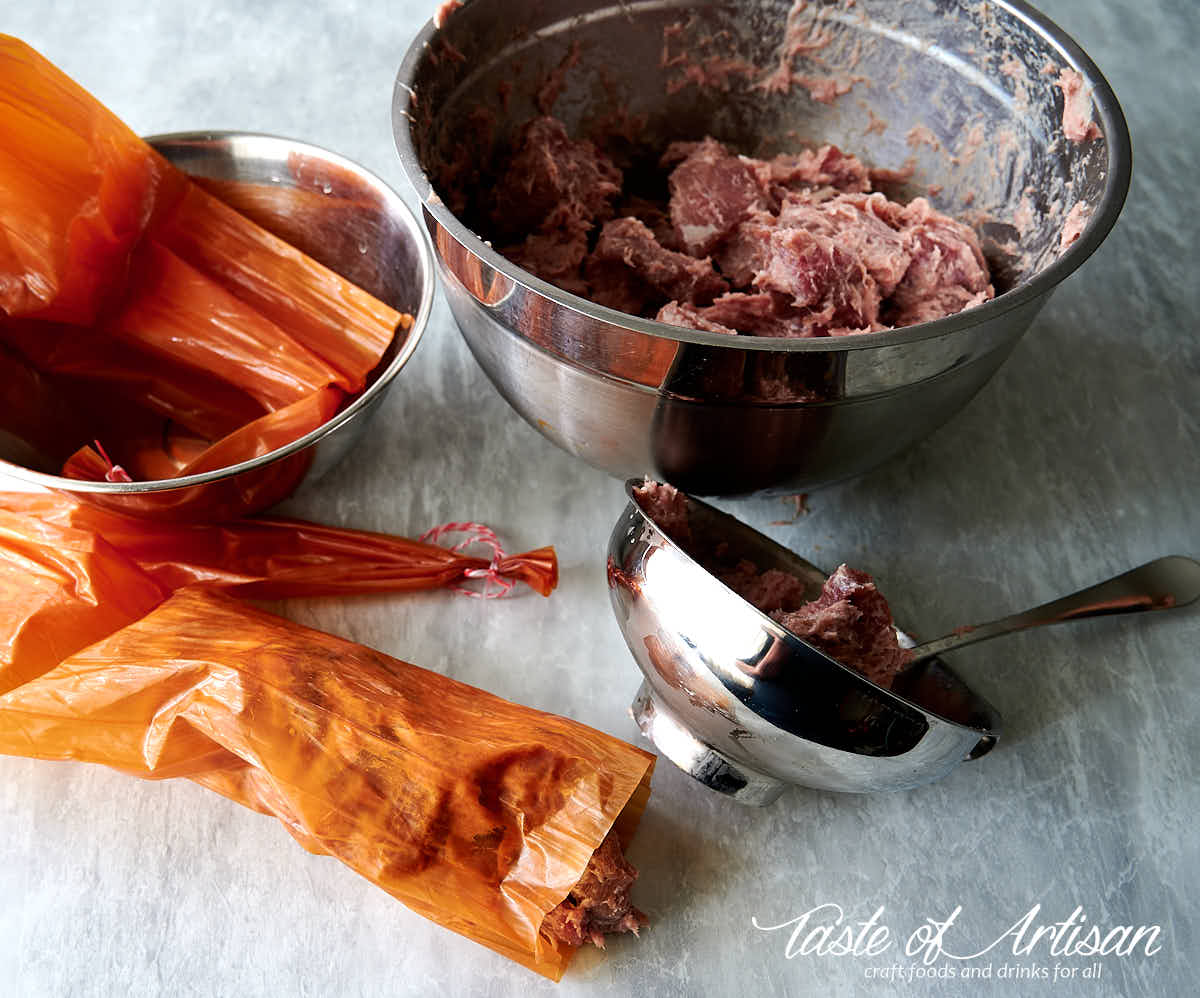 Drying
Drying takes place at room temperature in a drafty area for a few hours, then in a smokehouse or a smoker at around 115F - 130F for 20-30 minutes or until the surface is dry. It may take longer than 30 minutes and it's fine.
There is no smoke during drying. You can also dry the sausages in a fridge overnight, uncovered. This will remove some moisture but you will still need to finish drying in the smoker.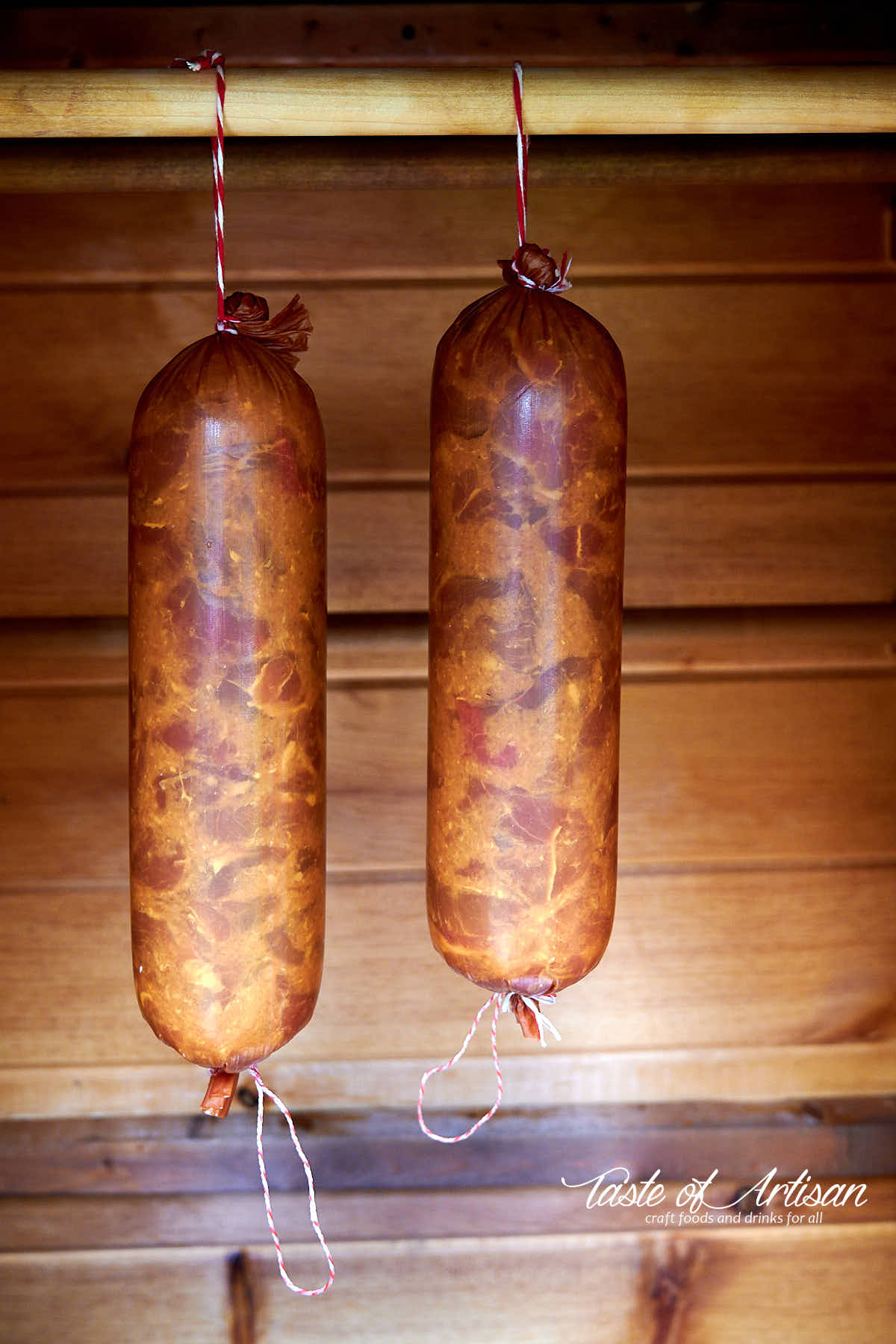 Smoking
The guidelines recommend smoking with a thick smoke for 2 1/2 hours. The temperature is, again, 115F -130F but I find that 130F to 140F range is perfectly fine too. I like this higher range better as, IMHO, I get better color this way. I find that it's also fine to go a little longer with the smoking phase if you want more color.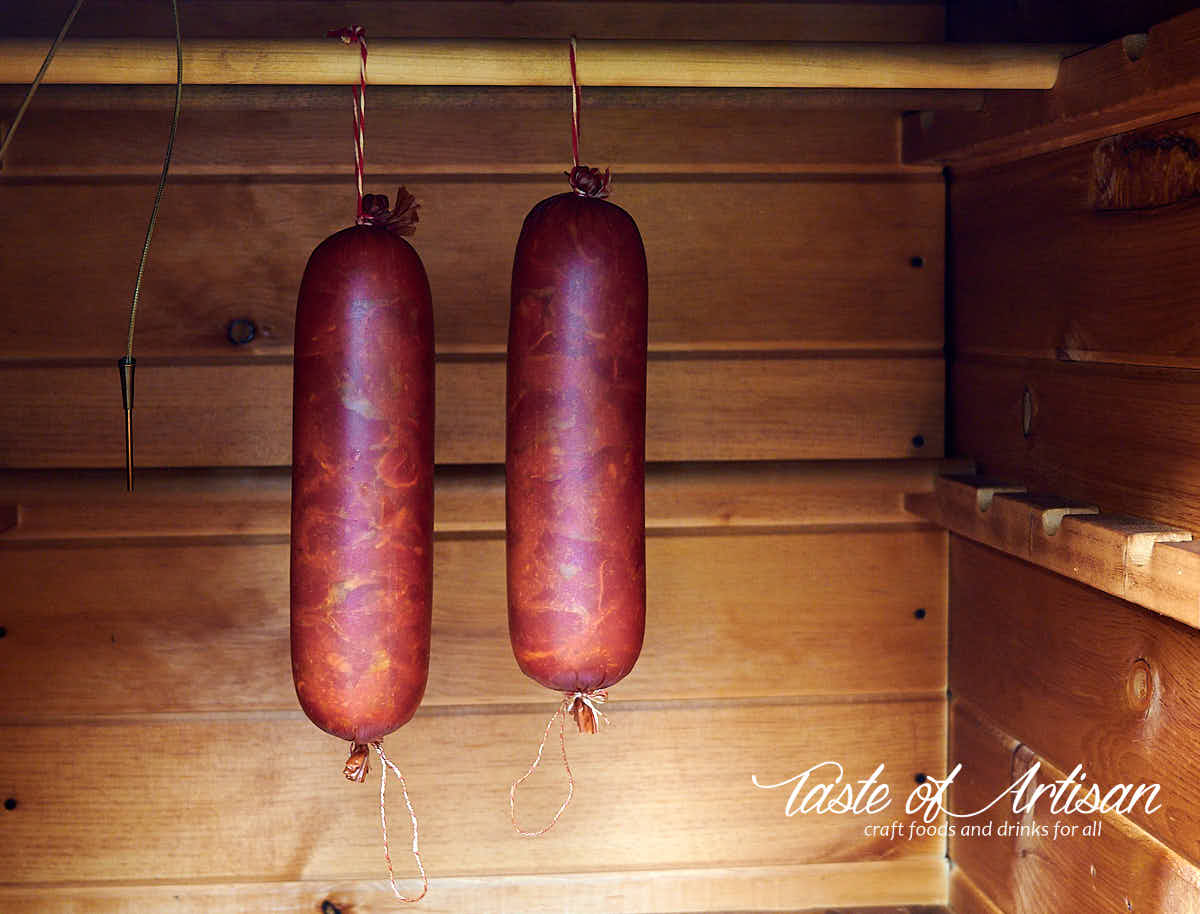 Wood selection
While the official guidelines don't specify which wood to use, king oak and queen hickory are the best.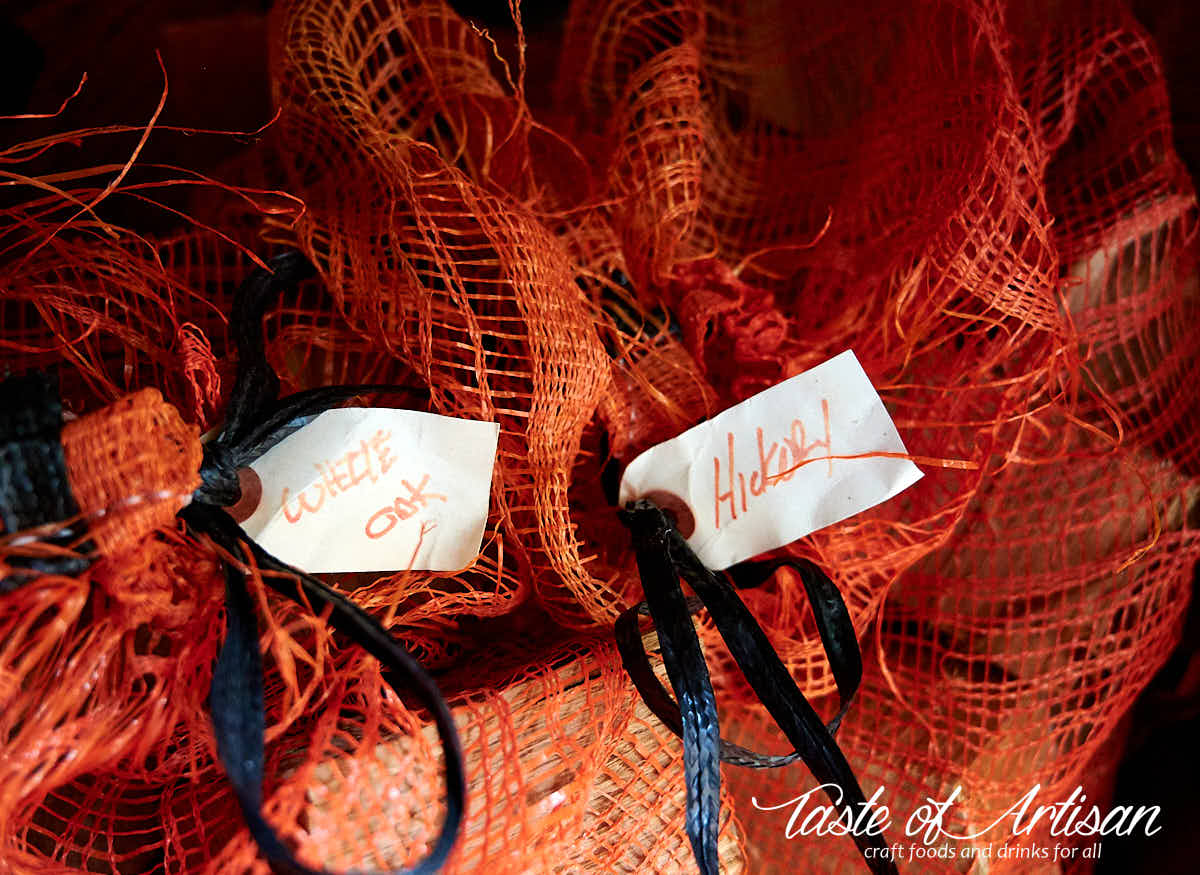 I use large wood chunks to generate smoke.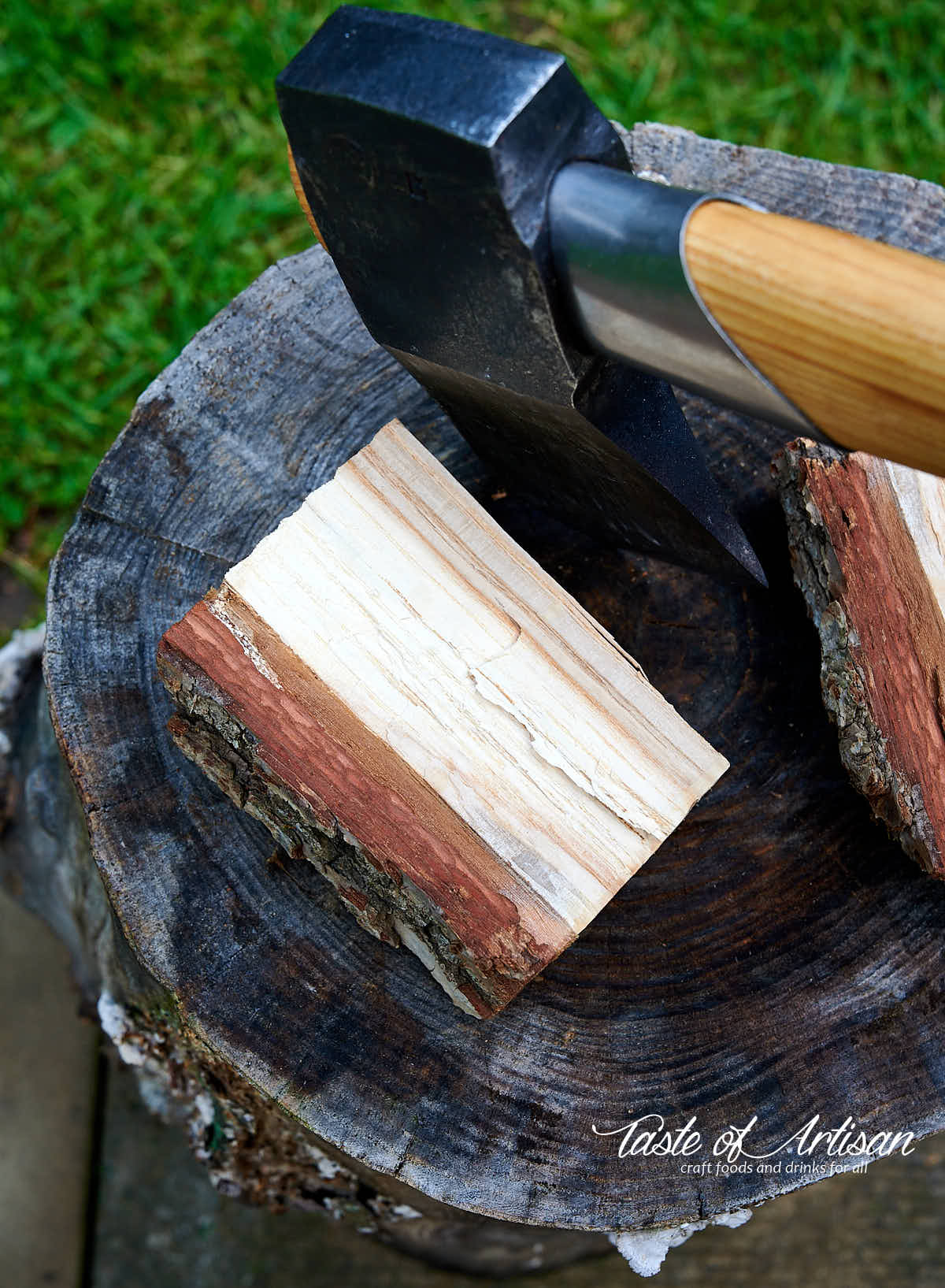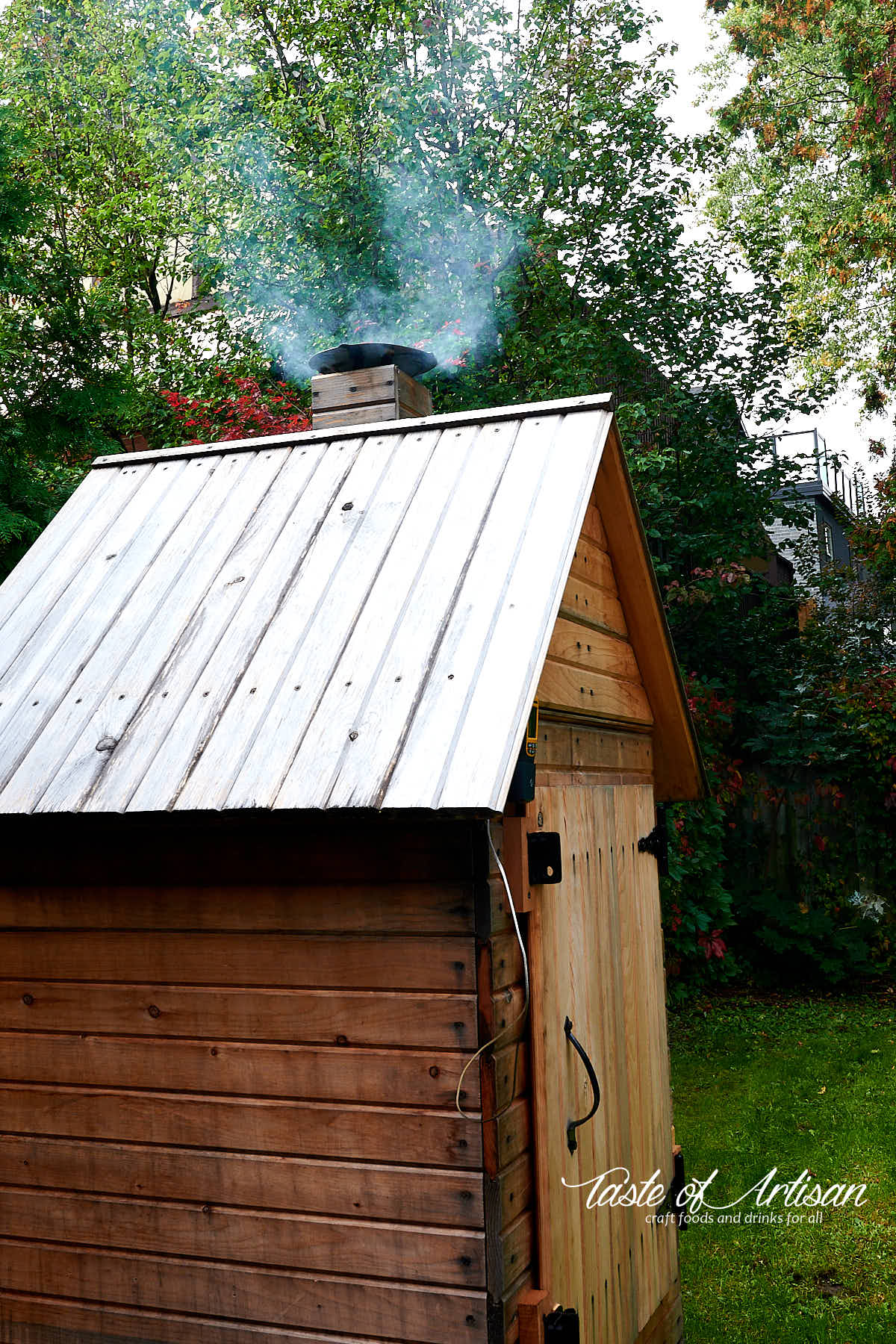 Baking
The biggest challenge for me when making smoked sausages has always been the 'baking' stage. Many kielbasa recipes I've come across, as well as the official Krakow sausage recipe, specify 20-30 minutes of baking at 165F to 195F. To get even thin sausage reach 154F internal temperature quickly seems like an almost impossible task though I've recently had good success finishing 38-40 mm thick andouille sausage in my new smokehouse in 40 minutes.
Finishing Krakow sausage in a smokehouse is even more challenging due to its thickness. My first and only attempt to do that was unsuccessful. The internal temperature climbed from 97F to 149F and got stuck. It took 3 hours to get there. I kept it at around 195F for 20 minutes but the internal temperature not only didn't go up but started to drop. The dreaded stall! At around 150F, meat water loss accelerates, cooling down the surface. It can take hours to get over it.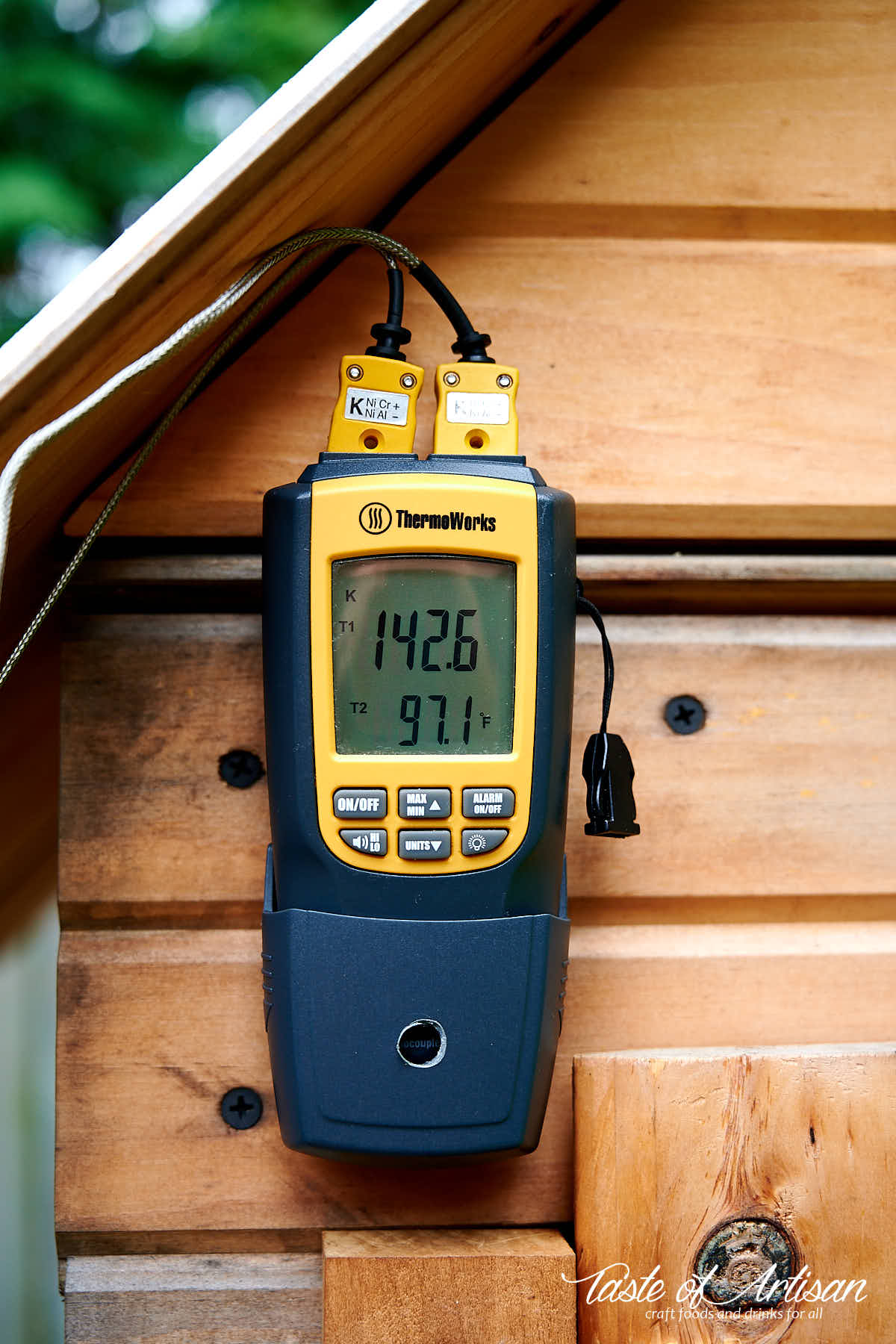 I finished baking in the oven at 195F convection and it took literally 5-6 minutes to reach 154F internal. However, convection dries out the skin so I'd recommend baking at 175F without convection for about an hour or so for best results.
Another method is to poach or sous vide this sausage at 161F-167F for 55-75 minutes until you reach the internal temp 154F-158F.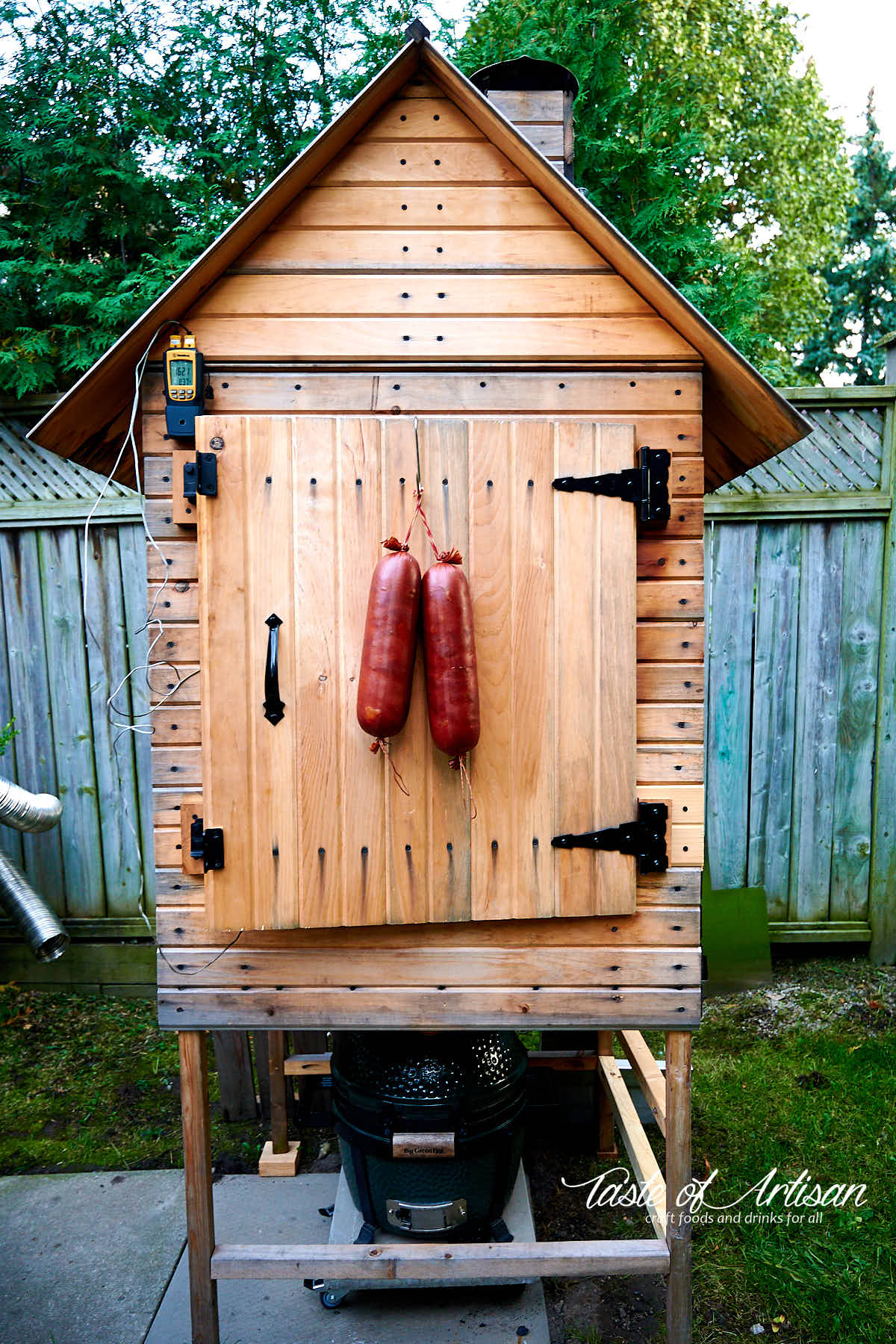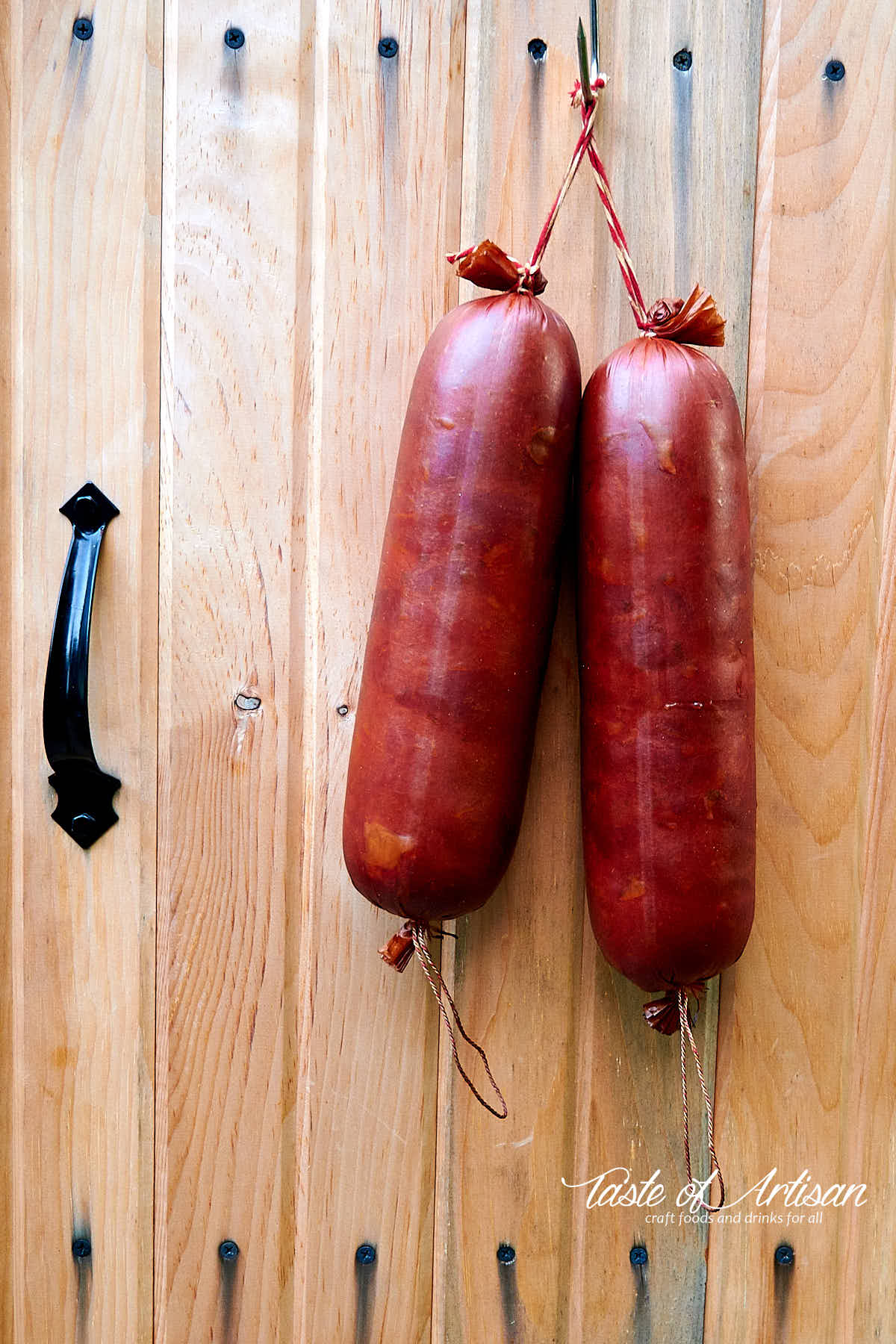 Drying and storing
Krakow sausage, once baked, is ready to eat doesn't require any additional cooking. Cool it down to 64F and refrigerate.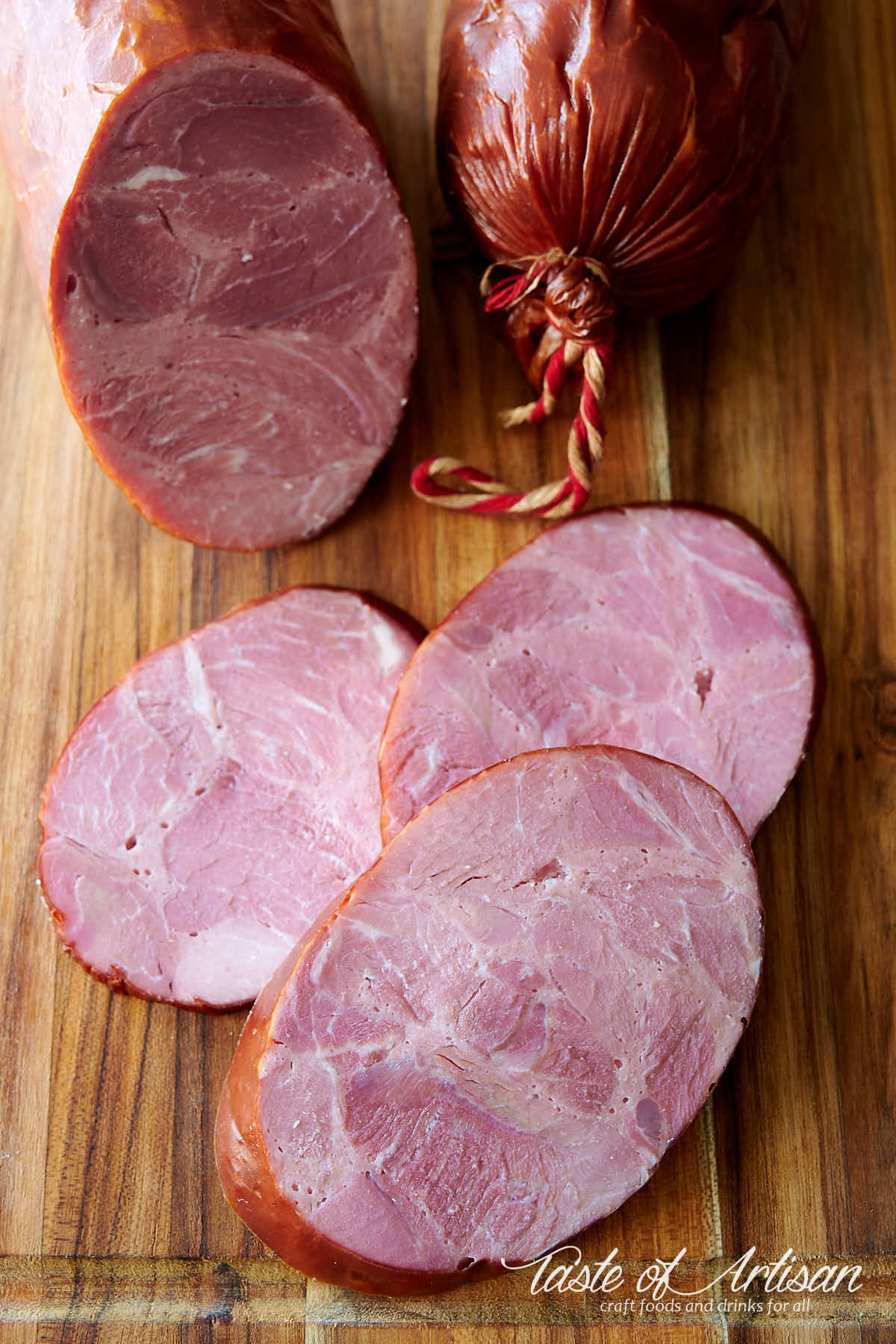 Drying is an option. It makes a more intensely flavored kielbasa that will keep longer. Dry at 55F - 60F and 75% - 80% Rh until 35% weight loss is obtained.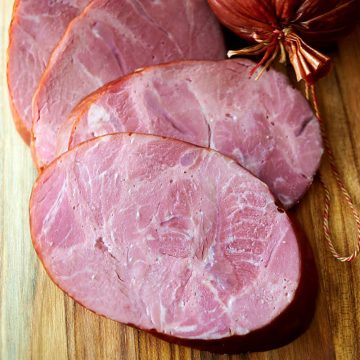 Krakow Sausage Recipe (Kielbasa Krakowska Krajana)
Recipe for the original Krakow sausage (kielbasa Krakowska). This sausage has always been the top seller in Poland. It's the queen of kielbasas.
Print
Pin
Rate
Ingredients
2250

g

lean pork

5 lbs (100% lean)

250

g

pork

1/2 lb (no more than 25% fat)

36

g

salt

about 2 Tbsp (see notes)

6

g

Cure #1

about 1 1/4 level tsp

3

g

black pepper

about 1½ tsp, ground

1

g

nutmeg

about 1/2 tsp, level

4

g

sugar

about 1 tsp, level
Instructions
Cut the meat into 2" pieces, place in a large bowl, mix with the salt and the Cure #1. Cover and refrigerate for 48 hours.

Separate out class III pork and grind it through a 1/8" (3 mm) plate. Then emulsify in a food processor or a bowl cutter if you own one, adding up to 25% - 30% icy water or ice to keep the meat cold. Mix in the spices.

In a separate bowl, mix class I pork until it becomes gluey. Add the emulsified pork with spices and mix everything together.

Stuff the meat into 3" (75 mm) synthetic fibrous casings using a funnel. Stuff the casings firmly and tie with a butcher's twine on both ends. Prick any visible air pockets with a needle.

Hang the sausages in a drafty area and dry for about 4 hours.

Transfer to the smoker and further dry without smoke at around 115F - 130F for 20 minutes.

Smoke with a thick smoke for 2 1/2 hours at around 130F - 140F.

Bake with a thin smoke at around 167F - 194F for 20 minutes, or until the internal temperature reaches 154F-158F. This step is much easier to accomplish in a oven or a warm water bath, see the notes below.

Chill to 64F and refrigerate.
Notes
The original recipe calls for 45 g of salt, which I find makes sausage that is too salty for my taste. Adjust back if you wish.
Alternatively, to bring the internal temp to 154F-158F (68-70C) poach or sous vide at 161F-167F (72C-75C) for 55-75 minutes.
If finishing baking in an oven, bake at 175F - 185F for about an hour or so, until the internal temp reaches 154F-158F (68-70C). 
Update 2/1/2023: Place a pan with hot water underneath the sausages. You may have to add boiling water every 20-30 minutes. If your oven is bottom-heating, place a tray with boiling water on the bottom of the oven for a continuous steam release. I've tested this method making Doctor's Sausage and it was quite successful.
Nutrition
Calories:
133
kcal
|
Carbohydrates:
1
g
|
Protein:
23
g
|
Fat:
4
g
|
Saturated Fat:
1
g
|
Cholesterol:
69
mg
|
Sodium:
729
mg
|
Potassium:
405
mg
|
Fiber:
1
g
|
Sugar:
1
g
|
Calcium:
6
mg
|
Iron:
1
mg