I've been asked numerous times to post the design plans of my DIY smokehouse, so here it goes. Unfortunately, I didn't keep all the details, or took precise measurements, but I can give you a pretty good idea. It should be enough to get things started and finished. If you have any questions, don't hesitate to ask.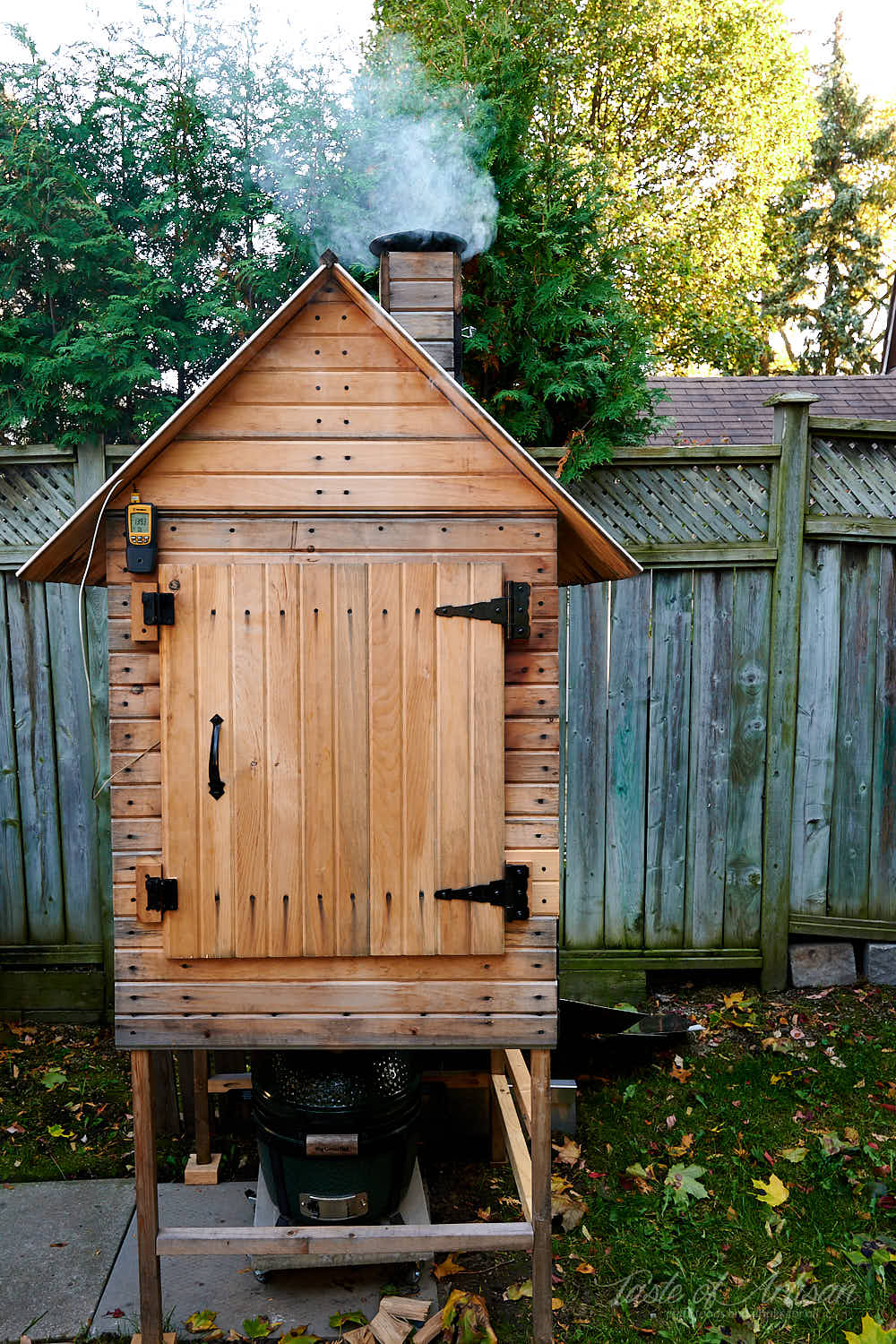 Smoking sausage requires low temperatures, 95F t0 185F-195F. For cold-smoking, you need less than 80F. For a while, I tried that with my Weber Kettle Grill, Big Green Egg, and Masterbuilt Propane Smoker. I could get OK results, but each smoke was a struggle to maintain low temperatures and generate sufficient and clean smoke. So I decided to look for an off-the-shelf sausage smoker.
There are a few choices out there, electric, gas or charcoal, take your pick. Some are made for commercial purposes, so they are bulky and expensive. I wanted something as close to a traditional smokehouse as possible. I also wanted something relatively small and portable. Something that would make a sausage that tasted just like the one that my grandpa used to make. He used a big drum with a hole in the ground for the fire pit. He made incredibly tasty kielbasa, but that set up wasn't portable, looked ugly and required constant tending and a  fair amount of skill.
Then one day, I was admiring the pleasantly-tasting, 'thin and blue' smoke coming out of my BGE. It would be perfect for smoking sausages, I thought. Hours of clean smoke without tending. And if I could capture the heat coming out of the chimney, I am all set. That's how the idea of building a smokehouse with a BGE as a fire pit was born.
So, here it is, my modest urban smokehouse that uses a MiniMax as a fire pit. After three re-designs, it finally works to my satisfaction. Though, after having smoked over a dozen batches of sausage in it, there is one improvement that I will make to it. More on that later.


This setup is exactly what I was looking for. It's tidy and requires little tending. It's portable. It uses little fuel. I use charcoal to generate heat and wood chunks to produce clean, pleasant smelling smoke. All in all, I am very happy with how it turned out, and I am using every excuse to fire it up and smoke something.
Smokehouse design
For the materials, I used primarily 2x2s and 'tongue and grove' boards, with 2x4s to support the roof.  The wood is all pine, as that's what was readily available at Lowes/Home Depot. The ducting on the roof consists of three 4" aluminum 90-degree elbow from Home Depot. Inside the top elbow, I added a 4" cast iron damper that I bought on eBay.
I started off with building a frame with 2x2s, about 65" tall. In hindsight, I should have gone with 2x4's to make it more sturdy. Though, using 2x2s made the smokehouse lighter and easily portable. The legs are not as sturdy as I would have liked them to be, but I am planning on putting the smokehouse on a metal or a wooden frame on casters, so that will take care of it.
One thing that I realized immediately upon firing the first version of my smokehouse was that it needed insulation. Without it, I could not get the temperature above 105F.  So I insulated it. Now the smokehouse has tongue and groove boards on the outside, 1" thick Ceramafiber blanket, then another layer of tongue and groove boards on the inside.


I enclosed the Ceramafiber blanket in heavy-duty foil to keep the microfibers from getting inside the chamber through any cracks.


I insulated the walls, the ceiling, the door and the spaces around the door.


After adding the insulation and a layer of  'tongue and groove' boards on the inside, I ended up with the internal dimensions of 26" x 28" x 37" (depth/width/height). On the outside, the main smoking chamber measures 31" x 34" x 41" respectively. The legs add 25" extra, and the roof is 19" tall.
To connect frame pieces, I used pocket holes. The tongue and groove boards were secured with 2" black wood screws from Lowes.
Inside, I attached three pairs of 2x2s. Two pairs hold wooden dowels to hang meat and sausages. The third one at the bottom holds a stainless steel screen/baffle. The screen/baffle is made of stainless steel sheet I picked up on Craigslist. I drilled 1/2" holes all over to have unrestricted airflow. The purpose of this screen/baffle is to distribute the heat and the smoke evenly throughout the smoking chamber.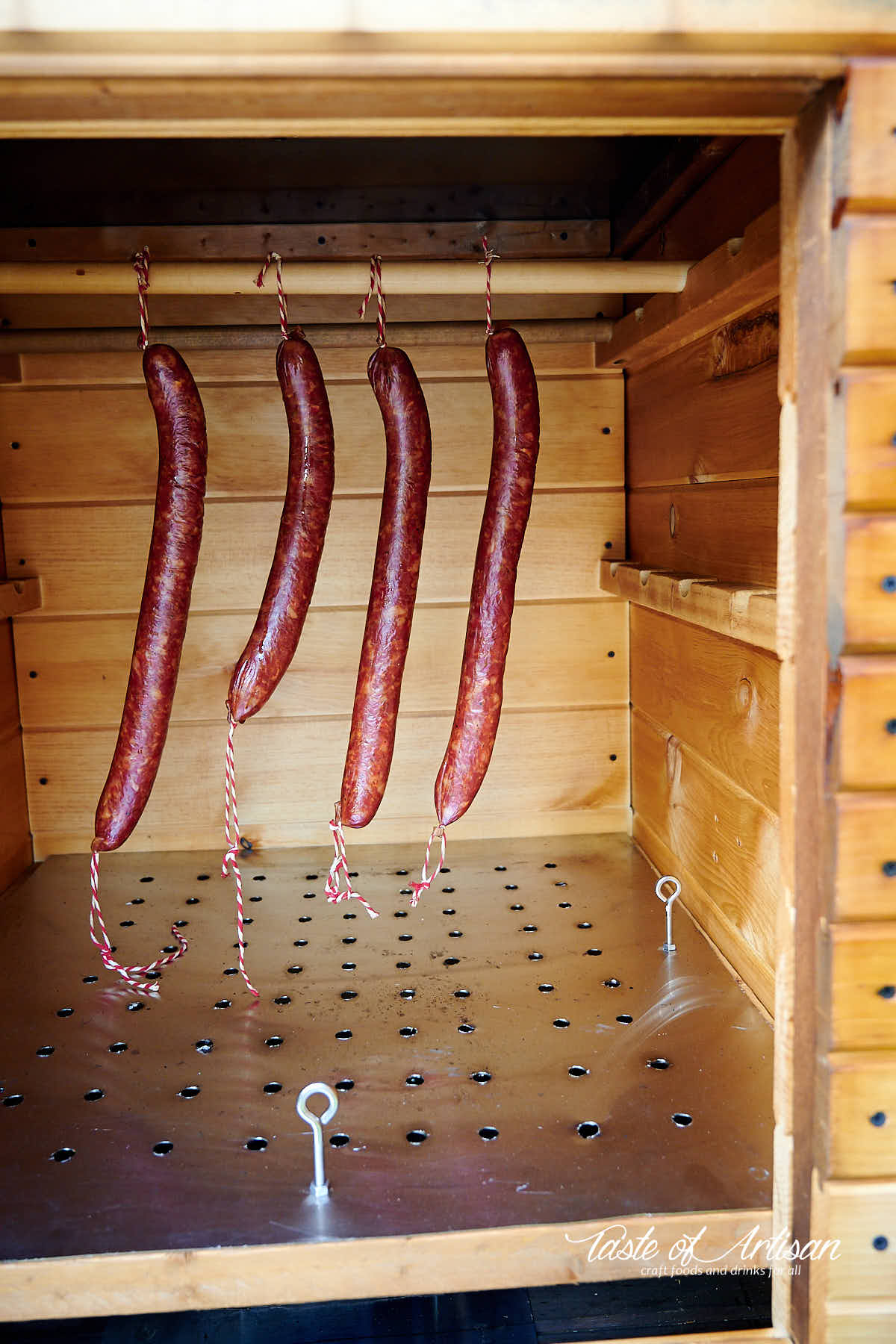 There is a clear benefit of the screen/baffle to evening out heat distribution, especially when the chamber is full side to side. It helps eliminate cold/hot pockets.
If you are not planning on 'baking' sausage in the smokehouse, the screen/baffle is not really necessary. Most of the time, I skip the 'baking' step and finish smoked meats and sausages by poaching. Super even heat distribution is of little benefit in this case.
I have another small, non-perforated baffle right above the heat/smoke inlet, which does a good enough job at evenly distributing heat and smoke. Another purpose of this little baffle is to collect any unburnt smoke particles, also known as soot. After a while, it gets pretty dirty, while other parts of the smokehouse remain pretty clean. It seems to do a pretty good job at it.
This baffle is an 8"x8" piece of stainless sheet metal with 4" bolts in each corner. It's not attached to the bottom of the smokehouse, so it can be easily moved to allow adding wood and charcoal to the egg.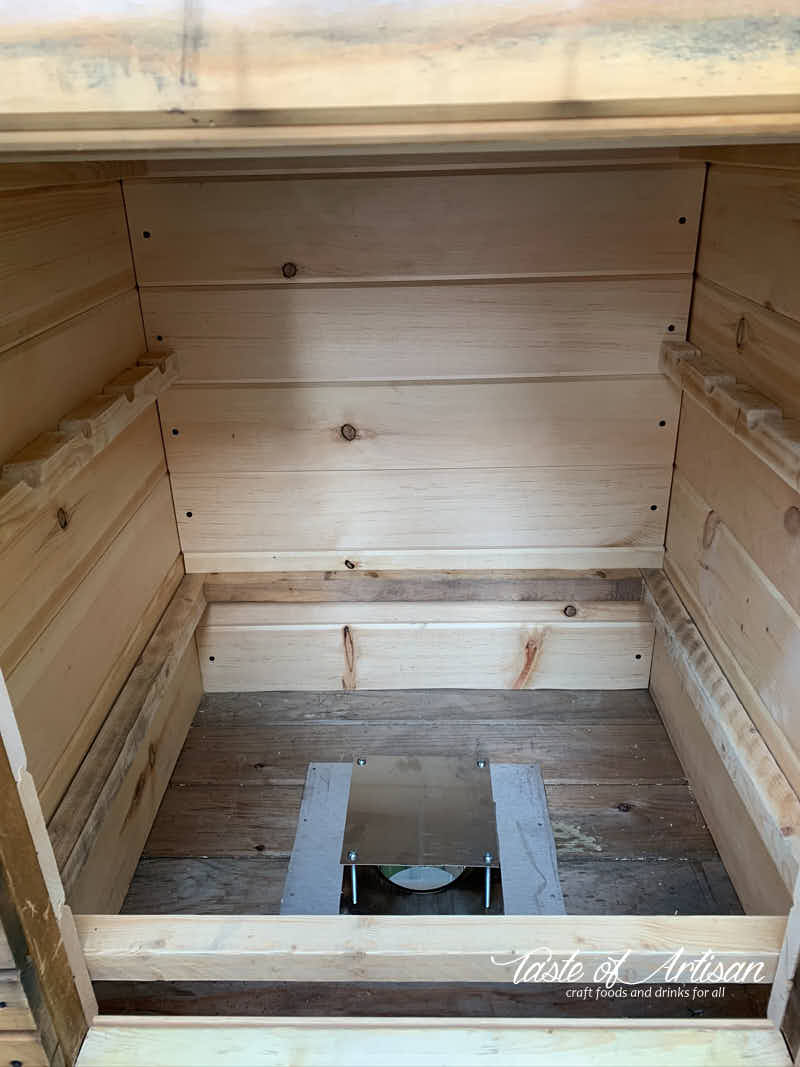 At the bottom, I cut out a 13" x 13" square hole and covered it with a SS plate with a cut out for a 4" (120mm) SS chimney flashing. This was done to distance and insulate wood from the heat of the MiniMax. The temperature at the inlet is quite low; if you put your hand over the hole, it feels hot but not 'burning' hot. But I'd rather be safe, and that little extra protection gives me additional peace of mind.



As I mentioned above, the inlet hole is covered with a removable, table-like heat shield/baffle. It disperses the heat and collects creosote/soot. The more obstacles are on the way to the sausages, the more any creosote present in smoke will get collected on them. As you can see, it gets pretty dirty, despite my efforts to smoke with the clean 'thin and blue'.

At the top of the chamber, I covered the ceiling with a sheet of stainless steel where I drilled a cluster of 3/8" holes in the center to let the smoke escape. This isn't required but I had some SS sheet metal left over so I thought it would be nice to have an easily cleanable surface there. Not that it needs cleaning. There is no black soot on it, only dark brown patina.

The BGE MiniMax fire pit
For the firepit, I use a BGE MiniMax with an upgraded fire grate for better airflow. The egg connects/delivers heat and smoke via a 100mm to 120mm SS flue liner reducer purchased on eBay. The seller is in the UK, so the measurements are in millimetres. The 120mm size fits over the cast iron top on the MiniMax quite snuggly. I also have a 125mm one which can work, but it sits a bit loose. The right size is not always available, but the stock comes and goes, so keep an eye on it.

The 100mm end of the reducer goes up inside the 120mm SS chimney flashing, leaving a small gap around as you can see on the picture above. This wasn't intentional, but the setup works well as is, so I am not in a rush to change it. I have perfect control over the temperature, and the temperature range is perfect. Besides, that air gap is just another layer of insulation between the hot chimney and the wood. I thought I might need to close when smoking on very cold days, but that did not prove to be the case. I could still hit the target temps with ease. On the other hand, closing that gap may result in running the MiniMax at a lower temperature.
On the egg, I removed the daisy wheel from the cast iron top for better airflow. Removing the top altogether caused the temps to shoot up way too high.


The MiniMax sits on top of the 16" x 16" paver, which sits on top of a wooden board of roughly similar size, which has heavy-duty casters with brakes attached to it. This makes it very easy to move the egg around.
Smokehouse performance
I do most of my smoking at 130F - 140F, preceded by drying at around 115F - 125F.

This smokehouse makes it very easy to get those temps. With the bottom damper open about 1/3 of the way, I get about 130F-140F inside the smokehouse. The temperature at the dome of the MiniMax is about 600F.


When opened 1/2 way to 2/3 way, I get about 165F - 200F. This is all I need for smoking and finishing (baking) sausages, solid meats, bacon, etc.

I can push it to go to about 220F but the temperature inside the egg gets too high for my liking (close to 1000F).
Nowadays, I mostly dry and smoke in the smokehouse, and finish by poaching in a Bayou Classic 36-qt Stainless Stockpot with Basket. This means that I stay mostly within the 115F - 140F temperature range. This smokehouse handles this job like a champ.

After drying is done, I just drop one wood chunk down the BGE's chimney. One chunk produces smoke for about 15-20 minutes in winter and about 30 minutes in summer (as the damper is less open).

More chunks don't translate into longer smoke time. Instead, they cause thick, white, billowing smoke. One chunk produces a nice 'thin and blue' smoke.

Smokehouse capacity
The largest batch I've made so far in this smokehouse was about 30lbs of sausage. It fit in very comfortably on three dowels. Another 10 would fit easily. I estimate that I could fit in up to 60 lbs of sausage if necessary with proper space management.
Cold smoking
For cold smoking, below 80F, I move the MiniMax out and use a 6-8 ft SS chimney flue. By the time the smoke gets from the egg to the smokehouse it cools down to pretty much ambient temperature.

I run the egg at a lower temperature when cold smoking, so it puts out a lot less heat to begin with. With this setup, I get about 2-3 hours of consistent, thin and blue smoke.

Here is a picture of cold smoking speck. I ended up smoking it for 4 hours and only added a few pieces of charcoal and a few wood chunks after two hours.

As a side note, when cold smoking, be sure to run your smoker at the highest recommended temperature. Say, a recipe calls for smoking at no higher than 80F, so you should try to smoke at 80F or just under. If the recipe calls for 60F - 70F, run the smokehouse at 70F. The reason is that cold smoke doesn't rise up well enough to ensure proper airflow and removal of stale smoke. Another reason is that the colder the smoke, the harder it is for it to penetrate food.
I am 100% happy with the cold smoking performance. I get beautiful thin and blue smoke that has a pleasant smell. I can easily get 2-3 hours of consistent smoke out of it but I am sure I could even push it to 4 hours with some thoughtful charcoal and wood chank rationing and placement.
Future improvements
After a large number of smokes with this smokehouse, I am generally very happy with it. The quality of the kielbasa that comes out of it is outstanding. I can't see how it can get much better. The operation is easy.
If there is one thing I don't like it would be having to add wood chunks every 15 minutes (in winter). In summer, as I don't have to open the damper as much, I get about 30 minutes of continuous smoke.  The temperature in the Minimax is too high, and the wood chunks burn out quite quickly. It's not that big of a deal, but I would prefer to have at least 2 hours of tending-free operation. So the plan is to eventually add another inlet for smoke only and use the MiniMax for heat generation. I can get 2-3 hours in winter and 4-5 hours in summer of consistent heat from it before I have to add more charcoal. I am considering connecting my large BGE to supply smoke, which can produce great 'thin and blue' smoke for hours.