There is nothing like a freshly baked French baguette on a Sunday morning. Or any morning for that matter. Crusty and beautifully colored on the outside, buttery soft and chewy on the inside, with a tiny bit of butter - it's one of my favorite breakfast foods.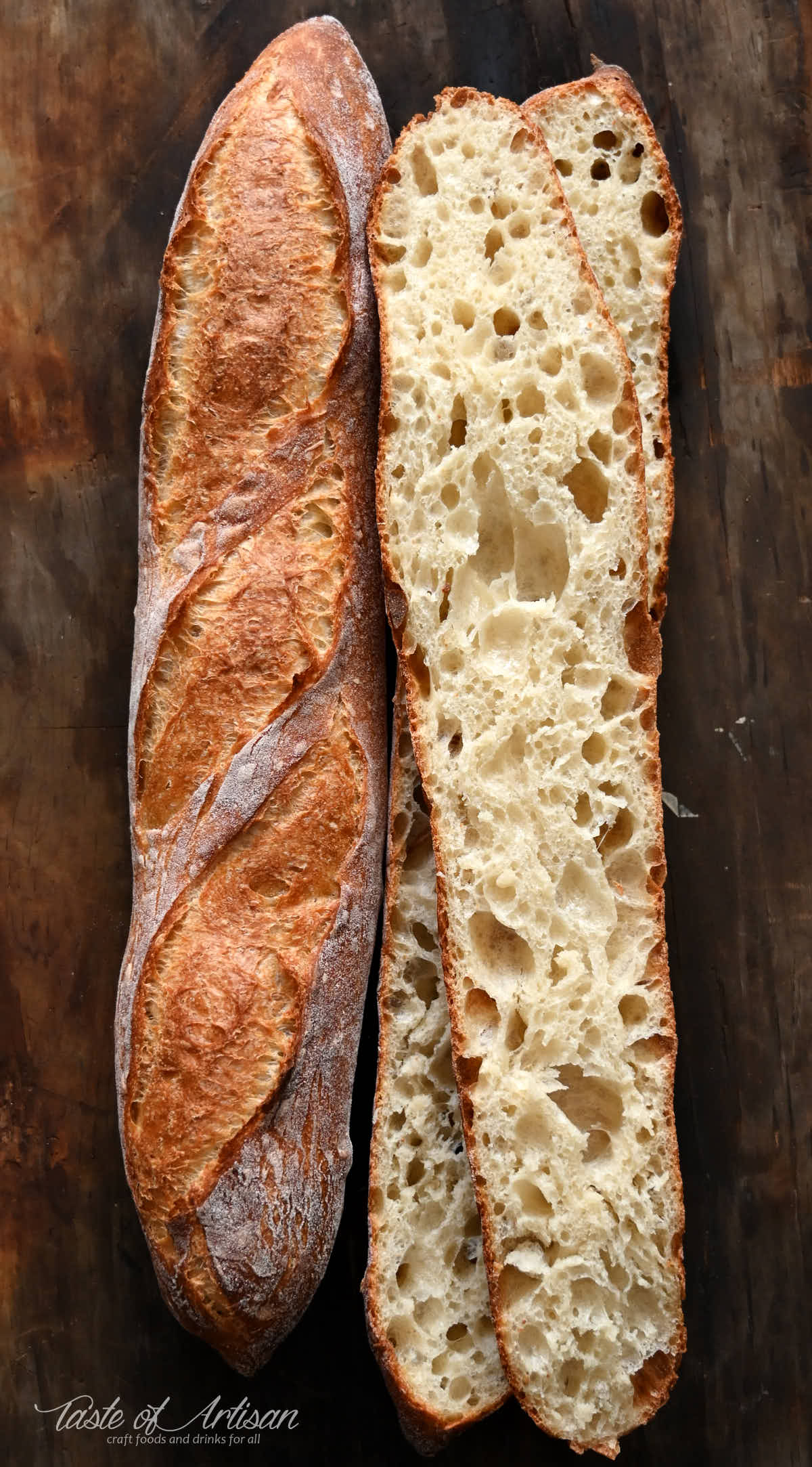 Baguettes took me the longest to master. Perhaps it's because my bread baking adventure started (many years ago) right after I baked my second loaf of no-knead bread and I lacked the necessary experience. So many factors here that can affect how your baguette will look and taste.
What French baguettes are made of?
A traditional French baguette is made of flour, water, yeast and salt. It's fascinating how these four simple ingredients produce a beautiful, flavorful, crusty baguette. What's even more fascinating is how different bakers, using the same ingredients, can make baguettes that differ from each other quite substantially sometimes.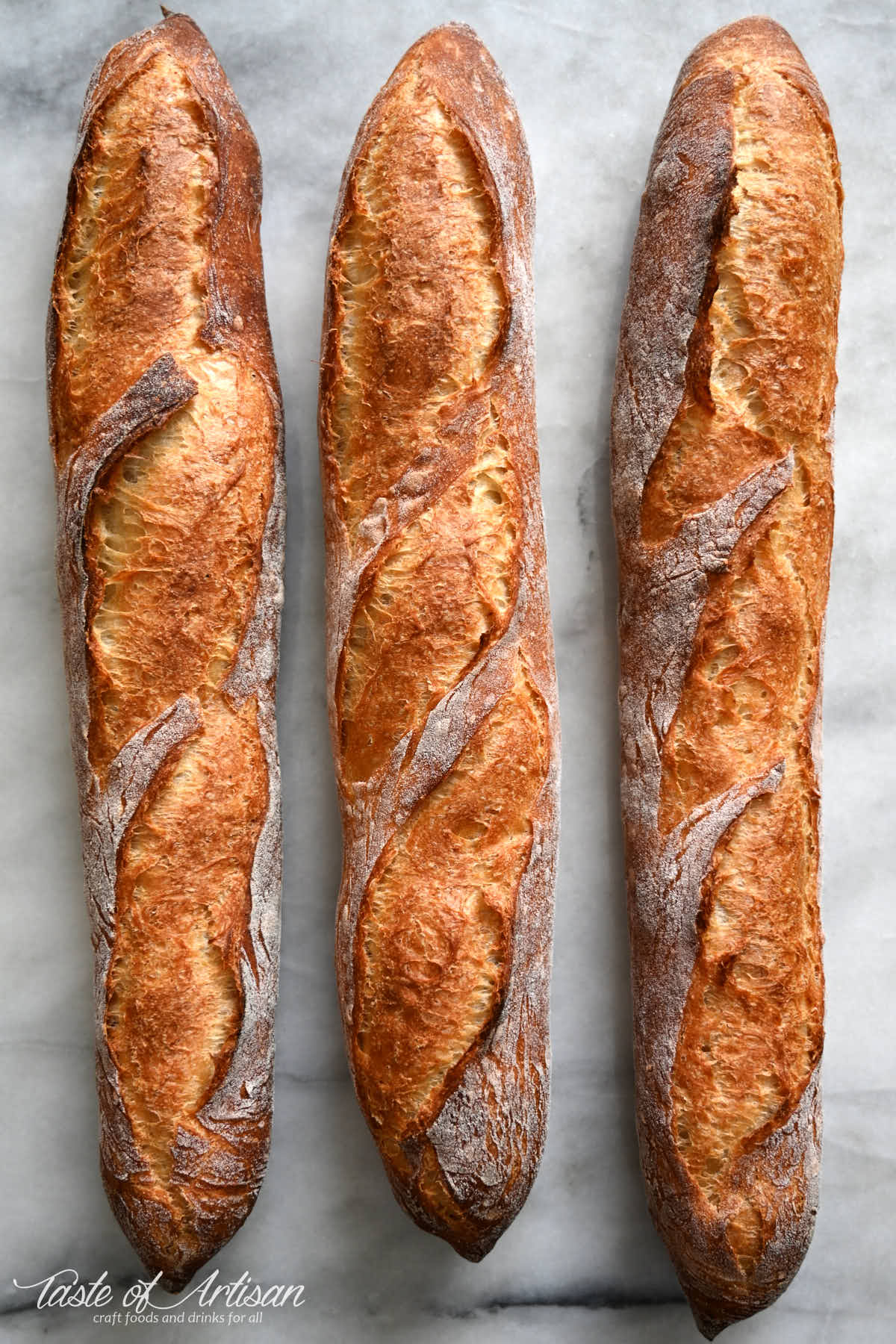 Up to about a century ago making bread with natural leaven was the rule for bakers in France. Later it was a mix of natural leaven and baker's yeast, which made the crumb lighter and more open. Lately, many bakeries seek efficiencies and switch to using baker's yeast as using natural leavens requires more work.
Other factors that define a baguette's appearance and taste
As was mentioned above, many French baguettes, while using the same ingredients, differ in appearance and taste. This is largely due to the process that is employed. You can make the dough rise very quickly using warm water and warm ambient temperature but it will lack flavor. Slowing down the fermentation process, known as cold retarding, results in complex flavor and improved taste. Thus, how you ferment the dough, how long you retard it, how you proof it, how you shape, score and bake it - all contribute to how the final product looks and tastes.
Baguette making process
This baguette recipe uses baker's yeast and is influenced by the method used by Anis Bouabsa, winner of the 2008 Best Baguette in Paris contest. In an interview, Anis mentioned using baguette dough that has 75% hydration (meaning the ratio of water to flour), very little yeast, hardly kneaded, folded three times in one hour then placed in the fridge for 21 hours. He also added that baguettes are not fully risen when placed in the oven, it is the wet dough and the very, very hot oven (480F) that make baguettes get the volume.
The ingredients
In this recipe, I use King Arthur all-purpose flour, very commonly used for baguette making among home baking enthusiasts, water, yeast, and salt. I also add a bit of honey. This is a big no-no for baguette purists, but that little hint of sweetness is what everyone I baked my baguettes for liked.
The equipment
The essential pieces of equipment to make a great-tasting baguette are an oven and a baking stone. You want a large and, importantly, thick baking stone. It won't crack easily and will promote a much better oven spring for your baguettes. Like this heavy duty baking stone. Even better, go to your local pottery supply store and get a Cordierite kiln shelf. They are thicker and can withstand spills with aplomb. You can also get one cut to your specifications.
Another piece of equipment that is extremely helpful is the Baker's Couche that you will need for proofing. I used to get away without one for a long time but they are so effective and convenient, and in very inexpensive nowadays.
A bread lame is another tool you will be glad you have.  It's essential for scoring baguettes. I can use a serrated bread knife to make pretty good scores, but a lame will be much easier for novice bakers.
Finally, you will need a large pizza shovel or something similar to load baguettes in the oven. I find that the easiest way to do it is to place the baguettes on a large piece of parchment paper, score then slide on the baking stone.
 Mixing the dough and stretch and folds
The first step is to mix all ingredients in a bowl and let sit for about 10 minutes, followed by 3 stretches and folds over a period of  1 1/2 hours, about every 30-45 minutes or so. In each stretch and fold iteration, pull one side of the dough and fold onto itself. At the end of each iteration, I pick up the dough ball and turn it upside down.

Do this in a warm room to get yeast activity going, otherwise the dough will have a hard time rising in the fridge. Examine the surface of the dough before putting it in the fridge and look for tiny blisters and a slight sour milk smell. If you observe both, then the dough is ready to go in the fridge. If not, I let it sit at room temperature for another 1/2 to 1 hour.
Cold retarding
Cover the bowl with a plastic wrap to prevent the surface from drying out and place in the fridge for 12 hours. After 12 hours the dough will have doubled in volume. If not quite doubled, take it out and let stand in a warm place for 1-2 hours. The oven with the light on is warm enough for this purpose. Alternatively, you could let the dough ferment in the fridge for another 8-10 hours.
Preheating the oven and steaming
Sometime after taking the dough out of the fridge, start preheating the oven to 500F, with a baking stone positioned in the upper part of the oven and a small bread pan with hot water and a rolled kitchen towel inside, on the lower rack. Position your baking stone such that the short side is parallel to the door. Water pan is needed for consistent steam release during baking to help the baguettes rise nicely in the oven (also referred to as oven spring) and prevent surface hardening.  The towel helps control steam release.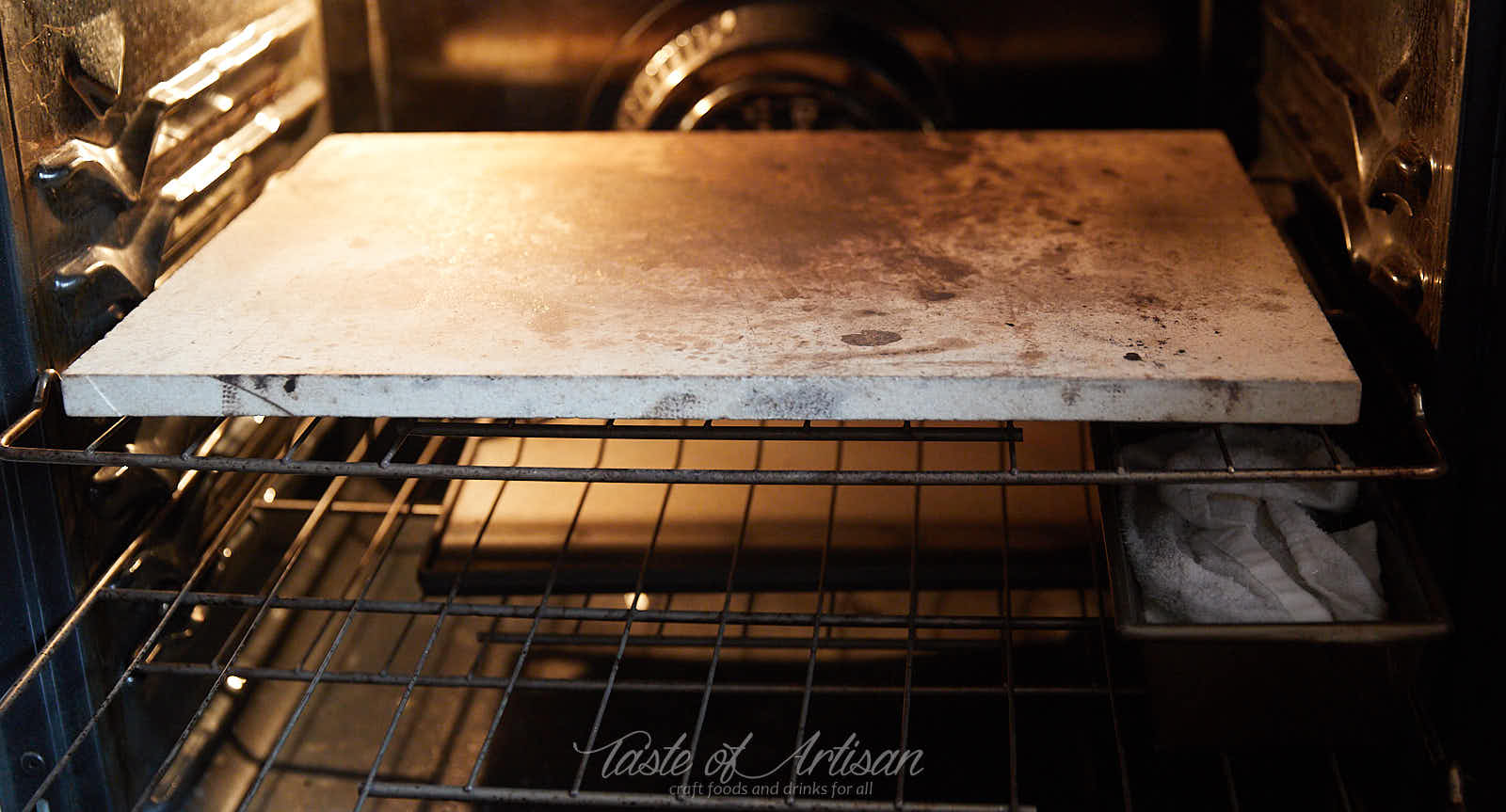 Shaping baguettes
Turn the dough on a lightly floured surface. Divide into 3 equal pieces, shape into rectangles and let relax for 45-60 minutes.
Stretch into rectangles and roll each rectangle as shown below. Start with the longer side, fold it inside the rectangle and seal the seam with your thumb. Do it tightly enough but being careful not to degas the dough. Repeat two more times until you formed a cylinder.

Seal the seams using your palm and stretch the cylinder to desired length by gently rolling it with your hands.

Proofing
Cover with flour (a mix of regular flour and rice flour works best as rice flour does not absorb water too well and prevents sticking) and place on a baker's couche, seam side up.  Let proof for 30-60 minutes at room temperature. You can tell that the dough is ready for baking by a gentle poke with a finger. If the dough is sufficiently proofed the indentation springs back very slowly.  If it's under-proofed, the dough will spring back quickly.  You can read more about this and see pictures in the Basic Artisan Sourdough Bread post.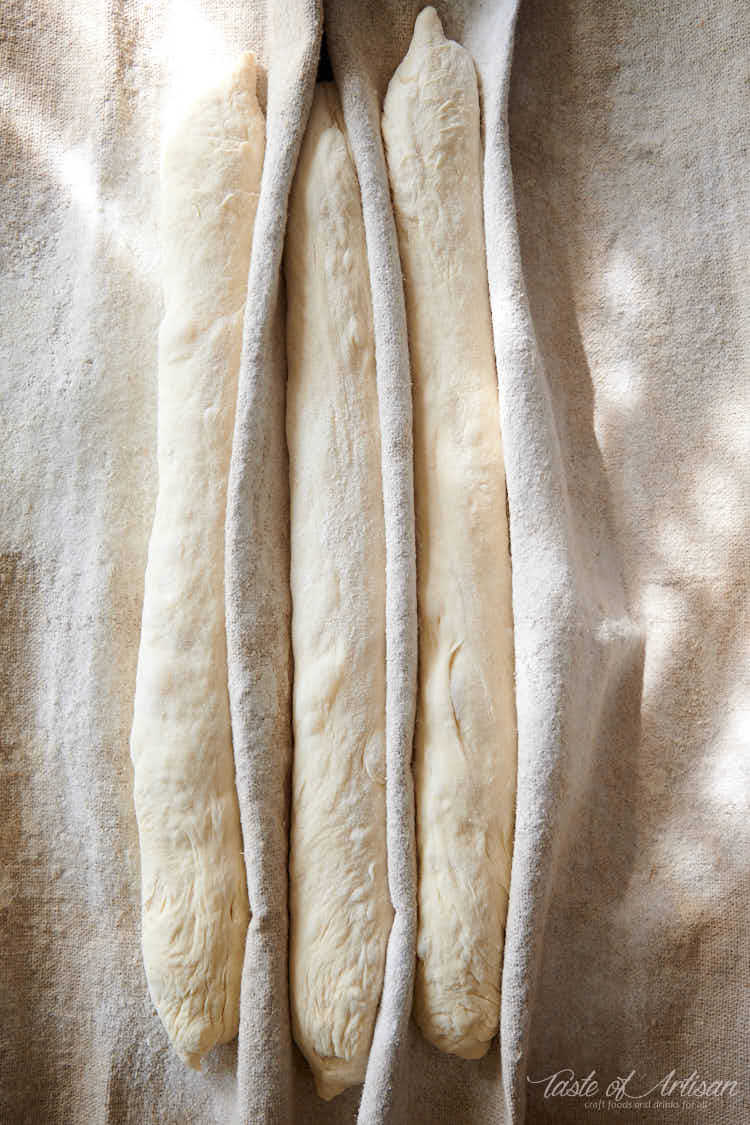 Scoring
Transfer the baguettes onto a piece of parchment paper, seam side down, and dust off excess flour. Using a bread lame or a razor blade, make 3 cuts, in a gentle but firm motion.  Bakers call this scoring. If the baguettes keep sliding when making cuts, hold them with one hand at the top end and make cuts from top to bottom. Scoring baguettes helps them open up and nicely rise in the oven, or as bakers call it to have an oven spring.

Loading baguettes in the oven
Once the baguettes are ready to bake, simply slide them off with the parchment paper onto the hot baking stone. Be careful with opening your preheated oven, it will be hot and steamy and may burn your face if you are too close when opening the door. Using a water spray bottle, spray some water in the sides of the oven to boost the steam.
Baking
Once your baguettes are in the oven, reduce the temperature to 475F. Bake for about 15 minutes, remove the water pan, rotate and bake another 15 minutes at 450F, until deep golden brown.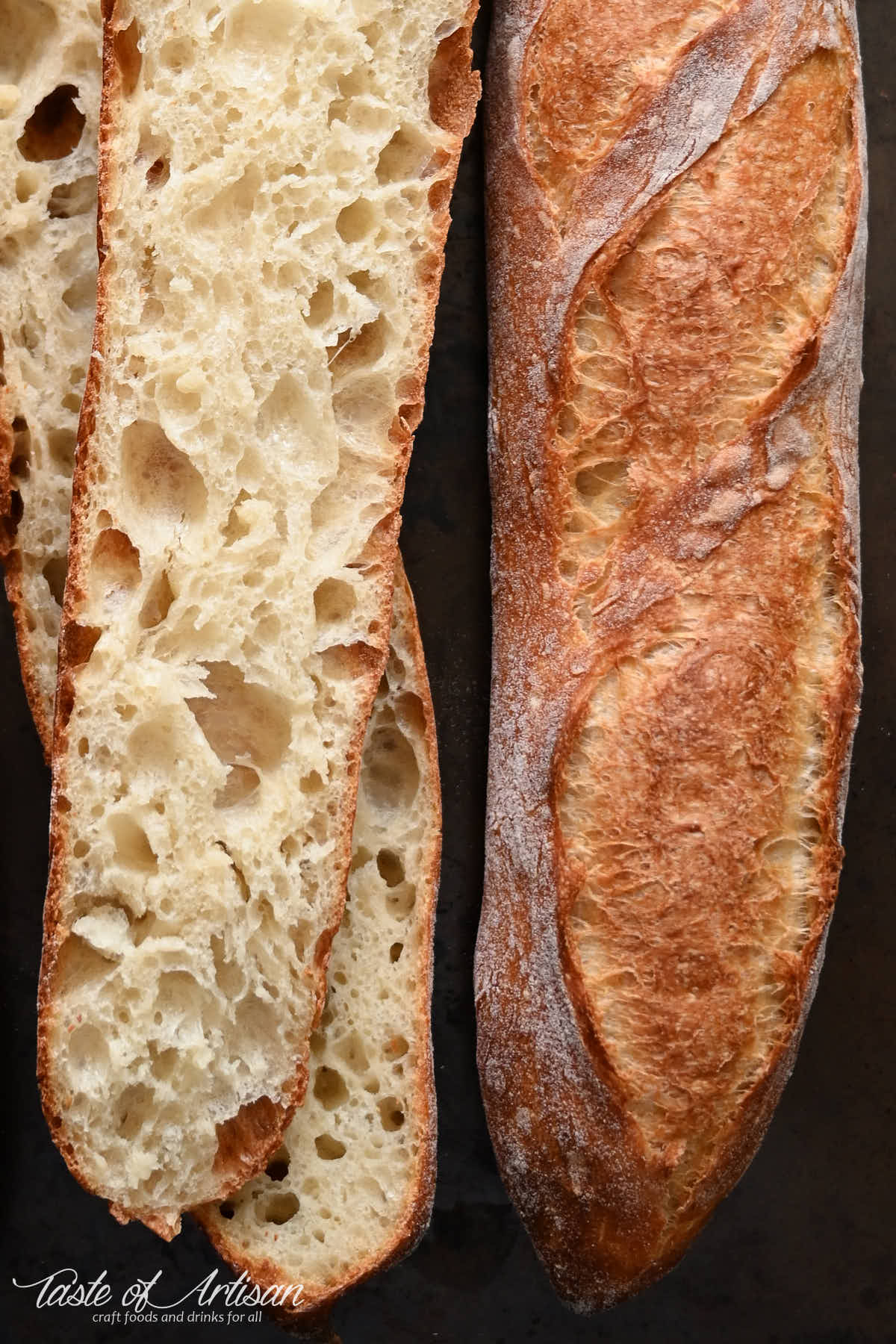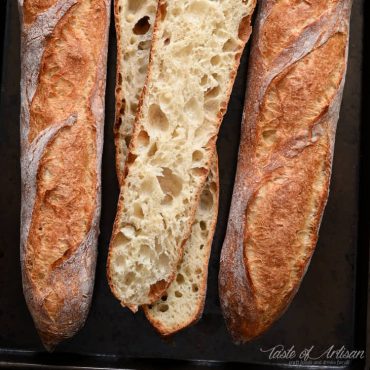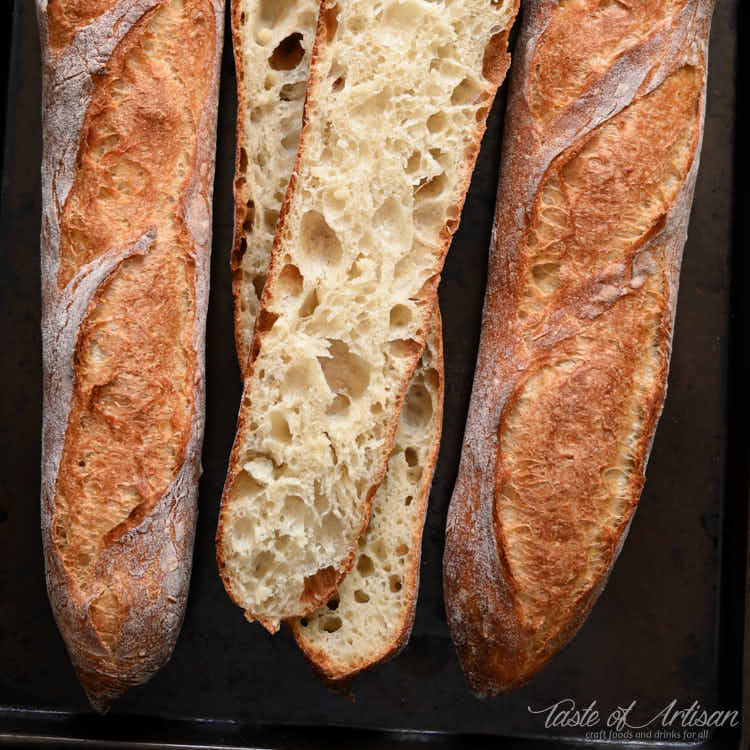 Ingredients
500

g

all purpose flour King Arthur brand is recommended

about 3 1/2 cups, using 'scoop and swipe' method

360

g

water

about 1 1/2 cups + 1 Tbsp

10

g

salt

about 2 tsp

3

g

instant yeast

about 1 tsp; also known as Quick Rise or Rapid Rise yeast

25

g

honey

about 1 Tbsp
Instructions
Mix all ingredients in a bowl, cover with a plastic wrap and let rest for 15 minutes.

Over a period of 1 1/2 hours, do 3 sets of stretch and folds, flipping the dough upside down after each set.

Cover the bowl with a plastic wrap and place in refrigerator overnight for about 12-14 hours.

Turn the dough on a lightly floured work surface. Divide into 3 equal parts and shape into rectangles. Cover and let rest for 45-60 minutes.

Starting preheating the oven to 500F, with a baking stone positioned in the upper half the oven and a bread pan filled with hot water on the bottom rack.

Stretch each dough rectangle slightly and fold into a cylinder, sealing the seams. Using your hands, roll the cylinders gently stretching them to desired length, about 14-15 inches.

Place on a lightly floured couche, seam side up. Cover and proof at a room temperature for about 30-60 minutes, or until the dough has sufficiently proofed.

Transfer the baguettes to a piece of parchment paper, seam side down and dust off excess flour. Using a bread lame, a sharp knife or a razor blade, make 3 scores on each baguette. When scoring, use a swift and firm motion to ensure nice and clean cuts.

Open the oven, taking caution not to get burned by steam, and slide the baguettes off onto the baking stone. Close the oven and reduce temperature to 475F. Bake for 15 minutes.

Remove the water pan, rotate the baguettes, drop the temperature to 450F and continue baking for another 15 minutes or until deep golden brown.
Notes
Note 1
I highly recommend measuring out the ingredients using a kitchen scale, like this inexpensive scale. Even though I provided the measurements in U.S. customary units, those are imprecise and your results may be very different from mine. Additionally, measuring flour in cups does not take into account the flour's hydration, which is impacted by how fresh the flour is and how it was stored.
Note 2
Everyone's oven bakes differently. Baking time above - 15 min with steam and 15 min without - worked perfectly in my average Kenmore electric oven. In my new gas oven, which bakes hotter/more efficiently, I only need 12 minutes with steam and 12 minutes without steam. With that, keep an eye on your baguettes the first time you bake them and adjust the baking time as needed.
Nutrition
Calories:
158
kcal
|
Carbohydrates:
33
g
|
Protein:
4
g
|
Fat:
1
g
|
Saturated Fat:
1
g
|
Sodium:
326
mg
|
Potassium:
45
mg
|
Fiber:
1
g
|
Sugar:
2
g
|
Calcium:
7
mg
|
Iron:
1.9
mg
Oh, and don't forget to try my favorite Neapolitan pizza dough recipe. It makes exceptionally good pizza crust.