Exceptionally delicious no-knead bread that features airy and soft crumb, thin and crispy crust, captivating dark golden brown color and an unforgettable taste with a touch of sweetness that lingers in your mouth.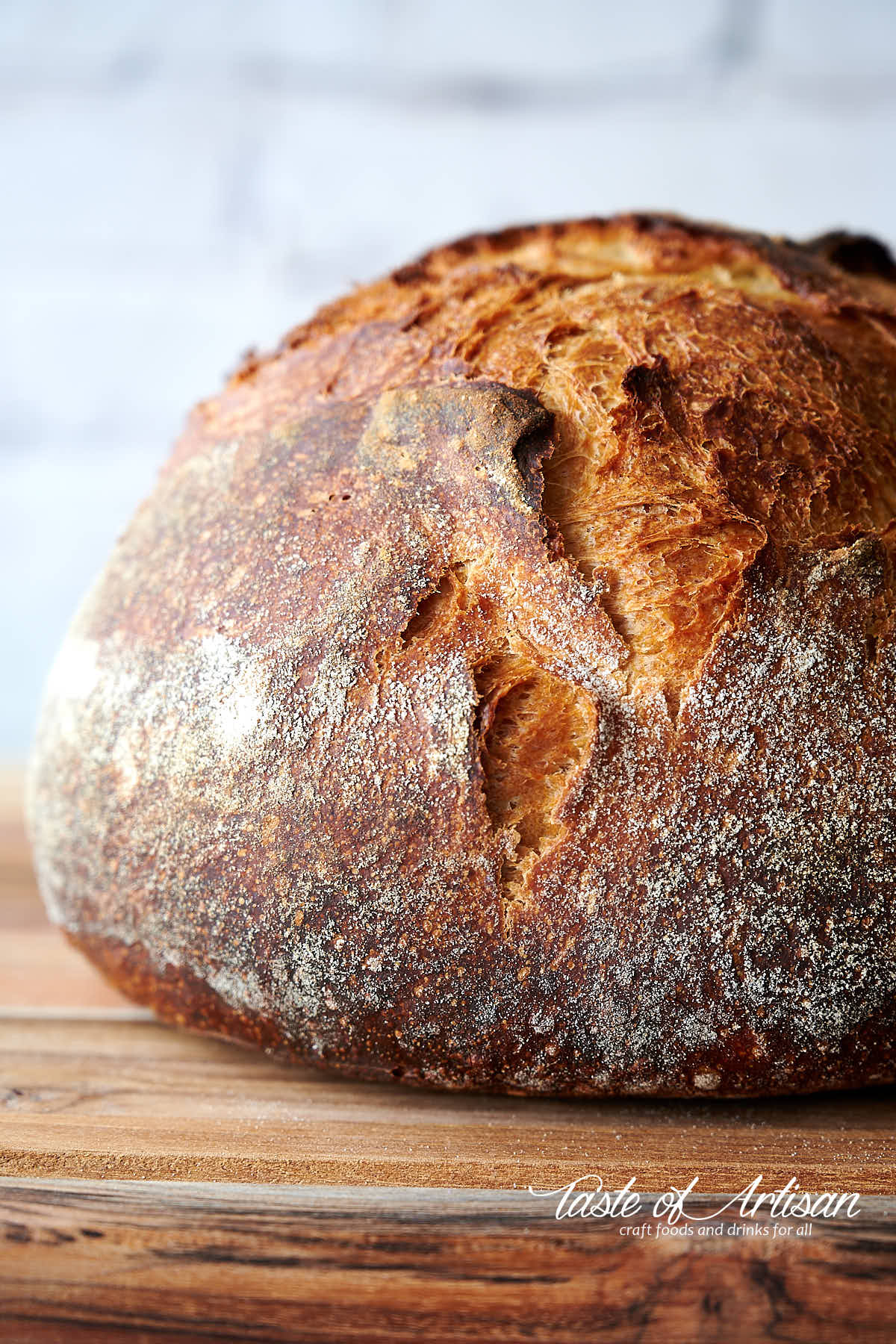 No-knead bread was the first bread I ever attempted to make, about 10 years ago. In hindsight, my first bread was a disaster. It had bubbles inside but the crumb was dense nevertheless. The crust was hard and pale-ish . It tasted good but not 'I can't believe I made this bread myself at home' good. It looked OK but not amazing.
I followed many no-knead recipes to the tee and was convinced that my bread was the best I could get in a home environment. It looked, well, just like everybody else's, I thought.
The story behind this bread recipe
Fast forward many years. I've been baking primarily sourdough breads and never really bothered with unsophisticated no-knead breads any more. That was until I was going to visit my friends who specifically asked me to bring a loaf of my bread. Normally, that wouldn't have been an issue, but I only had about 6 hours before I had to leave. Darn!
I ran into the kitchen and mixed some flour, water, instant yeast and salt. And a tablespoon of honey. Yes, a little bit of honey gives bread a hint of sweetness and extra flavor, something that everyone loves in my French baguettes. I used room temperature water not to rush bulk fermentation but making sure that I finish in time. I also increased the amount of yeast to 3 grams to make sure that fermentation doesn't take too long.
To make a long story short, the loaf that I made that day turned out to be quite outstanding. I did not realize how good the bread was until I heard my friends go 'mmmmmm' while eating it. I tried it. It was fabulous. It was surprisingly flavorful considering it was made using commercial yeast and such a short fermentation time.
The crumb was exceptionally soft and airy. There was a certain moistness to it which I liked a lot. A touch of sweetness made me want to savor the bread in my mouth before swallowing.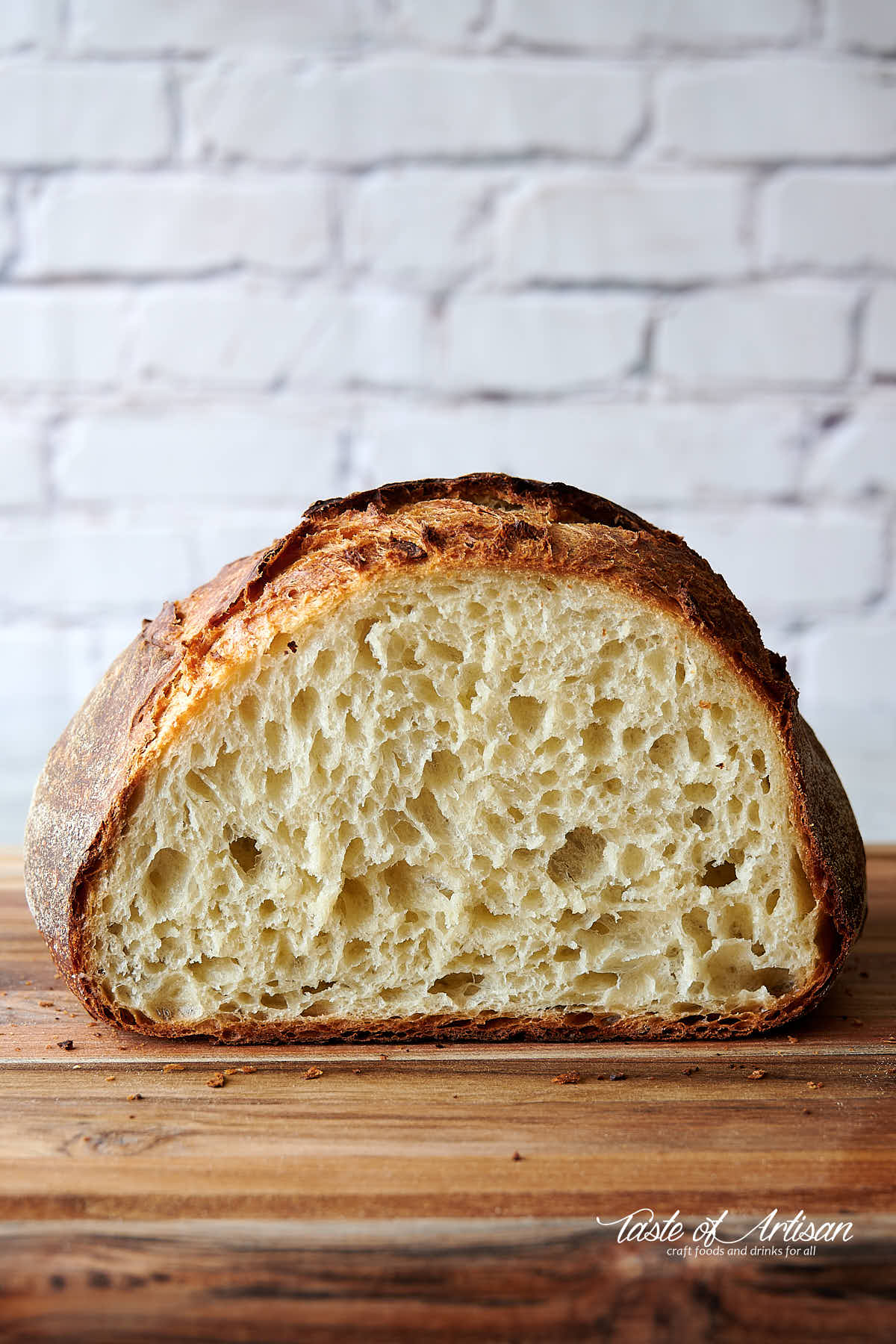 The crust was thin and crackly initially but softened over time and became slightly chewy. I liked it a lot.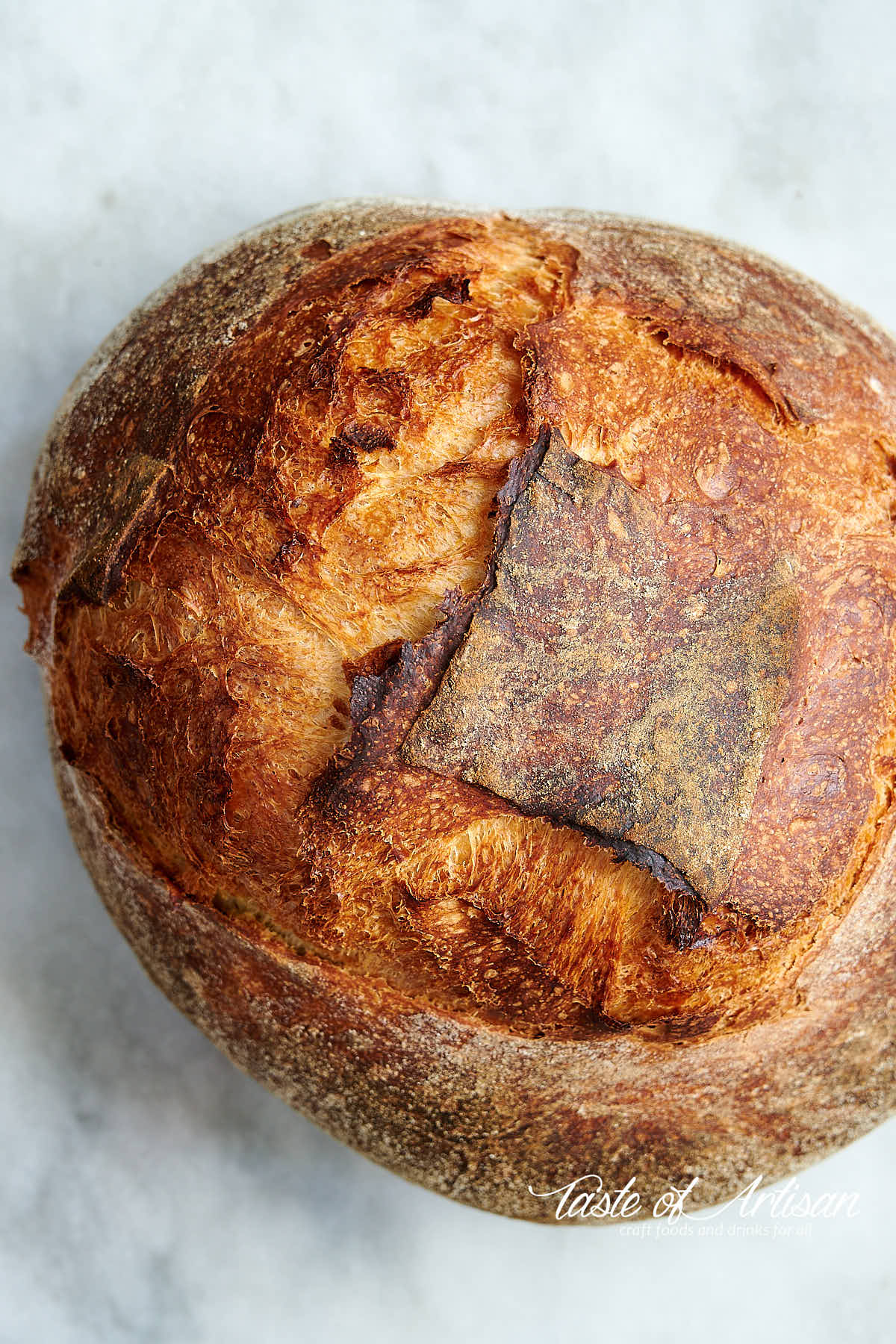 Making no-knead bread
Suffice to say, this bread is now on a regular rotation in our home. I don't change this recipe, I think it's perfect. The only thing I do is substitute 50 grams of wheat flour for rye flour every now and again. It adds even more flavor. I do the same with my baguettes every now and again.
The ingredients
This bread recipe uses all-purpose flour, water, yeast, salt and honey.
I use King Arthur all-purpose flour as I love the results it gives. It's been my favorite for years especially for making baguettes. There are other brands out there that are just as good or may be even better but this one is my favorite. I highly recommend it.
My favorite commercial instant yeast for this bread is SAF Gold. I heard so many good things about it on thefreshloaf.com and it did not disappoint. It gives my no-knead bread a quicker rise and, in general, produces a superior crumb texture.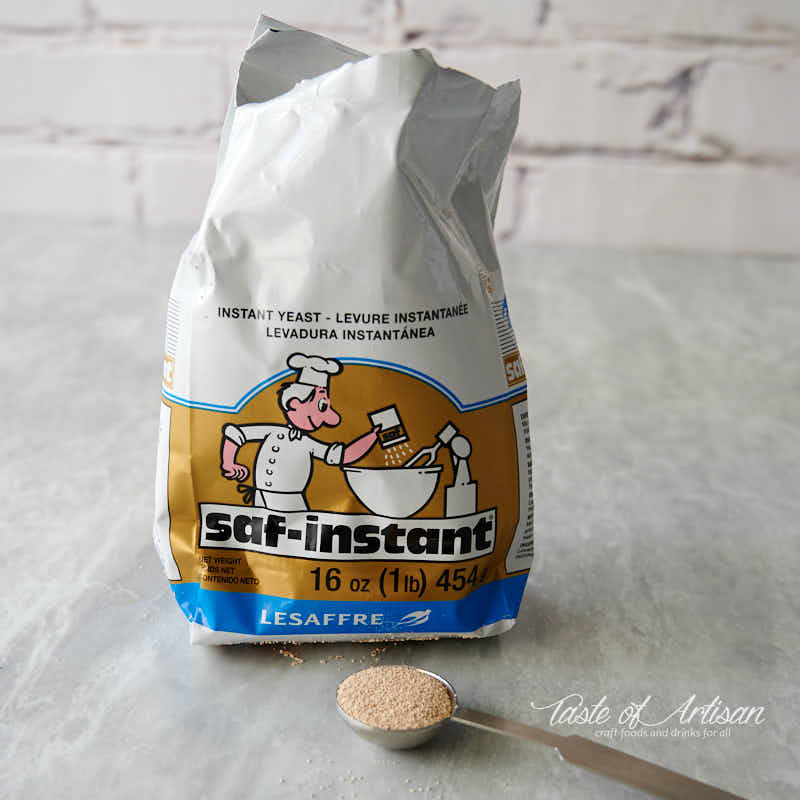 Mixing the ingredients
Once you have your ingredients in place, dissolve honey in water in a large bowl. Add the rest of the ingredients and mix by hand, squeezing the dough between your fingers. Cover the bowl and let the dough rest for 1 hour.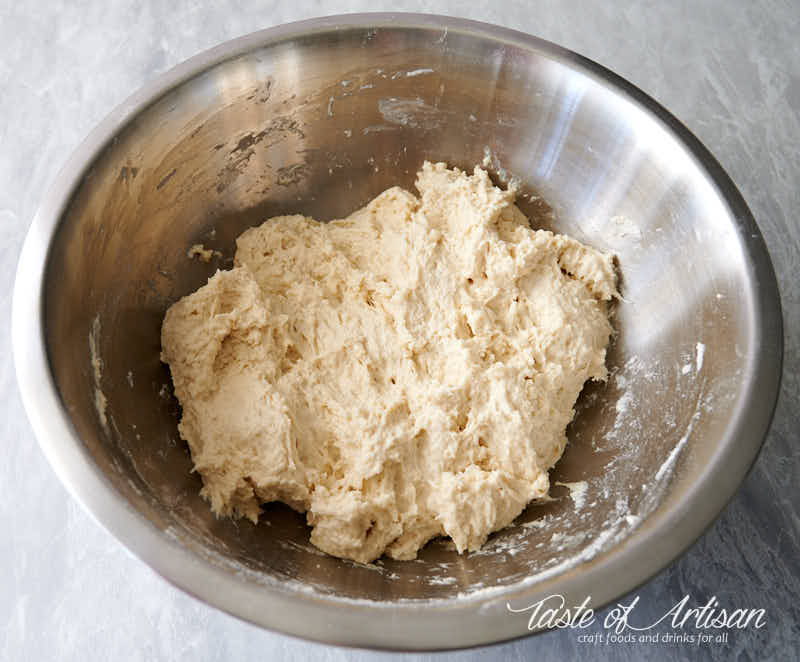 Fermentation
Over the next 3 hours the dough will undergo what is known as bulk fermentation during which it will develop  flavor, strength and double in size.
The strength is achieved by using a stretch and fold technique. The stretch and fold technique is where you pull each corner of the dough and fold onto itself, as illustrated in my French baguette and sourdough bread posts. This step is extremely important even though most no-knead bread recipes do not include it.
Below is the illustration of the stretch and fold  technique from my sourdough bread post.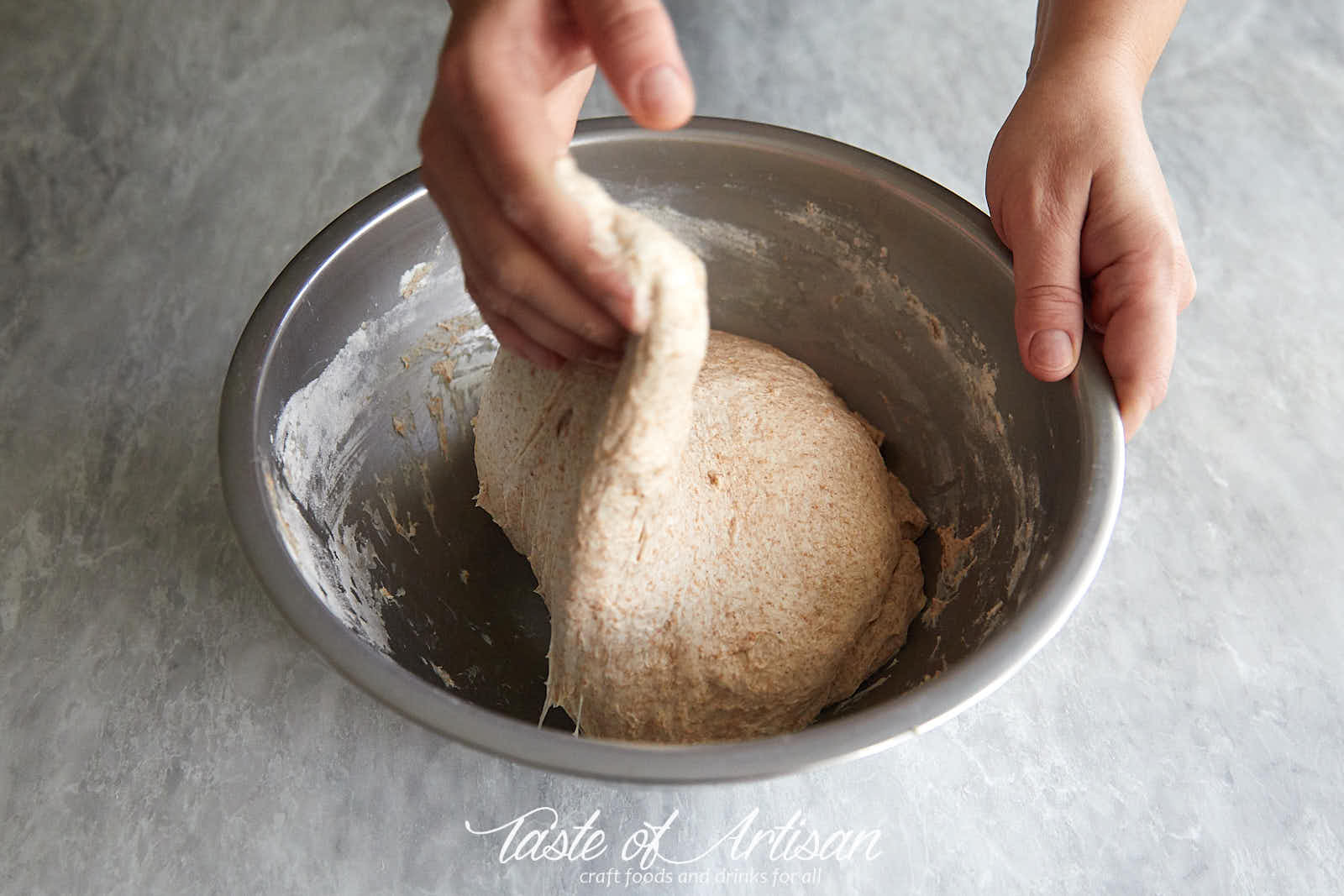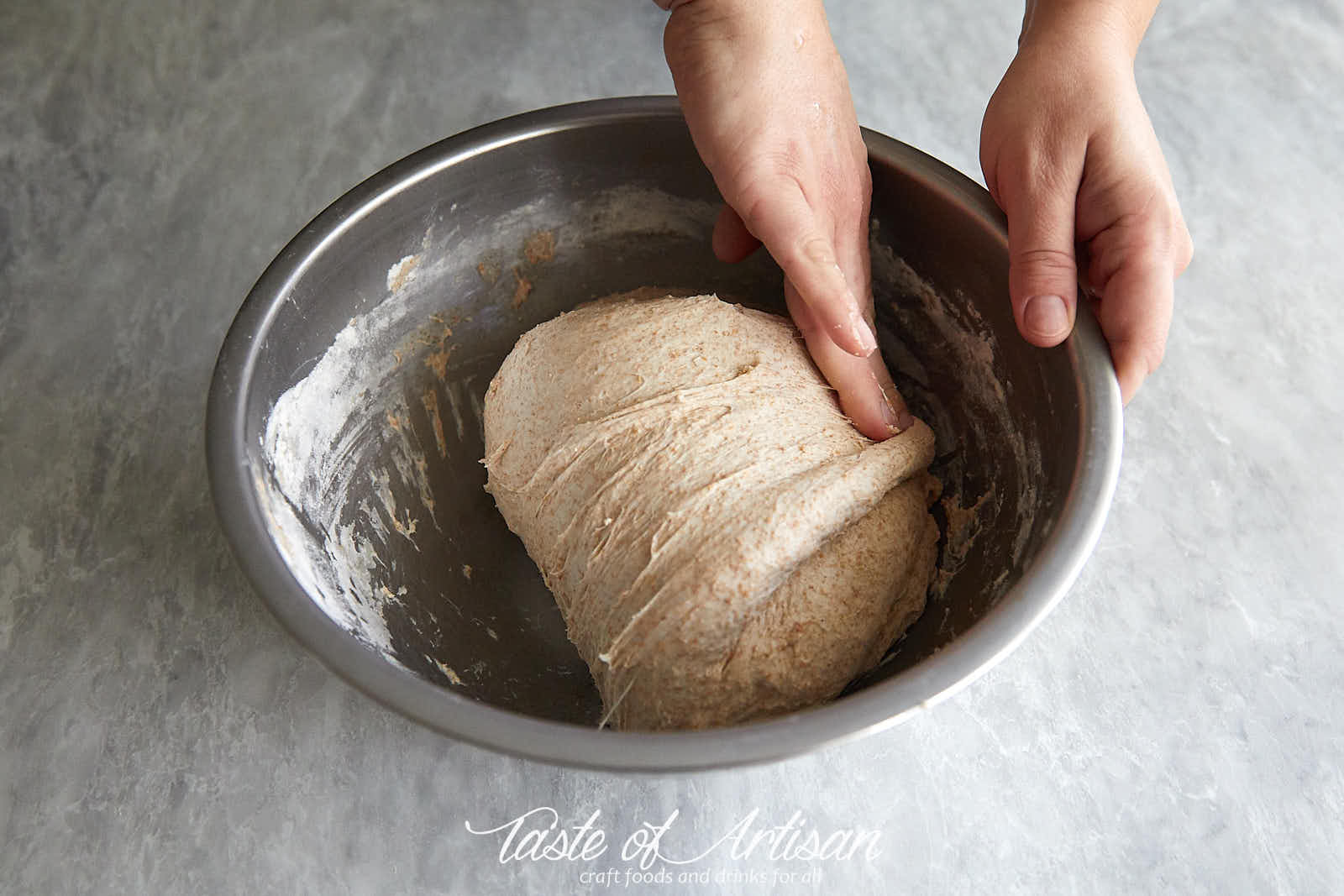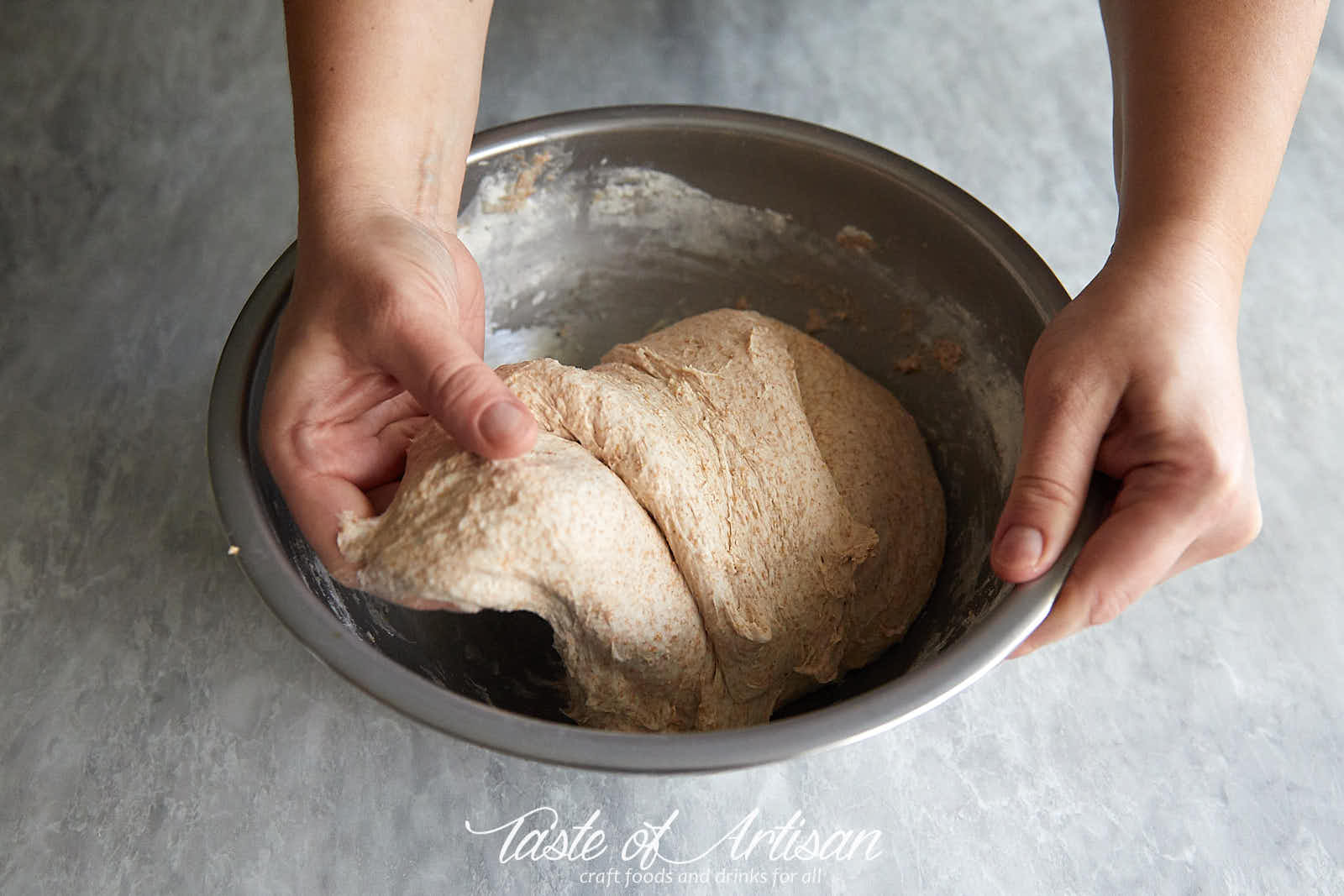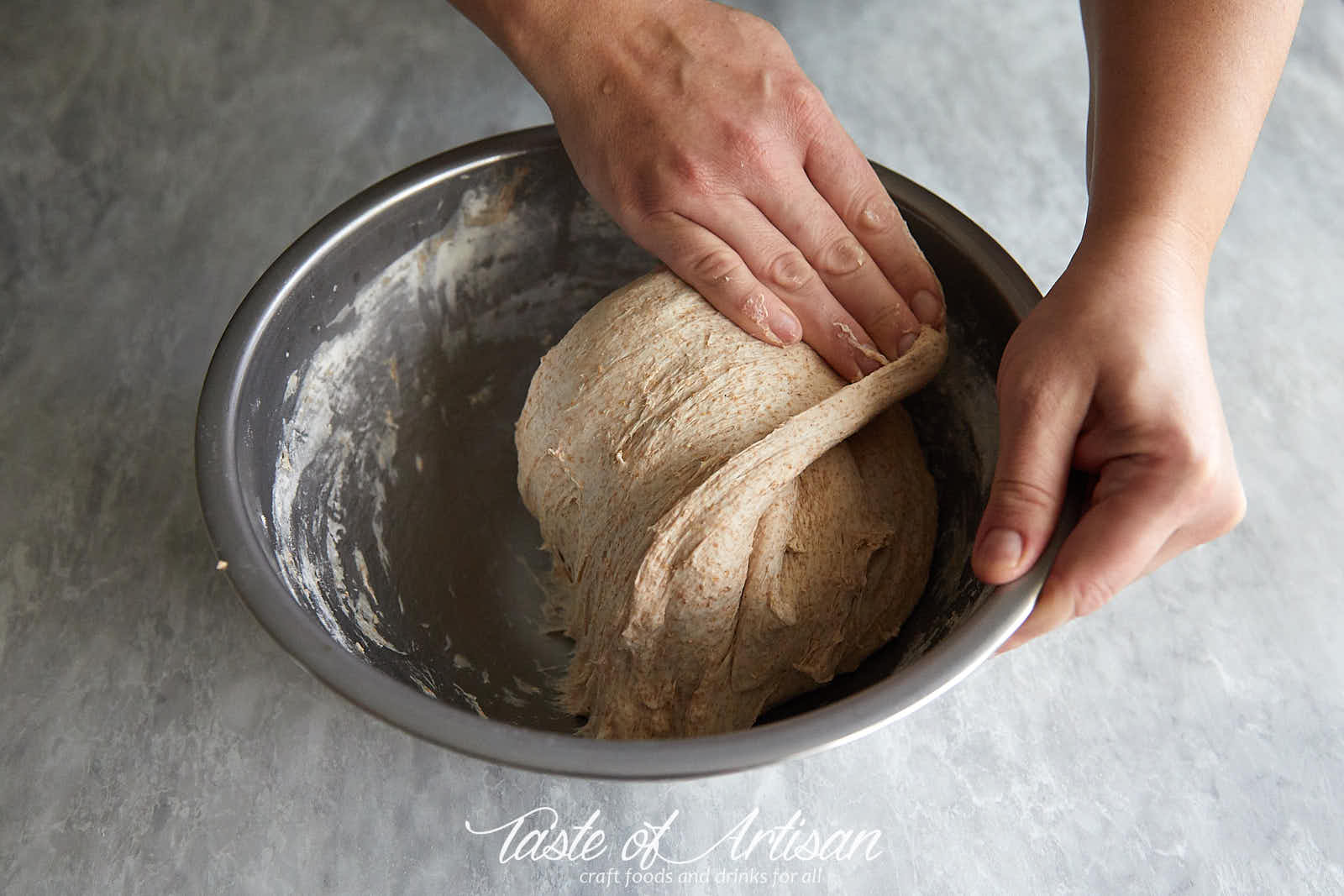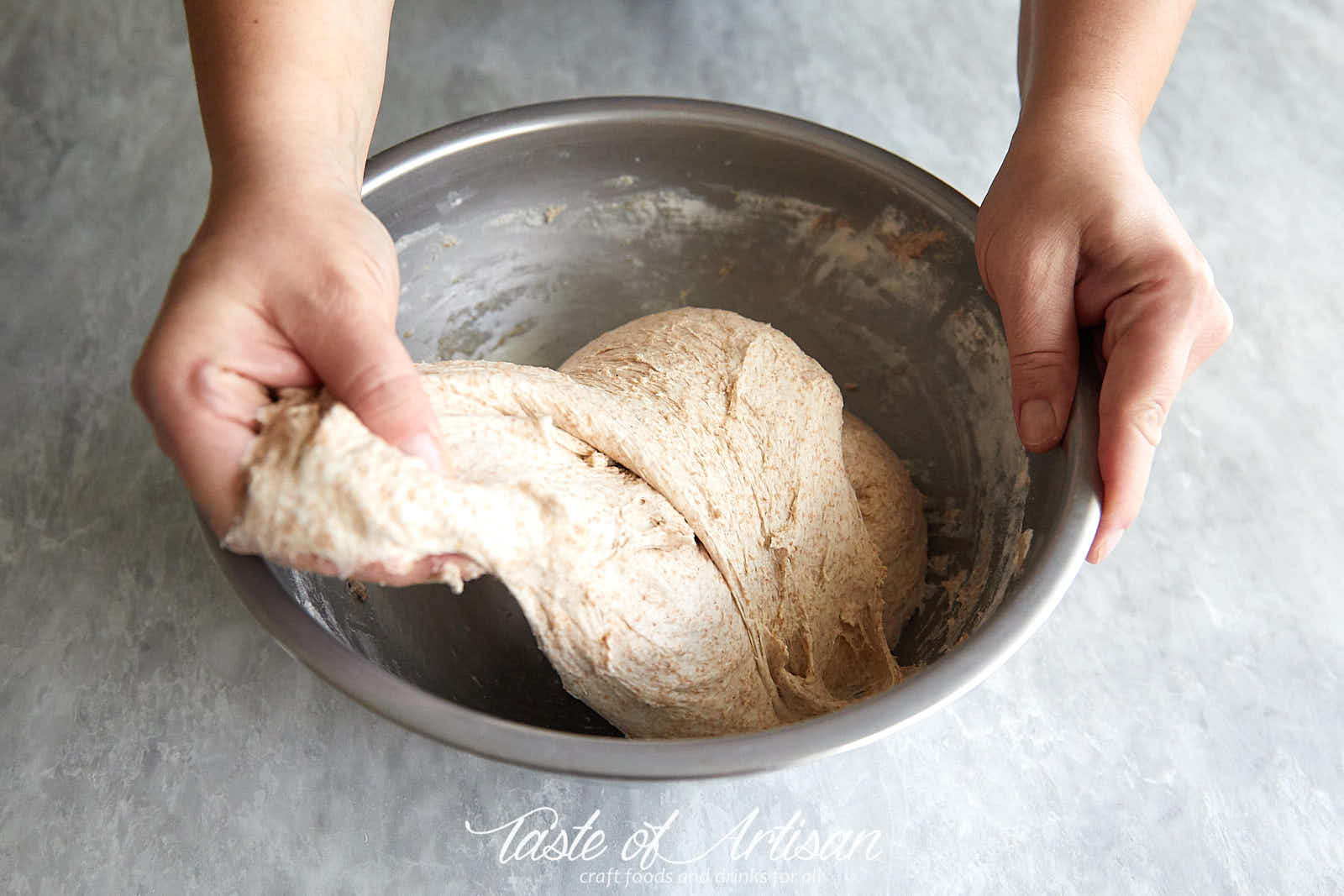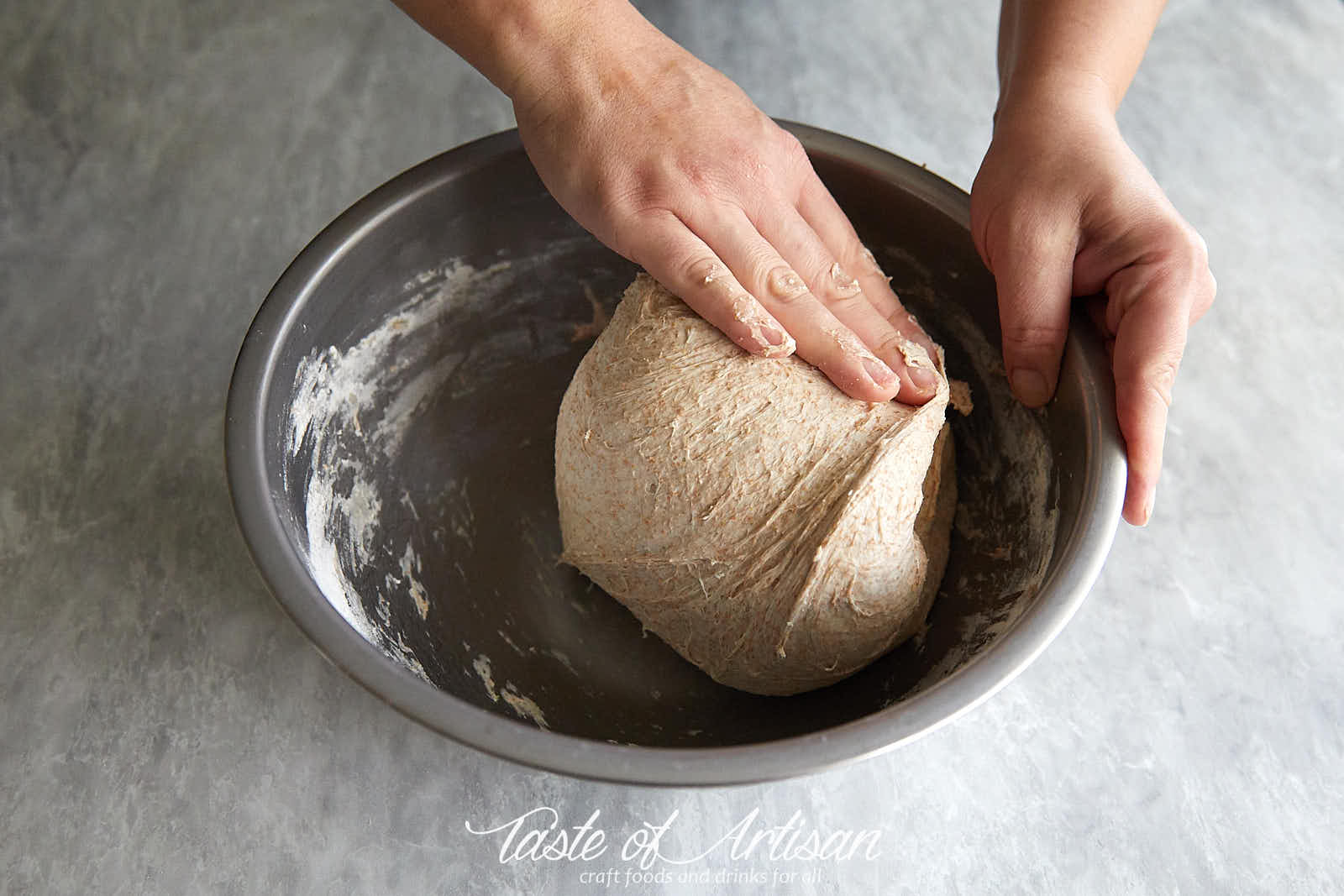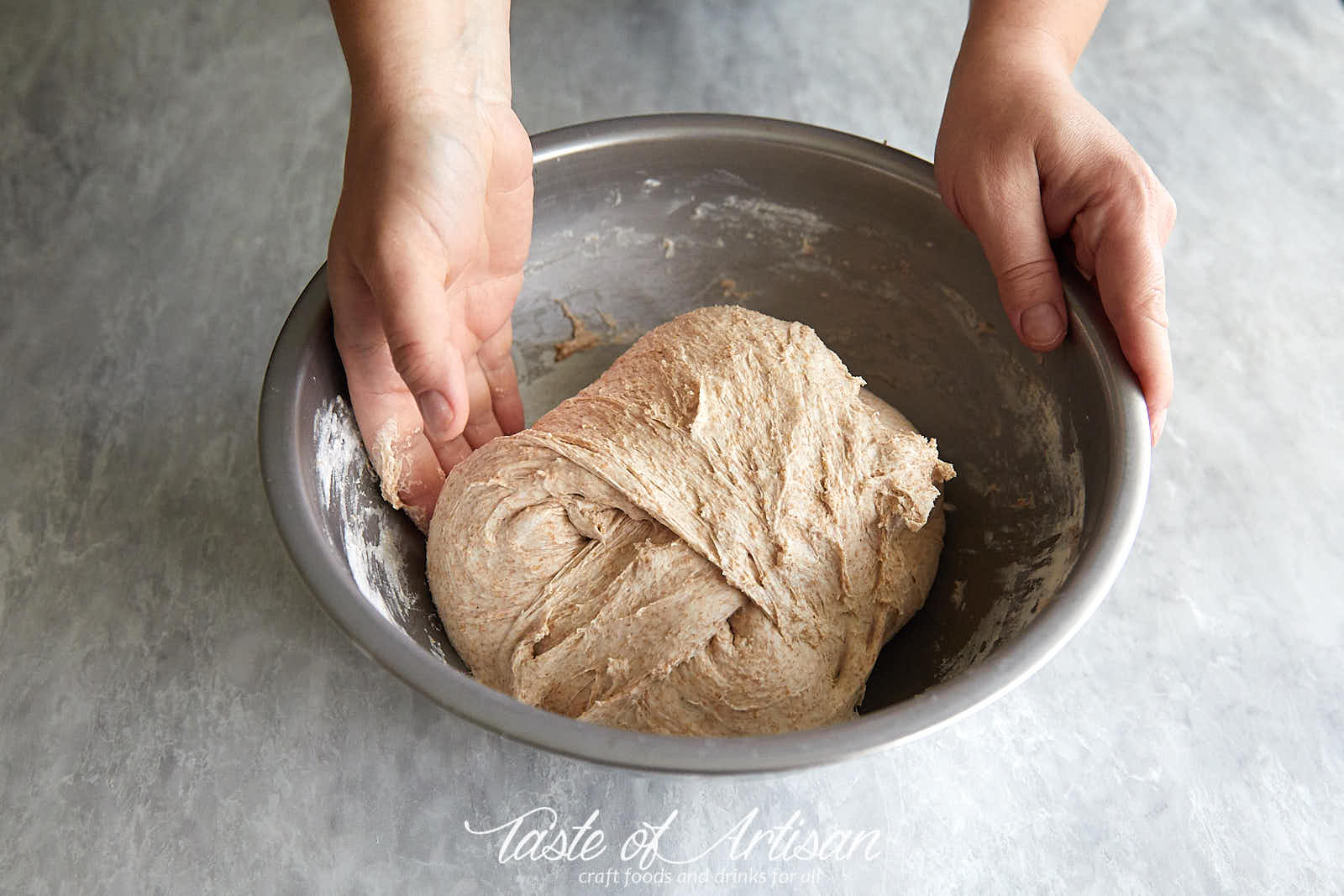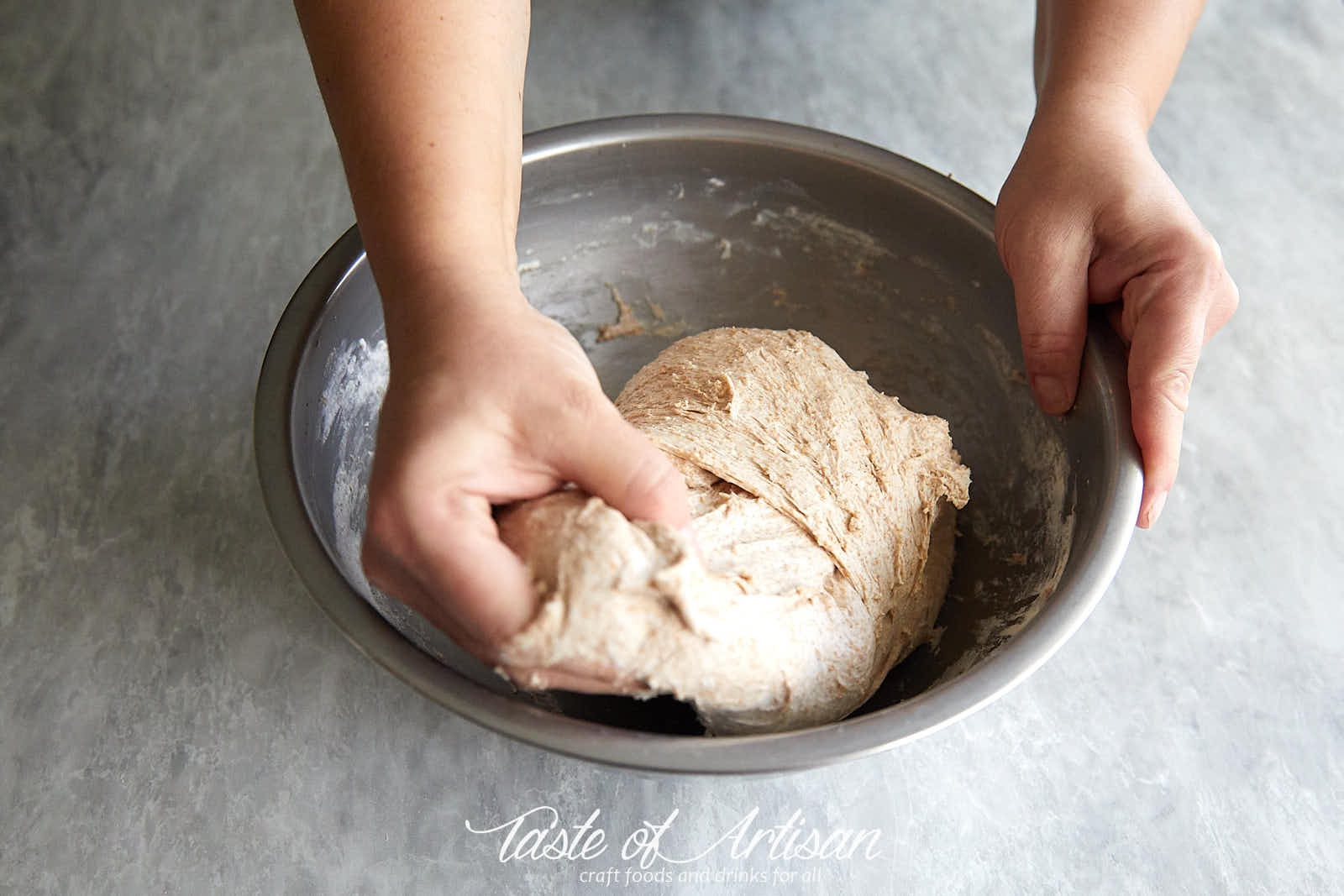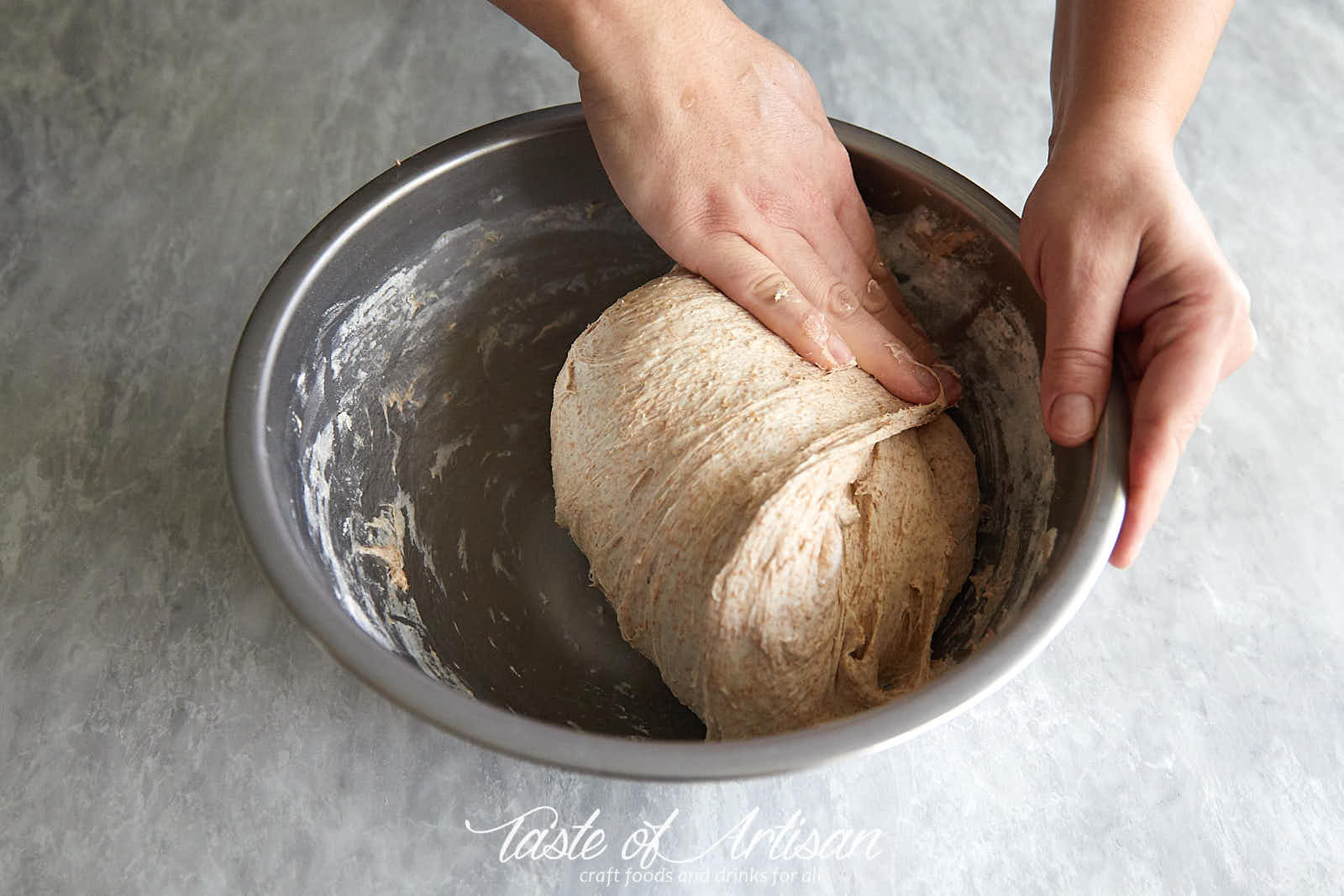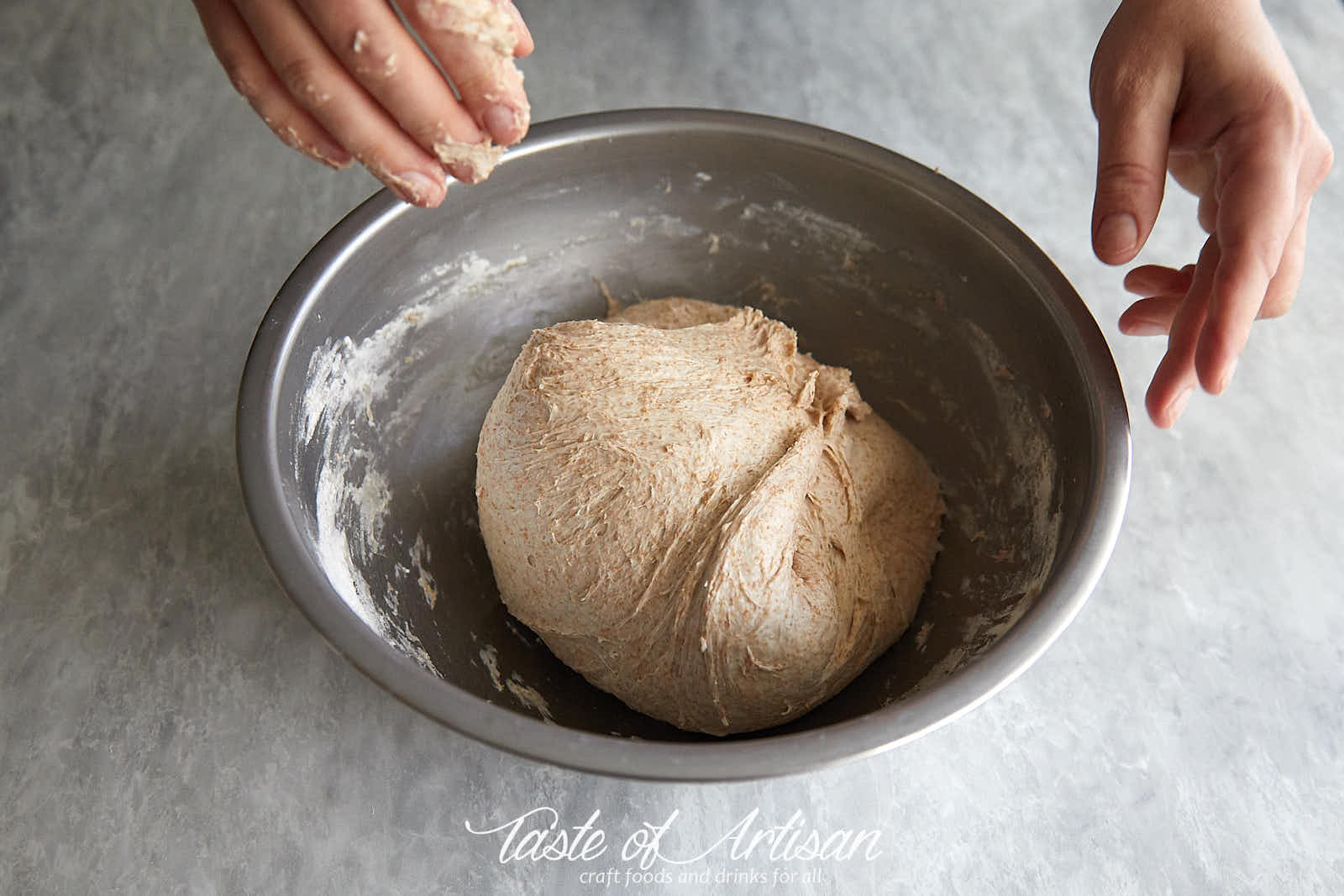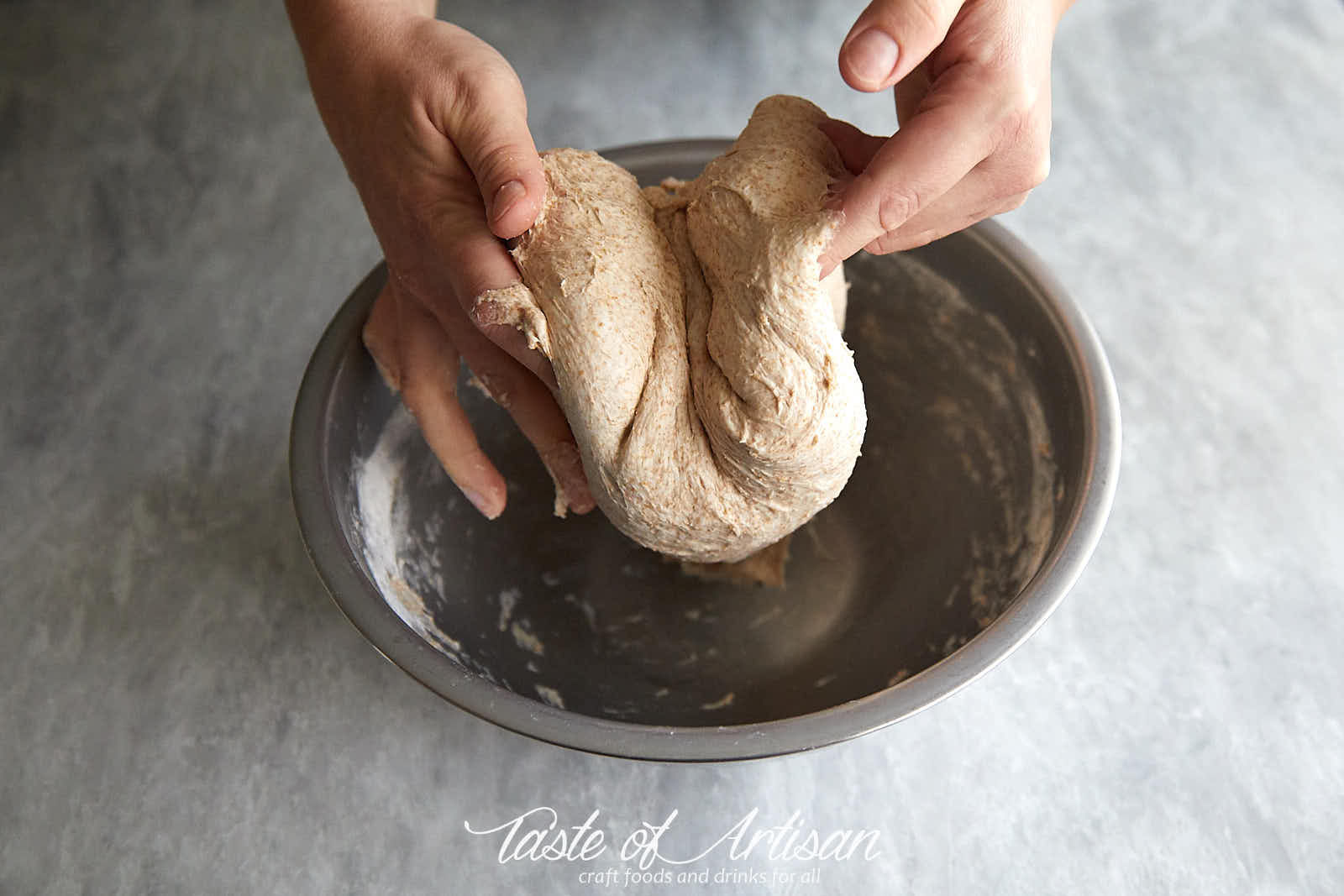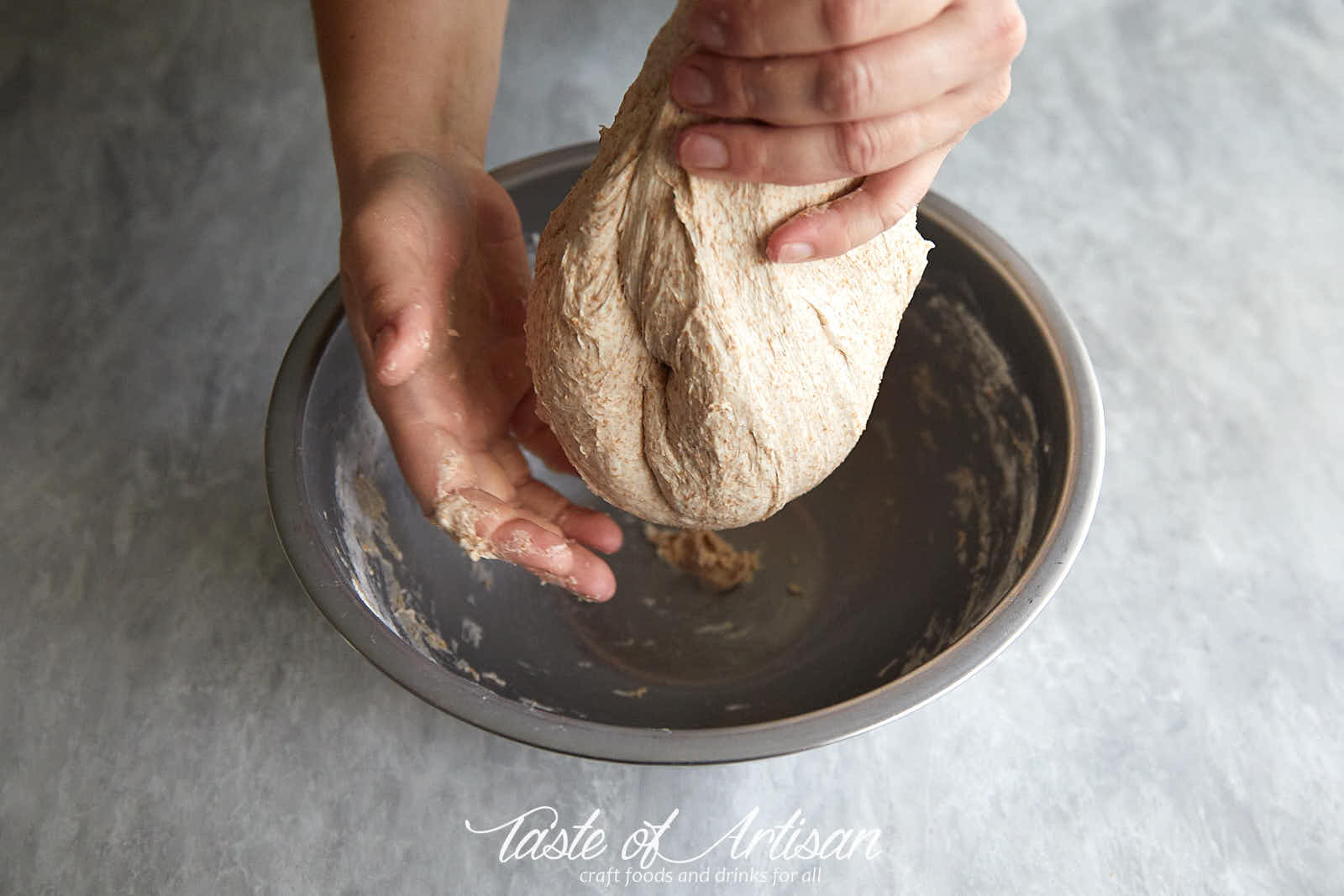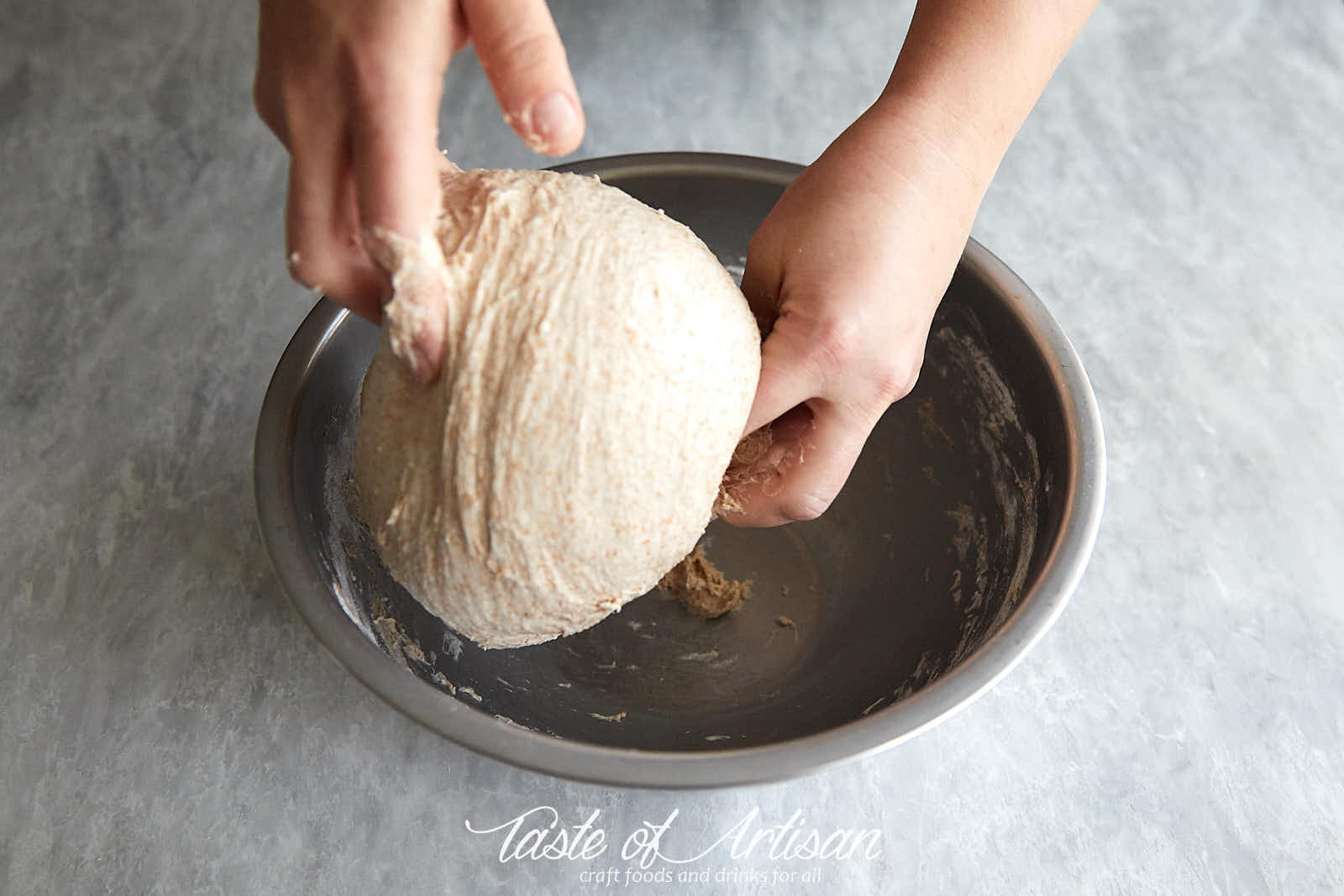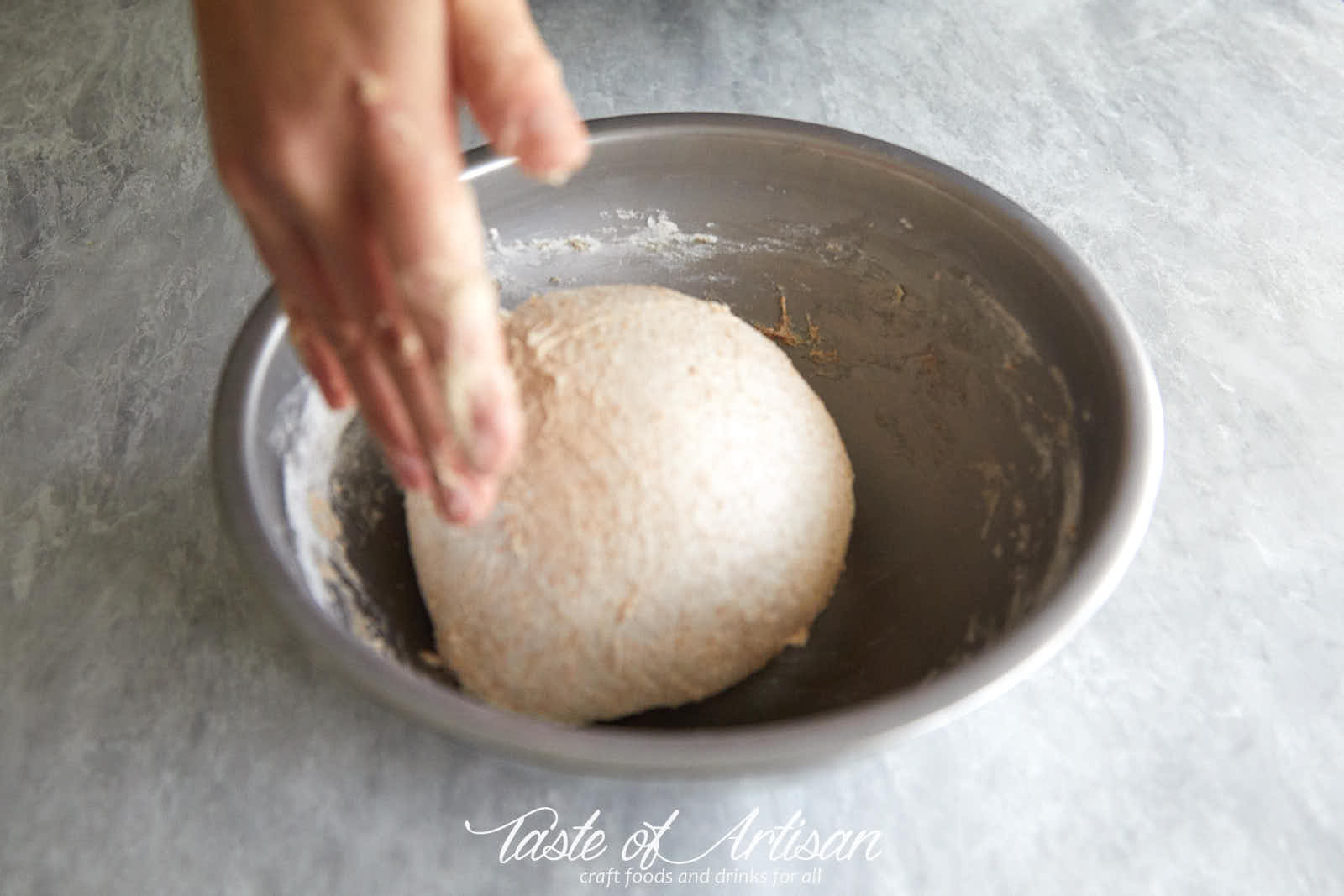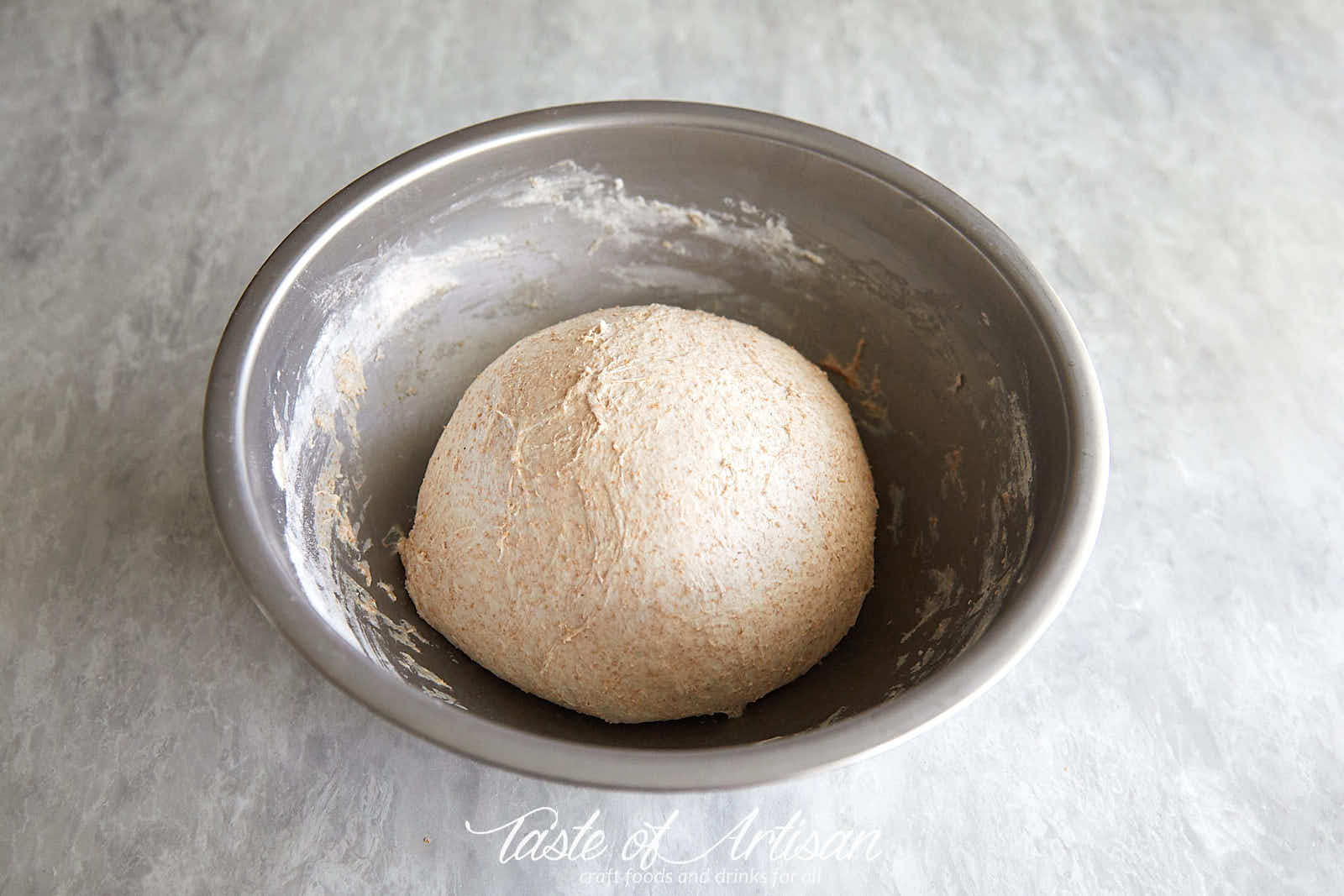 Artisan-Sourdough-Bread-Recipe-Stretch-Fold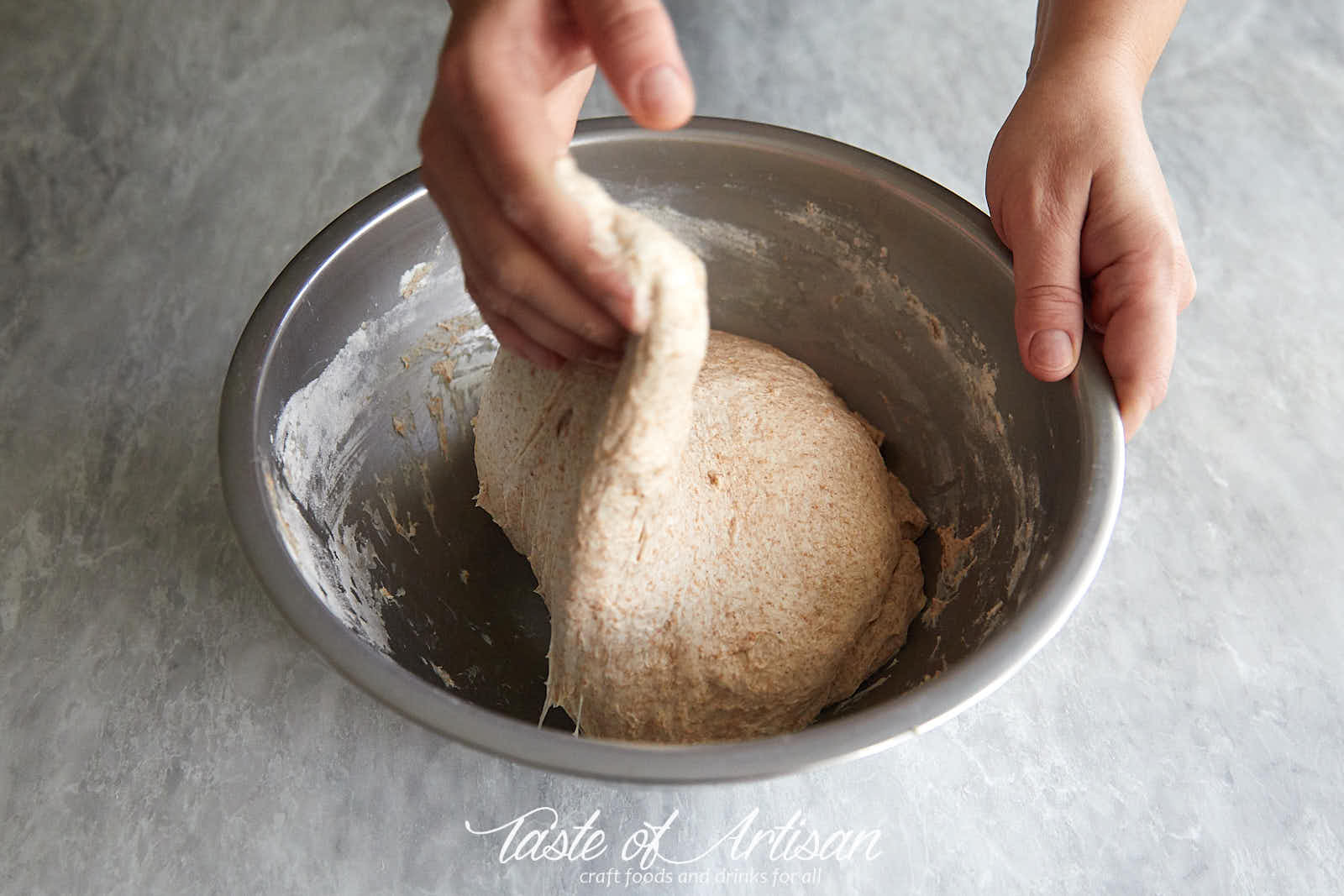 Artisan-Sourdough-Bread-Recipe-Stretch-Fold 1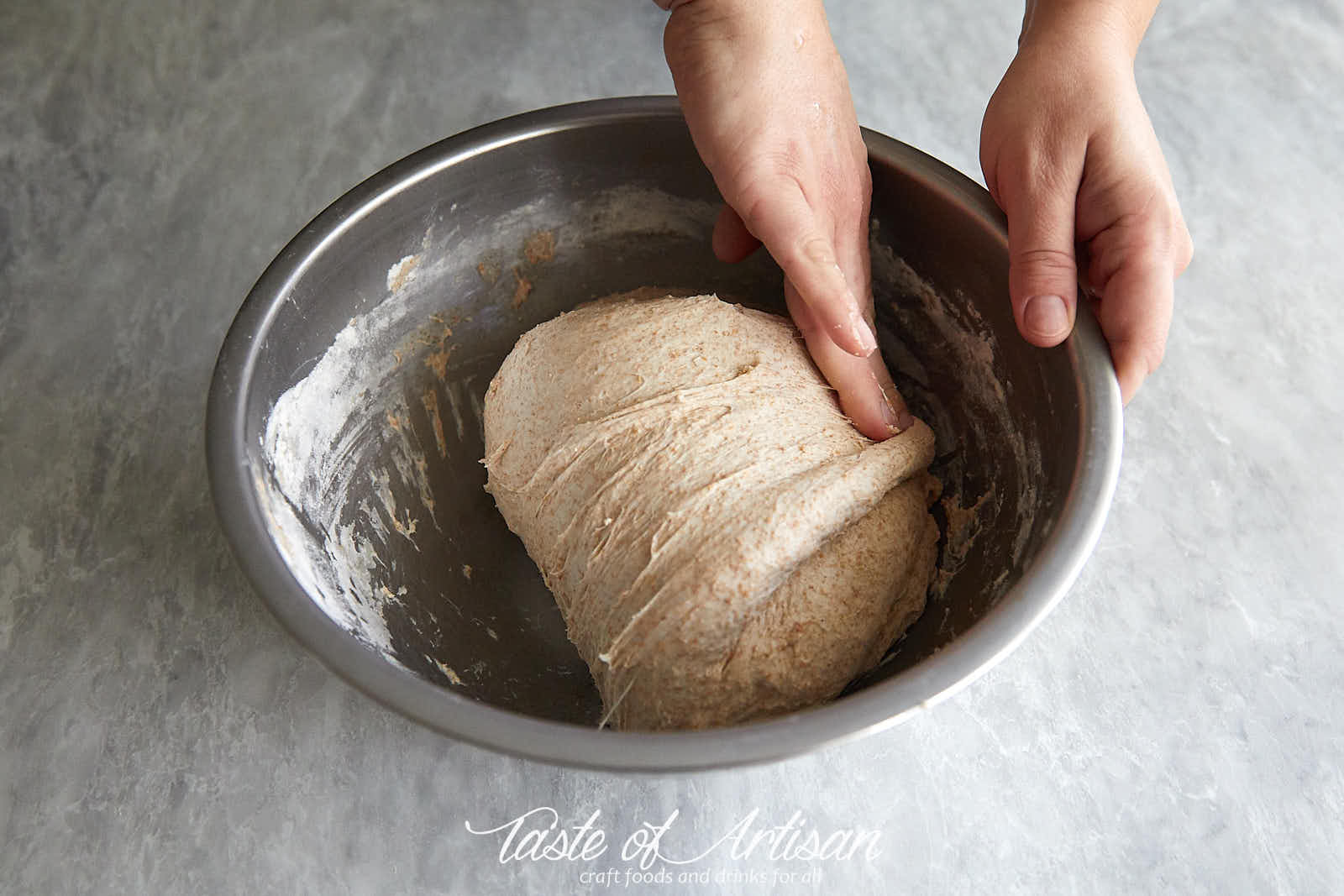 Artisan-Sourdough-Bread-Recipe-Stretch-Fold 2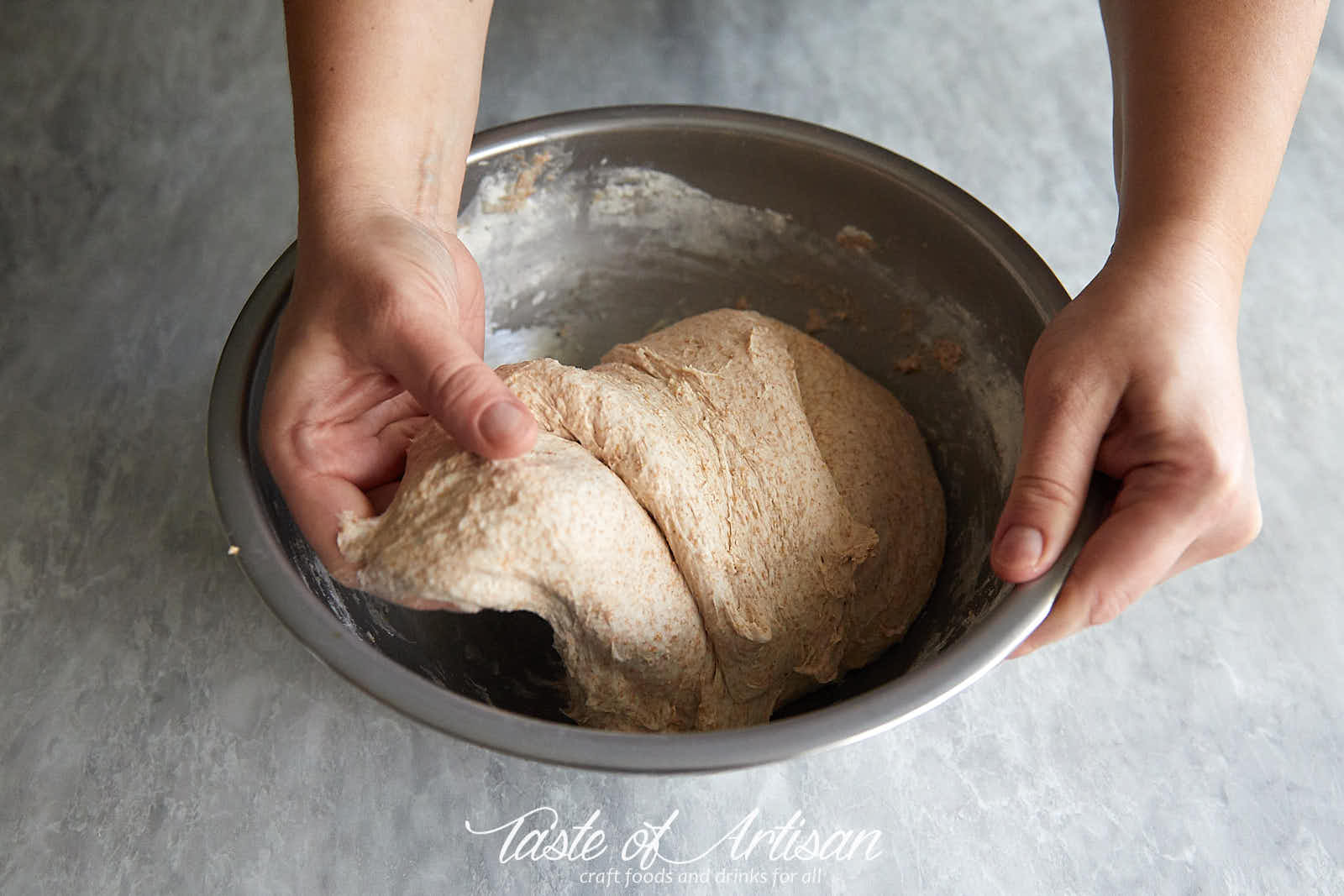 Artisan-Sourdough-Bread-Recipe-Stretch-Fold 3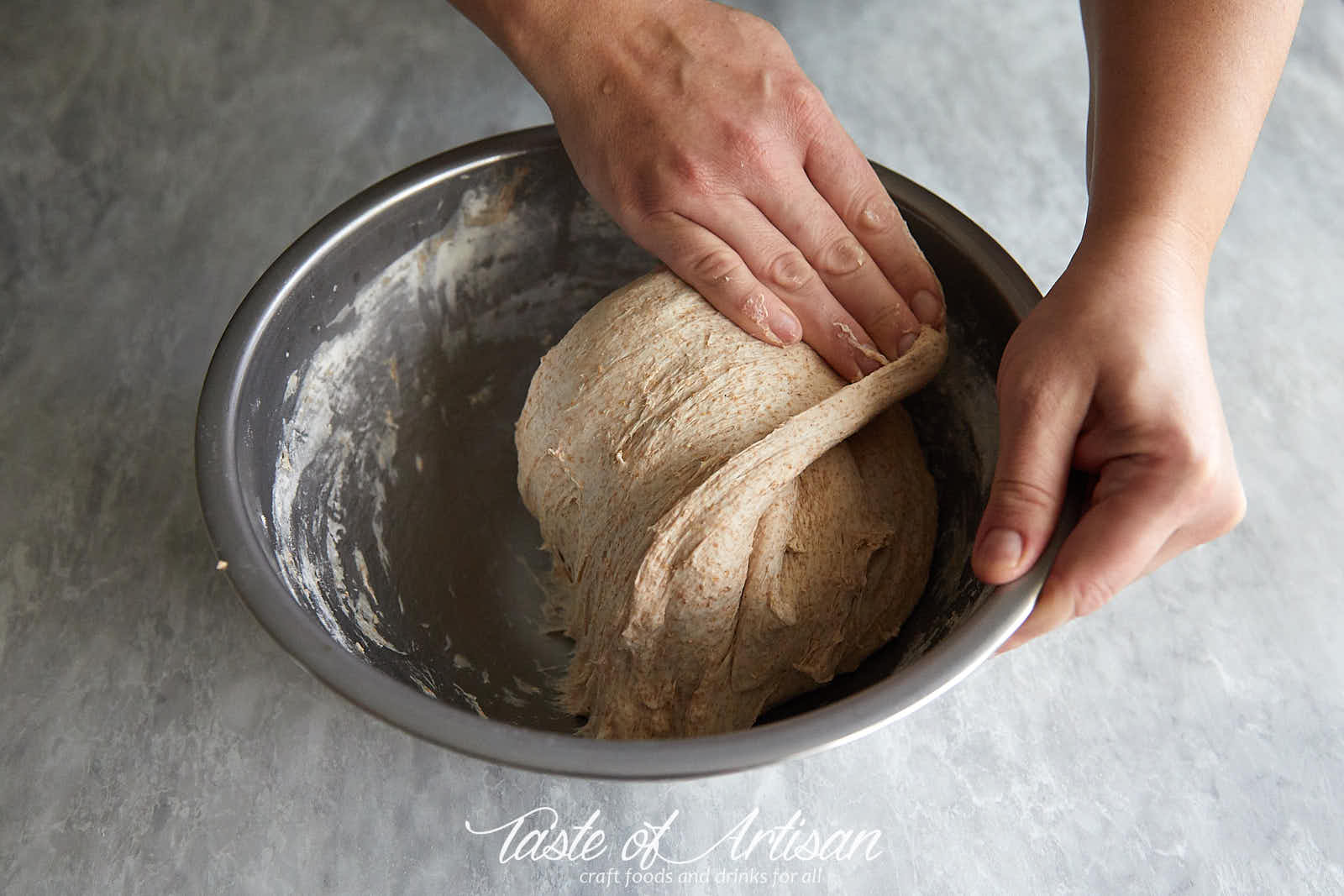 Artisan-Sourdough-Bread-Recipe-Stretch-Fold 4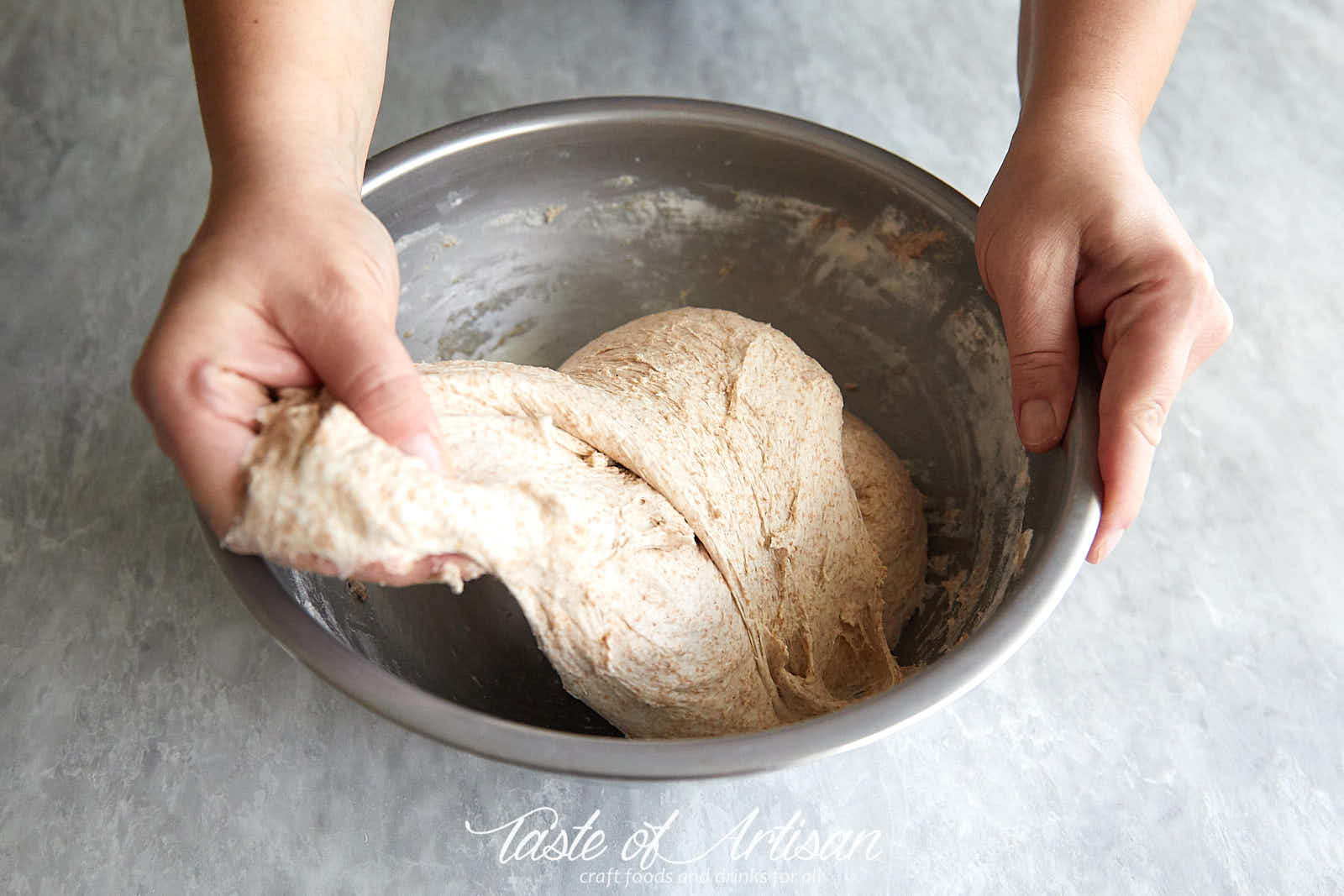 Artisan-Sourdough-Bread-Recipe-Stretch-Fold 8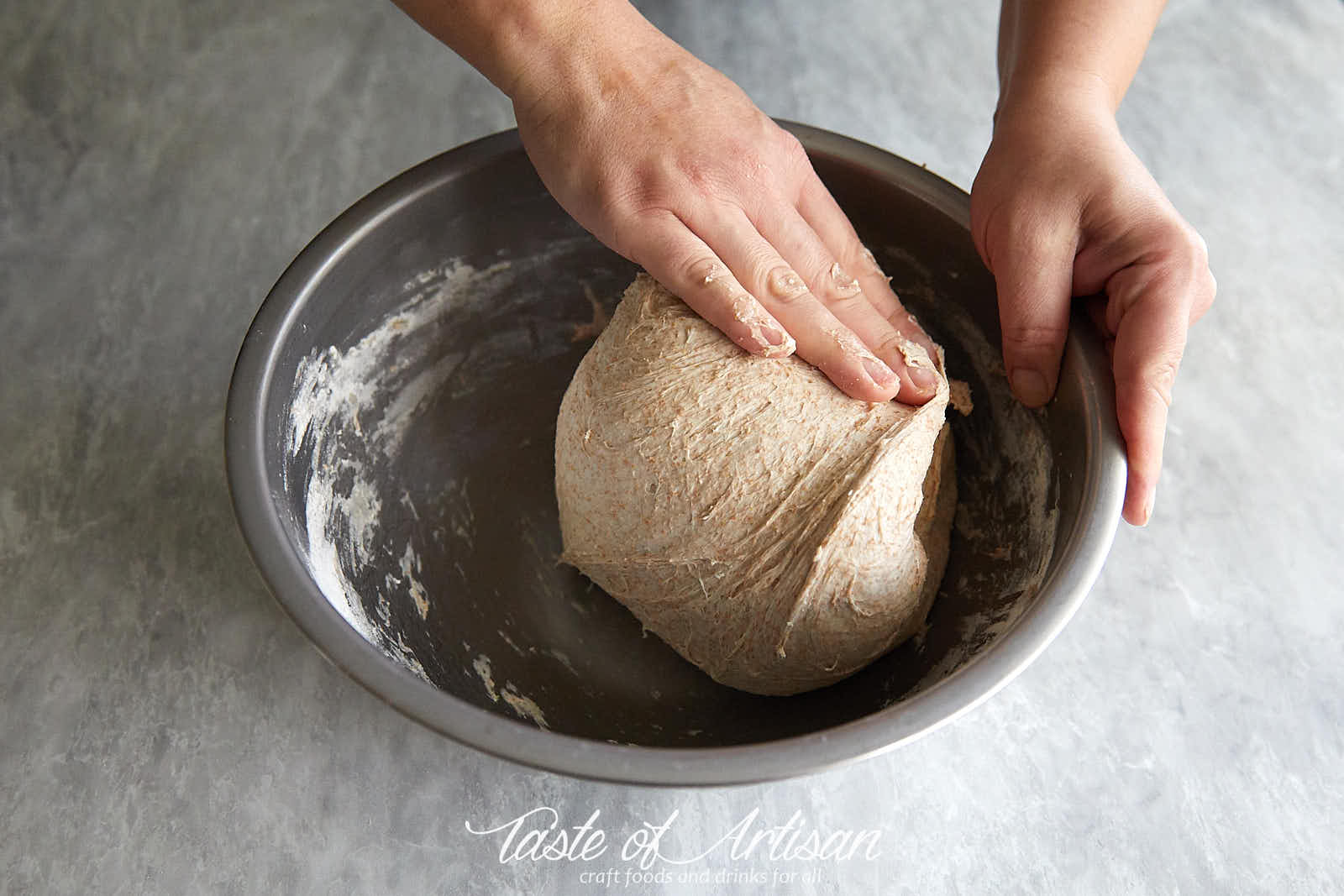 Artisan-Sourdough-Bread-Recipe-Stretch-Fold 6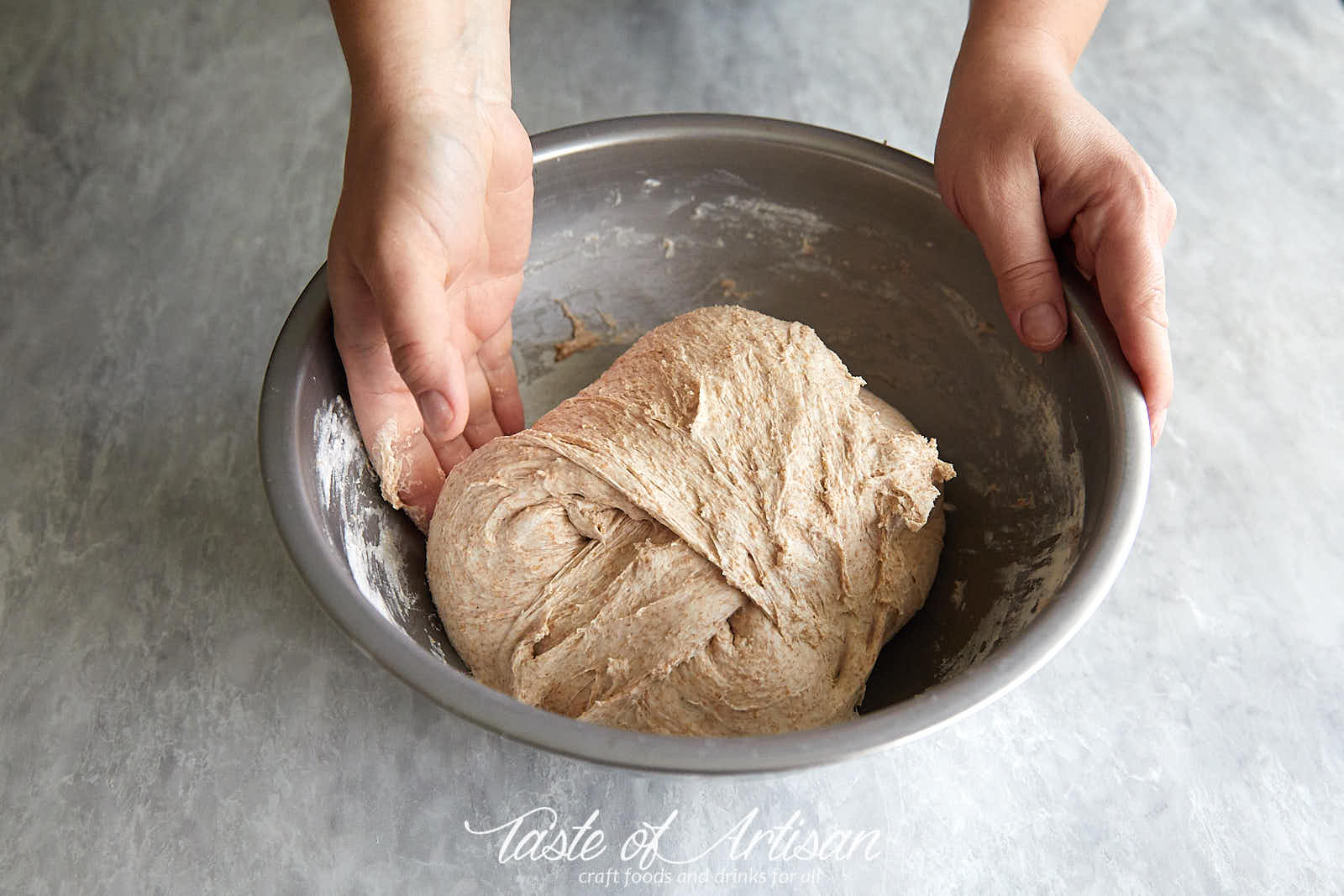 Artisan-Sourdough-Bread-Recipe-Stretch-Fold 7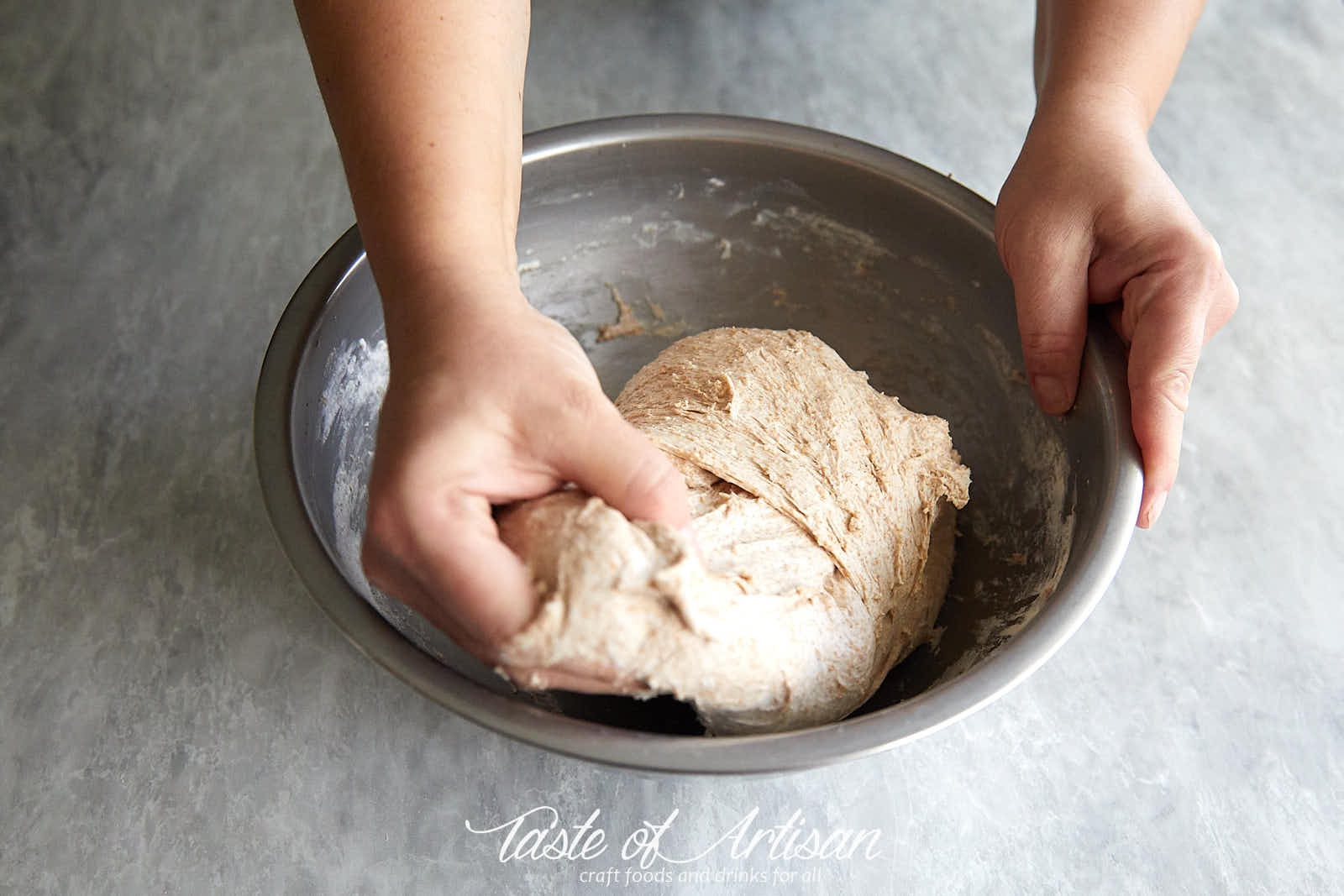 Artisan-Sourdough-Bread-Recipe-Stretch-Fold 5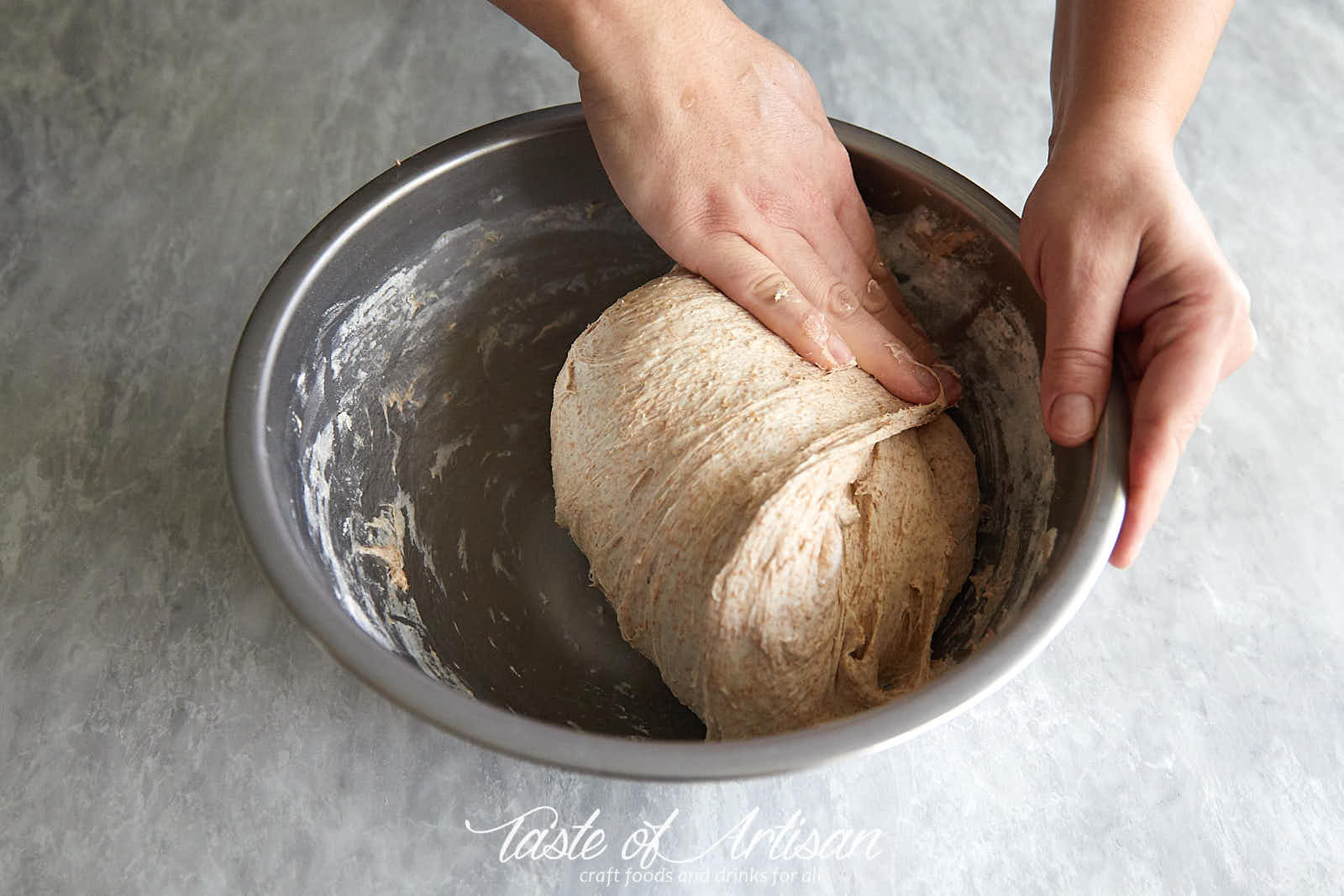 Artisan-Sourdough-Bread-Recipe-Stretch-Fold 9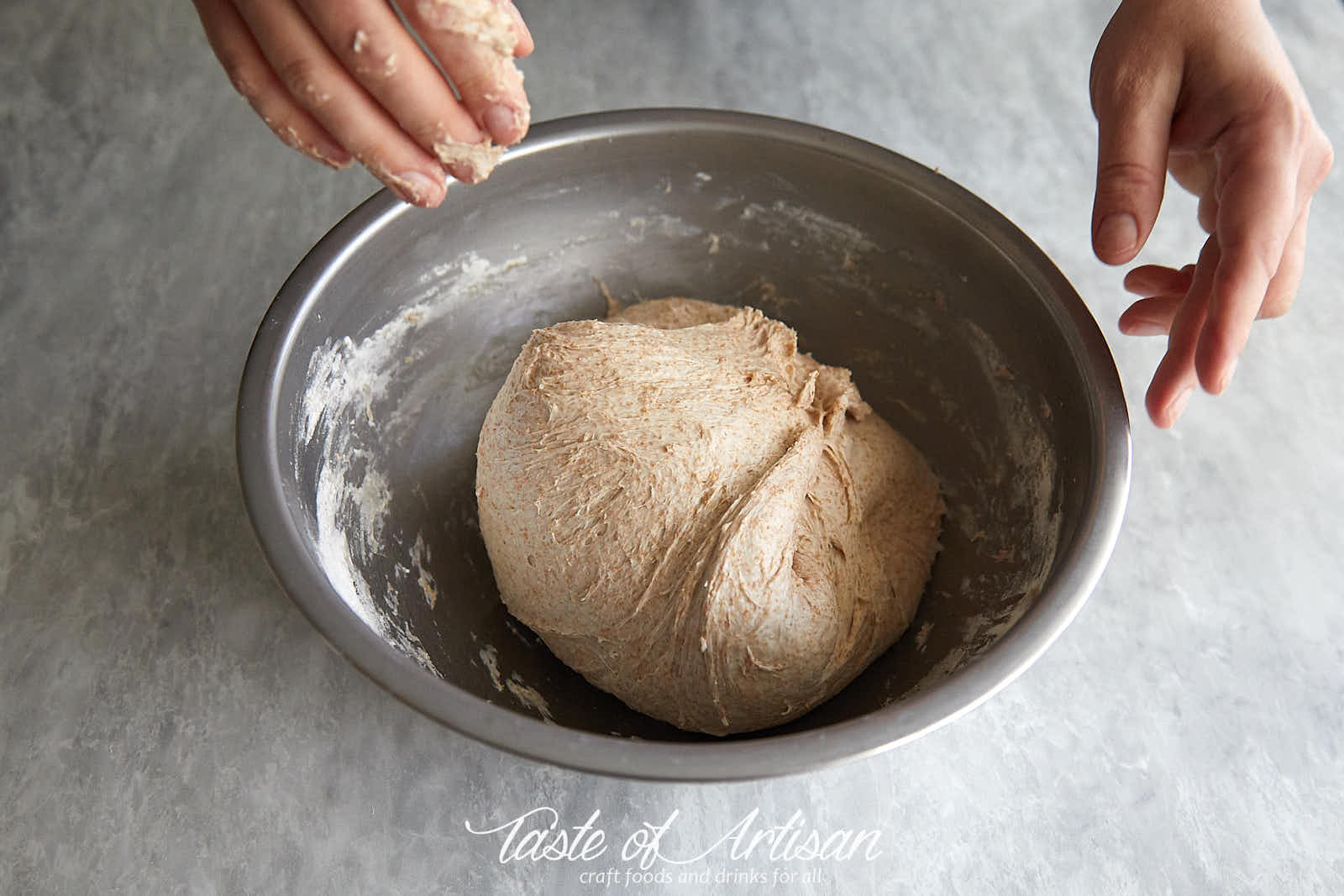 Artisan-Sourdough-Bread-Recipe-Stretch-Fold 10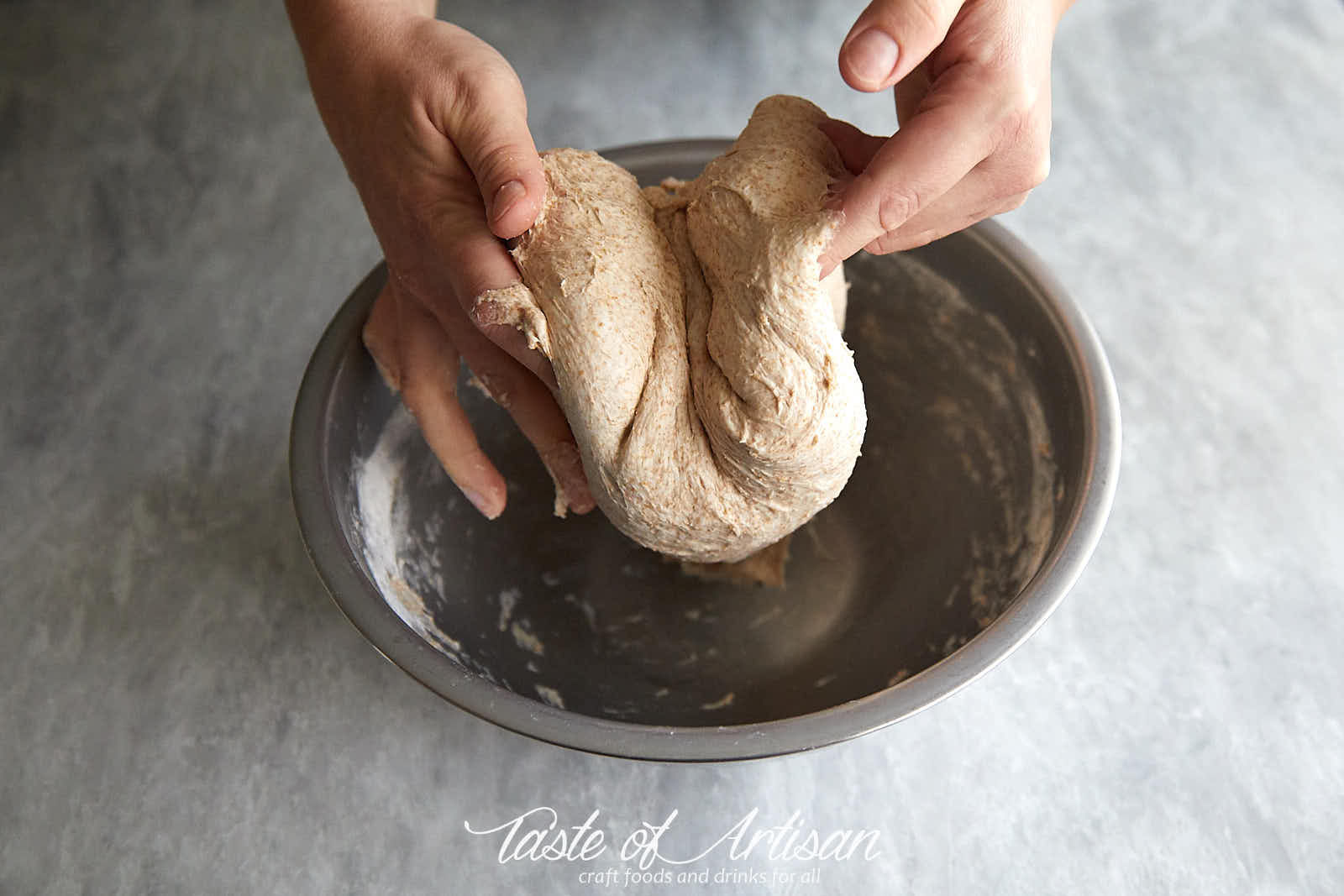 Artisan-Sourdough-Bread-Recipe-Stretch-Fold 11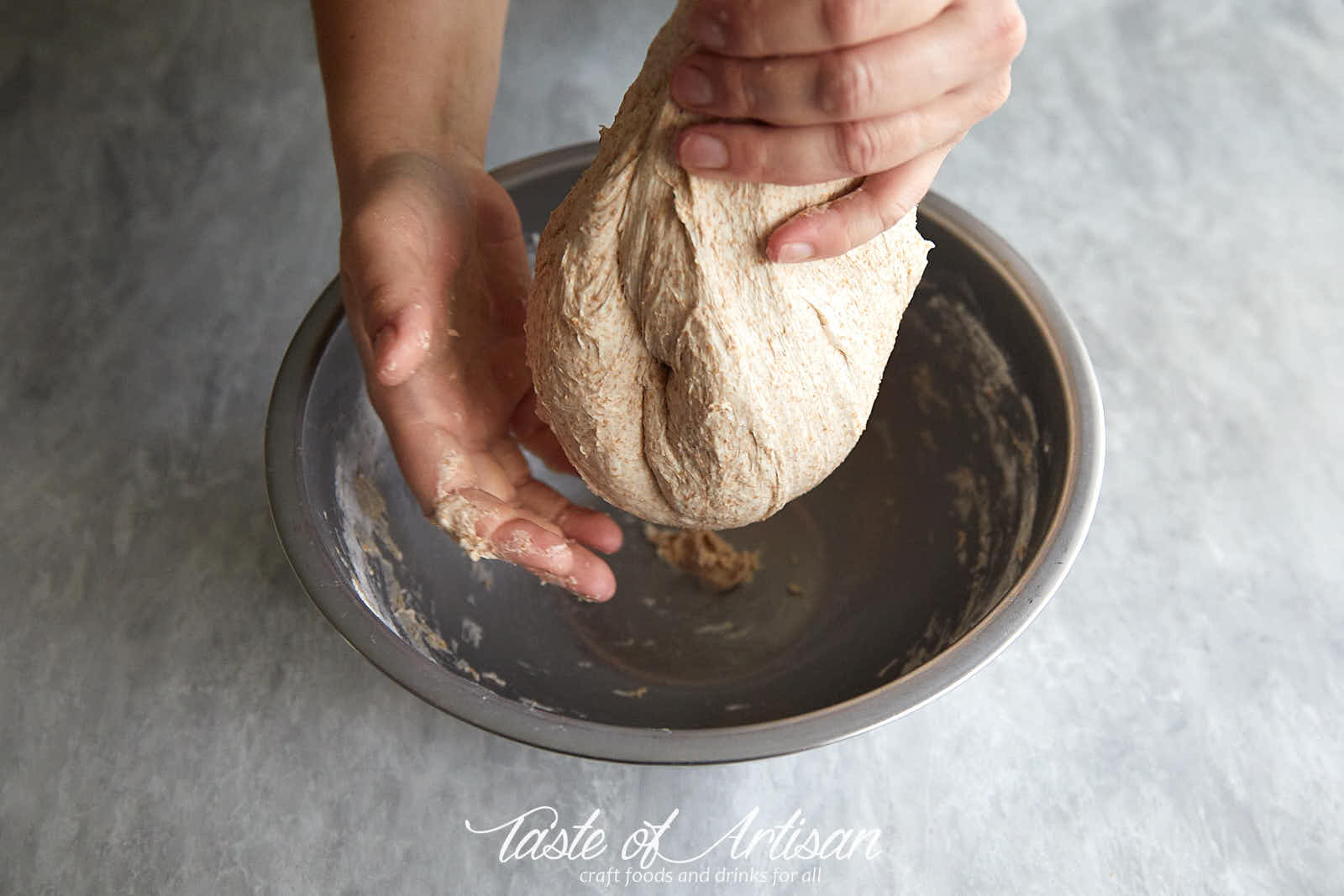 Artisan-Sourdough-Bread-Recipe-Stretch-Fold 12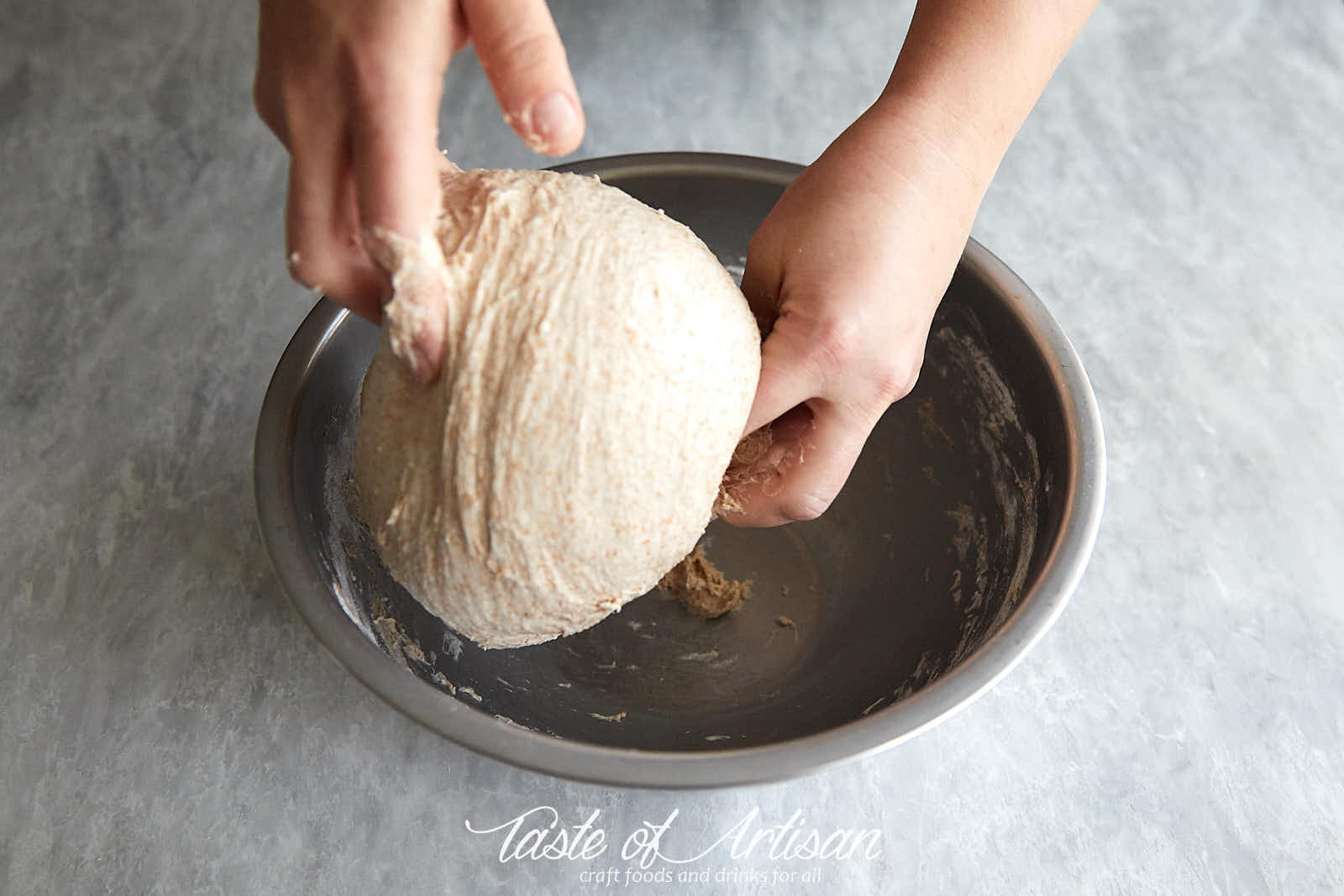 Artisan-Sourdough-Bread-Recipe-Stretch-Fold 13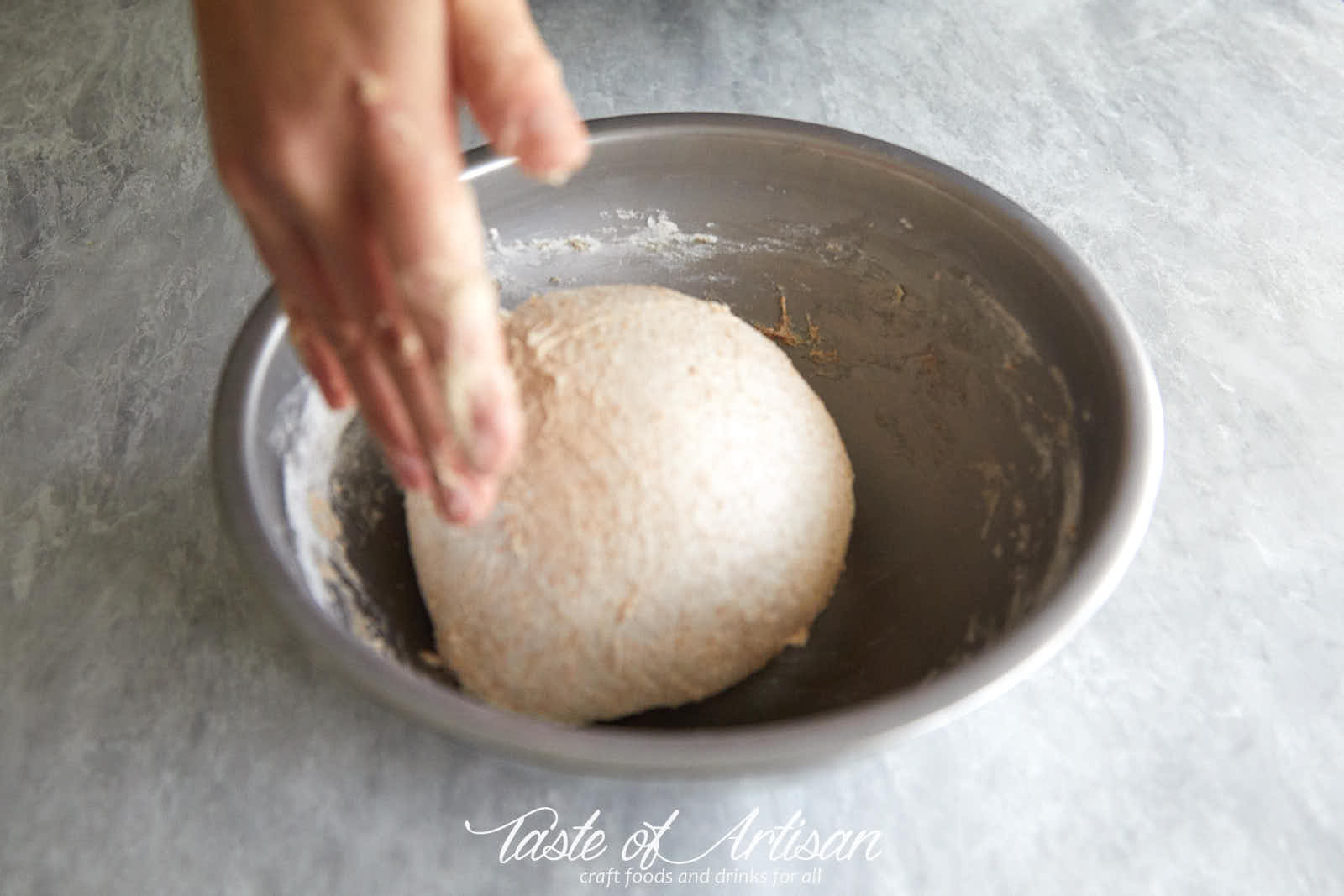 Artisan-Sourdough-Bread-Recipe-Stretch-Fold 14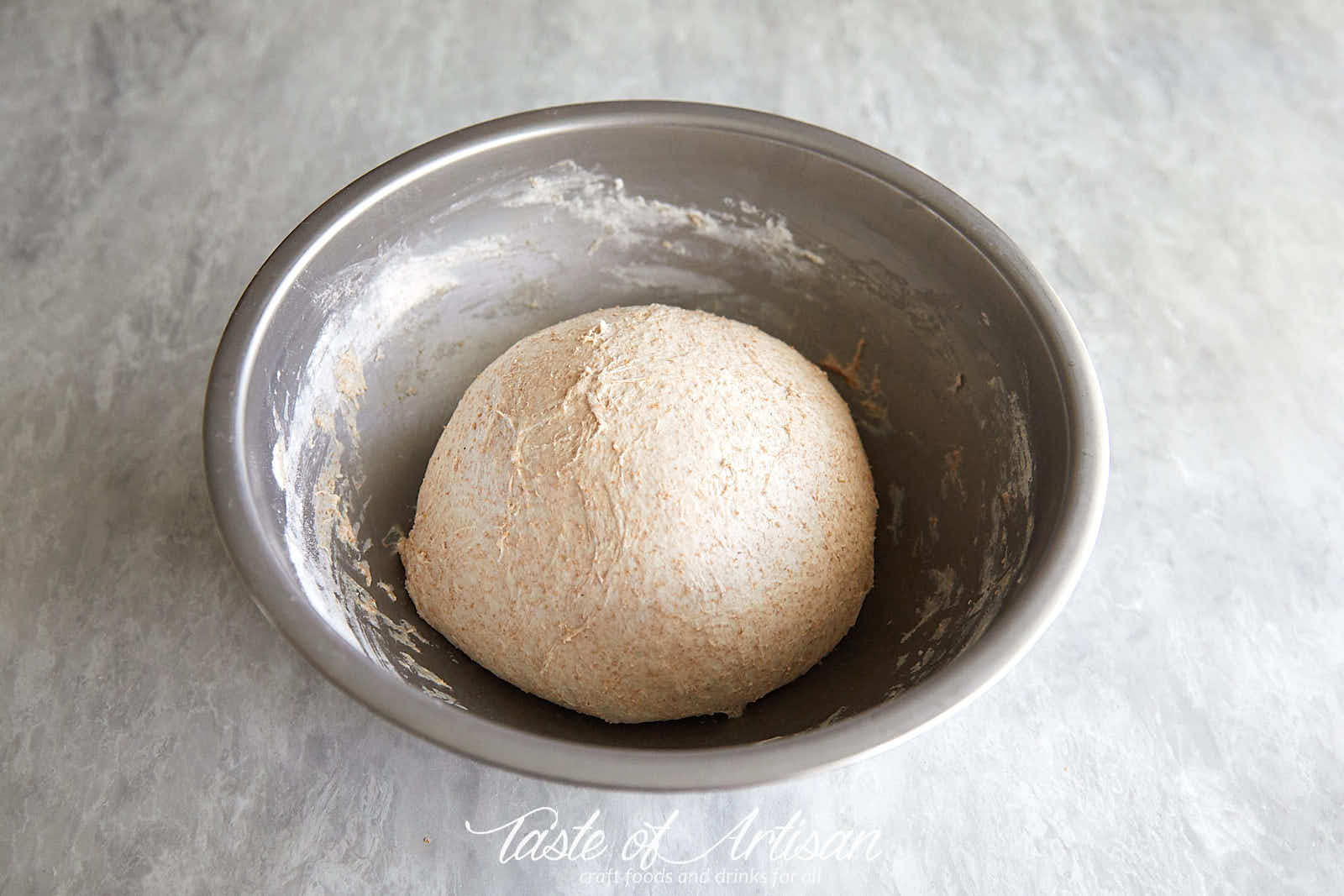 The purpose of the stretch and fold method is to stretch and align strands of gluten, which strengthens the dough. It results in larger bubbles in the crumb, making it open and airy. I do three stretch and fold iterations over a period of one and half hours.

At the end of each iteration I pick up the dough ball and turn it up side down.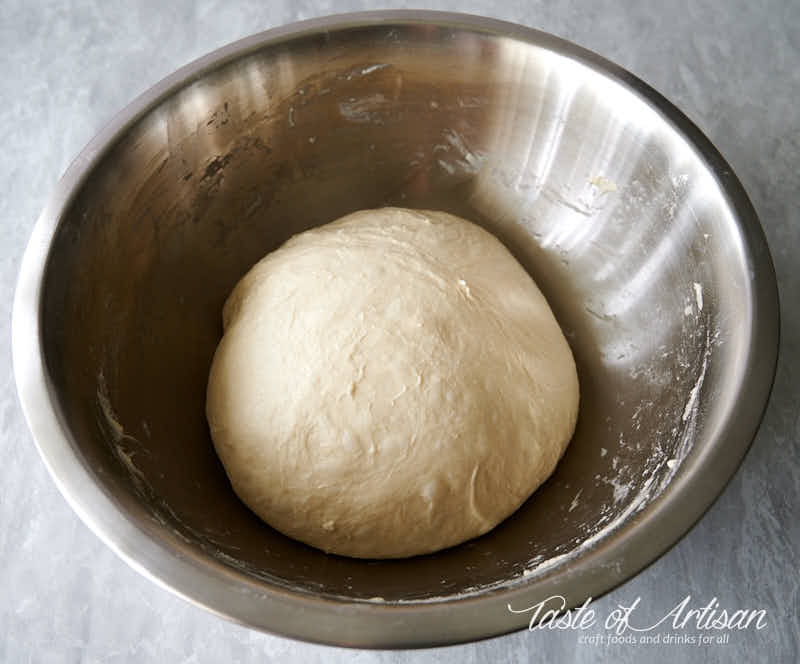 By the time I am done doing stretching and folding the dough is smooth, soft and elastic, slightly risen with some small blisters showing on the surface.
I cover it and let it continue rising for another one and a half hours or so, until it about doubles in size.
Proofing
After fermentation the dough will need to be proofed. Make sure that the proofing basket is sufficiently floured with a 50/50 mix of all-purpose and rice flour to prevent sticking. For this recipe, you will need a 9" round banneton.
My current favorite are wood pulp bannetons from Ernst Birnbaum. Ever since I've started using them sticking has not been an issue even with very wet doughs that I normally work with. You need just a tiny bit of flour and breads come out quite clean. You can buy these on Amazon, or order directly from Germany like I did. It will be more economical to buy there if you need a few of them, plus the variety there is unmatched.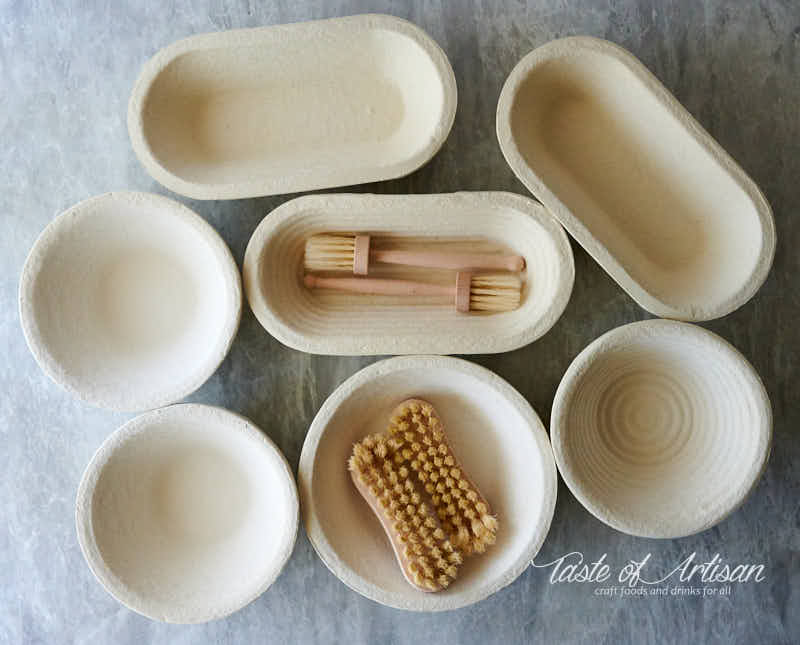 Once the dough has sufficiently risen, I transfer it to a proofing basket seam side down.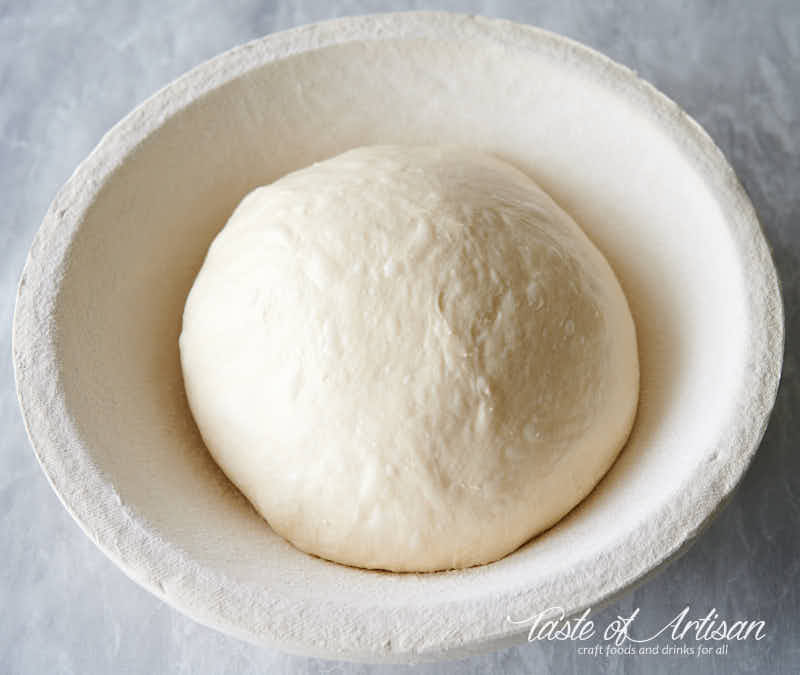 Cover the dough with a paper towel to prevent sticking, then with a piece of plastic wrap to keep the moisture in.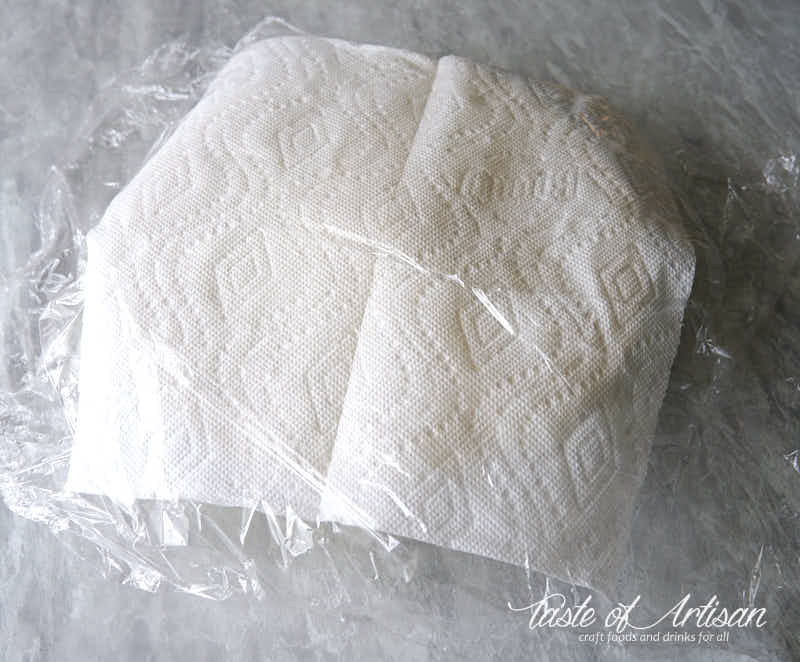 Proofing continues for about an hour or until the dough has increased in size about one and half times and is fully proofed.
The best way to tell if the dough is ready for baking is to gently poke it with a (lightly floured) finger. If the dough is sufficiently proofed the indentation springs back very slowly.  If it's under-proofed, the dough will spring back rather quickly. Over-proofed dough won't have much strength and the indentation will remain as is.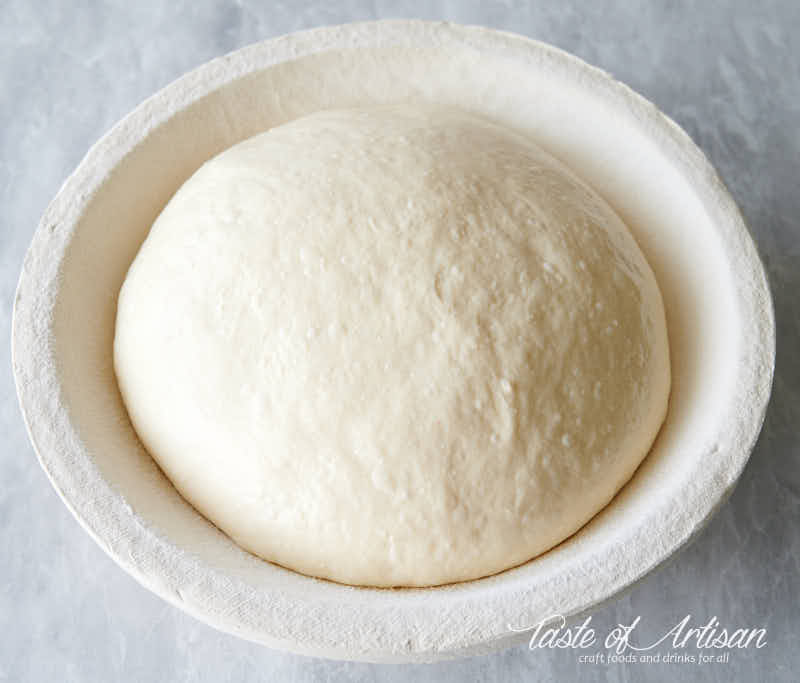 Scoring
The ready to bake dough is gently turned over on a piece of parchment paper.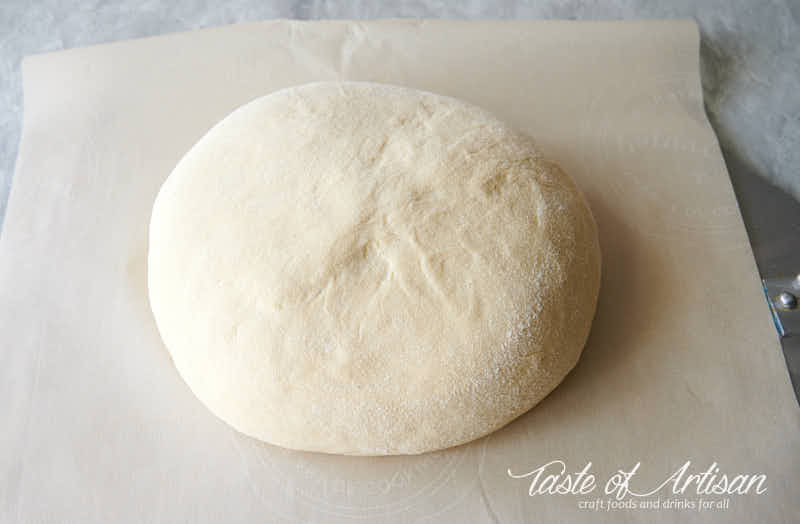 The top is scored with a bread lame to allow the bread quickly expand in the oven, also known as 'oven spring'. Without scoring, bread tends to have a denser, less open crumb, despite being perfectly proofed.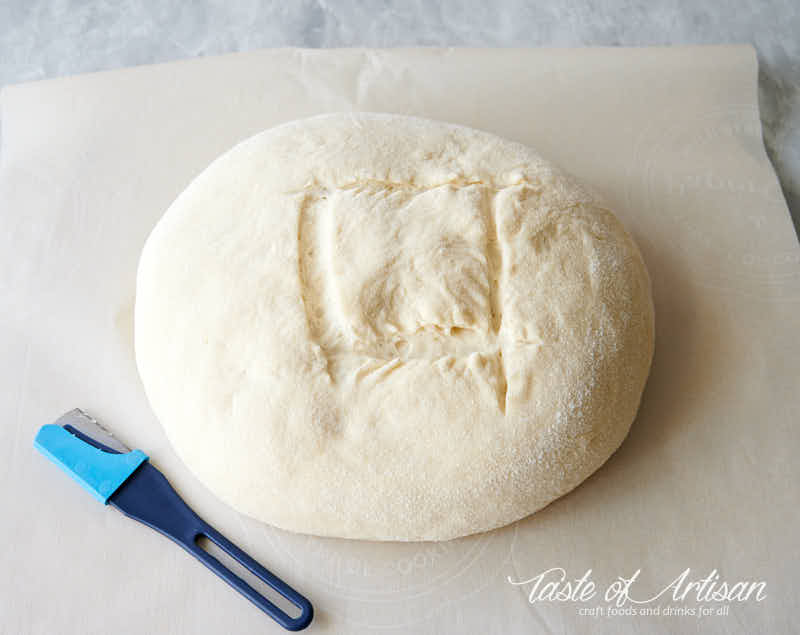 The scores should be about 3/8" deep and relatively short. If you go too far side to side and/or make them deep, the bread will spread out instead of rising up.
Baking
I bake my no-knead bread on a heavy duty baking stone with a steam pan for the first half (25 minutes) and without for the second half (25 minutes) with the oven door cracked-open. The oven is preheated to 500F but the temperature is reduced to 450F once the bread goes in. This dries out the crust, making it thin, crackly and beautifully colored.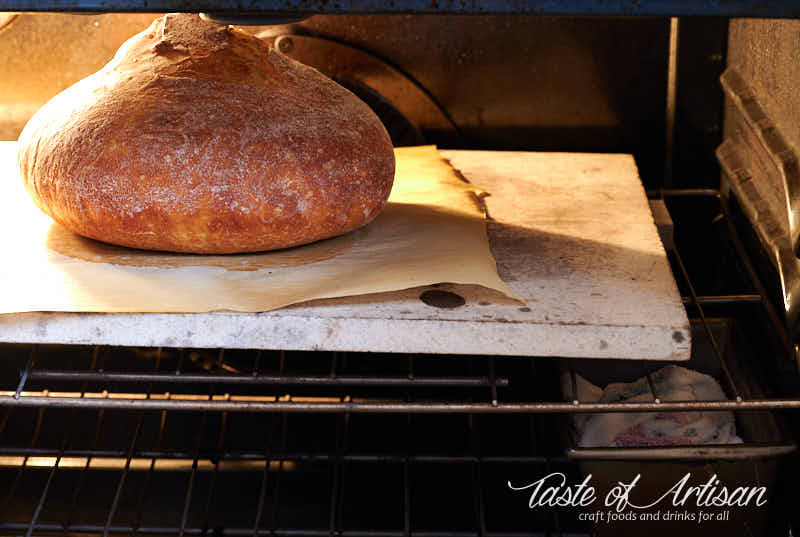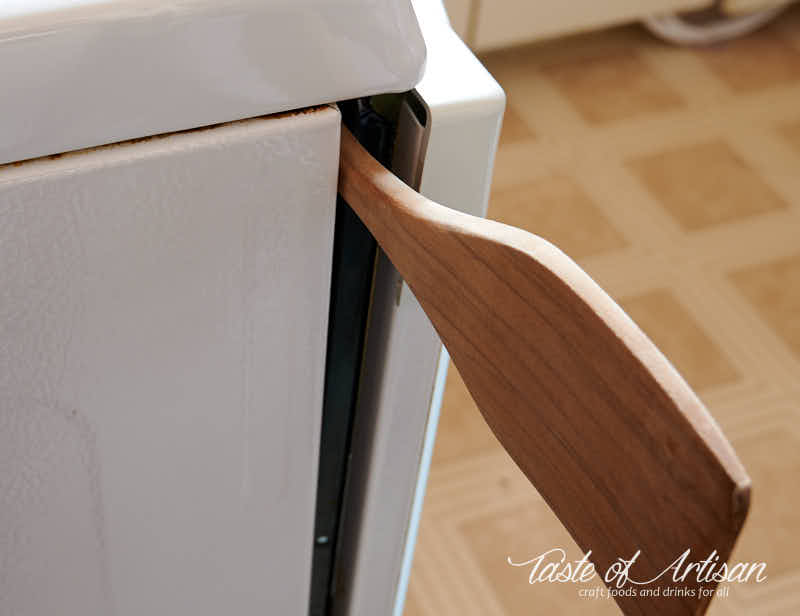 Tips and tricks
So, what made this bread so special and taste so different from other no-knead breads I made a long time ago? I don't think it was one thing but rather a combination of little things. The list may not be complete but you will find some helpful points to help you take your no-knead bread to the next level, like I did.
Using fresh King Arthur All-Purpose flour. I love this flour. It makes amazing baguettes. It's great for white bread too.
SAF yeast. So many great reviews gets this yeast. I've noticed an improved openness of crumb and softer texture when using it. For quicker rises I use SAF Gold.
Ditching the cast iron Dutch oven. The crust is so much better when bread is baked on a stone. And so is the oven spring. You can also bake larger or multiple loaves on a large stone.
Stretching and folding the dough during bulk fermentation. No, it's not kneading. You don't need to be too precise about it. But it helps the dough develop gluten strands which results in a much improved, open crumb and overall light and airy texture. Three sets of stretch and folds every 30 minutes are enough. Each set literally takes 5 seconds to complete.
Adding a bit of honey. It does wonders to the taste and makes white bread so much more enjoyable.
Weighing ingredients. Each cup of flour has a variance of 10-20 grams. Four cups can potentially reduce or increase your flour to water ratio by 10 percent. That's huge and will have a noticeable effect on the final result.
Creating a sufficient amount of steam in the oven for the initial 'oven spring'. This is achieved by using a water pan with a kitchen towel in it for slow steam release, preheating the oven slightly higher than the baking temperature, and spraying a bit of water in the walls of the oven after the bread is in.
Proper scoring improves the oven spring and, hence, the openness of the bread's crumb.
Baking the bread during the second half with the oven door cracked open. This does wonders to bread crust, making it darker and giving it a thin, crackly skin.
Substituting 50 grams of all-purpose flour for rye flour. It adds more flavor and improves the taste.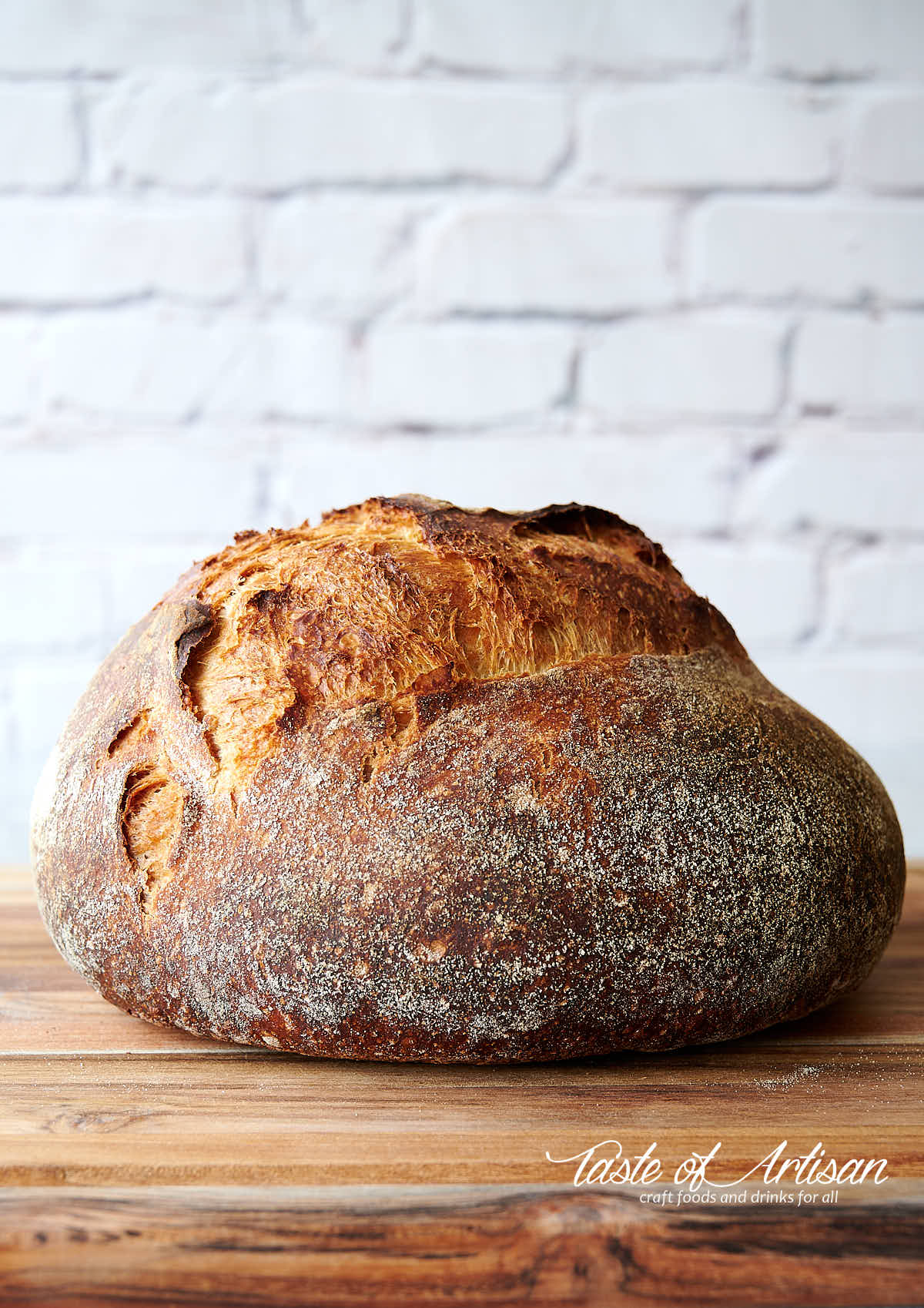 How to make this no-knead bread even quicker
Longer fermentation and/or proofing give bread better flavor and vice versa. But, sometimes we are in a rush and need make bread fast. Freshly baked bread that may not have all the flavor it could have is way better than no bread at all, right? You can easily shave off another hour or even two by doing these two things:
Use warm water when mixing the dough
Ferment and proof in the oven with the light on (stretch and folds every 20 minutes)
This will make the quickest no-knead bread but I guarantee you, it will still taste great and blow the socks off your friends who will try it.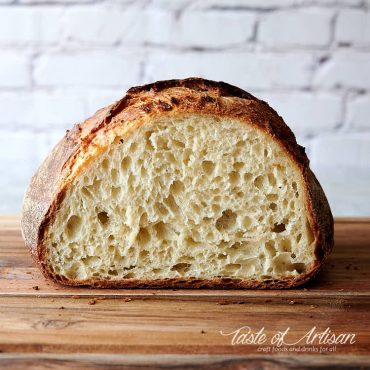 Advanced No-Knead Bread Recipe
Advanced recipe and technique to make the best no-knead bread.
Print
Pin
Rate
Ingredients
600

g

all-purpose flour

(about 4 cups using 'scoop and sweep' method; King Arthur brand recommended)

450

g

water

(2 cups, room temperature)

21

g

honey

(1 Tbsp)

12

g

kosher salt

(two tsp)

3

g

SAF Gold instant yeast

(1 tsp)
Instructions
Add the water and honey to a large bowl and mix until the honey is dissolved.

Add the rest of the ingredients and mix by hand, squeezing the dough between your fingers, until a sticky homogeneous mass is formed. Cover the bowl with a plastic wrap and let rest for 1 hour.

After one hour, perform stretch and folds every 30 minutes over the next one and half hours. Let the dough continue its fermentation for additional one and a half hours or until it doubles in size.

Shape the dough in a ball and transfer to a proofing basket dusted with a 50/50 mix of all-purpose and rice flour, seam side down.

Cover with a piece of paper towel (this will prevent sticking of the dough to the plastic wrap), then with a plastic wrap. Let proof for about 60 minutes or until the dough passes the finger test (see post for details). The dough will increase in size about one a half times or so.

Meanwhile, place a baking stone and a steam pan in the oven (see notes). Preheat the oven to 500F. An hour of preheating is recommended.

Turn the bread over on a piece of parchment paper. Score on top and place in the oven using a pizza shovel. Be careful opening the oven, it will be full of hot steam. Spray the walls of the oven with a bit of water (gentle mist) to re-create some of the lost steam and close the door.

Immediately drop the temperature to 450F and bake for 25 minutes.

Remove the water pan from the oven, turn the bread 180 degrees and leave the door cracked open. You can use a wooden spoon for that. Bake for another 25 minutes.

When the baking is done, remove the bread from the oven and place on a cooling rack. Cool for 1 hour at room temperature before slicing.
Notes
The steam pan is a bread pan with a rolled up kitchen towel inside and filled with water. As the oven preheats, the water will heat up and start boiling. The kitchen towel will ensure a slow and steady steam release during baking. I position the steam pan below the baking stone and to the side. If possible, the stone should not be directly above the steam pan for efficient steam flow.
If your oven, like mine, has a steam vent, you may want to close it with a kitchen towel during the first 25 minutes of baking.
Nutrition
Calories:
187
kcal
|
Carbohydrates:
40
g
|
Protein:
5
g
|
Fat:
1
g
|
Saturated Fat:
1
g
|
Polyunsaturated Fat:
1
g
|
Monounsaturated Fat:
1
g
|
Sodium:
391
mg
|
Potassium:
54
mg
|
Fiber:
1
g
|
Sugar:
2
g
|
Vitamin C:
1
mg
|
Calcium:
9
mg
|
Iron:
2
mg
Update on November 2, 2019
This bread is even more flavorful when you add whole wheat and/or rye flour to it. Nuts and seeds are a great addition as well.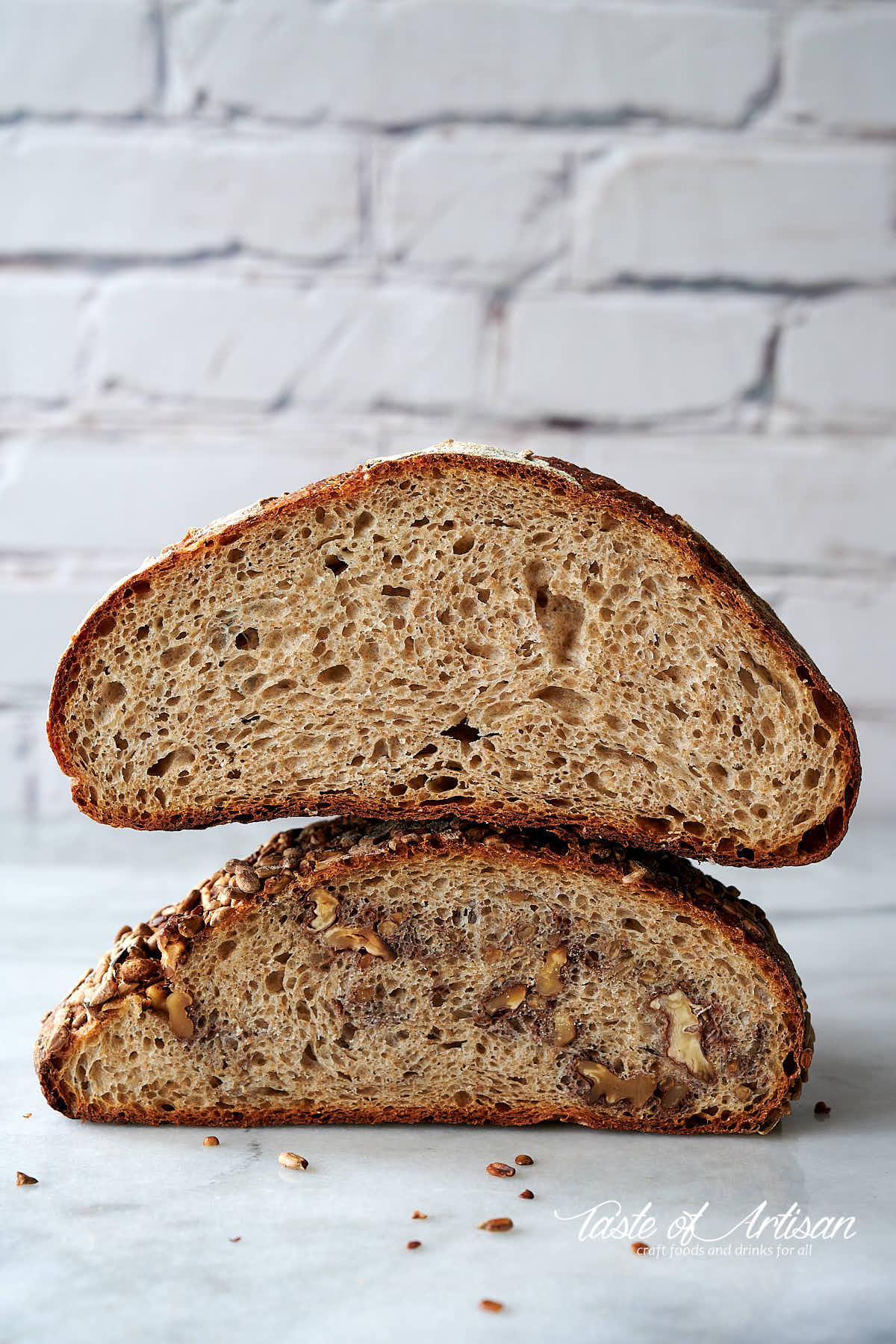 Made this bread with 60% all-purpose flour, 32.5% whole wheat and 7.5% rye flour. The taste is richer, more flavorful. You will get a less pronounced oven spring, and less open, yet still very airy and soft crumb. I like this variation a lot.
The other loaf is of the same composition, but I added a handful each of toasted sunflower seeds and walnuts. Loved it with my morning Americano.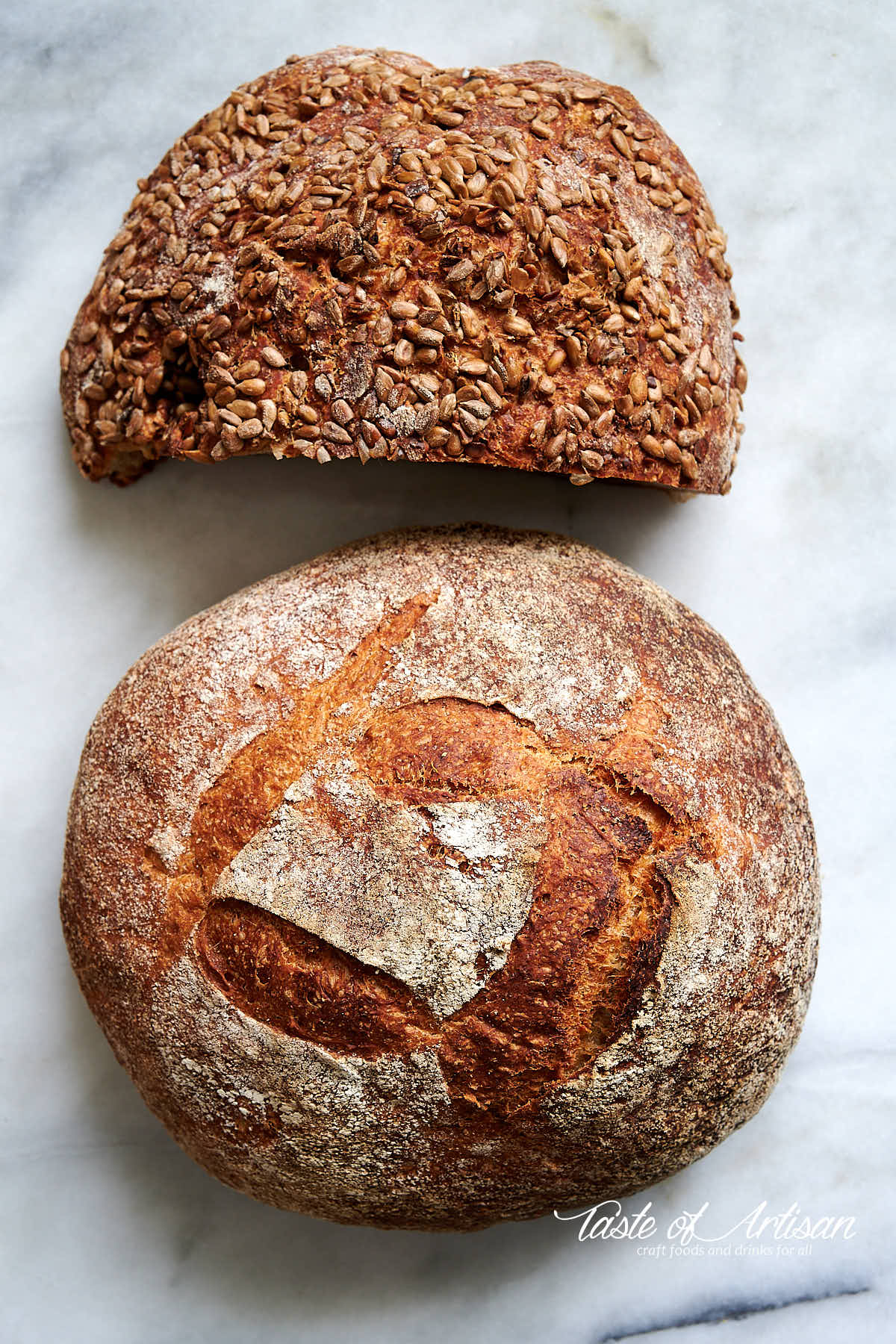 Update November 6, 2019
This loaf is 75% all-purpose, 20% whole wheat and 5% rye flour. I mixed the ingredients too late in the day and finished bulk fermentation only around 10PM. As a result, I shaped the dough, placed in a proofing basket, covered and refrigerated overnight. This technique is called 'cold retarding', I use it for my French baguettes, sourdough bread and more. In the morning, I let the dough warm up for 90 minutes at room temperature, while I was preheating the oven, then baked as usual. There is quite a bit more flavor development due to cold retarding. The taste is just a touch sour, in a way like sourdough bread. Another great loaf that would sure put a smile on any bread lover's face.