This is what I consider the ultimate yeast roll recipe. These yeast rolls come out exceptionally flavorful, very soft, moist, and flaky. They are pure perfection. They melt in your mouth and have a tendency to vanish in the blink of an eye, just like those good old Vanishing Oatmeal Cookies. I call these rolls the Vanishing Yeast Rolls. Make sure to make the full batch. They just go.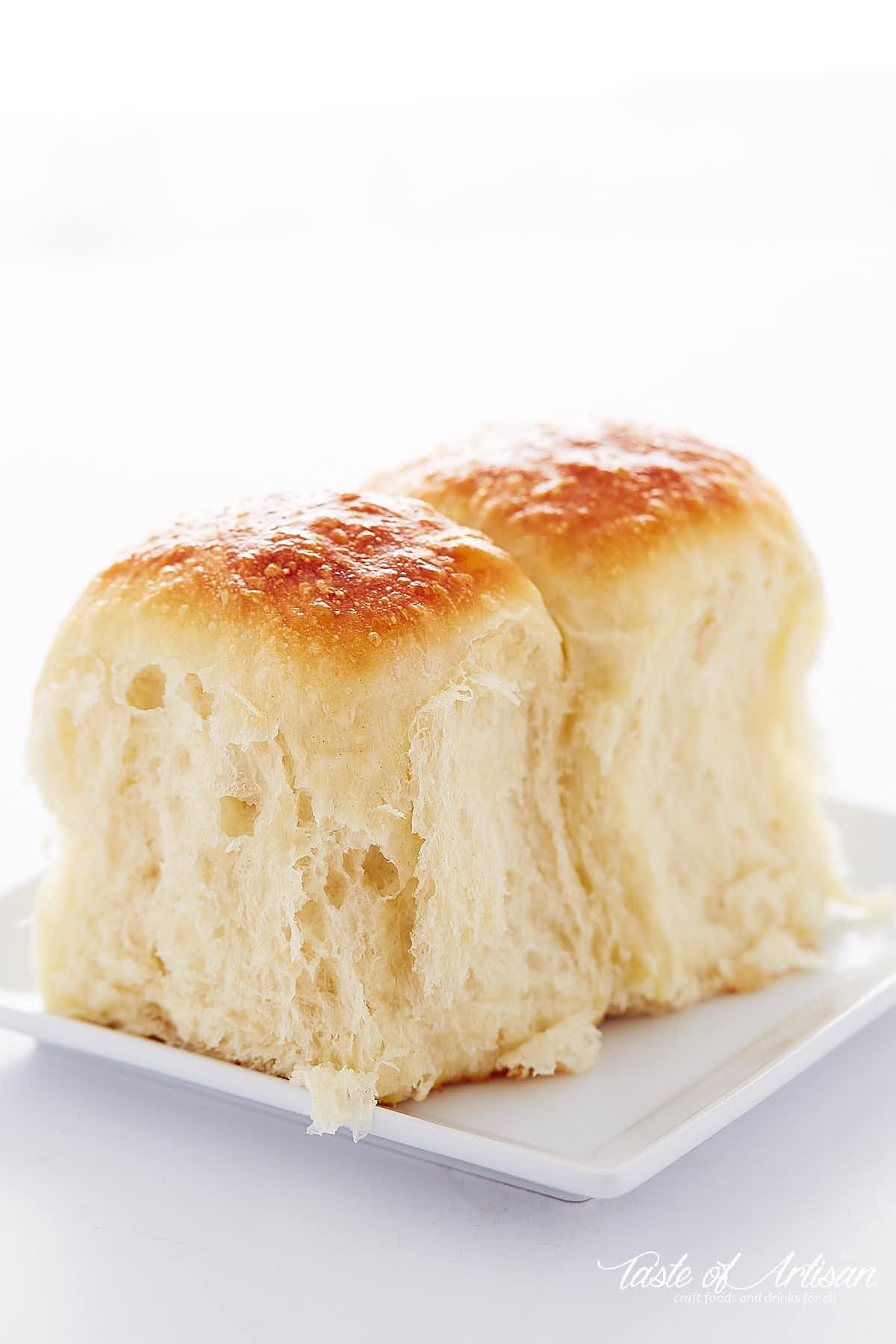 The challenge with yeast rolls
I have a few yeast roll recipes that I like, but none of them is perfect. My favorite rolls would often lack that moist, airy crumb and flakiness I was looking for. Or they would be fine inside but pale and unattractive on the top. I've been experimenting with different flours and dough hydration but with mixed results.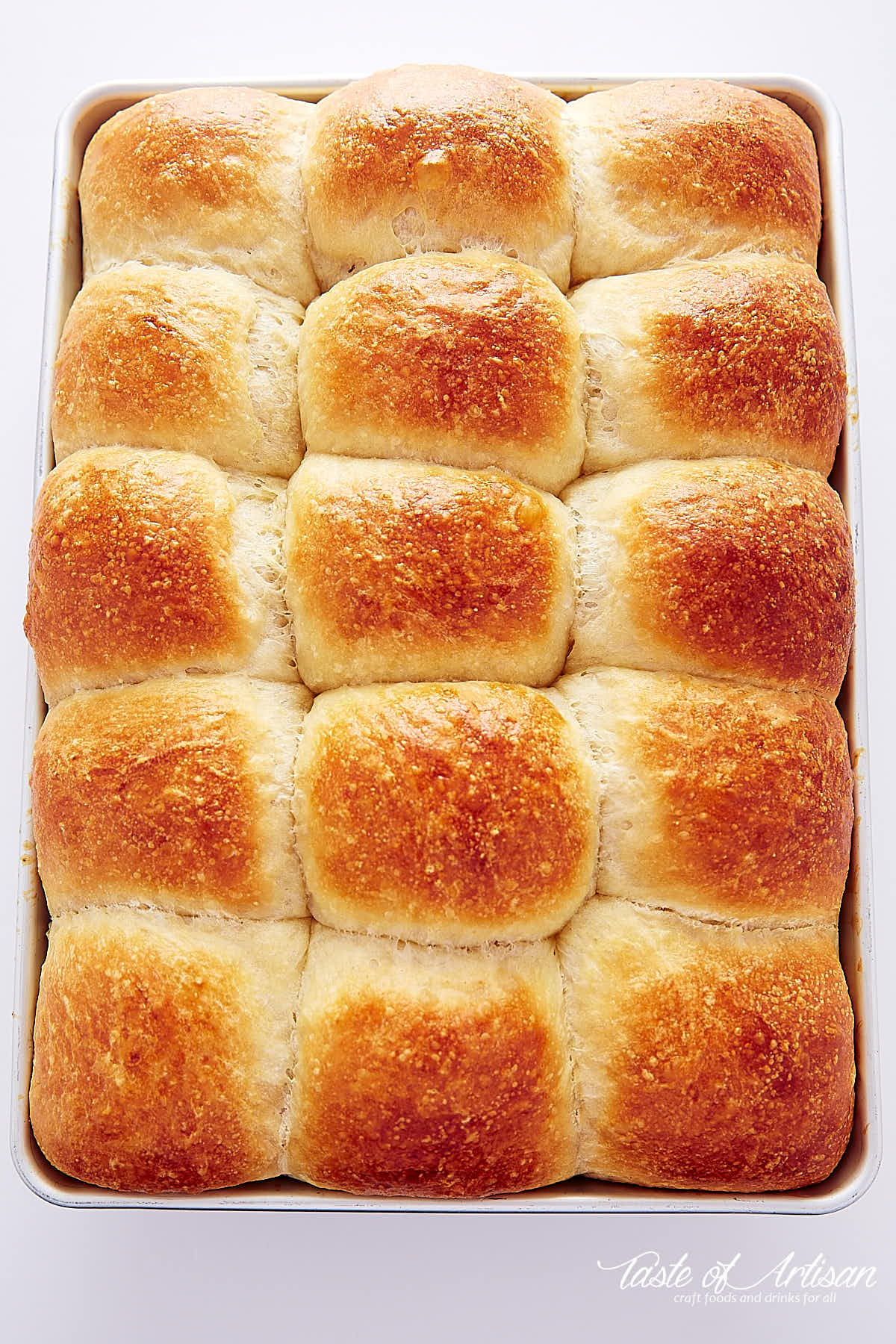 The solution
Then, I once had to make a double batch for a larger party and used a 10 x 14 inch rectangular cake pan for baking. I divided the dough into 15 pieces and arranged the dough balls into 5 rows of 3. The rolls came out bigger and tasted almost how I wanted. It suddenly struck me: smaller yeast rolls dry out faster during baking and lose their softness and moisture. It's common sense, but somehow it was eluding me. I think the reason was that I was trying to get them perfect on the inside as well as those beautifully browned tops. Striking the balance between the two is what I think led to mixed results.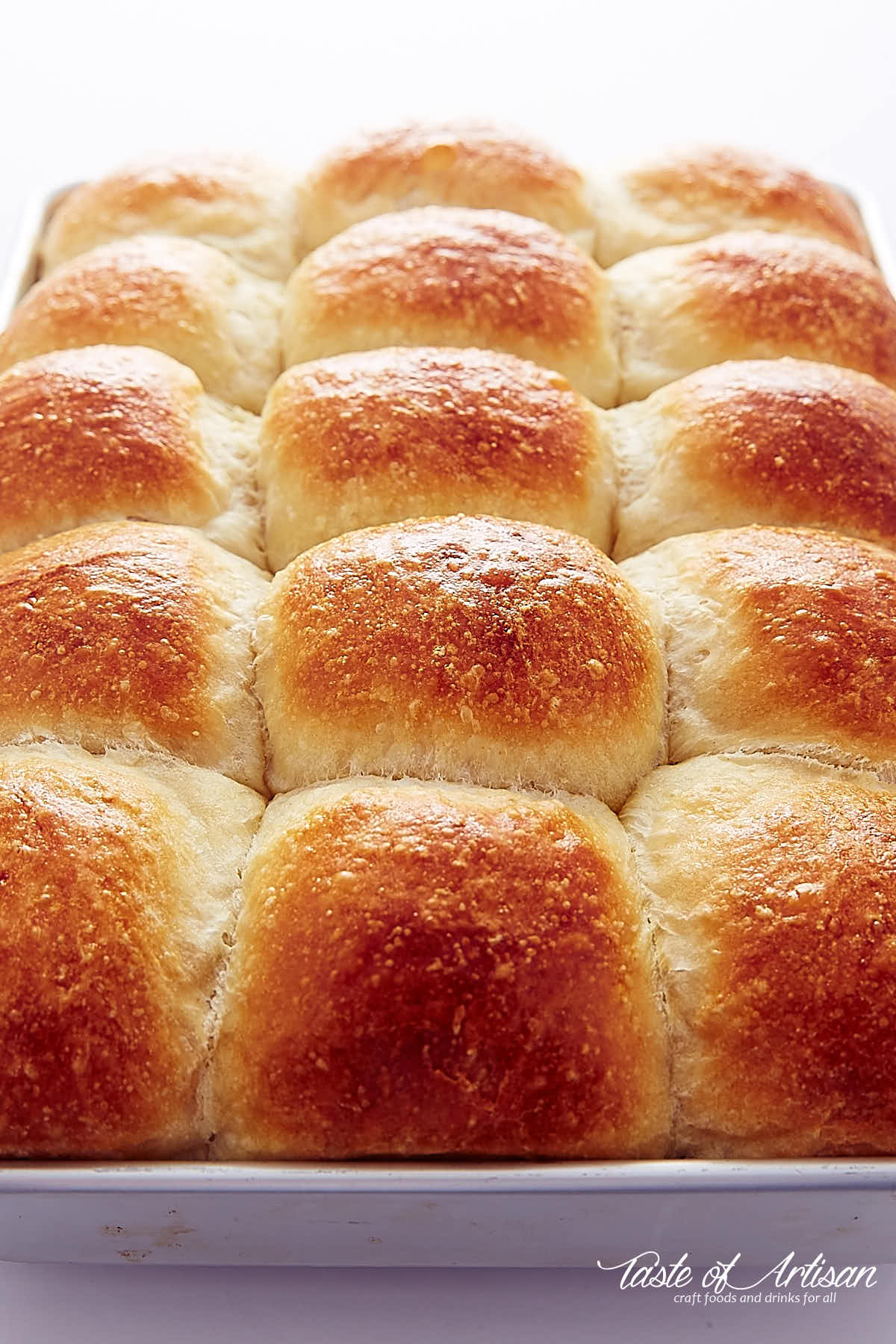 Some additional experimentation suggested that I should drop hydration a little as it interfered with getting perfectly browned tops. But this did not interfere with getting the crumb soft and moist as the size of the rolls was twice as big now.
Baking pan placement was another contributing factor to getting optimum results. I can never get perfectly browned tops in my oven if I bake on the middle rack, as many recipes advise. When I bake on the top rack, I get exactly what I want.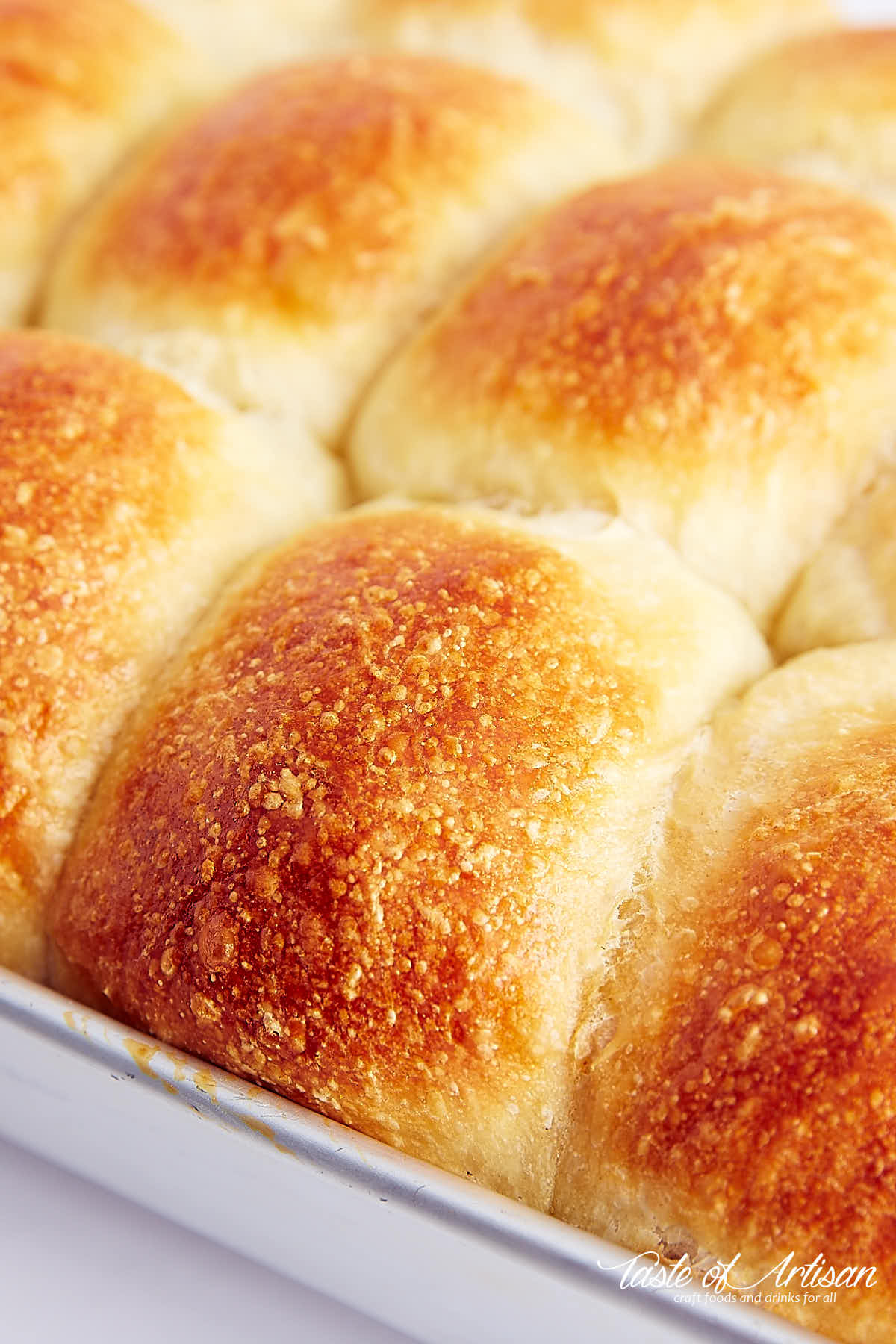 These yeast rolls are best served fresh, but they will stay moist and soft for 2-3 days. Just make sure you keep them in a tightly closed container.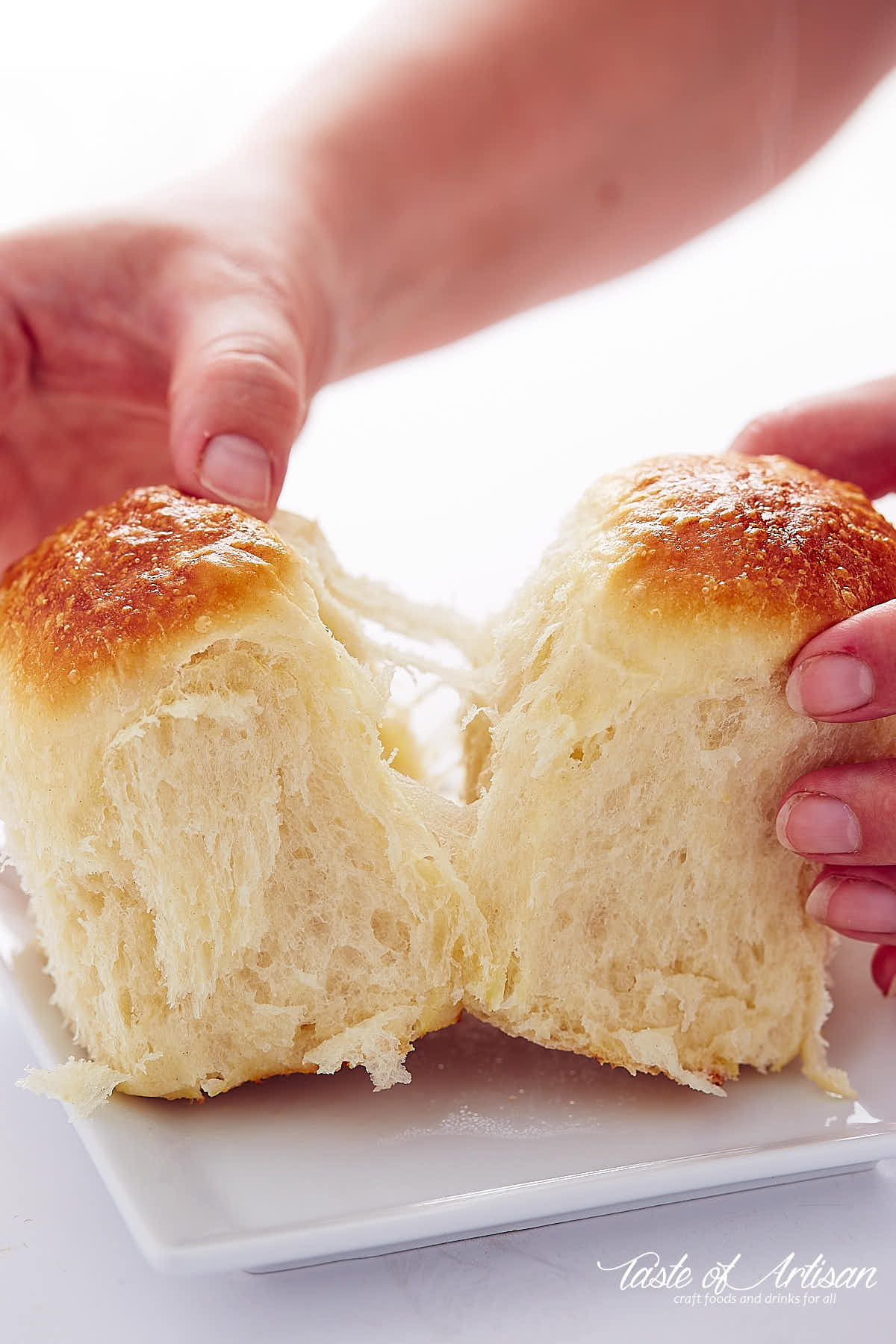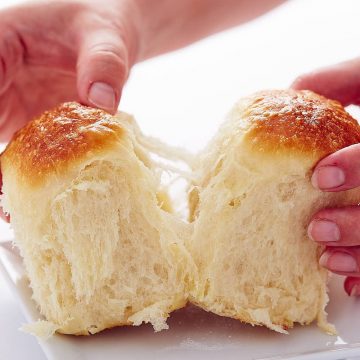 Vanishing Yeast Rolls
The best rolls, period. They will keep fresh for up to 2-3 days in a tightly closed container. You may want to toast them for the best results. If you decide to scale down the recipe, make sure to use a proportionately smaller cake pan to keep the size of the rolls unchanged.
Print
Pin
Rate
Ingredients
For the dough:
900

g

all-purpose flour

King Arthur all-purpose flour is recommended. See note 1

520

g

water

see note 2

50

g

sugar

10

g

kosher salt

10

ml

lemon juice

55

g

vegetable oil

18

g

rapid rise yeast

see note 3
Instructions
Mix all of the dough ingredients in a large bowl, cover and let the dough rest for 5 minutes.

Knead the dough by hand right in the bowl for about 2-3 minutes. The dough should be soft slightly tacky, but not not sticky. If the dough is sticky, let it rest for another 10 minutes and then knead again for 1-2 minutes. As the flour in the dough absorbs more water the stickiness will go away. Cover the bowl with a damp kitchen towel or saran wrap and place in warm place for 1.5 hours to rise. The dough needs to double in size. If not, let it continue to rise until it does.

Divide the dough into 15 equal pieces. Shape each piece into a ball. Some flour can be added in this step if the dough is too sticky, but normally this is not needed. Grease your palms with soft butter and butter each dough ball. This will allow better separation of the yeast rolls after they are baked and help with browning.

Place the dough balls in a well-greased 10 x 14 inch cake pan, arranging them into 5 rows of 3. Cover the pan with a damp towel or saran wrap and proof for 40 minutes in warm place

Preheat oven to 375F.

Whisk one whole egg with a teaspoon of cold water or milk until well blended. Brush the tops of the dough balls with a light, even coat of egg wash.

Place the pan in the oven and bake for 25-27 minutes until golden brown.

Serve and enjoy!
Notes
Note 1 - this recipe was developed using metric measures. This is the best way to ensure the intended and consistent results. If you use cups to measure flour, this may be tricky. If you have very fresh, well-hydrated flour, you will need 6 cups (using the scoop-and-sweep method) for this recipe. Otherwise, you may need up to 7.2 cups (the scoop-and-sweep method) if the flour is less hydrated. Note 2 - you can use warm (about 80F - 90F) water, which will result in a quicker rise; however, a longer rise will result in better flavor development. There is a bit of a trade-off there. If you are too worried about the dough not rising in time and such, it makes sense to use warm water. Note 3 - this recipe is designed for rapid-rise (also known as instant or bread machine) yeast. Traditional (or active dry as it was formerly marketed) yeast has a larger granule and needs to be dissolved in water before use, while rapid-rise yeast has a finer texture and can be mixed right into dry ingredients. You can use traditional yeast, but it nust first be dissolved in warm water (about 100F - 105F) with a little bit of sugar. Let it sit for about 10 minutes until you see foam formed on top. At this point, the yeast is ready to be used.
Nutrition
Calories:
230
kcal
|
Carbohydrates:
41
g
|
Protein:
5
g
|
Fat:
4
g
|
Saturated Fat:
3
g
|
Cholesterol:
10
mg
|
Sodium:
317
mg
|
Potassium:
57
mg
|
Fiber:
1
g
|
Sugar:
3
g
|
Vitamin A:
15
IU
|
Vitamin C:
0.2
mg
|
Calcium:
10
mg
|
Iron:
2.4
mg