The secret to perfect Neapolitan pizza dough lies in proper dough hydration, proper fermentation, and proper proofing. We tend to give a lot of attention to the bread-making process, worrying about autolyzing, fermentation, retarding, and proofing, but not nearly as much attention to pizza dough. This is a mistake as pizza dough is not unlike bread dough. Neapolitan pizza dough consists of the same four ingredients - flour, water, yeast, and salt. If you treat them right, they will reward you in a big way. This pizza dough is absolutely delightful.

What is Neapolitan Pizza Dough?
Neapolitan pizza is pizza that was made according to the rules of the Associazione Verace Pizza Napoletana, which means it cannot contain oil or sugar. Essentially, Neapolitan pizza dough is pizza dough made with just flour, water, yeast, and salt.
Pizza Dough Hydration
Back in the day when I used to work at a small Italian restaurant, I was taught to make pizza dough such that it is slightly tacky to touch. We never really measured ingredients and did a lot by feel/taste, so I have no idea what hydration that dough was but it made a darn good pizza. I would estimate it had about 63% - 65% hydration.

Marco Quintili of the famous 'iQuintili Pizza & Food' restaurant in Tor Bella Monaca, a suburb of Rome, shared his Neapolitan pizza dough recipe with La Cucina Italiana magazine. It's very simple - for every kilo of Type 0 flour, he adds 600 ml of water, 2 grams of yeast, and 25 grams of salt. This makes the dough 60% hydration.
In another edition of the same magazine, Matteo Aloe of Berberè Pizzeria, shared his recipe for the classic Neapolitan pizza dough - 500g Type 1 flour, 350g water, 4 grams of fresh yeast, and 10 grams of salt. This puts dough hydration at whole 70%.
So, which one is right? Well, there is no strictly right or wrong here. Every baker has their own style. Just like there are hundreds of ways to make a tasty French baguette with just the same four ingredients - flour, water, salt, and yeast. You pick your hydration based on your own taste and level of comfort when handling the dough. The point here is to pick a hydration level that YOU are going to be comfortable working with. That will give YOU the best results. Of course, you don't want the dough to be too stiff or too lax as it won't make a good pizza.
I've tried various hydration levels and for now, I settled on 68% hydration. Dough with this hydration gives me the best open crumb, stretchability, and ease of handling.
Flour type for Neapolitan Pizza
Most of us have been programmed to think that the 'RIGHT' flour for pizza is the Italian Type 00 flour. Not so fast. As you can see from the dough recipe examples above, at least some Italian pizza masters use other flour types like Type 0 and Type 1. We are talking flours from highly refined, finely ground to more coarsely ground, whole grain flour. Again, there is no right or wrong here. You pick what flour YOU like and what's readily available to you.
I, personally, am a big fan of King Arthur unbleached all-purpose flour when it comes to making Neapolitan pizza. I tried Italian type 00, 0, and 1 and tried pastry flour, all-purpose bread, whole-grain bread, and all-purpose flours. For my taste, all-purpose flour produces the best results, and it's readily available and relatively reasonably priced.
By the way, unbleached all-purpose flour is the closest to the Italian Type 00 flour according to Peter Rheinhart's American Pie book dedicated to pizza.

Mixing the Dough, Stretch & Folds, and Fermentation
Just like when making bread dough, if you want a beautiful open crumb with big holes, you should avoid using a stand mixer which will ruin the texture and result in a grocery-store-bread-like crumbly texture with tiny holes. Instead, mix the dough by hand, it only takes a minute.

After mixing, I let the dough rest for 15 minutes and proceed with the usual stretch and folds - I go into detail on how to do stretch and folds in my Artisan Sourdough Bread post. This is done to let the dough develop strength. For this dough, I space stretch and folds about 15 minutes apart. Initially, the dough will be quite sticky. However, after you are done with stretch and folds, it will come nicely into a ball.

Fermentation
By the time you are done with stretch and folds, you will notice some blistering on the surface of the pizza dough.

This is very important as it indicates that the fermentation process has begun. If not, it may not ferment properly after you put the dough into a cold refrigerator. All in all, there should be an hour between mixing the ingredients and putting the dough in the fridge.
The rest of the fermentation takes place in the fridge over the next 24 hours. This process is called 'cold retarding'. During cold retarding the dough will develop amazing complex flavors. So, cover the bowl with the dough and let it sit in the fridge for 24 hours. A piece of paper towel under plastic wrap will prevent sticking. I use a heavy duty plastic wrap that doesn't tear easily and I reuse it for months to make pizza, bread and other dough.

In 24 hours, when you take the pizza out of the fridge, it should have doubled or almost doubled in size.

If not, your pizza dough is underfermented and needs to spend some out at room temp to get to that level.
Shaping and Proofing
Twenty-four hours later and two hours before making your pizza, take the dough out of the fridge. Divide into individual pieces.

Then shape them into balls.

Cover and let proof at room temperature for two hours. The pizza ball should increase in size by about 50%, just like bread.

After two hours of proofing, your Neapolitan pizza dough is ready for stretching, topping with pizza toppings, and baking.

Don't forget to prickle the dough with a dough docker roller after stretching to prevent it from puffing up in the oven. Do that inside only, don't poke the bubbles on the edges.
Storing pizza dough
If making pizza dough in advance, shape the dough into balls, package, and freeze. Then defrost overnight in the fridge, take out of the fridge, and proof for two hours at room temperature.
If you don't use all the dough balls, you can chill them in the fridge for later use. Just make sure to use it within 24 hours.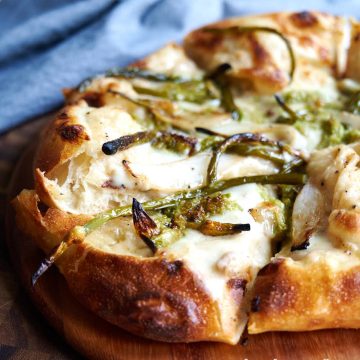 Neapolitan Pizza Dough Recipe
A fail-proof way to make perfect Neapolitan Pizza Dough. This recipe makes 4 dough balls for large pizzas, or 6 for medium pizzas, or 8 dough balls for small pizzas.
Print
Pin
Rate
Servings:
6
1 medium dough ball per serving
Ingredients
1000

g

all-purpose flour

King Arthur brand recommended

680

ml

water

at 85F

16

g

kosher salt
Instructions
Add water to a large bowl. Add flour, then yeast on one side of the flour and salt on the other, making sure the two don't touch each other before you start mixing. Mix by hand, squeezing the dough between your fingers, until a sticky homogeneous mass is formed. Cover the bowl with plastic wrap and let rest for 15 minutes.

After 15 minutes, perform a set of stretch and folds, then another one after 15 minutes, and another one 15 minutes later. Cover the bowl with a piece of paper towel, then plastic wrap, and refrigerate for 24 hours.

Remove the dough from the fridge and turn it over onto a work surface. Cut into 4, 6, or 8 equal pieces, depending on if you want to make large, medium, or small pizzas.

Shape the dough pieces into balls, cover, and let proof at room temperature for two hours before stretching and making pizza.

Unused dough may be refrigerated for up to another 24 hours.
Nutrition
Calories:
607
kcal
|
Carbohydrates:
127
g
|
Protein:
17
g
|
Fat:
2
g
|
Saturated Fat:
0.3
g
|
Polyunsaturated Fat:
1
g
|
Monounsaturated Fat:
0.1
g
|
Sodium:
1043
mg
|
Potassium:
179
mg
|
Fiber:
5
g
|
Sugar:
0.5
g
|
Calcium:
29
mg
|
Iron:
8
mg