Delicious sourdough cinnamon rolls made with discard sourdough starter to give them more flavor and make them softer and stay fresh longer. These rolls are quite amazing, I could not be happier with the results.

For a long time, I've been using a slightly modified version of Le Cordon Bleu's classic sweet yeast dough (pate levée sucrée) to make cinnamon rolls. It makes outstanding rolls with a soft, airy, and slightly chewy texture. In this recipe, I successfully incorporated a sourdough starter to give the dough more flavor and to eliminate waste by utilizing a discard sourdough starter.
A 'side effect' of adding a sourdough starter in the dough is the improved shelf life, or freshness if you will. Lactic acid bacteria present in sourdough starters not only add flavor, but they create an environment that keeps spoilage bacteria off. Similarly, that's why sourdough bread stays fresh longer than yeast bread.
Another cool thing about this recipe is how the filling is made and applied - a tip shared by a friend who learned about it in a culinary school. For the filling, he suggested using an equal amount of butter, brown sugar and white sugar. The ingredients are mixed together then sprinkled over the rolled-out dough. He didn't specify the amount of cinnamon to use but I settled on about 20% of cinnamon which worked quite well.
To make a long story short, I like this filling a lot. It's not as greasy as some other fillings I've tried and the combination of sugar, butter and cinnamon seems perfectly balanced. Though, tastes differ, so feel free to modify the ratios to suit your taste.

Finally, the icing. In my sourdough cinnamon roll recipe, I am using my all-time favorite cream cheese icing that I adapted from the Cinnabon copycat recipe. I made a few tweaks to it but the general idea is the same. This icing is divine. It's creamy, tangy, and not overly sweet. A little bit of salt brings a nice balance to its taste, and some vanilla extract elevates the flavor. It sure beats the plain cream cheese and sugar icing or cloying fondant.

Useful tips
This recipe requires rolling out the dough to a fairly large size, so make sure that your baking station has enough room for it, this will make the process much easier.
To make the icing easily spreadable, try adding a little bit of milk to it. If you want it a little thicker, simply omit the milk.
Apply the icing while the buns are hot. It will melt and roll down the rolls, making them moist and decadent. Then immediately serve while they are still hot.
Cover and refrigerate any (cooled down) leftover sourdough cinnamon rolls. This way they will keep fresh for up to a week. At room temperature, they will stay fresh for up to 3 days.
To reheat cinnamon rolls, place them in the oven at 325F until they are warm. You can cover them with foil to prevent browning.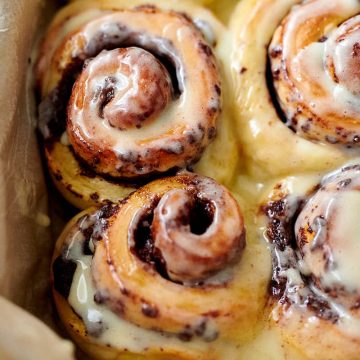 Ingredients
100

g

butter

about 7 Tbsp; very soft

50

g

sugar

about 3 heaping Tbsp

80

ml

milk

about 5 Tbsp; 90F (32C)

200

g

sourdough starter

about 1 1/3 cup

3

eggs

10

g

instant yeast

about 2 tsp; also known as quick rise or rapid rise

450

g

all-purpose flour

about 3 cups using 'scoop and swipe' method

10

g

powdered milk

about 1 Tbsp

5

g

salt

about 1 tsp
Cinnamon filling
75

g

butter

about 5 Tbsp; room temperature

75

g

brown sugar

about 6 Tbsp

75

g

white sugar

about 6 Tbsp

16

g

cinnamon

about 2 Tbsp (plus more to taste; see notes)
Icing
113

g

unsalted butter

1 stick, softened

125

g

powdered sugar

about 1 cup

70

g

cream cheese

about 5 Tbsp

1

tsp

vanilla extract

1/8

tsp

sea salt

or kosher salt

2

Tbsp

milk
Instructions
In a large bowl, cream the butter and the sugar together until smooth.

Add the eggs, milk, and the sourdough starter and mix well.

Next, add the dry ingredients.

Knead the dough, adding a little flour as needed to prevent sticking. If the dough becomes too dry, sprinkle a little water on it. Continue kneading the dough until smooth and no longer sticky.

Place in a lightly oiled bowl, cover, and let rise at room temperature until doubled in volume, about 2 hours.

Punch down and roll the dough out into a long rectangle, about 1/4 in thick, about 18" by 12".

In a small bowl prepare the filling by mixing together the butter, white and brown sugar, and cinnamon.

Spread the filling over the top of the rolled out dough.

Roll the dough up along the long side and cut into 12 equal pieces.

Place the rolls in large baking dish lined with parchment paper, cover and let proof at room temperature until double in size.

Preheat oven to 400F. Once the rolls are proofed, bake at 400F for 20 - 30 minutes, until they become golden brown.

Meanwhile, prepare the icing by creaming the icing ingredients in a small bowl.

Once the cinnamon rolls are ready, take them out of the oven, then spread the icing over the tops. Serve while hot.
Notes
The amount of cinnamon really depends on the kind of cinnamon you are using and its freshness. When using generic cinnamon from a supermarket that is not that fresh, you may want to go for a higher amount to get decent flavor - 3-4 tablespoons. Saigon cinnamon, my current favorite, packs a stronger punch so I only use 2 tablespoons. Freshly ground cinnamon, as someone pointed out in the comments, also has a stronger taste so you may want to go conservative on the amount - 1.5 tablespoons or so.
Nutrition
Calories:
486
kcal
|
Carbohydrates:
63
g
|
Protein:
7
g
|
Fat:
24
g
|
Saturated Fat:
14
g
|
Cholesterol:
101
mg
|
Sodium:
336
mg
|
Potassium:
117
mg
|
Fiber:
3
g
|
Sugar:
28
g
|
Vitamin A:
766
IU
|
Vitamin C:
1
mg
|
Calcium:
80
mg
|
Iron:
2
mg