These homemade biscuits are exceptionally good. So good, that to me they are perfect biscuits. They are light, very flaky, buttery soft and have a slightly crunchy crust to contrast the airy interior. Normally, I wouldn't eat a biscuit on its own. I am not even a big fan of biscuits. This one, however, I would eat for breakfast, lunch, and dinner. Try it with your morning tea or coffee, you will be surprised. Better yet, make some chicken and biscuits with them.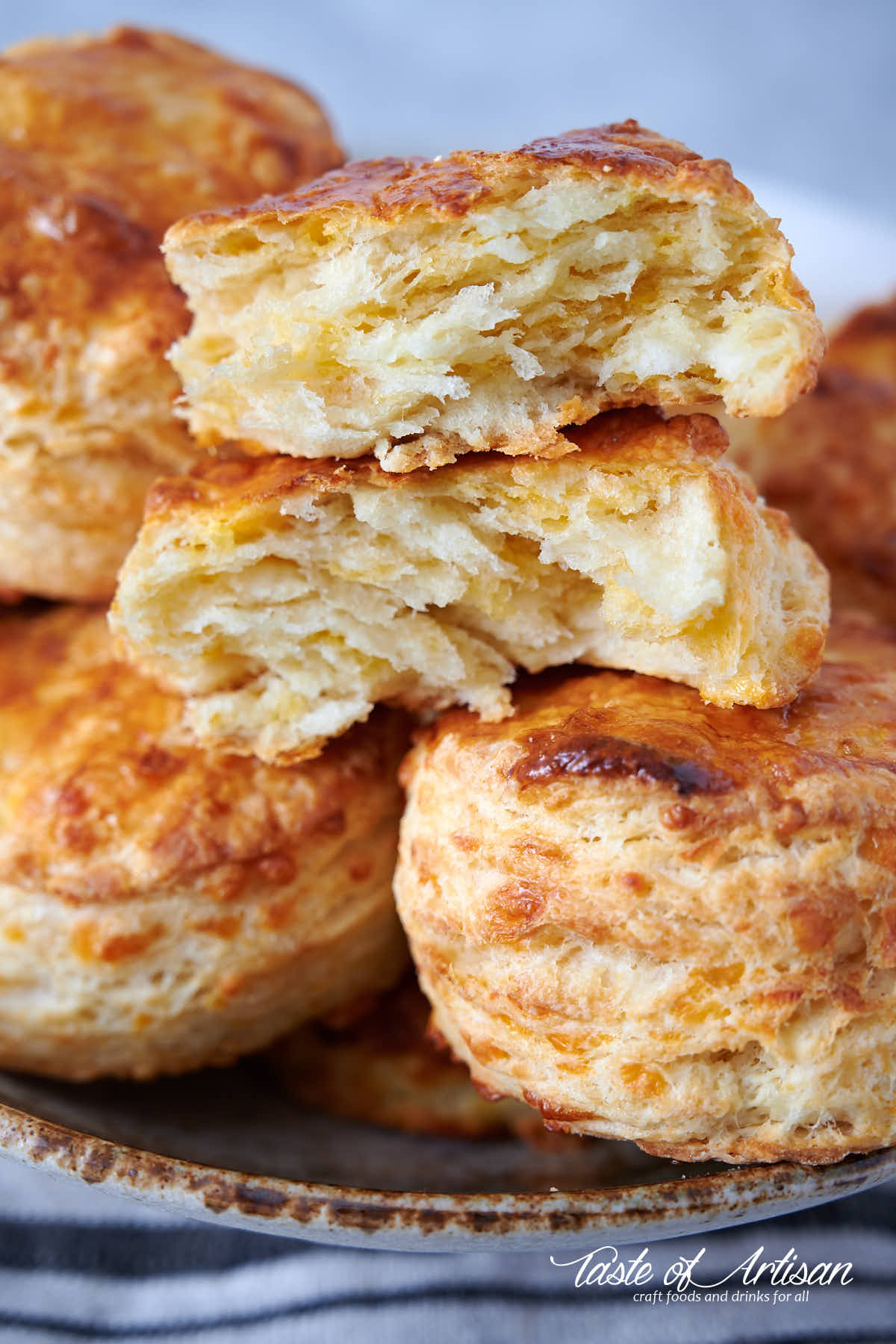 These biscuits are exceptionally flaky and fluffy. That's one of the things that makes them so good, and so different from many other biscuits. My secret is to partially freeze butter, then shred it on a coarse grater. This gives these homemade biscuits their supreme flakiness that can't be achieved by hand cutting butter, or by using a food processor.
Those long, thin shreds of butter do magic to a biscuit's interior. In order to preserve these magic shreds, I mix the dough only using a spatula, never by hand.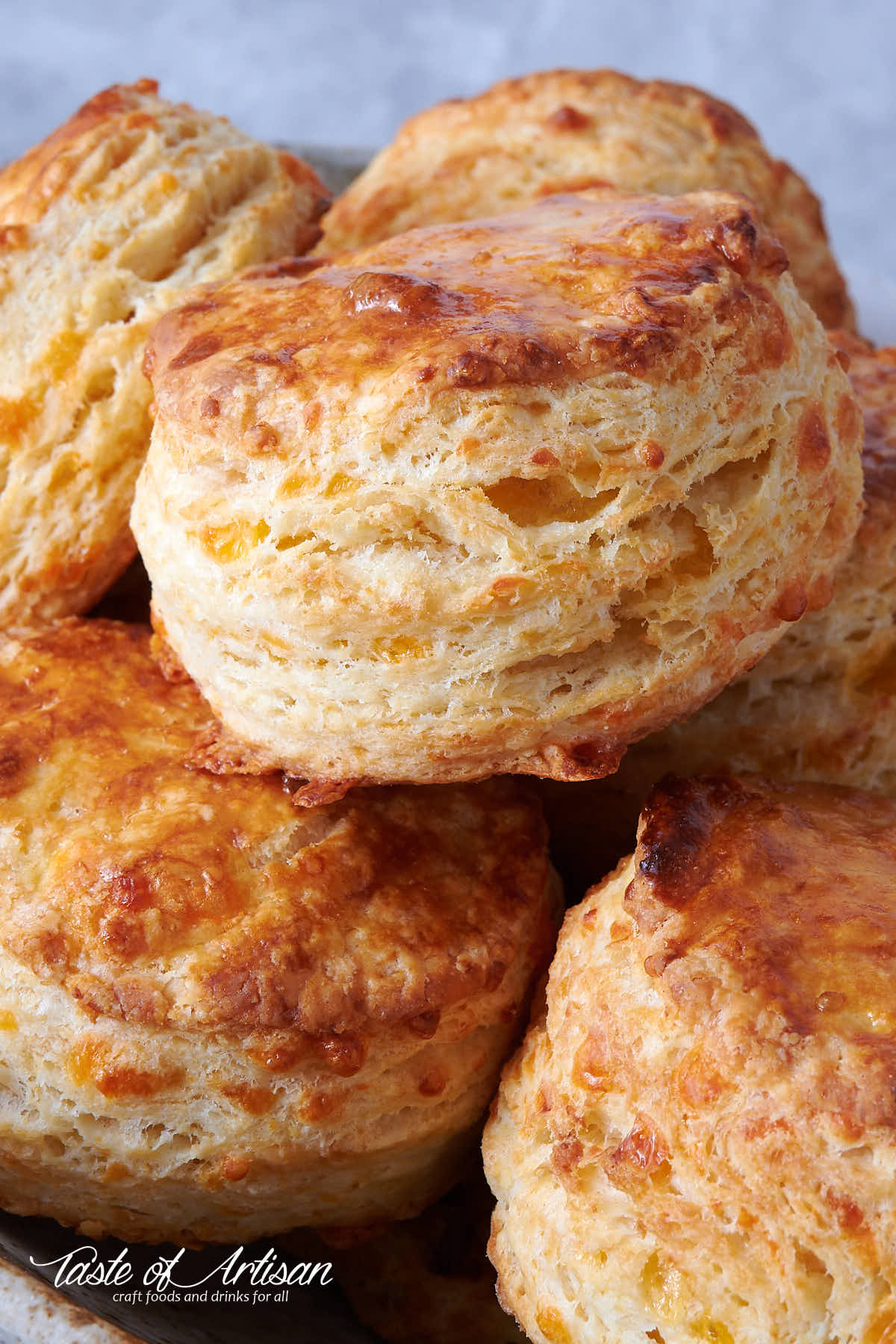 Another trick is to bake biscuits with convection. This creates a thin, crunchy crust that contrasts the buttery soft, croissant-like crumb. Convection also helps achieve rich golden brown color, making these biscuits look every bit as good as they taste.
But don't fret, you can achieve a very similar result in a regular oven by bumping the temperature up by 25 degrees. The baking is done at a fairly high temperature of 450F. This allows the butter the puff up the biscuits and creates a perfect crust in a very short time.
Similar to baking bread,  I preheat the oven to 500F, then lower it once I put the biscuits in the oven.  This serves two purposes: it allows you to compensate for heat loss when you load biscuits in the oven and ensures a perfect 'oven spring'. Oven spring is the initial rise of dough before the crust forms.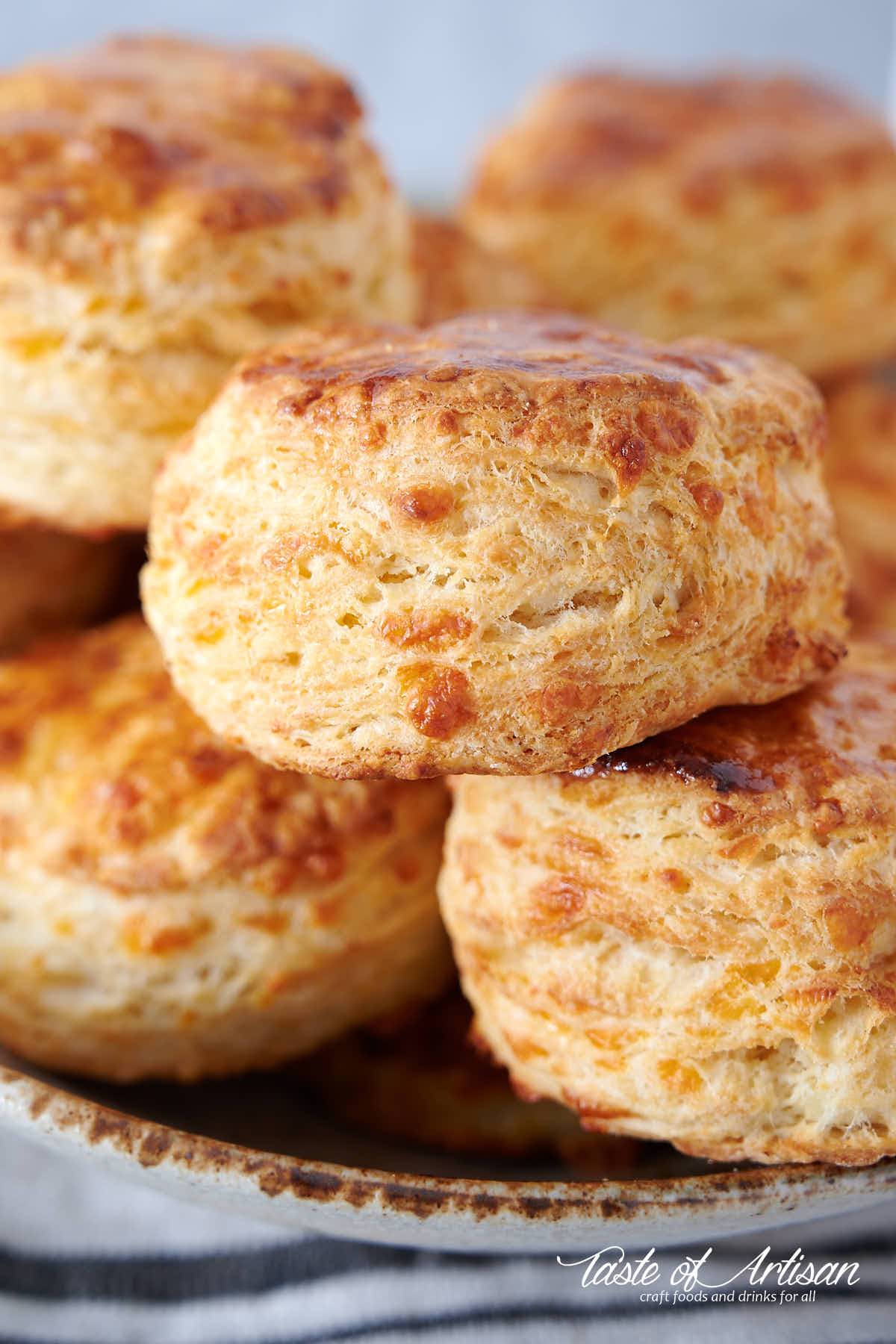 Tips
The single most important rule is to use very cold butter and milk.  Using cold ingredients ensures that the butter stays in bits and pieces, which creates weak points in the dough that flake off when you take a bite.
Work quickly to keep the dough cold, use a utensil to touch the dough instead of your hands, and don't overwork the
dough. Overworking develops gluten and makes biscuits tough.
Folding and rolling out the dough 4 times, as described in the recipe, is similar to lamination used to make croissants.
The technique is known as blitz and the dough as blitz puff pastry. It creates many thin layers of dough and butter, causing the biscuits to puff up and achieve maximum flakiness.
The oven must be hot in order for biscuits to properly puff up, so preheating to 500F is very important. If you only preheat to 450F, the temperature will drop upon loading biscuits in the oven, resulting in poor puffing up (oven spring).
Chilling the biscuits before baking will relax the gluten and minimize the amount of butter that may run out of
the biscuits as they bake. Both contribute to proper puffing up.
Making ahead
These biscuits are best when made, chilled for about 30 minutes and baked. However, if your schedule does not permit that, you can make them ahead and bake at a later time.
These biscuits can be made, cut, wrapped and frozen for up to a month. You can wrap the entire tray, or individually. Remove biscuits from the freezer at least 3 hours before baking to thaw. If they don't thaw properly, they won't rise well in the oven.
Wrapped biscuits can also be refrigerated for up to 3 days. Remove them from the fridge about 30 minutes before baking. This will ensure even rising.
You can also pre-bake these biscuits, cool thoroughly, then freeze wrapped in the pan, or individually. Bake them about 5 minutes less than normal, until just lightly brown. Then to finish baking, bake frozen in an oven preheated to 450F for about 10-12 minutes, until golden brown. After baking, let them rest for 5 minutes before serving, to let the heat evenly distribute inside the biscuit.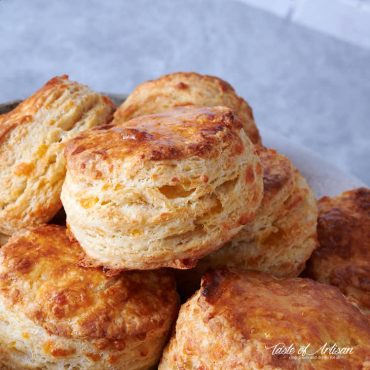 Ingredients
400

g

all-purpose flour

about 3 1/4 cups

8

g

kosher salt

1 heaping tsp

20

g

granulated sugar

about 2 Tbsp

24

g

baking powder

about 2 Tbsp

140

unsalted butter

about 10 Tbsp

230

g

whole milk

1 cup

100

g

grated cheddar cheese

about 2 cups
Instructions
Twenty minutes before starting, place the butter in the freezer.

In a large bowl, combine the flour, salt, sugar, and baking powder. Grate partially frozen butter over the flour mix, using a cheese grater.

Pour in the milk and mix the ingredients together using a spatula.

Add the mix-ins, if any, and mix together.

Turn the dough onto a generously floured work surface, dust the top with flour, and press into a rectangle about 3/4" thick, incorporating any loose pieces. Use a metal scraper to lift the dough and add more flour underneath. Now, using a rolling pin, roll the dough out into a 1/2" thick rectangle. Fold like you would an envelope, dust with more flour, and roll out to ½" thick. Rotate 90 degrees and repeat folding and rolling out. Then rotate 90 degrees and repeat folding and rolling out two more times, making it a total of 4 times folding and rolling out.

Cut out biscuits using a 3" round cookie cutter. Gather the cut-offs, roll them out again and cut more biscuits. Repeat until all dough is used.

Place the biscuits on a baking sheet lined with parchment paper, spacing out at least ½', and let rest for 20 to 30 minutes. Ideally, place them in a refrigerator or a very cool room.

Twenty minutes before baking, preheat to 500F.

Whisk the egg yolk with one teaspoon of milk in a small bowl. Brush the tops of biscuits with the egg wash.

Transfer the biscuits to the oven, lower the temperature to 450F, or 425F if using convection (preferred).

Bake for 8 minutes, rotate the baking pan and bake for additional 6-8 minutes, or until the biscuits have risen about 1.5 times, and the tops and the bottoms of the biscuits are rich golden brown.

Remove the biscuits from the oven, transfer to a cooling rack and let cool for 3 minutes before serving.
Nutrition
Calories:
259
kcal
|
Carbohydrates:
29
g
|
Protein:
6
g
|
Fat:
13
g
|
Saturated Fat:
8
g
|
Cholesterol:
36
mg
|
Sodium:
322
mg
|
Potassium:
271
mg
|
Fiber:
1
g
|
Sugar:
3
g
|
Vitamin A:
406
IU
|
Calcium:
176
mg
|
Iron:
2
mg