Freshly baked bagels make me feel good and happy. They remind me of childhood. French baguettes have been my all-time favorite breakfast food for years but these homemade bagels are changing that. Chewy and pillowy-soft on the inside, slightly sweet, crisp and dark golden brown on the outside, covered with toasted seeds - it's so hard to resist fresh bagels with some cream cheese.

It would seem as though bagels are such a simple bread to make - and they are compared to French baguettes which took me a long time to master - yet many of my initial attempts at making them failed.
Not that my bagels tasted bad or looked bad, no, that wasn't the case. They simply were nothing to write home about. Plain. Boring. Unexciting.
The magic of exceptionally tasty, chewy bagels hides in the little details, like the amount of malt or honey and oil you use, the level of dough hydration, and how you bake them. Mind you, tastes differ so these details may vary from person to person but I have yet to meet a person who did not absolutely love these bagels.

What bagels are made of?
Unlike typical bread which consists of wheat flour, water, yeast, and salt, bagels include oil and sweeteners like sugar, treacle, honey, or barley malt syrup. Some older recipes used margarine or a combination of oil and margarine.
The sweetness makes bagels tasty and highly addictive. I like my bagels slightly sweet but not overly so. This is the reason why I am not a big fan of Montreal-style bagels which I find overly sweet.
The oil makes bagels more tender on the inside and more crisp on the outside. Fats work as tenderizers by inhibiting excessive gluten development which leads to toughness.
Bagel making process
This bagel recipe uses instant baker's yeast - also known as Quick Rise or Rapid Rise yeast - which I found to be highly effective and reliable in this recipe.
The dough undergoes several stages of fermentation and proofing at both room temperate and in the fridge to develop a proper structure and exceptional flavor.
The ingredients
A great bagel must have a great chew. The best, and probably the only good way to get that is to use high gluten flour. My favorite is King Arthur's high gluten flour, also known as sir Lancelot.
Other equivalents of this flour would be extra-strong bread flour, Italian type 1 flour, French T65 flour, and Euro 650 flour. All-purpose flour will not give you that chew that you will find in a good bagel. Even regular bread flour falls short.
The rest of the ingredients in this recipe are fairly straightforward. I would only advise using flavorless oil which wouldn't impart unwanted flavors. You can't go wrong with canola oil. Other suitable oils are corn oil, peanut oil, safflower oil, and vegetable oil.
The equipment
Unlike bread, bagels do not require any special baking equipment like a baking stone, a couche, a lame, or a cloche. Instead, bagels are baked on a baking sheet. Wood-fired oven bagels are baked on the stone bottom of a wood-fired oven so if you want, you can bake them on a pizza/baking stone. This will produce bagels with crispier bottoms.
The only piece of equipment that I would highly recommend using when making bagels is a stand mixer with a dough hook. Kneading dough by hand is a chore that a stand mixer will simplify greatly.

For boiling bagels, you will need a large, wide boiling pot and a slotted spoon/skimmer, which every kitchen should have.
Mixing/kneading the dough
Bagel dough requires no stretch and folds or long bulk fermentation. All you have to do is put the ingredients into a bowl of a stand mixer and let the mixer do its thing. The dough will be ready in under 10 minutes.
You can mix and knead the dough by hand if you don't have access to a stand mixer.
Fermentation
Bagel dough fermentation consists of several steps. First, the dough undergoes a one-hour to an hour-and-a-half bulk fermentation at room temperature. Next, the dough is shaped into balls and cold-retarded in the fridge for an hour.

The dough should almost double in size during the first 1 - 1.5 hours.

You will not see much rise during cold retarding, but this is normal. The dough will have an opportunity to rise more during the next steps.
Shaping and proofing
Once the dough has firmed up in the fridge, it's time to give the bagels their final shape. Using your finger, poke a hole through the center of a dough ball. Next, stretch the dough into a ring and place it on a baking sheet lined with parchment paper. Repeat with the rest of the dough balls.
Shaped bagels need to be proofed, like any other bread. You can do this two ways: leave them sitting for an hour at room temperature or refrigerate them overnight. Both methods will result in the same minor rise of the dough, the big difference being in the flavor. Cold-retarded bagels will have more of it.

Boiling
Boiling pre-shaped bagel dough in water with a little bit of baking soda effectively sets the crust before it goes into the oven. As a result, the bagel crust has a unique, peculiar sheen and smoothness to it. Pretzels are made in a similar way.
The key to boiling bagel dough is to do so in a large pot with a lot of water, so that when you drop the dough in it, the water temperature won't drop.
Often, the advice is to boil one bagel at a time.  That's 30 seconds per side times 12 bagels or 12 minutes total boiling time. I boil my bagels in threes and have not found any adverse effects. Just make sure to load and unload them quickly enough so you don't over-boil some of them.
Baking
Boiled bagels are placed on a baking sheet lined with parchment papers, sprinkled with sesame and/or poppy seeds, then baked. The seeds will stick better if you sprinkle them on while the bagels are still wet.

The typical baking time is 12-15 minutes at 450F (235C).
I've made this recipe in an electric and a gas oven, and I could never get that rich, dark golden brown color I like. I could bake them for longer, but that dries the bagels out, and they come out less moist and slightly tough. Using an egg wash is an option, but bagels do not use egg wash traditionally.
Instead, I bake them for 10 minutes in regular baking mode and the remaining 5 minutes with convection. That gives me the perfect texture and beautiful color.

Storing Bagels
Place hot bagels on a cooling rack and let them cool down completely. This will take a couple of hours or so depending on the ambient temperature.

Once the bagels are cool, place them in a plastic bag, expel as much air as possible, and store them at room temperature for up to 5 days.
Do not refrigerate your bagels, as that will harden them.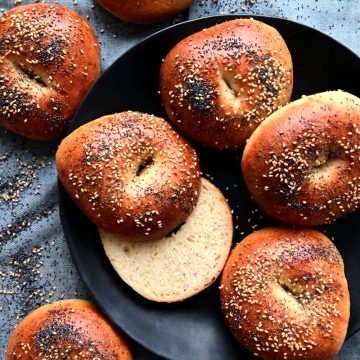 How To Make Classic Bagels (Soft, Chewy, Crisp)
Print
Pin
Rate
Servings:
12
One bagel per serving
Ingredients
850

g

High gluten flour

I bake with King Arthur's Sir Lancelot HG flour. See notes. If measuring in cups, use the 'scoop and sweep' method.

475

g

water

48

g

canola oil

See notes.

36

g

sugar

9

g

instant yeast

Also known as Quick Rise or Rapid Rise yeast.

18

g

kosher salt

You may also use sea salt. If measuring in tablespoons, use a level tablespoon.

21

g

honey

Use rye malt syrup if you have access to it.

5

g

baking soda

Poppy and sesame seeds for topping
Instructions
To the bowl of a stand mixer fitted with a dough hook, add the following ingredients in the following order: water, yeast, salt, sugar, oil, honey (or rye malt syrup), then flour.

Mix on the lowest speed for 2-3 minutes or until the ingredients are mixed together. Switch the speed to the second-lowest and continue mixing for another 5-7 minutes. The dough should pull away from the walls of the bowl and become strong and elastic/stretchy.

Cover the bowl and let the dough ferment for 1 to 1.5 hours at room temperature (1 hour if the ambient temperature is warmer and 1.5 if it is cooler). The dough should almost double in volume.

Divide the dough into 12 equal pieces and shape them into balls. Place the balls on a baking sheet or a large platter. Cover and refrigerate for 1 hour.

Next, take the dough balls out of the fridge and shape them into bagels. Use your finger to poke a hole through the center of each ball, then, using your fingers, stretch the dough into a ring about 5" in diameter.

Place the pre-shaped bagels on a baking sheet lined with parchment paper. Let the bagels proof at room temperature, uncovered, for 1 to 1.5 hours. The bagels should firm up and slightly increase in volume but not much.

If baking the next day, refrigerate right away until ready to bake. You can keep them in the fridge for up to 24 hours.

Preheat the oven to 450F (235C) without fan/convection.

Bring a large, wide pot of water to a boil. Add a teaspoon of baking soda and stir well.

Carefully add 1 bagel to the pot. Boil for 30 seconds, flip and boil for another 30 seconds. Using a wide slotted spoon/skimmer, remove the bagel from the boiling water and place it back on the lined baking sheet.

Repeat until all bagels are done. If you are comfortable with it, you can boil 2-3 bagels at a time.

Sprinkle bagels with poppy seeds and/or sesame seeds, or any other seeds that you like, or leave them plain.

Bake the bagels for 12 to 15 minutes in total, with the last 5 minutes with a fan/convection to give them a nice color.

All ovens bake differently so keep a close eye on your bagels the first time around and make adjustments if necessary.

Carefully transfer the bagels to a large cooling rack and let them cool for 20 or so minutes before serving.
Notes
If you don't have access to King Arthur's high gluten (Sir Lancelot) flour, look for extra-strong bread flour, Italian type 1 flour, French T65 flour, or Euro 650 flour, depending on where you live.
Instead of canola (rapeseed oil), you may use any other flavorless/low flavor oil such as corn oil, peanut oil, safflower oil, or vegetable oil.
Nutrition
Calories:
314
kcal
|
Carbohydrates:
54
g
|
Protein:
10
g
|
Fat:
4
g
|
Saturated Fat:
1
g
|
Polyunsaturated Fat:
1
g
|
Monounsaturated Fat:
3
g
|
Trans Fat:
1
g
|
Sodium:
698
mg
|
Potassium:
8
mg
|
Fiber:
3
g
|
Sugar:
4
g
|
Vitamin C:
1
mg
|
Calcium:
2
mg
|
Iron:
1
mg