I remember, a long time ago, as a kid, I would go with my grandpa to a farmer's market, where he would buy a couple of large, dark golden brown challahs. Back then, it was my favorite bread. It was pleasantly sweet, chewy, soft inside, and slightly crusty on the outside. I wished we would buy it every day, or even every week, but it only happened around holidays, a few times a year.

I've been looking for a challah bread recipe that would give me the same taste that I remember. Most challah recipes I've tried produce bread that is a bit, and sometimes much, too rich, too eggy, or too sweet for my taste. The one that I remember was like just slightly enriched plain white bread. It was tasty, almost too tasty; it was addictive. I liked having it with jam, butter or a few slices of sausage, or just eating it on its own.
After a lot of experimenting and reading up on old challah bread recipes, I seem to have finally come up with precisely what I was looking for. This challah tastes just like I remember it. My family loves it. I don't think it needs any more tweaking, but feel free to experiment with this recipe to customize it to your taste. From this recipe, you can make a single large, about a 3-lb bread, or two smaller loaves.
This challah is a looker; it's stunning. It will be a centerpiece at your holiday table, and people will be talking about it. I love the dark color of the crust. You get that from using an egg yolk wash. If you like a lighter color, use a whole egg wash.

To make this challah bread I use a two-stage process. First, I make a poolish. The bread that utilizes poolish tends to have a richer taste and a chewier crumb. To make the poolish, I use 60% of the flour and almost all of the water, together with all of the yeast. Once the poolish is ready, doubled or even tripled in size, I mix the final dough. That's stage two. The rest of the process is fairly typical to any bread - bench resting the dough, shaping, proofing, and baking.
For a single large loaf, I use a 6-strand braid to shape my challah. Each strand is about 14 inches, with the middles quite thicker than the ends. This allows making a big, plump, gorgeous looking bread.

I keep the strands short, so I can get a stubby, plump loaf.

Here is the most helpful instruction video I was able to find on how to braid a six-strand challah. It has the right orientation so you can easily follow the instructions.
To make two smaller challahs, I use four-strand braiding. It's way easier than a 6-strand braid.

Here is a very helpful video on how to make a 4-strand braided challah:
Given the sugar and the egg in the dough, baking on a baking stone results in a slightly burnt bottom. This bread comes out better if baked on a baking sheet.
To get the color and the crust I was looking for, I bake my challah bread at 425F. This seems to work quite well in my oven, but you may have to adjust the temperature as, as they say, each oven bakes differently.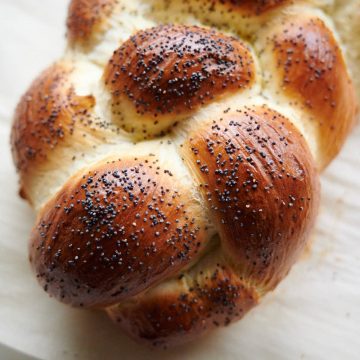 Challah Bread
A beautiful challah bread, delicious, with chewy, slightly sweet and not overly rich crumb.
Print
Pin
Rate
Ingredients
Poolish
600

g

all-purpose flour

about 4 cups, using 'scoop and swipe' method

400

ml

water

about86F/30C; about 1 3/4 cups less 1 Tbsp

10

g

instant yeast

about 1 Tbsp; also known as Quick Rise or Rapid Rise yeast
Final dough (in addition to the poolish above)
400

g

all-purpose flour

about 2 3/4 cups, using 'scoop and swipe' method

80

ml

water

86F/30C; about 5 1/2 Tbsp

15

g

kosher salt

about 1 Tbsp

70

g

white sugar

about 5 1/2 Tbsp

25

g

butter

melted; about 1 3/4 Tbsp

1

egg
Eggwash
1

egg yolk

use the whole egg for a lighter color of the crust

1

tsp

heavy cream
Instructions
To prepare the poolish, mix the flour with the water, and the instant yeast. Cover and let rise in a warm place for about 2 hours, until about tripled in size. I use a cold oven with the light on, it provides a perfectly warm environment.

Combine the poolish with the rest of the dough ingredients in a bowl of a stand mixer. Mix on low (Kitchen Aid setting 2) for 2 minutes. Cover and let rise in a warm place for about 45 minutes, or until doubled in size.

If making one large loaf, divide the dough into 6 equal pieces. If making two smaller loaves, divide the dough into 8 equal pieces. Roll them out into 8"-10" logs. Cover and let rest for 20 minutes.

On a lightly floured work surface (wooden is ideal), roll each log into a 14" long strand, making the ends thinner than the middles. Dust the strands with a little bit of flour to prevent sticking. Braid into a six-stranded challah bread if making a large challah, or two 4-stranded challahs if making two small loaves.

Brush with the egg wash and sprinkle poppy seeds on top.

Bake smaller loaves at 425F for about 20 minutes and large loaves for about 25-30 minutes. Chill for one hour before serving.
Nutrition
Calories:
183
kcal
|
Carbohydrates:
35
g
|
Protein:
5
g
|
Fat:
2
g
|
Saturated Fat:
1
g
|
Cholesterol:
17
mg
|
Sodium:
255
mg
|
Potassium:
59
mg
|
Fiber:
1
g
|
Sugar:
3
g
|
Vitamin A:
50
IU
|
Calcium:
25
mg
|
Iron:
2
mg