This is another great discard sourdough starter recipe. I am not a big fan of English muffins in general, but if you put a basket full of these sourdough English muffins in front of me, I will finish them all. They are addictive! The flavor is rich. I like the slight sweetness and a tiny bit of tang from the sourdough starter. I also love the browning and the toasty flavor they get from cooking in butter on a frying pan or a griddle. These English muffins are a must-try!

To make these muffins thick and puffy, I let them proof a little longer, about an hour or even a bit longer. This makes them extra airy and soft. Just make sure to handle them carefully to not deflate them.

This recipe is truly the best of both worlds. It uses both sourdough starter and commercial yeast. The sourdough starter adds the flavor, while the yeast makes the muffins puff up quickly and become light and airy. You don't need to wait a day or night for the sourdough starter to do the leavening. If you want your English muffins quick and you want them to have a rich sourdough flavor, this recipe is for you.
The only tricky part here is getting the pan temperature right. You want it hot enough that the muffins get toasty and brown right by the time the inside is cooked through. I shoot for about six minutes per side, which is ideal. I get that when the pan is about 300F.

This recipe makes a firmer dough than some other English muffin recipes. It's still soft, with slight stickiness but firmer than some other recipes that you will find. It's actually a good thing - it makes the dough much easier to work with.
Enjoy!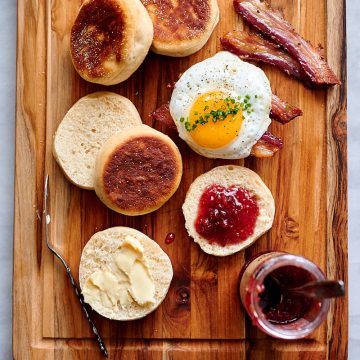 Ingredients
2

cups

all-purpose flour

2/3

cup

milk

1

cup

sourdough starter

mature

2

Tbsp

butter

1/2

tsp

kosher salt

1

Tbsp

sugar

1

tsp

instant yeast

1 Tbsp of butter and 1 Tbsp of cooking oil for cooking

Cornmeal for dusting
Instructions
Heat milk to 115F. Add the sugar and stir to dissolve. Add the butter and stir until melted. Transfer to a large mixing bowl.

Stir in the sourdough starter. Sprinkle instant yeast and stir.

Add one cup of flour and the salt, and mix thoroughly.

Add another cup of flour and mix by hand. The dough should be slightly sticky.

Turn the dough in a lightly floured work surface. Roll out 1/2" thick and cut into 3" circles. Collect the cut-offs, re-roll and cut.

Transfer to a baking sheet dusted with cornmeal. Turn each miffing in cornmeal.

Cover and let rise for 1 hour or until the muffins double in size.

Preheat a skillet or a griddle to medium-low heat with a tablespoon of butter and a tablespoon of cooking oil. Cook for about about 8 minutes per side or until the muffins are cooked through. I find they cook better if you cover the pan with a lid after you flip them.

Remove, split and toast. Leftover muffins can be frozen for later. Just thaw them and toast before consuming.
Nutrition
Calories:
175
kcal
|
Carbohydrates:
32
g
|
Protein:
4
g
|
Fat:
3
g
|
Saturated Fat:
2
g
|
Cholesterol:
8
mg
|
Sodium:
172
mg
|
Potassium:
38
mg
|
Fiber:
1
g
|
Sugar:
2
g
|
Vitamin A:
89
IU
|
Calcium:
5
mg
|
Iron:
1
mg