These pull-apart garlic rolls are traditional in Ukraine, where they are called 'pampushki' (pronounced pahm-poosh-kee). They are usually served with Ukrainian Borsch and other dishes. These tasty rolls also go well with other soups like Kharcho. Served drizzled with garlic and herb sauce, they are exceptionally flavorful, soft and delicious.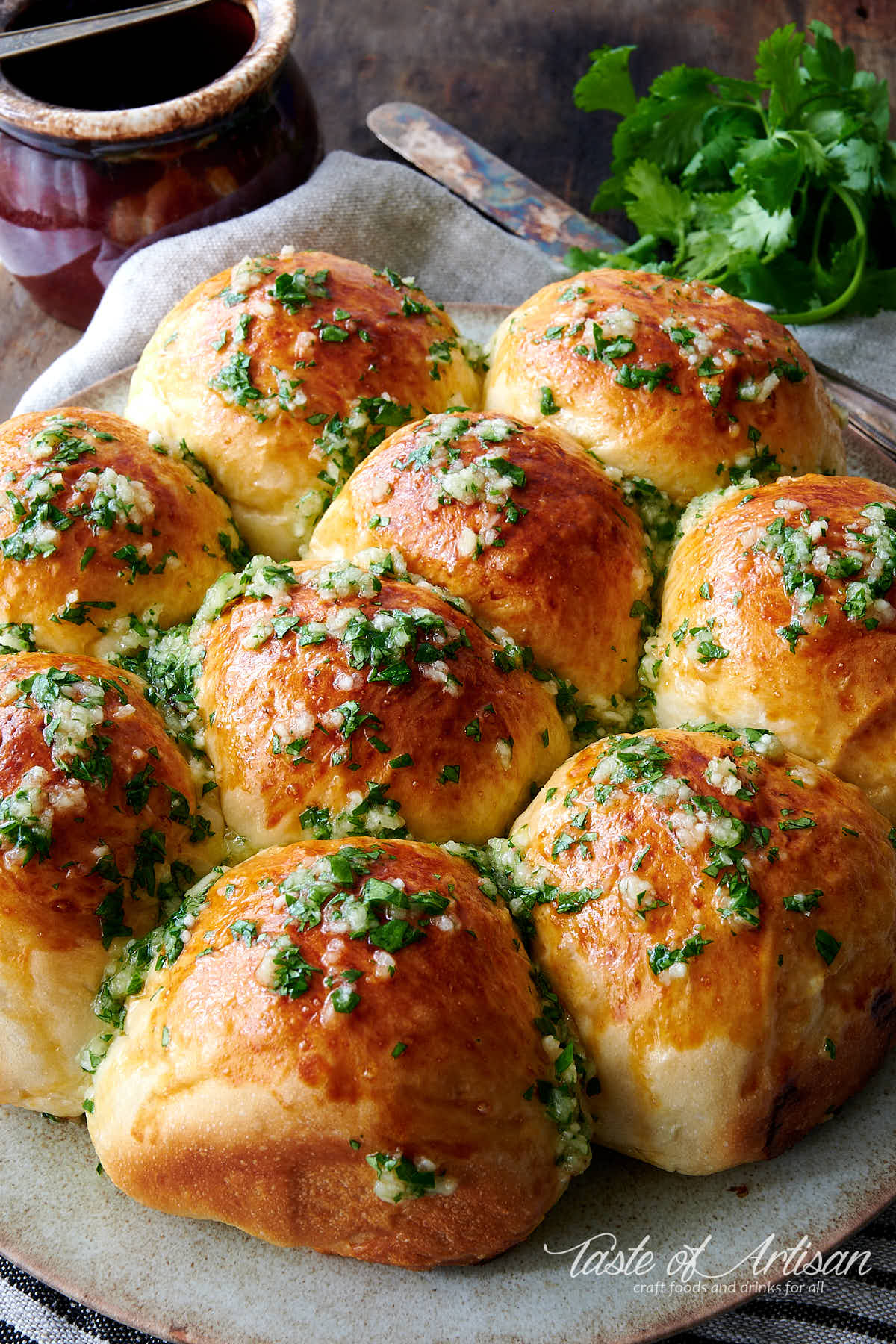 Pampushki are a great accompaniment to lunch or dinner. I've even used them to make burgers. Buttery-soft, garlic-y and tasty, they are a delight to snack on too. If you are not a big fan of raw garlic you can skip the garlic sauce or use roasted garlic to make the sauce.
Making pampushki
The dough for pampushki should be fairly soft and supple, but not too soft. Too soft of a dough will not hold its shape well. Dough balls will spread out too much instead of rising up. The dough should be just slightly tacky to touch. To make the dough, activate the yeast in warm water. Add the honey to speed up yeast activity. Add the remaining ingredients, mix and let the dough rest for 10 minutes. After the rest, knead the dough for 2 minutes.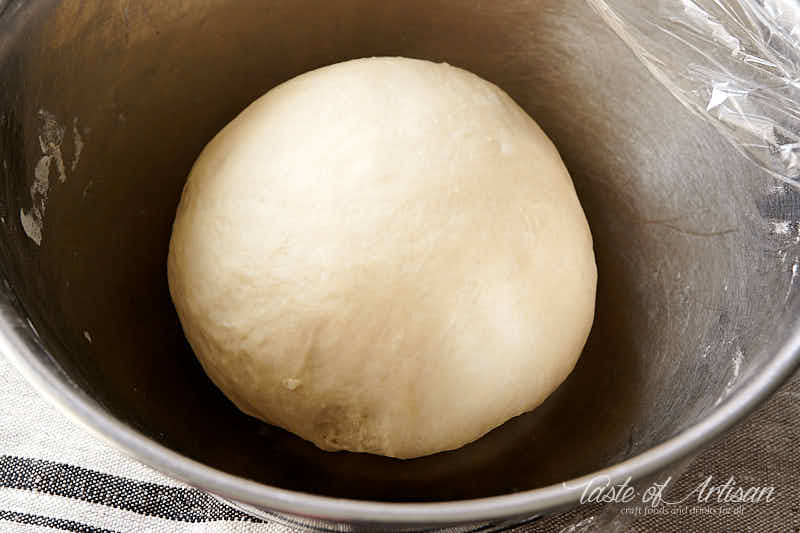 Shape the dough into a ball, cover with a plastic wrap and ferment in a warm place for 1 hour or until it doubles in size.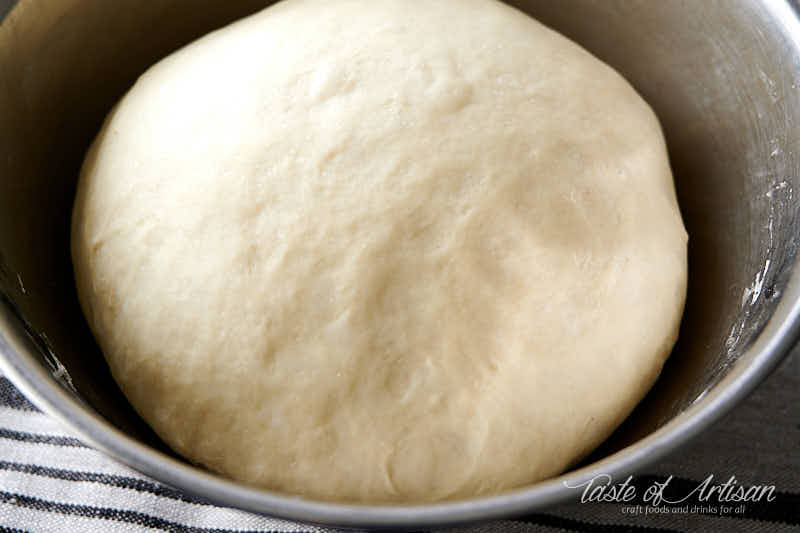 Once the dough has doubled in size, cut it into 9 equal pieces and shape each piece into a ball. Transfer dough balls into a greased cake pan spacing out evenly.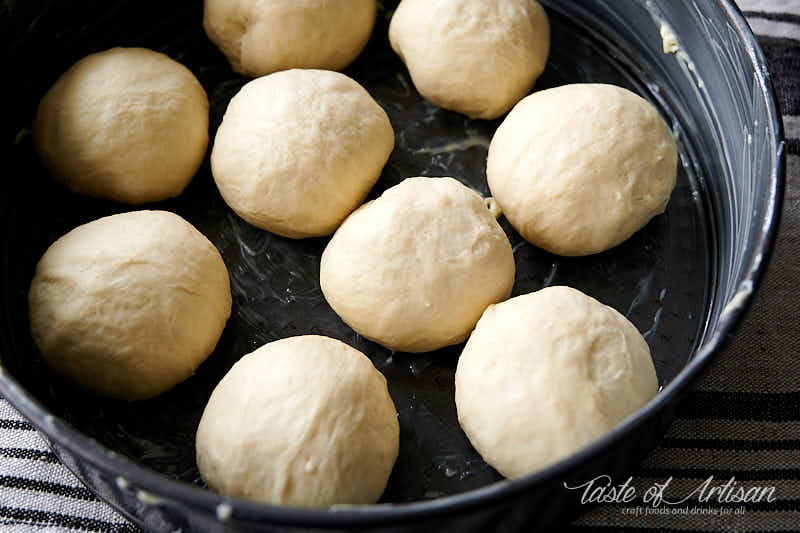 Cover and let the dough balls proof for about 40 minutes, during which they will almost double in size.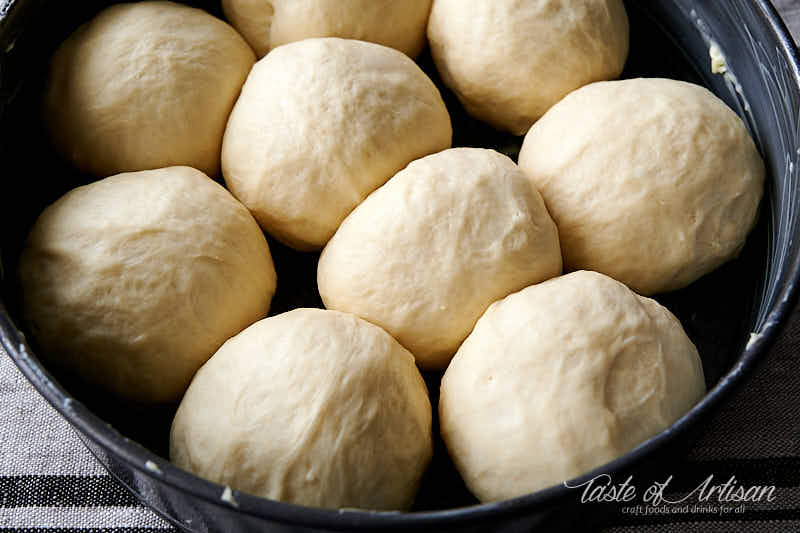 Then brush with an egg yolk and bake.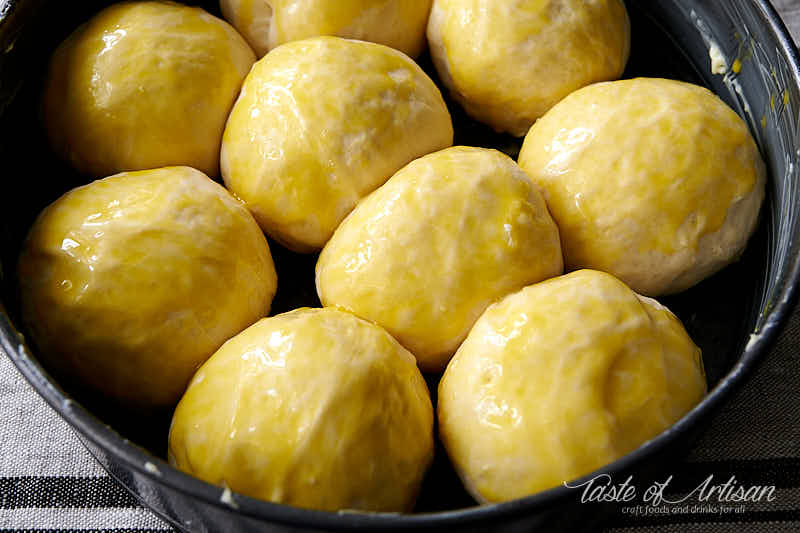 It takes pampushki about 25-30 minutes to fully bake at 360F.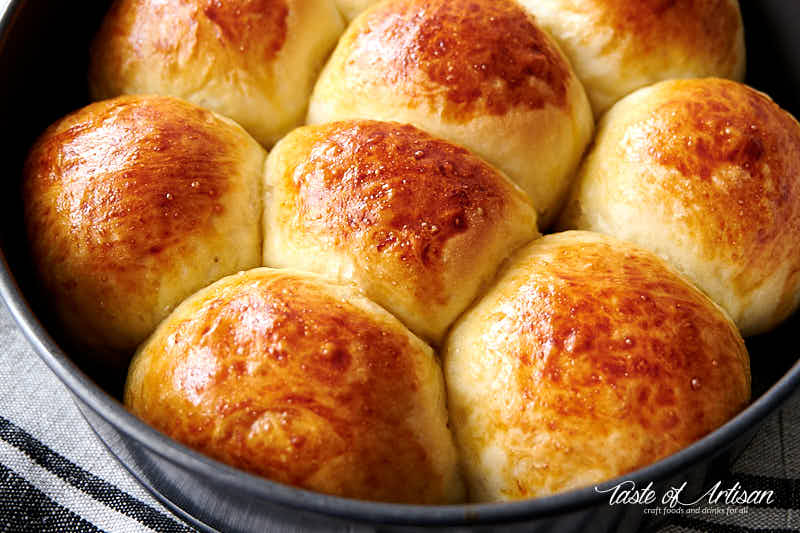 It's best to bake pampushki in a round cake pan. Spring form cake pans work best as they make it easier to remove the rolls once they are done baking. If you don't have one a regular cake pan will do just fine.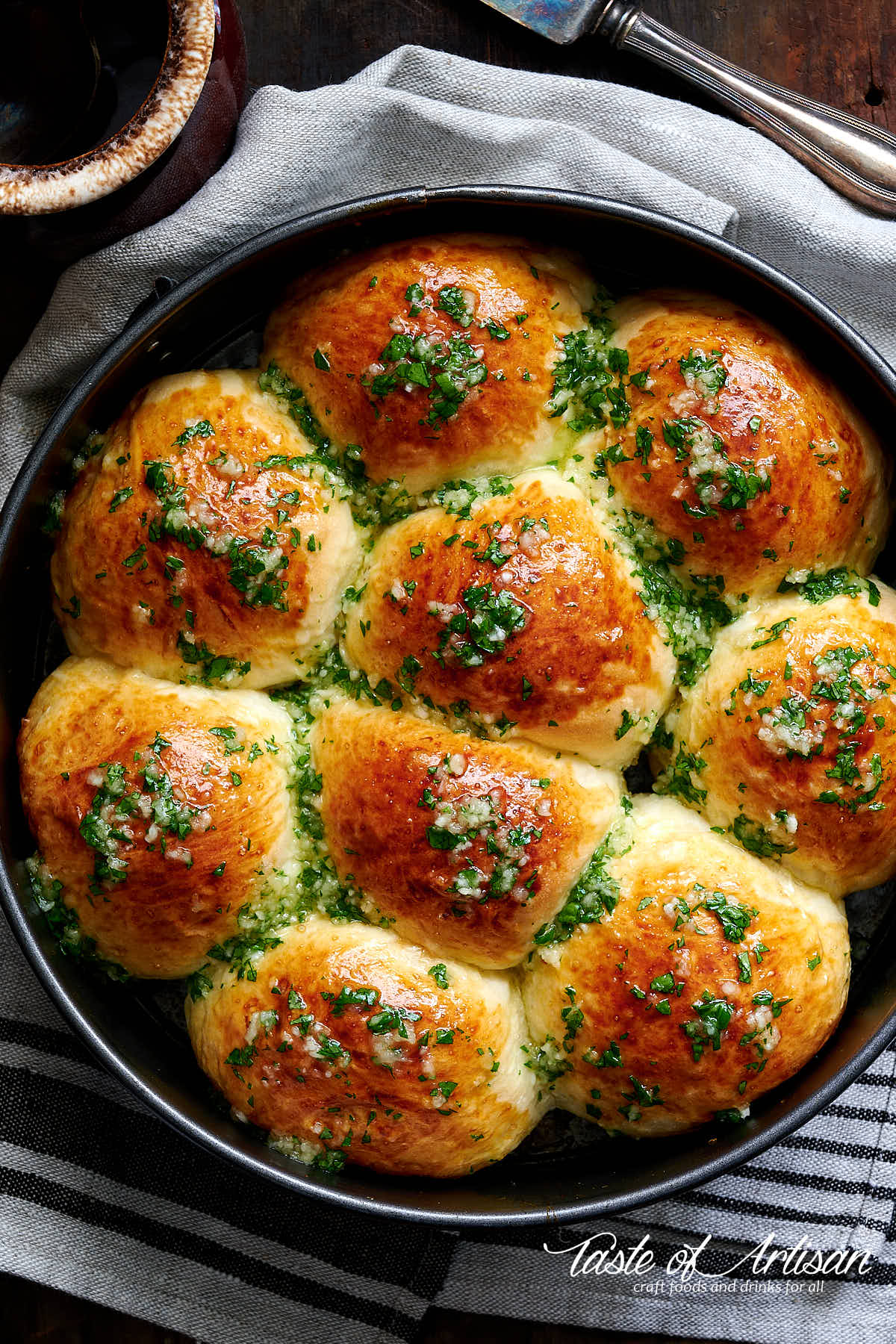 Tips
If the tops of your pampushki brown too quickly, cover the pan with foil after 15 minutes of baking. This will keep the moisture in during the final stage of baking and slow down the browning.
If your pampushki tend to come out dry, put a small pan half-filled with hot water on the bottom shelf of the oven when you start preheating it. By the time you are ready to bake the water in the pan will start to boil, giving the oven a steady supply of moisture. Keep the pan for 10-12 minutes of initial baking then remove it and continue baking without it.
There is no need to punch down the dough after it doubles in size. Just cut it with a serrated knife and gently form pieces in balls. This will make pampushki more airy.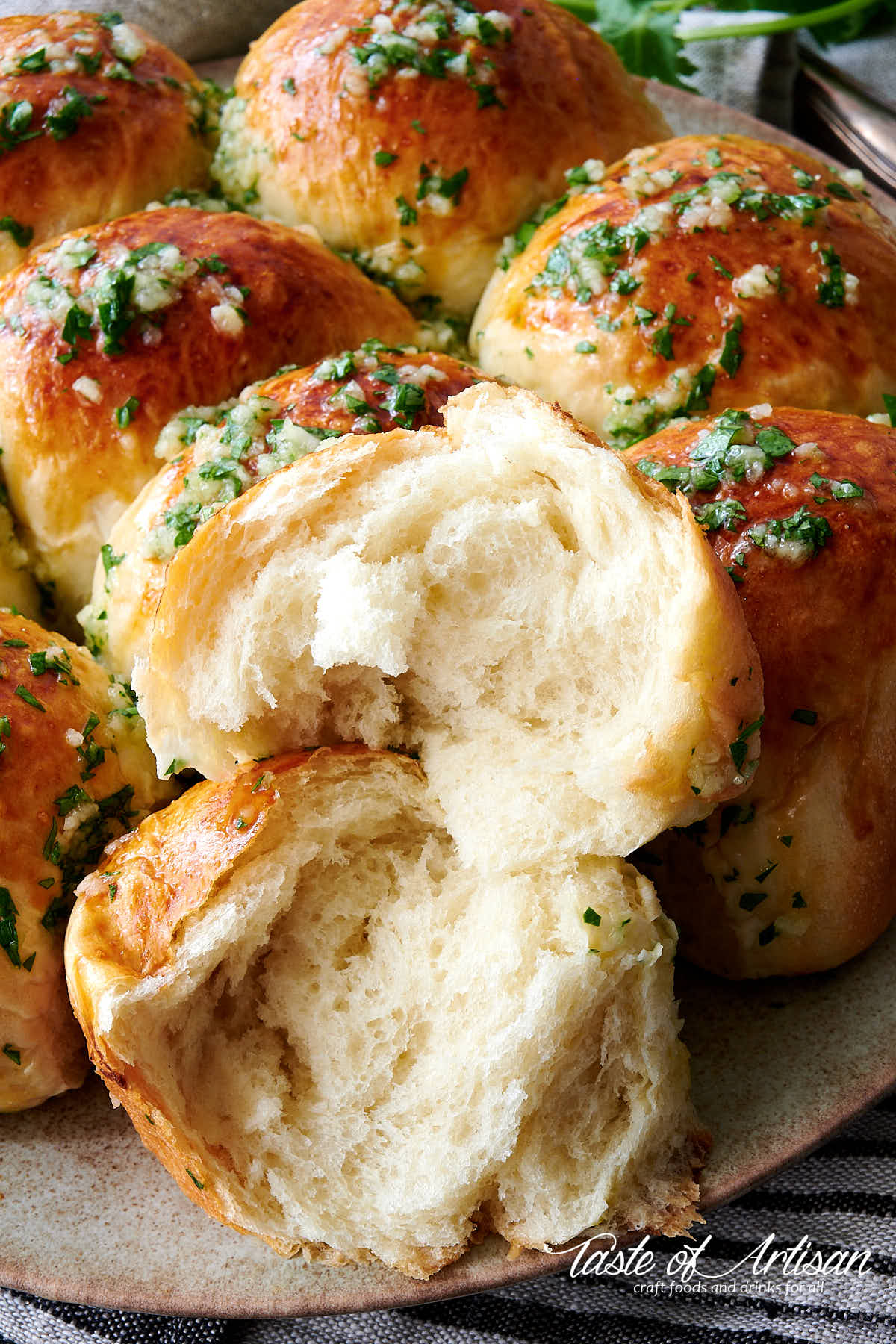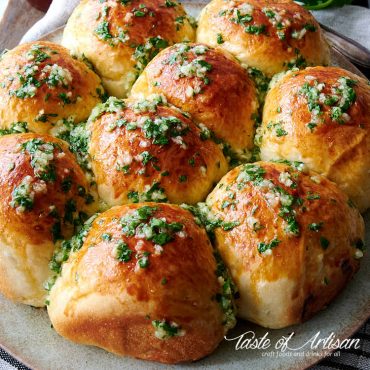 Ukrainian Pull-Apart Garlic Rolls (Pumpushki)
Traditional Ukrainian pampushki recipe.
Print
Pin
Rate
Ingredients
400

g

all purpose flour

2 3/4 cups using scoop and sweep method

225

g

water

1 cup + 2 tsp; 95F - 105F warm

35

g

honey

1 1/2 Tbsp

21

g

vegetable oil

3 Tbsp

5

g

salt

1 level tsp

5

g

lemon juice

1 tsp

9

g

traditional yeast

2 tsp
Garlic sauce
3

cloves

garlic

pressed

1/2

tsp

kosher salt

2

Tbsp

vegetable oil

2

Tbsp

chopped herbs (parsley, cilantro)

3

Tbsp

water
Instructions
Bring the water to about 95-105F (barely warm to touch) and pour into a mixing bowl. Add the yeast and the honey. Let the yeast hydrate for about 10 minutes, until you see foam forming on top.

Add the rest of the ingredients to the bowl, mix together and let rest for 20 minutes.

Knead the dough in the bowl for about 2 minutes. The dough should be soft and tacky to touch. Add more water if needed. If the dough feels too sticky, let it rest for another 10 minutes and then knead again for 1-2 minutes. As the flour in the dough absorbs more water and gluten develops stickiness will decrease. If you feel it is still too sticky, you can add more flour later when shaping rolls.

Cover the bowl with a damp kitchen towel or a plastic wrap and place in warm place for about 1 to 1.5 hours or until the dough doubles in size. A cold oven with the light on is a perfect place for this.

Cut the dough into 9 equal pieces. Shape each piece into a ball. Add some flour if the dough is too sticky. Place the dough balls into a greased round cake pan, spreading them out evenly.

Start preheating the oven to 360F (180C).

Cover the pan with a damp towel and let the dough balls proof for 40 minutes in a warm place.

Whisk one egg yolk in a small bowl. Using a pastry brush, paint the rolls with a light, even coat of egg wash.

Place the pan in the oven and bake for 25-30 minutes until golden brown. Sometimes, depending on how dry your oven runs, you may want to cover the pan with foil after 15 minutes of baking to avoid hardening of the top surface, or use a water pan to produce steady steam.

While your pampushki are baking, start making the garlic sauce. Press garlic into a medium bowl, add salt, oil, water, chopped herbs and stir. Set aside.

Once the pampushki are ready, transfer them to a serving platter. Drizzle the garlic sauce all over and let rest for a few minutes to allow the sauce to soak in. Serve warm.
Nutrition
Calories:
231
kcal
|
Carbohydrates:
38
g
|
Protein:
5
g
|
Fat:
6
g
|
Saturated Fat:
5
g
|
Cholesterol:
22
mg
|
Sodium:
349
mg
|
Potassium:
61
mg
|
Fiber:
1
g
|
Sugar:
3
g
|
Vitamin A:
35
IU
|
Vitamin C:
1
mg
|
Calcium:
11
mg
|
Iron:
2
mg