Bergamo salami is known for its superb taste that makes it highly desirable. It's has a soft texture and a characteristic sweet, delicate, slightly spicy taste. This salami is difficult to buy outside the province of Bergamo and the best examples of this salami are still handcrafted. I've never had an opportunity to try the real deal, but I am determined to replicate this wonder-salami at home. There is nothing you can't cure at home with a good ol' meat curing chamber with fine-tuned temperature and humidity control.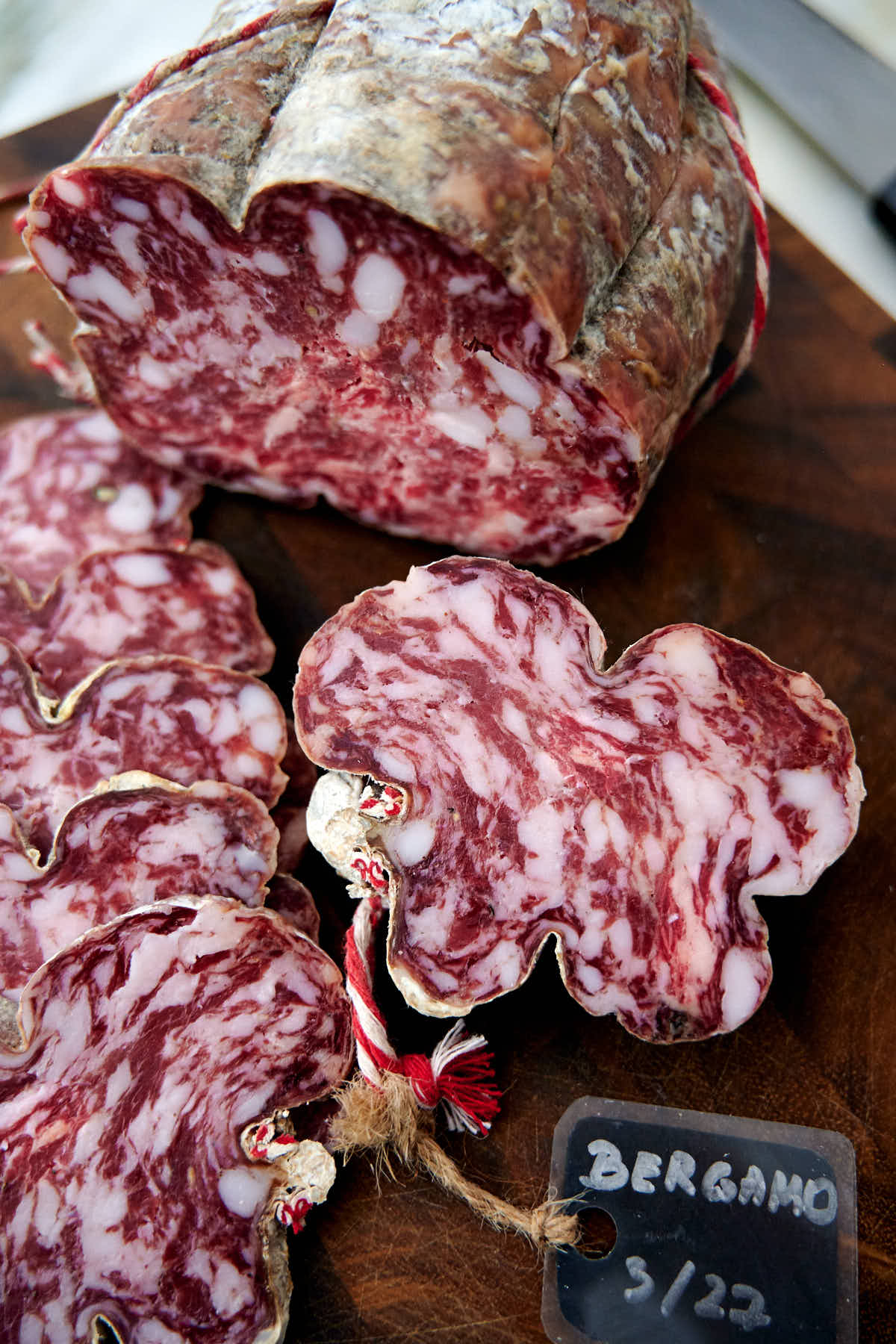 Bergamo Salami, or Salame della Bergamasca in Italian, is native to the province of Bergamo in Italy. The origins of this salami go back to ancient times. After World War II, it was used as a formal means of payment in the region. In the whole province, it is the best known and most consumed type of salumi.
Making Bergamo salami
Bergamo salami is the product of the climatic peculiarities of the province of Bergamo, where the high humidity prevented the development of other cured meats, such as ham. As a result, locals created salami that could be matured even for a long time (over 90/100 days) in such conditions.
The meat
The peculiar climatic conditions also resulted in Bergamo salami using all the parts of the pig, even the noblest ones, which in other regions would be used for making ham, capicola, or culatello.  As well, there was no need to add other types of meat, such as beef.
Another characteristic of Bergamo salami is that it uses meat that comes from a heavy, mature pig, fed exclusively with grains easily grown in the area, such as corn. Mature pigs are better for salumi production as they have a lower water content in muscles, which is ideal for dry-curing.
Bergamo salami consists of a 75-80/20-25 ratio of lean to fat pork. Traditionally, medium-grain sea salt is used at 2.3% - 2.5% of the total meat content. That said, in a home environment and especially when using commodity pork, I recommend using a minimum of 2.8% of salt.
The seasonings
The seasonings used to make this salami are very basic: black pepper, full-bodied red wine (e.g. Valcalepio), fresh garlic and nutmeg, cloves, cinnamon and mace. Fresh garlic in this recipe is only used to infuse wine and is discarded after the infusion. The amounts of spices are tiny, less than a gram, but they go a long way and only enhance the flavor of the pork. You will need to use a precision scale to weigh out the spices in grams, like this Precision Pocket Weight Scale.
Needless to say, it pays to use the best and the freshest pork you can find to make this salami, or any artisan salami for that matter. I learned that years ago when I made my first batch of Genoa salami. This time around, I am using Berkshire and Gloucestershire Old Spot mix that I purchased from Murray's Farm.
The grind and the stuffing
The meat is ground through a large plate for lean pieces and a medium plate for fatty pieces, then stuffed in natural 70mm - 80mm casings. The length of the salami should be no less than 10 inches (25 cm) and each should weigh no less than 2.2 lbs (1.5 kg).

Drying and maturing
To make this Bergamo salami, I am using the new process that I've been experimenting with lately, and about which I wrote in the homemade capicola and pancetta posts. I've had much more consistent drying with it, no case hardening and improved flavor. It starts with what they call in Italy 'dripping' and goes into intensive drying over the next 6 days.
The drying schedule that I used is as follows:
| | | | |
| --- | --- | --- | --- |
| Stage | Duration | Temp | RH |
| Dripping | 14 hours | 77F (25C) | < 99 % |
| Drying | 17 hours | 73F (23C) | 75-85 % |
| Drying | 24 hours | 71F (22C) | 68-78 % |
| Drying | 24 hours | 68F (20C) | 65-75 % |
| Drying | 24 hours | 64F (18C) | 68-78 % |
| Drying | 24 hours | 61F (16C) | 72-82 % |
| Drying | 24 hours | 59F (15C) | 76-86 % |
The objective of the drying phase is to have the salami lose water as efficiently as possible without the casing drying out. During this initial period, salami loses a lot of water anyway and the higher temperature and lower humidity levels will ensure that the water loss is optimal while keeping the casing moist. Do not expect the water loss to be complete, such as 35% or higher, it will only range from 10% to 20% depending on the thickness of the salami.
The schedule above is tuned for thick salami (75mm and up), so you will need to make adjustments for thinner salami.

Salami weight loss progress
While Bergamo salami is typically stuffed into 70-80mm casings, mine was 130mm. With beef bungs, it's a common thing - one side is thicker than the other and some beef bungs are smaller than others. Anyway, this thick salami lost only 11.1% by the time drying was done and the rest of the water loss will occur during maturing.
| | | | |
| --- | --- | --- | --- |
| | Weight, g | Loss, g | Loss, % |
| Start | 2,303 | | |
| 3 days | 2,148 | 155 | 6.7 % |
| 5 days | 2,083 | 220 | 9.5 % |
| 7 days (end of drying) | 2,047 | 256 | 11.1 % |
| 12 days | 1,962 | 341 | 14.8 % |
| 23 days | 1,849 | 454 | 19.7 % |
| 1 Month | 1,806 | 497 | 21.6 % |
| 2 Months | 1,637 | 666 | 28.9 % |
| 3 Months | 1,539 | 764 | 33.17 % |
| 4 Months | 1,502 | 801 | 34.8 % |
| 5 Months | 1,444 | 859 | 37.3 % |
Maturing
After drying, the salami went into the meat curing chamber where it will slowly mature at 55F - 57F (13C - 14C) and 80% - 84% for 3+ months. In my case, as the salami is exceptionally thick, it will most likely take about 5-6 months to mature.
Starting, interim and target pH
The starting pH was at 5.79, which dropped to 5.09 by the end of the 7th day.

I expect the pH to continue dropping a little lower over the following 3 days, level off and gradually come back up. One of my favorite dry-cured sausages is Italian-made cacciatore. In addition to superb texture and flavor, it lacks the overwhelming acidity of the North American commercially produced fast-fermented salami. I checked it's acidity and got the reading of 5.73.

This is my ideal target pH but let's see what we get once my Bergamo salami is fully mature. It has developed a beautiful white mold which should help bring acidity down over time.
Tasting notes
Five months later my Bergamo is done and I happily cut into it. What a beauty!

Perfectly cured from side to side with no signs of case hardening. I could not be happier with the curing results.
Tastewise, it's quite good. Delicate and quite aromatic it was but not sweet as the PDO description described it. Perhaps by 'sweet' they mean not spicy, dolce as opposed to piccante. I detect just a hint of spiciness and noticeable aromas of mace, cinnamon, cloves and nutmeg.  These spice aromas are quite potent and compete with the porky flavor. I wouldn't say that they overpower it but the aromatics are very noticeable. If you like aromatic salamis, this is a good one to try.
Time and time again I get reminded by my family members that they'd rather prefer smaller fat pieces. Fennel salami was perfect in that respect. If and when I make this salami again, I will grind the meat and the fat through a 3/16″ (4.5mm) grinder plate.
The final pH was 5.47 which translated into very mild acidity characteristic of traditionally cured Italian salami.  I tend to favor salami with less acidity so this was a pleasant surprise.

Overall, this was a very good tasting salami. I can't say that it was the best I've ever tasted but it was very good and I am glad I tried it. Because of the strong aromatics, I think this recipe would be a good candidate for making salami with commodity pork which benefits from slightly stronger aromatics.
If I were to compare Bergamo salami against the other two most recent salamis that I made, Finocchiona (fennel) salami would be at the top, very closely followed by Calabrese salami, then followed by Bergamo. My family members by far preferred the Calabrese salami, one of our family's all-time favorites, closely followed by Finocchiona, then by Bergamo.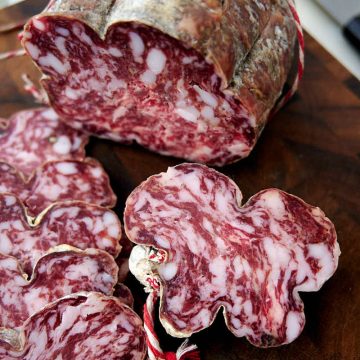 Ingredients
750

g

lean pork

any or a combination of ham, shoulder, neck (coppa), or loin

250

g

fatty pork

cheek, belly or back fat

25.5

g

sea salt

2.5

g

Cure #2

2

g

dextrose

0.12

g

T-SPX culture

60

ml

distilled water

0.5

g

black pepper

cracked or split in halves

1/4

clove

garlic

crushed, for infusing wine only, removed after infusion

10

ml

red wine

Full-bodied red wine, e.g. Valcalepio from Bergamo or any other full-bodied red wine

0.5

g

nutmeg

0.3 to 0.5 allowed

0.4

g

cloves

0.3 to 0.5 allowed

0.3

g

cinnamon

0.3 to 0.5 allowed

0.3

g

mace

0.3 to 0.5 allowed
Instructions
Crush the garlic and place it in a small cup. Add the wine and let it infuse for at least 30 minutes and up to 2 hours. Strain the wine before mixing it with the meat.

Rehydrate the starter culture in 60 ml distilled water. (see notes)

Weigh the lean meat and the back fat in grams. Calculate the rest of the ingredients, except the distilled water which will remain the same (see notes), weigh them out and set aside.

In a small bowl, combine the salt, Cure #2 and dextrose.

Cut the lean meat and the back fat into 1-inch pieces and place into separate bowls. Sprinkle about 80% percent to the salt mixture over lean meat, 20% over fat and mix each well.

Freeze the meat and the fat for 20 minutes before grinding.

Grind the lean pork through a 3/8-inch (10 mm) grinder plate. Grind the fatty pork through a 1/4-inch (6mm) grinder plate.

Combine the lean pork with seasonings, dextrose, and starter culture. Mix well, until sticky, then mix in the groud back fat. It helps to use a stand mixer with a paddle attachment for this.

Stuff into 70-80mm natural casings and tie into 10-inch (25cm) links, weighing not less than 1,500g.

Using a sterilized needle or sausage pricker, prick holes across the entire salami.

Weigh the salami, write down its weight on a tag and attach the tag to the salami.

If desired, inoculate with mold.

Use the leftover meat from the stuffer/stuffing tube to make a small sample for measuring the initial pH and the pH at later stages. Make sure to record the readings.

Dry at 59F - 77F (15C - 25C) and 65% - 86% RH for a period of 7 days as per the drying protocol above. Measure the pH, it should be below 5.3 at this point.

Mature in the curing chamber at 55F - 57F (13C - 14C) and 80% - 84% for about 3 months.
Alternative curing method
Ferment salami at 68F-70F for three days to get the pH below 5.3.

Cure at the standard 55F-57F and 75% RH until 35% weight loss is obtained.
Notes
When scaling the recipe up, increase the starter culture accordingly but keep the amount of the water at 60 ml. Double water if you go over 3 kg of meat.
Nutrition
Calories:
193
kcal
|
Carbohydrates:
1
g
|
Protein:
19
g
|
Fat:
12
g
|
Saturated Fat:
4
g
|
Cholesterol:
66
mg
|
Sodium:
1134
mg
|
Potassium:
356
mg
|
Sugar:
1
g
|
Vitamin C:
1
mg
|
Calcium:
4
mg
|
Iron:
1
mg