Most meats when overcooked will have an inferior texture and taste. This is especially true with the lean chicken breast meat. Fortunately, soaking chicken in brine will help to achieve a moister and juicier product.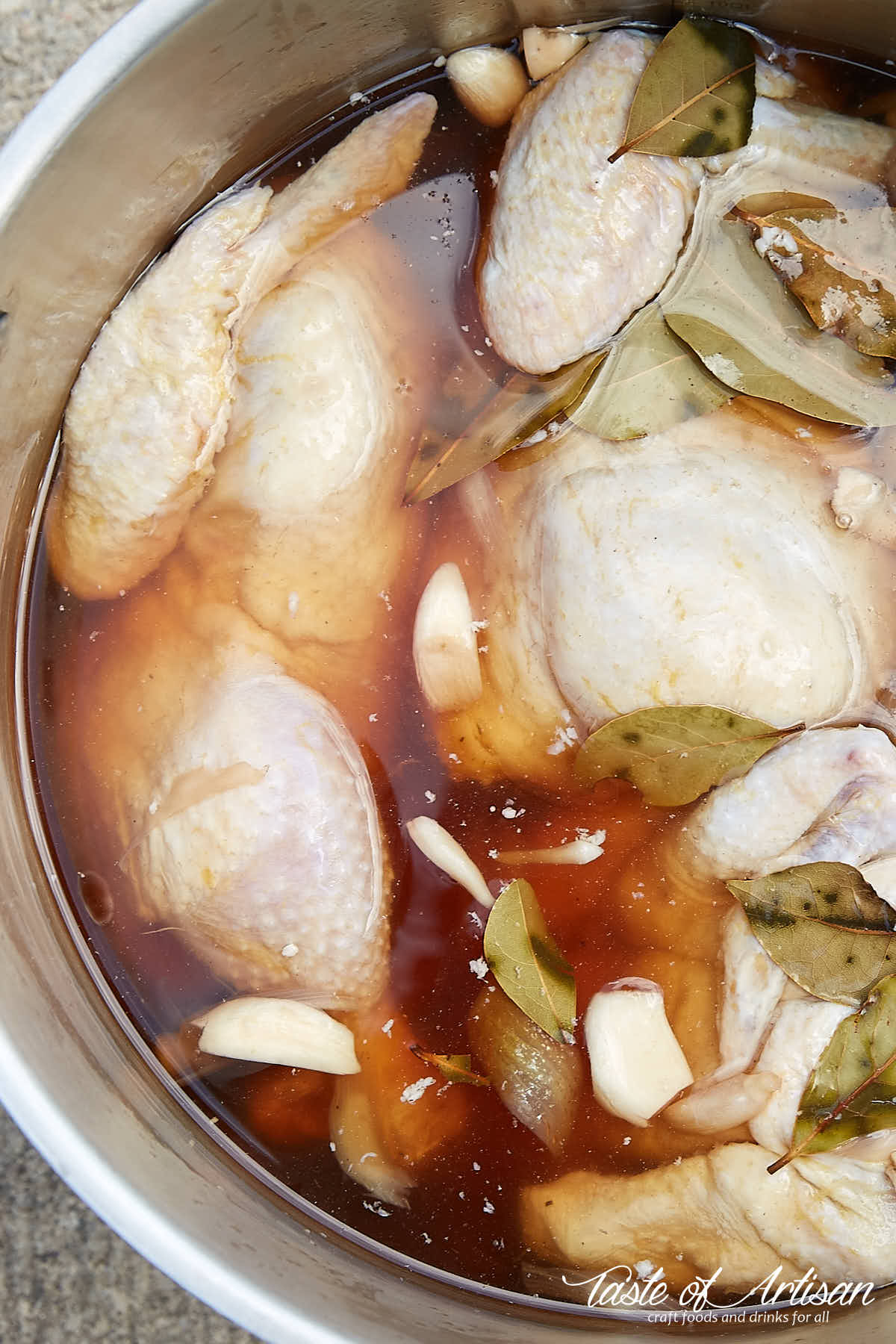 What is brine?
At its core, a brine is a strong solution of water and salt. To give the brine more flavor sweeteners (such as brown sugar, maple or corn syrup, molasses, etc.) and spices are usually added.
What does brine do to chicken meat?
The verb "brine" means to treat with or steep in brine.  The salt has two effects on poultry: "It dissolves protein in muscle, and the salt and protein reduce moisture loss during cooking. This makes the meat juicer, more tender, and improves the flavor. The low levels of salt enhance the other natural flavors of poultry."
Another benefit of brining chicken is that it allows even flavor distribution. If you just rub chicken meat with spices or put sauce on it, it will be flavorful on the outside, but bland on the inside. Brining makes meat have the same flavor from surface to center. Brining is also known to improve browning of the chicken meat.
Making the chicken brine
Echoing USDA's guidelines on brining, Stanley Marianski in his well-known book titled Home Production of Quality Meats and Sausages recommends the following brine formula:
A typical brine solution (no Cure #1 added)
1 gallon of cold water
¾ cup of salt
3 oz (85 g) sugar (brown or white)
A typical brine solution (with Cure #1)
1 gallon of cold water

½ cup (146 g) of salt

3 oz (85 g) of Cure #1 – corresponds to 79 g of pure salt
3 oz (85 g) sugar (brown or white)
Note: Cure #1 is required for brining products that will be smoked at low temperatures (below 200F) as it inhibits the growth of harmful bacteria. Cure #1 is also called Insta Cure #1 or Pink curing salt #1. It contains 6.25% sodium nitrite and 93.75% table salt. Sodium nitrite provides the characteristic flavor and pink color associated with curing.
To prepare a brine dissolve salt in cold water by mixing it thoroughly (salt dissolves much faster in hot water than in cold water). Cover and refrigerate before adding the chicken.
The above formulas are a good start, but they lack in flavor. My improved formula for chicken brine inevitably includes vegetables and spices to add complex flavor to the otherwise bland chicken meat, especially the breast meat. The chicken brine recipe below is what I have been successfully using and perfecting over the past 10 years. It's exceptionally flavorful and reminds me of a tasty homemade chicken stock.
Poultry Brining Time
Brining time depends on the size of the product. Stanley Marianski's , a well-known authority on the subject of smoked meats and sausages, recommends the following brining times for poultry:
Cornish Game Hens 1 - 2 hours
Chicken Pieces 2 - 4 hours
Whole Chickens (2 lbs.) 1 day
Whole Chickens (4 lbs.) 1 - 2 days
Turkey Breast 4 - 8 hours
Whole Turkeys (up to 10 lbs.) 1 - 2 days
Whole Turkey (over 10 lbs.) 2 - 3 days
It is safer to brine on the low end of the time range on the first attempt and keep notes for future reference as it's easy to fix an under-salted product than over-salted one. You can always brine longer the next time if required.
Be especially careful when brining chicken wings. I find that wings need no more than 1 1/2 hours. Longer brining makes them too salty.
Safety considerations
Brining should be done at a refrigerator temperature (below 40F), with the starting brine temperature also being below 40F.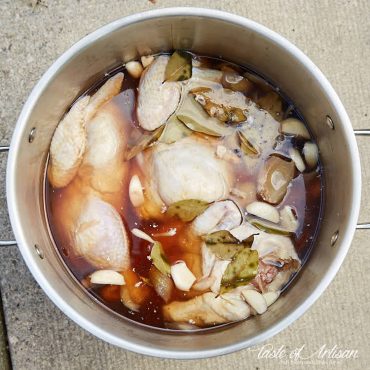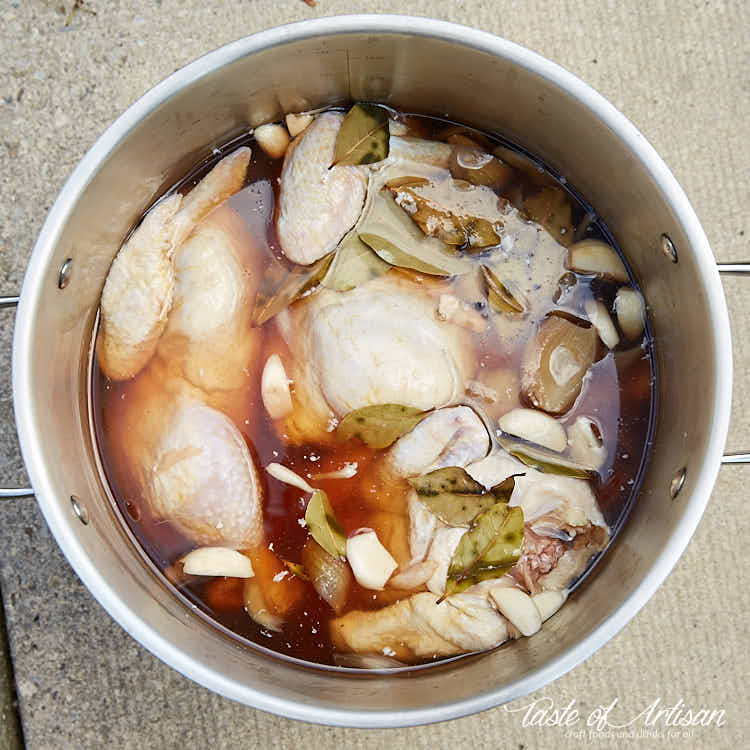 Improved Chicken Brine Recipe
A recipe and instructions for brining chicken and poultry in general.
Print
Pin
Rate
Ingredients
1

gallon

water

ice cold

¾

cup

kosher salt

(219 g)

3

oz

sugar

(85 g); brown or white

2

large carrots

peeled and cut into pieces

2

medium onions

peeled and cut into pieces

8

cloves

garlic

peeled and cut in halves

3

bay leaves

1

Tbsp

black peppercorns
Instructions
To prepare the brine, bring 1 quart of water to boil, add salt and sugar and stir to dissolve. Add chopped vegetables and spices and remove from heat. Cover and let cool. Mix with the rest of the water and refrigerate to cool below 40F before adding the chicken.

Add the chicken an brine in a refrigerator according to the table above.

After brining, rinse the chicken in cold tap water for 5 minutes to remove any crystallized salt from their surface, then leave it to drain.
Dry chicken brine
Brine does not have to be liqiud. Dry brining is simple yet  just as effective alternative to traditional wet brining methods. Dry brining involves seasoning the meat with salt and spices and refrigerating for two days. This two day process drains moisture out of the poultry, creating a flavorful brine, which is then reabsorbed into the meat without adding additional water.
Poultry is typically brined by a wet method as it is very easy to end up with a product that is too salty. My solution for dry brining is to use the exact amount of salt that is needed to make the meat perfectly salted. This way the chicken meat will never get over-salted. Let's say I am going to brine 4 lbs of chicken breasts. My definition of perfectly salted meat is 6 grams (1 heaping teaspoon) of kosher or sea salt per pound of meat. With that in mind, I will dry brine my chicken breasts by rubbing them with exactly 4 heaping teaspoons of kosher salt.