Fuet is a Catalan thin, dry-cured sausage made with pork and stuffed in hog casings. The seasonings are very simple - salt, white wine, white pepper and fresh garlic. This particular recipe predates Columbus's return to Europe with a variety of the New World peppers, so no paprika here. Though, it's common to see modern fuet recipes featuring paprika.

I've been thinking of making fuet since April 2015, when I bought Jeff Weiss's Charcuteria, and saw the recipe and the beautiful picture of the final product in it. Alas, it took me almost 5 years to try my hand at making this sausage. Somehow between trying other exciting charcuterie recipes, designing and building a smokehouse, making a variety of Polish smoked kielbasa recipes, this one inadvertently slipped through the cracks.
Was it worth making? It's a definite yes. It bears a lot of similarities with Italian salami. This wasn't the best tasting dry-cured sausage I've ever tried but it was very good. Garlicky. A touch too salty and a little too acidic for my taste. I would definitely drop the overall salt content from 3.04% to about 2.8%.
Getting the acidity right is a little trickier. Traditionally fermented Italian salami, my favorite, finishes with the pH of about 5.9. pH drops initially, to 5.3 and even lower, then bounces back over time. White mold is critical in reducing acidity. But even if you have a healthy white mold, acidity reduction still needs time.
Since this sausage is very thin, it matures very quickly. I doubt that you could get it to 5.9  before it becomes rock hard. But I do find that 0.6% sugar/dextrose content was a little high. Perhaps dropping it to 0.3%, a more commonly used amount, would give me what I am looking for. My fuet's pH dropped to 5.3 after 22 hours, 1-2 days sooner than the recipe suggested.

I should have tested it after 10-12 days but I didn't. I have a feeling that it dropped well below 5.3 over time, then recovered a little.
One caveat here is that I used the B-LC-007 starter culture in this recipe. Unlike the T-SPX culture, it does tend to acidify meat pretty quickly. You have to watch the acidity very closely. Perhaps the culture was the culprit in the acidity problem.

But, really, I am just nitpicking. Overall the sausage turned out quite nicely. My kids and my wife, my most important taste-testers, found my fuet to be outstanding. Fresh garlic comes through very, very well and there is a hint of white pepper spiciness. The garlic drove me nuts during fermentation and initial drying, the smell in the curing chamber was so appetizing. If you love garlic, you will love this fuet. This one might as well be called 'garlic salami'.

The recipe recommends drying to 35% weight loss. I rarely follow those recommendations anymore. Instead, I go by how the sausage feels when you press on it. I like a firm, well-dried texture. By the time my fuet reached that stage, it lost around 45-47% of its weight. It's not hard by any stretch of the imagination though. Firm, but not hard. And delicious! I dried it at about 76% - 78% though, a little lower than the original recipe recommended.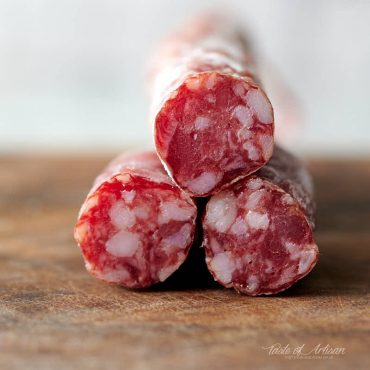 Ingredients
400

g

lean pork meat

400

g

coppa

200

g

pork back fat

100

ml

water

10

g

garlic

minced

28

g

kosher salt

3

g

dextrose

3

g

granulated sugar

2.4

g

Cure #2

50

ml

white wine

e.g. Verdejo, chilled

5

g

ground white pepper

2

feet

32-36mm hog casings
Instructions
Freeze the meat, the fat and the grinder parts for 30 minutes.

Add the T-SPX culture to a glass with 100 ml of water and stir. Set aside.

Crush the garlic with the salt in a mortar using a pestle, creating a slurry. Add the dextrose, sugar, salt, Cure #2 and mix. Divide the mixture in half and transfer to two large bowls.

Add the lean meat to one bowl and the coppa and back fat to the other. Mix, cover and refrigerate until ready to grind.

Grind the coppa and the fat through a 3/8" (9.5mm) plate. Similarly, grind the lean meat through a 3/8" (9.5mm) plate into a separate bowl. Freeze the meat and the fat for 20 minutes.

Grind the lean pork through a 1/4" (6mm) plate. Combine with the ground coppa and back fat.

In a separate small bowl, mix the wine with the white pepper. Refrigerate until ready to use.

Place the ground meat and back fat into a bowl of a stand mixer fitted with a paddle attachment. Start mixing on low, slowly adding the wine mixture to the mix. Next, slowly add the starter culture mixture. Continue mixing for 2 minutes, until the meat is sticky. Refrigerate the meat until ready to use.

Stuff into soaked and rinsed hog casings and tie into long, 18" links. Using a sterile needle, prick any air bubbles. Weigh each sausage and write down the green weight, preferably on a label on each sausage.

Ferment at 65F to 80F and 85% - 95% RH for 2-3 days.

Hang the sausages in the curing chamber set to 54F - 60F and 80% - 85% RH for 1-2 months, until the sausages have lost about 35% of their green weight, at which point they will be ready fo consumption.
Nutrition
Calories:
834
kcal
|
Carbohydrates:
4
g
|
Protein:
47
g
|
Fat:
73
g
|
Saturated Fat:
26
g
|
Cholesterol:
183
mg
|
Sodium:
4880
mg
|
Potassium:
444
mg
|
Fiber:
1
g
|
Sugar:
2
g
|
Vitamin C:
1
mg
|
Calcium:
14
mg
|
Iron:
2
mg