Insanely popular in the Soviet Union, doctor's sausage was a staple on many people's holiday tables. It was made of only the highest quality ingredients. This wasn't a cheap sausage, but it was delicious.
Even though doctor's sausage looks like your typical bologna, it's not. It's much, much better. You will understand once you try the real deal that you can make at home. It's outstanding and is what any other bologna only dreams of tasting like.

What is doctor's sausage?
Doctor's sausage, also known as doctor sausage or doktorskaya kolbasa (докторская колбаса), is a bologna-style sausage that was invented and became very popular in the Soviet Union. The attraction of doctor's sausage was in that it was made of the highest quality meat with no cheap fillers and it contained very little fat. This sausage was a top-tier sausage and commanded a premium price.
Doctor's sausage still lives on even after the fall of the Soviet Union in 1991, albeit the quality of modern doctor's sausage is not the same anymore and it falls short of the original standards.
Some history behind doctor's sausage
A few years after the Great October Socialist Revolution of 1917, the Soviet Union began to standardize the production of various foodstuffs, resulting in the publication of State Standards in 1925.  Later, this system of standards became widely known as ГОСТ (GOST) which stands for Государственный Стандарт or State Standard.
We are very lucky that ГОСТ standards were openly published and everyone could have access to the recipes and production details of the familiar and loved foods.
Doctor's sausage recipe was first published in 1938. It was later changed and a new recipe was published in 1979, known as standard 23670-79. The 1979 recipe of this sausage though represents this sausage that everyone knows and likes.
The Soviet Union had a lot of sausages and some were similar in appearance. Each type had a unique tying pattern that allowed telling them apart to differentiate between sausages. For example, doctor's sausage had two parallel strings on one end if those were encased in long, thinner casings. Large, natural casing sausages were tied with a cross.

Where to buy doctor's sausage?
Outside of modern Russia and some other post-Soviet Eastern European countries, doctor's sausage is sold wherever there are large Russian-speaking communities. Any larger Russian grocery store will have doktorskaya kolbasa. You can find this sausage in New York (Brighton Bazaar), Toronto (Yummy Market), Chicago, Dallas, and many other large North American cities.
How to make doctor's sausage?
Doctor's sausage is made of high-quality, fresh meat from young animals.
Making of doctor's sausage consists of the following main steps:
Preparing the meat by removing all connective tissue, fat, sinew from the meat and cutting it into large pieces.
The meat is then salted and cured for 48-72 hours.
After curing, the meat is ground through a 3mm (1/8") grinder plate.
Next, the meat is further processed/emulsified in bowl cutters.
Next. the meats are mixed together with seasonings.
The next step is to stuff the meat into natural or artificial casings. Artificial casings are typically 65-125 mm in diameter.
Stuffed doctor's sausage is hung at fridge temperatures for 16-24 hours to settle. Excess water will drip out during this stage as well.
The next step is best translated as 'frying' where sausages are cooked at 140F - 195F with wood smoke for about 2 hours. This is done to give the sausages a good color.
Next, the sausages are poached or steam-baked at around 167F-185F for 1.5 - 2 hours until they reach 154F internal temperature.
Finally, the sausages are cooled down in cold water for 30 minutes or hung at 50F-55F for 10-12 hours. After that, the sausage is refrigerated.
Simplifying the process at home
This process can be simplified at home, and some steps can be combined or removed.
For example, the 'frying' stage can be omitted if using dark fibrous casings as the color will not be an issue. In general, the color was needed to make the sausages marketable. This is not a concern at home. However, I try to smoke my doctor's sausage every time I make it, not just for the color but the for smoky flavor and the protective properties of the smoke. Smoked doctor's sausage seems to keep longer in the fridge.
So, if you can, I recommend smoking. You will need a smoker or a smokehouse that can maintain the temps between 140F and 195F.

Settling overnight in a fridge can be substituted by hanging the sausages for 4-6 hours at room temperature, which you should do anyway to bring the temp of the meat up before smoking or cooking in general. Putting cold sausages into a hot smoker or oven may also result in water/fat blisters forming under the casing.
Meat curing can be reduced to 24 hours by cutting the meat into smaller, say 1-inch, pieces.
Steam-baking at home is a bit of a challenge and took me 2 hours for the thinner (55mm diameter) sausages and 2 hours and 40 minutes for the large natural casing sausages. I had to add boiling water every 30 minutes or so for more steam.

Steam-baking dries out the skin a little as it's hard to keep up constant steam. It's not a big problem but you notice it. A large steamer would be a better option but the temps inside steamers are too high - 214F - 240F. The only other viable option is poaching and it's quicker and more predictable.
Finally, since very few of us have bowl cutters at home, the only viable alternative is to use a food processor. Go small, 2-3 cups of meat with half a cup of ice water or so at a time. It works very well.
I've tried a blender before as well as a hand blender, those worked but were a big pain in the back to get decent emulsification. Keep the meet below 50F at all times as that also may result in water/fat blisters forming under the casing.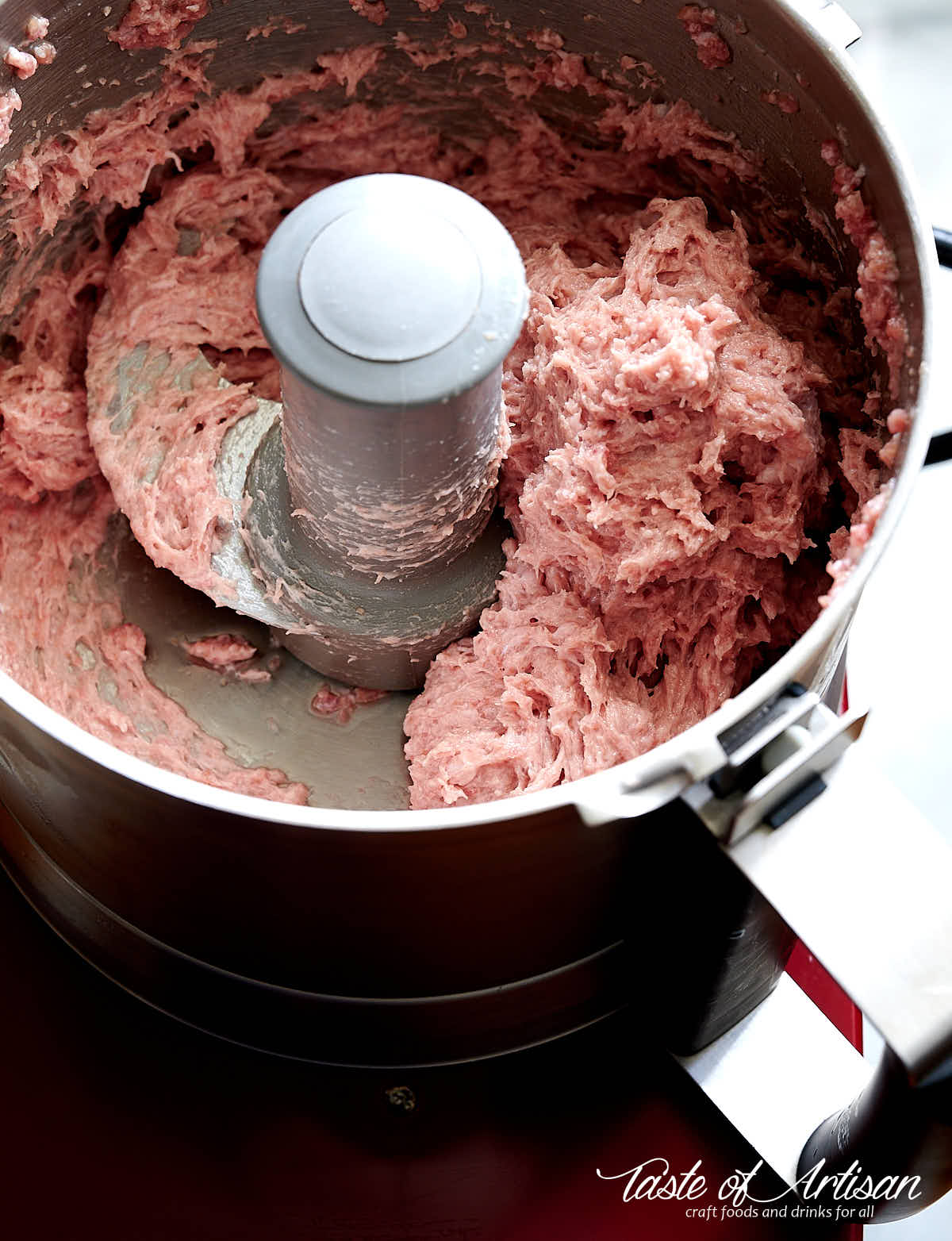 Main differences between the 1938 and 1979 doctorskaya kolbasa
The 1939 sausage was much leaner and did not contain any binders. It consisted of 15% lean beef, 60% lean pork, and 25% fatty pork (fat content at least 50%).
I've never had a chance to try a commercial version of the 1939 version of doctor's sausage but I made it at home. It was good but had a drier, crumblier texture. It was definitely less enjoyable than the 1979 version but still quite good. Especially when it's pan-fried with some eggs for breakfast.

The 1979 version of doctor's sausage consisted of 25% lean beef, 70% semi-lean pork, 3% eggs, and 2% dry milk. This made a huge difference to the texture of this sausage, making it creamier and smoother. This version also had less salt which I appreciated. This is my favorite version of this sausage by far.

Making doktorskaya at home - is it worth it?
Is it worth it? 100% yes! If only for the fact that you can't buy the real deal anywhere anymore. All modern commercially produced versions of this sausage have deviated from the original recipe to cut costs and expedite production. I've tried the better versions of this sausage and they don't taste like the original that I remember. The homemade version made according to the standard does though. It takes a bit of time and effort to make but it's worth it.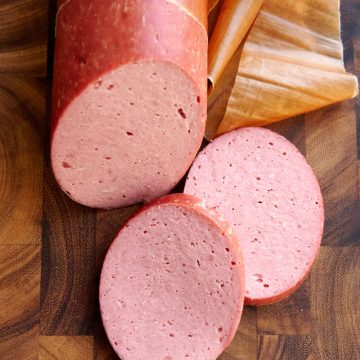 Ingredients
1 1/2

lbs

lean beef

3 1/2

lbs

semi-lean pork

25% - 30% fat

1

egg

lightly beaten

1/3

cup

dry milk

heaping

2

Tbsp

kosher salt

see notes

1

tsp

Cure #1

level

1

tsp

sugar

heaping

1/2

tsp

nutmeg
Instructions
Cut the meat into 1" pieces, place in a large bowl, mix with salt/Cure #1 mixture. Cover and refrigerate for 24-48 hours.

Grind the meat through a 1/8" (3 mm) plate. Emulsify in a food processor, 2-3 cups at a time, adding up to 25% - 30% icy water or ice to keep the meat cold. The meat should never get warmer than 50F (10C).

Add the egg, dry milk, sugar, and nutmeg and mix everything together.

Stuff the meat into 2.5" - 3" (50 - 75 mm) synthetic fibrous casings or large natural casings. Stuff the casings firmly and tie with a butcher's twine on both ends. Prick any visible air pockets with a needle.

Refrigerate for 16-24 hours.

Before cooking, hang the sausages in a drafty area and dry them at room temperature for about 4 hours.

Optional step: Transfer to the smoker and further dry without smoke at around 130F for 30 minutes. Next, smoke over oak/beech wood for 2 hours at around 140F. The guidelines allow smoking this sausage between 140F and 195F.

Poach at 167F - 185F (75-85C) or steam-bake in the oven with a pan of hot water underneath at 175F-185F (80-85C) for 1.5 - 2.5 hours or until the internal temperature reaches 154F (68C).

Chill the sausage under a cold shower or in a cool room (50F - 55F / 10C-12C) for 10-12 hours or until the internal temperature reaches about 64F, then wrap in plain butcher's paper and refrigerate.

This sausage will keep in the fridge for about 2 weeks (poached, non-smoked) and 3+ weeks if smoked and steam-baked in the oven. Freezing is not recommended.
Notes
The original recipe calls for 3 Tbsp (47 g) of salt, including Cure #1. I find this too salty for my taste but you can bump the salt up if you wish.
Nutrition
Calories:
166
kcal
|
Carbohydrates:
1
g
|
Protein:
23
g
|
Fat:
7
g
|
Saturated Fat:
3
g
|
Polyunsaturated Fat:
1
g
|
Monounsaturated Fat:
3
g
|
Trans Fat:
1
g
|
Cholesterol:
79
mg
|
Sodium:
899
mg
|
Potassium:
419
mg
|
Fiber:
1
g
|
Sugar:
1
g
|
Vitamin A:
32
IU
|
Vitamin C:
1
mg
|
Calcium:
35
mg
|
Iron:
2
mg