This no-knead sourdough bread is made with pure levain, bread flour, water, and salt. It's a great bread for everyday baking if you like white bread, with a lot of flavor and very mild acidity.

Bread made with pure levain, or sourdough,  is not identical to bread made with baker's yeast, or a mix of levain and baker's yeast. Pure sourdough breads are typically rustic, denser, with bigger holes and a thicker, chewier crust. When baked to a darker crust, dark chocolate flavors will develop and permeate the crumb. Pure sourdough breads also have a pronounced acidic taste, where the degree of acidity varies depending on the amount of levain used, its age, fermentation time and temperature, and other factors.
This particular bread features a very light, open crumb, similar to white breads made with baker's yeast, and very mild acidity.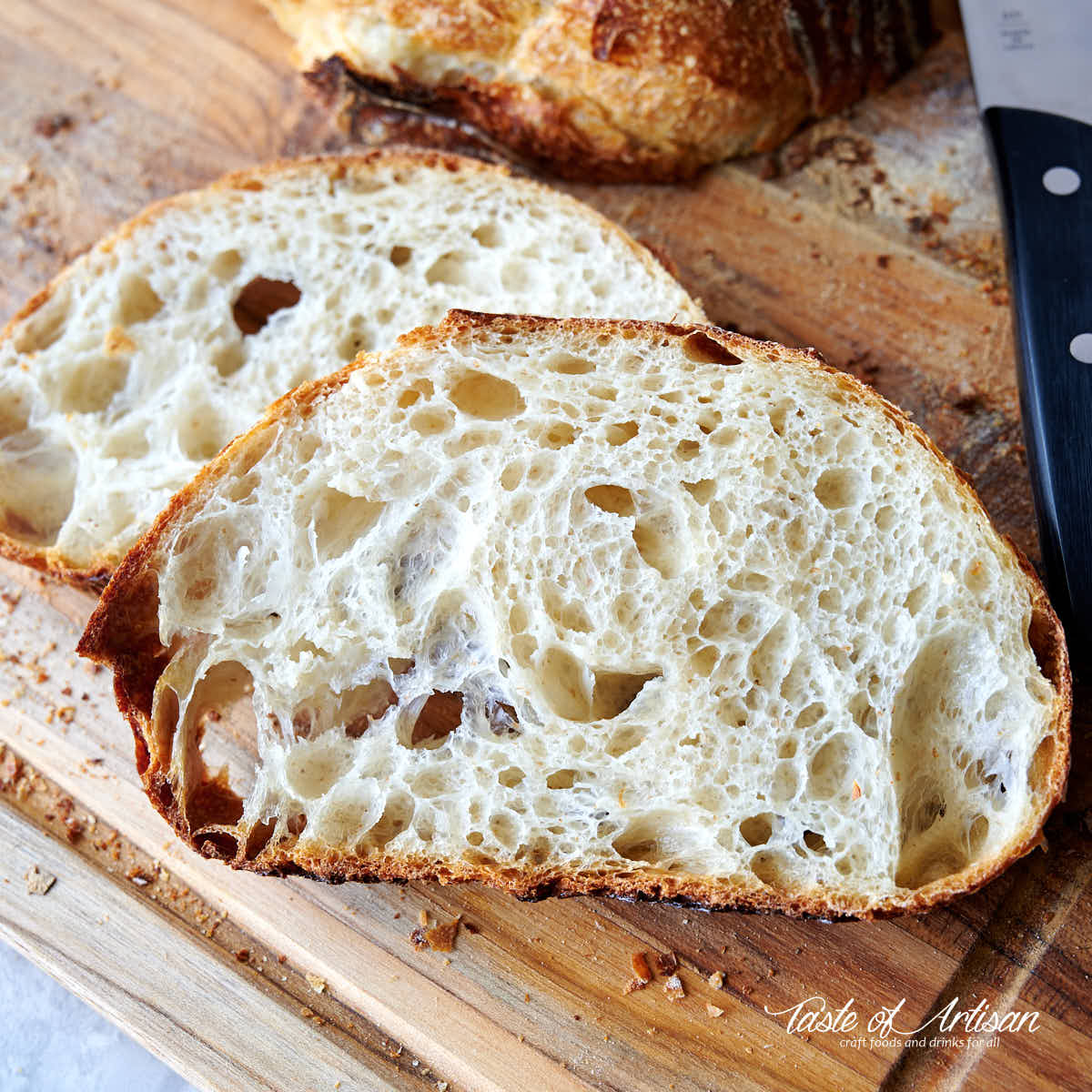 This is primarily because in this recipe I use double the amount of levain I typically use to make sourdough bread. This expedites fermentation and results in less acidity. I also use a fairly young, very active sourdough starter, about 8-10 hours after feeding. It has minimal acidity built up in it and is so active that the bread finishes bulk fermentation in about 3-4 hours and gets an outstanding oven spring.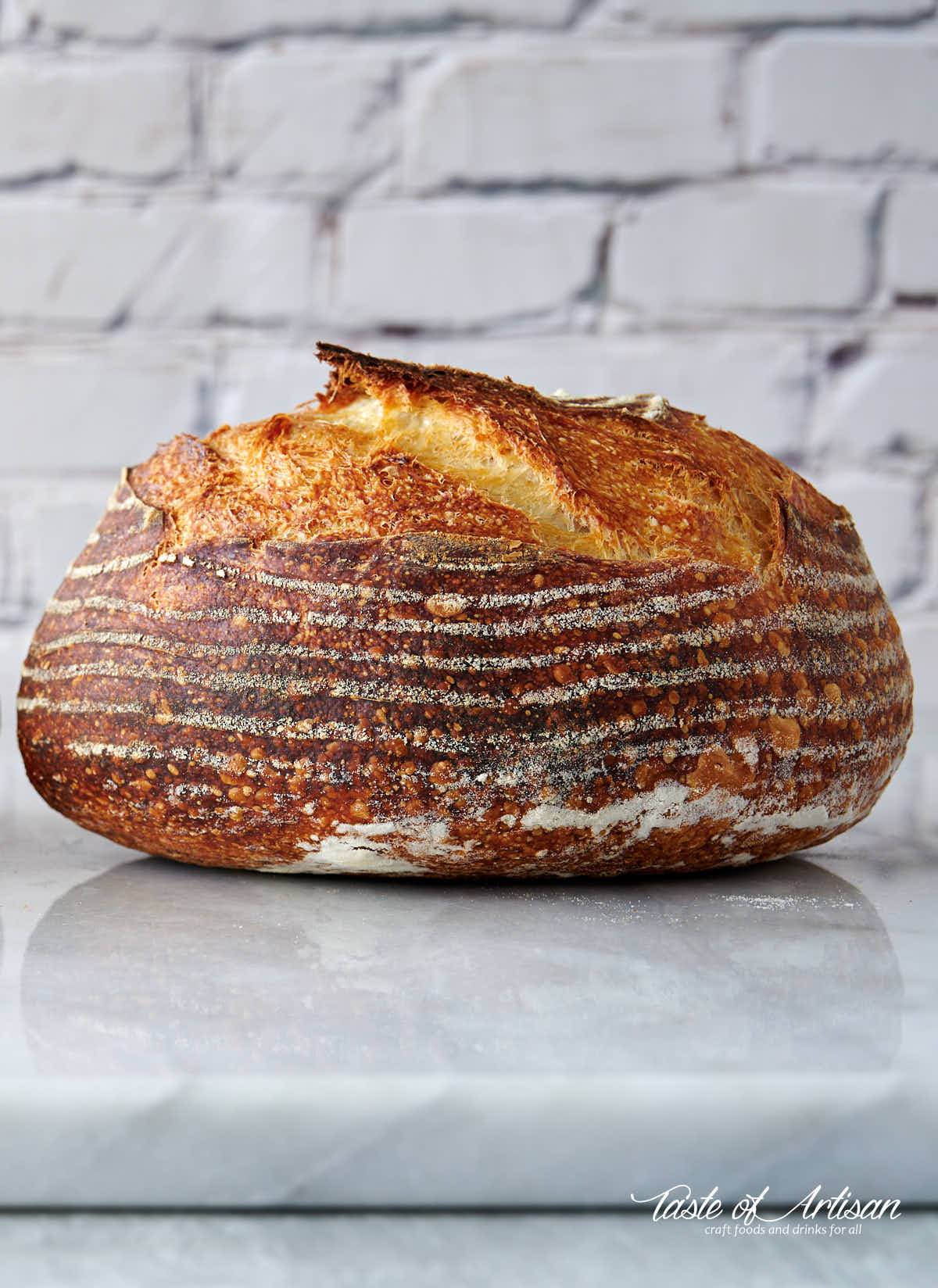 Baking the bread
There are usually 3 ways you can bake bread in a home oven. That's assuming that you don't own one of those fancy ovens with steaming and other cool functions, like proofing. Those are:
Baking on a baking stone with a water pan, as described my previous posts, advanced no-knead bread and artisan sourdough bread.
Baking in a cast iron combo cooker, popularized by Chad Robertson in his Tartine Bread book.
Using a cloche.
Lately, I've been experimenting with a fourth method, using a (un-preheated) stainless steel bowl and a baking stone. The results have been quite good. Baked this way, the crust comes out relatively pale and not as thick, but this is a great option for those who don't own a cloche or a combo cooker, or don't want to mess with a water pan. The oven spring with this method is quite good too.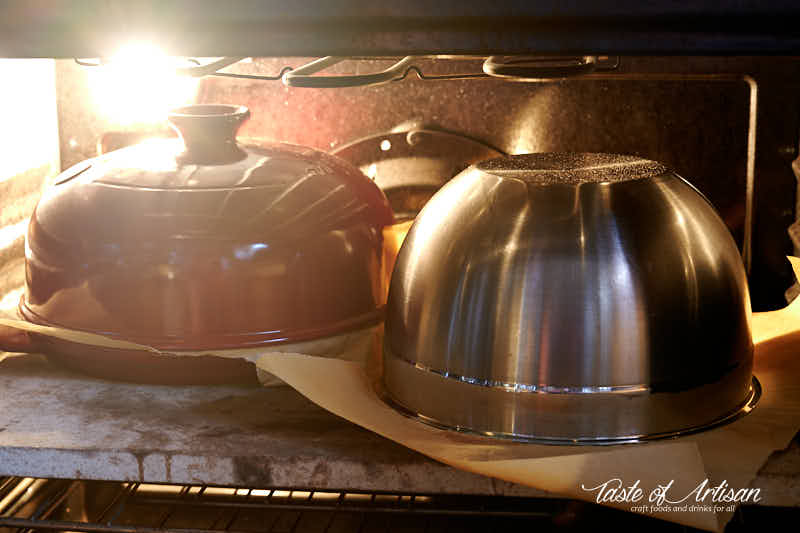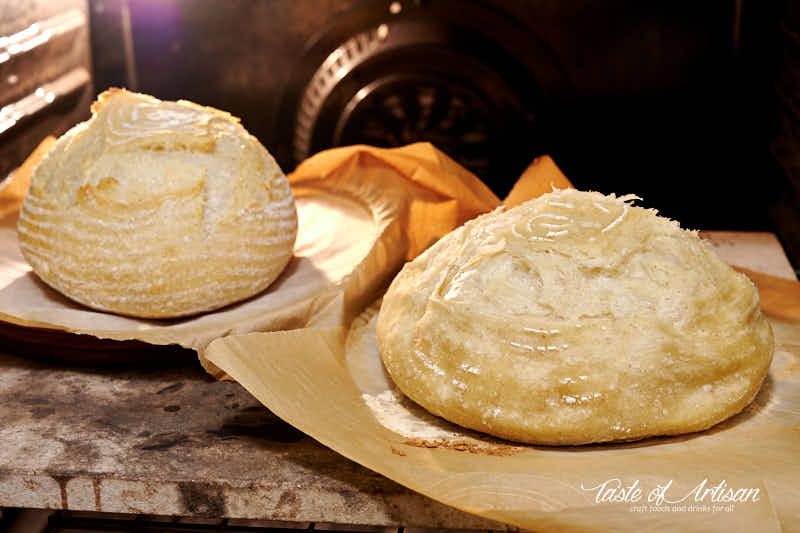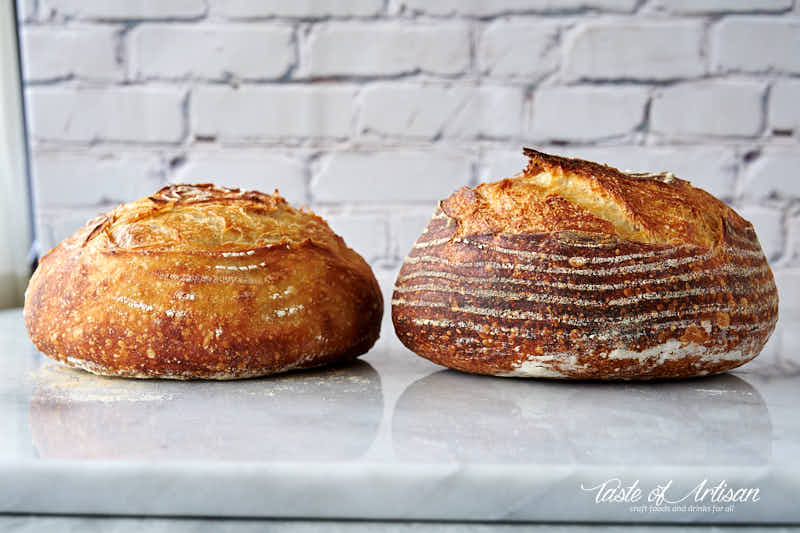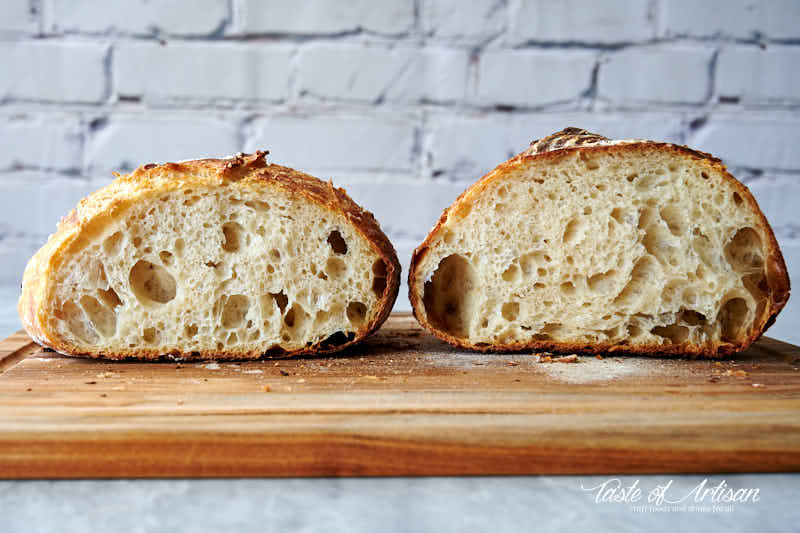 Bread Formulations
Levain Formula
Feed an active starter twice every 12 hours using the formula below. The starter will be ready for use 8-10 hours after the second feeding. It should increase about 2-3 times in volume.
| WEIGHT | INGREDIENT |
| --- | --- |
| 80 g | Bread Flour |
| 20 g | Whole Wheat Flour |
| 30 g | Sourdough Starter |
| 100 g | Water (90F-95F) |
Final Dough Formula
| WEIGHT | INGREDIENT | BAKER'S PERCENTAGE |
| --- | --- | --- |
| 600 g | Bread Flour | 100 % |
| 420 g | Water | 70 % |
| 200 g | Levain | 33.33 % |
| 12 g | Kosher Salt | 2 % |
Overall Formula
| WEIGHT | INGREDIENT | BAKER'S PERCENTAGE |
| --- | --- | --- |
| 680 g | Bread Flour | 97.14 % |
| 20 g | Whole Wheat Flour | 2.86 % |
| 520 g | Water | 74.3 % |
| 12 g | Kosher Salt | 1.71 % |
Variations
Try mixing in a cup each of chopped walnuts and quartered dried figs when you shape the dough. It makes an outstanding accompaniment for a morning coffee.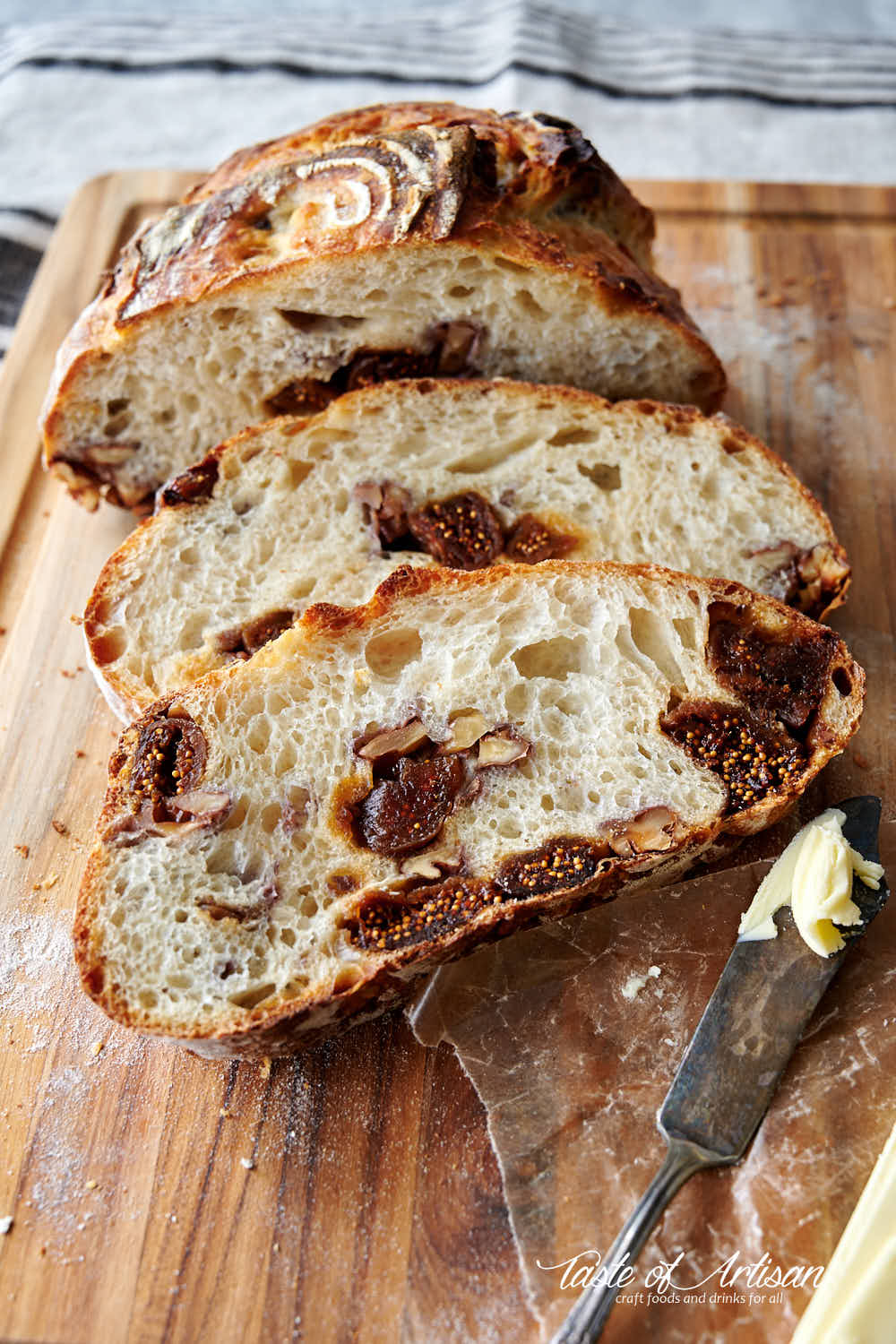 Before shaping, gently stretch the dough into a rectangle, spread the mix-ins and roll into a ball. Then proof, seam side down, and bake as you would regular bread.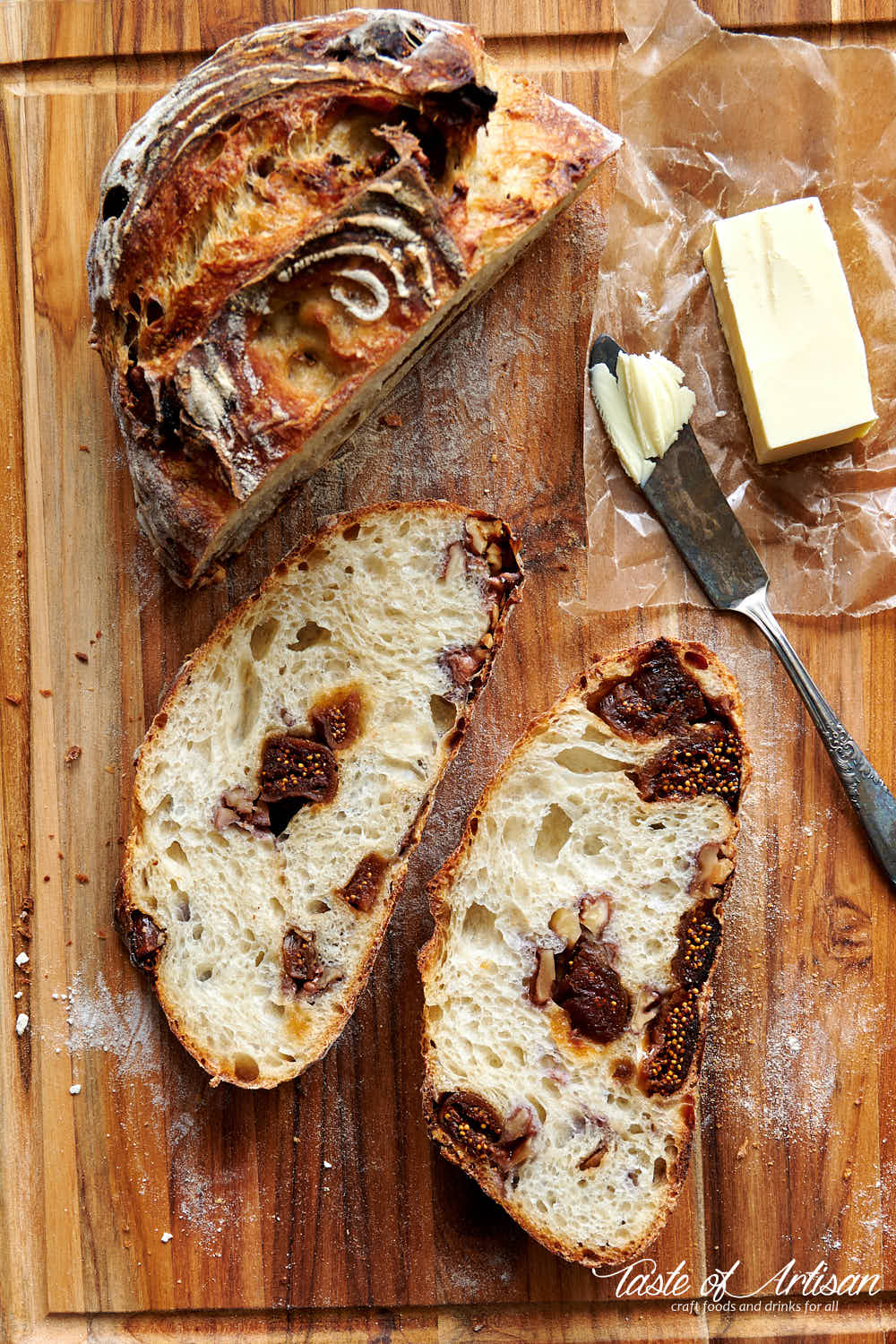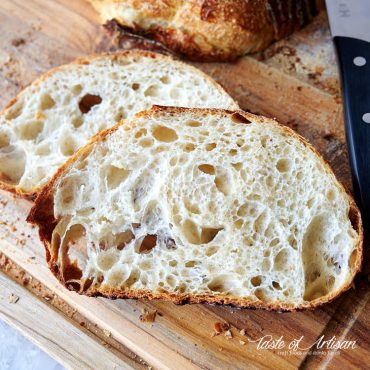 Ingredients
600

g

bread flour

I use King Arthur Special (Bread) flour

420

g

water

around 90F - 95F

200

g

levain

(see levain formula and feeding schedule above)

12

g

kosher salt
Instructions
The night before baking, around 6:00 PM
In a large bowl, dissolve the levain in water. Add the flour and the salt, and mix the ingredients together. Cover and let rest for 30 minutes to 1 hour.
Around 6:30 - 7:00 PM
Perform a set of stretch and folds. Cover and let rest.
Around 7:30 - 8:00 PM
Perform an additional set of stretch and folds. Cover and let rest.
Around 8:30 - 9:00 PM
Perform the final third set of stretch and folds. Cover and let rest.
Around 10:30 - 11:00 PM
Depending on your ambient temperature, the dough should increase by almost double in size by around 10:30 PM - 11:00 PM. When it does, divide the dough into two equal pieces. Shape into balls and place, seam side down, in proofing baskets. Cover and refrigerate overnight. Make sure that your fridge doesn't run too cold.
The next day, around 7:00 AM
Take the dough out of the fridge and let sit at room temperature for 2 hours. Meanwhile, preheat the oven to 500F.

When ready to bake, prepare two pieces of parchment paper, turn the dough over on parchment sheets, score and load in the oven.

Drop the temperature to 450F and bake with steam for 20 minutes. Next, bake without steam for 30 minutes.

Remove bread from the oven. Cool on a cooling rack for an hour before slicing.
Nutrition
Calories:
117
kcal
|
Carbohydrates:
24
g
|
Protein:
4
g
|
Fat:
1
g
|
Saturated Fat:
1
g
|
Sodium:
234
mg
|
Potassium:
30
mg
|
Fiber:
1
g
|
Sugar:
1
g
|
Calcium:
5
mg
|
Iron:
1
mg
This recipe was updated on December 21, 2019