This whole wheat sourdough bread is another great bread for everyday baking if you like darker breads. Whole wheat breads offer more flavor and are generally much healthier than white breads. This particular loaf has a wonderful open crumb, a nice chew, a mild acidity and a lot of flavor. We use it to make sandwiches or as an accompaniment to soups, stews and salads. It makes delicious croutons. You don't even need to toast it when its fresh; just cut the bread up into pieces and add to salads. There is plenty of flavor and crunch in it as is.

This bread is made with pure sourdough starter (levain), which produces bread with a more rustic and denser crumb, with bigger holes and a thicker, chewier crust. I like baking it to a darker crust, which promotes the development of dark chocolate flavors.
I like my whole wheat bread's crumb lighter, with large holes, so I add 35% of bread flour to the mix. This ratio produces a very nice crumb crumb as shown below.

The higher the ratio of whole wheat the denser the crumb will be, with progressively smaller holes. You see how the crumb transformed when using 25% bread flour and 75% whole wheat flour below.

Increasing the amount of whole wheat to 100% is absolutely possible but expect the crumb to get denser and the bigger holes to disappear.

The process I use to make whole wheat sourdough bread is practically identical to the process I use to make other sourdough breads. As with other breads, you must complete bulk fermentation where the dough doubles in size. Three 'stretch and folds' are performed at the beginning of bulk fermentation to strengthen to dough. Once the dough is ready, it is cut in half, shaped and proofed before baking.

As much I love my baking stone, I now bake most of my breads in two bread cloches. I picked clay bread cloches over cast iron combo cookers as they don't burn the bottoms as cast iron cookers do at high temperatures.

The biggest reason for that is that I get a noticeably better oven spring in pure sourdough breads. It's not a problem with yeast breads, such as French baguettes or no-knead yeast breads. Another reason is that I don't have to worry about steam. This makes things just a little easier.

Bread Formulations
Levain Formula
Feed an active starter twice, 12 hours apart, using the formula below. The starter will be ready to use 8-10 hours after the second feeding. It should increase about 2-3 times in volume.
For example, when using the baking schedule provided in the recipe below where the final dough is mixed at 6:00 PM, you would feed your active sourdough starter at 8:00 PM the night before and at 8:00 AM on the dough mixing day. At 6:00 PM, the levain will be ready for the final bread dough mixing.
| WEIGHT | INGREDIENT |
| --- | --- |
| 80 g | Bread Flour |
| 20 g | Whole Wheat Flour |
| 30 g | Sourdough Starter |
| 100 g | Water (90F-95F) |
Final Dough Formula
| WEIGHT | INGREDIENT | BAKER'S PERCENTAGE |
| --- | --- | --- |
| 565 g | Whole Wheat Flour | 70.6 % |
| 235 g | Bread Flour | 29.4 % |
| 640 g | Water (85F) | 80 % |
| 200 g | Levain | 25 % |
| 18 g | Kosher Salt | 2.25 % |
Overall Formula
| WEIGHT | INGREDIENT | BAKER'S PERCENTAGE |
| --- | --- | --- |
| 585 g | Whole Wheat Flour | 65 % |
| 315 g | Bread Flour | 35 % |
| 740 g | Water | 82.2 % |
| 18 g | Kosher Salt | 2% |
Note the higher than usual hydration in this recipe. This is because whole wheat flour absorbs more water than white flour. Even at this hydration, the dough is quite easy to work with.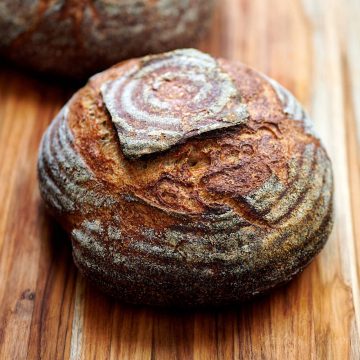 Ingredients
565

g

whole wheat flour

Bread flour

235

g

bread flour

I use King Arthur 'Special'; you can also use all-purpose flour

640

g

water

at around 90F - 95F

200

g

levain

see the levain formula and feeding schedule above

18

g

kosher salt

or sea salt
Instructions
The night before baking, around 6:00 PM
In a large bowl, dissolve the levain in water. Add both flours, salt, and mix the ingredients together. Cover and let rest for 30 minutees to an hour.
Around 6:30 - 7:00 PM
Perform the first set of stretching and folding.
Around 7:30 - 8:00 PM
Perform an additional set of stretches and folds. Cover and let rest.
Around 8:30 - 9:00 PM
Perform the final set of stretches and folds. Cover and let rest.
Around 10:30 PM - 11:00 PM
Depending on your ambient temperature, the dough should double in size by this time. If not let it ferment until it does. If the room is too cold, place the bowl in the oven with the light on. When it does, divide the dough into two equal pieces. Shape into balls and place, seam side down, in proofing baskets. Cover and keep in a cool room (about 55F-60F) overnight. You may also refrigerate the dough but make sure the fridge does not run too cold.
The next day, around 7:00 AM
If the dough was refrigerated, take it out of the fridge and let sit at room temperature for 2 hours or even longer, until you see some increase in the volume from the last night and the dough passes the 'finger poke' test. Meanwhile, preheat the oven to 500F.

When ready to bake, prepare two pieces of parchment paper, turn the dough over on the parchment sheets, score and load in the oven.

Drop the temperature to 485F and bake with steam for 20 minutes. If baking in a cloche or a cast iron combo cooker, there is no need to worry about the steam. Next, bake without steam at 450F for 30 minutes.

Remove bread from the oven. Cool on a cooling rack for an hour before slicing.
Nutrition
Calories:
148
kcal
|
Carbohydrates:
31
g
|
Protein:
5
g
|
Fat:
1
g
|
Saturated Fat:
1
g
|
Sodium:
351
mg
|
Potassium:
114
mg
|
Fiber:
3
g
|
Sugar:
1
g
|
Vitamin A:
3
IU
|
Calcium:
12
mg
|
Iron:
1
mg