Sourdough biscuits immediately come to mind when I think about what to do with discard sourdough starter. You can bake and eat them while they are fresh, or refrigerate/freeze for later. You can also share them with your friends and neighbors, they will love them. I do. These some of the most flavorful biscuits I've ever tried. Sourdough does magic to biscuits, transforming them into something so enjoyable that they become almost addictive.

The best thing about making sourdough biscuits is that your sourdough starter doesn't have to be at its peak performance as when you make sourdough bread. Say, if your starter is a little over-ripe and not quite suitable for making bread, it will still work great for biscuits. Biscuits don't need sourdough starter for leavening them, they only need it for taste and flavor. Baking powder is what will make the biscuits rise and puff up.
A little over an hour is all that's required to make these beauties and the process is mind-numbingly simple. The only slightly challenging part of it is getting the right dough consistency. Different starters have different hydration. But fear not, if the dough feels a little too wet, add more flour, a tablespoon at a time. If it's a little too stiff after incorporating sourdough starter, add a splash or two of water. It's as simple as that.
You can make these biscuits with just all-purpose flour, or use a 50/50 mix of white and whole wheat flour. My favorite variation is a mix of white, whole what and a little bit of rye flour. These biscuits have a lot more flavor that way, not to mention all the health benefits.

Biscuits are a little hard to make nicely brown and not overcooked. Brushing them with a little cream, milk or butter before baking helps the tops brown a little faster. I like to brush my biscuits with melted butter. Brushing with butter after baking also helps keep them softer a little longer. It's not quite common to have biscuits brushed with egg wash prior to baking, but it will give them a nice color and gloss. Consider using egg yolk with a teaspoon of cream for the egg wash, it will result in a rich, dark color that is very beautiful.
Sourdough biscuits are ready with their tops and bottoms are slightly brown. Don't overcook them or they will become a little crusty. This may be your thing though. I like the contrast of the crispy exterior and the flaky, soft crumb. Break that biscuit in half, throw a fried egg on it, a few slices of oven-baked homemade bacon and you will have one the best breakfasts you've ever had.

These sourdough biscuits are best made and consumed the same day but you can make them ahead if necessary. Make them all the way to cutting, then wrapping in plastic and freezing for up to a month, individually or on a tray. Then, when ready to bake, remove them from the freeze 3 hours prior to baking to defrost at room temperature.
If you want to delay baking by a few days only, wrap and refrigerate the biscuits. Remove them 30 minutes prior to baking to ensure an even rise in the oven.
If you'd like to pre-bake biscuits before freezing, bake them 5 minutes less, until lightly brown, then cool down, wrap and freeze.  To finish baking, bake frozen in an oven preheated to 450F for about 10-12 minutes, until golden brown. After baking, let them rest for 5 minutes before serving, to let the heat evenly distribute inside the biscuit.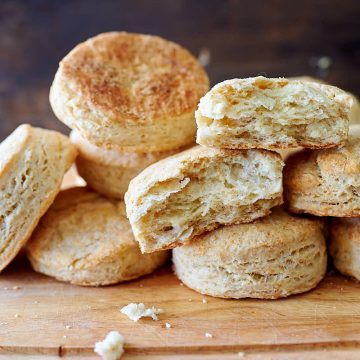 Ingredients
2

cups

all-purpose flour

see notes

1

Tbsp

sugar

2

tsp

baking powder

1/2

tsp

kosher salt

1/2

cup

butter

very cold, you may want to freeze it for 15 minutes

2

cups

sourdough starter

1

Tbsp

butter

for brushing
Instructions
In a large bowl, mix together the flour, sugar, baking powder and salt.

Grate the butter into the bowl.

Gently, using a large spoon, combine the grated butter with the flour mix.

Stir in the sourdough starter.

Knead lightly in the bowl, or on a lightly floured work surface. Depending on how thick or thin your sourdough starter is, you may need to add more flour or a splash or two of water.

Shape the dough into loose a ball.

Roll the dough out 1/2" thick. Cut into 3" circles. Re-roll the cut-offs and repeat.

Place the biscuits on a large baking sheet lined with parchment paper. Cover and let rise for 30-40 minutes in a warm place.

Meanwhile, preheat the oven to 475F.

Lightly brush the biscuits with melted butter right before baking.

Once the biscuits have risen, transfer them into the oven, lower the temperature to 425F and bake for 10 minutes.

Rotate the baking pan and bake for additional 8-10 minutes, or until the tops and the bottoms of the biscuits are golden brown.

Remove the biscuits from the oven, transfer to a cooling rack and let cool for 3 minutes before serving. Brush tops with butter again, if desired, it will help keep them soft longer.
Notes
For a whole wheat version, replace one cup of all-purpose flour with one cup of whole wheat flour, or 3/4 cup whole wheat and 1/4 cup rye flour. Increase the amount of sourdough starter to 2 1/2 cups.
Nutrition
Calories:
195
kcal
|
Carbohydrates:
25
g
|
Protein:
3
g
|
Fat:
9
g
|
Saturated Fat:
5
g
|
Cholesterol:
23
mg
|
Sodium:
175
mg
|
Potassium:
90
mg
|
Fiber:
1
g
|
Sugar:
1
g
|
Vitamin A:
266
IU
|
Calcium:
34
mg
|
Iron:
1
mg