Sourdough rye bread - perfect for soups, salads, charcuterie boards, sandwiches, and especially for having with gravlax.

This sourdough rye bread is one of my favorite breads for several reasons: it's very tasty, almost addictive, healthy, and quick to make. I mean, ready-in-under-three-hours quick. Say you want a loaf of delicious, freshly baked bread for dinner. Start making it as late as early afternoon and you will have it just in time for dinner. Only my country flaxseed bread can beat this one on speed.
Besides being quick, this rye bread is also very easy to make even for a novice bread baker. It's as easy as the country flaxseed bread. All you have to do is mix the ingredients, knead a little, let the dough rest, shape, score, let it rest again while preheating the oven, then bake. And voila, you sourdough rye bread is ready. Crusty, golden brown and rustic.

Another cool thing about this recipe is that it doesn't require any special tools and equipment, like a baking stone, a cloche or a proofing basket. If you've never baked bread before, or don't do it regularly to have all those tools, this recipe is perfect for you.
This isn't a pure sourdough bread as you may have guessed by now as those take much longer to ferment and proof.  It uses a combination of sourdough starter and commercial yeast, which provides the best of both worlds: quick leavening, depth of flavor, light structure, and an airy crumb.

In this recipe, I use liquid malt extract. It gives rye breads a darker color, richer taste, and malty sweetness. I highly recommend it; it will transform your sourdough rye bread into a very special, memorable loaf. If you don't have malt extract, use molasses or even honey. While they won't provide the same flavor or color, you will still get some of the benefits.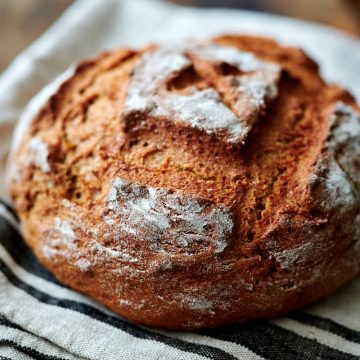 Ingredients
1 1/4

cup

water

at 95F; 300 ml

2

tsp

instant yeast

9 g

2

Tbsp

liquid malt extract

50 g; or use honey or molasses

2 3/4

cups

rye flour

using 'scoop and sweep' method; 350 g

1

cup

all-purpose flour

slighly heaping; 150 g

2

tsp

kosher salt

12 g

1

cup

sourdough starter

175 g
Instructions
In a large bowl, dissolve liquid malt extract in warm water. Add the rest of the ingredients and mix until combined. The dough will be very sticky (but not wet) and that's to be expected. If too wet, add more flour. Scrape the dough off your hands. Wash your hands, this will make it much easier to knead the sticky dough. Knead for about 7 minutes inside the bowl. You can also use a stand mixer with a dough hook attachment. In a stand mixer, knead for 3 minutes on low and 4 minutes on medium speed.

Cover the bowl and let the dough rest in a warm place for about 30-40 minutes. During this time, give the dough 3 stretch and folds, where each time you would pull each corner of the dough and fold onto itself. If it's easier, just knead the dough briefly, about 5-10 seconds each time. This will help it develop gluten and build strength.

On a lightly floured work surface, shape the dough into a ball and flatten slightly. Place on a piece of parchment paper. Using a serrated knife, make scores as shown in the picture.

Cover the dough and let rest for 45-60 minutes. It should rise by at least 30%.

Meanwhile, preheat the oven to 475F with a heavy-duty baking sheet and a bread pan filled about 1/2" with hot water.

Once the oven is preheated, slide the dough with the parchment paper onto the hot baking sheet. Spray a little bit of water on the walls of the oven and close it quickly. Bake at 475F for 10 minutes. Remove the water pan, drop the temperature to 425F, and continue baking for another 35 minutes.

Remove the bread from the oven, transfer to a cooling rack and let cool for at least 1 hour at room temperature before slicing.
Nutrition
Calories:
155
kcal
|
Carbohydrates:
33
g
|
Protein:
5
g
|
Fat:
1
g
|
Saturated Fat:
1
g
|
Polyunsaturated Fat:
1
g
|
Monounsaturated Fat:
1
g
|
Sodium:
392
mg
|
Potassium:
167
mg
|
Fiber:
4
g
|
Sugar:
3
g
|
Vitamin C:
1
mg
|
Calcium:
16
mg
|
Iron:
1
mg