If I were to pick one bread recipe that excited me the most in the recent past, it would have to be this beer bread. Whenever I make a loaf, it's gone within 30 minutes.  We enjoy it with butter, slices of smoked sausage, smoked salmon, gravlax, salami, cured meats, slices of home-grown heirloom tomatoes, fresh mozzarella cheese, cucumbers, and many other things. I like a slice with my americano. With peach or strawberry jam, or just plain.

This bread is delicious. Its crunchy exterior coupled with a slightly sweet, super flavorful interior is addictive. The only other bread that excited me so much - and still does - was my super popular French baguette. It's a must-try without any reservations.
There is a fundamental difference in what beer bread is predominantly known as in America vs Europe. The former makes beer bread as a quick bread, leavening it with baking powder and carbon dioxide in the beer. The latter, on the other hand, uses yeast for leavening and subjects the dough to a proper fermentation cycle. There is no fermentation when making the quick 'beer' bread. This results in less flavor and a different - 'quick bread' - texture. Both are good in their own way but I far prefer the European-style beer bread for its superb complex flavour and a rustic bread texture.
So, if you are up to the task, let me offer you this fantastic beer bread recipe that has its roots in France.
Main ingredients for beer bread
This beer bread is made of flour, beer, yeast, salt and a little bit of malt or honey. Let's start with the flour. Bread flour is the base to which you can add whole wheat or other flour of choice for more flavor. My favorite blend is about 75% white bread flour and 25% whole wheat. I also like substituting in about 3-5% of rye flour. You can even make this bread 100% whole wheat if you choose to.
Beer must be dark and malty as it will provide most of the flavor and the dark rich color. Any dark stout will do. I once tried this bread with English Oatmeal Stout and it kind of stuck with it as I love the flavor.

I mostly leaven this bread with instant yeast - my favorite commercial instant yeast for this bread is SAF Gold. But any instant yeast will do. You can also use fresh yeast. This bread is so flavorful that I don't feel like adding sourdough to the mix for flavor or using sourdough for leavening. It's also quicker to make if leavening with instant yeast.
Making beer bread
Beer and bread are a lot closer to each other than they may appear at first glance.  They are both made of water and grains. They are both fermented by the same strain of yeast, Saccharomyces cerevisiae, the main agent of alcohol-producing fermentation. In bread, the alcohol evaporates during baking. The byproduct of fermentation, CO2, is essential for both beer and bread. In beer, it creates carbonation. In bread, it lifts it up, opening up the crumb, making it light and airy. Dark beer, like stout, is especially great for making bread.

It gives it a nice malty flavor and a rich color. Similarly, bread may be used to make beer, replacing a part of fermentable grains. 

Like most other bread types, like sourdough bread or French baguettes, this beer bread requires mixing followed by bulk fermentation with three sets of stretch and folds, followed by proofing, scoring and baking. Yet, I find this recipe quite simple to execute even for a novice baker. You don't need to stress out about shaping, proper scoring and transferring the dough into the oven as this bread is baked in a bread pan. This makes things much easier.
I have to warn you that the dough will be fairly wet and sticky at the end of mixing. It will start fine but will get progressively wetter as the flour absorbs the liquid.


At the end of the mixing the dough will look like a wet, sticky mess but don't despair, lift the corners and shape it into a ball. It will be easy as you can see.

After three stretch and fold session the dough will become even stronger and will hold together even better. I know, it scares some novice bakers but try to resist the temptation to add more flour. Just follow the steps in the recipe card below and you will do just fine.
Variations
In France, beer bread - pain à la bière - is often made using a variety of flours, from T55 - all-purpose flour - to T110 - whole wheat flour. I like making this bread using a mix of bread and whole wheat flour, favoring bread flour. Sometimes I make this bread 100% whole wheat when I crave it, and it works in this recipe very well too.
You can also make this bread using either sourdough starter, commercial yeast or a combination of sourdough starter and commercial yeast. The quickest and the simplest way to make this bread is to use commercial instant yeast, that's what I have in the recipe below. However, if you want to use just a sourdough starter for leavening, you will need to increase fermentation time by about an hour or more, depending on how active your starter is. You may also want to consider retarding the fermentation in the fridge overnight.
If you want that sourdough bread flavor, I think it's an easier way to just add about 100g of 75% hydration sourdough starter to the dough along with a slightly reduced amount of commercial yeast - say 1-2 g instead of 3 g.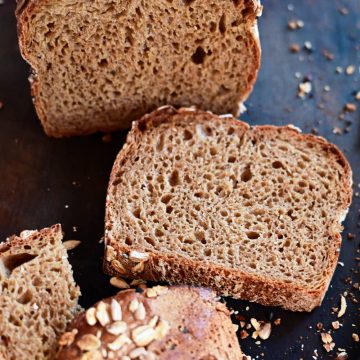 Ingredients
275

g

bread flour

100

g

whole wheat flour

280

g

dark beer

e.g. stout

5

g

instant yeast

see notes

20

g

liquid malt extract

or honey; about a Tbsp

7

g

sea salt

100

g

a mix of oat flakes, sunflower, flax and sesame seeds

canola oil or butter for greasing the bread pan

flour for work and pan dusting
Instructions
In a bowl of a stand mixer or a mixing bowl, add the following ingredients in the following order: salt, beer, malt or honey, flour, and yeast.

If using a stand mixer, knead for 3 minutes at the lowest speed, then 5 minutes at the second-lowest speed.

If kneading by hand, knead for 10 to 15 minutes in a bowl, until the gluten network develops and the dough becomes smooth and elastic.

Shape the dough into a ball, cover and let rise for 1.5 hours at room temperature.

During those 1,5 hours, after 30 min, make the first stretch and fold. Then make two more stretch and folds every 30 minutes.

Pour the mixture of seeds and flakes on a large plate. Oil an 8"- 9" bread pan and lightly dust with flour. Set aside.

Turn the dough onto a floured work surface.

Very gently, without degassing, shape into a batard (cylinder shape).

Close the seam and turn seam side down.

Spray the top with some water then gently roll the top side of the bread dough in the seed and oat flake mixture.

Place the dough seam side down in the bread pan.

Cover and let rise for 1 - 1.5 hours at room temperature - about 70-72F. The dough should alsmost double in volume. If it didn't, let it proof a bit longer, until it does.

Preheat the oven to 465F. Position the rack in the middle of the oven and place a metal baking panwith hot water just below it.

When the dough about doubled in size, score it with a sharp blade or a lame top to bottom, about 1/2" inch deep.

Transfer the bread pan with the dough to the middle rack in the oven and carefully pour a cup of hot water into the baking pan.

Close the oven quickly and bake for 30-35 minutes. Remove the water pan after 20 minutes.

Once done baking, let the bread cool on a cooling rack for 1 hour before slicing.
Notes
You can leaven the dough with a sourdough starter by substituting the yeast with 100 g of active 75% hydration sourdough starter. This will require a longer fermentation (add 1-2 hours) and longer proofing. It's probably a good idea to retard fermentation in a fridge overnight. 
Alternatively, you can leaven the dough with a sourdough starter and commercial yeast mix by adding 2-3 grams of instant yeast to the starter. This will give you that extra flavor but also expedite the fermentation and proofing time.
When adding a sourdough starter, increase the salt content accordingly.
Nutrition
Calories:
76
kcal
|
Carbohydrates:
15
g
|
Protein:
2
g
|
Fat:
1
g
|
Saturated Fat:
1
g
|
Polyunsaturated Fat:
1
g
|
Monounsaturated Fat:
1
g
|
Sodium:
137
mg
|
Potassium:
38
mg
|
Fiber:
1
g
|
Sugar:
1
g
|
Vitamin A:
1
IU
|
Vitamin C:
1
mg
|
Calcium:
5
mg
|
Iron:
1
mg