Italian sausage is a type of fresh sausage sold practically in every supermarket in North America. This particular recipe kicks things up a notch with a wider bouquet of herbs and the addition of fennel pollen and white Italian wine. This isn't the kind of Italian sausage you will find in a supermarket.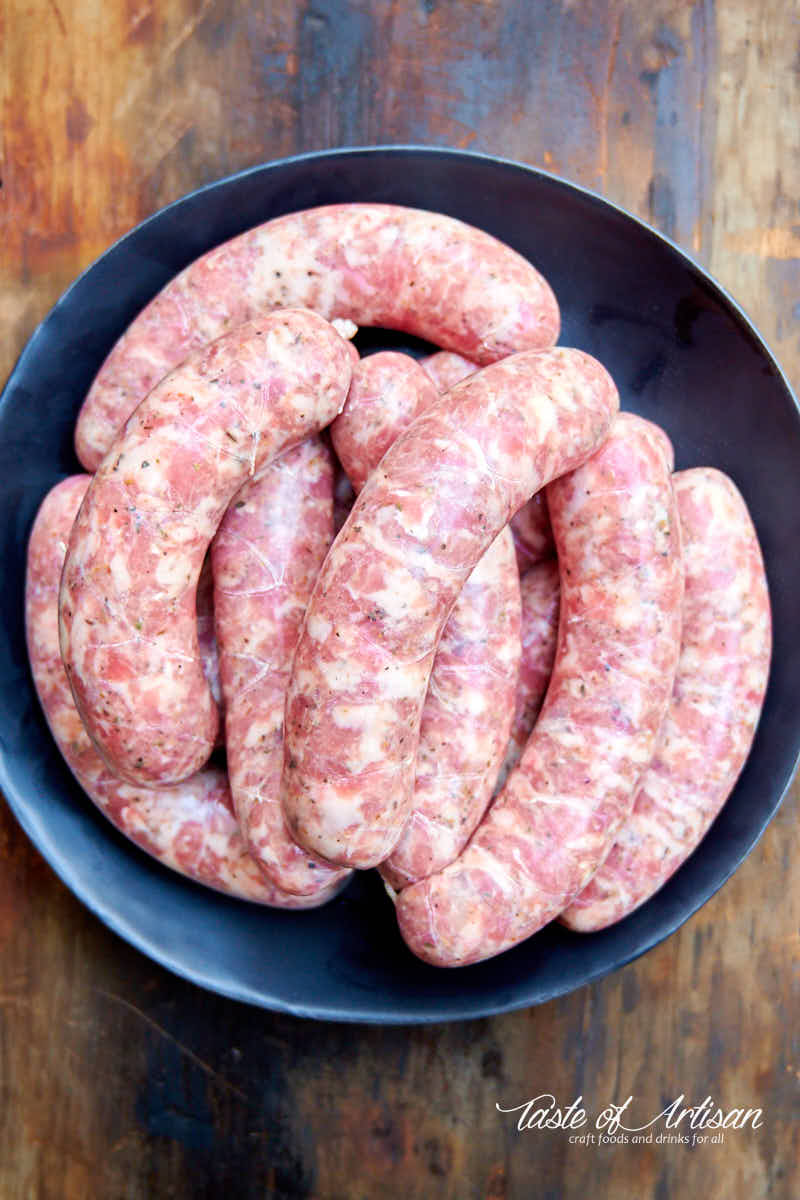 The sausage bears the name 'Italian' due to the dominant flavor of fennel, which is widely used to make sausages in Italy. This name is somewhat misleading and too generic though as there are hundreds and hundreds of different types of sausages originating from Italy.
This reminds me of the silly sausage name 'kielbasa sausage', which in essence means 'sausage sausage'. Similarly, this name describes one generic type of Polish-style sausage sold in North America. All the while there are hundreds of various Polish sausages (kielbasas) in existence, such as Krakow kielbasa, Lisiecka kielbasa, swojska kielbasa, garlic kielbasa, and so on.
What is Italian sausage?
In North America, Italian sausage is a type of fresh sausage made of pork and seasoned with fennel, anise, coriander, pepper, and other spices. This sausage typically comes as one of the following three kinds: hot, mild and sweet.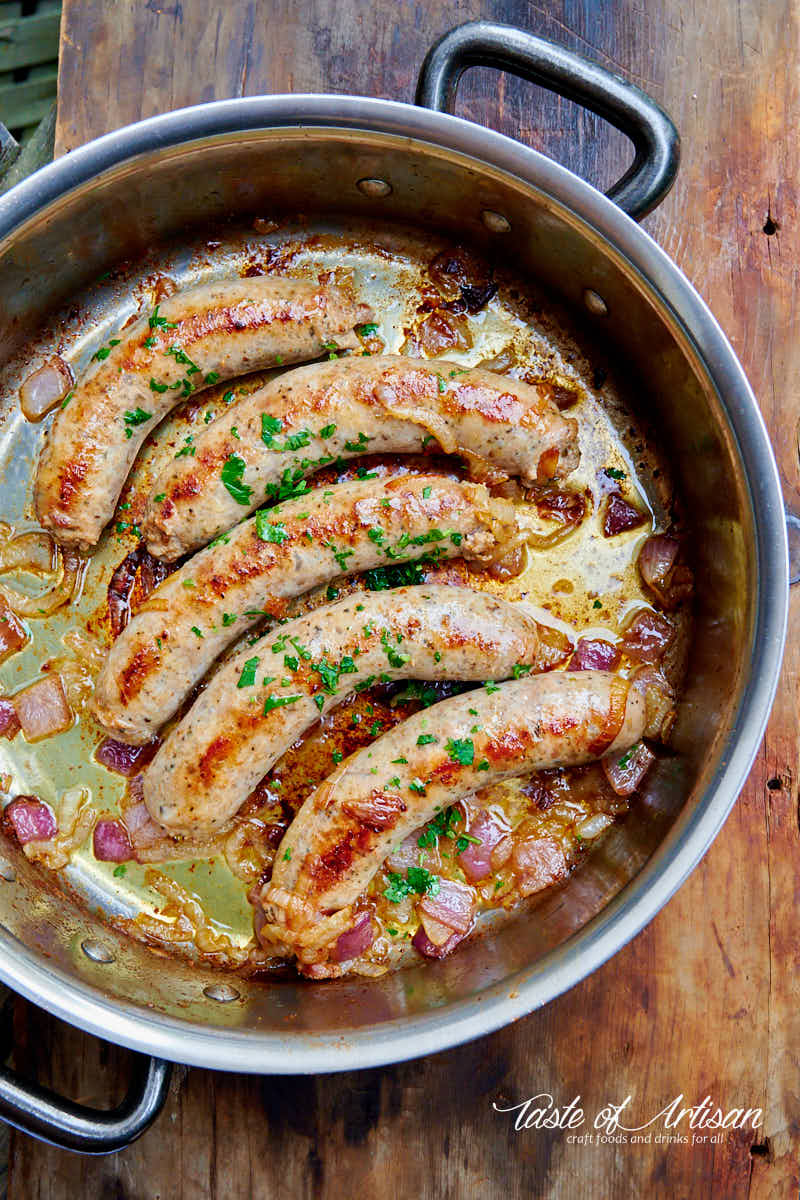 The main difference between hot and mild is the addition of cayenne pepper or hot red pepper flakes. The difference between sweet and mild is the addition of sweet basil to the recipe. Fried on a hot plate with green bell peppers and onions, it is sold by street vendors in New York City and some other American cities.
How to make Italian sausage?
Making Italian sausage at home is surprisingly easy and comes with many benefits. First and foremost, homemade Italian sausage tastes way, way better than the store-bought. Why? Simply put, it's all about better ingredients and better seasonings. You have full control over the quality and freshness of meat, and you can pick just the spice mix that you like. You can change the grind size to your liking, though 3/8" (10 mm) is the standard. Finally, making sausage at home will cost you 2-3 times less.
To make Italian sausage, grab a hunk of pork shoulder and grind it up. The fresher the meat, the better. You can use other pork cuts as well but pork butt contains just the right ratio of meat to fat for this sausage. You'll need a meat grinder if you are serious about making sausages at home.
If you are a casual sausage maker, ask at the meat counter to grind the meat for you. Ask for a coarse grind. They'll be happy to do it. I do it when we travel and I want to make burgers or sausage patties for breakfast.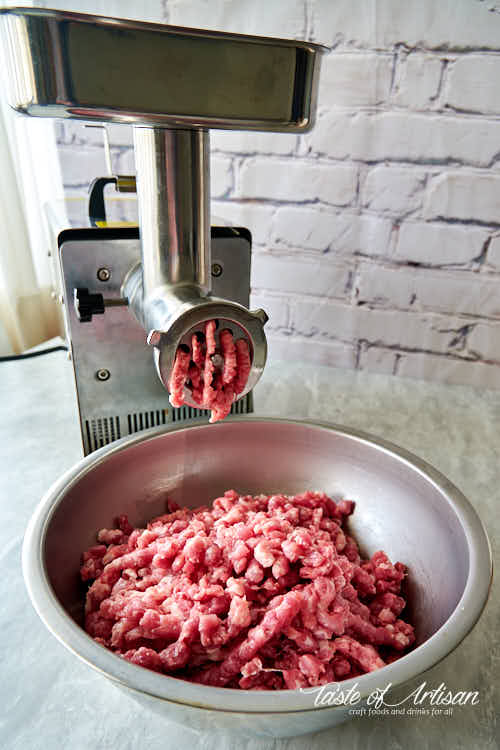 Next, add the spices.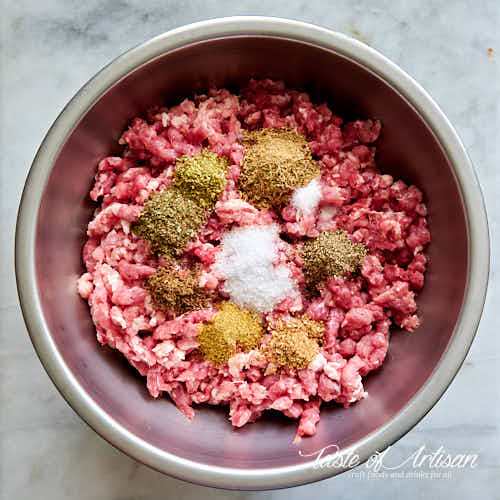 One extra spice that I love in many Italian style sausages that I make is fennel pollen. Fennel pollen consists of the tiny flowers of the fennel plant. Their flavor is rich and intense, far more so than the flavor of fennel seeds. I buy mine from Craft Butchers' Pantry, it's the real deal from Italy.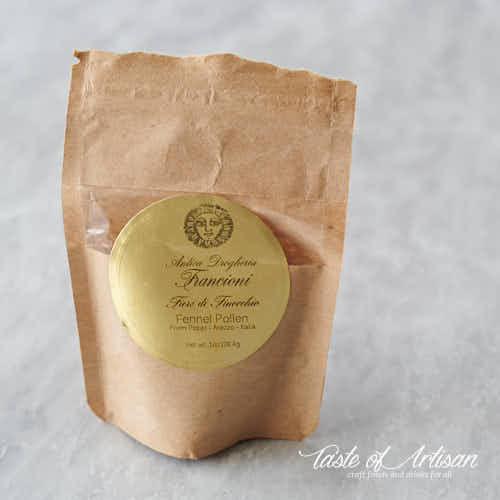 Don't forget to add some cold water. The water will help loosen the meat, which will help with stuffing. It also helps distribute the spices more evenly.
Better yet, skip the water and add some white Italian wine. It will make the sausage taste even better. I use one of my favorite wines, Cavit Collection Pinot Grigio. If it's great for drinking, it's great for making sausage.
Now, mix the meat and the spices well, until the mixture becomes sticky.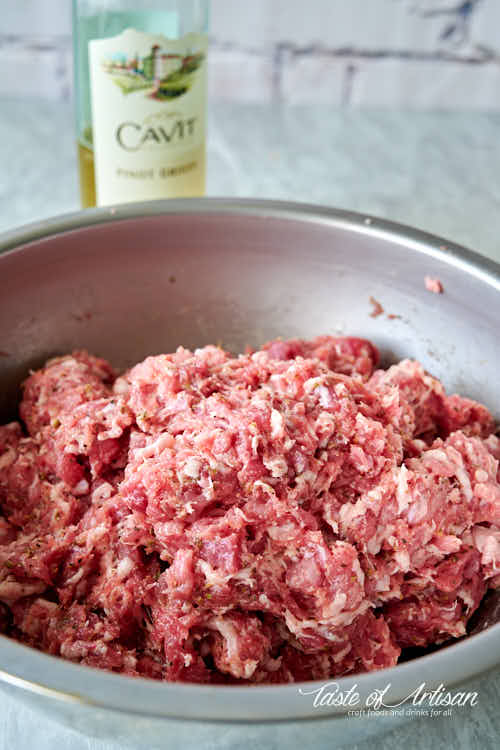 Once the sausage mix is done, you can stuff it into hog casings, using a sausage stuffer. Hog casings are available at practically every grocery store, just ask for them at the meat counter.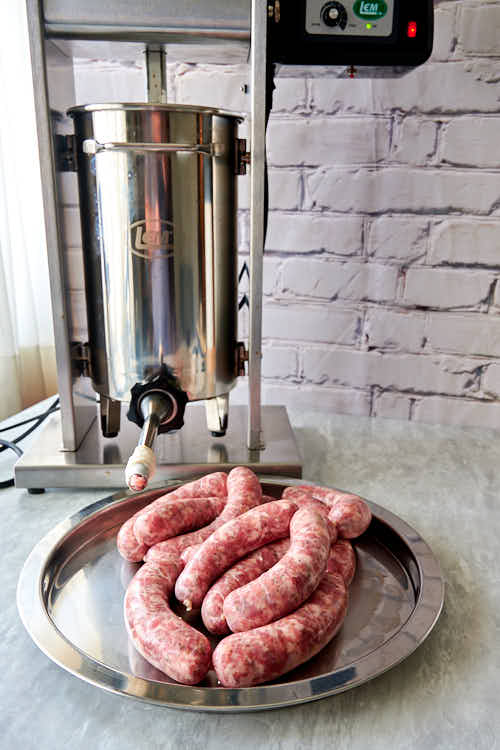 Don't have a stuffer? In that case, simply make patties or meatballs and fry them.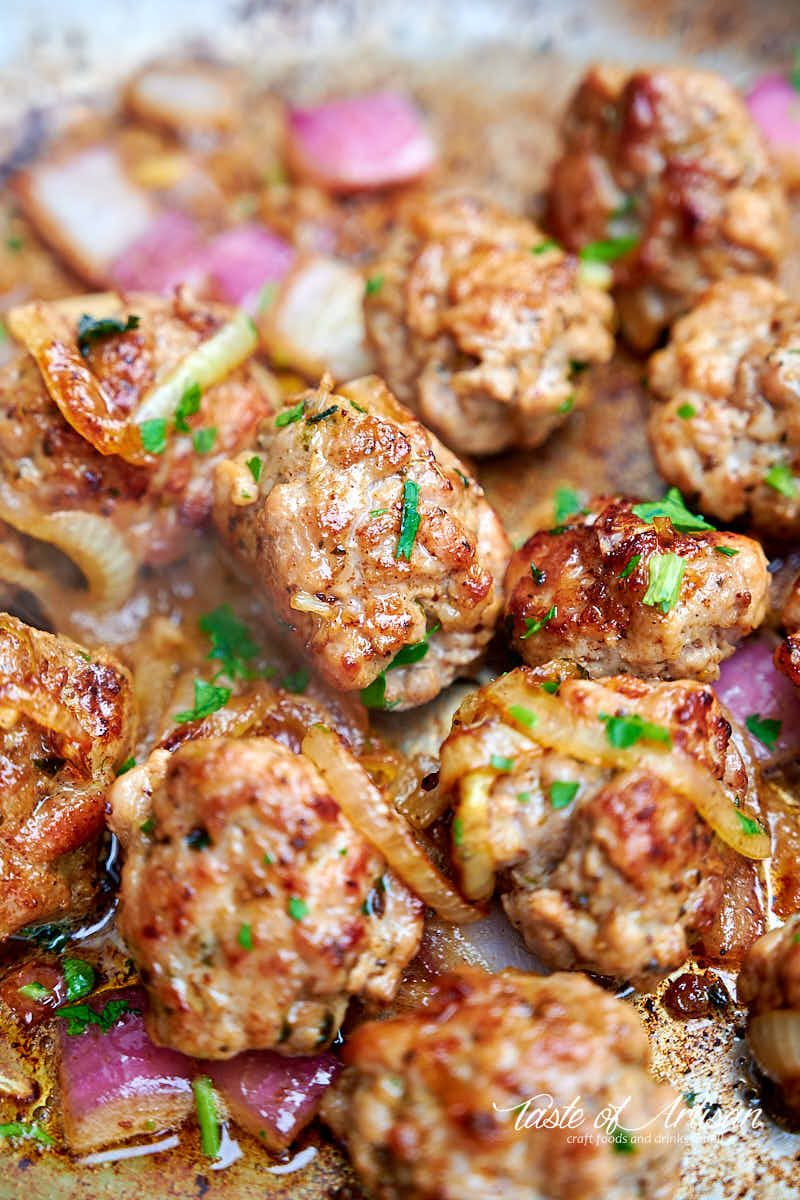 Just heat up some olive oil and butter on a frying pan, add the meatballs, and some sweet and red onion, some chopped parsley, and cook until done. Garnish with some more chopped parsley and serve. These are great as an appetizer or a snack, or as a full meal with a side dish and/or a great Italian-style salad, like this rustic tomato and cucumber salad, Panzanella, or tomato, cucumber and avocado salad.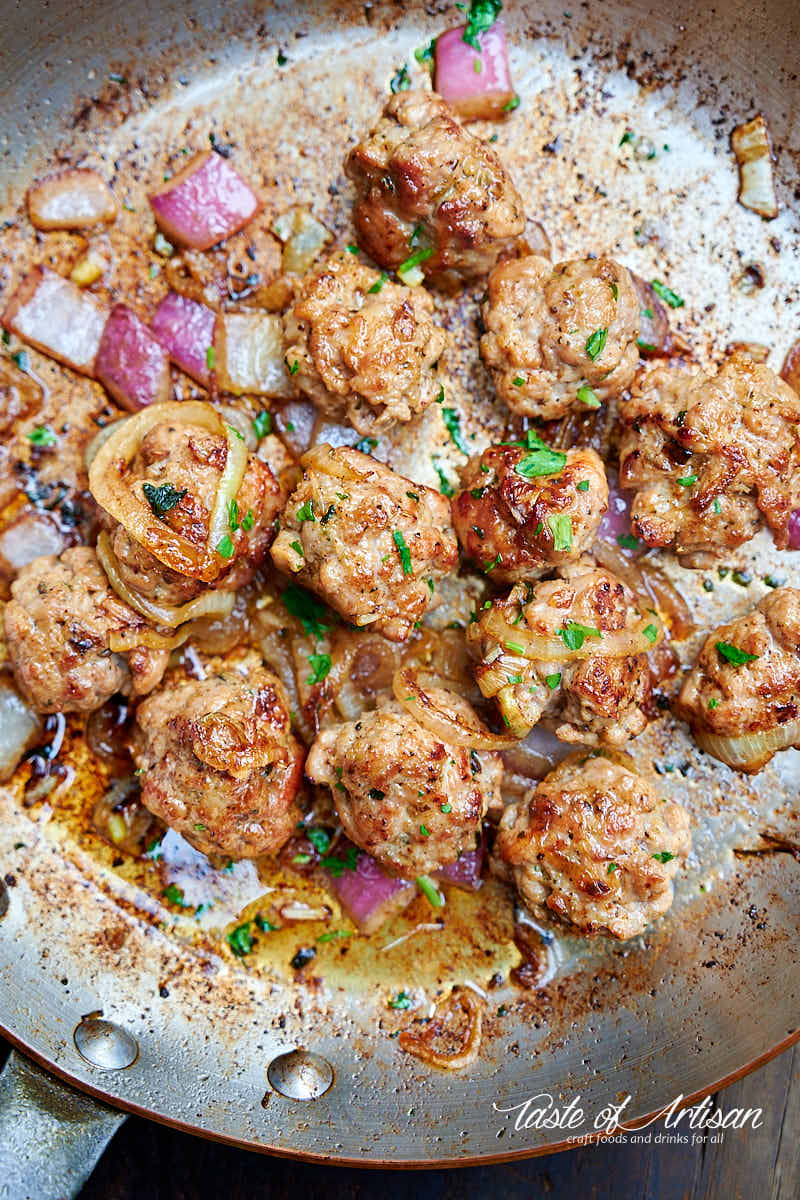 Or use them to make some of the tastiest sandwiches or sliders. I love mine made with crusty white bread or sourdough bread.
You can also use the sausage mix in many recipes that call for it, such as meatloaf, breakfast sausage patties, pizza toppings, calzone, stromboli and panzerotti stuffing, meat gravy, tortellini or dumplings, lasagna, meat sauces, stuffed vegetables, chili, cabbage rolls, casseroles and more.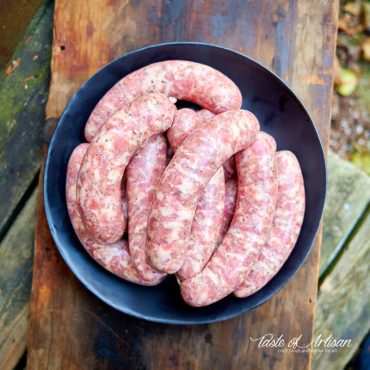 Italian Sausage Recipe
Italian-style sausage made with ground pork shoulder, white wine, fennel, fennel pollen, and other spices.
Print
Pin
Rate
Ingredients
2000

g

pork shoulder

about 4.4 lbs

26

g

kosher salt

about 1.5 Tbsp

4

g

black pepper

about 2 tsp, coarsely ground

4

g

sugar

about 1 tsp

6

g

fennel seed

about 4 tsp, coarsely crushed in a mortar

2

g

caraway

about 1 tsp, coarsely crushed in a mortar

2

g

coriander

about 1 tsp, coarsely crushed in a mortar

1

g

fennel pollen

about 1/2 tsp; omit if you don't have it

1

g

oregano

about 1.5 tsp

1.5

g

basil

about 1 heaping tsp

118

g

dry white wine

1/2 cup; cold; or cold drinking water
Instructions
Grind the meat through ⅜" (10 mm) plate.

Add the spices, wine or water, and mix well, until the mixture becomes sticky.

Stuff into 28 - 36 mm hog casings and tie into 5" (12 cm) links.

If not cooking immediately, refrigerate, or vacuum seal and freeze for up to 3 months.

Cook before serving. Best pan-fried, grilled or air-fried.
Notes
For Medium Hot Italian Sausage add 4 g (2 tsp) cayenne pepper
For Hot Italian Sausage add 8 g (4 tsp) cayenne pepper
Code of Federal Regulations permits Italian Sausage to also include the following:
Other spices such as anise and paprika
Red or green peppers, or both
Dehydrated or fresh onions, garlic, and parsley
As well, the Code permits that Italian Sausage be made with beef, veal or a beef and veal combination.
Nutrition
Calories:
164
kcal
|
Carbohydrates:
1
g
|
Protein:
20
g
|
Fat:
7
g
|
Saturated Fat:
3
g
|
Cholesterol:
68
mg
|
Sodium:
918
mg
|
Potassium:
374
mg
|
Fiber:
1
g
|
Sugar:
1
g
|
Vitamin A:
22
IU
|
Vitamin C:
2
mg
|
Calcium:
30
mg
|
Iron:
2
mg