I very much prefer making canned tomato sauce to canning whole or diced tomatoes. I like the ease of use and the quickness of prepared tomato sauce when you need it later on. It's ready to go when you want to make, say, pizza, spaghetti with tomato sauce, ravioli, pasta and meatballs, eggplant parmesan, or lasagna. All you need to do is heat it up while focusing on other things. Making one or two big batches of tomato sauce sure beats making 20-30 small ones throughout the year, isn't it true? The best part is that this tomato sauce is absolutely delicious. Super tasty! The simple reason for that is that we are using vine-ripened July and August tomatoes when they are at their peak taste.

Canning tomato sauce vs raw tomatoes
The biggest reason in favor of canned tomato sauce for me is that I don't have to add a stupidly large - USDA recommended - amount of acid to my tomatoes that makes them so acidic that you can't eat them without a good amount of tums or zantac. Yes, USDA tells you that you must add bottled lemon juice or citric acid when canning tomatoes. Even when pressure canning them. That's for safety reasons, I get it.
What I don't get is why they don't offer a reasonable alternative where you can test the acidity with a quality pH meter and skip the citric acid if the pH is below 4.6. My guess is that they don't trust the average home cook with a pH meter. Well, if you don't want to go there, there is another way - can tomato sauce instead. Tomato sauce is cooked before canning which, without going into boring details, makes it safe to can without the added acid, unlike canning raw tomatoes.
I also like the idea of making a large batch of tomato sauce once instead of small batches on dozens of separate occasions. You kind of have to when the harvest comes and you have to process a bunch of tomatoes at once. Even if you don't grow your own tomatoes like I do, buying tomatoes for canning when they are in season makes a lot of financial sense and they taste their best too.

Anyway, there are many reasons in favor of canning tomato sauce as opposed to whole, halved or diced tomatoes, and few, if any, against it.
Preparing tomatoes for the sauce
Few things can ruin a good tomato sauce like the tough, rolled-up tomato skins. Therefore, we will need to core tomatoes,

blanch them,

and remove skins before making the sauce.

To make things go a little faster when cooking the sauce, I like chopping the tomatoes into small(ish) pieces.

Cooking the tomato sauce
You will need a large pot of some sort that can fit the tomatoes. Don't fill it more than 3/4 way to prevent boilover.
My favorite way to cook tomato sauce is in my large cast iron jambalaya pot over a propane burner. This setup is very versatile. It's perfect for making sauces, plov (pilaf), deep-fried chicken, and making jambalaya of course.
I start with browning fresh chopped onions and garlic in some oil to get a good flavor. Skip this step if using granulated onion and garlic. I then add the tomatoes, salt, and seasonings, bring to a boil and cook over medium heat until the sauce is thick enough to my liking.

If adding meat to the sauce, I first brown the beef, then follow the rest of the steps.

Canning tomato sauce
The good thing about pressure canning tomato sauce is that you don't need to pre-sterilize your jars. Just make sure that they are clean.
You can use either pint or quart jars here. Fill them with the hot tomato sauce, leaving a one-inch headspace. Wipe the rims with a wet paper towel, cover with lids and tighten the bands finger-tight.

Process pint jars in a pressure canner for 60 minutes at 10 lb weighted gauge for 0 - 1000 ft elevations above sea level and 15 lb weighted gauge for elevations above 1000 ft. Process quart jars for 70 minutes at the same pressure levels.
Storing canned tomato sauce
Properly sealed canned tomato sauce will keep its taste qualities for well over a year. The key is to keep it in a dark, cool and dry place, like your basement. They say that canned products start losing their taste qualities after about a year. My experience shows that this is true with some canned goods but I haven't noticed this with canned tomato sauce or canned meat. I've tried both well after a two-year mark and they both tasted as fresh as when they were canned.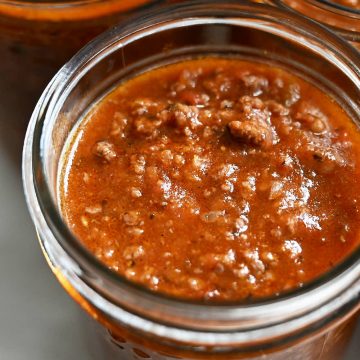 Canned Tomato Sauce (The Best)
Detailed instructions for how to make delicious tomato sauce.
Print
Pin
Rate
Ingredients
11

lbs

tomatoes

cored, blanched, peeled and diced

6

lbs

beef

ground chuck; optional

1/4

cup

olive oil

3

Tbsp

sea salt

coarse, or kosher salt, plus more to taste

2

Tbsp

granulated onion

or onion powder

2

Tbsp

granulated garlic

or garlic powder

2

Tbsp

dried basil

1

Tbsp

black pepper

coarsely ground

1 1/3

Tbsp

white sugar

or to taste; sweet tomatoes don't need added sugar
Instructions
Rinse, core, blanch, peel and dice the tomatoes.

In a large pot, preferably in a large cast-iron jambalaya pot, mix the tomatoes with the oil, salt, granulated garlic and onion, dried basil, and peppers. Taste and add sugar if the sauce tastes tart. Do not fill the pot more than 3/4 of the way. If your pot is too small, make your batches smaller.

If making meat tomato sauce, heat the 1/4 cup of oil and brown the ground beef. Then add the rest of the ingredients as described in the step above.

Bring to a boil, turn down the heat to medium-low and simmer, uncovered, frequently stirring, until the desired thickness is achieved. I usually stop when the sauce is about 3/4 of the original volume. This will take about 40 to 60 minutes.

Fill clean pint-size jars with the hot tomato sauce, leaving one-inch headspace. Wipe the rims and cover them with the lids. Tighten the bands finger-tight.

Process in a pressure canner for 60 minutes at 10 lb weighted gauge for 0 - 1000 ft elevations above sea level and 15 lb weighted gauge for elevations above 1000 ft. If using quart jars, the processing time should be increased to 70 minutes.

When the processing is done, turn off the heat and let the pressure canner depressurize on its own.

Remove the jars and let them fully cool down at room temperature. Check the jars to ensure that each is properly sealed. Store in a cool, dry, and dark place. Properly sealed and stored tomato sauce will keep its freshness for at least a year and up to 2-3 years before noticeable loss of taste qualities.

Refrigerate the tomato sauce once the jar is open.
Notes
The yield from 11 lbs of peeled and cored tomatoes is exactly 8 pints.
The yield from 11 lbs of peeled and cored tomatoes and 6 lbs of ground beef is roughly 12 pints.
Nutrition values are calculated per pint of tomato sauce without beef.
In place of dried garlic, dried onion and dried basil use fresh herbs/veggies. Per recipe batch, I use 2 medium onions (finely chopped), 5 garlic cloves (pressed or minced) and 1/2 cup chopped fresh basil.
Empty jars used for vegetables, meats, and fruits to be processed in a pressure canner need not be pre-sterilized. It is also unnecessary to pre-sterilize jars for fruits, tomatoes, and pickled or fermented foods that will be processed 10 minutes or longer in a boiling-water canner. Source - Healthy Canning.
Nutrition
Calories:
196
kcal
|
Carbohydrates:
30
g
|
Protein:
6
g
|
Fat:
8
g
|
Saturated Fat:
1
g
|
Polyunsaturated Fat:
1
g
|
Monounsaturated Fat:
5
g
|
Sodium:
2651
mg
|
Potassium:
1556
mg
|
Fiber:
8
g
|
Sugar:
19
g
|
Vitamin A:
5207
IU
|
Vitamin C:
86
mg
|
Calcium:
98
mg
|
Iron:
3
mg