Calabrese salami comes in two flavors: mild (dolce) and hot (piccante). Mild Calabrese salami is typically made with ground pork, salt, pepper and red wine that comes from local vineyards. Some recipes may include wild fennel seeds and pepe rosso dolce (sweet Calabrian paprika) and exclude wine. Hot salami includes pepe rosso piccante (hot Calabrian paprika). Traditionally, spices such as cloves, nutmeg, allspice, cinnamon that are used in other types of salami are never used in the making of Calabrese salami.  Calabrese salami is all about a few simple flavors and high quality pork.

I've tried quite a few examples of this fine salami, some were mild, and some were so hot that I could barely eat them. I learned that my type of Calabrese salami was neither mild nor very spicy, but somewhere in between. To make a long story short, here is my favorite Calabrese salami recipe that I've been using for years. The sausage is moderately spicy with great flavors and a nice after taste. I make it every year.

Making Calabrese salami
The meat
The optimal ratio of lean pork to fat is 75/25. You can go a little lower or a little higher, but don't go less than 23% and more than 30% fat. Lean meat may come from any pork cut: shoulder, ham, neck, or loin. Back fat is ideal for making salami. It's firm and prone to smearing. If you can't find it, and often it's not easy to find, use pork belly.
Meat quality makes a big difference, so pick the freshest and the best meat you can find. Pasture-raised heritage pork is ideal. This is the first time I am making Calabrese salami with Berkshire pork. My cured bacon made with this pork was exceptionally good. I expect this salami to be nothing less, but we'll see. Check out your local farms, you may be able to get very good deals if you place a large enough order.
I grind the lean meat through a 1/4-inch (12 mm) grinder plate, and the back fat through a 1/4-inch (6mm) grinder plate. A good, powerful enough meat grinder with sharp knives is key for making salami. A powerful meat grinder with sharp knives means good meat and fat definition which will promote efficient drying, better texture and better enjoyment of the final product. I've been using a LEM Products Big Byte #8 for years and highly recommend it. It's portable enough to easily carry around but powerful enough to get the job done well.
Seasonings and spices
For seasonings, I use salt, pepper, fennel and sweet and hot Calabrian paprika. To get that authentic Calabrian taste, you must use the real Calabrian paprika imported from Calabria which you can buy on Amazon. Other places that carry it are Sausage Debauchery and Italian Harvest. All these places seem to only carry the hot variety so if you can't find the mild pepper, just use fresh (as in not old/stale) Spanish or Hungarian paprika.
If you live near large Italian communities, try local grocery stores that cater to them, they will most likely carry those as well.
For weighing the seasonings, I recommend using a precision scale, like this Precision Pocket Weight Scale. The amounts are small, so using a scale in grams makes things very easy. Calculating the amounts in grams when scaling the recipe also makes it a lot easier.
Stuffing
You can stuff the meat in various size natural casings, from 32mm to 110mm. Thinner salami will be ready after 4-8 weeks, while thicker may take 3+ months to mature. I prefer thicker casings for this type of salami.
Drying and maturing
In the past, I would stuff my salami and dry-cure at the standard 55F and 75% RH until 35% weight loss. This is a good approach, so use it if you are more comfortable with it and have had good results with it.
Lately, I've been using a new process that I like a lot and which I wrote about in homemade capicola and pancetta posts. I've had much more consistent drying with it, low risk of case hardening and an improved flavor. It starts with what they call in Italy 'dripping' and goes into intensive drying over the following 6 days. Salami lose a lot of water during the first week, so the modified temperature/humidity schedule ensures that water removal is optimal during this time and the casing stays hydrated to prevent hardening.
For thicker salami (75mm - 110mm), I use the following schedule:
| | | | |
| --- | --- | --- | --- |
| Stage | Duration | Temp | RH |
| Dripping | 14 hours | 77F (25C) | < 99 % |
| Drying | 17 hours | 73F (23C) | 75-85 % |
| Drying | 24 hours | 71F (22C) | 68-78 % |
| Drying | 24 hours | 68F (20C) | 65-75 % |
| Drying | 24 hours | 64F (18C) | 68-78 % |
| Drying | 24 hours | 61F (16C) | 72-82 % |
| Drying | 24 hours | 59F (15C) | 76-86 % |

Smoking
It's not uncommon to find Calabrese salami to have a smoky flavor. Calabrians use natural wood smoking for 3 days and a maximum of one week.
Salami weight loss progress
Below is the weight loss progress of my 110mm Calabrese salami.
| | | | |
| --- | --- | --- | --- |
| | Weight, g | Loss, g | Loss, % |
| Start | 2,512 | | |
| 3 days | 2,356 | 156 | 6.2 % |
| 5 days | 2,286 | 226 | 8.9 % |
| 7 days (end of drying) | 2,244 | 268 | 10.6 % |
| 12 days | 2,155 | 357 | 14.2 % |
| 23 days | 2,022 | 490 | 19.5% |
| 1 Month | 1,975 | 537 | 21.4% |
| 2 Months | 1,799 | 713 | 28.4 % |
| 3 Months | 1,694 | 818 | 32.6 % |
| 4 Months | 1,653 | 859 | 34.2 % |
Maturing
After drying, the salami went into the meat curing chamber where it will slowly mature at 55F - 57F (13C - 14C) and 80% - 84% for 3+ months.
Starting, interim and target pH
The starting pH was at 5.79, which dropped to about 5.10 by the end of the 7th day.
I expect the pH to continue dropping a little lower over the following 3 days, level off and gradually come back up a little.
Tasting notes
This recipe is one of the most popular salami recipes at our home. Perhaps even the most popular. It's easy to determine that by how quickly the salami disappears. This one usually goes the quickest.
It's very visually appealing and the flavors are rich and robust. There is a noticeable sweetness from the paprika coupled with mild to moderate, depending on who you ask, spiciness. I make this salami so you can feel the heat but it's not offputting and even those who don't like spicy food quite enjoy this sausage.
Sweet, savory, porky and spicy just enough. A definite crowd-pleaser. Fennel aroma comes through quite nicely. I love the savory taste of the paprika, it makes this salami quite addictive. A couple of slices of this salami on a freshly baked baguette or a croissant, or a slice of white bread, and I am in heaven.

In this particular batch, the pH finished at 5.29, giving the salami a nice tang that plays well with the sweetness of the paprika.

I have no good explanation as to why, for example, my Bergamo salami that was fermented and matured together with the Calabrese finished at 5.47. It's possible that the grind and the spices play a role in that. That said, I enjoy seeing these variances and unexpected (positive) results. That's how you learn, experience new things/tastes and come up with new ideas.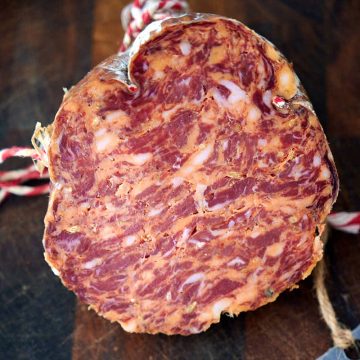 Ingredients
750

g

lean pork

ham, shoulder, neck (coppa), or loin

250

g

back fat

25.5

g

sea salt

2.5

g

Cure #2

2

g

dextrose

0.12

g

T-SPX culture

60

ml

distilled water

see note

4.5

g

Calabrian spicy chili pepper powder

or up to 10 g per kilo for a spicier taste; use cayenne pepper as a 1:1 substitute if needed

8

g

Calabrian sweet chili pepper powder

or up to 15 g per kilo if you like; Spanish or Hungarian sweet paprika are good substitutes

4

g

fennel

or as high as 10 g per kilo

1.5

g

black pepper

ground

1.5

g

black pepper

whole
Instructions
Rehydrate the starter culture in 60 ml distilled water. (see notes)

Weigh the lean meat and the back fat in grams. Divide the total weight by 1000, then multiply each ingredient by that number, except the distilled water (see notes). For example, if the combined weight of the meat and back fat is 2650 g, you need to multiply the ingredients specified above by 2.65.

In a small bowl, combine the salt, Cure #2 and dextrose.

Cut the meat and the back fat into 1-inch pieces, and place into separate bowls. Sprinkle 3/4 of the salt mixture over the lean meat and the remaining 1/4 over the back fat. Mix each well to ensure even distribution. Freeze both for 20-30 minutes.

Grind the lean pork through a 1/2-inch (12 mm) grinder plate. Grind the back fat through a 1/4-inch (6mm) grinder plate.

Combine the lean pork with the starter culture and all of the seasonings. Mix well, until sticky, then mix in the groud back fat. It helps to use a stand mixer with a paddle attachment for this.

Stuff into beef bungs and tie into 10-inch (25cm) links.

Using a sterilized needle or sausage pricker, prick holes across the entire salami.

Weigh the salami, write down its weight on a tag and attach the tag to the salami.

If desired, inoculate with mold.

Use the leftover meat from the stuffer/stuffing tube to make a small sample for measuring the initial pH and the pH at later stages. Make sure to record the readings.

Dry at 59F - 77F (15C - 25C) and 65%-86% RH for a period of 7 days as per the drying protocol above. Measure the pH, it should be below 5.3 at this point.

Mature in the curing chamber at 55F - 57F (13C - 14C) and 80% - 84% for about 3+ months.
Alternative curing method
Ferment salami at 68F-70F for three days to get the pH below 5.3.

Cure at the standard 55F-57F and 75% RH until 35% weight loss is obtained.
Notes
When scaling the recipe up, increase the starter culture accordingly but keep the amount of the water at 60 ml.
Nutrition
Calories:
290
kcal
|
Carbohydrates:
1
g
|
Protein:
17
g
|
Fat:
24
g
|
Saturated Fat:
9
g
|
Cholesterol:
63
mg
|
Sodium:
1129
mg
|
Potassium:
344
mg
|
Fiber:
1
g
|
Sugar:
1
g
|
Vitamin A:
616
IU
|
Calcium:
7
mg
|
Iron:
1
mg