I had never been crazy about croissants until the day I first made them using the recipe from Chad Robertson's famous Tartine Bread book. There are many recipes out there that show you how to make croissants, but this Tartine croissant recipe is truly special.

The croissants that came out of my oven truly surprised me, in many ways. Full bodied and plump, they displayed a range of beautiful colors from light creamy yellow to shiny rich brown. The freshly baked bread aroma with hints of butter and buttermilk was mouthwatering. I couldn't wait to try one. I let them cool down for a few minutes and dug in.
The crust was thin and wonderfully crispy, in contrast to soft, flaky and buttery crumb. Moist and pleasantly chewy, the crumb was a happy medium between dense naturally leavened bread crumb and overly aerated bread crumb leavened with commercial bread yeast.

It had slight sweetness, just a touch, finding a perfect balance with salt. Just a hint of sourness from sourdough starter was present, not overpowering, lending the crumb a pleasant light buttermilk-y taste. It felt like putting jam or cream cheese on this croissant would be sacrilege. It was perfect on its own.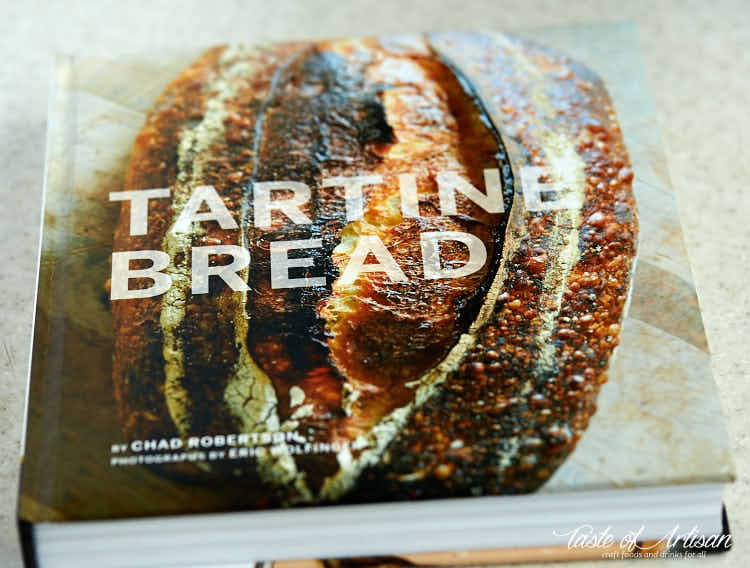 Making Tartine croissants no doubt is a lengthy process, but totally worth it. Actually, it is the lengthy fermentation process using pre-fermented poolish and natural leaven (sourdough starter) that gives them complex flavors and exceptional keeping qualities. Days after baking, they still remain fresh and moist inside. You may want to warm them up in a microwave oven to get the best taste.
While being lengthy, the basic process for making Tartine croissants is quite simple. You start off with preparing poolish and leaven. Poolish is a mix of flour, water and commercial dry yeast that is fermented for about 3-4 hours at room temperature, or overnight in the fridge. Leaven is a mix of flour, water and a tablespoon of mature sourdough starter that is fermented overnight at room temperature.  They are ready when they are about doubled in volume and bubbly.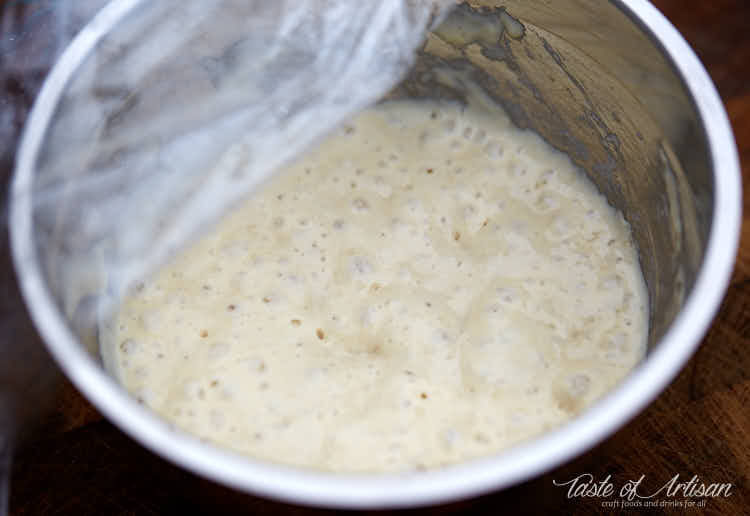 Once your your pre-ferments (poolish and leaven) are ready, mix them with warm milk. After poolish and leaven are fully dispersed in milk, add the rest of the ingredients, cover with plastic wrap and let sit for about half an hour. After that, knead slightly and let rise at warm room temperature for 1 1/2 hours, while doing stretch and folds every 30 minutes. Stretch and fold technique helps the dough develop gluten and strengthen. The technique is very simple - in the bowl, pull one corner of the dough and fold onto itself. Repeat for the rest of the three corners and then flip the dough upside down. This dough will be fairly stiff, so you may want to hold it with one hand while stretching and folding with the other.

After that, wrap the dough in saran wrap, flatten and refrigerate for 2-3 hours. Just before taking it out, prepare you butter block. We will need it for lamination. Lamination is a process creating alternating thin layers of dough and butter. This is what gives croissants buttery and flaky texture. Butter block should measure about 8 x 12 inches. I find it easier to prepare an envelope of this size from parchment paper, place butter and flour inside and close it, and then mold the butter block with a rolling pin. This way you will get even thickness and the desired size of the block.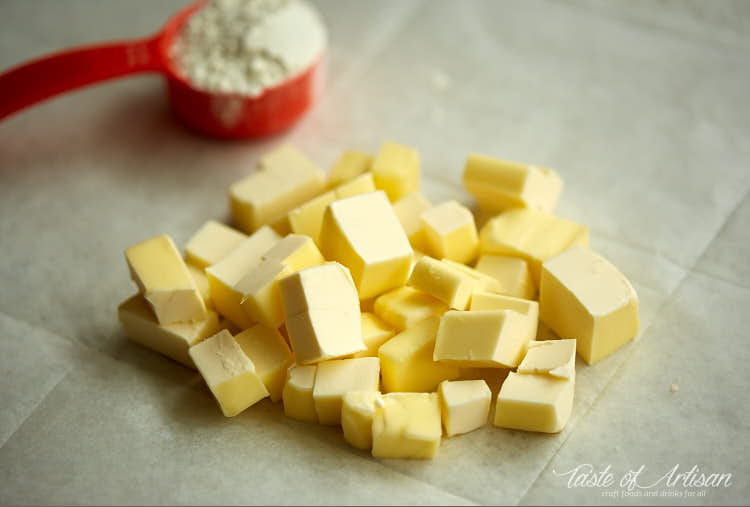 When molding, be sure not to pound too hard or the parchment paper will break, in which case you will most likely have to make a new envelope. I usually use light pounding,  pressing and rolling to mold the butter. Be sure to work quickly as you don't want the butter to warm up and become soft and runny. We want to achieve cold but pliable butter block, which should have about the same hardness and consistency as your chilled dough. If it becomes too soft, chill in the fridge for 15-20 minutes and then mold again.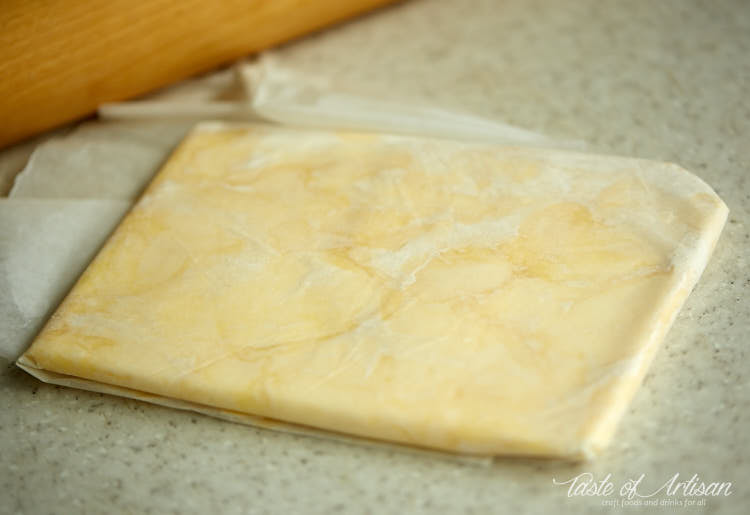 Roll the dough out to about 12 by 20 inches rectangle. Place the butter block on the dough rectangle, aligning it to the right. It should cover 2/3 of the dough surface.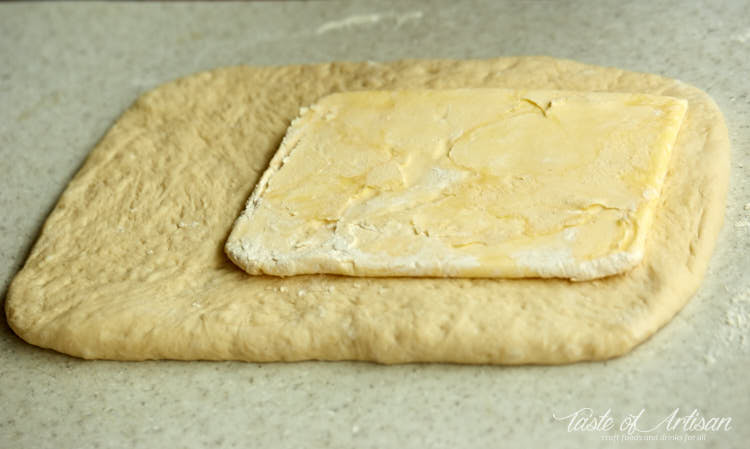 Now fold the dough as you would fold a letter.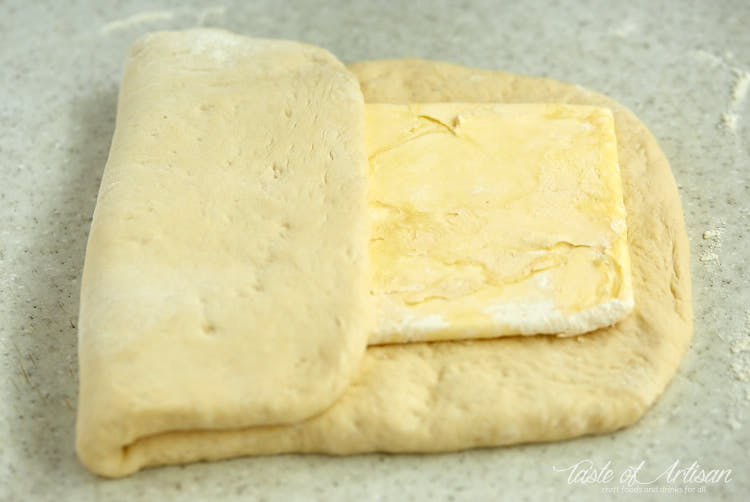 Immediately rotate the dough 90 degrees and again roll it out to 12 by 20 inches rectangle, and do another letter fold.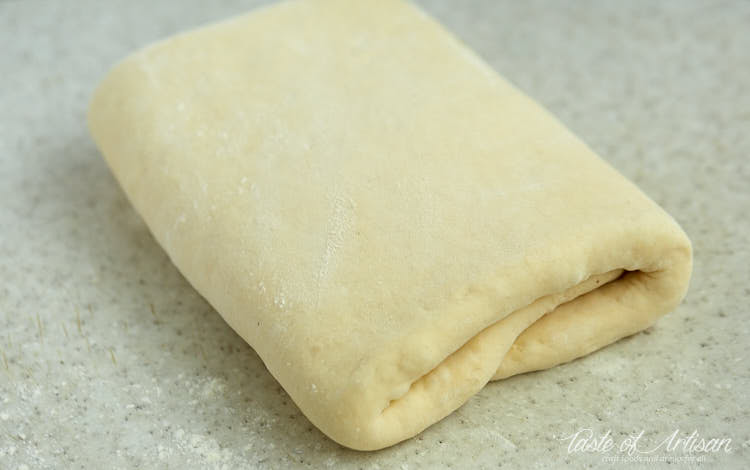 Cover with saran wrap and refrigerate for an hour. After that you want to, again, roll out the dough to a 12 by 20 inches rectangle, do letter fold and refrigerate. This will be your second fold. Repeat one more time and you are done. 3 folds altogether.
After the third fold, I usually put the dough back in the fridge for half an hour to relax, then roll it out to about 12 by 24 inches rectangle.  The size of the rectangle may vary, depending several factors such as how much your dough has risen, but you want to make sure that the thickness is 1/2 inch. At this point I usually let the rolled-out dough sit for about 10 minutes to relax, otherwise, it will pull together and shrink a bit when you cut it.  Nothing wrong with that, only the croissants will turn out shorter and stubbier. Cut the dough in half horizontally, and then cut vertically into 3-4 equal parts. Then cut each of the smaller rectangles in half on the diagonal.

Now roll up each triangle, starting with the wide end, and making sure that the narrow end ends up on the bottom. This will prevent croissants from unrolling when they expand during baking.

Place rolled-up croissants on parchment paper-lined baking sheets, spaced about 1.5 - 2 inches, cover with plastic and let rise at room temperature for about 2 hours. Croissants will rise by about 50% during this time. Brush with egg wash.
Bake at 425F for about 20-30 minutes until deep golden brown. Smaller size croissants will require less baking, so you may want to keep an eye on them at 15 minutes to check if they are ready.
This Tartine croissant recipe is adapted from Chad Robertson's Tartine Bread book.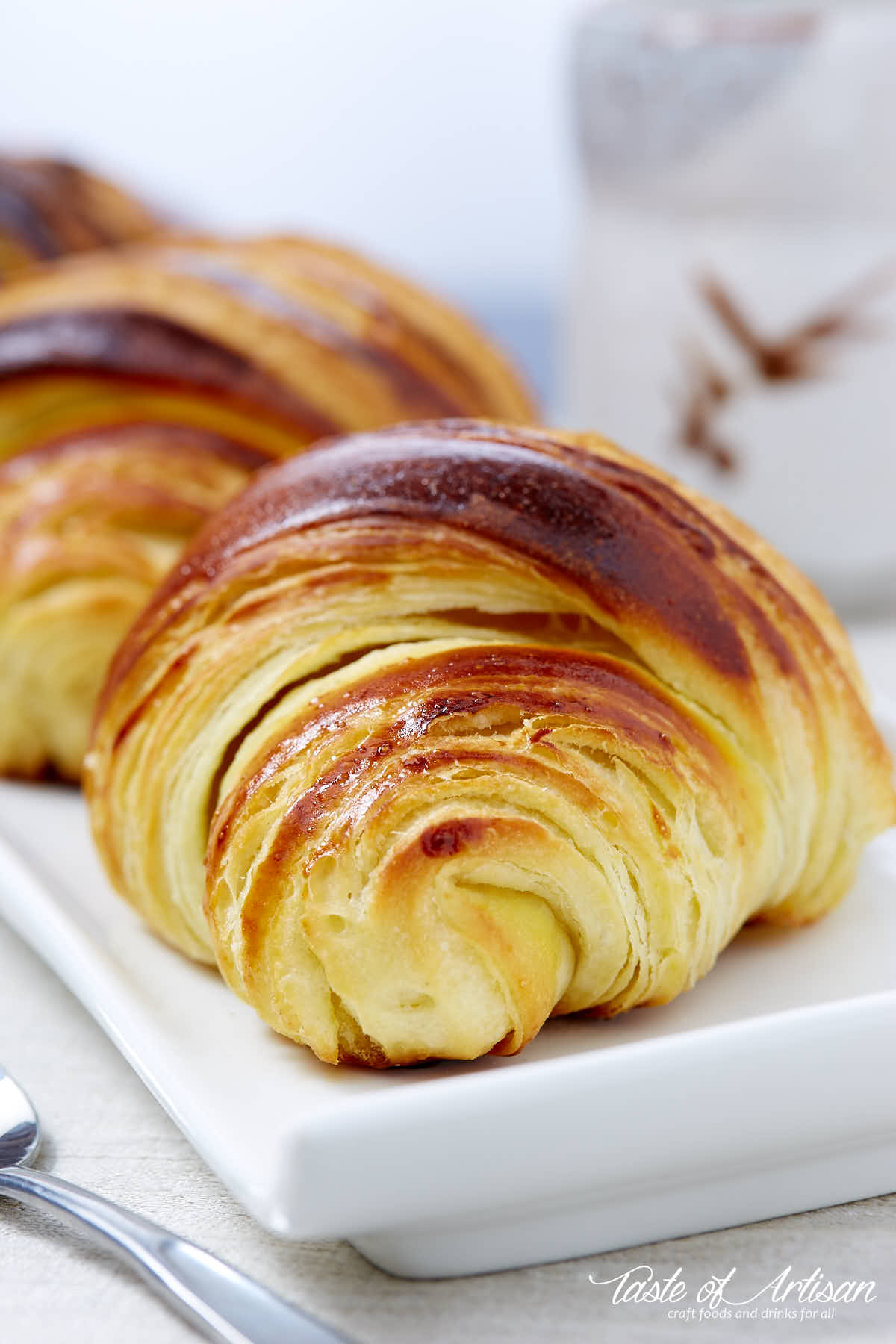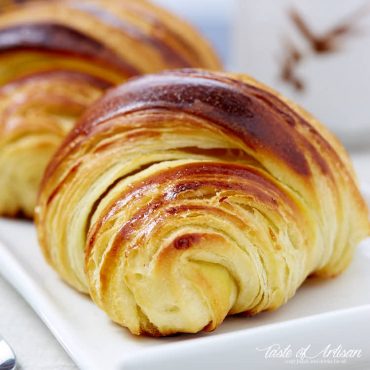 Ingredients
15

oz

milk

whole or 2%; about 450 g

10

oz

leaven

about 300 g

13 1/3

oz

poolish

about 400 g

2 3/16

lbs

bread flour

about 1000 g

5

tsp

salt

about 28 g

6

Tbsp

sugar

about 85 g

2

tsp

active dry yeast

about 10 g
For dough lamination
14

oz

unsalted butter

cold, 400 g or 3.5 sticks

1/2

cup

flour
For the egg wash
2

large egg yolks

1

tsp

heavy cream

or milk
Instructions
Have your poolish and leaven ready before you begin.

Bring milk to room temperature. In a big bowl, add polish and leaven to milk and stir.

Mix in the rest of the ingredients. Cover with saran wrap and let stand for half an hour.

Knead the dough for 5-10 seconds, cover and let ferment at room temperature for 1.5 hours, doing stretch and folds every half an hour. Stretch and fold is basically taking a corner of the dough, stretching and folding onto itself. Done once for each corner at a time.

Transfer the dough into a plastic bag, flatten it into a rectangle, and refrigerate for 2-3 hours.

Mold the butter and 1/2 cup of flour into a 8 x 12 inches rectangle. Do it quickly not letting the butter warm up. I use a pre-shaped envelope made from parchment paper for this task. I cut butter into small cubes, mix with flour, and place into the parchment paper envelope. Then, using a rolling pin, I pound, press and roll it to mold it into a rectangle. Put in the fridge.

Take out the dough from the fridge and roll out into a 12 x 20 inches rectangle.

Take out the block of butter from the fridge and lay it horizontally on the dough. It should cover about 2/3 of the length of the dough.

Fold the left and the right side of the dough as you would fold a letter. Turn the dough 90 degrees and roll it out into a rectangle measuring about 12 x 20 inches. Do the fold again, cover with saran wrap and refrigerate for 1 hour.

Take the dough out of the fridge, roll out to a 12 x 20 inch rectangle and fold. This is the second turn.

Refrigerate for 1 hour and do a third turn. If you want to use the dough later, place it into a freezer proof bag and freeze for up to three days. The night before using the dough, transfer it into refrigerator.

After the third turn, if using immediately, let the dough relax in the fridge for half an hour, then take out and roll out to 12 x 24 inches rectangle. The dough should be about 1/2 inch thick.

Using a pizza cutter, cut the dough in half, horizontally. Then cut vertically into about 3 or 4 equal pieces. Then cut each piece in half diagonally into triangles.

Roll up each triangle, beginning at the widest side, and placing the narrow end on the bottom.

Place rolled up pieces onto a parchment paper lined baking sheet, cover with plastic wrap and let sit at room temperature for about 2 hours. Croissants should increase in size by about 1.5 times.

Prepare egg wash by whisking briskly egg yolks and cream or milk. Brush the tops of croissant with the egg wash.

Bake for about 20-30 minutes , until the croissants are deep golden brown, crisp and flaky. Smaller size croissants may take 15 minutes to bake, so keep an eye on them, especially the first time you are making them.
Notes
Poolish:200 g all-purpose flour200 g water (warm room temperature)3 g active dry yeastMix flour, water and yeast in a bowl, cover and let st and for 3-4 hours at room temperature or in a fridge overnight.
Leaven:1 Tbsp mature sourdough starter220 g all-purpose flour220 g water (80F)Mix flour, water and sourdough starter in a bowl, cover and let stand overnight at room temperature.
Nutrition
Calories:
442
kcal
|
Carbohydrates:
55
g
|
Protein:
9
g
|
Fat:
20
g
|
Saturated Fat:
12
g
|
Cholesterol:
72
mg
|
Sodium:
662
mg
|
Potassium:
102
mg
|
Fiber:
2
g
|
Sugar:
5
g
|
Vitamin A:
620
IU
|
Calcium:
43
mg
|
Iron:
0.7
mg