Don't you hate when your perfectly smoked chicken thighs have a tough, rubbery skin that ruins the dish? I do. I have an easy and perfect solution that will work 100%, and you will be very happy with the results. Yes, perfectly smoked chicken thighs, exceptionally flavorful and very juicy, with thin, crispy skin without even a hint of being rubbery. I love this smoked chicken thigh recipe.

It's all thanks to pan-searing. Pan-searing will render most of the chicken skin fat out, leaving a thin, crispy, crackly skin. This skin is as good as it gets. I'd eat it right away. But I am jumping ahead; let's go step by step to make our perfect smoked chicken thighs that will be better than any competition smoked chicken thighs, I am sure of it. This is the same method I now use to make many chicken recipes - smoked chicken breasts, chicken leg quarters, and even oven-roasted chicken - it works exceptionally well.
This recipe works very well with boneless chicken thighs too, but the chicken must have skin to get the best results. You could use boneless chicken thighs, but they won't be as moist and juicy. Smoking boneless chicken thighs require a different method to get optimal results.
Smoked chicken thigh rub
Before we begin smoking chicken thighs, they need to be seasoned. I don't brine them, the meat will be very, very juicy, so there is no need to do that. Brining will help get the salt and the seasonings deep inside the meat, flavorizing it inside out. If that's what you are after, do it. Here is a very good chicken brine recipe that I use.
That said, if you just rub the meat with a simple chicken spice rub and let it sit for 30 minutes and up to 2 hours, that will make it very flavorful. You can even leave the chicken to sit in a fridge overnight, it will only get better. I avoid using sugary dry rubs in this recipe as it makes chicken skin burn during searing. If you want your chicken slightly sweeter, apply some brown sugar after searing or use a sweeter BBQ sauce later.
Pan-searing chicken before smoking
This step is what makes this smoked chicken so exceptionally good. Searing over medium-high heat renders off most of the fat, leaving behind a thin, golden-brown, crispy, and delicious skin. All the grease, chewiness, and rubberiness are gone. This method produces the best results for me when smoking skin-on chicken. It also makes chicken thighs healthier and with fewer calories as most of the skin fat will be removed. This step is what elevates smoked chicken meat to the next level. Once you try it, it will be an essential part of your chicken smoking process.
A cast iron pan is what I use for searing chicken, it works very well, but any pan will do. You can even do the pan-searing on a non-stick pan on an electric stove, it will work fine.

Smoking chicken
Fire up your smoker - offset smokers, pellet grills like Traeger, Big Green Egg, and kettle grills work well for this recipe - and preheat it to about 250F - 275F.
I find that I get the best results when smoking chicken thighs at around 250F - 275F at the grate level over indirect heat. When smoking at this temperature, I get the best meat texture. Higher than that - the chicken will cook too fast, resulting in insufficient smokiness. Lower than that - the chicken thighs will have a texture that almost feels undercooked. Of course, this is a matter of personal taste. If you prefer to smoke your chicken at a lower or higher temperature, go for it.

Depending on the temperature, the chicken will be done after about an hour to an hour and a half. That's plenty of cooking time to make it decently smoky. Of course, you want to use wood that has strong enough flavor, like oak, hickory, or cherry. Even pecan.  Don't use apple, pear, or maple... those are very weak, and it may take a long time for the chicken to get decent smokiness with those.
The chicken is done with it reaches 185F to 190F internal temperature. Lower internal temperature makes dark chicken meat taste undercooked. Higher - will dry out the meat. Use a meat thermometer to help you check the temperature. Better yet, use a good BBQ thermometer which will alert you when the target temperature is reached.

Applying BBQ sauce
This step may be omitted, the chicken will be fantastic without it, but it will be even better if you apply some BBQ sauce to it. Just before the chicken is done, glaze it with your favorite BBQ sauce and let it smoke for another 15 minutes or so to let the sauce thicken a little. This is it, the chicken is ready. I like Duff's BBQ sauce in this recipe, it's delicious.

Serving
This is it, the chicken is ready. Insanely juicy and moist inside.

Transfer it to a serving platter and let rest for 5 minutes. This will allow the meat fibers to relax and re-absorb some of the lost juices. This step will make the chicken stay moist and juicy for much longer.
Enjoy!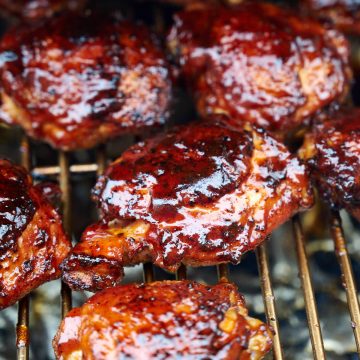 Smoked Chicken Thighs (Crispy Skin, BBQ Glazed)
Print
Pin
Rate
Servings:
4
2 chicken thighs per serving
Ingredients
8

chicken thighs

bone-in, skin-on

1

tsp

vegetable oil

1/3

cup

BBQ sauce

plus more as needed
For the chicken rub
1

tsp

kosher salt

or to taste

1

tsp

black pepper

or to taste

1

Tbsp

granulated garlic

1

Tbsp

granulated onion

1

Tbsp

sweet paprika

1/4

tsp

ground coriander

1/4

tsp

dried marjoram leaves

1/4

tsp

cayenne pepper

optional; use if you want mild heat. Add more of you want more heat.
For pan-searing
1/4

cup

cooking oil

1/4

cup

butter
Instructions
Preheat smoker to 250F - 275F at the grate level.

Combine the rub ingredients in a small bowl and set aside.

Rub chicken thighs with oil and apply the rub evenly on both sides of each chicken piece. Get some seasonings under the skin. Pat down to make the seasonings stick. Let rest in the fridge for half an hour and up to 2 hours. You can even leave them in the fridge overnight.

In a large cast iron skillet, heat cooking oil and butter over medium-high heat. In two batches, sear the chicken thighs skin side down, about 2 minutes or until the skin is golden brown. You don't need to sear the skinless side.

Transfer the chicken to the smoker, skin side up.

Smoke at 250F-275F over indirect heat for about 1 - 1.5 hours, or until the internal temperature reaches 185F to 190F.

Just before the chicken reaches the target temperature, glaze it with BBQ sauce and smoke for another 15-20 minutes to let the sauce set.

Remove the chicken from the smoker, let rest for 5 minutes, then serve.
Nutrition
Calories:
568
kcal
|
Carbohydrates:
10
g
|
Protein:
40
g
|
Fat:
40
g
|
Saturated Fat:
11
g
|
Polyunsaturated Fat:
8
g
|
Monounsaturated Fat:
17
g
|
Trans Fat:
0.2
g
|
Cholesterol:
236
mg
|
Sodium:
933
mg
|
Potassium:
592
mg
|
Fiber:
1
g
|
Sugar:
6
g
|
Vitamin A:
801
IU
|
Vitamin C:
0.4
mg
|
Calcium:
36
mg
|
Iron:
2
mg