Have you ever noticed how the skin on your smoked chicken wings is tough and rubbery? I am sure you have. That's the direct effect of low and slow smoking. If you smoke your wings at a high temperature they will cook through way too quickly to absorb enough smoke. They will resemble grilled wings rather than true smoked wings. So, how do you make crispy smoked chicken wings? Is it even possible? Yes, it's totally possible.

But the answer is not what you will find in hundreds of recipes on the internet that seem to parrot each other claiming that you can get a crispy wing by increasing the heat to 350F for the last 20-30 minutes. I am sorry but that does not work! Perhaps my definition of a crispy chicken wing is very different. I don't think so though.
The crispiest chicken wing there is a deep-fried chicken wing, there is no argument to that. That's why places like Anchor Bay and Duff's exist and enjoy mad popularity. There is nothing like a crunchy, crispy chicken wing. I was able to make an extra crispy chicken wing in an oven that came very close. Many agree that it's just like deep-fried. But it's not smoked.
So, how do you really make a smoked chicken wing crispy? I tried several methods with varying success. Three produced very good results which I will share with you. One of those three makes truly crispy smoked chicken wings.
Making extra crispy chicken wings
Method #1 - not bad but not quite there
In this method, I smoked chicken wings over indirect heat (over a heat deflector) at about 450F - 475F at the grate level. They took about 45 minutes to finish and required fairly frequent flipping.

They turned out only slightly smoky, very well-browned, somewhat crispy but not what I would call truly crispy. These wings were quite good but there was not much crispiness. I think it was primarily on account of poor airflow caused by the heat deflector. I used hickory wood for smoking but would pick something stronger next time to get more smoke in such as short cooking time, like mesquite. These wings remind me of grilled chicken wings but smokier.

Method #2 - not bad, the wings are somewhat crispy but still not there
In this method, I sort of replicated the method I demonstrated in my smoked chicken halves post. It's one of my favorite ways to make smoked chicken. I smoked the wings over indirect heat but without a heat deflector, in a two-zone smoking setup. This way I would get more airflow that would help with crisping up the skin. That's right, it's not the heat alone that makes chicken skin crispy, it's the airflow.

I ended up smoking the wings for a bit longer, about an hour and 15 minutes before they were ready. I then moved them over direct heat and cooked for 10 minutes, 5 minutes per side. The results?  Smokier wings with somewhat crispy skin but, again, not what I would call truly crispy. They were really good though. Really good.

Method #3 - the best
In this method, I smoked chicken wings over indirect heat at about 225F for about 2 hours.

The wings reached an internal temperature of about 180F.

They had a very nice smoky flavor, were very juicy but had the typical tough, rubbery skin.

So, how do you fix that? Deep fry them. That's exactly what I did. I let the wings rest for about 10 minutes to bring the temperature down, I did not want to overcook them. I heated some peanut oil to 375F and deep-fried the wings for about three minutes.

And that's when the magic happened. I had a perfectly crispy, perfectly smoked chicken wing. I have to tell you, this was the best smoked chicken wing I've ever had, hands down. The best any chicken wing for that matter. Moist inside. Not super juicy, deep-frying took some of the moisture out, but quite moist still. Amazingly crispy. Crunchy tips. And still very smoky.

These wings would be just fine to eat like that. I did and enjoyed them immensely. I've also had them tossed in Buffalo wing sauce - they were better any Buffalo wings I tried at Duff's or Anchor Bay.
In another batch, I brushed the crisped-up wings with my favorite BBQ sauce and put them back in the smoker for about 15 minutes. These were a huge hit.

These are the wings you will be coming back for again and again. The true crispy smoked chicken wings.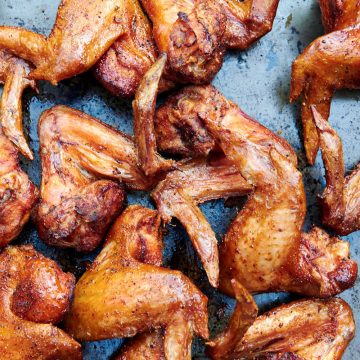 Extra Crispy Smoked Chicken Wings
The only way to make truly crispy smoked chicken wings.
Print
Pin
Rate
Ingredients
2

lbs

chicken wings

1

tsp

salt

plus more to taste

1

tsp

ground black pepper

1

tsp

garlic powder

1

tsp

onion powder
Instructions
The night before, or at least a couple of hours before, toss the wings with the seasonings, put in a bowl, cover and refrigerate.

Smoke the wings over indirect heat at 225F for about 1.5 to 2 hours, until the internal temperature reaches 180F.

Remove the wings from the smoker and let rest for 10 minutes.

Meanwhile, heat oil in a large pot or a deep-fryer to 375F. See notes.

Drop the wings in the heated oil and fry for 3 minutes.

Remove wings from the oil and onto a large platter lined with paper towels.

Serve immediately with a dipping sauce on the side.

If serving Buffalo wing style, let the wings rest for a couple of minutes, then toss with Buffalo wing sauce (50/50 melted butter and hot wing sauce like Duff's) and serve immediately.

If glazing with BBQ sauce, brush the wings with your favorite BBQ sauce, put back in the smoker and cook with or without smoke for about 15 minutes, until the sauce sets. Remove wings from the smoker and serve immediately. Enjoy!
Notes
If you don't have a large pot or a deep-fryer for deep frying, use a large cast-iron skillet filled 1/2" with oil. Fry for a couple of minutes on one side then flip and another couple of minutes on the other side.
Nutrition
Calories:
277
kcal
|
Carbohydrates:
1
g
|
Protein:
23
g
|
Fat:
20
g
|
Saturated Fat:
5
g
|
Polyunsaturated Fat:
4
g
|
Monounsaturated Fat:
8
g
|
Trans Fat:
1
g
|
Cholesterol:
94
mg
|
Sodium:
672
mg
|
Potassium:
212
mg
|
Fiber:
1
g
|
Sugar:
1
g
|
Vitamin A:
183
IU
|
Vitamin C:
1
mg
|
Calcium:
20
mg
|
Iron:
1
mg