An excellent way to preserve garlic scapes' unique, summery aroma is to make garlic scape compound butter. Like garlic scape-infused oil, this compound butter has a mild garlic flavor that works perfectly well with steak and grilled meats without overpowering them. It can be stored in the fridge for up to a week, and when frozen, it will last for 6-12 months.

You can undoubtedly flavorize compound butter with just about anything, from garlic to aromatic herbs and minced vegetables. But once you try it with garlic scapes, you will want more of it. It's addictive. It has a gentle aroma of garlic that doesn't overpower the meat. This mild garlic flavor comes without any harshness and pungency of garlic too. There is no need to blanch or cook garlic scapes to remove harshness.
The texture of garlic scapes reminds me of baby asparagus - tender, with a slight crunch.  It perfectly contrasts the soft, creamy texture of softened-up butter.
Making garlic scape butter
Making garlic scape compound butter is very easy, but one thing I would recommend you do is to remove about 1.5 - 2 inches of the pointy tips. The tips tend to dry out very quickly, on or off the plant, and become leathery and hard to chew. You don't want them in your butter. I always remove the tips from my garlic scapes before I do any kind of cooking with them.

Next, chop the scapes fairly finely. Garlic scapes will be uncooked, so they may be a little tough to chew, especially if they are bigger and older. If you use baby garlic scapes, you could chope them a little bigger, but I still prefer smaller pieces in compound butter.

When combining butter with the rest of the ingredients, make sure it's very soft but not melted. You want it soft and pliable, which will make it easy to mix it with the lemon juice and chopped garlic scapes.

When ready to shape, transfer the compound butter onto a piece of parchment paper or food-grade plastic. It will help a lot if you pre-shape it into a log before wrapping it.

Once the butter is shaped into a log, wrap it into the paper and twist the ends to tighten the log.

Transfer to the fridge and refrigerate for at least 3 hours before using. This compound butter will store in a fridge for up to a week. It's best to freeze it for longer-term storage. Wrap it tightly in foil, put it in a freezer bag and freeze. It will store in a freezer for 6-12 months.
Enjoy!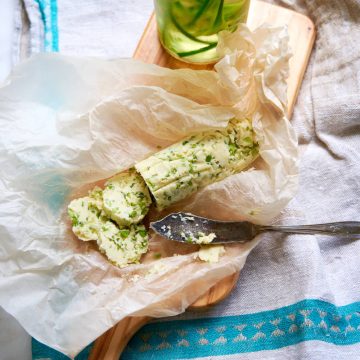 Garlic Scape Compound Butter
Makes about 6 ounces of compound butter
Print
Pin
Rate
Ingredients
8

tablespoons

unsalted butter

1 stick; at room temperature

8

garlic scapes

finely chopped

1/4

tsp

white pepper

finely ground

1

tsp

lemon juice
Instructions
Rinse and trim your garlic scapes, removing the thin tips.

Combine the butter, pepper, lemon juice, and finely chopped garlic scapes in a medium bowl, using a fork to mash the butter until it's homogeneous.

Lay a 12" x 12" piece of parchment paper on the work surface.

Transfer the butter to the lower part of the parchment paper, shape it as close to a log shape as possible, then carefully roll the butter up in the paper to form a log. Twist the ends to tighten the log.

Refrigerate until hardened before using, or wrap tightly in foil, place in a zipper-lock freezer bag, and freeze for up to 6-12 months.

To serve, slice off as much frozen butter as you need and let it soften at room temperature for 30 minutes.
Nutrition
Calories:
121
kcal
|
Carbohydrates:
5
g
|
Protein:
1
g
|
Fat:
11
g
|
Saturated Fat:
7
g
|
Polyunsaturated Fat:
0.4
g
|
Monounsaturated Fat:
3
g
|
Trans Fat:
0.5
g
|
Cholesterol:
30
mg
|
Sodium:
4
mg
|
Potassium:
4
mg
|
Fiber:
0.3
g
|
Sugar:
0.1
g
|
Vitamin A:
350
IU
|
Vitamin C:
5
mg
|
Calcium:
29
mg
|
Iron:
0.2
mg