This smoked chicken leg quarters recipe is by far one of the tastiest smoked chicken recipes I have ever tried. There is a lot of flavor going on here, from the rub, from the smoke, and from... pan-searing.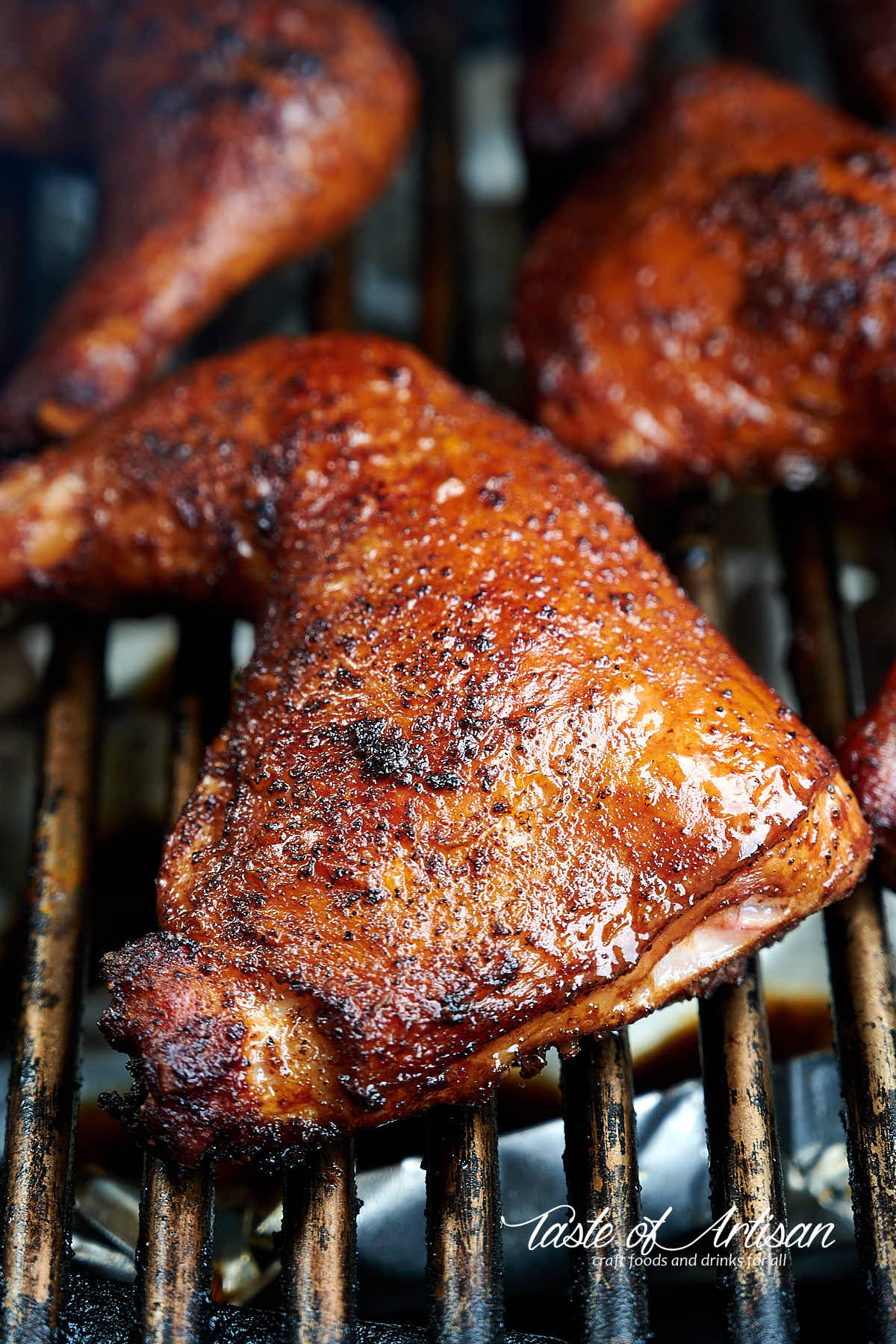 That's right, before smoking my chicken leg quarters, I quickly sear them on a cast iron pan. This not only adds a lot of flavor, but it also makes the skin tastier, and prevents it from becoming rubbery. We all know how chicken skin becomes tough and rubbery during smoking. The common solution is to bump the temperature up to about 325F towards the end, hoping to crisp up that chewy skin a little. That method is not effective IMHO.
The solution, like I said, is to pan-sear the chicken. That beautifully browned skin is just so tasty.  With a lot of the fat rendered out, it becomes thin and crispy. By the end of smoking it will be very tender. It literally disintegrates under your fork, or fingers, whichever you prefer to use to rip apart that smoky, juicy goodness.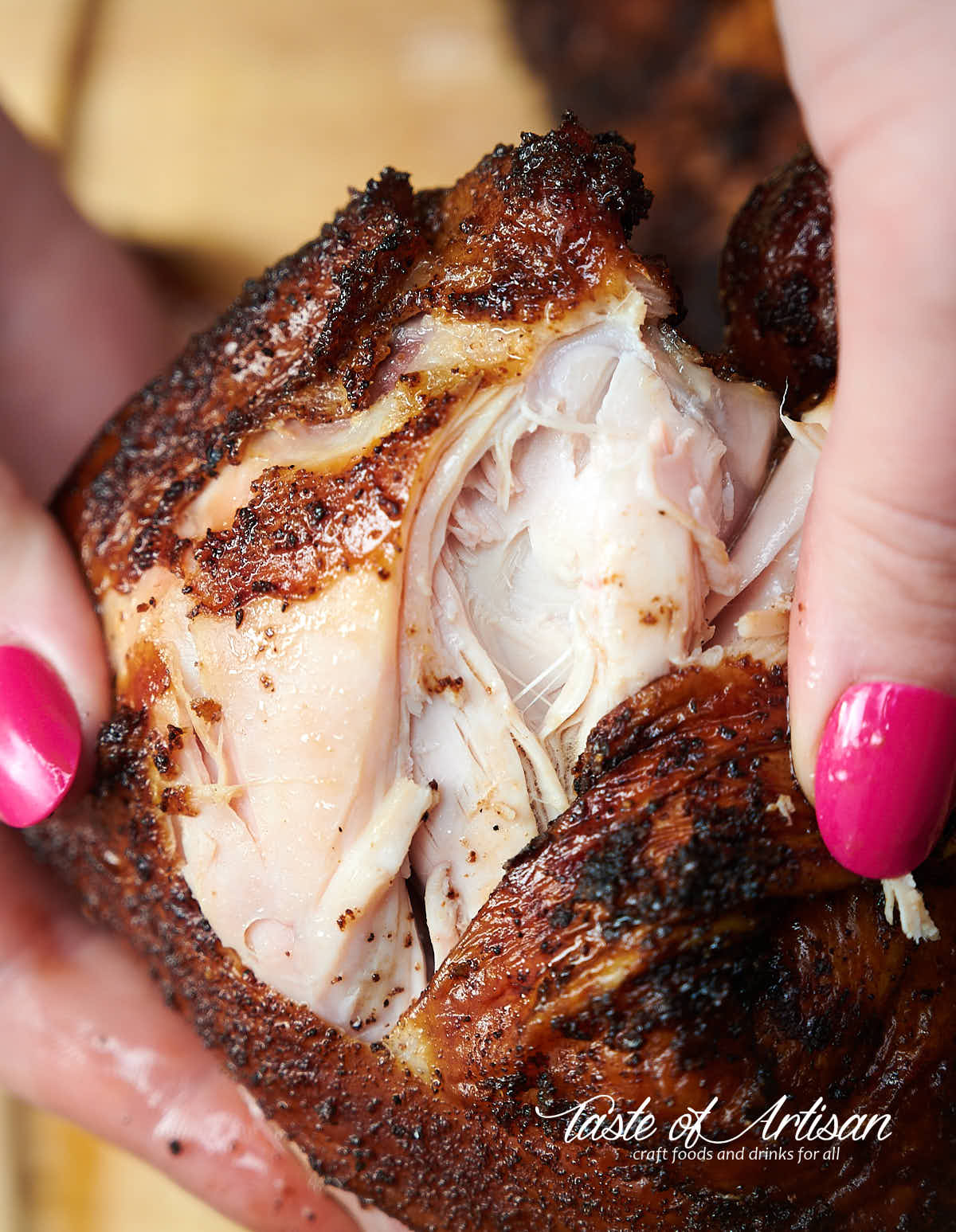 This recipe is a sibling of my popular Crispy Oven Roasted Chicken Breast and Crispy Oven Roasted Chicken Leg Quarters recipes. They are impossible not to love, and so are these smoked chicken leg quarters.
I now also smoke chicken breasts using this method - it works really well, I couldn't be happier with the results.

Unlike the Crispy Oven Roasted Chicken Breast, chicken leg quarters don't have to be brined, but you can do it if you want. I don't think it's necessary as in this recipe the chicken gets plenty of flavor from the rub and the smoke, and dark meat generally stays moist and juicy without the help of brining. If you do brine, make sure to eliminate, or go very light on the salt in the rub.
My chicken rub is very basic: salt, pepper, garlic and onion powder, and some cayenne pepper. I also like adding Ancho chile powder for its sweet and smoky flavor slightly reminiscent of raisins. Feel free to vary the seasoning mix in this recipe and use what you like. Creole and Cajun spice mixes work great too. Just make sure to use powdered herbs instead of flakes, those tend to dry out and burn during searing and/or smoking.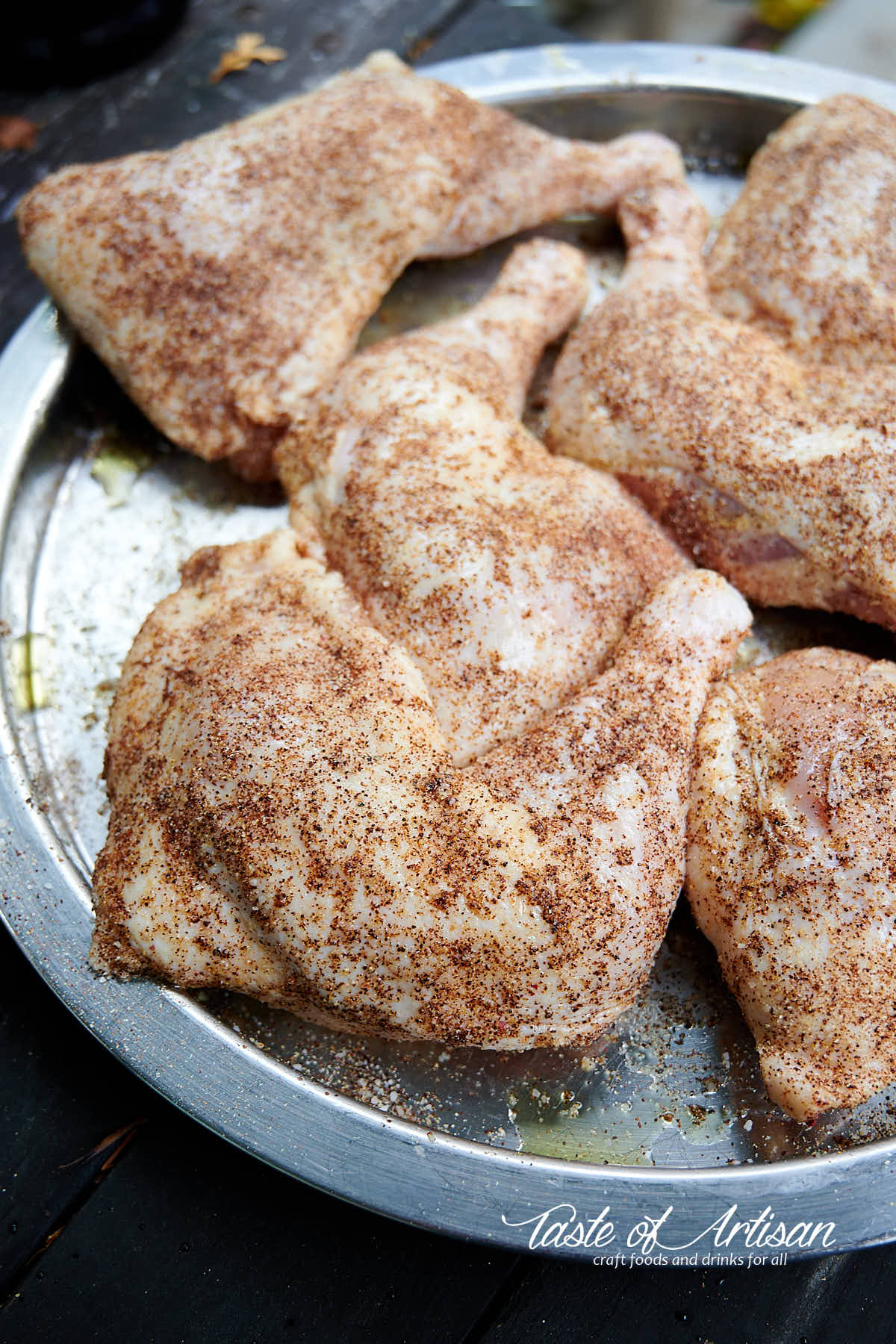 To give the chicken even more flavor, sear it in butter instead of cooking oil. This will result in richer flavor and darker color.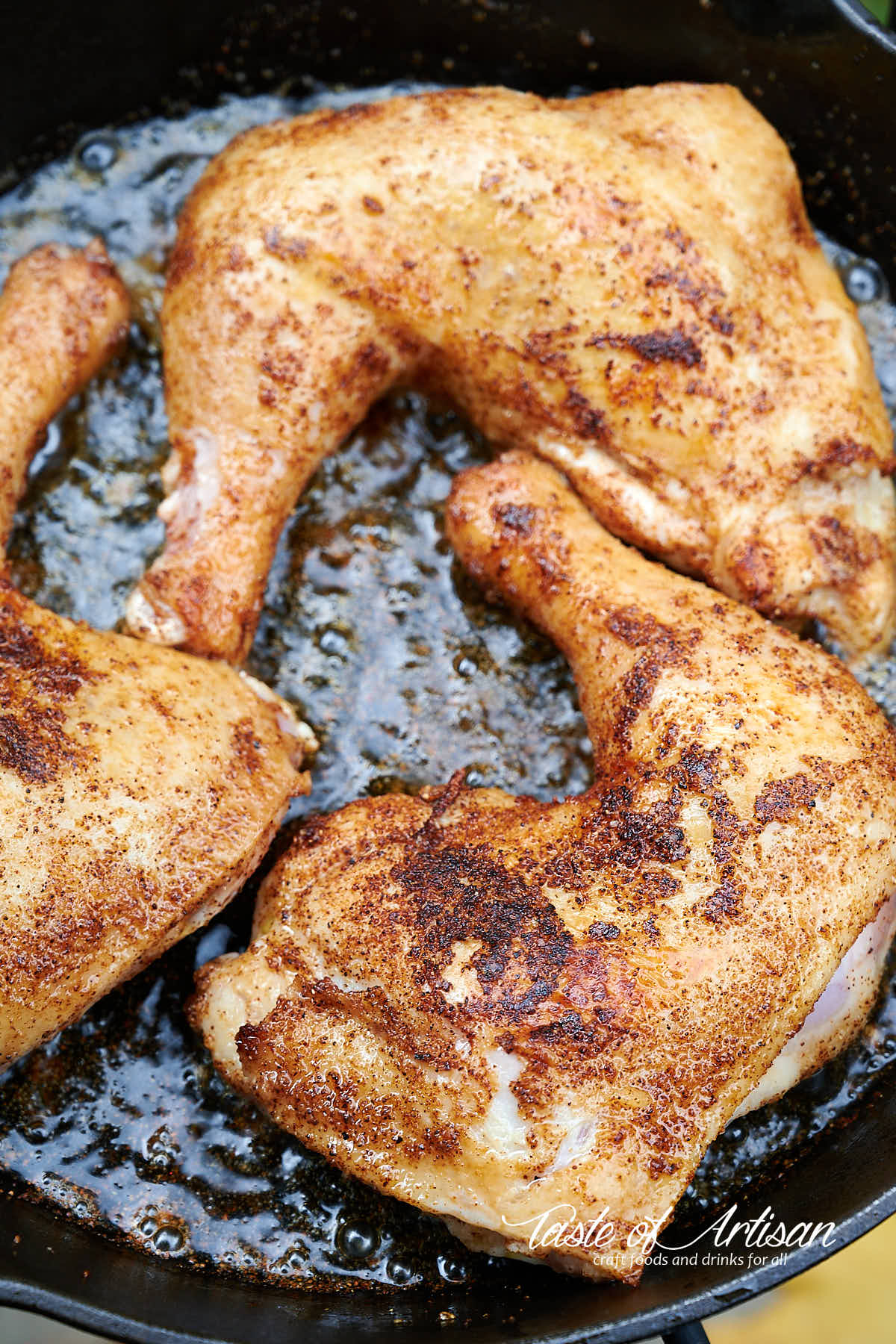 I smoke my chicken leg quarters to about 185F - 190F internal temperature.  Dark chicken meat cooked to 165F tastes under-cooked to me. At 185F, chicken legs and thighs become fall-off-the-bone tender, while still brimming with juices.
Looking for more great chicken leg quarters recipes? Check these out:
Don't forget to check out my new smoked chicken halves recipe. Crispy-skinned, juicy, and smoky, served with a sweet and tangy apple cider vinegar sauce, it was an instant hit.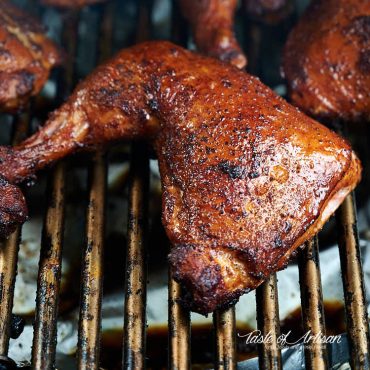 Smoked Chicken Leg Quarters
The best smoked chicken leg quarters recipe. No rubbery skin, juicy and delicious.
Print
Pin
Rate
Ingredients
6

chicken leg quarters

1 1/2

tsp

kosher salt

or to taste

1

tsp

black pepper

or to taste

2

tsp

garlic powder

2

tsp

onion powder

1

Tbsp

Ancho chile powder

1/2

tsp

cayenne pepper

optional, adjust the amount to taste

1/2

Tbsp

vegetable oil

for rubbing

1/2

cup

cooking oil

for frying; or butter
Instructions
Preheat smoker to 275F at the grate level.

Rub the chicken with oil and evenly sprinkle the seasonings on both sides of each leg quarter. Get some seasonings under the skin. Pat down to make the seasonings stick.

In a large cast iron skillet, heat 1/2 cup of cooking oil, or butter, over medium-high heat. In two batches, sear the chicken quarters, about 2 minutes per side or until the skin is golden brown.

Transfer the chicken to the smoker, skin side up.

Smoke at 275F for about 1.5 hours, or until the internal temperature reaches 185F to 190F.

Remove the chicken from the smoker, let rest for 3 minutes and serve with your favorite side dish.
Nutrition
Calories:
337
kcal
|
Carbohydrates:
3
g
|
Protein:
24
g
|
Fat:
25
g
|
Saturated Fat:
7
g
|
Cholesterol:
142
mg
|
Sodium:
909
mg
|
Potassium:
341
mg
|
Fiber:
1
g
|
Sugar:
1
g
|
Vitamin A:
577
IU
|
Vitamin C:
1
mg
|
Calcium:
19
mg
|
Iron:
1
mg