Smoky, tender and succulent, these chicken wings burst in your mouth with flavorful juices as you bite into them. This is my favorite way to make smoked chicken wings.

Smoked chicken wings can be made a number of different ways, and how you make them really depends on how much time you have, and what kind of flavor and texture you are looking for. This particular recipe requires chicken wings to be soaked in brine first, for about 1.5 hours, then smoked over indirect heat for about 1.5 to 2 hours. There is no rub here, only the brine, and no sauce is applied after smoking.
The benefit of brining chicken wings
Rubs and sauces are applied to add flavor to otherwise bland meat. In this recipe, however, the brine itself is infused with rich flavors of herbs and garden vegetables, and it infuses chicken wings with those flavors during brining.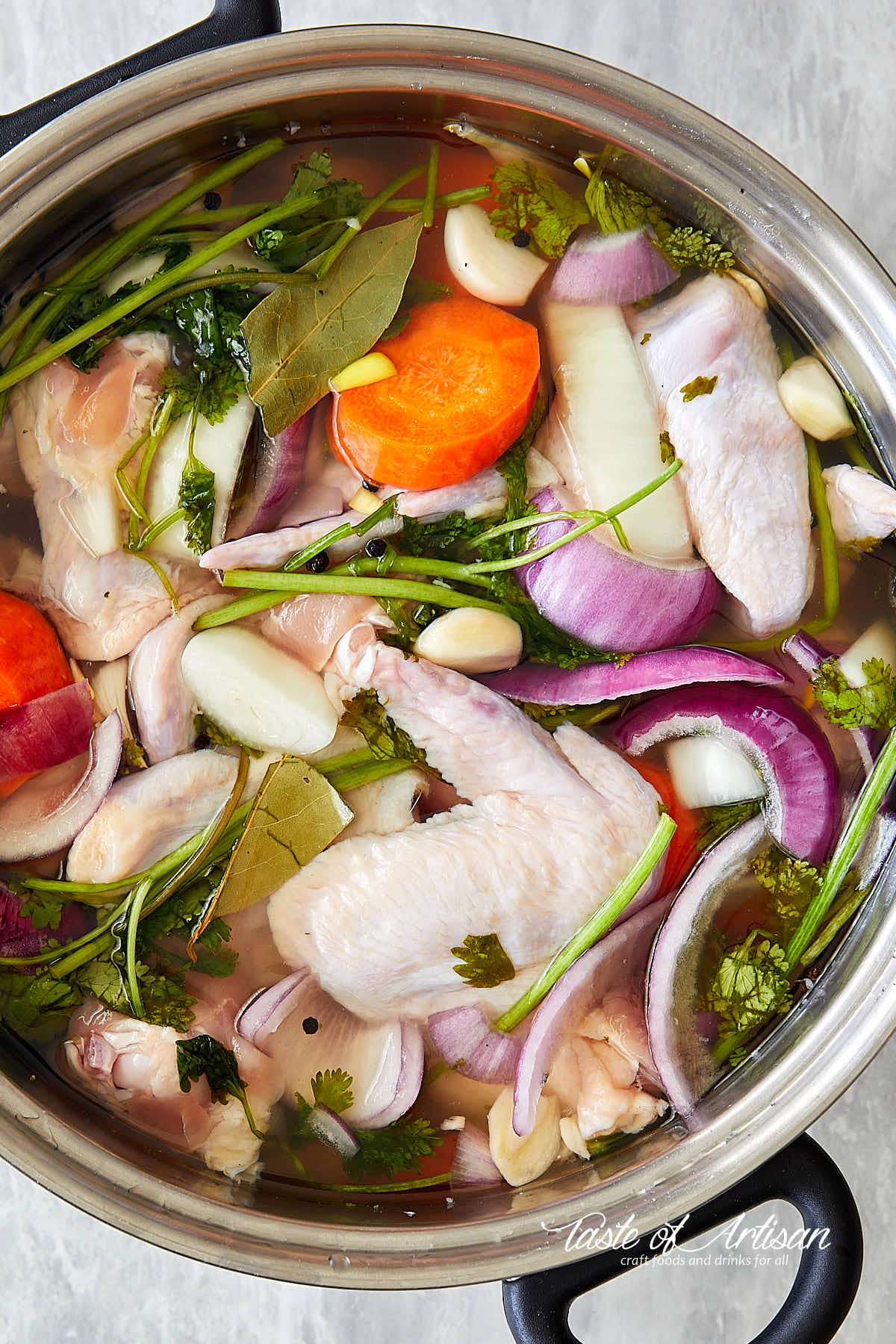 The biggest benefit of basic (salt and water) brining is to make meat and poultry juicier and more flavorful. When the brine is infused with herb and vegetable flavors, it makes the meat much, much more flavorful. Hence, for brined chicken wings there is really no need to add any dry rubs or sauces before or after smoking.
Also, dry rubs impede smoke penetration into meat, so if you really want the wings to have rich smoky flavor, brining is the best way to go.
To allow the smoke better adhere to the surface, it needs to be dry. When you pull the wings from brine, dry them with paper towels before putting in the smoker.
Brining time
I brine wings for 1.5 hours. If you go longer, they will become too salty. You may go up to 2 hours to brine whole and very large wings.
Rubbery skin problem
I often hear that the skin on smoked wings is rubbery, and that's true. Some solve this problem by raising the temperature at the end to 'crisp up' the skin. The down side of this method is that it results in unnecessary additional moisture loss and the texture of the wings will change.
If you want crispier skin, I find that smoking them at a higher temperature from the beginning produces better results. For crispier skin, I like smoking them indirect at 300F.
For low and slow, I smoke at 225F. I don't worry about the skin of 'low and slow' smoked wings, to me it tastes great as is, and I have yet to hear one complaint about the skin of low and slow smoked chicken wings, and I have served them to hundreds of people over years.
Wood for smoking wings
The choice of wood seems to always be a challenge. So many kinds to choose from. Chicken and apple wood seem to always go together, but I don't use it due to lack of smokiness, and poor color. When it comes to chicken wings, I solved that problem for myself a long time ago. I reach for cherry wood chunks without hesitation. Sometimes I add a couple of hickory chunks if I want a stronger smoke flavor, but cherry wood is the dominant wood, and it lends the wings its beautiful dark golden brown color and a sweet smoky flavor.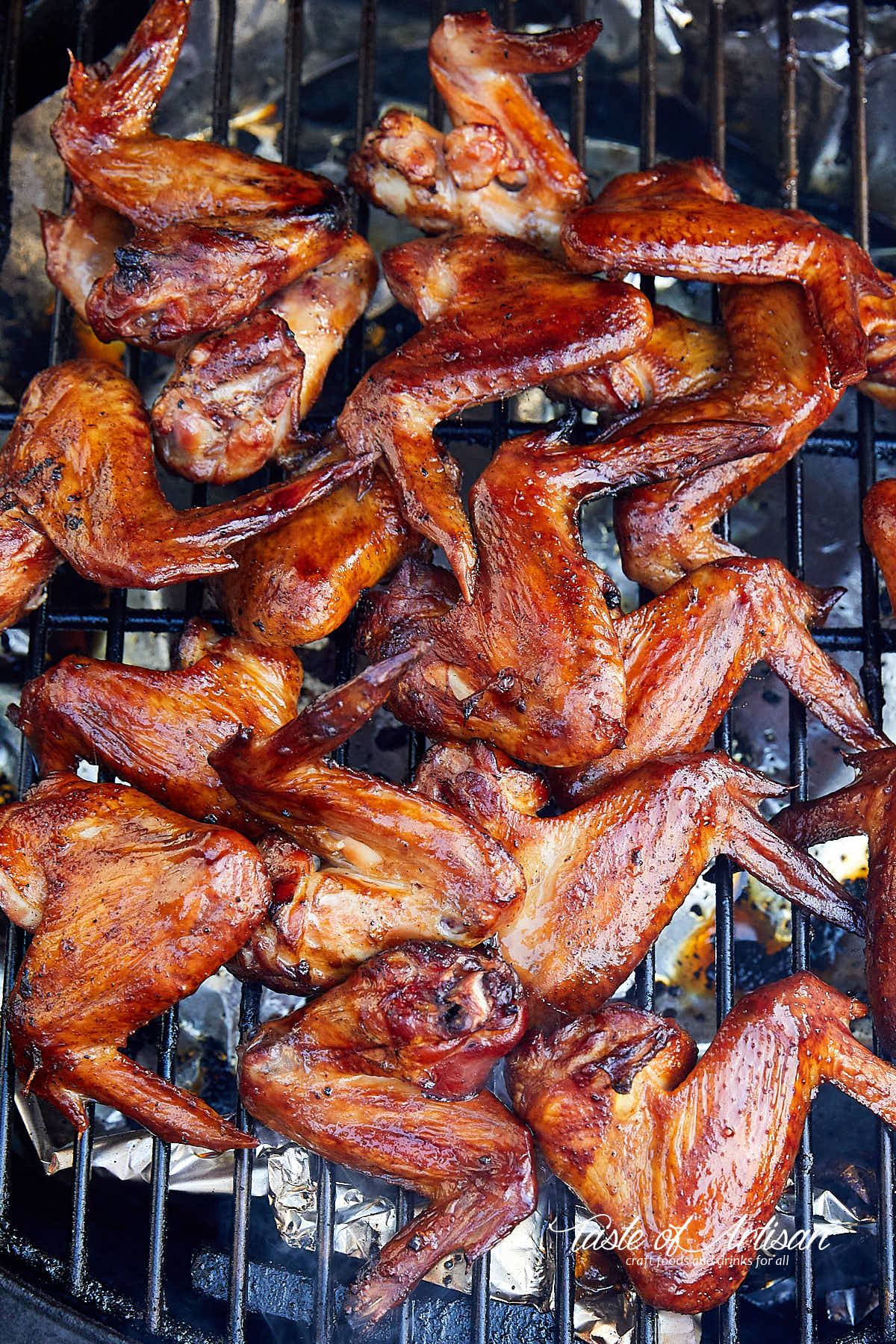 Smoking
I smoke these wings over indirect heat, without adding a water pan. If you don't overcook them, they will be very moist, so there is no need to add a water pan. Moisture will only inhibit smoke adherence to the meat.
I've made these wings both on charcoal (Big Green Egg) and gas smokers (Masterbuilt propane smoker), with great results. I do feel that charcoal smokers have a slight edge in the flavor department, but both are capable of producing a great tasting wing.
As I mentioned above, I smoke chicken wings between 225F and 300F, depending on what kind of texture I want to get. At higher temps, more skin fat renders out, there is less smokiness as the wings spend less time in the smoker, and the skin is crispier, less rubbery. Smoking low and slow at 225F makes a smokier wing, with a more delicate texture, richer color, but a more rubbery skin, which I don't mind at all.
If you prefer to smoke wings at lower temperatures, pick the wings that have bluish color, they have little fat under skin. Fattier, yellow wings, those are best for higher temperature smoking, which helps render most of that fat out.
Serving
Roasted or mashed potatoes work best with these wings. Grilled or roasted vegetables are also a good match. But really, these are so good on their own that you will hardly be needing a side dish for them. Just make sure you make enough of them, that's the biggest concern here.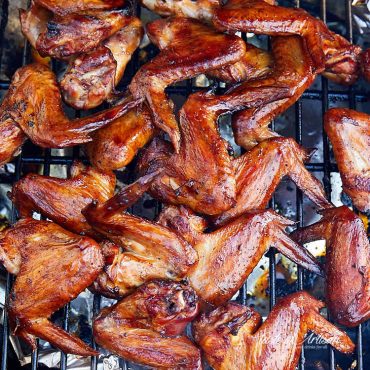 Instructions
Prepare 1 gallon of chicken brine. The brine must be below 40F when adding chicken wings. Add the wings to the brine, and refrigerate for 1.5 hours.

Preheat the smoker to 225F.

Remove the wings from the brine and dry with paper towels.

Smoke the wings over indirect heat for 2 hours or until they reach 185F - 190F internal temperature and have a rich, golden-brown color.

If you want crispier-skinned wings, smoke at 300F for about 1 hour 20 minutes to 1 hour 30 minutes.

Remove from the smoker and serve immediately with your favorite side dish.
Nutrition
Calories:
272
kcal
|
Protein:
22
g
|
Fat:
20
g
|
Saturated Fat:
5
g
|
Cholesterol:
94
mg
|
Sodium:
89
mg
|
Potassium:
191
mg
|
Vitamin A:
180
IU
|
Vitamin C:
1
mg
|
Calcium:
15
mg
|
Iron:
1
mg