There are two fundamental challenges with making smoked chicken breast - dry meat and rubbery, tough skin. But fear not, those two challenges can be easily overcome with the addition of a couple of simple steps. I've had such tremendous success with these improved smoked chicken breasts that I keep making them again and again.

To make a really juicy smoked chicken breast with nice, non-rubbery skin, you need to do the following five important steps:
brining,
drying,
searing,
smoking at a low temperature, and
cooking to the right temperature (hint: not 165F).
Read on.
Brining
Brining is not about making chicken breast meat juicy. It will make it juicier, for sure. But it's also about the flavor. You see, white chicken meat is super bland and tasteless. The last thing you want to do is cut into a beautiful, smoky breast that tastes like an unseasoned boiled potato. So, if you've got the time, brine your chicken breasts. It will make a huge difference.

Drying
Drying chicken before smoking is always a good idea. After brining, put back in the fridge, uncovered, for a few hours. This will dry out the skin and form a pellicle, a sticky surface, that is great for absorbing smoke. It will make your chicken breast get better smoky flavor and color faster. It will also help to put on a nice sear quickly. While this step is not strictly mandatory, I highly recommend it.
Searing
Searing is the trick I came up with when trying to find a solution for rubbery smoked chicken skin. I usually sear chicken breasts before roasting (crispy oven-roasted chicken breast) to get a perfectly crispy and super flavorful skin. I tried that trick with smoked chicken quarters and it worked really well. Does it work with smoked chicken breasts? Absolutely! Try it, it will transform your chicken into the perfection that is a joy to eat. Say goodbye to the rubbery skin on your smoked chicken breasts.
Searing makes the skin tastier and prevents it from becoming rubbery. The solution, like I said, is to pan-sear the chicken. That beautifully browned skin is just so tasty.  With a lot of the fat rendered out, it becomes thin and crispy. By the end of smoking it will become soft and tender.
You want to sear only the skin side. Do it quickly on a hot pan with enough butter and oil. You don't want to raise the internal temperature of the chicken breast too high. You want to crisp up the skin real nice though.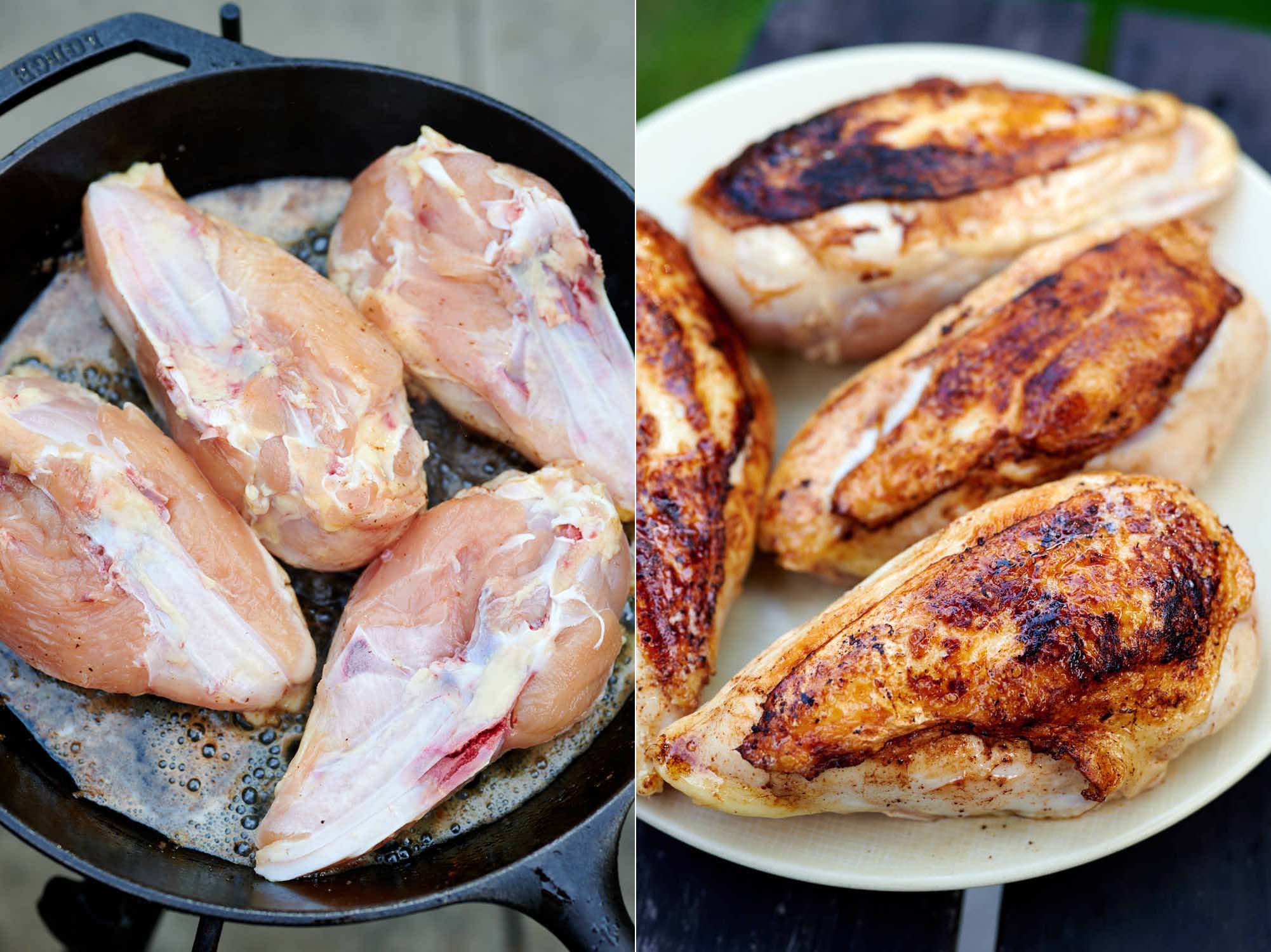 Smoking
The best way to smoke chicken breasts is low and slow. The simple reason is that you want them to get as much smoke as possible and that requires time. Smoke them too fast and you will barely detect any smoky flavor. No good! Shoot for just 225F at the grate level. Get a nice 'thin and blue' smoke going.

Then smoke until you hit the target temperature.

Finally, apply your favorite BBQ sauce and smoke a few minutes longer to let the sauce set.

Target internal temperature for chicken
This one took a while for me to adjust to, but now, it's like I've been blind and now can see. We've been taught to cook chicken to 165F, right? This blanket, highly generalized recommendation is so deceitful. Yes, your chicken will be safe to eat. But no, your chicken won't necessarily taste good. What? Well, let me explain. Dark chicken meat cooked to the 'safe' 165F sucks. Ok, some may like it, but I feel like it's tough and tastes undercooked. It needs to get to at least 185F to become truly tender and succulent.
What about chicken breasts? It gets even more interesting. Chicken breast becomes dry when smoked to 165F. So, what's the solution? It's simple: cook it to a lower temperature. Is chicken meat cooked to less than 165F safe to eat? Absolutely! Wait, what? Let me explain. The 165F is the general recommendation to make sure everyone and their brother gets it right. It's the temperature at which all harmful bacteria are destroyed instantly.
However, the destruction of harmful bacteria is not just about the temperature, it's about the temperature and the time at which chicken meat spends at that temperature. For example, if you smoke your chicken breast to 155F and hold it at that temperature for a minute - the meat will be 100% safe to eat. But it will be much juicier, with a more tender, delicate texture compared to the one cooked to 165F.
Here is USDA's time-temperature table for cooking ready-to-eat poultry products.
| Temperature | Holding Time |
| --- | --- |
| 140°F (60°C) | 35 minutes |
| 145°F (62.8°C) | 13 minutes |
| 148°F (64.4°C) | 6.8 minutes |
| 150°F (65.6°C) | 4.2 minutes |
| 152°F (66.7°C) | 2.3 minutes |
| 155°F (68.3°C) | 54.4 seconds |
| 157°F (69.4°C) | 34 seconds |
| 160°F (71.1°C) | 16.9 seconds |
| 162°F (72.3°C) | 10.5 seconds |
| 163°F (72.8°C) | 1 second |
| 165°F (73.9°C) | 1 second |
All that said, I smoked my chicken breast to 150F - 155F at the most. This is what ultimately makes this smoked chicken breast so incredibly juicy and succulent.
Serving smoked chicken breasts
These are great hot from the smoker with a side dish, or cold-cut on a sandwich, or in a chicken salad. I even add chopped smoked chicken to make a quick soup, like mulligatawny.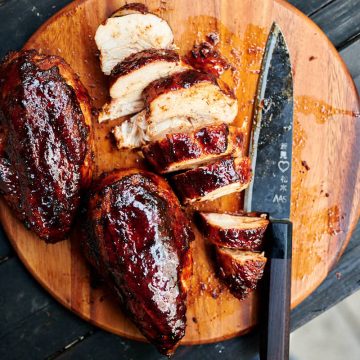 Ingredients
4

chicken breasts

large, bone-in and skin-on

3

Tbsp

butter

for searing

1

Tbsp

oil

for searing

1/2

cup

BBQ sauce

for glazing; use your favorite BBQ sauce
Dry rub
1

tsp

kosher salt

or to taste

1

Tbsp

brown sugar

1

Tbsp

Ancho chile powder

1

tsp

black pepper

or to taste

2

tsp

garlic powder

2

tsp

onion powder

1/4

tsp

cayenne pepper

optional; adjust the amount to taste

1

tsp

dried rosemary leaves

ground
Brine
1/2

gallon

ice cold water

6

Tbsp

kosher salt

3/4

cup

brown sugar

or white sugar

1

large carrot

peeled and cut into pieces

1

medium onion

peeled and cut into pieces

4

cloves

garlic

peeled and cut in halves

2

bay leaves

1/2

Tbsp

whole black peppercorns
Instructions
To prepare the brine, bring 2 cups of water to a boil in a small pot. Add the salt and sugar, and stir to dissolve. Add the rest of the ingredients, excepr the remaining water, stir and remove from the heat. Cover and let cool, then mix with the rest of the water and chill to below 40F. To chill the brine faster, substitute some of the water for ice.

Place the chicken breasts in the brine and keep refrigerated for 4 hours. Remove the breasts from the brine and pat dry with paper towels. Refrigerate for a few more hours, uncovered, to dry, if time permits.

Preheat smoker to 225F at the grate level.

In a large cast iron skillet, heat the cooking oil and butter, over medium-high heat. Sear the chicken breasts, skin side down, about 1-2 minutes or until the skin is golden brown.

Rub the chicken with the dry rub. Pat down to make the seasonings stick.

Transfer the chicken breasts to the smoker, skin side up.

Smoke at 225F for about 40-60 minutes, or until the internal temperature reaches 150F.

Brush the breasts with BBQ sauce and continue smoking for another 5-10 minutes or until the internal temperature reaches 155F and stays there for a minute.

Remove the chicken from the smoker, let rest for 5 minutes and serve with your favorite side dish.
Nutrition
Calories:
454
kcal
|
Carbohydrates:
21
g
|
Protein:
49
g
|
Fat:
19
g
|
Saturated Fat:
7
g
|
Cholesterol:
168
mg
|
Sodium:
1322
mg
|
Potassium:
988
mg
|
Fiber:
1
g
|
Sugar:
15
g
|
Vitamin A:
1007
IU
|
Vitamin C:
3
mg
|
Calcium:
37
mg
|
Iron:
2
mg