Hearty, flavorful, with a hint of sweetness and a crispy crust, this flaxseed bread is tasty, healthy and takes less than two hours to make from start to finish.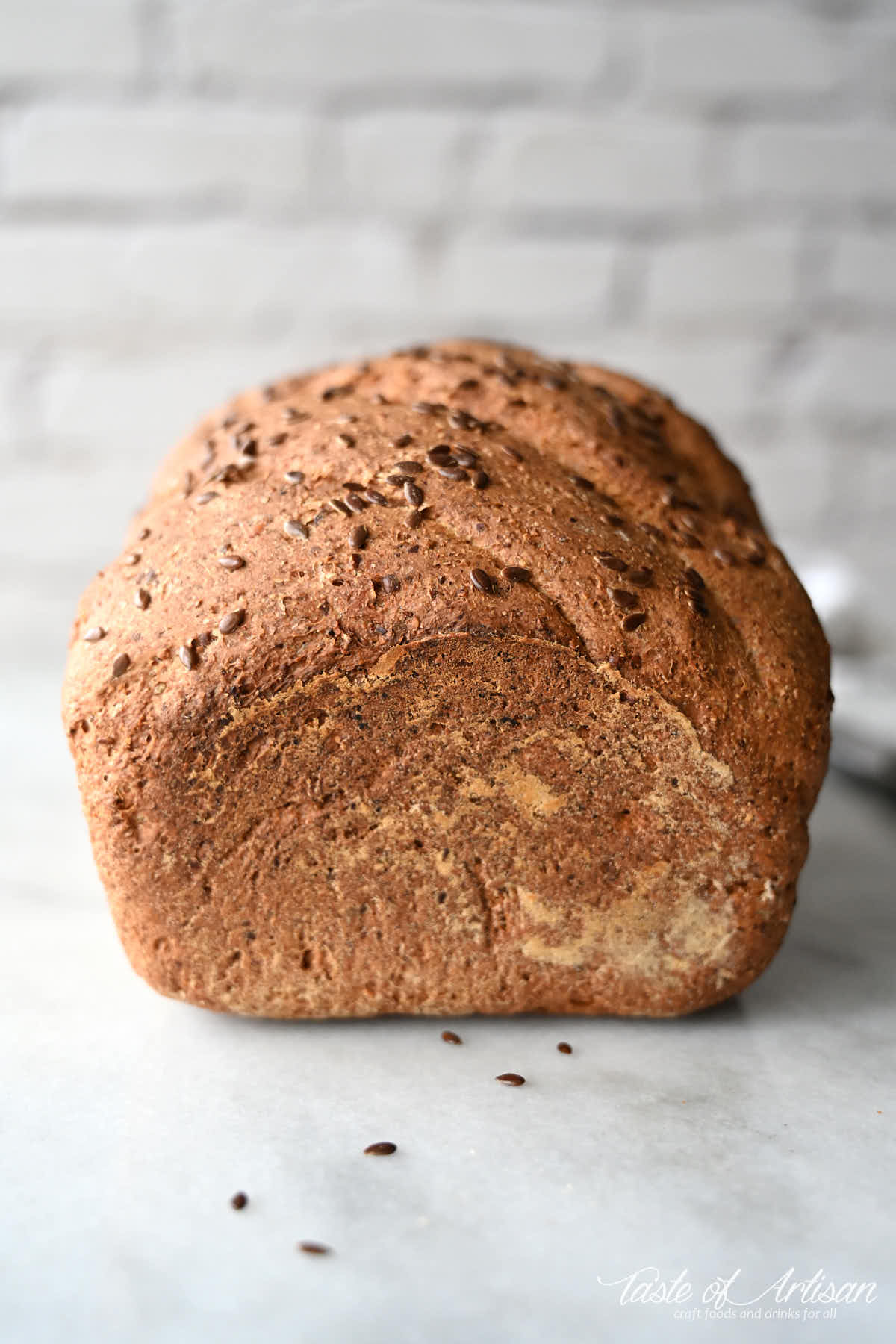 What sets this old German flaxseed bread recipe apart from most other bread recipes is the unusually quick and simple making process. It requires less time than sesame crackers or yeast rolls. There is no bulk fermentation or proofing involved, no soaking, and there is no need to build a starter. There is barely any time allocated for rising. All you need to do is mix the ingredients, do some kneading and let the rising process begin in a warm place.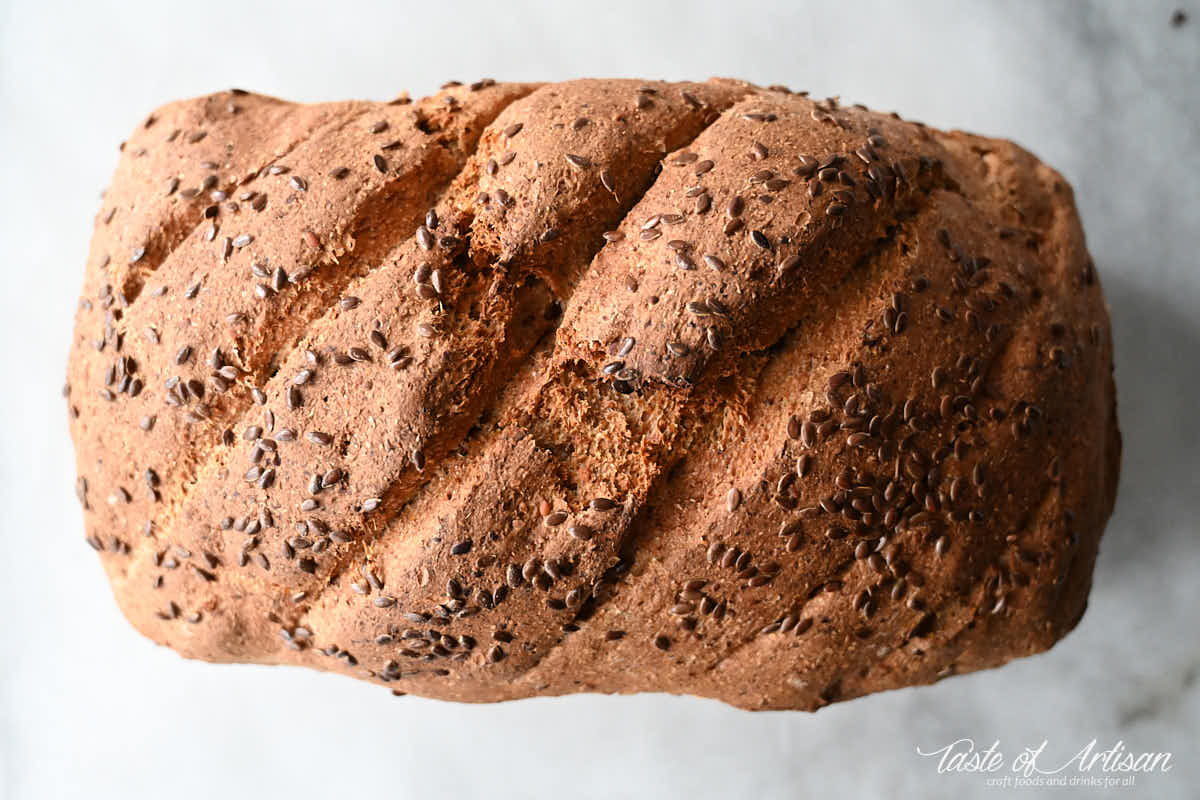 To make this recipe even more interesting, the baking starts in a cold oven. The dough in a loaf pan goes into a cold oven where rising continues and the bread starts to bake slowly as the oven temperatures rises.
Despite the uber short preparation time, this bread is full of flavor which comes from whole wheat and rye grains and ground flax and anise seeds. It's difficult to imagine that its taste can be improved by much. If you can mill your own flour, that will be the way to get some extra flavor in it. Nothing improves bread's taste more than freshly milled flour. This is a true country-style peasant bread with coarse texture that has no gimmicks, only rich taste.
Additionally, if you are looking for healthy low GI bread that you can make at home with ease, this flax seed bread is it. On top, it will only cost a fraction of what you'd have to shell out at a bakery.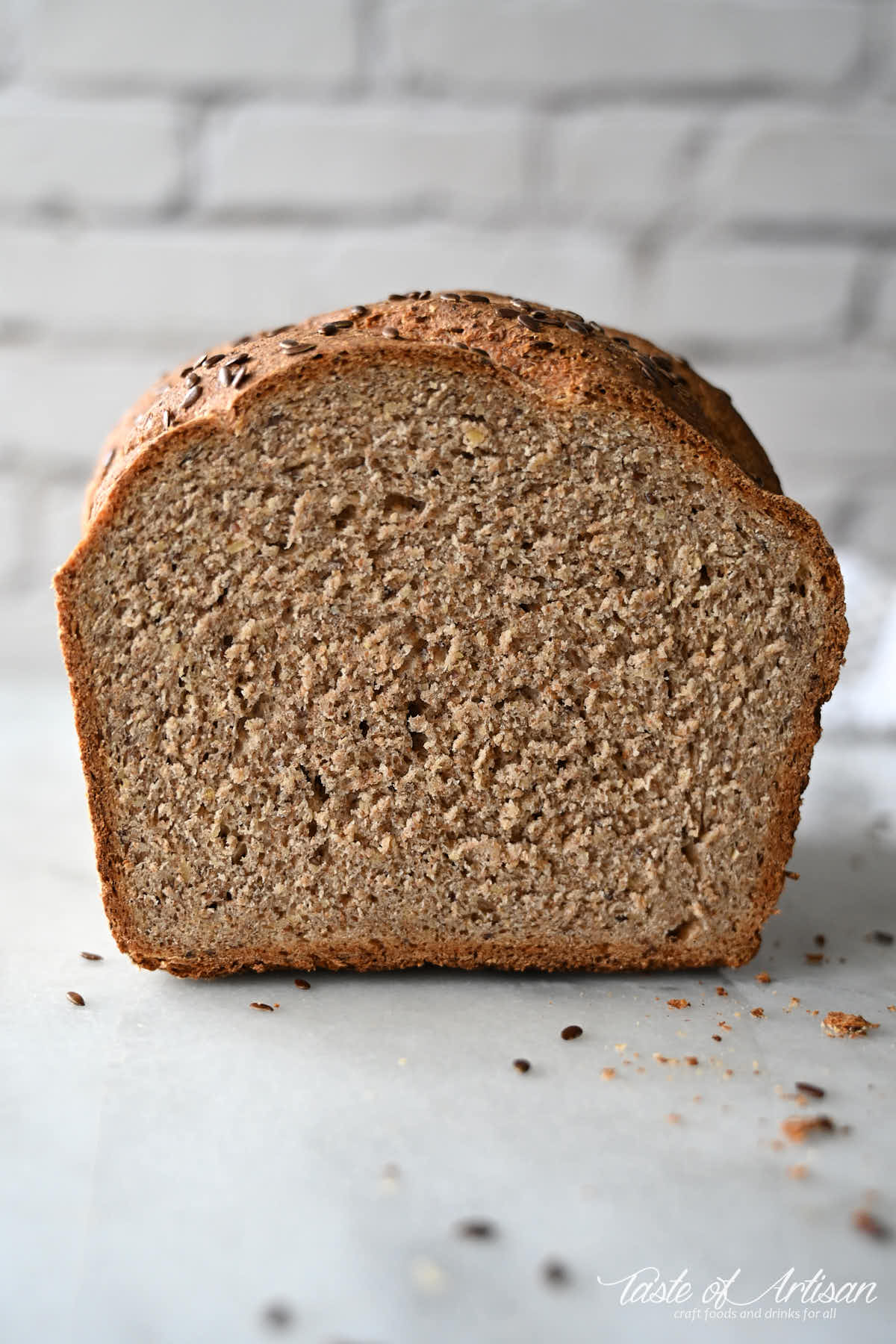 As much as I love cutting into freshly baked crusty breads right after taking them out of the oven, I let this bread cool down completely before cutting. When hot, the crumb will be sticky and gummy. After just one slice the knife blade will be all gummed up. Just take it out of the oven and forget about it for at least an hour.
This bread has great keeping qualities and can stay fresh for days in a tightly sealed container or a Ziploc bag. It's great for making sandwiches or enjoying with a bowl of soup. You can also toast it and cut into pieces to make some of the best tasting croutons.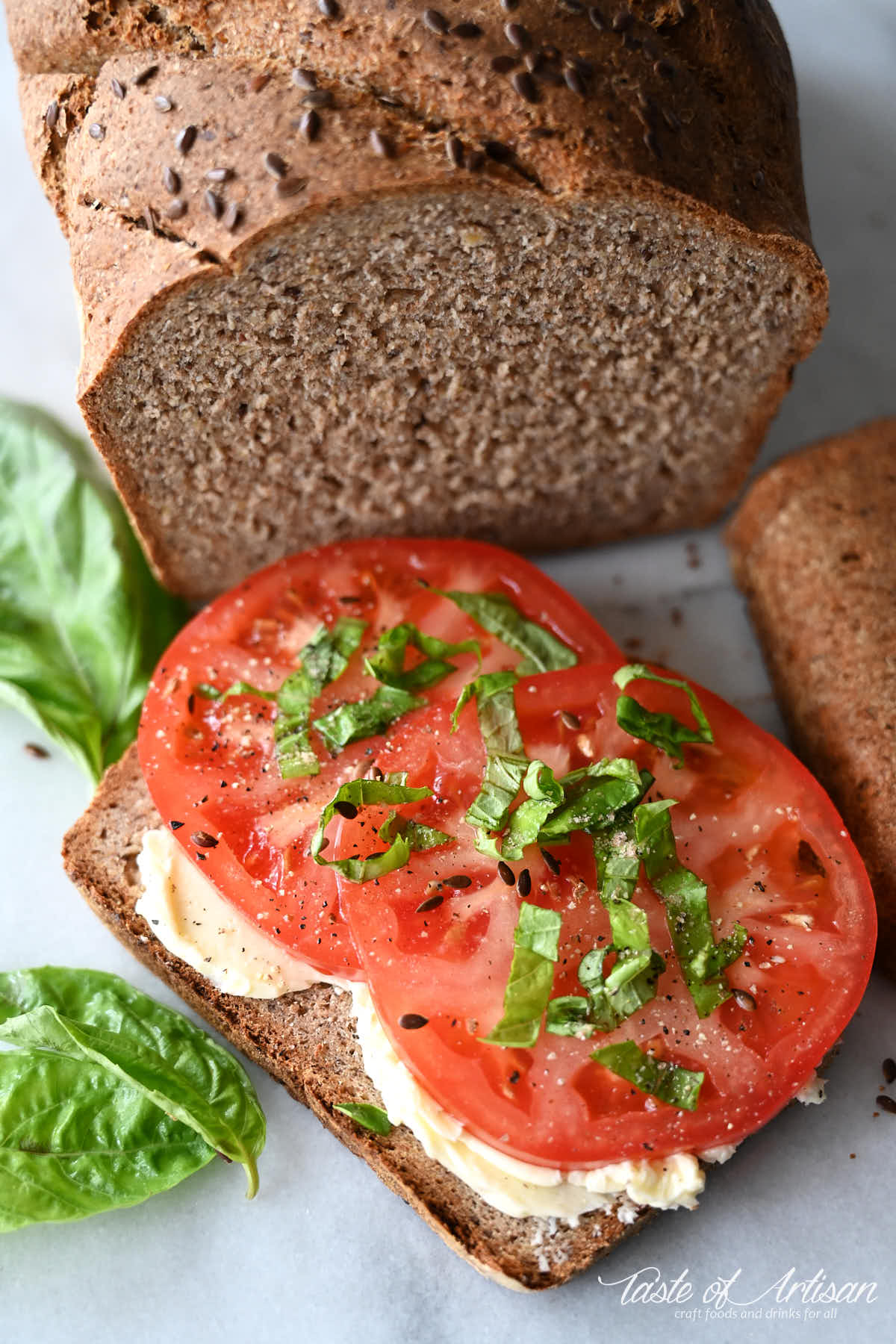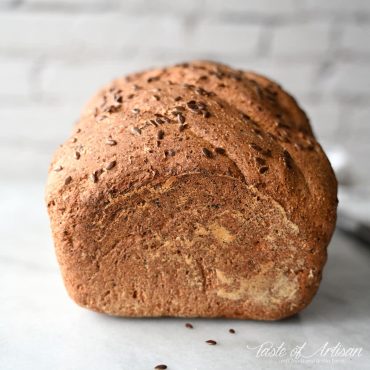 Country Flaxseed Bread
Hearty, flavorful and tasty, this flaxseed bread is also very quick to make.
Print
Pin
Rate
Ingredients
150

g

flaxseeds

ground

500

g

whole wheat flour

200

g

dark rye flour

1

tsp

anise seeds

ground

3

tsp

sea salt

or kosher salt

545

ml

water

lukewarm

50

ml

cream

lukewarm

1

tsp

honey

1

Tbsp

traditional yeast

3

Tbsp

whole flaxseeds

for sprinkling on top
Instructions
Grind flaxseeds and anise seeds. Mix with the flours and salt and set aside.

Warm up 200 ml of the water to 105F. Add the honey and the yeast and stir. Let the yeast activate for about 5-10 minutes or until a foam cap forms.

Combine all of the ingredients in a large mixing bowl. Knead for 10 minutes, cover with a plastic wrap and let sit for 15 minutes in a warm place.

Knead the dough for 1 more minute. Shape into a log and place seam side down into a greased loaf pan sprinkled with some flaxseeds. Mist with water and sprinkle some flaxseeds on top. Gently press down on the seeds with your palm to make them stick better.

Cover the loaf pan with a plastic wrap and let sit for about 10 minutes more in a warm place.

Using a bread lame or a sharp knife, score the top of dough on the diagonal in several places.

Transfer the loaf pan to the cold oven, placing it on the second rack from the bottom. Place an oven-proof bowl filled half way with water on the bottom of the oven.

Turn the oven to 430F/220C and bake for 60 minutes or until the crust is light brown.

Remove from the oven and let cool inside the loaf pan for 10 minutes.

Remove the bread from the loaf pan, place on a cooling rack, sprinkle with some water and let cool completely before slicing.
Nutrition
Calories:
178
kcal
|
Carbohydrates:
28
g
|
Protein:
6
g
|
Fat:
5
g
|
Saturated Fat:
1
g
|
Cholesterol:
3
mg
|
Sodium:
354
mg
|
Potassium:
203
mg
|
Fiber:
6
g
|
Sugar:
0
g
|
Vitamin A:
35
IU
|
Vitamin C:
0.1
mg
|
Calcium:
37
mg
|
Iron:
1.7
mg