I had never tried a French pastry called canele (canelé) until just just a couple of months ago, and I realized that I'd been missing out big time. These little morsels are nothing like anything else I've ever tried. Rich, moist and custardy interior is sealed into a thin, crispy, caramelized shell. As you bite into them you there is a distinct crackling sound, then your teeth sink into soft, sweet and custardy goodness. They are as beautiful to look at as they are delicious to eat.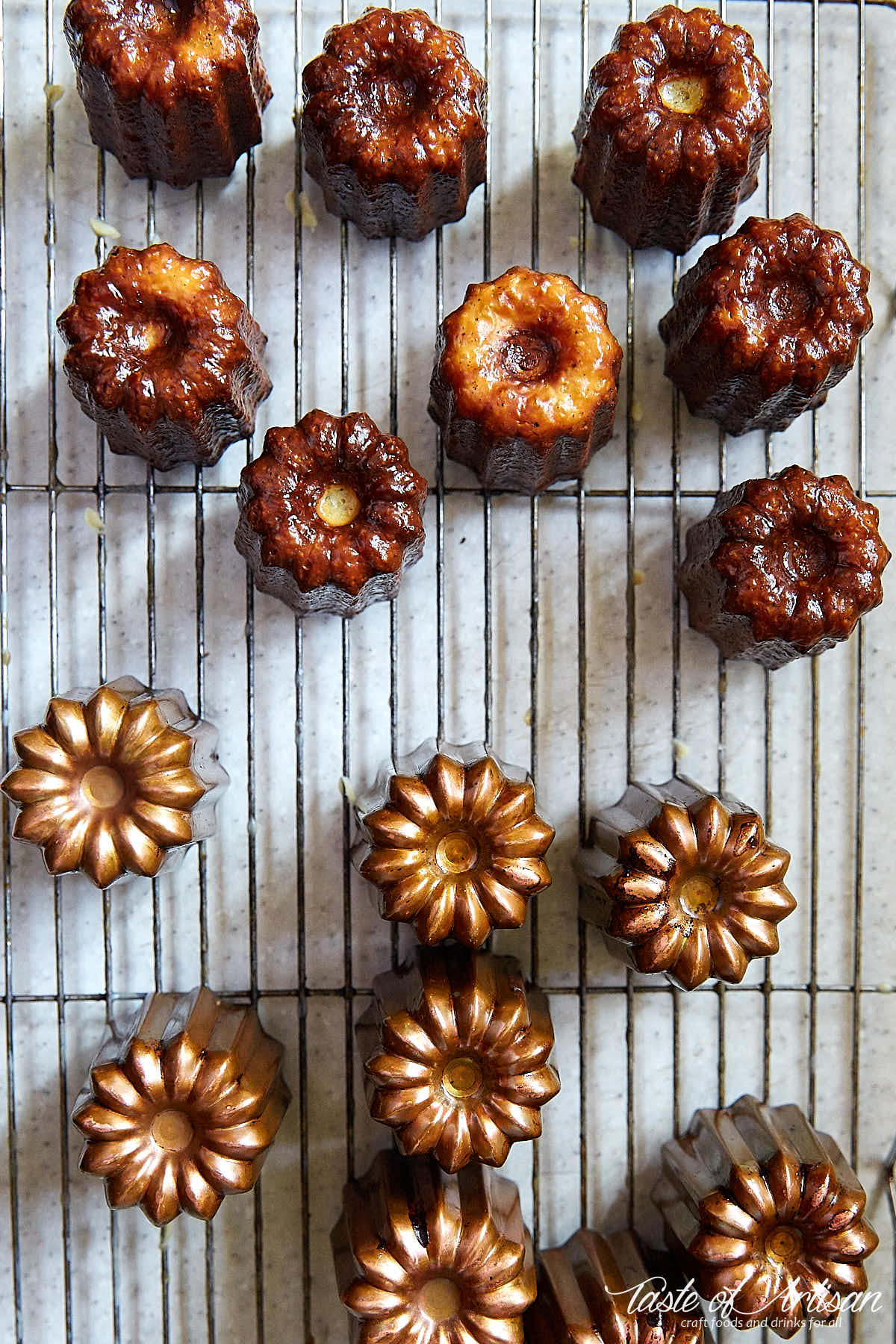 I have to tell you though, making canele proved to be one of the biggest culinary challenges I'd ever faced. I went through one canele recipe after another, making a dozen batches before I got the results that I would consider decent.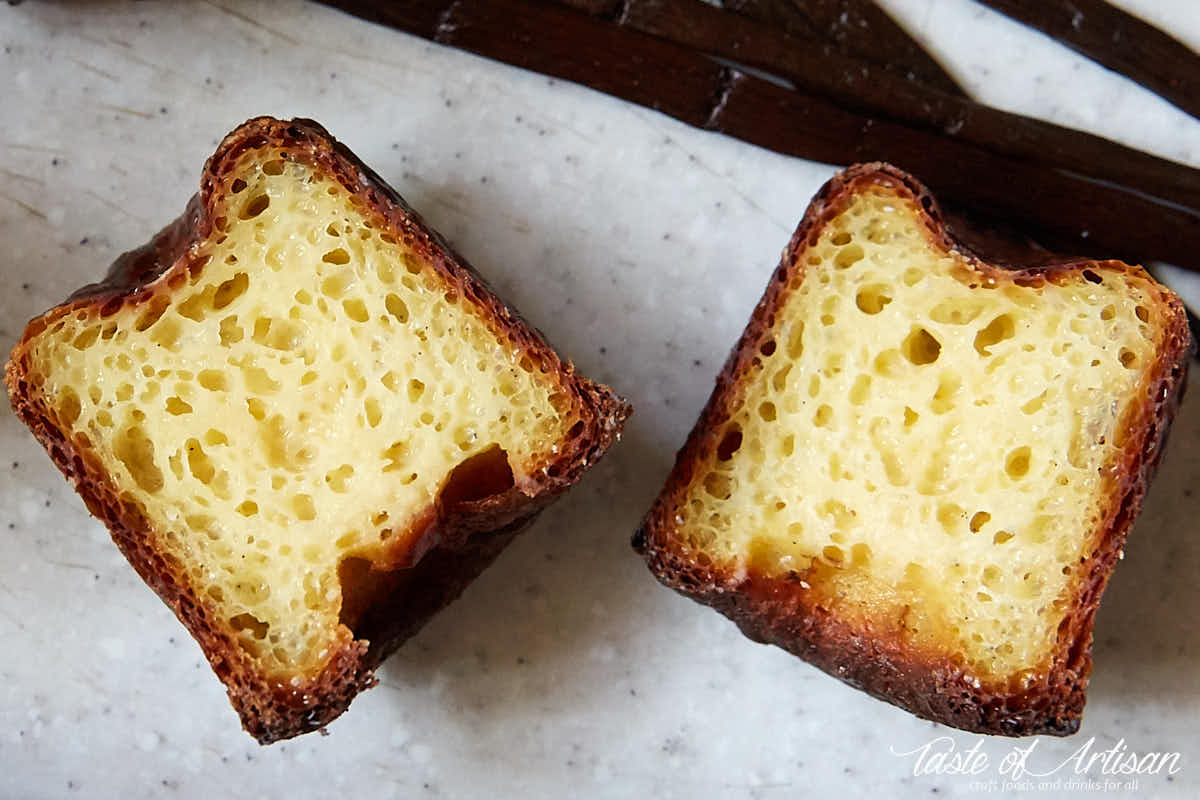 As I read various recipes and instructions on the Internet I concluded that it's not the canele recipe that makes a great canele, it's the process. Most canele recipes are fairly similar, to the point where they look practically identical. What differs is how you mix the ingredients and how  you bake your caneles. I am convinced that the baking temperature was the biggest success factor for me.
The canele recipe that I posted below evolved from a few recipes that I came across during my quest - books, forums posts and blogs. It works perfectly for me.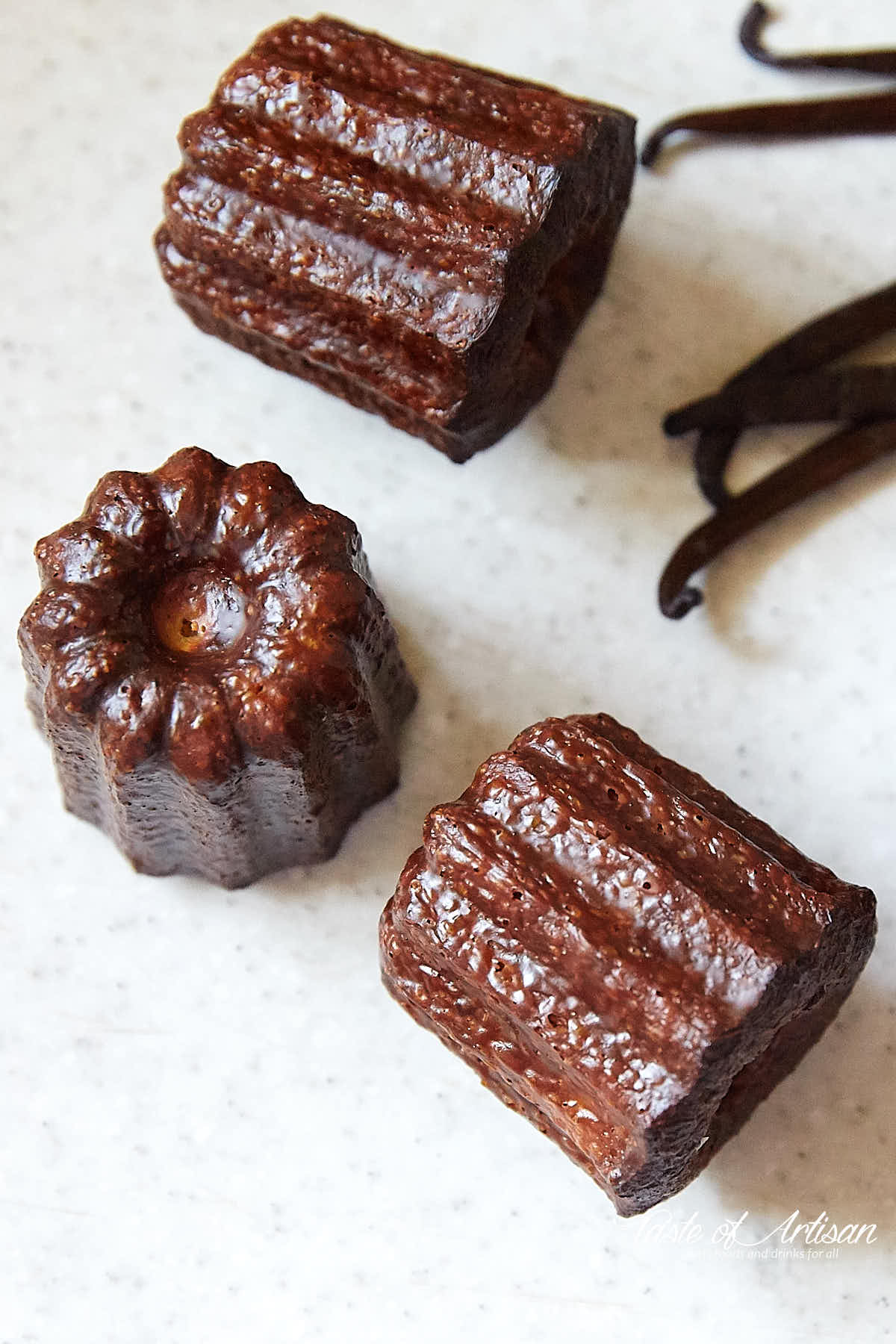 Going for canele authenticity - using copper molds
From the get-go I decided to go for authenticity and the best possible results. This meant not wasting any money on silicone and aluminum molds and immediately going for the real deal - the copper canele molds. Pierre Hermé  himself suggested that it is imperative to use copper molds, which ensure the ideal cooking. And who wants to settle for less than ideal?
Update on copper tin-lined canele molds - June 23, 2016
I read through various reviews and ended up buying eight 2-inch Matfer Bourgeat canele molds. They cost me a small fortune but I absolutely love them. Mauviel M'Passion canele molds are very similar. Both brands are very popular and make excellent quality canele molds, so I would go with the cheaper ones you can find.
These molds are by no means cheap, they typically sell for about $20-25 a piece. However, I noticed that recently Amazon started having some really good deals on these, such as this one:
This is half the price per mold than what I paid when I purchased my first eight canele molds. These are neither Matfer nor Mauviel but they look like the real deal. Here is what I think: I recently got additional 12 canele molds that came from Bordeaux, France. They were no-brand, generic tin-lined copper molds from Bordeaux, but they look identical to the 8 Matfer molds I got here. The molds in the link above are also said to have come from Bordeaux and look very much like mine.
Coating canele molds with beeswax and butter mix
To get beautiful, shiny exterior you absolutely must use beeswax and butter mix to coat the inside of the molds. You may want to go with organic beeswax, but I went with regular one due to significant price difference. You can get it from any health food store or on Amazon. In any case, you want pure beeswax, with no additives, like the one below.
I tried both with and without, and the decision was a no-brainer for me - canele with butter and beeswax mix had that lively, glossy sheen that made them much more appetizing and elegant. Typical ratio used is 50/50, but I found one recipe on a French forum that recommended 3/2 butter to beeswax ratio. I tried it and like the results better - it produced less waxy and thinner coating.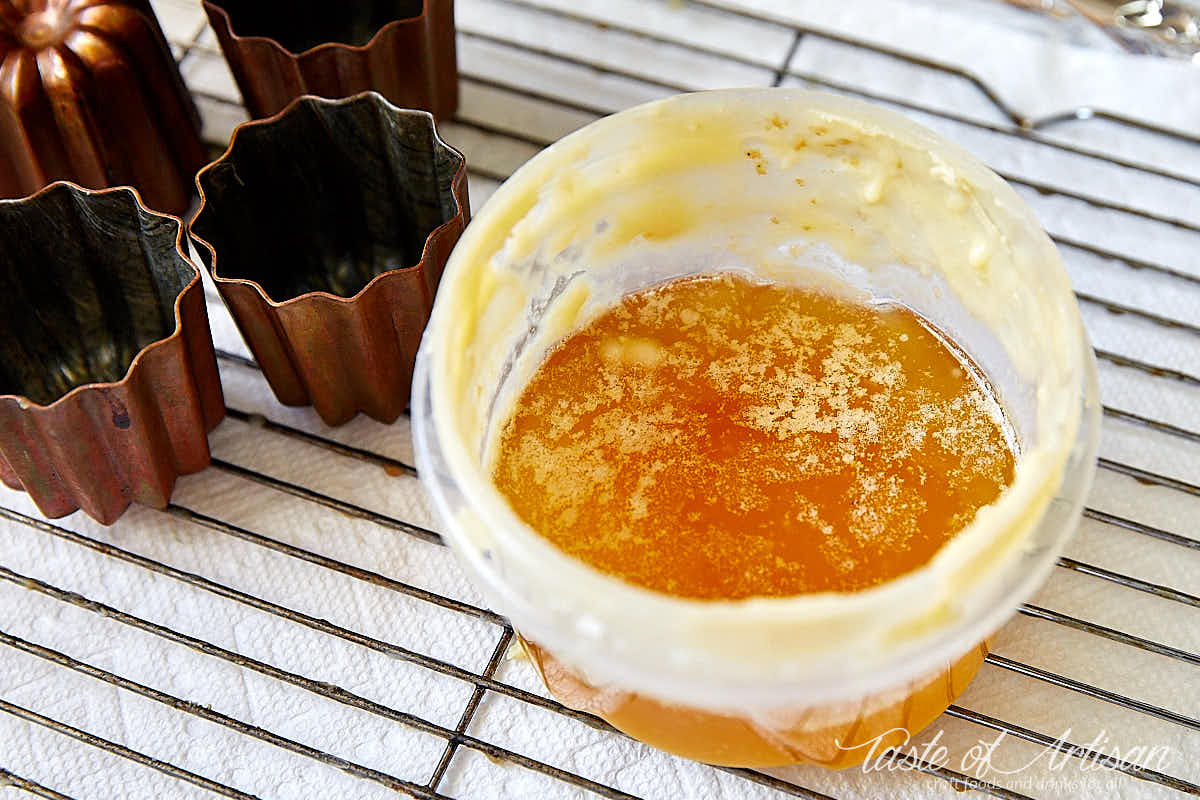 A simple and effective way to apply beeswax to molds
I've seen some very complicated methods for how to apply beeswax/butter mix to the molds, but through experimentation I realized it was not necessary. My very simple method involves heating beeswax and butter in a microwave until liquid, then pouring the mix into molds and immediately pouring back to the original container. This way I get full coverage and a very thin and even coat throughout.
Brushing turned out a bad idea as the wax hardens quickly on the brush resulting in pure mess. Cleaning the brush afterwards was something else too. I mean, you could preheat the molds and then brush, it would probably work too, but that's just another extra step and you have to target the proper temperature, and wear mittens. Who wants that? And you need to clean the brush anyway.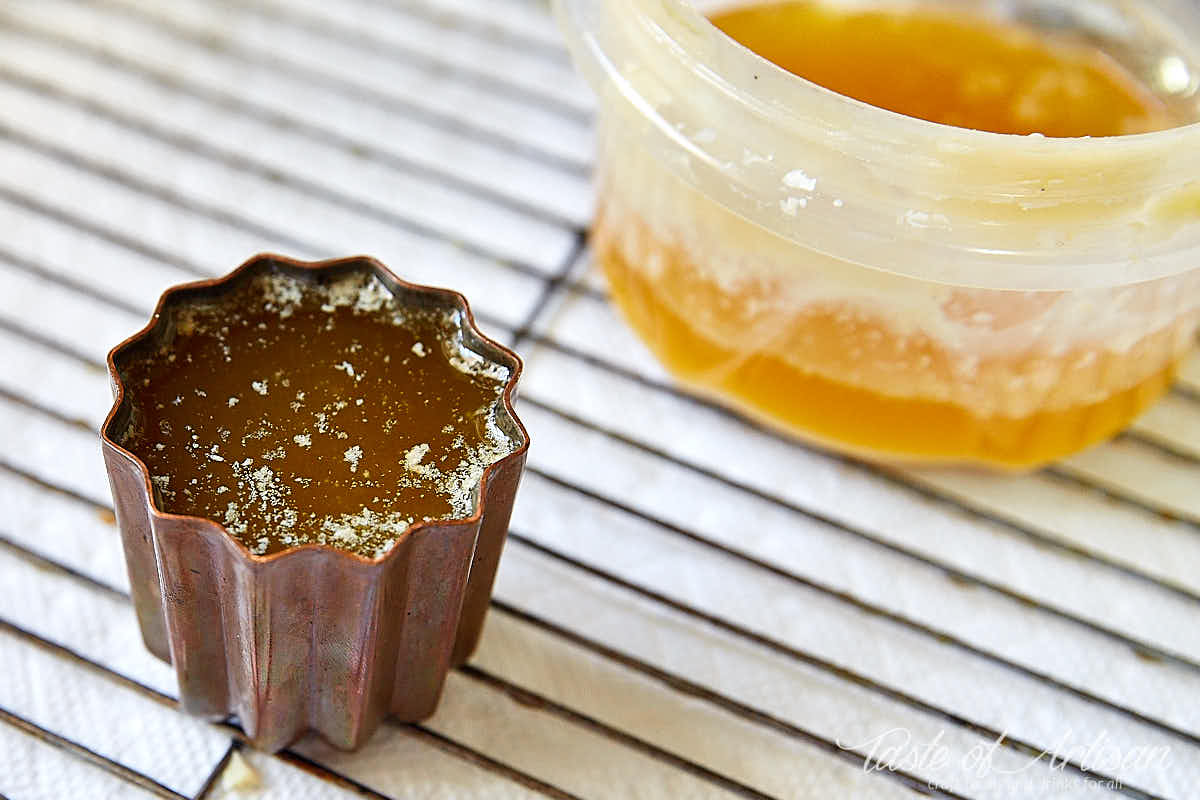 After pouring the mix back, I placed the molds upside down on a cooling rack with paper towels underneath to let excess drip down.I would then chill the molds in a freezer for about 10 minutes, fill them with batter to about 3/8 inch from the top.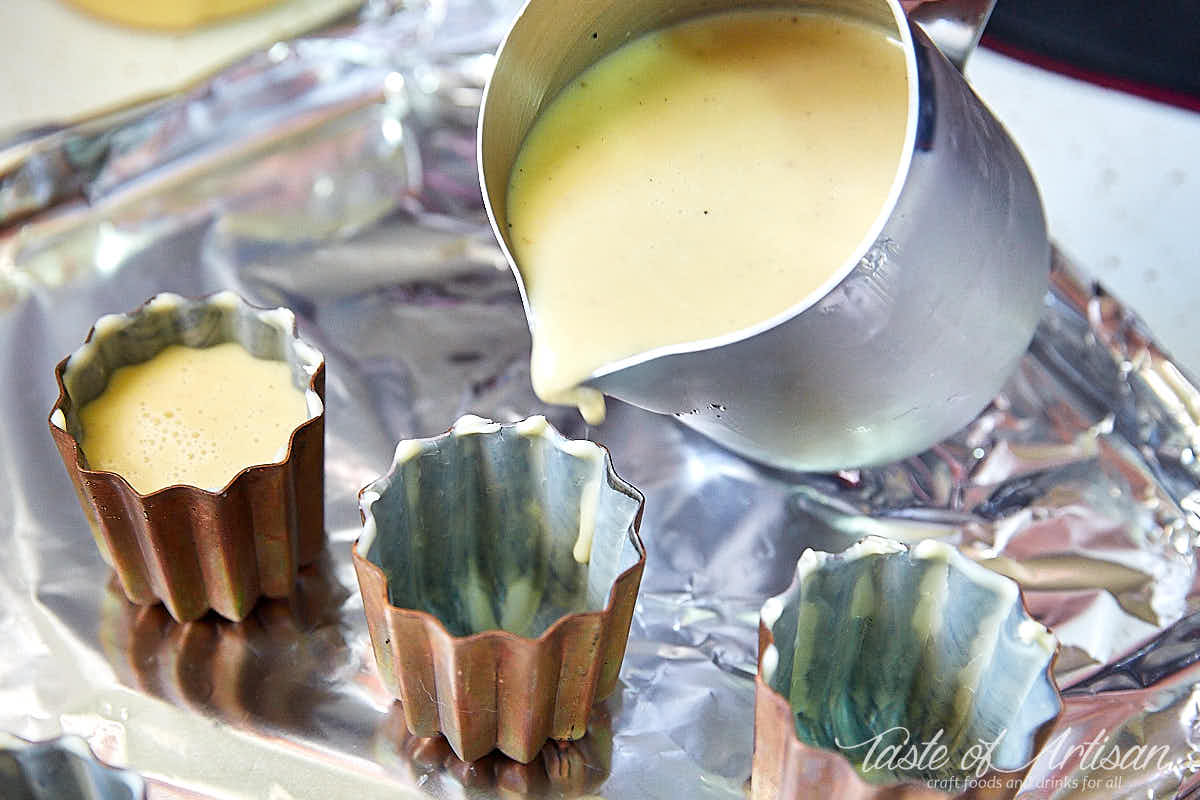 The problem of canele 'mushrooming'
My biggest challenge in the way of getting a decent caneles was that they would rise out out of the molds, grow a big mushroom head and never sink back in. They would look unsightly and grotesque. There would be no beautiful sheen, and the bottoms would be white and under-cooked. A number of bloggers on the internet suggested that this puffing up was the result of too much air being introduced during mixing of the batter. I tried no mixing at all, pushing all the ingredients through a sieve following suggestions, a very laborious and messy task, but the end result was all but the same. Then I also watched a few videos and some French bakers don't seem to care about air, vigorously whisking their batter away.
Possible solutions
Some authors suggest watching caneles closely for the first 30 minutes and taking them out of the oven as soon as they start to rise of the molds and keeping them out until they would sink back in. Hm... I tried that, but it's too complicated and laborious for my liking. Frankly, it did not work too well either. As soon as you put them back in, they would start rising again. You need to repeat this step multiple times to get them finally not to mushroom, and that was just not for me. I wanted a perfect canelé without all that nonsense and trouble.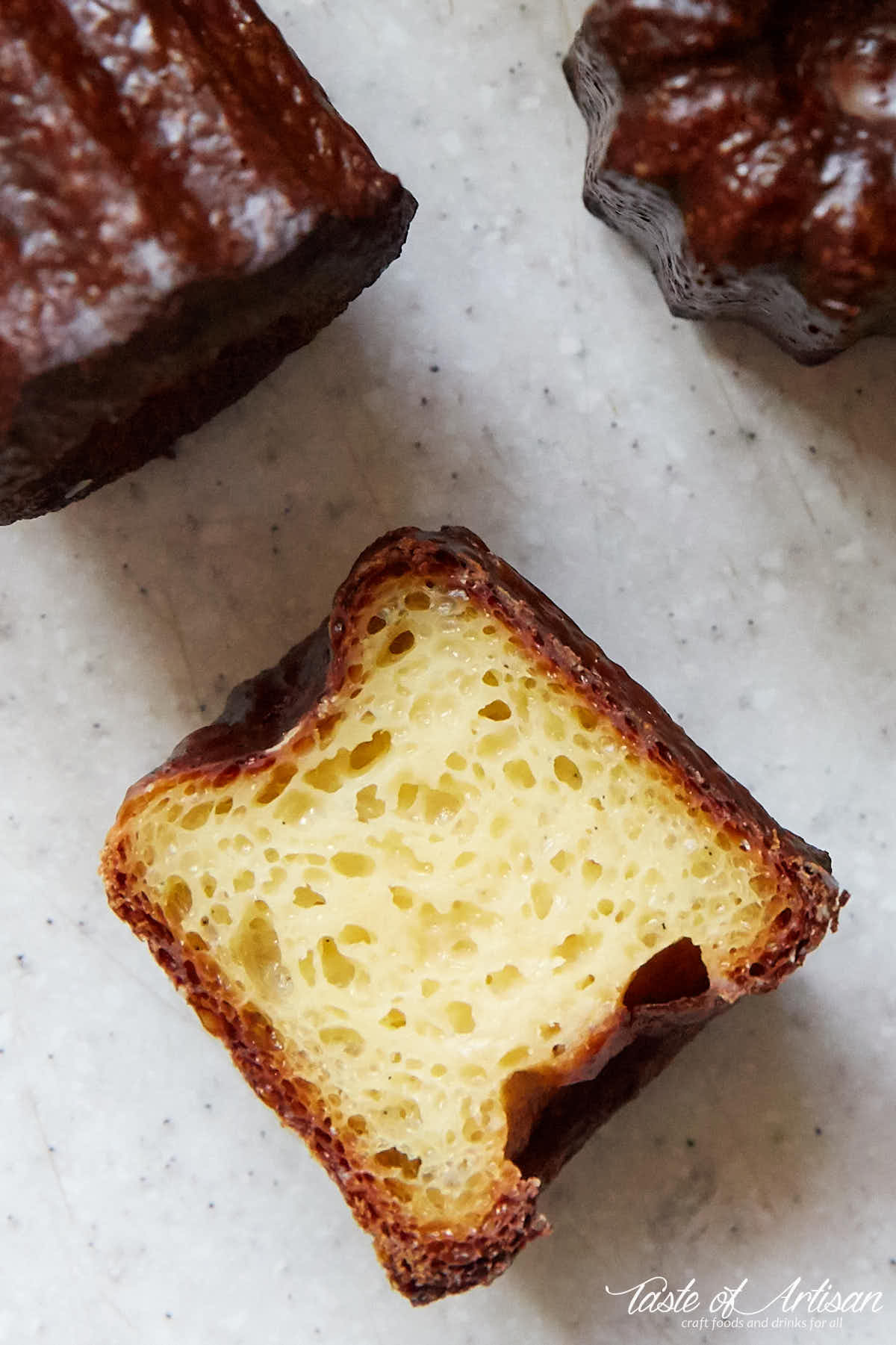 Another 'trick' I tried was to do with the temperature. Some canele recipes suggested starting the bake at a higher temperature for the caneles to form a hard surface which would prevent mushrooming. Some start at 450F, some at 500F. I tried both and it did not work for me.  Still mushrooming like crazy and never sink back in. Using convection function kind of worked, but tops turned out too burnt.
The solution that resulted in a perfect canele
Then, it finally all clicked into place. I visited a French forum (thank you Google for the 'translate' feature) and noticed that practically every canele recipe there calls for starting temperature of 270C to 290C, that's 520F to 550F. Some even go as high as 300C! Maybe that was my problem? That my oven wasn't hot enough for the outer shell to form quick enough and prevent mushrooming? I pre-heated the oven to 550F and baked caneles at this temperature for 10 minutes. Below is what I saw - some rising but no crazy mushrooming. Yet. I turned the heat down to 375F and let caneles bake for another 50 minutes.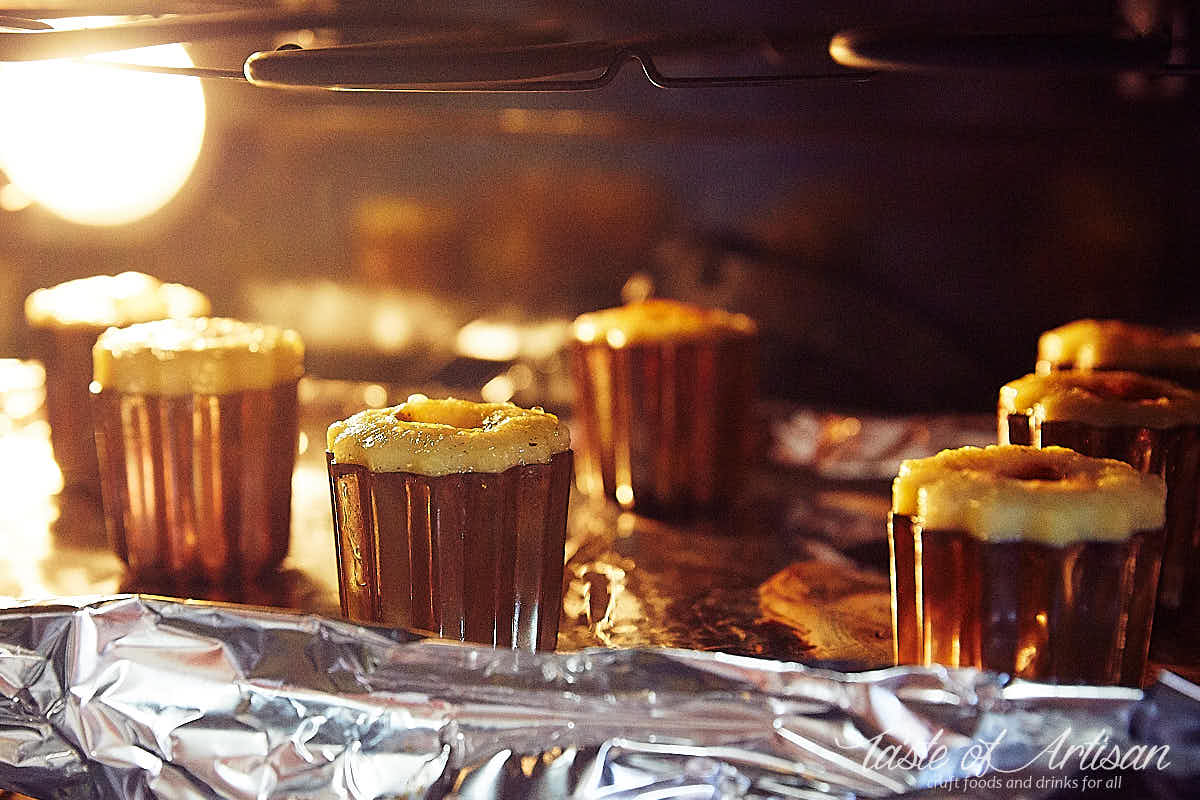 They came out perfect. Hooray!!! Finally!!! I did it!!! They sank back in and came out exactly how I wanted them.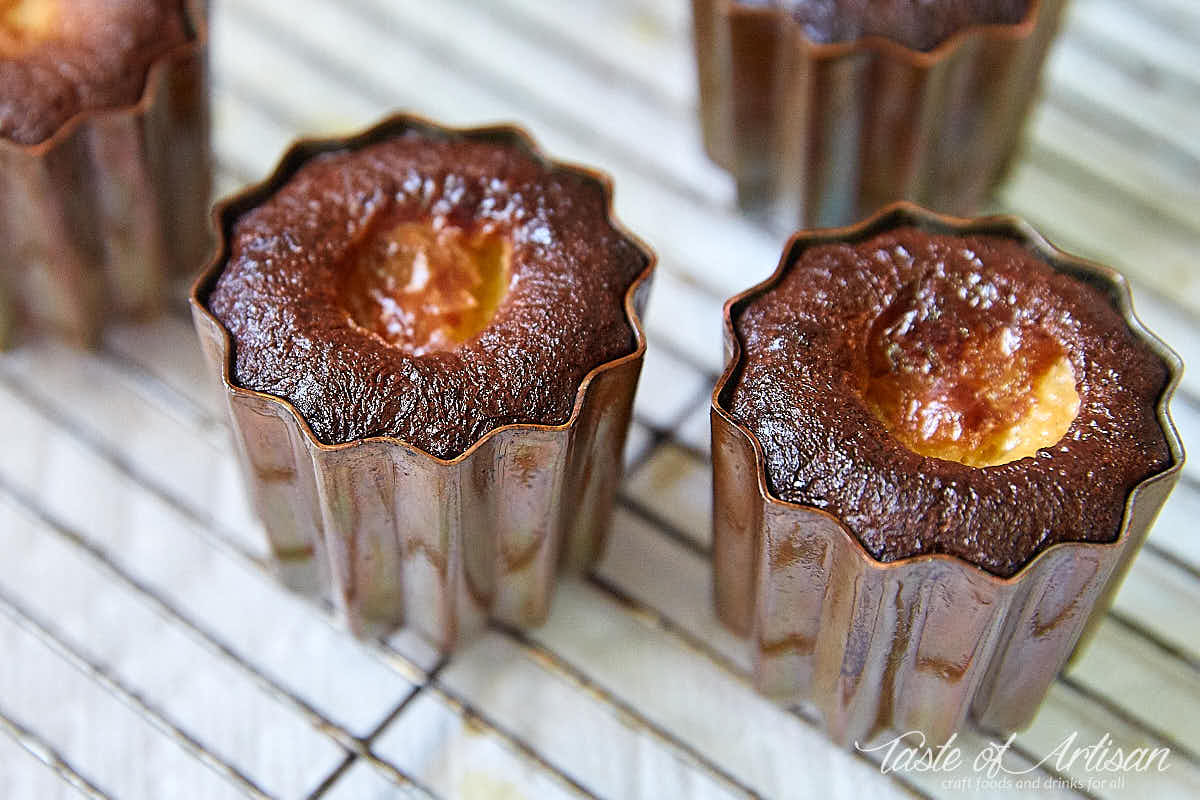 Occasional 'white butt' problem
I tried the method described above several times afterwards and it worked perfectly well every time. At the very least, it works with my oven. Sometimes one or two little buggers don't sink back in all the way and you get what French call the 'white butt' problem - caneles that come out with white bottoms.  You can see a couple of those on the picture below.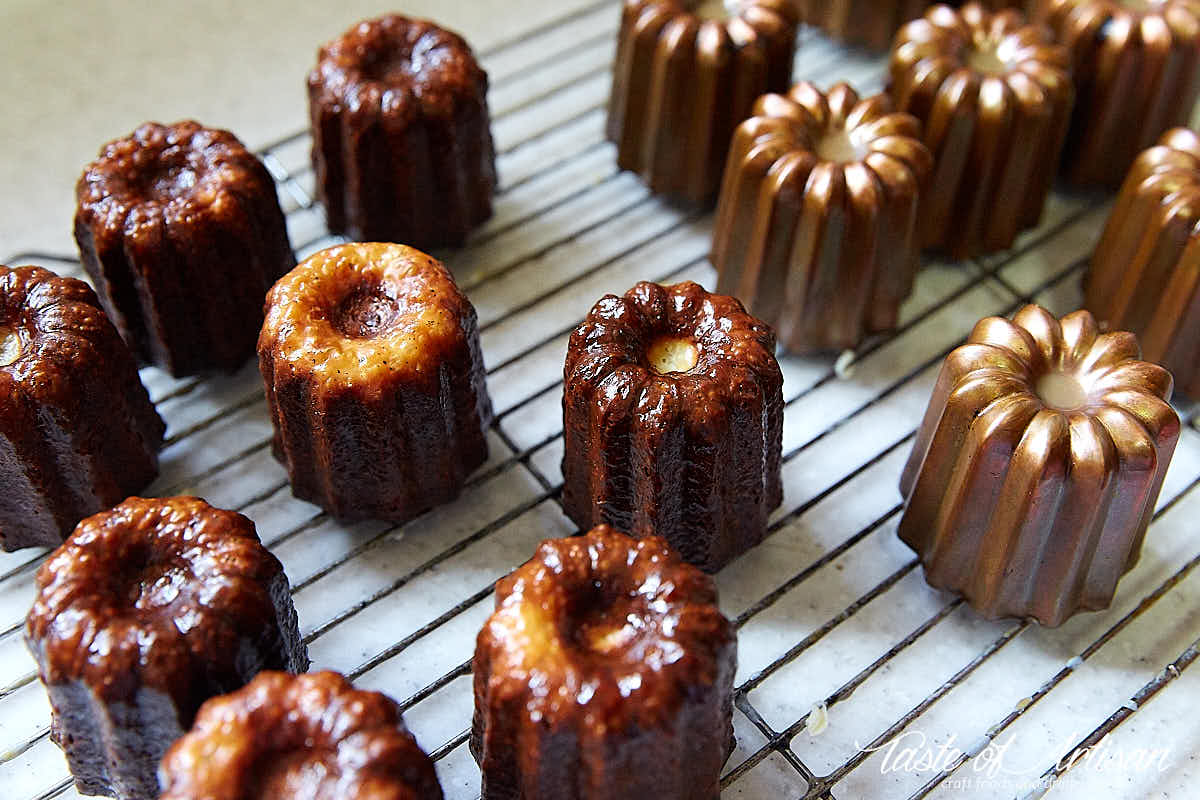 It seems that it happens when you fill the molds a tad too much causing caneles to expand at the top during earlier baking stages which prevents them from dropping all they way back down and touch the bottom of the mold at a later stage. How much is a little too much? It's more than what you see on the picture below.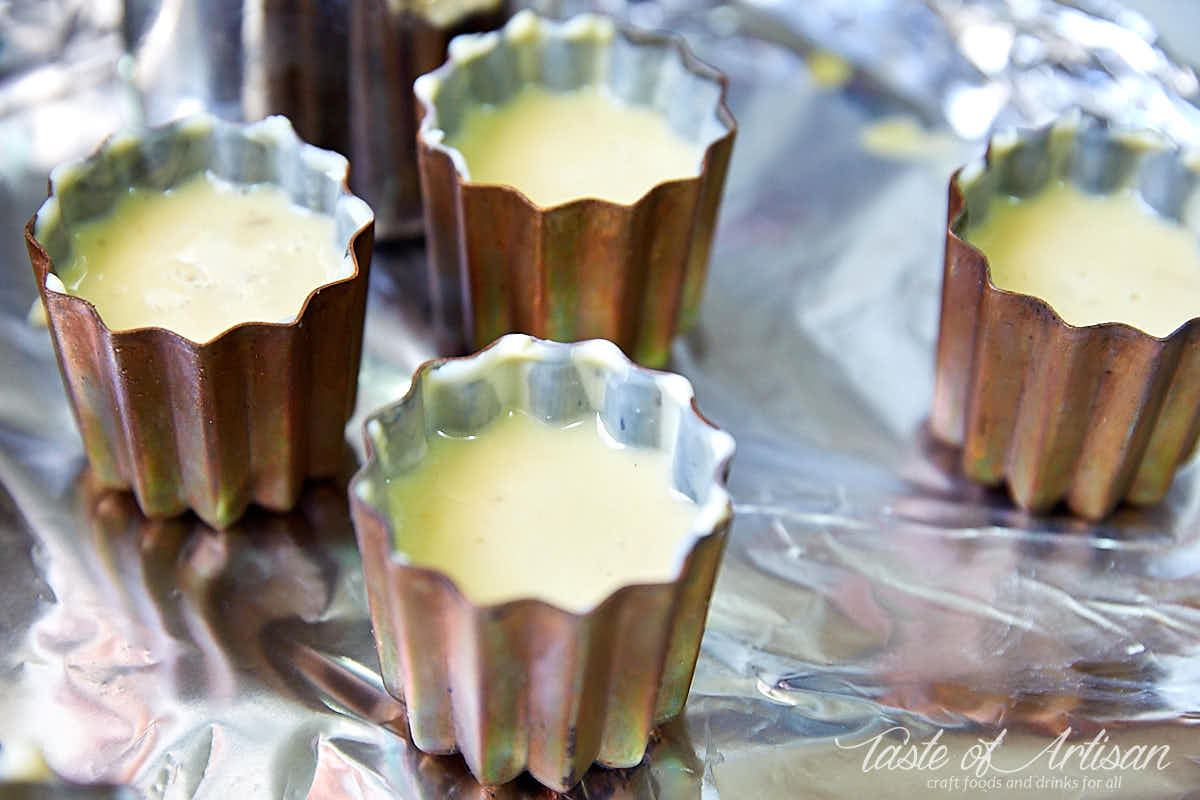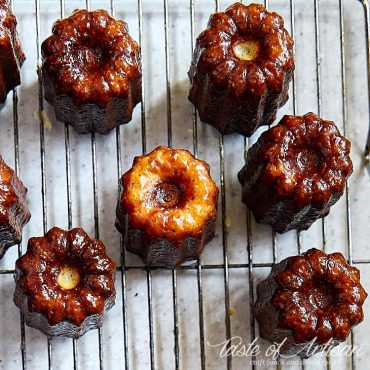 Cannelés (Canelés) de Bordeaux Recipe
Recipe and instructions for making canele (canelé) that have a rich, moist and custardy interior which is sealed into a thin, crispy, caramelized shell.
Print
Pin
Rate
Ingredients
2

vanilla beans

(preferably Madagascan)

500

ml

milk

(cold)

200

g

cane sugar

(250 g if you want more sweetness following traditional recipes; I use 200 g)

100

g

all-purpose flour

(you can also use bread flour)

50

g

butter

(melted)

2

eggs

(large)

2

egg yolks

60

ml

dark rum
Instructions
Slit the vanilla beans lengthwise, and scrape the seeds from them with a small knife. Put the seeds, vanilla pods, and milk in a saucepan and bring them to a gentle simmer, and then turn off the heat and let sit for two minutes.

In a separate bowl, whisk sugar, eggs and egg yolks. Add melted butter and whisk more until combined.

Remove the pods from the milk. Add 1/4 of the hot milk into egg mixture and mix well. Add flour and continue mixing until combined. Then slowly add the remaining milk while continuing to mix until all ingredients are mixed well. Add rum and mix. This way you will avoid lumps and will end up with the perfect consistency of the batter. (Note: this step is very important. Adding hot milk to egg mixture will temper the eggs and create custard which will ensure perfect consistency of your caneles).

Refrigerate for 24 to 48 hours. This is non-negotiable. The texture and flavor improves dramatically by the second day and third day. So, 24 hour rest is mandatory. 48 hours if you want amazing canele. The batter may be kept in a fridge for up to 4 days. Each time you use the batter, stir it well and work it at least 2 minutes with a whisk.

For a smooth, shiny surface that accentuates the dark brown color of the caneles coat the molds with a mix of 40 g beeswax and 60 g butter melted together. For this, melt the beeswax and butter together, quickly pour the mix into a mold and then back out into the original container. Turn upside down on a cooling rack with paper towel underneath to catch drippings. Once cooled down, chill in a freezer or a refrigerator until ready to bake.

Preheat oven to 550F. Fill the molds with batter to 3/8 inch (1 cm) from the top. Place on a foil lined backing sheet and bake the caneles at 550F for 10 minutes. Without opening the oven, drop the temperature to 375F and continue baking for another 45-50 minutes. Every oven is different, so your baking times may need to be adjusted.

Remove caneles from the oven. Quickly remove caneles from the molds and place on a cooling rack upside down. Caneles usually slide right out of their molds, but if they don't, turn the mold upside down and knock on a hard surface, such as a cutting board.

Let cool for 2 hours at room temperature. Caneles must be eaten on the day they are baked.
Notes
Note 1
Pierre Hermé recommends that before you use your copper canele molds for the first time, clean them (i.e. wash them with warm soapy water and dry them with a towel), and then season them by coating them with butter and placing them for 20 minutes in a hot oven - 250° C (500° F) or more. Remove them from the oven, wipe them with a paper towel while they're still hot, and allow them to cool before using. Never wash the molds once seasoned, only wipe them with a dry cloth or a paper towel after each use (baking).
That said, it's always a smart idea to first consult the manufacturer's instructions on how to season and care for your shiny copper molds as there may be a difference in how they are made, necessitating different care.
Note 2
60 g bees wax and 90 g butter is enough to coat 20 2-inch canele molds, with just a little bit left over. You could probably do 22-24 molds with that amount. This time around, I heated canele molds in the oven and left them outside too long while I was shaving bees wax and then microwaving it with the butter.
When pouring hot wax/butter mixture the molds were just warm to touch. I microwaved the shaved wax and the diced butter together on the highest power for 1 minute and 45 seconds, until I noticed it started to boil. Working quickly, I coated all 20 molds with a nice, even layer. Surprisingly, the temperature was just perfect to give a nice layer of wax.
Before, I would sometimes get too thin a layer, because the molds were pre-heated too hot. So, heat your molds until warm to touch, heat wax/butter until first signs of boiling. Work quickly to pour the hot mix into molds all the way to the top, pour out, then turn over onto a rack to remove excess wax. For the sake of efficiency, I pour the wax into the next mold as I go, not back to the container, and top up with the mix from the container as needed.
Nutrition
Calories:
164
kcal
|
Carbohydrates:
19
g
|
Protein:
2
g
|
Fat:
7
g
|
Saturated Fat:
4
g
|
Cholesterol:
62
mg
|
Sodium:
71
mg
|
Potassium:
57
mg
|
Fiber:
0
g
|
Sugar:
14
g
|
Vitamin A:
285
IU
|
Calcium:
44
mg
|
Iron:
0.5
mg
Updated on March 19, 2019