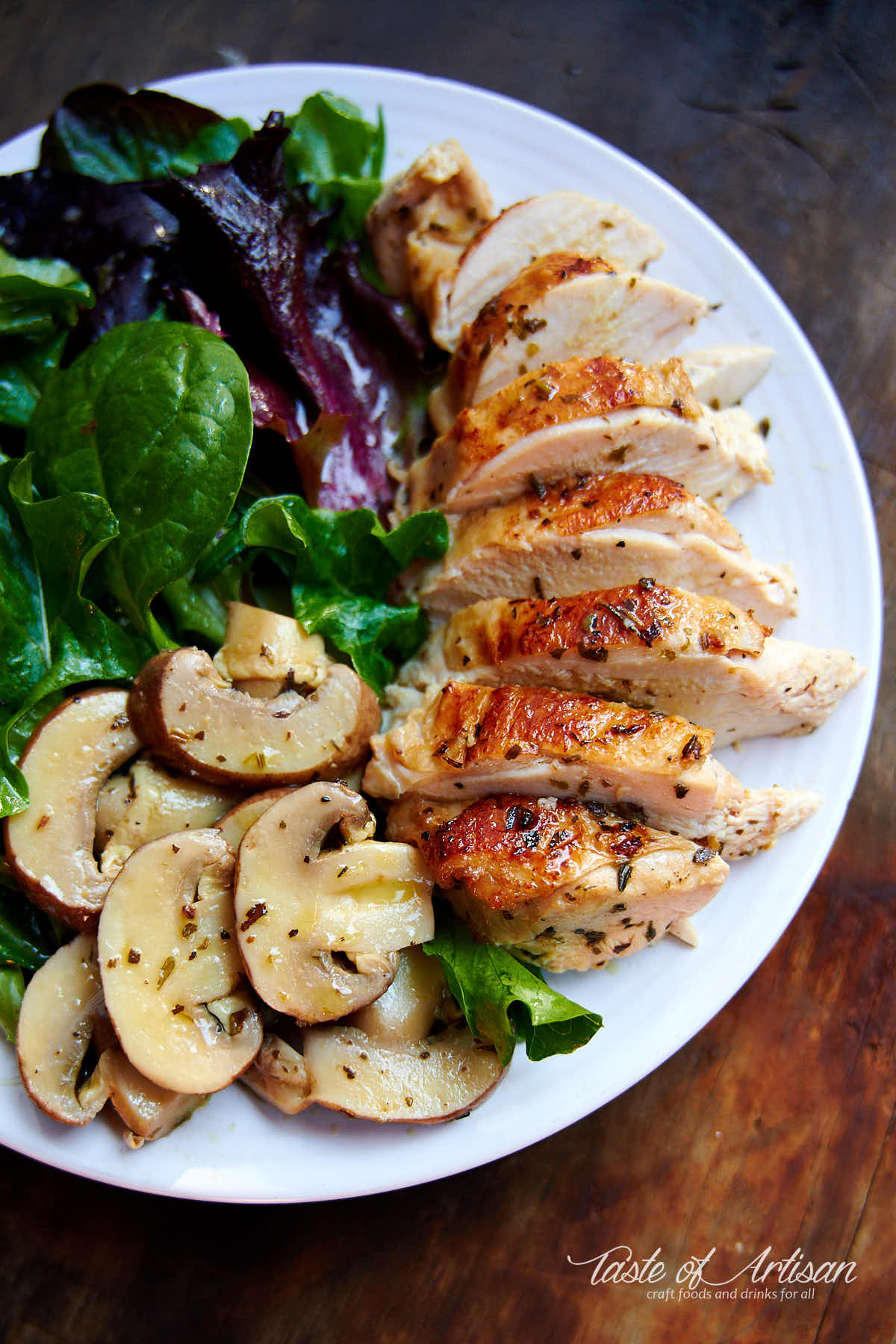 This sous vide chicken breast is by far one of the best tasting chicken recipes I've ever tried. The secret is to combine sous vide cooking with a tasty homemade Italian-style cooking sauce that takes only a few minutes to prepare. Once you do that, you will get perfect tenderness, juiciness and a flavor explosion in your mouth. The taste of this chicken is so good that with every bite you just want to eat more and more of it. On top, you can use pouch juices as a finishing sauce for the chicken and as a dressing for a side salad.
Unlike traditional chicken recipes, this recipe does not require the chicken to be brined or marinated prior to cooking to become flavored. Instead, chicken breasts are cooked in a pouch filled with a seasoning liquid. By the time cooking is done, the chicken meat will be perfectly flavored inside out.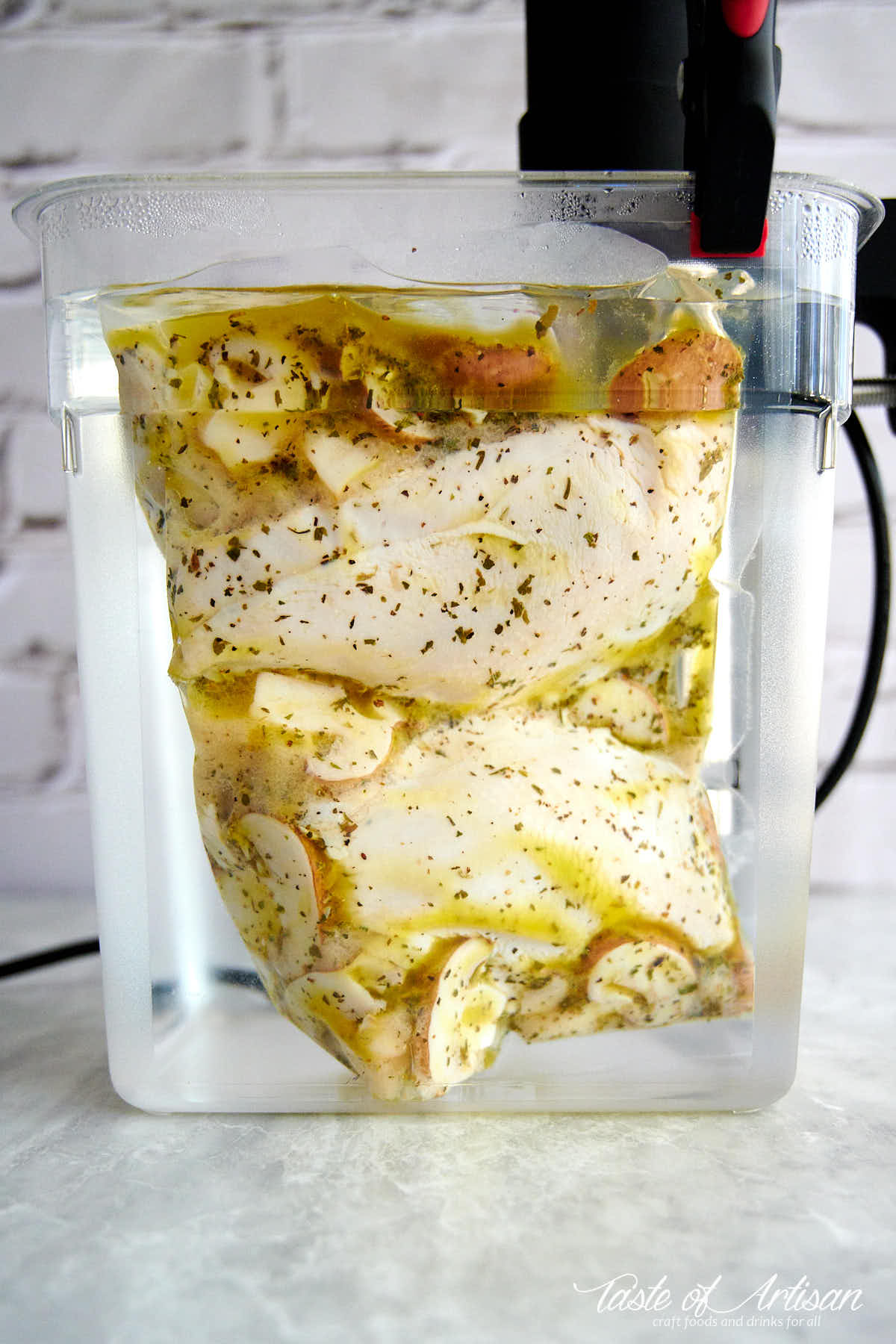 Safe cooking temperature for chicken
Cooking temperature for sous vide chicken breast typically ranges between 140F and 165F. Any temperature below that range will result in noticeably raw-tasting chicken. Cooking above 165F will result in a significant loss of moisture and dry, chalky texture.
For a novice sous vide cook it may be difficult to accept the target internal temperature of below the USDA recommended 165F. Let me clarify. It's true, chicken meat becomes 100% safe to eat if it reaches 165F for a second.  However, chicken meat is perfectly safe to eat at lower temperatures if the meat is held at those temperatures for a specified minimum time. For example, chicken is perfectly safe to eat once it reaches 150F and stays at that temperature for a minimum of 4.2 minutes.
Here is USDA's time-temperature table for cooking ready-to-eat poultry products for your sous vide cooking reference.
| Temperature | Holding Time |
| --- | --- |
| 140°F (60°C) | 35 minutes |
| 145°F (62.8°C) | 13 minutes |
| 148°F (64.4°C) | 6.8 minutes |
| 150°F (65.6°C) | 4.2 minutes |
| 152°F (66.7°C) | 2.3 minutes |
| 155°F (68.3°C) | 54.4 seconds |
| 157°F (69.4°C) | 34 seconds |
| 160°F (71.1°C) | 16.9 seconds |
| 162°F (72.3°C) | 10.5 seconds |
| 163°F (72.8°C) | 1 second |
| 165°F (73.9°C) | 1 second |
Recommended cooking temperature
It's a challenging task to recommend a specific temperature as it comes down to personal preference. That said, 150F seems to be the most recommended temperature. I've experimented with different temperatures and settled on 148F. To me, it provides the best balance of texture, mouth feel and juiciness. I highly recommend that you start with this temperature and then experiment to find where your personal preference lies.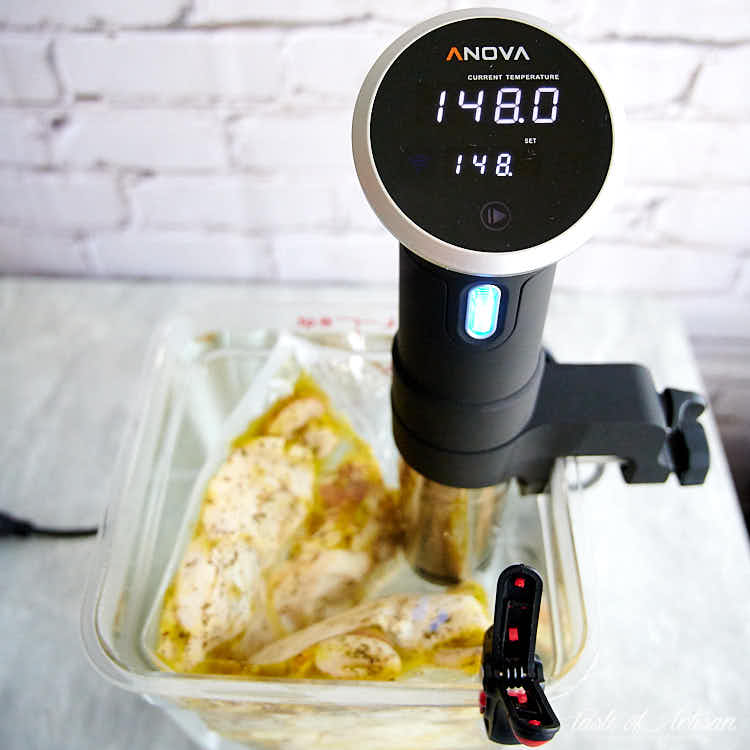 Meat selection
While cooking chicken sous vide may be one of the easiest and fool-proof cooking methods, it's not as forgiving when it comes to the quality of meat.  Free-range or organic chicken is best. In this recipe, I use boneless skin-on chicken breasts. You want the skin to be thin and bluish-white in color, not yellow. Yellow color is an indication of a thick layer of fat present. Not surprisingly, yellow skin is also usually thick. Grilled, this chicken will taste fine, but not when cooked sous vide as the fat won't render at the low sous vide cooking temperatures.
Preparing for cooking
For optimal cooking, chicken breasts should be vacuum sealed. Vacuum sealing eliminates air pockets which cause inefficient and uneven cooking. Other than vacuum sealing, you can use the water displacement method which works really well to eliminate air pockets.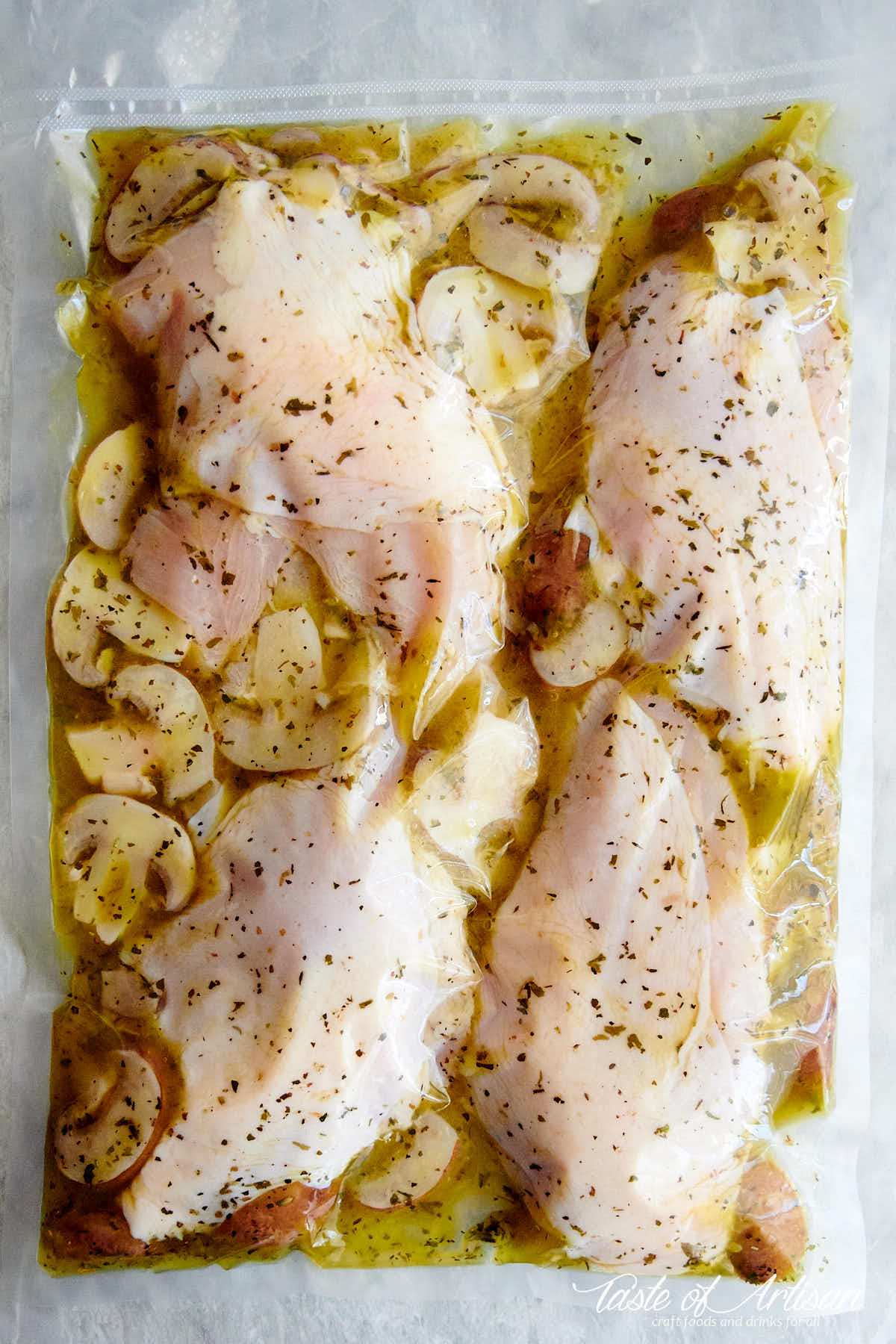 Cooking chicken breasts sous vide
Sous vide is the easiest chicken breast cooking method that I know of. Simply place the vacuum sealed bag with seasoned chicken breasts in the pre-heated water bath fitted with a sous vide immersion circulator and hold it there for 90 minutes. There is no need to worry about chicken getting over-cooked. It will come out perfectly cooked every time.
When cooking is done, you can brown the tops of chicken breasts on a skillet over medium-high heat to give them some appetizing color. This step is totally optional but highly recommended.
Serving
I like serving sous vide chicken breast with garden greens and sous vide mushrooms on the side. Sous vide mushrooms can be cooked together with chicken breasts or separately. You don't even need a dressing for the garden greens - you can just use the delicious liquid from the pouch in which the chicken cooked. It tastes just like Italian dressing. I also pour the remaining pouch juices over chicken and mushrooms to add more flavor to them.
Sous vide chicken breasts are also fantastic for making chicken salad, chicken sandwiches, tacos, chicken alfredo, mulligatawny soup and many other dishes that use pre-cooked chicken.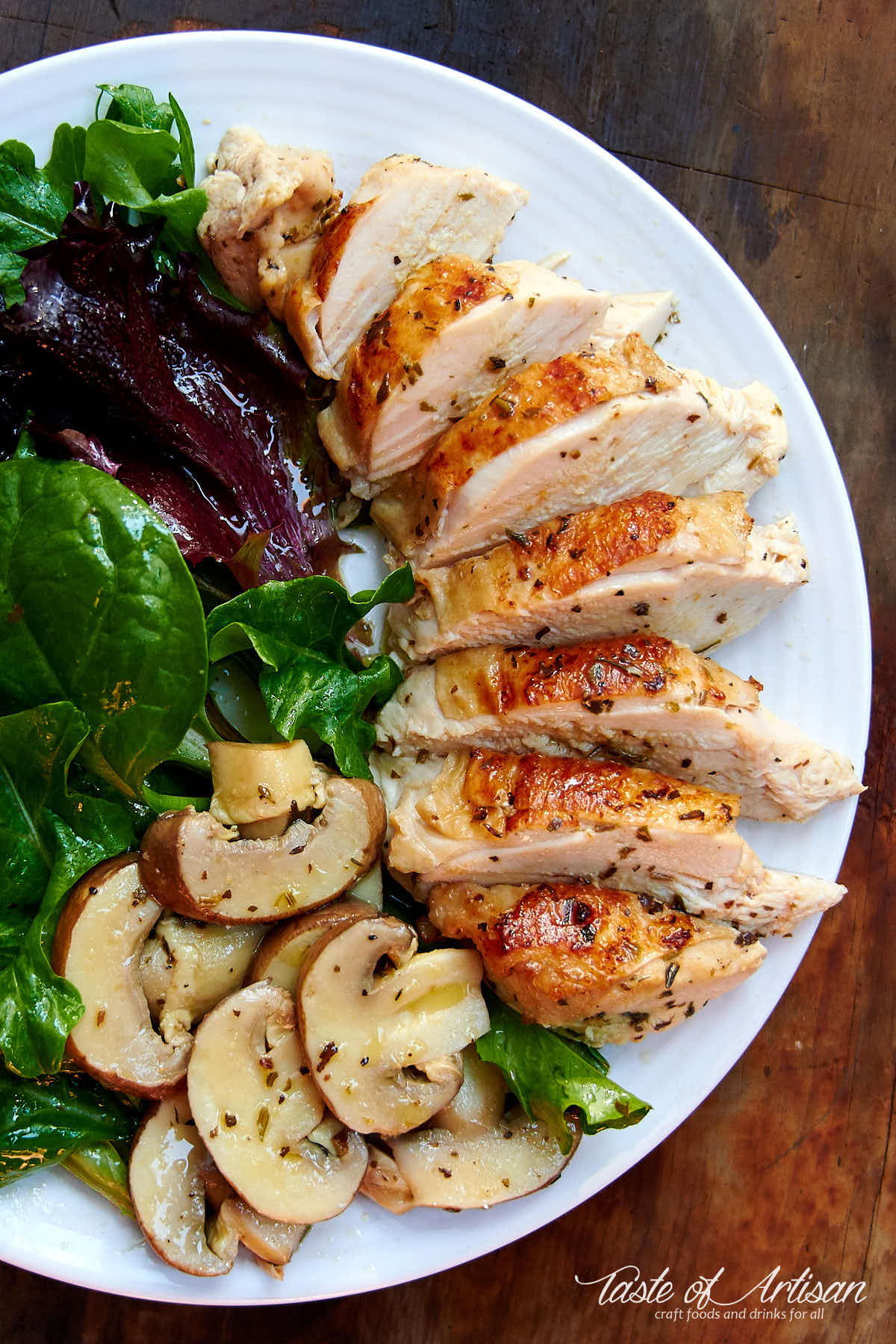 Variations
Variations of this recipe, outside of experimenting with cooking temperature, include using different seasonings. You can go as simple as using salt, pepper and fresh herbs with a little bit of olive oil, or as complex as using robust seasoning sauces with complex flavors. One of my favorite ones is the honey-lime sauce which I detailed out in the notes to the recipe below.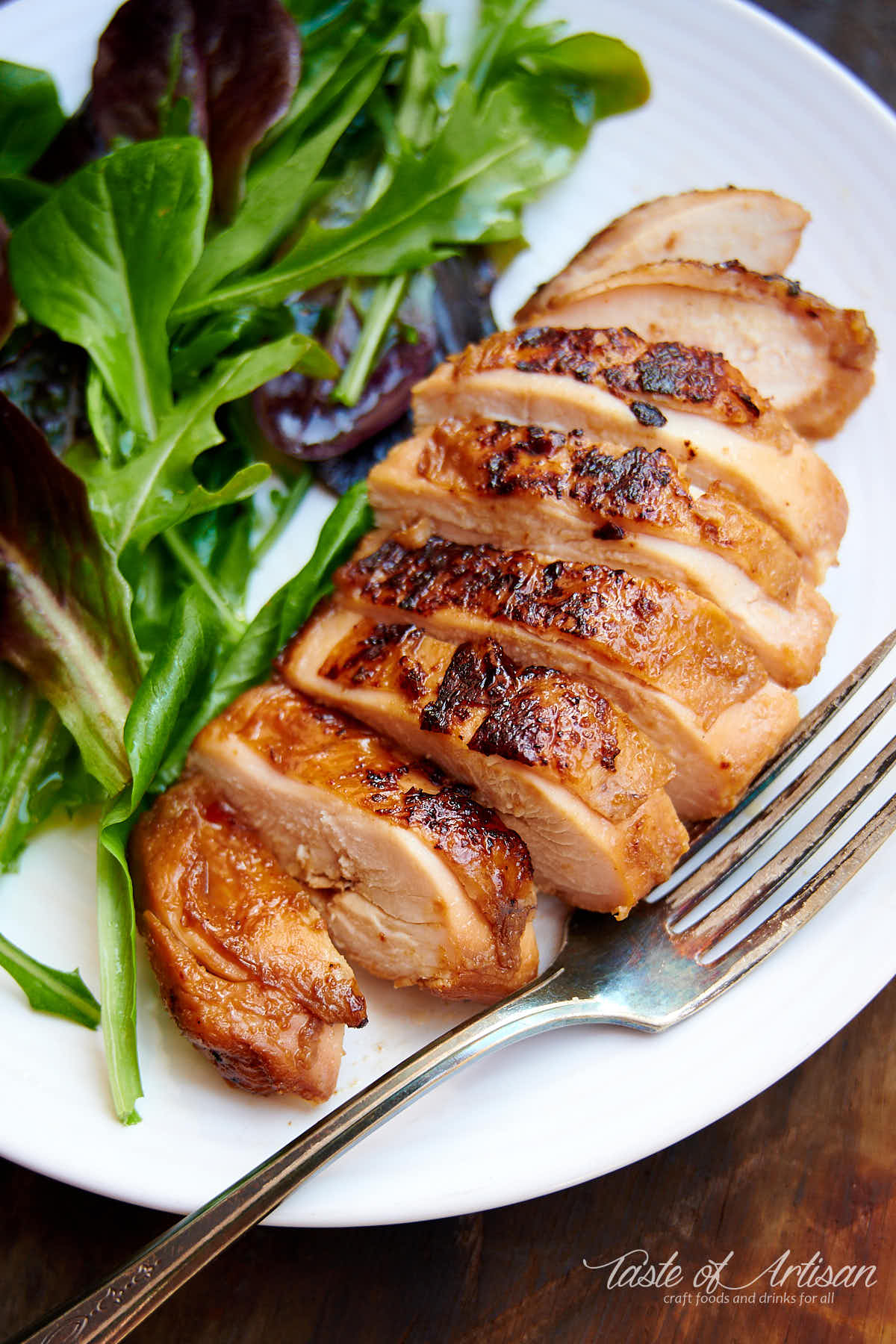 Tips and tricks
If your bag won't stay submerged, weigh it down with a small plate.
You can use skinless chicken breasts in this recipe. Pan-searing in this case won't be required.
You can also use frozen chicken breasts when cooking sous vide. Simply add an extra 45 minutes to an hour of cooking time on top.
If desired, you can prepare the bags with the chicken and the sauce up to 24 hours ahead, seal them and refrigerate until ready to cook. Going longer than 24 hours is not recommended as the acidity in the marinade will soften the meat too much.
Leftover cooked chicken breast should be quickly chilled, USDA recommends doing to within 2 hours. The chicken can be refrigerated for up to 2 days if consumed cold or 3-4 days if consumed reheated. When reheating, the chicken must be heated to 165F internal temperature before consuming.
When experimenting with adding new ingredients, be careful with fresh garlic as it turns green when heated in a water bath.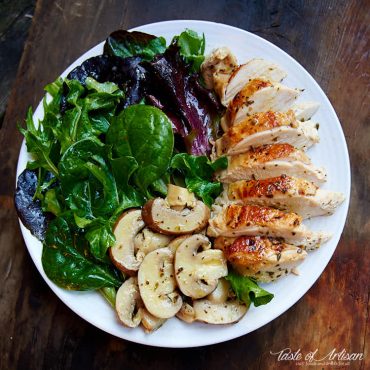 Sous Vide Chicken Breast Recipe
Sous vide chicken breast cooked in homemade Italian-style cooking sauce for ultimate texture and flavor.
Print
Pin
Rate
Ingredients
4

boneless, skin-on chicken breasts

(you can also use skinless chicken breasts)

6

Tbsp

olive oil

2

Tbsp

white wine vinegar

2

Tbsp

orange juice

(freshly squeezed; or tangerine juice)

1

tsp

kosher salt

(plus more to taste)

1/2

tsp

black pepper

1/2

tsp

dried basil

1/2

tsp

dried parsley

1/2

tsp

herbs de Provence

6

cremini mushrooms

(large; sliced)
Instructions
Heat water in your sous vide machine to 148F.

Combine all of the seasoning ingredients (everything except the chicken and mushrooms) in a small bowl and whisk until well blended.

Place the chicken and the sliced mushrooms in a vacuum seal-able bag, or a Ziploc bag, add the dressing and shake or massage the bag to ensure even coverage. Seal the bag in a vacuum sealer or remove the air using water displacement method and seal the bag. Make sure that the chicken and the mushrooms are distributed in one layer.

Place the bag in the pre-heated water bath making sure that every part of the chicken is under water. Cook at 148F for 90 minutes.

Remove the bag from the water bath. Open it and, using tongs, carefully transfer the chicken to a platter and let rest for 5 minutes. Gently pat dry the tops with paper towels.

Heat enough cooking oil in a large non-stick skillet to cover the bottom over medium-high heat. Place chicken breasts skin side down in hot oil and cook for about 30-45 seconds, or until golden brown, then transfer back to the platter.

Serve immediately with a side of garden greens and sous vide mushrooms, drizzled with pouch juices left from cooking.
Notes
As a variation, use this (slightly modified) delicious Asian-inspired sauce to flavor your sous vide chicken breasts:
1/2 tsp kosher salt (plus more to taste)
2 Tbsp olive oil
1 Tbsp sesame oil
4 Tbsp low sodium soy sauce
1 Tbsp Worcestershire sauce
2 Tbsp lime juice (or lemon juice)
3 Tbsp maple syrup (or honey)
1 Tbsp garlic powder
1 Tbsp onion powder
Nutrition
Calories:
393
kcal
|
Carbohydrates:
2
g
|
Protein:
24
g
|
Fat:
31
g
|
Saturated Fat:
5
g
|
Cholesterol:
72
mg
|
Sodium:
655
mg
|
Potassium:
400
mg
|
Fiber:
0
g
|
Sugar:
1
g
|
Vitamin A:
110
IU
|
Vitamin C:
4.3
mg
|
Calcium:
18
mg
|
Iron:
1.3
mg