These yeast rolls are how I remember my grandma used to make them - substantial, with a crackly crust, chewy and very tasty. These are very easy yeast rolls as they don't require any special techniques or ingredients. They do, however, take a bit of time to make to achieve a complex flavor and rich taste even when using commercial yeast.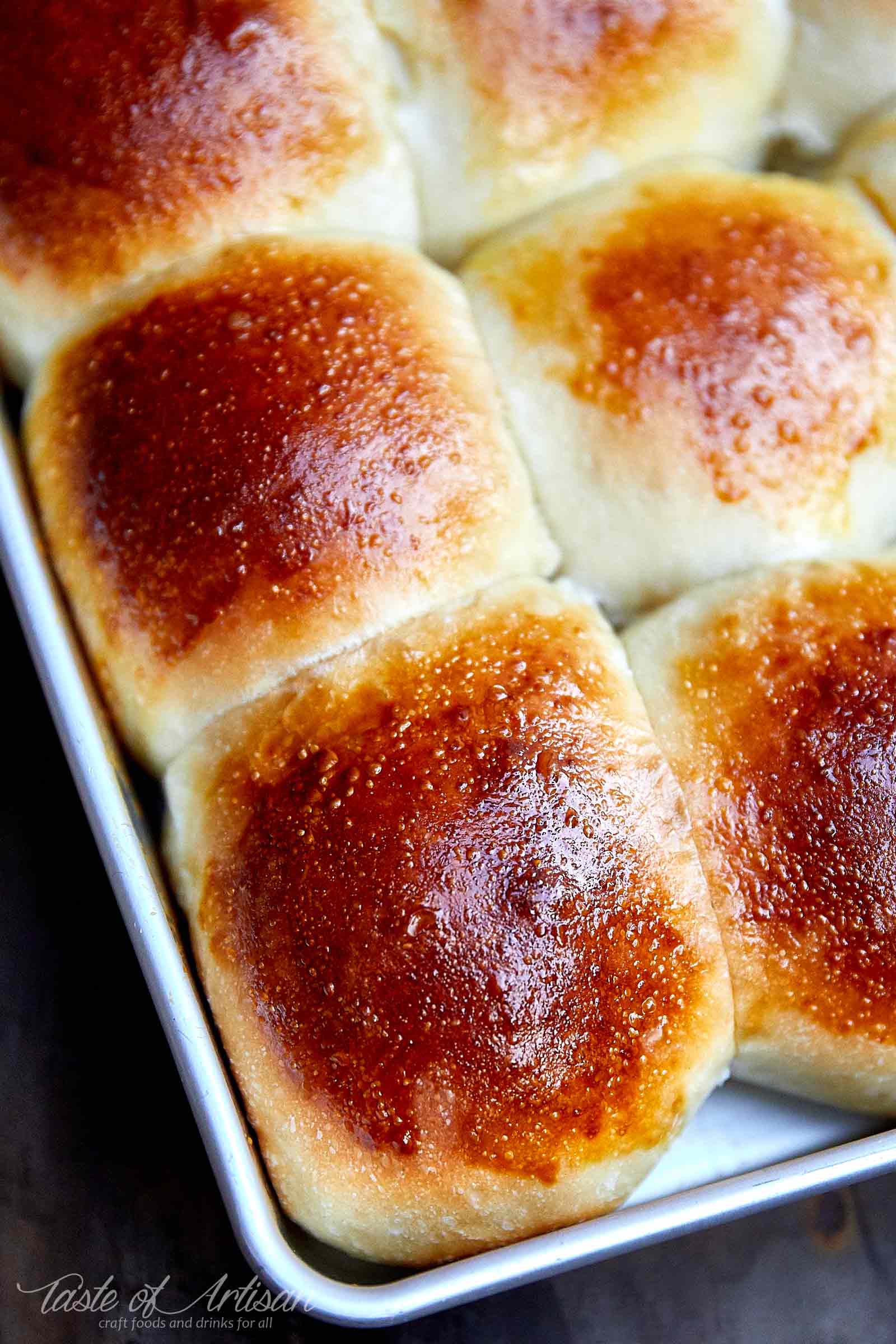 Another distinguishing feature of these yeast rolls is that they have an outstanding keeping quality. Cool them all the way down to room temperature, place in a Ziploc bag or an airtight container, and they will still be soft and tasty as the day they were baked.  They will keep well for up to 3 and even 5 days if they last that long.
In this recipe, I use egg whites to give the crumb more openness and softness. Air bubbles in whipped egg whites will expand during cooking to yield an extra light and tender crumb.
The thin, crackly crust on these yeast rolls is no accident. It's typically the product of temperature and humidity in the oven. To achieve it, I baked these rolls at 425F, rather than the usual 375F, and used the steaming setup that I normally use when baking bread. The setup is very simple, it's just a bread loaf pan with hot water and a rolled-up kitchen towel in it. You can, however, use a baking pan, without a towel. This will generate enough steam. The steam is also responsible for a nice oven spring, so you get a double benefit from it.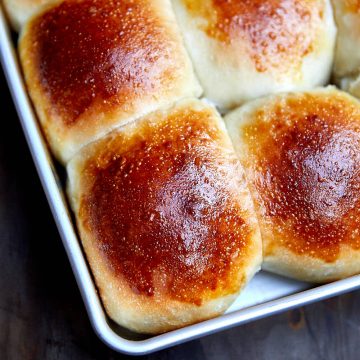 Rustic Yeast Rolls
Easy to make, chewy, slightly crusty and very tasty country-style yeast rolls.
Print
Pin
Rate
Ingredients
5

cups

all-purpose flour

(scoop and sweep method, plus more as needed)

2

cups

water

(warm, about 115F)

1

Tbsp

quick rise yeast

(heaping)

1 1/2

tsp

salt

1

Tbsp

cane sugar

(heaping)

2

Tbsp

butter

(melted)

3

egg whites

(whipped to stiff peaks)

egg yolks

(for brushing)
Instructions
Warm up 2 cups of water to 115F and pour in a mixer bowl. Sprinkle the yeast over the water. Add the sugar, salt, melted butter, 2 cups of flour and whisk until all ingredients are mixed well.

Add the whipped egg whites and incorporate into the mixture. Add three more cups of flour and give the mixture a nice stir.

Attach the bowl the to mixer fitted with a dough hook. Run on low (#2 on Kitchen Aid) until the flour is well incorporated. The dough will be wet and sticky at this point.

Start adding more four, one tablespoon at a time, until the dough gathers into a ball and does not stick to the sides of the bowl. Continue mixing for another 3-5 minutes, on low, until the dough is smooth and elastic.

Remove the dough from the bowl, shape into a ball, tightening the surface. Grease with a little oil all over and place back into the bowl, seam side down. Cover with a piece of plastic wrap and let rise in warm place until it doubles in size, about 1 hour.

Tip: my favorite place to use for dough to rise is a cold oven with the light on. This creates a perfectly warm environment for dough.

After the dough has risen and doubled in size, punch it down, cover and let rise until it doubles again, about 30-40 minutes

.

Tip: punching the dough down and letting it rise once more results in a finer, more delicate structure that is highly desirable in yeast rolls.

Start preheating your oven to 450F.

Tip: for best results add a shallow pan with hot water on the bottom rack to create some steam during baking. This will allow the rolls have a good oven spring and develop a nice crust.

Divide the dough into 12 equal pieces, shape into balls and place, seam side down, onto a greased 9" x 13" cake pan.

Tip: dividing into 12 pieces will make fairly large yeast rolls, large enough for small burgers or sliders. If you want smaller rolls, divide the dough into 24 pieces.

Brush the dough balls with the egg yolks, cover with a plastic wrap and let proof in warm place for about 20-30 minutes, until doubled in size.

Tip: you may use egg yolks as is, or add a teaspoon of water (or milk, cream) to thin it out. Do remember though, that thinned out egg yolk will easily run down and gather in crevices between the rolls. It won't brown down there is come out yellow. I like to use undiluted egg yolk in this recipe.

Drop oven temperature to 425F. Brush the tops with egg yolks again and bake at 425F for about 20-25 minutes, depending on your oven and the size of the rolls, or until the tops are deep golden brown.
Nutrition
Calories:
215
kcal
|
Carbohydrates:
41
g
|
Protein:
6
g
|
Fat:
2
g
|
Saturated Fat:
1
g
|
Cholesterol:
5
mg
|
Sodium:
323
mg
|
Potassium:
71
mg
|
Fiber:
1
g
|
Sugar:
1
g
|
Vitamin A:
59
IU
|
Calcium:
9
mg
|
Iron:
2
mg
Helpful resources:
What Eggs Do in Yeast Bread - Leaf.tv
Bread Making Ingredients - The Reluctant Gourmet
How to Punch Down Bread Dough - The Spruce Eats