One of my readers mentioned Tyrol Karreespeck to me, and it piqued my interest. Pork loin cured in salt and simple seasonings, cold-smoked and then dry-cured, sounds like something I'd love to try. I am glad I did. It exceeded my expectations. If speck and lonzino had a baby that inherited their best qualities, it would be called Karreespeck. This is something I will definitely be making again many times.

This delicious cured meat originates in the Tyrol region, a western Austrian state in the Alps that's known for its ski resorts, historic sites, and folk traditions. The region's close proximity to Northern Italy explains the popularity of speck, but Tyrolean speck is different from, say, Trentino-Alto Adige speck. Its spices are a lot milder. While I found the traditionally seasoned Trentino-Alto Adige speck to be quite overpowering, mainly due to the amount of juniper, the Tyrol Karreespeck is practically perfect in that sense. I've encountered some Tyrol Karreespeck recipes using juniper berries, but I've also found many that didn't. After trying several spices mix combinations, I can confidently say that I much prefer the one without the juniper present. But tastes differ; some may like it the other way.
Making Tyrol Karreespeck
The process is a cross between making speck and lonzino. In this recipe, I am sticking to my tried-and-true salt and curing salt ratios, and two weeks of curing time that is sufficient for pork loins. I've encountered some traditional Tyrol speck recipes that use fairly high amounts of nitrite curing salt and longer, up to a month, curing time. This will inevitably lead to a very salty final product.
The spices will not be removed after curing; they give the final product a nice piquantness. Therefore, I find that grinding them finely is essential. I use an inexpensive blade coffee grinder for this purpose with excellent results. After curing, I simply blot the meat with paper towels to remove excess moisture, but the species stay on.
After curing, the meat is dried in a cool place for about a week. This is the time when the meat will release a large amount of water while the meat warms up all the way to the core to kick-start the fermentation process.
During the drying phase, the meat is cold-smoked four times for about 8-12 hours per session. Traditionally, the wood of choice is beach, but I've also used oak with great results. The smoking temperature of your cold smoker should not exceed 68F.

In my DIY smokehouse, I maintained about 50-60F, and the resulting smoky flavor was just what I was looking for.

After drying and smoking, the meat is matured in a curing chamber for 2-3 months until the meat is firm and has lost about 30%-35% of the original weight. The more back fat the meat has on it, the less weight loss you should expect.
Once the meat is ready, shave off any moldy parts, then slice thinly, preferably on a meat slicer, and enjoy.
Taste notes
Salted just right, not too much and not too little, mildly smoky and fairly mildly aromatic. This is very subjective, but I find this Tyrol Karreespeck exceptionally well-balanced. The flavors combine gentle smokiness and pleasant savory notes from carefully selected species, with notes of that nice porky flavor. The porkiness is less obvious than in the traditional lonzino, but it's not lost by far, while the aromatics are much more toned down compared to Trentino-Alto Adige speck. I find this flavor profile very appealing.  It lingers in your mouth for quite some time. It's addictive. You want to reach for another slice before finishing the one in your mouth. I will definitely be making this fine piece of charcuterie again.
Oh, about that fat cap. I am sure some may think that that speck has too much fat. Not at all. I used to think like that myself, but over the years, I've come to appreciate the flavor and the mouthfeel that fat adds to cured meats. Without it, the meat tastes almost too dry. But add some fat, and it transforms. The texture, the mouthfeel, the flavor - all improve very noticeably. The key is to slice the meat paper-thin. It's a great idea to have a good meat slicer if you are into making charcuterie. It makes slicing meat a breeze.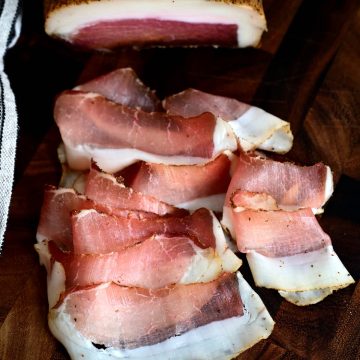 Ingredients
1000

g

pork loin

preferably with a layer of back fat

27.5

g

kosher salt

2.75%

2.5

g

Cure #2

0.25%

5

g

black pepper

coarsley ground; 0.5%

5

g

white sugar

0.5%

2

g

dried rosemary

ground; 0.2%

3

g

dried coriander

ground; 0.3%

0.5

g

garlic powder

about a 1/4 tsp; 0.05%

0.75

g

dried bay leaves

about 2 bay leaves; ground; 0.075%
Instructions
Weigh the meat in grams. Divide by 1000, then multiply each ingredient by that number. For example, if your pork loin weighs 2650 g, you need to multiply the ingredients specified above by 2.65.

Mix the salts, sugar, and ground spices together, and rub them on the meat. Place the pork loin and all the extra salt and seasonings in a vacuum-sealable bag and seal. You can also use a Ziploc bag, making sure to expel as much air out of it as possible.

Place the bag in the fridge for 14 days. Flip the bag every day or so, and give it a quick massage every time you flip it.

After 14 days have passed, remove the meat from the bag and blot it with paper towels.

Dry in the curing chamber for 7 days at 68F-70F (20C-21C) and 68%-75% RH.

During drying, cold-smoke 4 times, about 8-12 hours per smoking session. The smoking temperature must not exceed 68F (20C).

Mature in the curing chamber at 54F - 57F (12C - 14C) and 72%-75% for 2-3 months until firm and about a 30% weight loss.

When the meat is ready, shave off any moldy spots, slice as thinly as possible, and enjoy.
Nutrition
Calories:
59
kcal
|
Carbohydrates:
1
g
|
Protein:
12
g
|
Fat:
1
g
|
Saturated Fat:
0.3
g
|
Polyunsaturated Fat:
0.2
g
|
Monounsaturated Fat:
0.4
g
|
Trans Fat:
0.004
g
|
Cholesterol:
31
mg
|
Sodium:
607
mg
|
Potassium:
211
mg
|
Fiber:
0.1
g
|
Sugar:
0.3
g
|
Vitamin A:
16
IU
|
Vitamin C:
1
mg
|
Calcium:
7
mg
|
Iron:
1
mg