Lonzino is one of the easiest dry-cured meats to make at home, or so they say, but it took me years to get excellent results. The problem for me was the drying process - I could never get a perfect drying from edge to edge. That resulted in off-flavors, unappetizing color, and poor texture. Too many spices was another problem. When I was just getting into meat curing, I was convinced that the secret to success was in some magic seasoning mix. A lot of people around me kept experimenting with seasonings to come up with winning flavor profiles. The truth is, in most cases salt and a touch of basic aromatic spices is all you need. Less is more when it comes to seasoning meat for curing.
Another problem for me was the curing time. Like many others, I wanted my lonzino to be ready asap. It can be. Pork loin without much/any fat on it can lose 35% of its green weight within 30-40 days. Is that good? Is 35% weight loss sufficient? In Italy, butchers seem to focus more on maturation time rather than weight loss. A butcher-friend from Italy once told me that he targets 4-6 months of maturation time for his lonzino. Why? The flavor. Like good wine or whisky, cured meat needs time to develop complex flavors, silky-smooth texture, and refined aromatics.

You may ask, then how do you make sure that your lonzino won't turn into jerky after 6 months? I mean, it can lose 35% of weight in just a month. The answer lies in humidity control. Forget the typically recommended 72%-75% RH. Instead, shoot for 78%-82% RH range. This will allow for a more gradual weight loss and the meat won't lose too much weight by the end of the maturation process.

Drying needs to be clarified a little. Lately, most of my meat curing starts with fermentation and drying, after which it undergoes maturation. This process, learned from Italian butchers, was a revelation. The drying phase does not mean that the meat will become fully dry at the end of it. It only means that meat undergoes a special drying cycle to accommodate the ample initial water release. Any meat will lose water during the first 10 days or so at the highest rate. This water needs to be removed quickly and effectively otherwise the surface of the meat becomes wet, moldy, and sticky. This leads to off-flavors, the smell of ammonia, uneven drying, eventual case hardening. Sounds familiar? I've lost numerous batches to this and I had no clue as to why. Now I know.

This lonzino spent 4.5 months in the curing chamber and lost 43% of its green weight. This is the longest I've matured a lonzino and it's superb. Gorgeous saturated dark red color. When my family members come and ask for more, than for a few more slices, I know it's really good. I left a fair amount of back fat on the meat and it was a welcome addition. Cured meat tastes way better when complemented by that delicious white goodness that practically melts in your mouth. The longer the fat matures the more tender and more flavorful it becomes.
The seasonings I used were very basic - salt, black and cayenne peppers, garlic powder - but the resulting flavor was outstanding. Lots of porky flavor with a hint of black pepper, a touch of garlic, and a slight bite from cayenne. This was one of my most successful charcuterie batches and I can't wait to make more lonzino.
Note that there are many ways to make lonzino and there isn't one 'right' way. After curing the meat, some butchers in Italy like to wash the meat with wine or vinegar and re-apply pepper. I prefer to scrape the surface of the meat with the back of a knife instead of washing it. The spices that you would use may also vary upon your taste. I like cayenne and garlic powder so I add them too.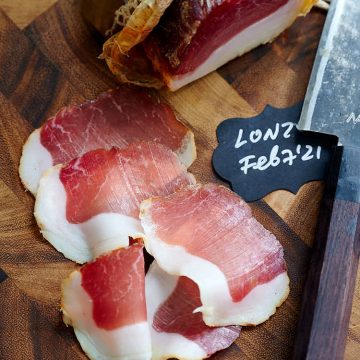 Lonzino (Cured Pork Loin)
Recipe for homemade cured pork loin (Lonzino) with tips and tricks.
Print
Pin
Rate
Ingredients
1000

g

Pork loin

with back fat

27.5

g

Salt

2.75%; coarse grain sea or kosher

2.5

g

Cure #2

0.25%

1.5

g

garlic powder

0.15%; 1/2 tsp

1

g

black pepper

0.1% 1/2 tsp

0.5

g

cayenne pepper

0.05%; 1/4 tsp
Instructions
Trim the meat into a uniform shape.

Weigh the meat in grams. Calculate how much of each ingredient you will need. If the pork loin wighs 1,650 grams, you will need 27.5 x 1.65 = 45.4 grams of salt, etc.

Mix the salt, the Cure #2, the garlic poweder and the black pepper together and apply evenly to the meat. Place the meat and all the extra salt and pepper in a Ziploc bag and expel as much air as possible. Better yet, vacuum seal.

Refrigerate for 14 days flipping the bag daily or so.

After 2 weeks in the fridge, remove the meat from the bag, scrape the surface with the dull side of a knife. Some of the seasonings will remain, that's OK. Pat dry with paper towels if needed. Cut off any stray pieces of meat.

Evenly sprinkle cayenne pepper and pat down.

Insert the meat into a beef bung or a similar natural casing, tie on both ends, prickle small holes all over with a sterilized needle, and truss with butchers twine. You can use stretchable netting too. Inoculate with mold if desired.

Weigh the meat and write it down on a tag. Add the date. Attach the tag to the meat.

Hang and dry in the curing chamber for about 7 days as per the schedule below in the note section.

Mature in the curing chamber at 55F - 57F (13C - 14C) and 78% - 82% for 4-5 months.

When the meat is ready, remove the casing, slice paper-thin and enjoy.
Notes
| | | | |
| --- | --- | --- | --- |
| Stage | Duration | Temp | RH |
| Fermentation | 10 hours | 75F (24C) | < 99 % |
| Drying | 15 hours | 72F (22C) | 75-85 % |
| Drying | 24 hours | 66F (19C) | 68-78 % |
| Drying | 24 hours | 64F (18C) | 65-75 % |
| Drying | 24 hours | 62F (17C) | 68-78 % |
| Drying | 24 hours | 60F (16C) | 72-82 % |
| Drying | 24 hours | 59F (15C) | 75-85 % |
Nutrition calculations are per 50g serving.
Nutrition
Calories:
66
kcal
|
Carbohydrates:
1
g
|
Protein:
11
g
|
Fat:
2
g
|
Saturated Fat:
1
g
|
Polyunsaturated Fat:
1
g
|
Monounsaturated Fat:
1
g
|
Cholesterol:
32
mg
|
Sodium:
606
mg
|
Potassium:
189
mg
|
Fiber:
1
g
|
Sugar:
1
g
|
Vitamin A:
11
IU
|
Vitamin C:
1
mg
|
Calcium:
3
mg
|
Iron:
1
mg